Red wine fudge brownies are a decadent treat for any special occasion! The red wine packs a punch of richness and warmth in the brownie. Add some lightly whipped coconut cream chocolate frosting on top for a match made in heaven.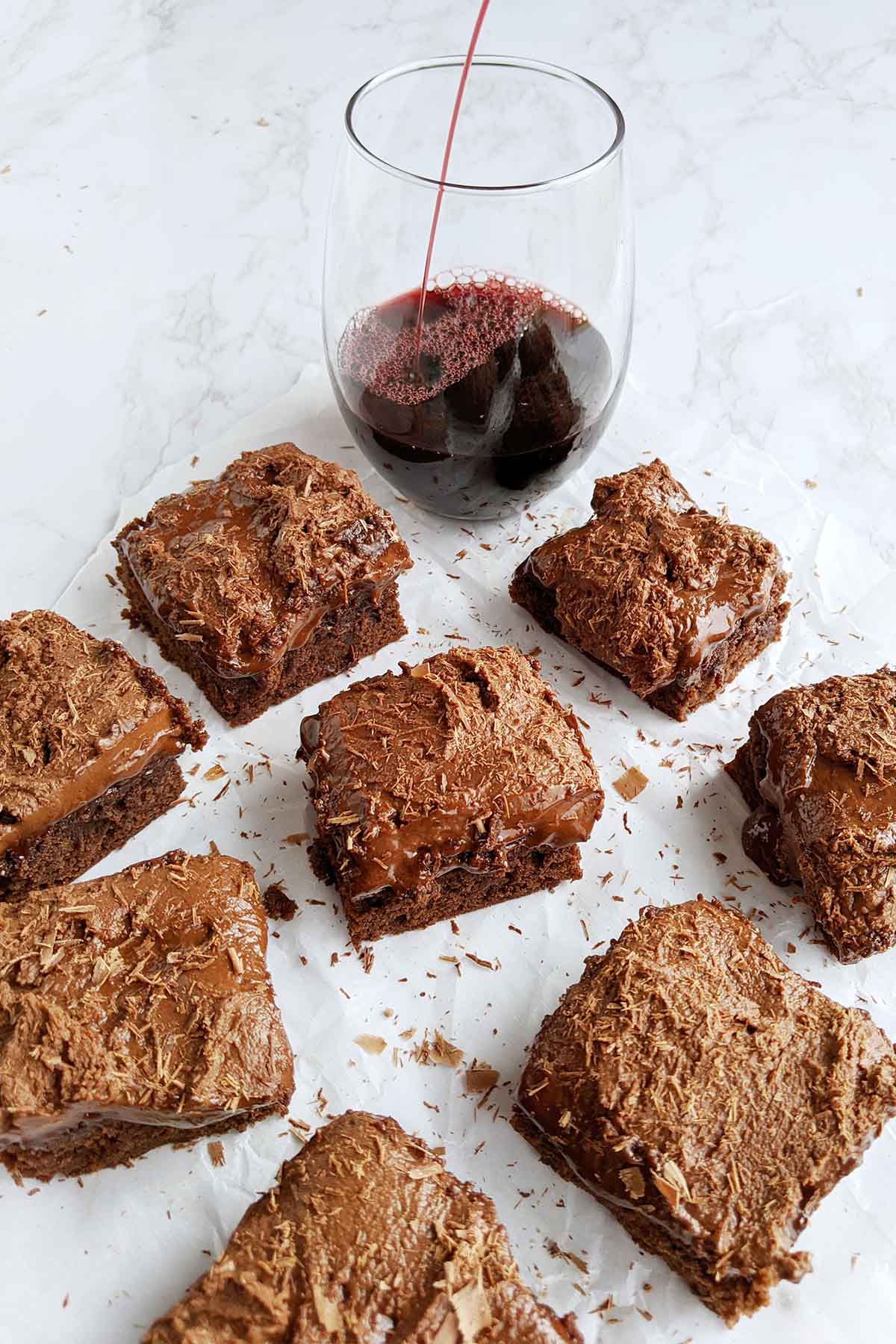 Let me tell you - I. can't. get. enough. of. these. brownies.
With Valentine's Day coming up, I knew we all needed a dessert with red wine. Introducing red wine fudge brownies! They are not your normal brownie. They have a dense, fudge-like texture and are best eaten straight from the fridge. Cold for a brownie? Sounds weird, I know. But trust me on this one!
Helpful Baking Tips

When it comes to baking and getting a quality result, make sure to follow instructions closely. Don't stress too much, just follow to the best of your ability! If you don't feel like you're a strong baker and need help on a step, send me a message on Instagram and we'll work through it!


A big component of baking is making sure you cook your treats the appropriate amount of time. Typically, you'll see recipes have a range for the cooking time. This is because everyone's oven varies slightly in temperature.


Bake according to how your own oven's heat. That means, check the brownies throughout the cooking process. The brownies are finished cooking when a toothpick can be inserted into the center and comes out with only a few crumbs.


You could also purchase oven thermometer to test if your oven is properly heating. They are cheap and so useful!


Baking Essentials

Baking for me seems to be more of an impromptu thing for me. Say stress baking, or finding out your friends birthday is tomorrow and you need to whip of a batch of treats. It's helpful to have a stockpile of baking essentials ready to go!


Baking also seems less intimidating when you have all of the supplies at your finger tips. Really homemade baking is just mixing up a few more ingredients (that you'll already have on hand) than the typical boxed mixed. And...I promise it's going to taste amazing!!


My favorite baking essentials are linked below:


All Purpose Flour: An essential for any baking recipe. Feel free to purchase a specific brand if you'd prefer, but almost any all purpose flour that you can pick up at the store should work.


White Sugar & Brown Sugar: Another staple for baking! Again, I'm not super picky about one brand. Use what you can find!


Cocoa Powder: Make sure the cocoa powder is unsweetened since most recipes will call for additional sugar to be added. A quality cocoa powder is going to result in a better product - it's worth the money!


Baking Chocolate Chips: Chocolate is always a necessity. No questions asked! Chocolate can be used in cookies, icing, glaze, or even eaten on its own.


Baking Powder & Baking Soda: Baking powder and baking soda have different properties. Depending on what you are baking, you may need one or the other, or both. Pay attention to the expiration date. Old baking powder and soda can hinder the leavening (rising) process and can cause your baked goods from turning out as anticipated.


Unsalted Butter: Butter is a typical fat used in baking. Butter gives baking the rich flavor that we all love. I prefer unsalted butter so I can control the amount of salt going into the dish.


Vanilla Extract: Don't skimp on the quality of your vanilla extract. A little bit goes a long. Even though a high quality vanilla costs a bit more, it will last a long time! There's no vanilla in this recipe, but it's good to have on hand since many baking recipes require vanilla. P.S. - Did you know vanilla is made from alcohol, typically vodka, and vanilla beans.


More Brownie Recipes
Love this recipe? Please leave a 5-star ⭐⭐⭐⭐⭐rating in the recipe card below. Don't forget to follow along on Instagram, Facebook, YouTube, and Pinterest for more recipes.
Red Wine Fudge Brownies
Red wine fudge brownies are a decadent treat for any special occasion! The red wine packs a punch of richness and warmth in the brownie. Add some lightly whipped coconut cream chocolate frosting on top for a match mate in heaven.
Ingredients
Icing
1

cup

dark chocolate chips

1

can

full fat coconut milk

(see note below)

2

tablespoon

dry red wine

dark chocolate bar for garnish
Instructions
For the Brownie
Preheat the oven to 350°F. Spray a 9 inch baking pan with nonstick cooking spray.

In a medium bowl, whisk together flour, cocoa powder, baking powder, and salt.

Melt the butter in a medium bowl using the microwave for 30 second increments until fully melted. Whisk in sugar and red wine. Whisk in the eggs, one at a time.

Fold in the dry ingredients to the wet ingredients until incorporated. Pour batter into prepared pan. Bake for 25 - 30 minutes or until a toothpick can be inserted in the center and come out with only a few crumbs. Allow brownies to cool completely.
For the Icing
Melt 1 cup dark chocolate chips in a medium bowl using the microwave (50% power) for 30 second increments until fully melted. Stir chocolate in between each 30 second increment. Allow chocolate to cool, but not harden.

Remove the coconut cream from the can of coconut milk (about ½ - ¾ cup of coconut cream). Add to cooled chocolate mixture, along with red wine. Beat together mixture using a whisk, or whisk attachment on a powered mixture. Beat for 2-3 minutes until combined and fluffy. Place icing in the refrigerator until slightly firmed up (18 - 22 minutes).

Top the cooled brownies with the icing using an offset spatula. To garnish, shave the side of the chocolate bar with a vegetable peeler to create chocolate shavings. Serve immediately or store covered in the refrigerator.
Notes
To make the coconut cream easier to remove from the can of coconut milk, chill the entire can overnight in the refrigerator. After the can is cold, the coconut cream will be on top, and the coconut water will be on bottom. Be sure not to shake the can when removing from the refrigerator.
Storage: Leftovers can be stored in an airtight container in the refrigerator for up to 4 days.
Nutrition
Calories:
415
kcal
Carbohydrates:
45
g
Protein:
6
g
Fat:
25
g
Saturated Fat:
18
g
Polyunsaturated Fat:
1
g
Monounsaturated Fat:
4
g
Trans Fat:
1
g
Cholesterol:
77
mg
Sodium:
156
mg
Potassium:
270
mg
Fiber:
2
g
Sugar:
30
g
Vitamin A:
424
IU
Vitamin C:
1
mg
Calcium:
79
mg
Iron:
3
mg
Have you tried this recipe?
Tag @homebody.eats on Instagram so we can see your creations!
Did you make this recipe?!

Let me know how you liked the recipe! Comment below, or share a picture on Instagram with the hashtag #HomebodyEats. Happy cooking, Homebody family!
Yum