Healthy Mexican salad complete with Trader Joe's spicy cashew dressing - the perfect vegan lunch, dinner, or side dish!
This simple Mexican salad is filled with crispy chickpeas, healthy veggies, and topped with Trader Joe's spicy cashew dressing. This is the perfect vegan chopped salad that's full of flavor and will keep you satisfied! The homemade southwest salad is a healthy meal on its own or a great side dish with your taco dinner. A great vegan or vegetarian option for those meatless Monday dinners!
I always love a meal that's packed with veggies that have FLAVOR! To me, the most important thing about a meal is making sure it's flavorful - lots of spice, different textures, and pops of excitement in each bite. This simple, healthy Mexican salad is just that!


If you're looking for a simple, veggie packed lunch, dinner, or side dish, this is the meal for you! Plus, we'll take a shortcut by using store bought salad dressing!


The Secret to a Delicious Salad

When it comes to making salad recipes, there are a couple of secret tricks to make it taste extra delicious!


Always make sure to wash your greens! I know, I know, this step seems extra and not necessary. BUT, I promise it helps revive the lettuce and remove any extra dirt or grit that comes from the soil when it was grown. It will ensure that you get a super clean base for your salad.


Also, if you're in a pinch and need to revive some wilted greens, soak them in chilled water for up to an hour. Then, drain the greens in a salad spinner for about 30 seconds and refrigerate until crisp.




2. Add some texture to your salad: A little crunch can go a long way to take your salad to the next level! In this simple Mexican salad, we're adding a variety of textures through the cashews, crispy chickpeas, and crunchy bell peppers.



There are endless salad combinations to add texture, you just have to use your creativity. Remember this the next time you make your own salad at home.




3. Amp up the flavor with salad dressing: So often we get lazy when pairing salad dressing with our salad recipe and just go straight for the standard bottle of ranch. When you do this, you're missing out on flavor opportunities!



Top your salad with a dressing that compliments the flavors in the salad. For this salad, we're using Trader Joe's spicy cashew dressing. If you don't live near a Trader Joe's, Primal Kitchen Sesame Ginger Vinaigrette would also be delicious!


I love these mini condiment holders to serve salad dressing on the side so the lettuce doesn't get wilted.




Other Salad Recipes You May Enjoy

Summer Blistered Tomato Peach Salad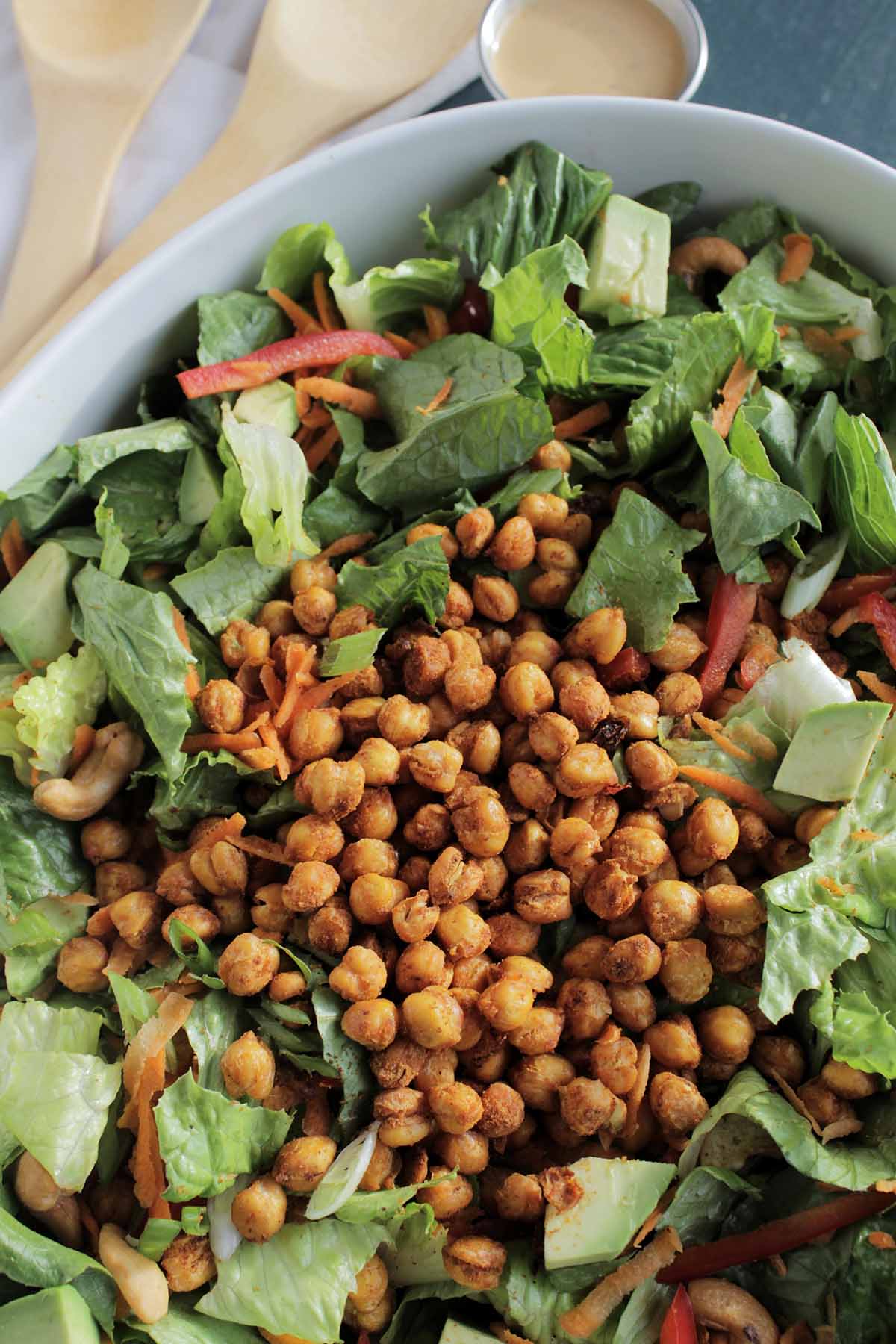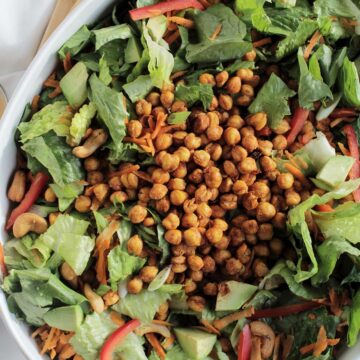 Simple Healthy Mexican Salad (Vegan Friendly)
Healthy Mexican salad complete with Trader Joe's spicy cashew dressing - the perfect vegan lunch, dinner, or side dish!
Ingredients
For the Salad
½

cup

salted cashews

3

heads

romaine lettuce

washed and roughly chopped

1

medium

red bell pepper

julienned

2

medium

carrots

peeled and grated

2

avocados

cubed

4

green onions

thinly sliced on the bias

Trader Joe's Spicy Cashew Dressing
Instructions
For the Crispy Chickpeas
Pour the rinsed garbanzo beans on a clean kitchen towel. Pat completely dry. During this process, many of the outer skins will fall off. Discard the outer skins.

Transfer garbanzo beans to a medium bowl. Add in 1 tablespoon of olive oil and toss garbanzo beans until completely coated. Add in all spices, and toss again until completely coated.

Transfer garbanzo beans to a metal sheet pan. Cook for 30 minutes on the middle oven rack, or until the garbanzo beans are golden brown and have slightly shrunk down in size. Halfway through the cooking process, move the garbanzo beans around so they get crispy on all sides. Allow to cool for 20 minutes.
For the Salad
To toast the cashews, heat a skillet over medium heat. Add in the cashews in a single layer to the dry skillet. Once you smell the nuts toasting, shake nuts around to toast on all sides. Continue this process until the nuts are golden brown on all sides, about 3-5 minutes total.

To a large serving bowl, add in the romaine lettuce, bell peppers, carrots, avocado, and green onions. Sprinkle toasted cashews on top. Serve immediately with salad dressing on the side.
Notes
The undressed salad will last 3-5 days. However, avocados will begin to brown and chickpeas will become less crispy.
Nutrition
Calories:
403
kcal
Carbohydrates:
37
g
Protein:
12
g
Fat:
28
g
Saturated Fat:
4
g
Polyunsaturated Fat:
4
g
Monounsaturated Fat:
17
g
Sodium:
188
mg
Potassium:
1978
mg
Fiber:
19
g
Sugar:
10
g
Vitamin A:
47588
IU
Vitamin C:
71
mg
Calcium:
204
mg
Iron:
7
mg
Have you tried this recipe?
Tag @homebody.eats on Instagram so we can see your creations!
LET'S SHARE RECIPES

I love trying new recipes! Let's discover new recipes together on Pinterest!


P.S. If you made this simple Mexican salad, share a picture with me on Instagram using #HomebodyEats. I love seeing your creations!!