Learn how to decorate decadent fudge brownies with elegant edible flowers
Looking for creative and fun brownie toppings? Edible flower toppings add the perfect touch to these chewy, fudge brownies with chocolate icing. Whether you're looking for cute or effortlessly easy ways to decorate brownies, these homemade brownies are sure to be a show-stopper. Baking with edible flowers is a fun way to add a creative touch to desserts. Decorate brownies with edible flowers for a birthday, holiday, or special occasion.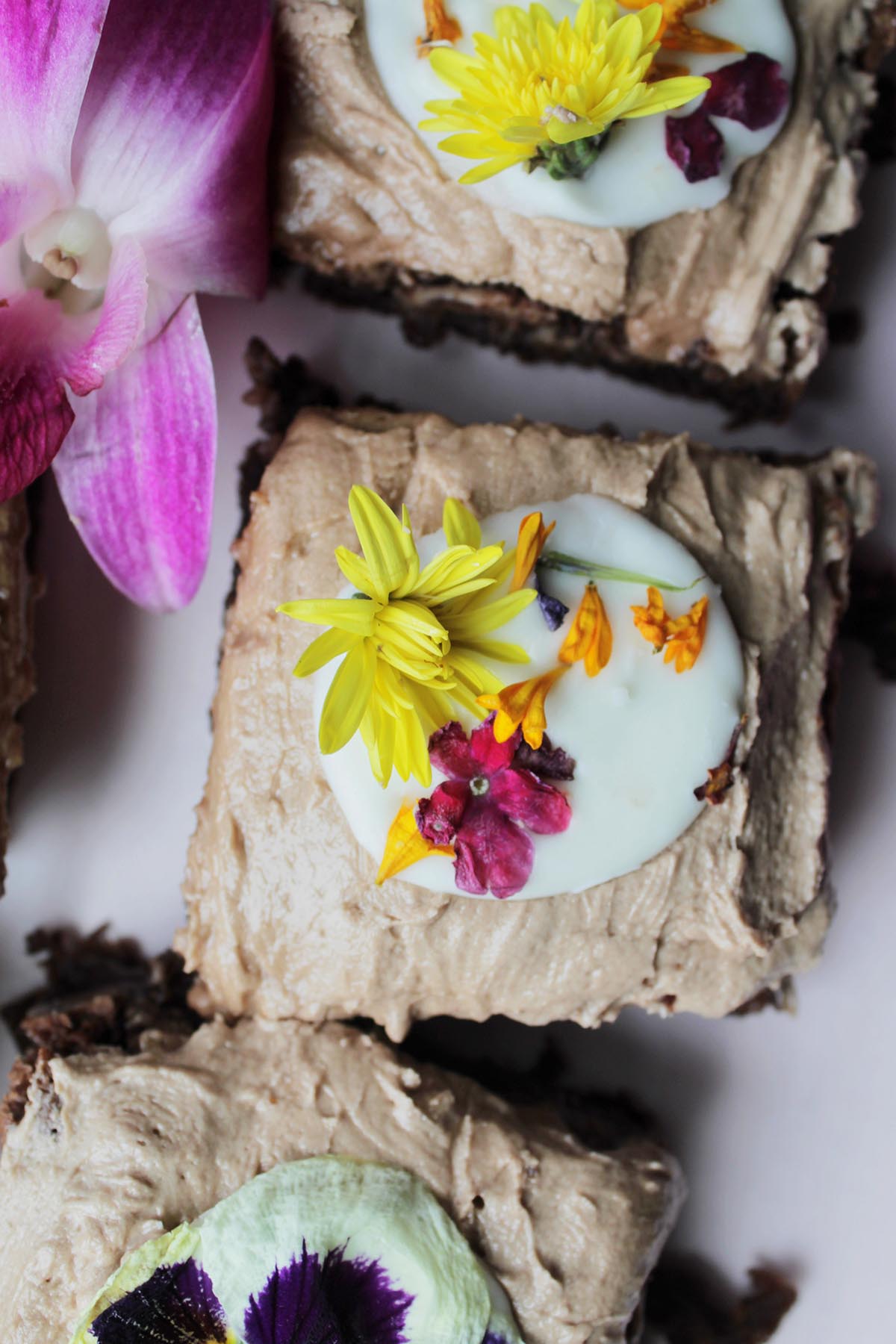 Is it just me, or do brownies always seem like your go-to dessert? They're easy to whip up, so delicious, chocolatey and chewy...and most importantly they're a crowd-pleaser!


Here's the thing about brownies, though. They aren't always the prettiest or most up-scale dessert. Unless you think of creative ways to decorate and elevate homemade brownies.


Edible flowers are my go-to topping to make my brownies stand out. You're going to learn exactly how to use edible flowers in your own brownies and desserts, as well as my secret tips for getting the best fudgy brownies (and chocolate buttercream icing).


Using Edible Flowers on Desserts

If you're new to working with edible flowers, there are a few things you should know.


First off, make sure to purchase food-safe, edible flowers from a reputable source. I love Gourmet Sweet Botanicals. They have a huge variety of flowers in various colors and shapes. I'm sure you'll be able to find what you need whether you're decorating for a birthday, wedding, or special occasion.


Plan on purchasing the edible flowers on the week you will decorate brownies. I can personally attest that Gourmet Sweet Botanicals flowers last around 7 - 10 days depending on the variety. However, you'll want to make sure the edible flowers are nice and vibrant for your dessert.


Each type of edible flower has a different taste. I'd suggest ordering a few types of flowers to see which you like the taste and smell of the most. I used the flower pansy mix and the flower micro blend in the brownies pictured.


Edible flowers could also be used for:


Decorating naked cakes


Crystalized for a garnish


Topped on shortbread cookies


Used inside a popsicle mold


Topped on an iced donut


RELATED POST: Red Wine Fudge Brownies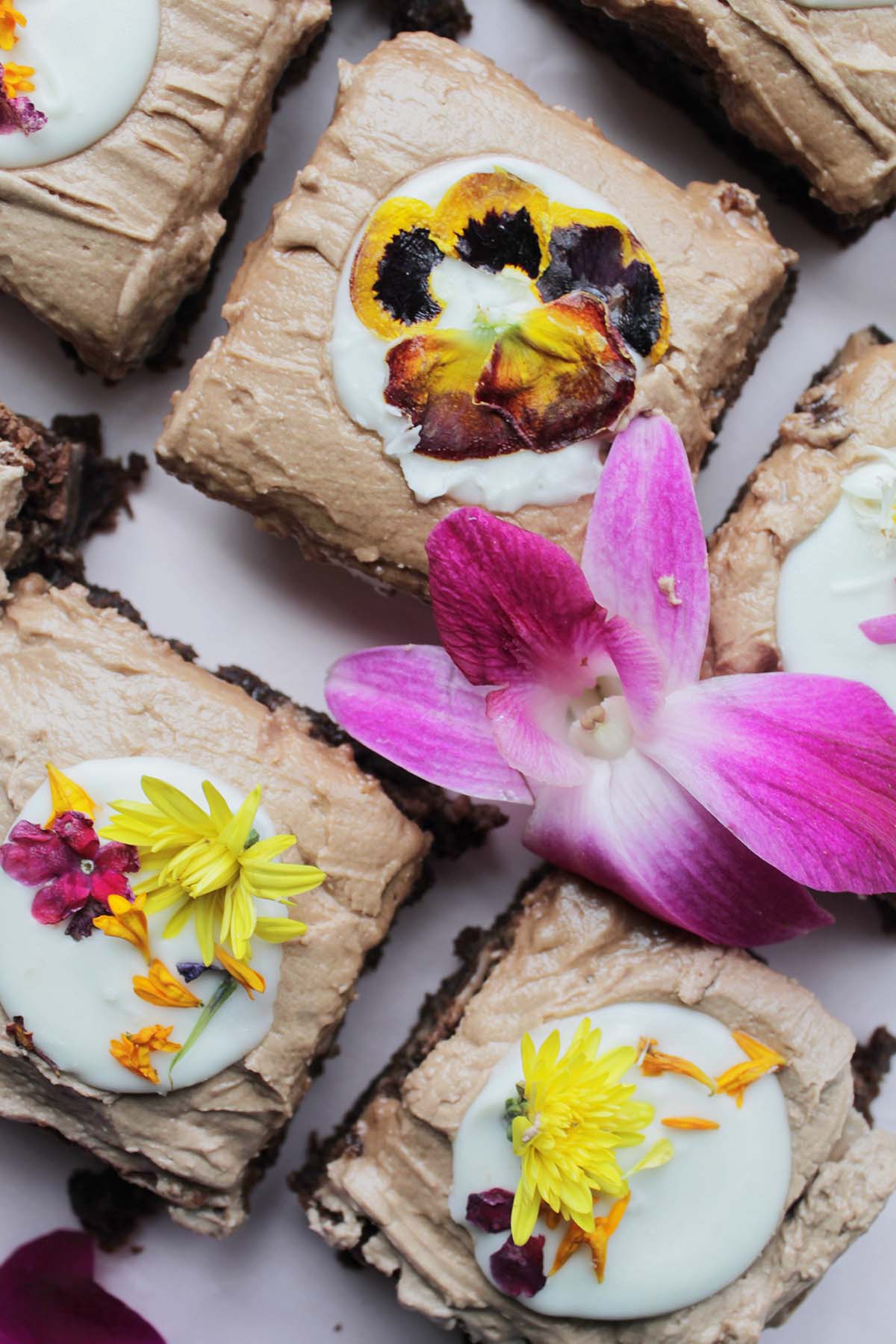 How to Decorate Brownies with Edible Flowers

My FAVORITE part about these brownies is the decorating process. We're going to make an edible flower white chocolate disk for our brownie topping. It's a straight forward process, but you do need the right tools for the job.


First things first, make sure you've got a Silpat. This will be important so our flower disks don't stick.


Heat up the white chocolate slowly in the microwave. Then, using a metal spoon, spread a thin layer of chocolate in the shape of a circle on the Silpat. You want the chocolate thick enough that it won't crack when you peel it up (about ¼ inch).


Arrange the edible flowers in whatever pattern and color scheme you desire. Allow the chocolate to set in the refrigerator until you're ready to decorate the brownies.




Related Post: Baking for a Crowd (Tips & Tricks You Need to Know)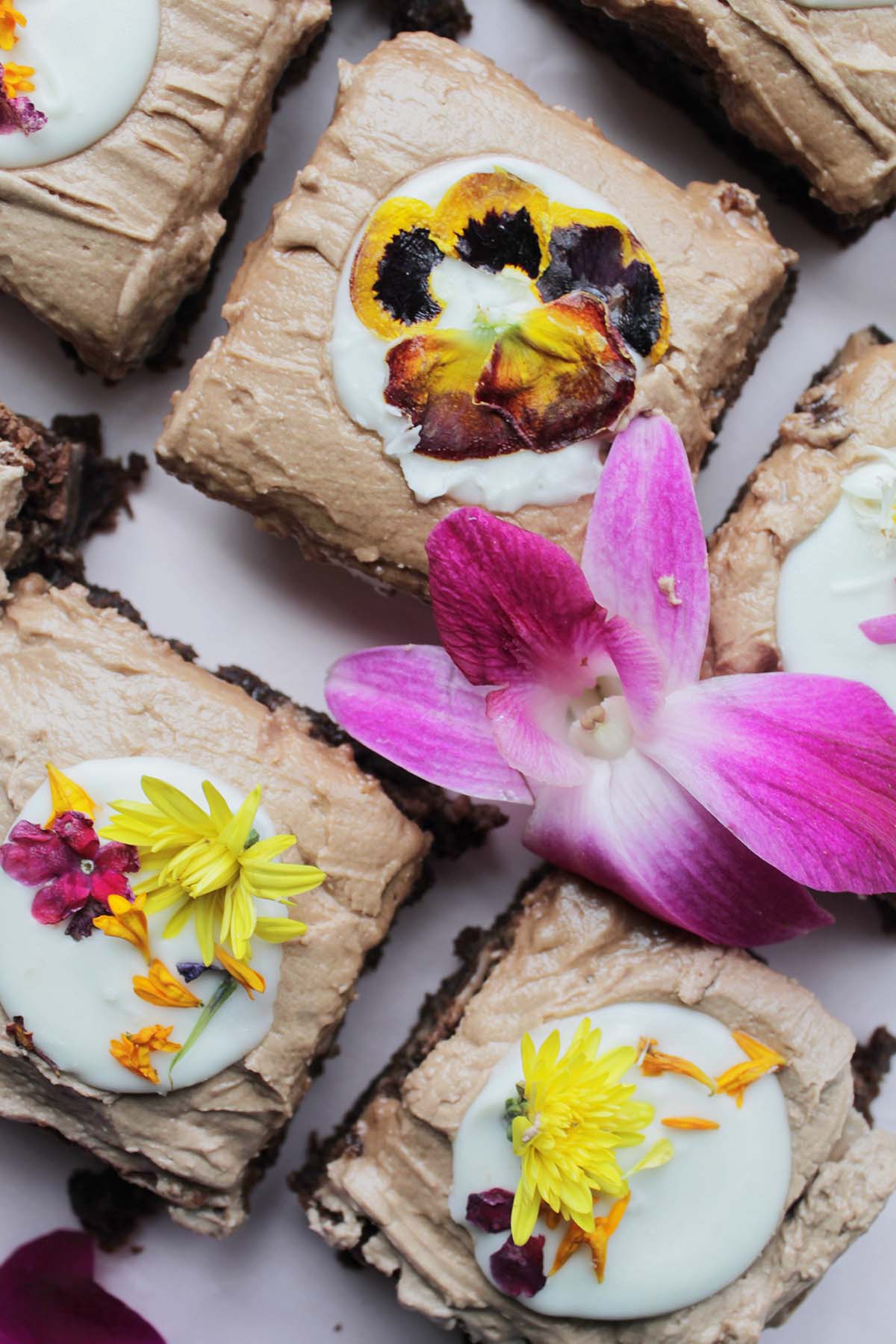 Using American Buttercream on Brownies

Aaaaah....buttercream! Really, what's better in life than a delicious buttercream? An easy solution to elevating brownies is to add some frosting. Today, we're using a classic chocolate American buttercream.


The perfect buttercream is buttery (not greasy) and has just the right amount of sweetness. Simply put, buttercream is a mix of sugar and fat (either butter, margarine, shortening, etc.). It can also contain egg whites for lightness (Italian buttercream) or even egg yolks (French buttercream) for richness.


However, American buttercream often referred to as simple buttercream, is made simply with butter and powdered sugar. The key to a good buttercream is allowing everything to whip together so it's light and fluffy. This means some kind of electric mixer is necessary for this process.


Make sure that you're not rushing the whipping time. Allow buttercream the proper time to come together...it's definitely worth the wait!



If cost is a consideration, American buttercream can always be made with all-purpose shortening. However, the flavor and mouth feel is generally heavier and greasier than if made with butter.


Brownie Baking Essentials

The best part about homemade brownies is they don't require many kitchen tools. Some of my favorite baking tools (that I use over and over again) are my favorite Wilton nonstick square baking pans and an offset spatula.


The best part of these baking pans is the lid that comes with it! It makes storage super easy and no messing with aluminum foil that always seems to rip when I'm trying to sneak a brownie out of the pan.


An essential for decorating brownies with icing is an offset (or angled) spatula. The frosting will spread on like a dream with the help of this tool! And, it will come in handy for any future cake, cupcake, or cookie decorating.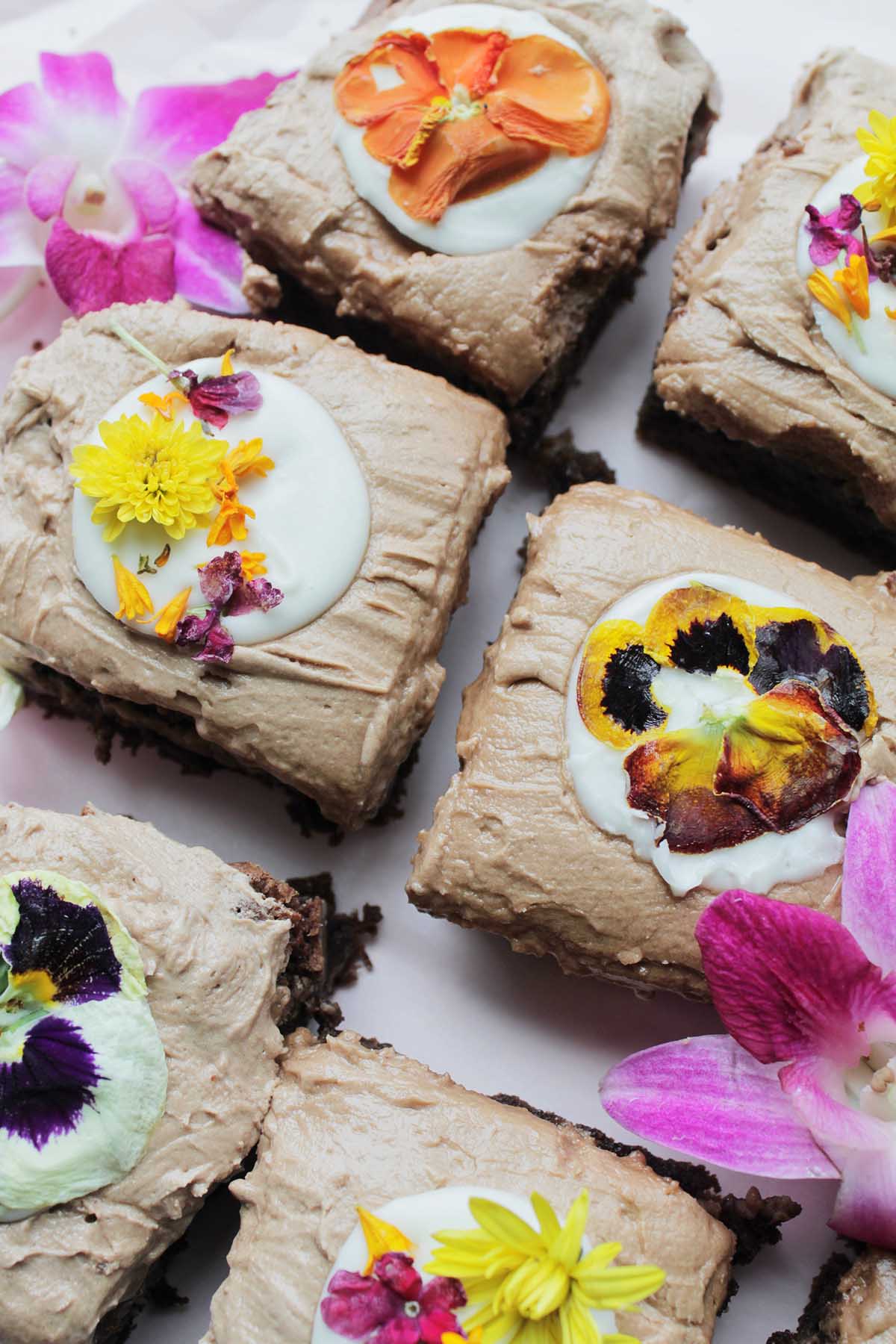 More Brownie Recipes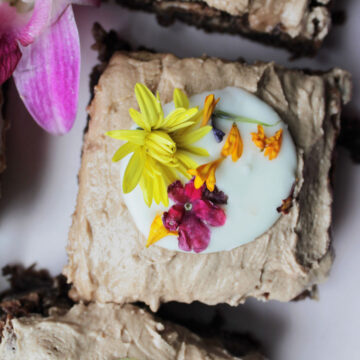 Iced Brownies with Edible Flowers
These homemade fudge brownies are chewy and topped with delicious American buttercream. Add some flair with white chocolate flower disks topped with edible flowers.
Ingredients
For the Chocolate Flower Disks
½

cup

white chocolate chips

1

teaspoon

coconut oil

various edible flowers
For the Icing
2

tablespoons

unsweetened cocoa powder

1

tablespoon

cool water

4

ounces

unsalted butter

room temperatire

8

ounces

sifted powdered sugar

½

teaspoon

vanilla
Instructions
For the Chocolate Flower Disks
In a microwave-safe glass bowl, add white chocolate chips and coconut oil. Microwave in 45 seconds intervals, mixing in between each interval, until chocolate is completely melted.

Lay a silpat or parchment paper on a baking sheet. Using a spoon, carefully make 1 ½ - 2 inch wide circles (about ¼ inch thick) with the melted chocolate. If necessary, make a stencil to help guide your circles.

Quickly decorate the chocolate circles with various edible flowers. Allow chocolate to set in the refridgerator.
For the Brownies
Preheat the oven to 350 °F.

In a medium sauce pan, melt the butter over medium high heat.

Add the sugar and cocoa powder once the butter is melted. Whisk to combine and remove from heat.

Add the salt, vanilla, and eggs and continuously whisk until the eggs are combined.

Add the baking powder and flour and continue to mix. Stir until incorporated.

Transfer to a parchment lined 9 inch aluminum square baking pan.

Transfer to the oven and bake for 45 – 50 minutes until done. Allow to cool for 1-2 hours.
For the Icing
Dissolve cocoa powder in cool water.

Using a mixer fitted with the paddle attachment, cream the butter on medium speed until light and fluffy, about 2 minutes. Scrape down the bowl as necessary.

Gradually beat in the powdered sugar, scraping down the bowl as necessary.

Add the vanilla and cocoa powder mixture. Beat for an additional 2 minutes on medium speed.

Using an offset spatula, frost the top of the brownies. Cut brownies into 9 even squares. Decorate each piece of brownie with a white chocolate flower disk.

Store in an airtight container on the counter for up to 4 days.
Nutrition
Calories:
647
kcal
Carbohydrates:
91
g
Protein:
6
g
Fat:
32
g
Saturated Fat:
20
g
Polyunsaturated Fat:
1
g
Monounsaturated Fat:
8
g
Trans Fat:
1
g
Cholesterol:
124
mg
Sodium:
226
mg
Potassium:
189
mg
Fiber:
3
g
Sugar:
75
g
Vitamin A:
870
IU
Vitamin C:
1
mg
Calcium:
48
mg
Iron:
2
mg
Have you tried this recipe?
Tag @homebody.eats on Instagram so we can see your creations!
Yum
Let's share recipes
I love trying new recipes! Let's discover new recipes together on Pinterest!


P.S. If you made these iced fudge brownies, share a picture with me on Instagram using #HomebodyEats. I love seeing your creations!!