The air fryer is going to take this pretzel chicken cordon bleu to the next level! The crunchy pretzel crust and the melty Swiss cheese make for a perfect twist on a classic weeknight meal!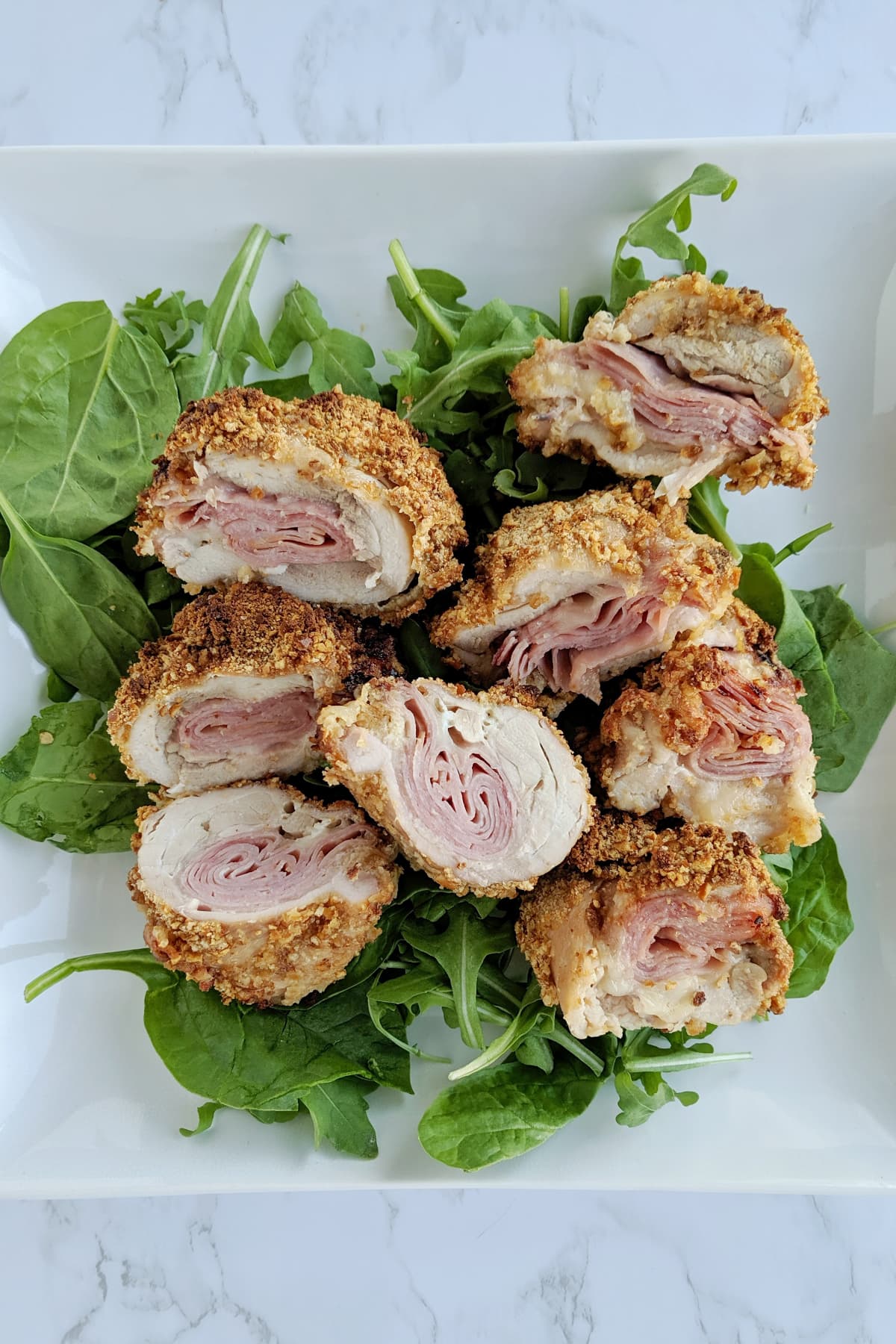 Want To Save This Article?
Enter your email below and we'll send it straight to your inbox. Plus, you'll receive new weekly recipe inspiration.
Sometimes the best weeknight dinners are new takes on the classics - hello pretzel chicken cordon bleu. With only having a finite amount of time to cook dinner on the weeknights, it can seem daunting to make a meal that sounds so fancy. Chicken cordon bleu - like who came up with such a fancy name?!? While it sounds super fancy, I promise you it's not hard to make!


Classic twists
My take on the classic chicken cordon bleu uses a pretzel crust. If you need to make this dish gluten free, you should be able to find gluten free pretzels in your local grocery store (Aldi has a great gluten free section). To achieve the classic crunchy outside, we are going to utilize an air fryer. Let me tell you, the golden "fried" crust is THE BEST part of this chicken!


Should I buy an air fryer?
If you don't currently own an air fryer, I get it! There are hundreds of options for small kitchen appliances and you have to choose what works for you and your family. That being said, if you don't know much about air fryers, here's some helpful information to help you decide if it's worth the investment.


First off, air fryers work like a convection oven. They quickly circulate hot air around the tray of food. This method of cooking gives you a moist inside and a crispy golden outside. Sorry to all the people out there I just offended by saying the word "moist" ?
You can purchase air fryers at various price points. I've seen them as low as $30 (here's one from Target) and as expensive as $350+. I have a middle of the road model (from Amazon) that is a toaster oven and air fryer. I'm all about less clutter on my counter!
A major downside of air fryers is the lack of cooking space. They usually hold anywhere from 3.5 - 5.8 quarts. Not a lot of room for big families.
Air fryers can cook a variety of foods - previously fried then frozen food (like chicken nuggets), vegetables, potatoes, or even toasting nuts or seeds.
The air fryer doesn't necessarily make the food taste like it's been deep fried. Rather, it gives food the crunchy, golden taste and texture as if it had been.


My two cents
Overall, I am happy with the food we have made with our air fryer. Without a doubt, the food we have cooked the most in our air fryer is potatoes to homemade french fries. While I like this kitchen appliance, I don't think I would purchase just an air fryer. I really like that our air fryer also functions as a toaster oven.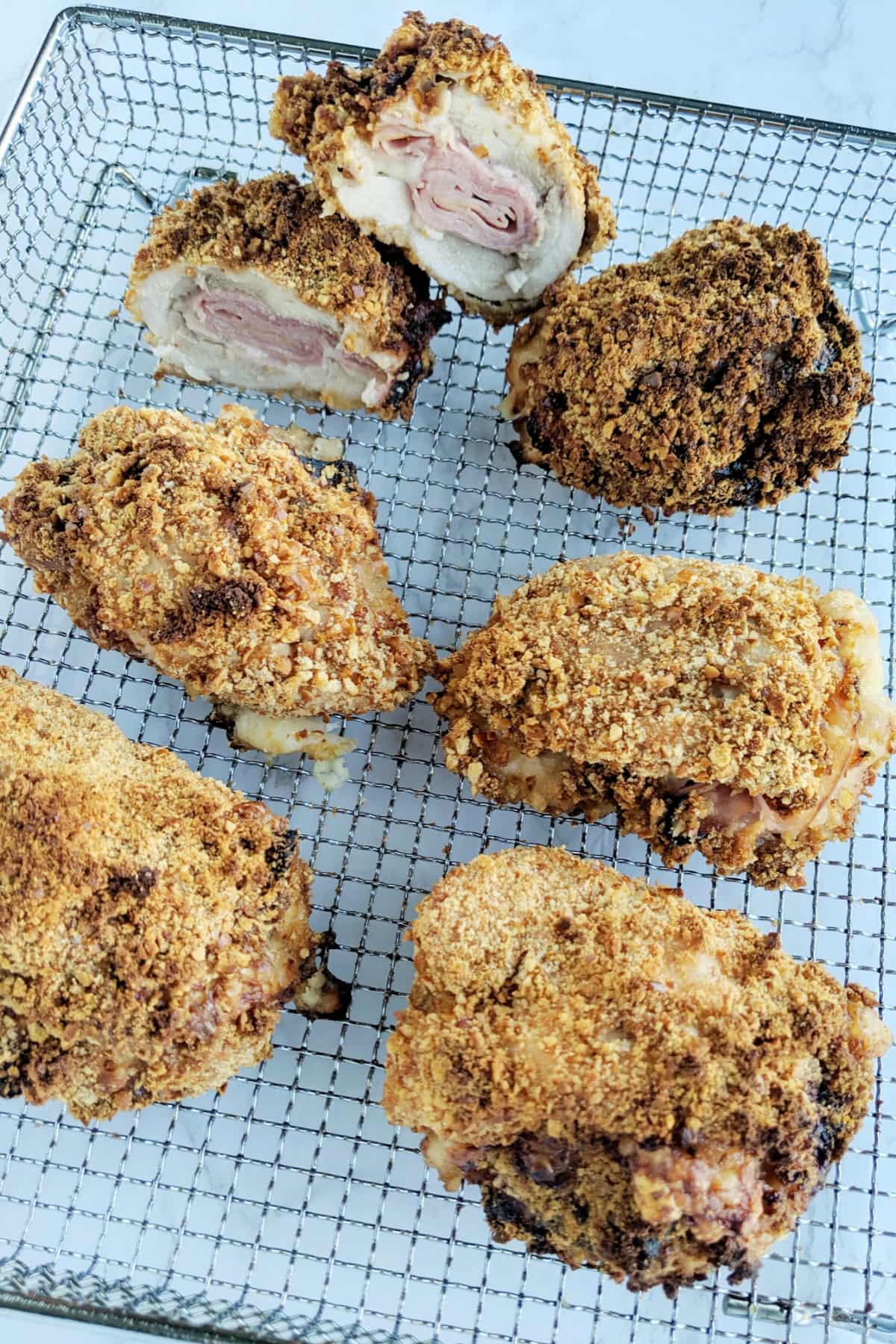 Quick tips
If you already have an air fryer, here are some tips to ensure success every time!


Spray a light coat of cooking spray or oil on the food before cooking.
Don't overcrowd the basket. This can be hard if you are impatient like me!
I like to preheat my air fryer for a couple minutes before cooking to ensure it is heated to the correct temperature.
Be sure to clean your air fryer after every use so you don't get greasy, dried food bits stuck on the bottom. The longer you wait to clean it, the harder it's going to be to get off.
Don't be afraid to try to cook new things in your air fryer - nuts, baked goods, breads. You have lots of options!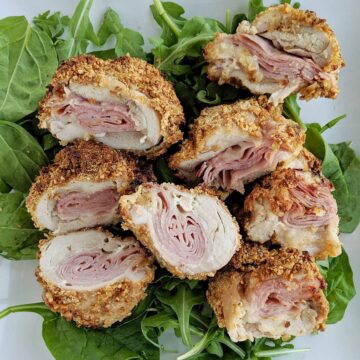 Air Fryer Pretzel Chicken Cordon Bleu
The air fryer is going to take this pretzel chicken cordon bleu to the next level! The crunchy pretzel crust and the melty Swiss cheese make for a perfect twist on a classic weeknight meal!
Ingredients
5

boneless, skinless chicken thighs

(approximately 4.5 lbs)

3

cups

pretzels

(use gluten free alternative if necessary)

2

eggs

(beaten)

10

slices

deli style honey ham

5

slices

Swiss cheese
Instructions
Preheat air fryer to 375 °F.

Trim excess fat from chicken thighs.

To a food processor, add three cups of pretzels. Pulse until pretzels turn into a fine powder (5-10 seconds). Pour pretzel crumbs onto a plate.

To a small mixing bowl, add 2 eggs. Beat until yoke and whites are combined and there are no remaining streaks.

Lay the chicken out flat on a plastic cutting board or plate. Add 2 slices of ham and 1 slice of Swiss cheese to each chicken thigh. Roll the chicken so the ham and the cheese are surrounded. Secure using toothpicks. Repeat process with 4 remaining chicken thighs.

Dunk the chicken thighs in the egg mixture until the outside is completely coated. Immediately roll the chicken in the pretzel crumbs until a thin layer coats the outside. Repeat process with 4 remaining chicken thighs.

Place chicken on the air fryer tray and lightly spray with cooking oil. Bake in the air fryer for 26- 30 minutes, until chicken is completely cooked through.

Remove chicken from air fryer. Remove toothpicks from chicken. Serve on top of a bed of arugula or spinach for added presentation.
Notes
If you do not have an air fryer, you can cook chicken thighs in the oven. Heat thighs through until they reach an internal temperature of 165 °F. To achieve the crispy crust, pour approximately 1 tablespoon of melted, unsalted butter over top of chicken thigh before you put it in the oven.
Nutrition
Calories:
543
kcal
Carbohydrates:
39
g
Protein:
46
g
Fat:
22
g
Saturated Fat:
8
g
Polyunsaturated Fat:
3
g
Monounsaturated Fat:
8
g
Trans Fat:
1
g
Cholesterol:
223
mg
Sodium:
1431
mg
Potassium:
540
mg
Fiber:
1
g
Sugar:
2
g
Vitamin A:
263
IU
Calcium:
167
mg
Iron:
4
mg
Have you tried this recipe?
Tag @homebody.eats on Instagram so we can see your creations!
Did you make this recipe?!
Let me know how you liked the recipe! Comment below, or share a picture on Instagram with the hashtag #HomebodyEats. Happy cooking, Homebody family!
Yum