Purchase the only high-quality knife set you'll ever need for a price point under $200
Are you looking for a knife set that has all of the equipment you'll need to feel like a professional chef in your home kitchen? I'll show you the best knife set for 2022! This set has sharp blades made with carbon steel and comes with the various knives you'll need to stock your kitchen.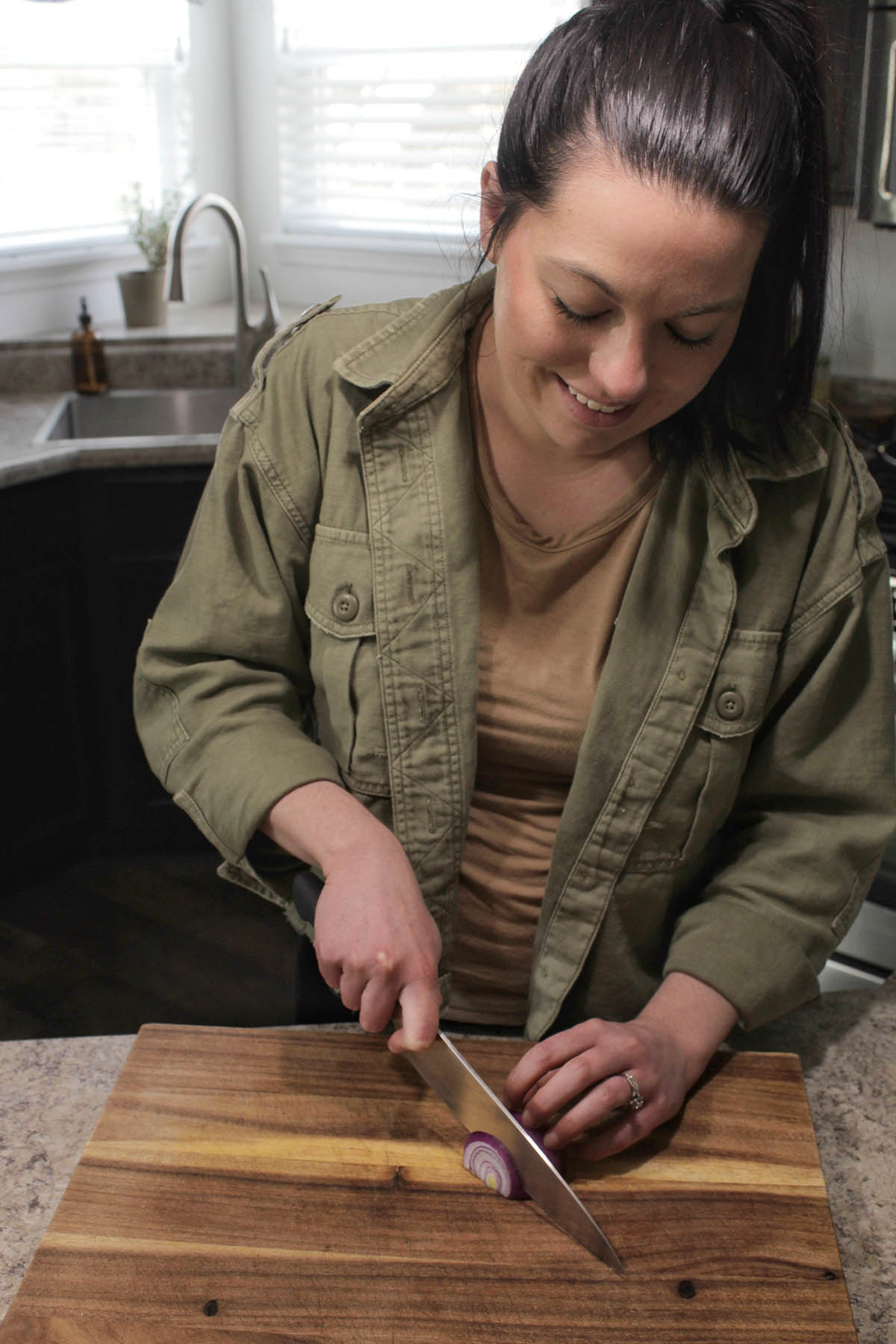 Jump to:
So I'm guessing you're here because you're wondering which knife set to buy.
Whether you've just started cooking at home, or you're a master home chef who cooks almost every day, it's important to have good quality knives. You know what I'm talking about...knives that are reliably sharp easily cut through food, and are comfortable in your hand.
It can seem impossible to purchase a knife set that's high-quality with super sharp blades that doesn't cost you hundreds of dollars.
Knives are easily the most used kitchen tool, which is why it's so important to have a reliable set. Today, I'm showing you the best quality knife set of the year, along with why these are the knives you'll want in your home kitchen.
These are the same knives that I received when I started culinary school, and they have proven their worth throughout cooking dinners for my family, hosting dinner parties, testing recipes, and so many other cooking projects.
The Mercer Culinary Genesis knife set is used in thousands of restaurant kitchens and by professional chefs. The reviews around the internet undeniably show just how great these knives are!
Best of all, you'll pay under $200 for the entire knife set! You don't have to set aside a large budget to invest in long-lasting, good quality knives.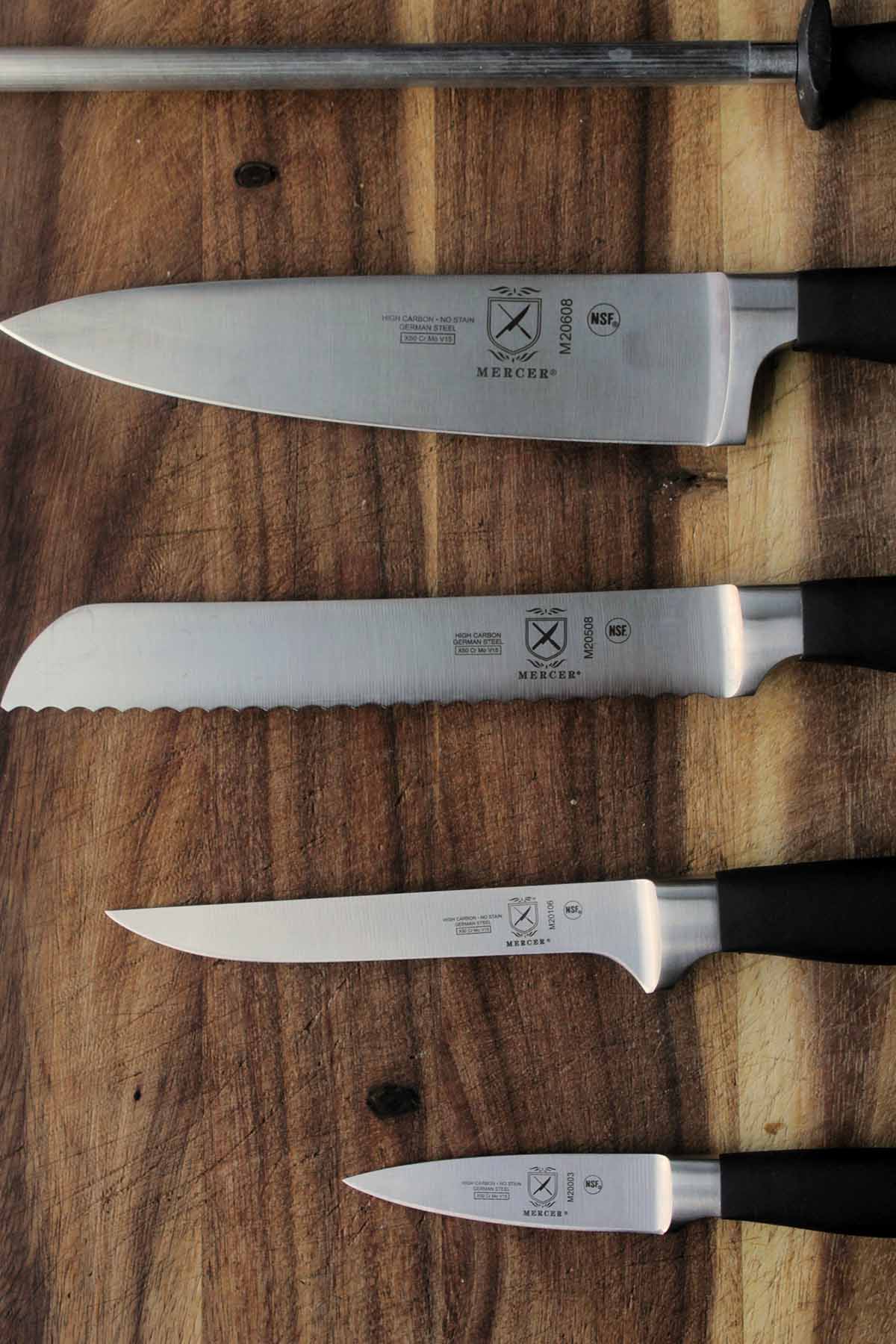 What Type of Knives Should I Purchase In A Set?
If you're often cooking in the kitchen, I don't have to explain to you how important knives are as a tool. You already understand that they are used to chop produce, break down various cuts of meat and fish, mince herbs, and so much more.
Part of the reason knife sets are so important is that each type of knife accomplishes a different task in the kitchen.
By doing a quick Google search for knife sets, you'll see many results that pop up with 20+ pieces in the set. As someone who cooks for a living, I can tell you that the majority of home cooks will never touch a third of the knives in a large set like this.
So today, I'm going to show you the knives you actually want to look for in a new knife set. We'll walk through what each knife is used for, and why you would want this knife included in the set that you purchase.
Non Negotiable Knives
First up, we have the knives that all home chefs should have in their knife sets. These are the non-negotiables that everyone needs.
Chef's Knife: A chef's knife (also called a French knife) is an all-purpose knife that has many uses in the kitchen. The blade size can range from 8 - 14 inches long. This knife is without a doubt the best value for a single knife.
Common uses for a chef's knife include chopping produce, dicing vegetables, slicing herbs, chopping nuts, cutting cooked pieces of meat, and more.
Serrated Knife: A serrated knife has a long, thin blade with serrated teeth on the end. It's commonly used to cut bread, pastries, and baked goods. The serrated edge helps saw through these items so they don't get smashed or broken as you're cutting.
This knife is important for anyone who loves baking! Additionally, if you buy pre-made bread or baked goods (like cake), it's a great knife to have around the kitchen.
Paring Knife: A paring knife is short and small. The blade is only around 2 - 4 inches long. This knife is perfect for detailed work in the kitchen.
I love to use a paring knife for peeling fruits and vegetables, deveining shrimp or prawns, cutting vents in a pie crust, and cutting/de-seeding fruits.
My favorite Mercer Culinary knife set has all of these knives included!
Extra (Bonus) Knives
Now that you know the most important knives to have in a set, let's talk about some bonus knives that you may consider adding. These knives are by no means necessary but may be worth adding to your knife collection depending on what you typically do in the kitchen.
You can decide, based on the use of the knife, which ones are important to you and fit your personal preference.
Boning Knife: A boning knife is used to separate meat from the bone. It has a thin blade that ranges from 5 - 7 inches long that can be flexible or rigid.
These knives are most often used to break down a whole chicken, filet a fish, or cut through thick cuts of beef or pork. A less common, but still practical use is removing skin or rinds from fruit (like a pineapple).
Utility Knife: A utility knife is another all-purpose knife that can be used for a variety of tasks. The rigid blade is around 6 - 8 inches long and slightly more narrow than a chef's knife.
Common uses include cutting fruits and vegetables, as well as carving poultry. Since it's smaller than a chef's knife, it's good for mid-sized fruits and vegetables, as well as cutting citrus.
Nakiri Vegetable Knife: A Nakiri knife is a Japanese-style knife that's known for its large, straight blade. This is useful for up and down cuts and slicing since you can't easily rock this knife back and forth like a chef's knife.
This knife, as the name implies, is great for anyone who cooks with lots of produce. The Nakiri knife is useful for preparing vegetables for stock, making thin and even cuts for dishes like sushi, and dicing large quantities of foods like onions and celery.
Additional Items To Consider
In addition to purchasing the knives you want, there are a few other tools you may consider adding to your kitchen knife set.
Honing Steel: A honing steel is a textured rod that's used to hone (straighten) knife blades in between sharpening. It's an easy tool to use (just watch this quick tutorial) and it really helps to improve the longevity of your knives.
If you purchase the Mercer Culinary knife set, a honing steel is already included!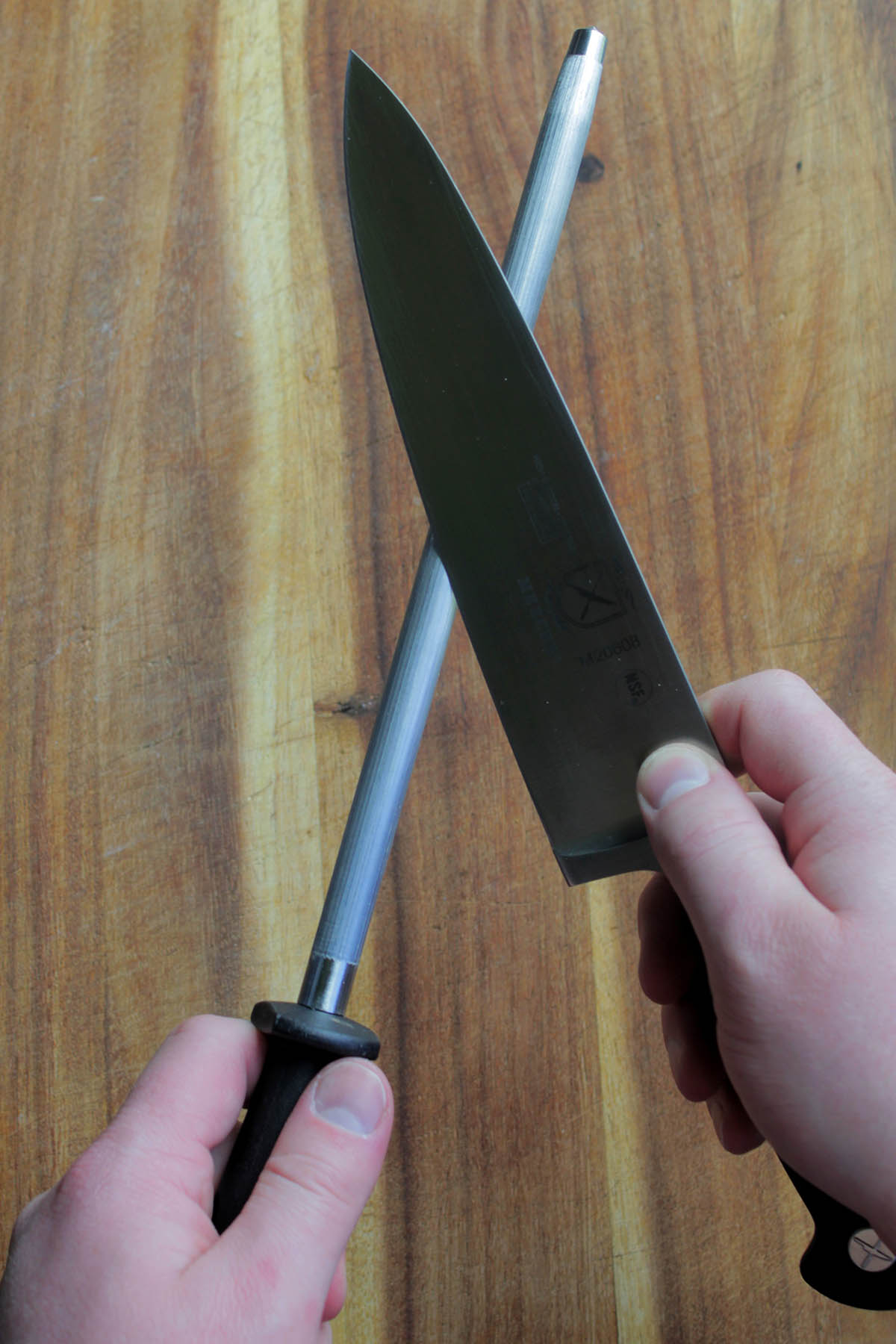 Kitchen Shears: Kitchen shears are a very versatile tool that you can use for similar uses that you would use your scissors for.
They can easily chop raw bacon, snip herbs, cut through packaging, shred lettuce, or even cut through a raw chicken.
Storage Block: This will help protect your knife blades and prevent any injuries. You can get a storage block that can sit out on the counter or be stored in a drawer. The style of your storage block can range from a wooden block to a bamboo drawer insert and everything in between.
Customer Testimonial:

"My resolution this year was to cook dinner 3 nights a week. With cooking more at home, I knew I needed to invest in a good knife set. I had a pretty small budget (under $250). I was shocked to find that this set was so affordable and came with all the knives I had on my wish list. By far my most commonly used knives are the chef's knife and paring knife. All the knives have a comfortable rubber grip and a really sharp blade." - Pat M.
Characteristics of High-Quality Knives
No matter what knife set you choose to purchase, there are some qualities you'll want to double check to ensure you're buying good knives. Mercer Culinary is a good option for knives because they have high standards for the knives they produce, and they use high-quality materials.
Here are the important things you'll want to look for:
Quality knives have blades that are forged and tempered to provide durability and strength.
Look for knives with high-carbon stainless steel blades. It is easily able to sharpen and won't corrode or become discolored.
Pay attention to the tang (the portion of the blade that fits inside the knife handle). Many experts argue that higher-quality knives should have a full tang design that runs the entire length of the handle.
Be sure the knife handle is molded comfortably to fit in your hand. It should also have a smooth, closed surface that won't allow food particles and bacteria to easily grow.
Overall, the knives should have a nice weight and feel balanced while you are cutting.
Keep reading to see if the Mercer Culinary knives have the high-quality characteristics that are listed above.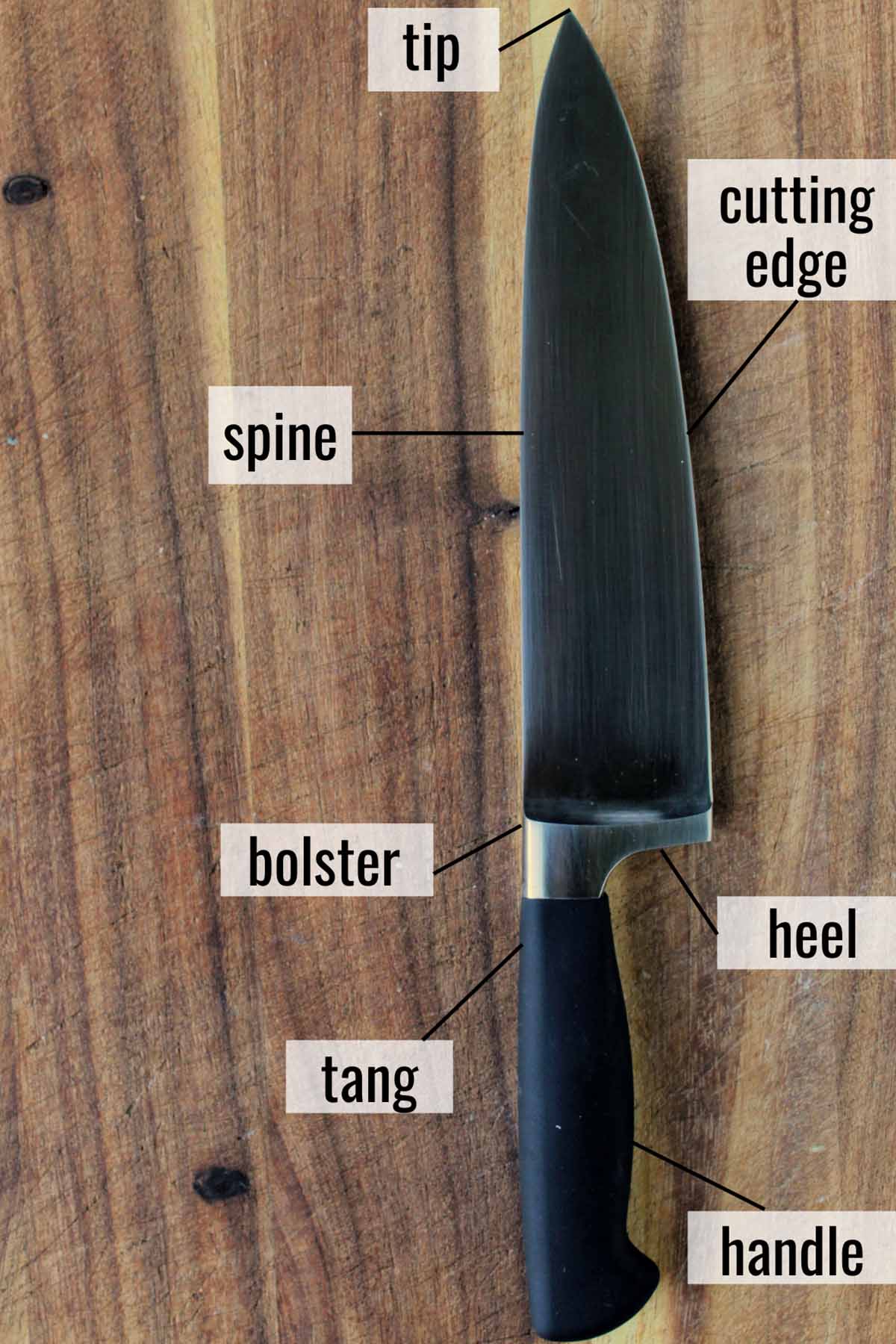 Best Quality Knife Set To Buy In 2022
Now that you know what you should look for when purchasing a great knife set, it's time to talk about the best choice for 2022: Mercer Culinary Genesis 6 Piece Knife Set
This entire knife set costs under $200 and will provide you with all the best types of knives. Included in this set is:
8-inch Chef's Knife
8-inch Serrated Bread Knife
6-inch Stiff Boning Knife
3-½ inch Paring Knife
5-inch Utility Knife
10-inch Honing Steel
Mercer does not skimp on the quality of their knife blades, which is the main reason these knives are so great for home cooks! The company uses high-carbon German steel that is forged for strength and durability.
You'll be amazed at how razor-sharp the blades come! After many uses of chopping produce, cutting raw meat, and mincing herbs, the edge of the blades has remained sharp and ready to use!
Mercer knives all have a tang that provides great balance. This also gives a nice weight to the knife that will help you cut with ease! Without putting in too much effort, the weight of the knife easily slides down as you chop.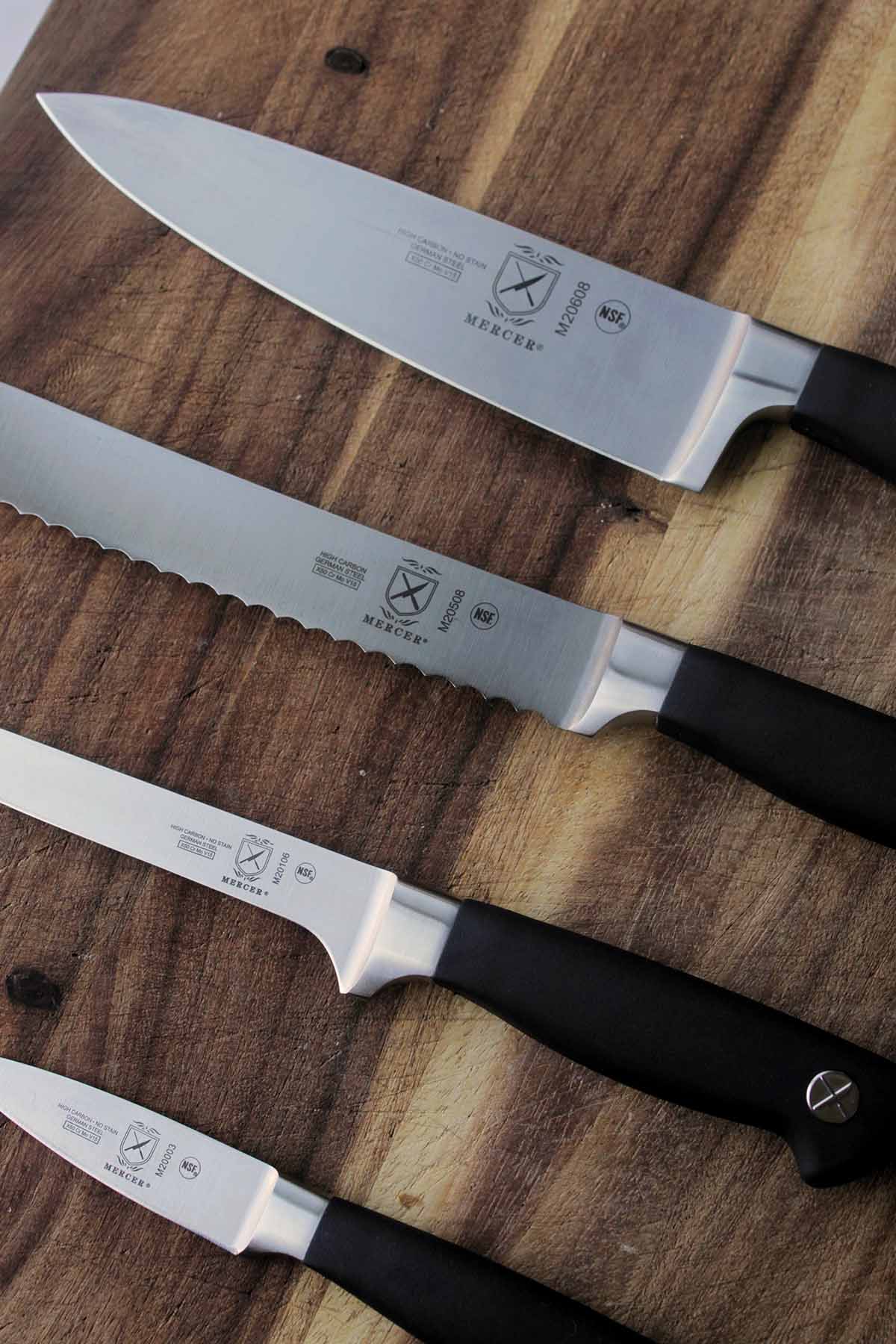 The knife handles are one of my favorite features. They are the most comfortable and practical knife handles I've ever used!
The handle is covered by a non-slip grip which also provides some softness (unlike the plastic handles on many knives). It is especially useful when you have wet hands.
Not to mention, the handle has a great ergonomic design that fits nicely within your hand. Whether you have large or small hands, you'll be able to comfortably grip the knife.
Even after hours of prepping food in culinary school, my entire class agreed that our hands hardly ever hurt at the end of the day. The handle is honestly that comfortable!
Don't just trust me about how great Mercer knives are! With a quick Google search, you'll see just how loved these knives are.
Everyone from professional chefs to recipe developers to home cooks agree that for the price point of these knives, you cannot beat the quality.
If I had purchased this knife set sooner in my culinary journey, I would have saved so much money and countless hours of using dull knives that didn't meet my needs.
Customer Testimonial:

"I recently purchased this knife set for my husband's birthday. He always complains about our knives not being sharp enough. I didn't have a big budget, so I wasn't sure I was going to be able to purchase a high-quality set. Thanks to this article, I was persuaded to purchase the Mercer Culinary knife set and it's everything we could have wanted! The knives are super, super sharp, and they are very durable and nicely weighted."
- Amanda B.
Caring For Your Knife Set
Once you've decided to invest in a nice knife set, it's important to properly take care of the knives so they last a long time! Here is an easy knife caring guide to follow:
What To Do
Always hand-wash the knives with warm water and some mild soap. Be sure to rinse and thoroughly dry with a soft towel.
Store the knife in a knife block (the Mercer knife set already comes with one) in order to protect the blade. This also helps with safety, so nobody cuts themselves.
Sharpen your knives 1 - 3 times a year (depending on how often you use the knives) to keep them nice and sharp. A dull knife is more dangerous than a sharp one!
Use a honing steel (that comes with this knife set) to straighten the knife blades in between sharpening. The only knife you shouldn't use a honing steel with is your serrated knife. Here's a quick guide on using a honing steel on your knife set.
What Not To Do
Never wash your knives in the dishwasher. The heat from the dishwasher can cause the blade to dull, discolor the metal, and deteriorate the knife's handle.
Don't soak knives in a tub of water. It can rust and discolor the knife blade, and it's a safety hazard if anyone reaches into the water without seeing the knife.
Do not use the knives for their incorrect usage or to cut through frozen foods.
Never open cans or jars with a knife.
Do not cut on dense surfaces including glass, marble, or hard counters.
Frequently Asked Questions
Does this Mercer knife set have a lifetime warranty?
Yes, all Mercer knives have a limited lifetime warranty. Meaning, as long as you're properly caring for your knives, they will cover any out-of-the-ordinary damage. Simply submit a warranty directly to the company on their website.
How long will this knife set last me?
If you are handling your knives with proper care, they will last many, many years! $200 is a great value for knives that you'll use almost every day for years to come.
If I don't like this knife set, can I return it?
If you purchased this set on Amazon, you can return it within 30 days of receipt of shipment.
How do I know this knife set is worth the investment?
These knives are used by many professional chefs in restaurants. These were also the same knives I was issued when I started culinary school. All of the glowing reviews will show you just how amazing these knives are, especially for an affordable price under $200! That's a great price for a set of 6 knives.
Sources