Learn the important details for making a crumb pie crust from scratch
Learn how to make (almost) every type of crumb pie crust! This guide will walk you through what a crumb crust is, the magic formula you'll need to achieve great results, and a step by step photo guide. Whether you want to learn how to make a crumb crust from Oreos, pretzels, or even gingersnaps, this guide will teach you everything you need to know.
Jump to:
If you love making pies from scratch, then get ready for a whole new type of creation - pies made with crumb crusts.
While many pies are made using pie dough, this is a great alternative for people who are looking for something a little unique. Plus, this type of crust also works great for making tarts or no bake cheesecakes.
What Is A Crumb Crust?
We first need to understand what defines a crumb crust. This is a pie or tart crust made from finely ground crumbs, often cookie crumbs, that's mixed with melted butter and sugar to form a quick and tasty bottom crust.
Although really anything that can be ground into a fine crumb can be used, common types of crumb crusts include chocolate cookies, gingersnaps, graham crackers, pretzels, cornflakes, and vanilla wafers.
This is a very versatile crust since it can be used for both baked and unbaked pies, cheesecakes, and tarts.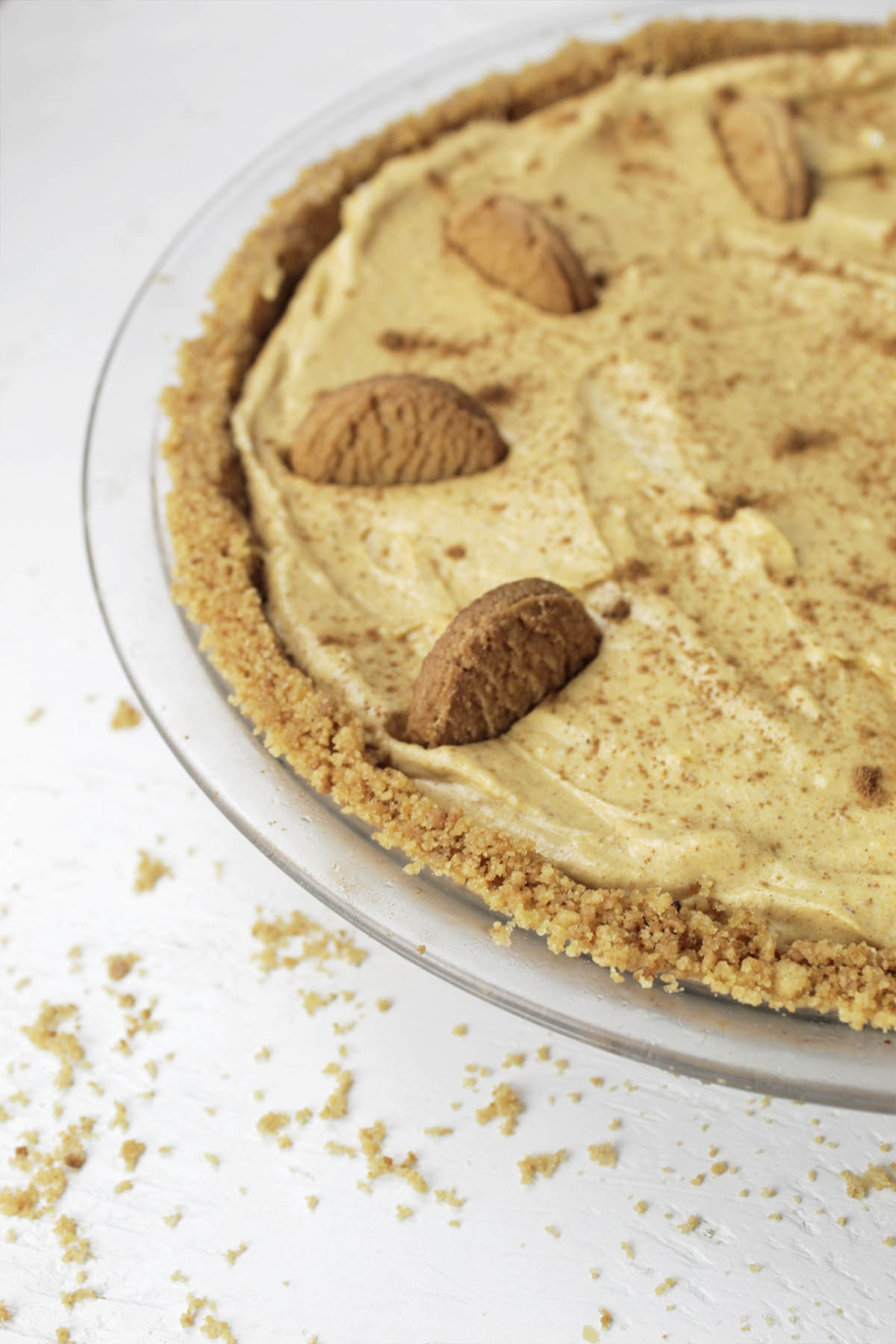 The Perfect Ratio
The generic ratio that's used to make a crumb crust is:
One part melted butter
Two parts sugar
Four parts crumbs
While you may use this formula as a general guideline, you should know that some types of crumb crusts will need to be slightly tweaked.
The amount of melted butter will vary depending on how dry the crumb is. For example, a pretzel crust will need more melted butter to stick together than an Oreo crust.
The same rationale goes along with sugar. You may vary the amount of sugar depending on the sweetness of the crumb you are using.
Ingredients You'll Need
Now, let's talk about what kind of ingredients you can use with the golden ratio formula.
Melted Butter: I tend to use unsalted butter so I can control the level of salt that goes into the crust. However, you can also opt for salted butter if your crumb doesn't have much added sodium.
Sugar: The most common types of sugar are granulated sugar and brown sugar. If you're using a liquid sweetener such as maple syrup, honey, or agave, the above formula will need to be tweaked.
Crumbs: There are many different sweet and savory options for crumbs including Oreo chocolate cookies, Saltine crackers, Ritz crackers, gingersnap cookies, graham crackers (there are lots of flavors), cornflakes, Biscoff cookies, and vanilla wafers. The possabilites are endless!
Salt to Taste: Feel free to add in fine sea salt as needed.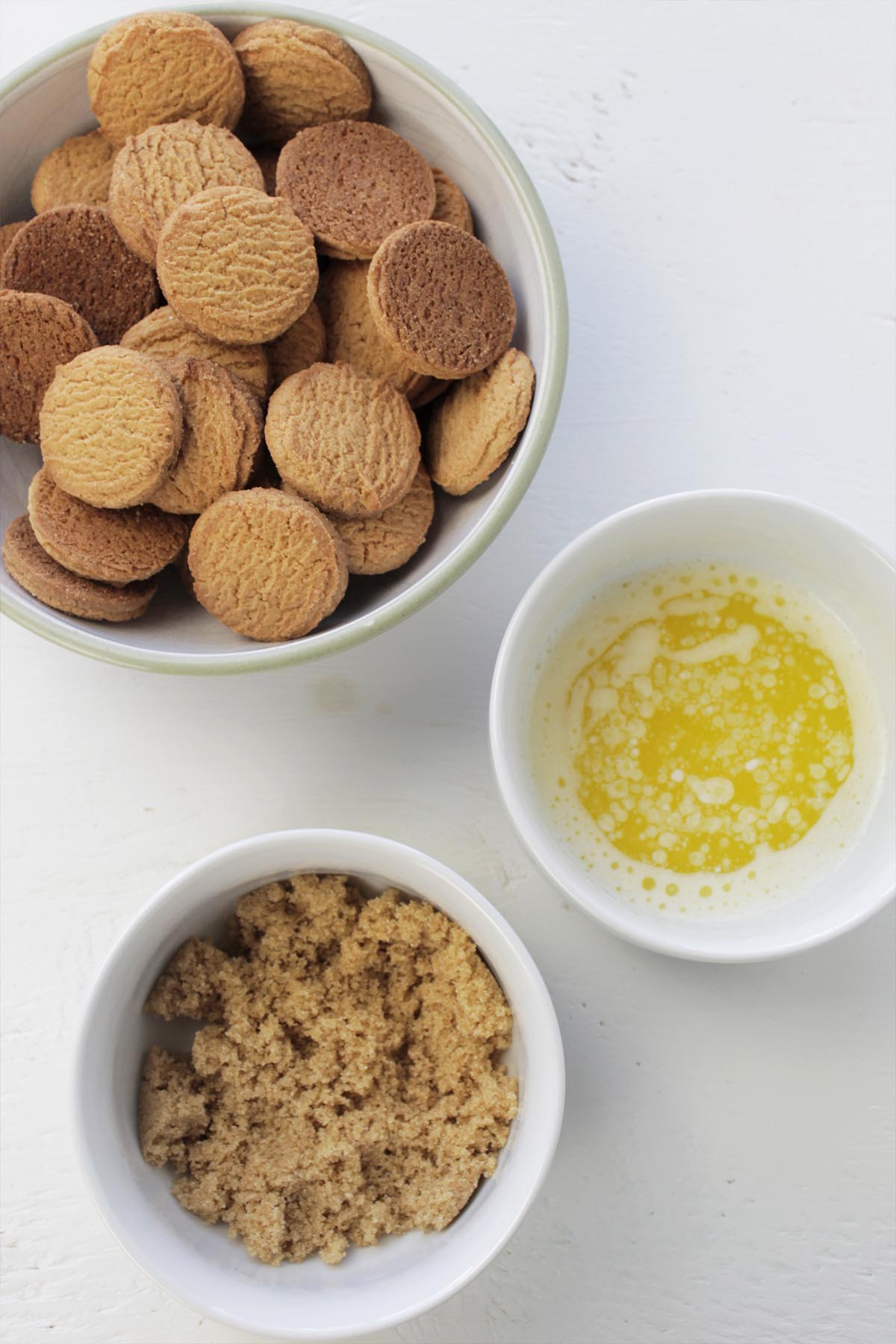 Tools & Equipment
You'll only need two pieces of kitchen equipment:
Food Processor: This is going to ensure you have a super fine crumb and everything gets fully incorported to become one even crumb crust.

Alternatively, you can finely crush up your crumb by beating with a wooden rolling pin. Then, mix all of the ingredients together with a mixing bowl and rubber spatula.

How To Make a Crumb Crust from Scratch
Here's a simple step-by-step process for making almost any crumb pie crust you could dream of. The photos will help guide you through making the pie crust, even if you use a different type of crumb. After you've measured out your ingredients, here are the steps you'll need to take:
1. Place Crumb and Sugar In Food Processor
Add crumb, sugar, and salt (if using) to a high powdered food processor.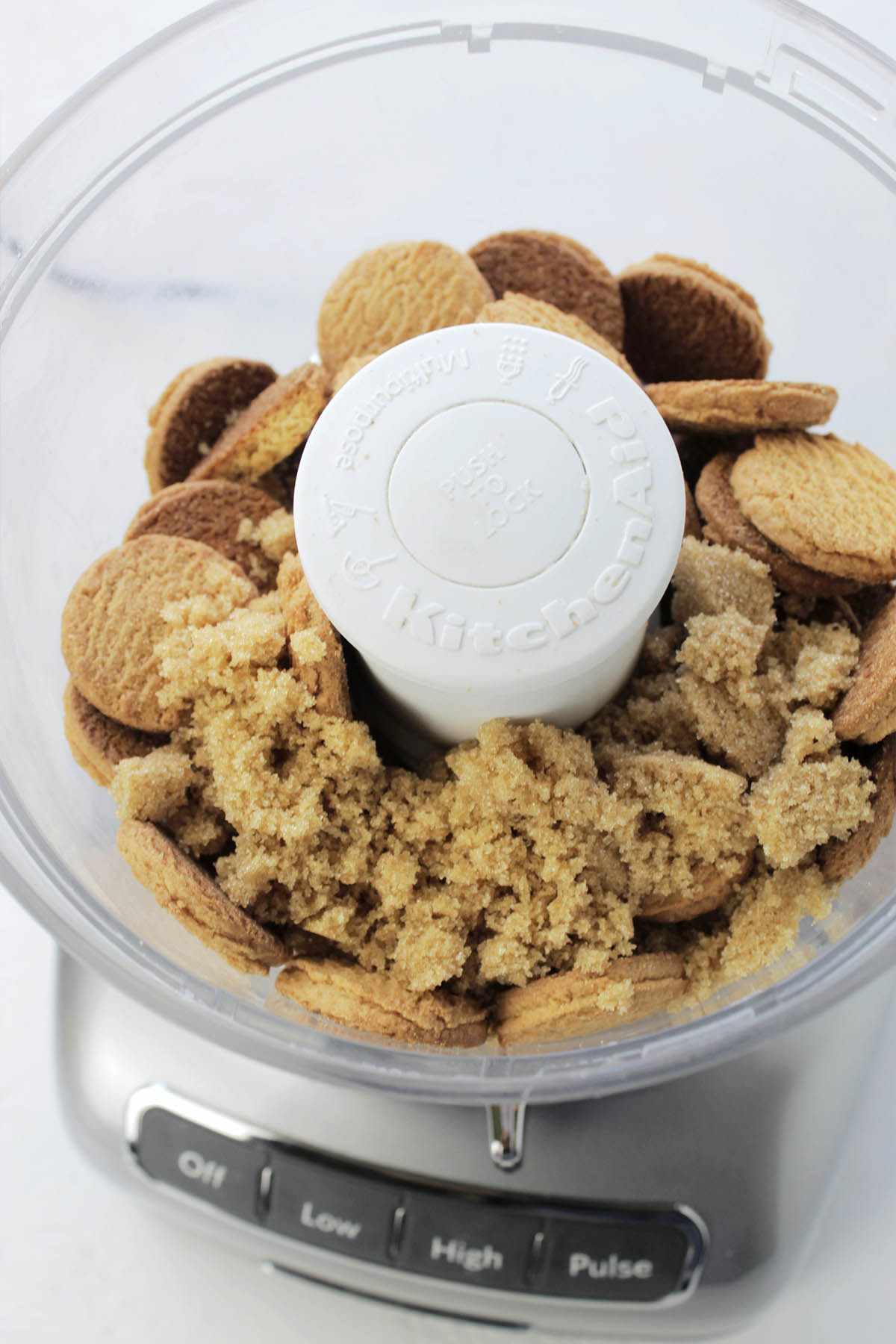 2. Pulse Into Fine Crumbs
Pulse on high speed until the crumbs have turned into a sand-like texture. The crumbs shouldn't be too fine, but you also don't want any large chunks left.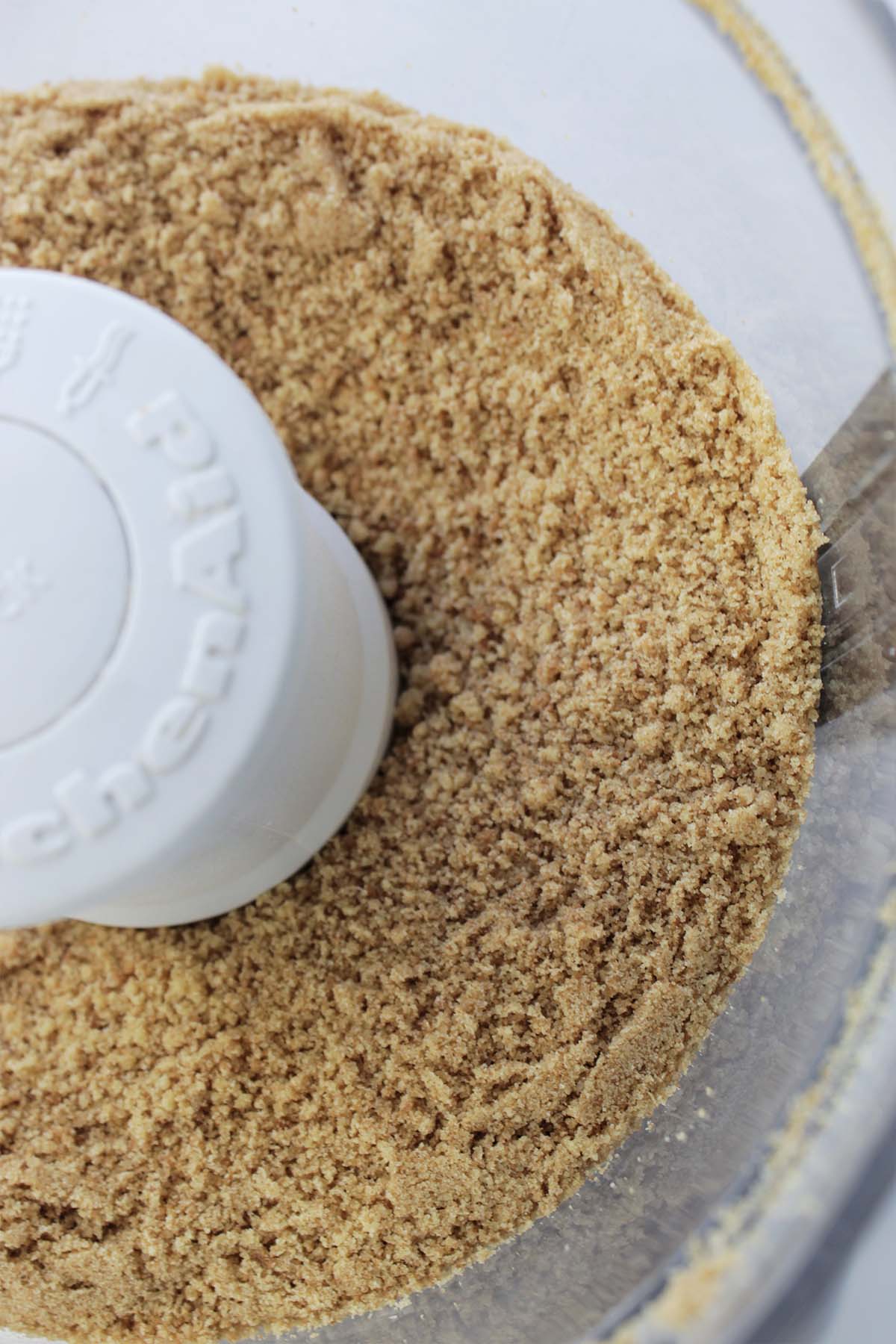 3. Stream In Melted Butter
Slowly stream in melted butter while the food processor is running at low speed.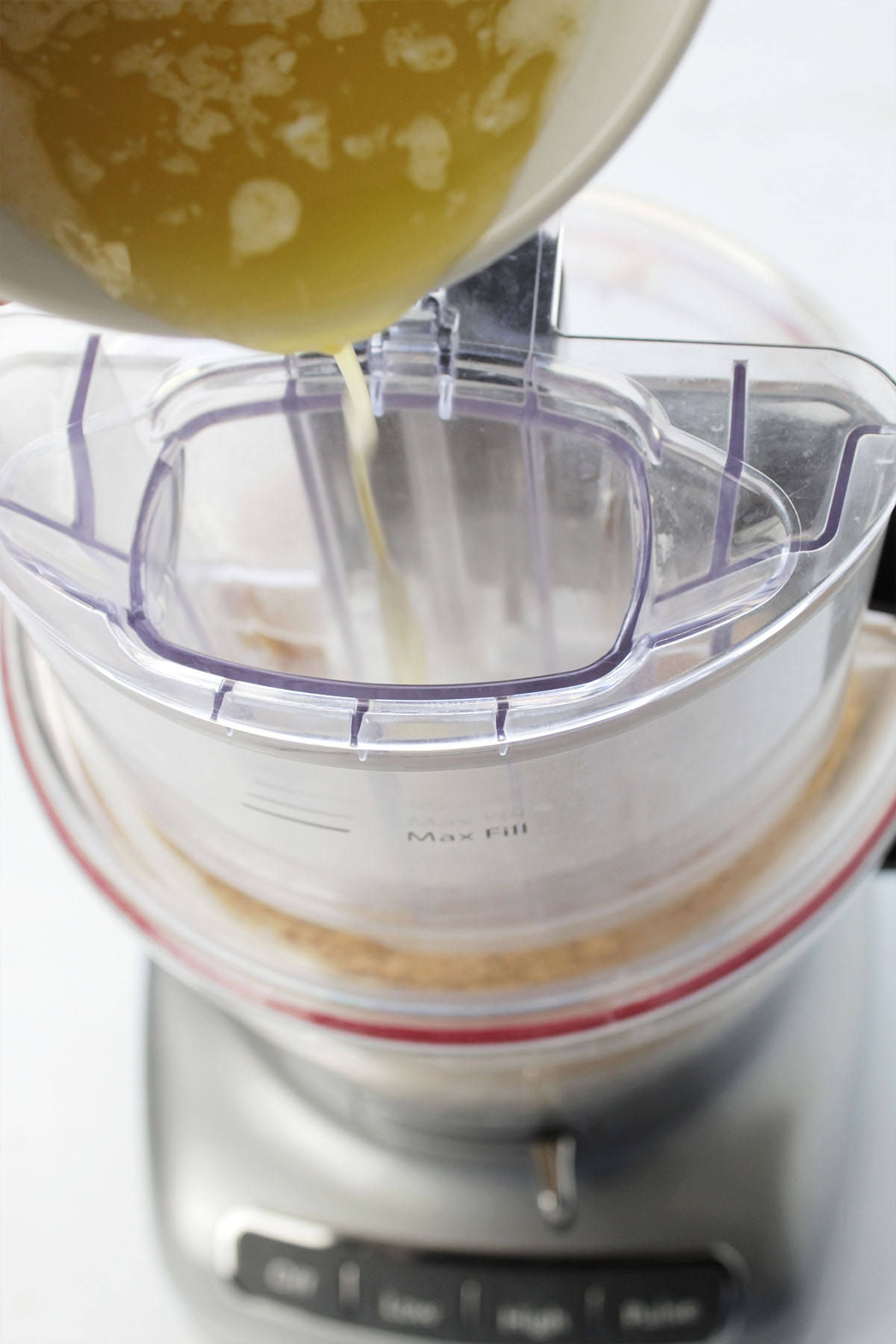 4. Blend Melted Butter Until Combined
Continue blending just until the butter has been incorporated. The crust should hold together when you press it in between your fingers. Depending on the type of crumb you use, you may need to add additional melted butter (1 tablespoon at a time) to achieve this consistency.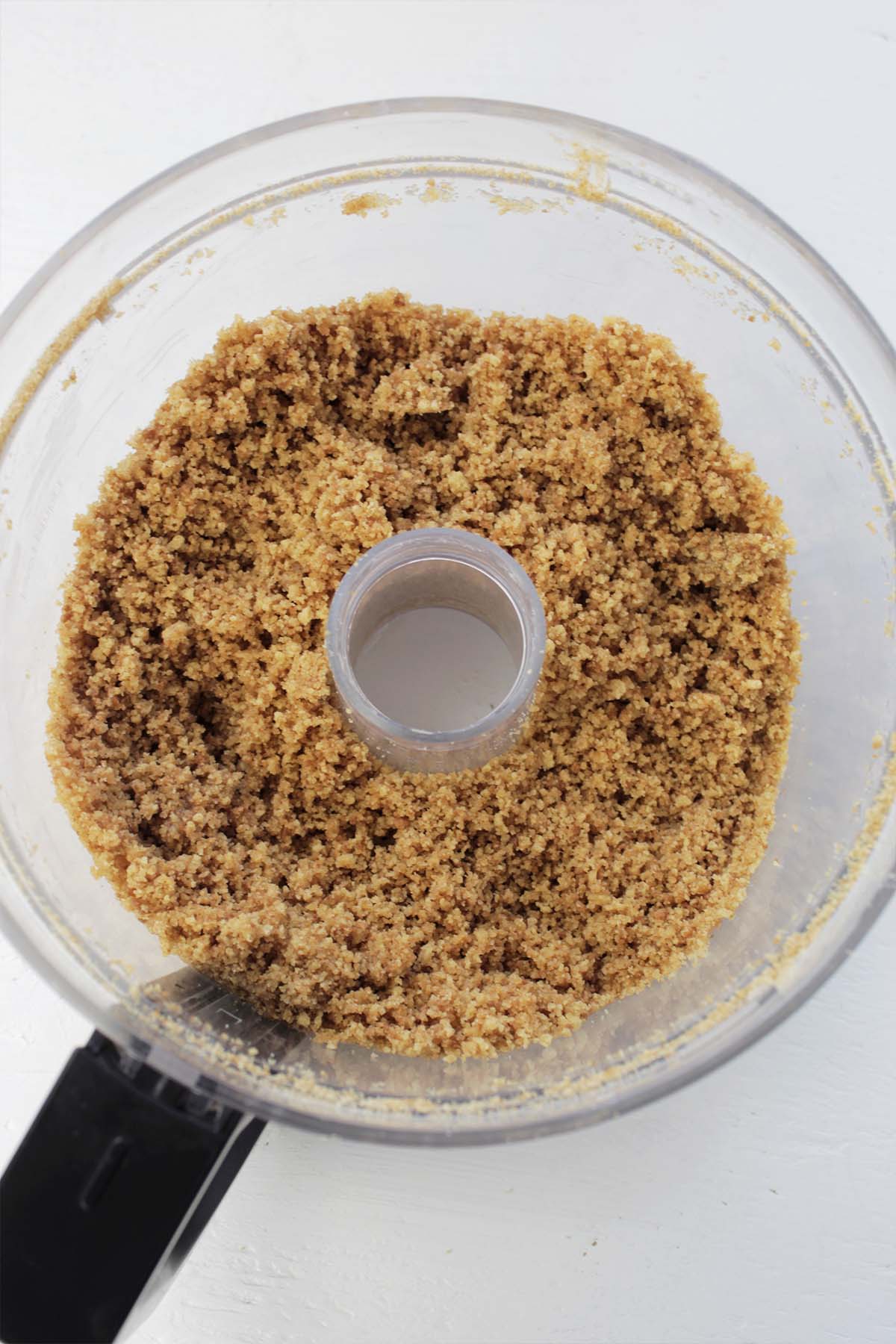 5. Hand Press Into Pie Plate
Lightly press the crust into the bottom and sides of an ungreased pie plate using your hands.
It seems tempting to grease the pie plate to ensure nothing sticks, but it adds too much fat to the crust. Be sure to leave the pie or tart pan ungreased.
6. Firmly Press In Place
Firmly press the bottom and sides of the crust in place using the bottom of a small dry measuring cup. This compacts the crumbs and helps give you a stable pie crust. Don't skip this step!
7. Bake Or Freeze Pie Crust
From here, you have two options.
For pie/tarts that need to be oven baked: Bake for 7 - 10 minutes until the crust is set and has lightly browned around the edges. Allow crust to cool to room temperature on a cooling rack. Add desired filling and bake as directed.
For no bake, cream or chiffon pies/tarts: Freeze for 15 minutes until the crust is set. Add desired no-bake filling and chill as directed.
You can make this crust up to one day ahead of time.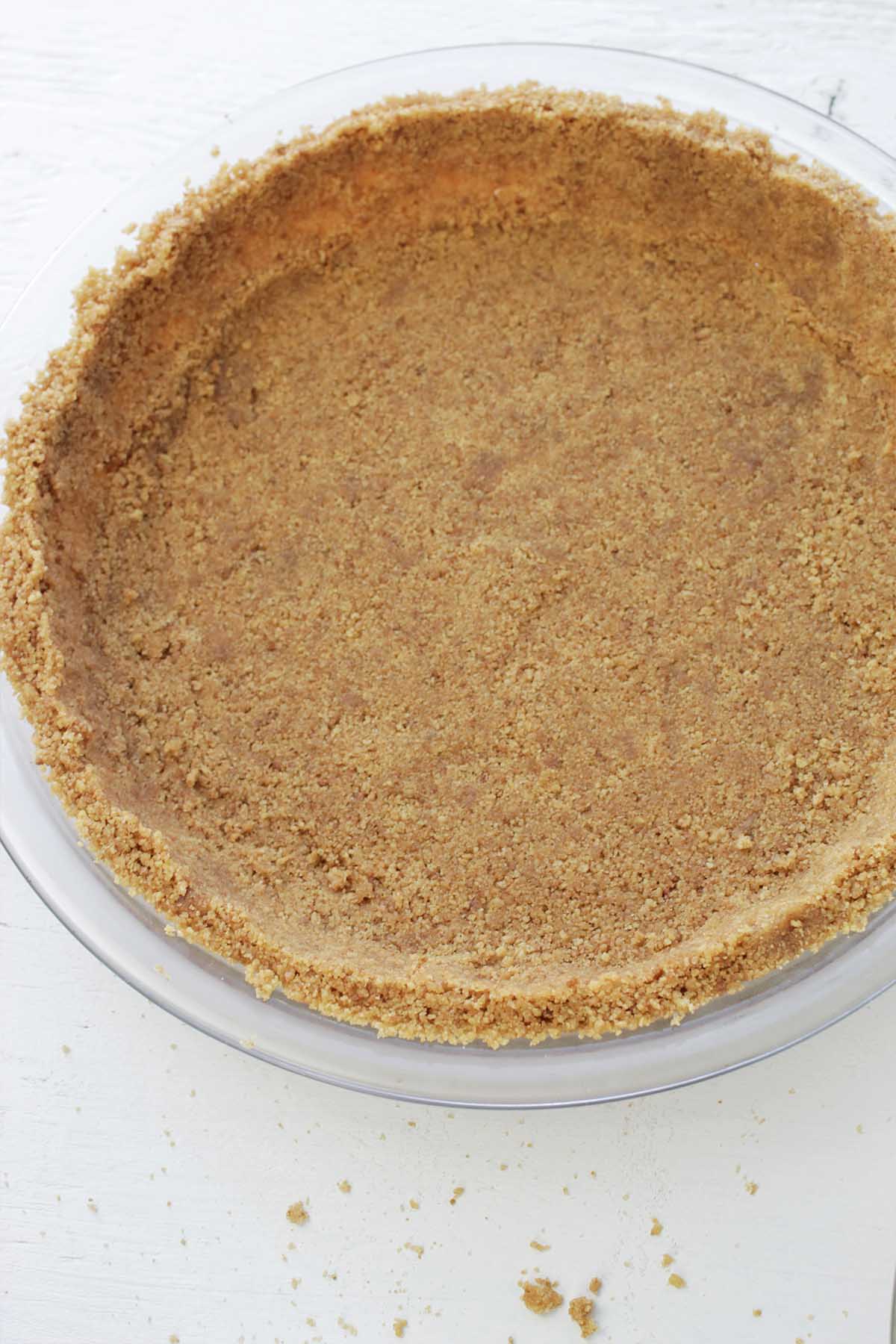 Recipe Ideas
Here are some great recipe ideas to try making with your crumb crust:
No bake pumpking cheesecake with gingersnap crust
Apple pie with Ritz cracker crust
Key lime pie with graham cracker crust
Chocolate tart with Oreo cookie crust
Lemon pie with vanilla wafer crust