Bake up a delicious flavorful sugar cookie recipe with chocolate M&M's. These are the perfect festive cookies to make all year round with different colored M&M candies.
Please tell me I'm not the only one who gets cookie cravings. I'm obsessed with making homemade sweet treats for myself and my family, especially when it's an easy cookie recipe.
These rainbow M&M sugar cookies are so delicious. They are a little chewy, have soft centers, and they're full of chocolate. What's not to love?!
These M&M homemade cookies can be made and eaten right away, or you can bake and stash them in the freezer for later. I hope you make these cookies during the holiday season, for birthdays, and everything in between.
Jump to:
What You'll Learn In This Recipe
The science behind baking cookies including why oven temperature is so important and how the creaming mixing method works.
Tips for making a picture-perfect cookie and some behind-the-scenes food styling tricks.
What could be happening if your cookies aren't spreading.
To learn more tips like this to level up your baking knowledge, grab my free 13-page e-book. This guide has all the secrets you need to become a better baker!
Ingredients You Need
Here are the ingredients you'll need to make this M&M sugar cookie recipe, plus a little insider knowledge into why we use certain ingredients in baking.
All purpose flour: Flour is responsible for the texture and structure of the cookies. For baked goods that you want to keep tender, like cookies, use lower-protein flour. You can learn more about the protein content in flour by watching this short video.
Baking powder/baking soda: Both of these ingredients are considered leaveners. Leaveners help the cookies rise. It allows the cookies to have a light, airy taste and texture.
Fine sea salt: Salt is needed in all types of food, including baked goods. Salt helps to enhance other flavors, which means, by adding salt, you'll amp up the flavor of the other ingredients.
Unsalted butter: Butter and other fats used in baking add flavor, richness, and moisture. It helps produce a tender baked good since it can help shorten gluten strands. It's really important to properly mix the butter with the other ingredients in the recipe (we'll talk more about the creaming mixing method a little later) so that the fat particles are evenly distributed.
Cream cheese: The cream cheese is an additional source of fat, as well as a flavor enhancer. It adds a nice taste along with keeping the sugar cookies soft.
Granulated sugar: All of the sugar in this recipe assists with tenderizing the cookies. Additionally, when creamed with butter, it works to leaven the cookies.
Light brown sugar: Brown sugar is refined cane sugar that has molasses added back into it.
Egg: Eggs can serve a variety of purposes in baking depending on how they are used. In cookies, they provide structure. This happens as the protein in the egg coagulates when baked.
Vanilla bean paste: This ingredient makes a huge difference in the flavor of the cookies. You can substitute vanilla extract if needed.
Milk chocolate M&M's: Every good cookie recipe needs some kind of mix-in to add texture, flavor, and maybe a touch of color to the cookies. Feel free to substitute with other flavors or sizes of M&M's.
How To Make This Recipe
There is a science that is involved in baking the perfect cookies. I'll walk you through the steps of making this M&M cookie recipe, along with the principles of baking that result in delicious cookies.
Measure Ingredients
The first step to making any baking recipe is mise en place. This is a fancy French term meaning 'to put in place.' It refers to the preparation and assembly of all the ingredients and equipment.
When baking, it's best to pre-measure all your ingredients before you start the recipe. This will allow you to pay more attention to the recipe, and get things right.
Don't forget to have all of your equipment out and ready to go as well. This means lining the baking sheet pan with parchment paper and having your mixer out on the counter.
One of the most important dry ingredient measurements to get right is the flour! Flour provides bulk and structure to the cookies.
When measuring flour using volumetric measurements, first fluff up the flour with a spoon to incorporate air. Scoop flour with a spoon into a measuring cup, then level off with a knife.
Cream Butter & Sugar
There are various mixing methods that are used when making baked goods - beating, blending, cutting, folding, and creaming.
For cookies, we use the creaming mixing method. Creaming is when a softened fat is vigorously combined with sugar.
This helps add air to the mixture, which promotes rise and lift when baked in the oven. It also helps the cookies have a light texture.
After creaming the butter and sugar, you'll also mix in the egg and vanilla bean paste.
Mix Flour To Form Dough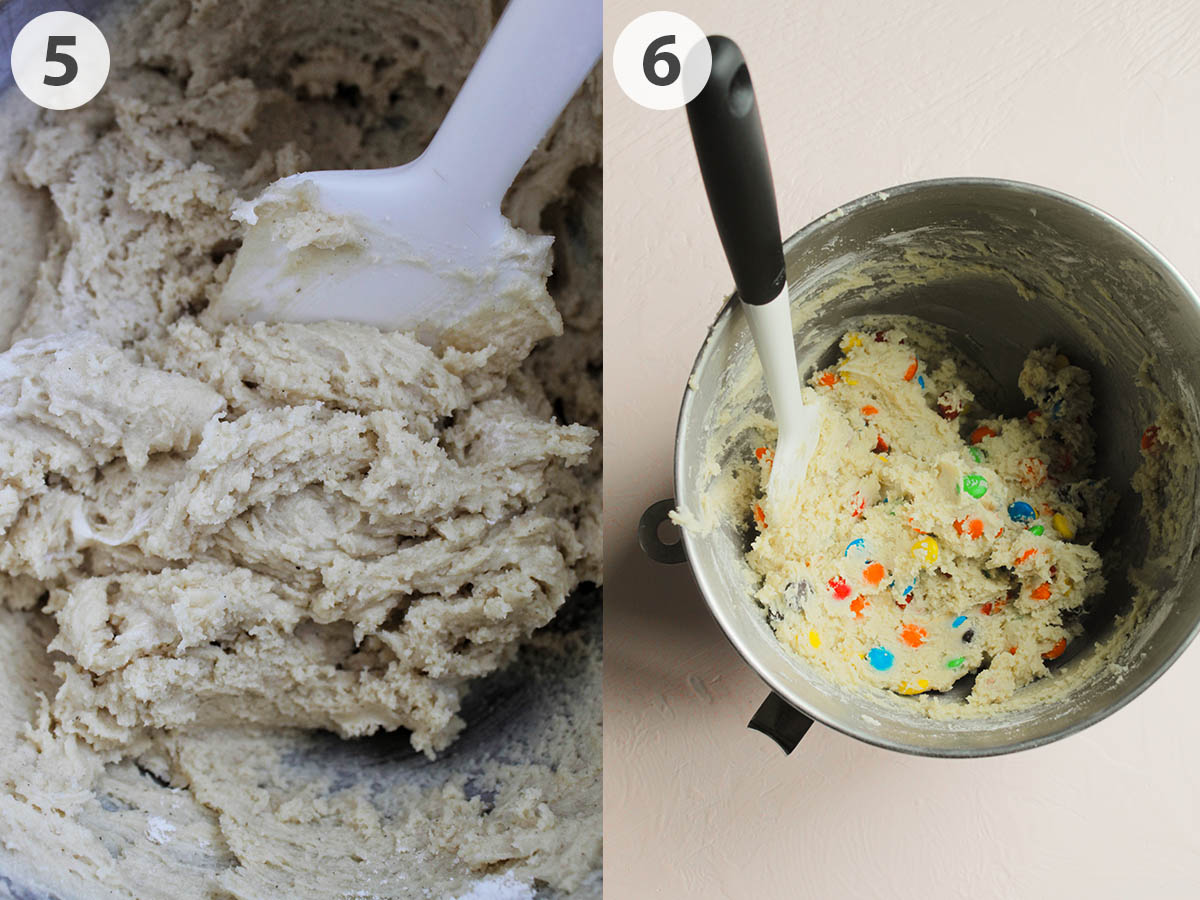 The final step when making the dough is mixing in flour. Mixing the flour activates the proteins, causing the formation of gluten.
Baked goods like cookies or cakes typically shouldn't have much gluten formation. This can cause the cookies to be too tough.
Because of this, you'll want to mix in the flour just until combined, but no more than that!
After the cookie dough is formed, you can add the mix-ins. For this recipe, you'll use milk chocolate M&M's.
Stir the M&M's with a silicone spatula. If you stir them in using an electric mixer, the M&M's will break in half and they won't look as pretty once the cookies are baked.
Bake & Style Cookies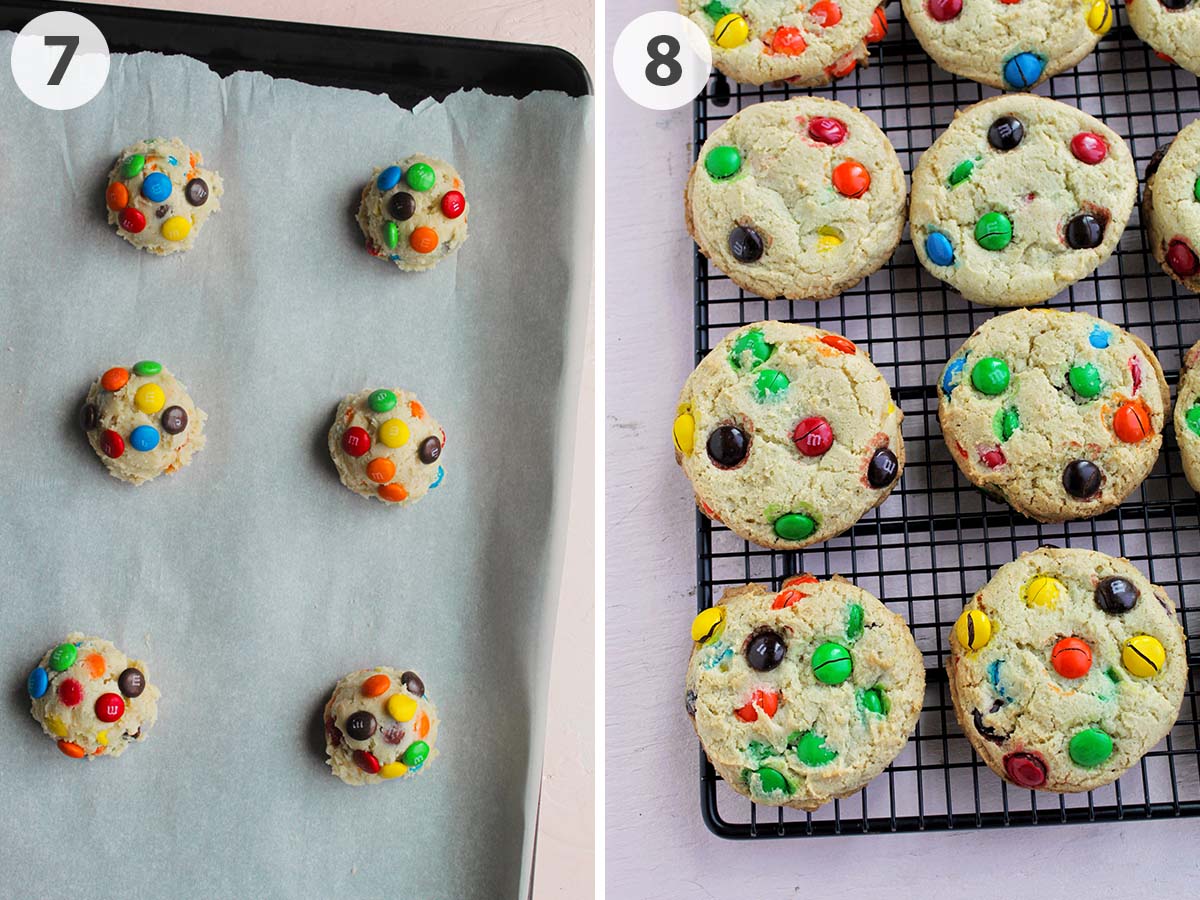 Finally, it's time to bake the M&M sugar cookies! Be sure your oven is pre-heated so the cookies can properly bake.
It will take 16 - 20 minutes for the cookies to fully bake. I always recommend going by visual cues to tell your cookies are finished baking rather than by a time.
For an indication that baking is complete, check that the middle of the cookie has set and the edges are golden brown.
If you're looking for those picture-perfect cookies that are flawlessly round, you have to try this food styling tip!
Grab a circle cookie cutter that's slightly larger than the cookies. Slide the cookies around in the circle cookie cutter right after they've come out of the oven. This will help smooth the sides of the cookie so they become perfectly round.
Additionally, using the remaining ½ cup of M&M candies to place on top of the cookies before they go in the oven will ensure they look visually appealing.
Expert Tips
Home ovens typically take about 30 - 45 minutes to fully heat. You can ensure your oven is properly heating by purchasing an oven thermometer to double-check the temperature. A properly heated oven will allow the cookies to evenly spread and rise.
Allow the butter enough time to properly cream - around 2 to 3 minutes. Many home chefs don't beat their butter long enough. This can inhibit the lightness and fluffiness of the final cookies.
Change up the color of M&M's depending on the time of year. You could use red and green M&M's for Christmas, or green, purple, and orange for Halloween.
Recipe FAQs
Can I use any type of M&M's?
While this recipe uses the classic milk chocolate M&M's, you can absolutely use another type of M&M if you'd prefer. Peanut butter, dark chocolate, or crispy M&M's would all be delicious in this recipe!
I want to make holiday M&M cookies. How can I do this?
It's super easy! Simply swap out the milk chocolate M&M's for the colorful holiday and seasonal M&M's. They make colors for Valentine's Day, Christmas, and many other holidays.
Do I have to use both baking powder and baking soda?
The short answer is yes! Baking powder and baking soda (known as leaveners in the baking world) have very different roles in baked goods.

Baking soda is used when there is an acidic ingredient present in the recipe. In the case of these M&M sugar cookies, the acidic ingredients are brown sugar and cream cheese.

Baking powder, on the other hand, doesn't need an acid since there is already one present.

We oftentimes use two types of leaveners to offset the discoloration and poor taste that can come from using too much baking soda in certain recipes.
My cookies don't seem to be spreading properly. Did I do something wrong?
Baking is all about science, which is why following a recipe exactly how it is written (and without substitutions) is so important. Having one small thing off could result in a failed baked good. Here are some things that might be happening:

1. Don't chill the dough too long. 30 minutes is the perfect amount of time for the dough to firm up, yet still spread evenly when baked. If the dough is too cold, it can prevent proper spreading.

2. Check that your oven is properly heating: It takes most ovens at least 30 minutes to heat to the proper temperature. Make sure you are allowing enough time for the oven to preheat. I'd also recommend purchasing an oven thermometer to double-check that the temperature is accurate.

3. Correctly measure the flour: It's important to have just enough flour in a cookie recipe or it won't spread properly. Double-check that you're accurately measuring your flour. It can be easy to add too much flour to a recipe if you're scooping the flour directly from the bag.
Can I make this recipe gluten-free?
Yes, you can make this M&M sugar cookie recipe gluten-free by simply swapping out the all-purpose flour for a one-to-one gluten-free flour.
More Cookie Recipes
If you love baking cookies with M&M's as much as I do, be sure to try out these recipes:
Love this recipe? Please leave a 5-star ⭐⭐⭐⭐⭐rating in the recipe card below. Don't forget to follow along on Instagram, Facebook, YouTube, and Pinterest for more recipes.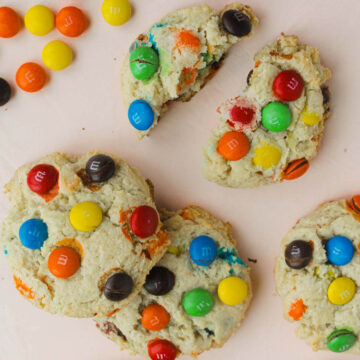 Soft & Thick M&M Sugar Cookies
Bake up a delicious flavorful sugar cookie recipe with chocolate M&M's. These are the perfect festive cookies to make all year round with different colored M&M candies.
Instructions
Mix flour, baking powder, baking soda, and fine sea salt in a small mixing bowl. Set aside.

In a large bowl using a hand-held or stand mixer fitted with a paddle attachment, beat butter, cream cheese, granulated sugar, and brown sugar together on medium high speed until fluffy and light in color, about two minutes. Add in egg and vanilla bean paste. Beat until incorporated.

With the mixer running on low speed, slowly add in dry ingredients. Beat on low just until the flour has combined, scraping down the sides as needed. The dough will be sticky. Remove bowl from the stand mixer, and stir in 1 cup of M&M's with a silicone spatula.

Scoop cookies into 3 tablespoon balls and place on a parchment lined baking sheet. Using the remaining ½ cup of M&M's, cover the outside of each cookie dough scoop. Place in the refrigerator for 30 minutes until the dough has firmed up.

Heat oven to 350°F (175°C).

Remove cookies from the refrigerator and place 3 inches (8 centimeters) apart on a parchment lined baking sheet. Bake the cookies for 16-20 minutes until golden brown around the edges and the middle of the cookie has set. Transfer to a cooling rack to cool completely.

Store cookies in an air tight container at room temperature up to 5 days.
Notes
To freeze fully baked cookies: Store the fully baked cookies in an airtight container in the freezer for up to 3 months.
Change up the color of M&M's depending on the time of year. You could use red and green M&M's for Christmas, or green, purple, and orange for Halloween.
Nutrition
Calories:
303
kcal
Carbohydrates:
41
g
Protein:
4
g
Fat:
14
g
Saturated Fat:
8
g
Polyunsaturated Fat:
1
g
Monounsaturated Fat:
2
g
Trans Fat:
1
g
Cholesterol:
38
mg
Sodium:
167
mg
Potassium:
37
mg
Fiber:
1
g
Sugar:
27
g
Vitamin A:
338
IU
Vitamin C:
1
mg
Calcium:
47
mg
Iron:
1
mg
Have you tried this recipe?
Tag @homebody.eats on Instagram so we can see your creations!