Looking for a unique and fun dessert idea? This shortbread alphabet cookie cake is filled with layers of strawberry swiss meringue buttercream, then topped with elegant berries and mint leaves. This letter cookie cake would be perfect for a birthday or special occasion. Feel free to customize with whatever toppings or letter you'd prefer.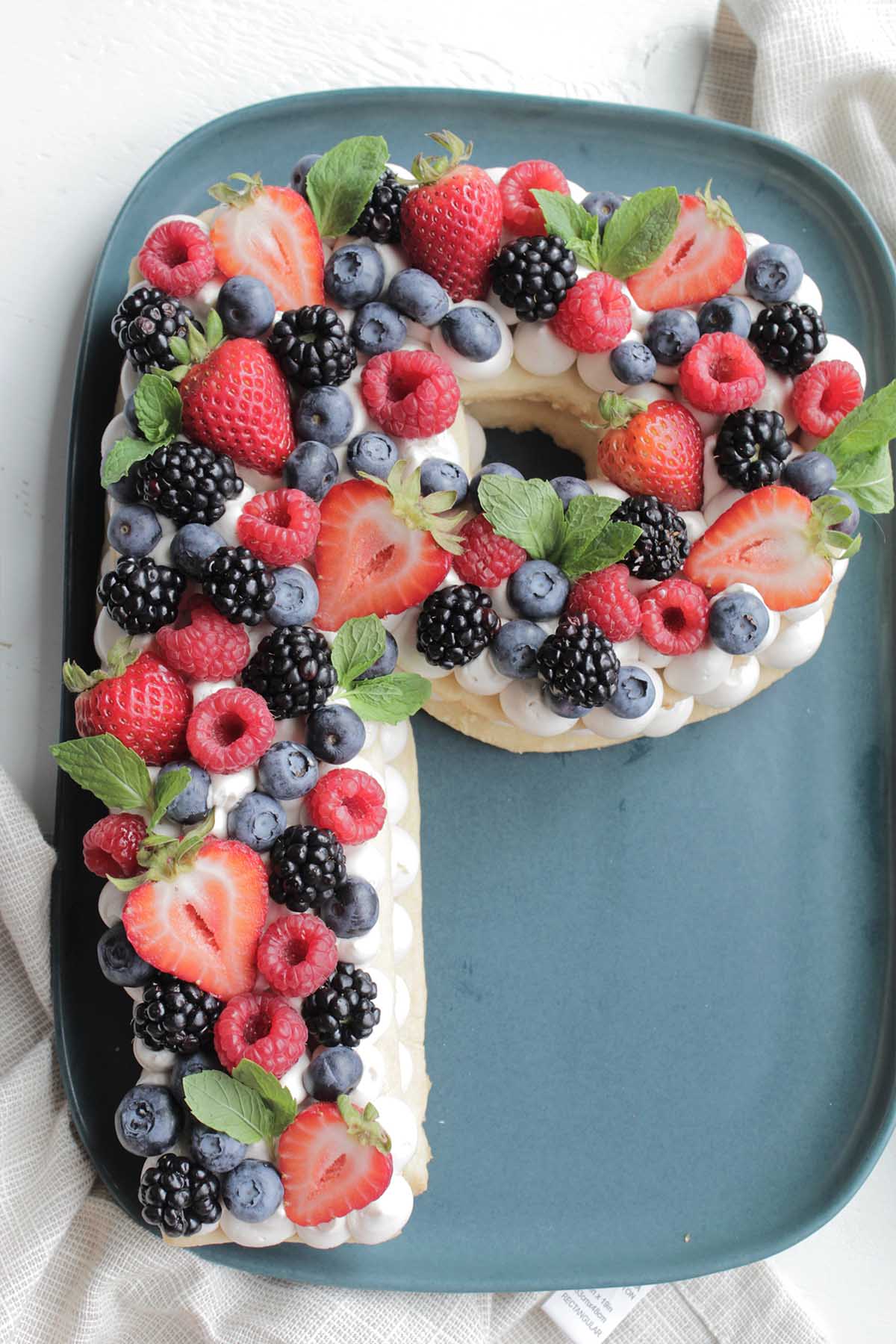 Jump to:
I've been obsessed with these number and letter cookie cakes for a long time. They're elegant (I promise everyone will be impressed), yet don't require as much decoration as a typical layer cake. If you're new to baking, this is a great dessert to start on! You'll learn some new baking techniques without being too overwhelmed.
P.S. If you want to see one of these cakes come together, check out this awesome video from Shari Mukherjee. She does amazing work!
What You'll Learn In This Recipe
With every recipe on this site, you'll learn a new skill in the kitchen. For this baking recipe, you'll learn:
How to make a rich and creamy swiss meringue buttercream. Don't worry, if you mess up there are troubleshooting steps to help you out.
The shortbread cookie ratio (it's so simple and only requires a few ingredients)
The best way to effortlessly decorate a cookie cake
Want to learn more about baking? Download my free guide to level up your baking skills. This guide has 10 secrets to instantly become a better baker.
Alphabet Cookie Cake Template
For this letter cookie cake, you can customize the shortbread by cutting it into whatever letter you want! In order to help you cut an even letter each time, download this template to help you out.
All you need to do is print out the template, cut it out, and use it as a guide while cutting out the dough.
Ingredient Notes
Shortbread Cookie
Shortbread cookies are a great neutral cookie base. It allows the flavor of the swiss meringue buttercream and berries to shine. The ratio for a shortbread cookie is one part granulated sugar, two parts butter, and four parts all purpose flour.
Since there are so few ingredients, be sure to accurately measure each ingredient. If possible, use a digital food scale and measure the ingredients by weight rather than by volume.
If you don't have a scale, one of the most important ingredients to get right is the flour. First, fluff up the flour, gently spoon the fluffed up flour into a measuring cup with a spoon, then level off the top of the measuring cup by removing the excess flour with a knife.
Swiss Meringue Buttercream
Swiss meringue buttercream sounds super fancy. But, it's actually easier to make than you may think. This type of buttercream is a little less sweet than American buttercream, and it's a good alternative for a lighter dessert.
If you run into any trouble making the swiss meringue buttercream, check the frequently asked recipe questions below. Here are a few other tips:
No need to have the egg whites at room temperature. Since we're heating the egg whites with granulated sugar, you can just use cold eggs straight from the fridge.
Give your stand mixer bowl and whisk a quick wipe down with some white vinegar on a paper towel. This gets rid of any oil residue that might be left on the mixer. Oil will ruin your meringue, so it's best not to skip this quick step.
Make sure your butter is room temperature - not too soft, just right at room temperature. The temperature of the butter will help you achieve the correct final temperature in the buttercream, so pay attention to this!
Tools & Equipment
Stand Mixer: A stand mixer will make your life so much easier with this recipe, especially while making the swiss meringue buttercream. However, if you only have a hand mixer available, you can make it work! You just might need a helper when adding the butter to your swiss meringue.
Silicone Baking Mats: In order to prevent the cookies from getting too golden brown, I like to bake them on silicone baking mats. You could also use parchment paper if you have that on hand.
Letter Template: Make sure each of your cookies are even so they stack nicely on top of each other. You can download a free copy of my alphabet letter templates.
Instant Read Thermometer: Swiss meringue is made by heating up egg whites and sugar until they reach 160°F (71°C). Make sure you have an instant read thermometer so you reach the correct temperature.
Rubber Spatula: The swiss meringue buttercream pipes best when there are no air bubbles in it. The air bubbles will cause the buttercream to break and bubble out of the piping bag - it's a mess and does not look pretty!
There's a simple solution. After you are done mixing the swiss meringue buttercream, deflate it using a rubber spatula by slowly pressing the frosting around the side of the mixer bowl.
Piping Bag and Tip: If you're inexperienced with piping, don't worry! This project only requires one piping bag and a Wilton 2A piping tip.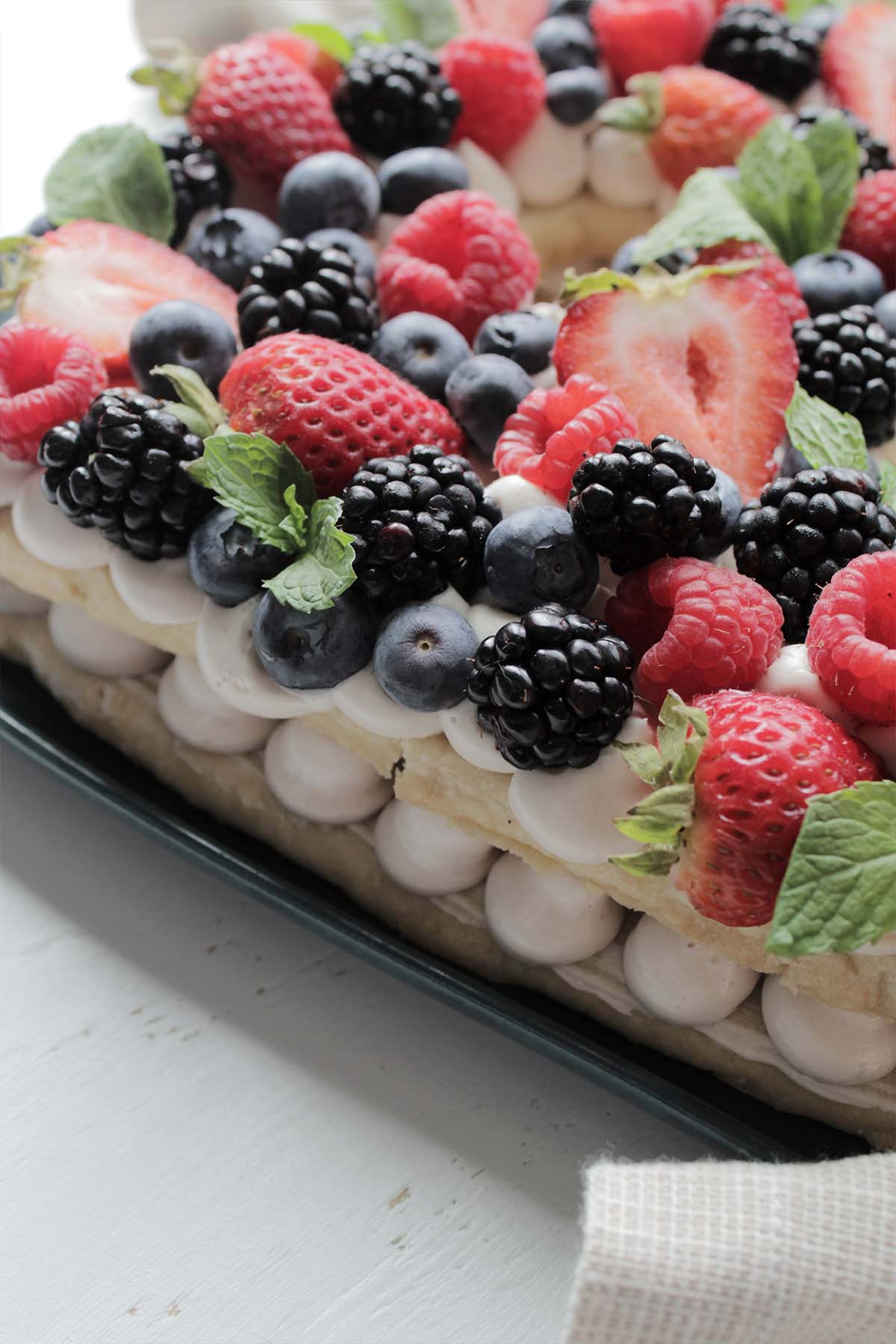 Recipe FAQs
What should I do with the extra cookie scraps?
Don't waste these! You can cut them out into any shape you want and bake them up. These cookies would be delicious dipped or drizzled with chocolate. Or, use a bit of the leftover swiss meringue buttercream to spread on top.
Can I make the shortbread cookie dough ahead of time?
Yes, you can make the dough up to 5 days ahead of time. Wrap the cookie dough in plastic wrap, and store it in the refrigerator until you're ready to bake.

If the cookie dough is too tough to roll out, allow it to slightly rise in temperature on the counter.
Can I bake the shortbread ahead of time?
Absolutely! You can bake the cookie up to two days ahead of time. Just make sure to tightly wrap the cooled cookie in plastic wrap and keep at it room temperature until you're ready to assemble.
My cookie cracked a little. What should I do?
Shortbread cookie dough is known for being a bit crumbly. If it cracks or breaks while you're rolling it out, just push it back together with your hands.

If the cookie cracks while you're trying to transfer to assemble it, don't worry. Mine did too! Just push it back together and pipe some frosting over it. Nobody will ever know!
My buttercream is soupy & runny. How do I fix this?
This is really common, especially if you're making swiss meringue buttercream in the summer. To help prevent this, make sure the butter isn't too soft. You want it right at room temperature, but not melty or runny.

If you still notice the buttercream not whipping up (staying soupy or runny), place the entire mixing bowl in the refrigerator (no need to cover it) for 20 minutes to cool down. Make sure not to leave it in the fridge for longer than 20 minutes or the butter will start to harden. Then, place it back on the stand mixer and beat it on medium speed for an additional two minutes.
My buttercream is curdled. How do I fix this?
If your meringue starts to become curdled when you add in the butter, don't worry! This is normal for many types of buttercream. Allow the meringue to continue mixing with the butter for a few additional minutes.

If it still looks curdled (the egg whites are separated from the butter), it's likely because the butter wasn't room temperature and it's too cold. To fix this, take ½ cup of the buttercream mixture and melt it in the microwave just until it's melted (not boiling). Turn the mixer on medium speed, and slowly stream in the melted buttercream mixture. Increase the speed to medium high and allow it to beat for an additional 2 minutes.
Can I omit the strawberry jam in the swiss meringue buttercream?
Sure! If you're not a fan of strawberry, you can omit the jam all together, or replace it with a different flavor. Just be sure the jam is seedless so your buttercream has a nice texture.
Can I assemble the cookie cake ahead of time?
I would not recommend assembling the cookie very far ahead of time, otherwise it will get soggy. You can assemble the cookie 8-12 hours before it's served.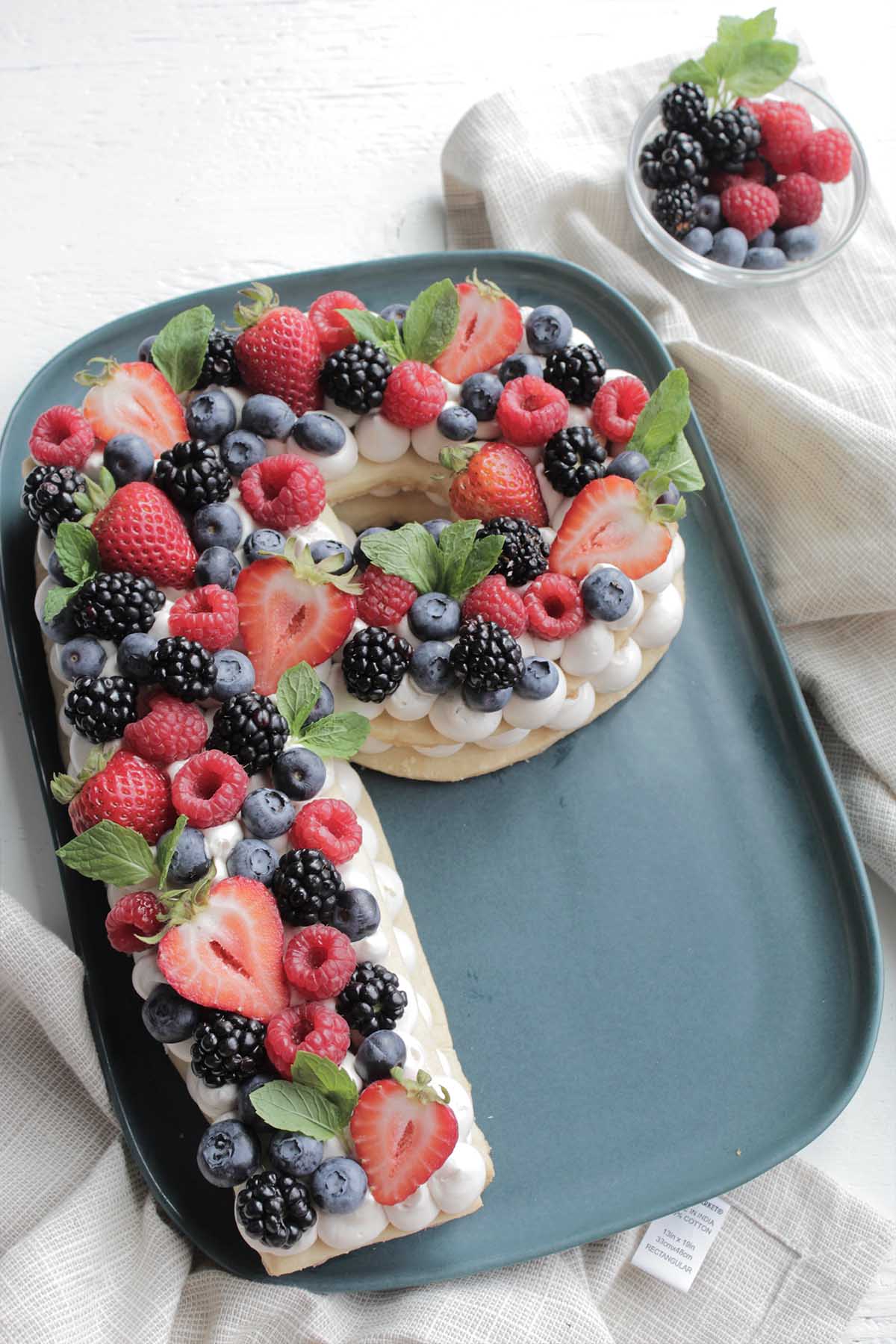 More Summer Dessert Recipes
Don't forget to try out some of my other favorite summer desserts including:
Love this recipe? Please leave a 5-star ⭐⭐⭐⭐⭐rating in the recipe card below. Don't forget to follow along on Instagram, Facebook, YouTube, and Pinterest for more recipes.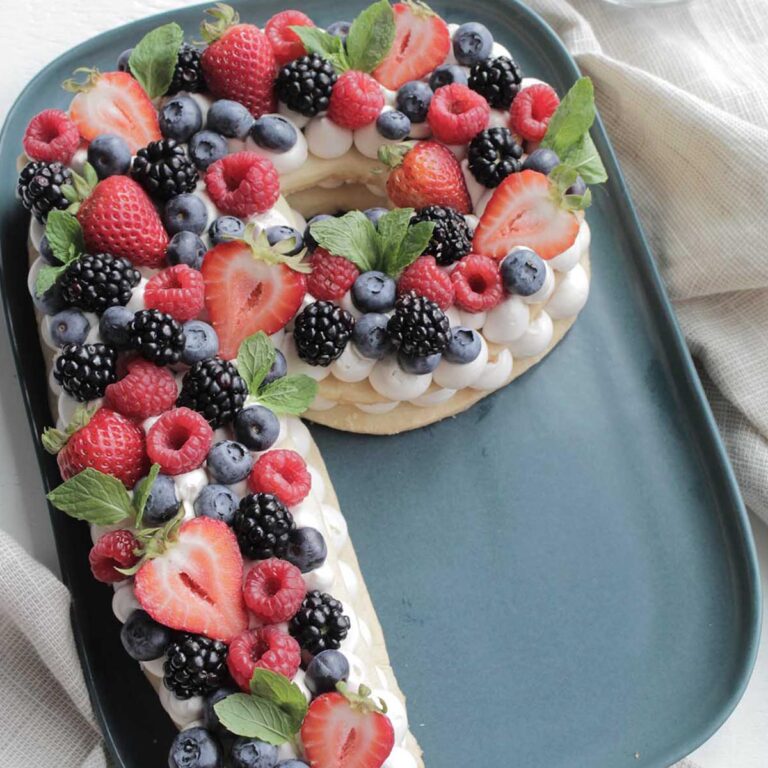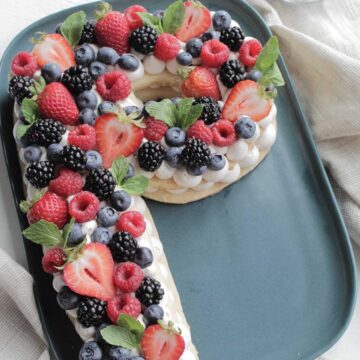 Shortbread Letter Cookie Cake With Berries
Looking for a unique and fun dessert idea? This shortbread alphabet cookie cake is filled with layers of strawberry swiss meringue buttercream, then topped with elegant berries and mint leaves. This letter cake would be perfect for a birthday or special occasion. Feel free to customize with whatever toppings or letter you'd prefer.
Ingredients
Swiss Meringue Buttercream
225

grams (about 7)

large egg whites

450

grams (2 ¼ cups)

granulated sugar

510

grams (4.5 sticks)

unsalted butter

room temperature, cubed into 1 inch pieces

1

gram (¼ teaspoon)

fine sea salt

300

grams (1 cup)

seedless strawberry jam

15

grams (1 tablespoon)

vanilla extract
Decorations
blackberries

blueberries

fresh mint leaves

raspberries

strawberries
Instructions
For the Shortbread Cookie
Cream together butter, sugar, and vanilla in a medium bowl using a hand or stand mixer on medium speed until light and fluffy, about 2 minutes. Scrape down the bowl.

Add in flour and salt, then mix on the lowest speed just until all the dry ingredients are incorporated and you have a smooth dough. Shape the dough into two equal rectangles, wrap in plastic wrap, and chill in the refrigerator for 60-75 minutes until firm.

Heat oven to 350°F (177°C).

Remove dough from the refrigerator. Generously sprinkle flour on your clean work surface, as well as on each side of the dough. Roll out one piece dough to a large 8.5 inch (23 cm) x 11 inch (28 cm) rectangle, ½ inch (1.2 cm) thick. You can use a bench scraper to keep the sides of the dough really crisp and straight. Print out the letter cookie template of choice. Using a sharp knife, cut along the outside of the letter template. Remove excess dough. Gently place the dough on a baking sheet lined with a silicone baking mat or parchment paper. Indent small holes on the top of the dough every couple inches using a fork. Repeat process with other piece of dough.

Bake cookie for 18-22 minutes, flipping the baking sheet racks halfway through the cooking process, until cookie is lightly golden brown around the edges. Allow to completely cool on the baking sheet.
For the Swiss Meringue Buttercream
Prepare a stand mixer bowl and whip attachment that has been wiped down with a little white vinegar on a paper towel to remove any leftover oils.

Fill a medium pot with a couple inches of water, and bring to a gentle simmer over medium low heat.

Hand whisk egg whites and sugar in a heat proof bowl that can sit on top of the pot without touching the water (like a bain marie). Heat, stirring constantly, until the mixture reaches 160°F (71°C) on an instant read thermometer.

Once the egg and sugar mixture has reached temperature, transfer to mixer bowl. Whip on high speed until the egg whites reach stiff peaks and the mixing bowl is no longer warm to the touch. To test the meringue stiffness, pull the whisk out. A stiff peak should stand straight up (no curl at the tip). You'll also know it's ready because you can fully flip the bowl over and nothing moves or falls out. Make sure not to over beat the meringue at this stage.

With the mixer running on medium speed, add in one cube of butter at a time, allowing the butter to fully incorporate before adding in another cube. Once all the butter has been added, the buttercream should be light and smooth. Beat in strawberry jam, salt, and vanilla. Scrape down the sides of the bowl to ensure all the butter gets incorporated and allow the mixutre to beat for an additional two minutes on low speed. If at any point your buttercream becomes runny or curdled, see troubleshooting steps above.

Deflate the buttercream by hand using a rubber spatula. Slowly press the frosting around the side of the mixer bowl. Continue until most of the air bubbles have disappeared. This helps the frosting pipe smoothly.

Prepare your piping bag with a round tip (Wilton 2A). Push part of the side of the piping bag into the piping tip to ensure nothing leaks out. Set the bag inside a tall glass, and pull the remaining top of the piping bag out over the outside of the glass to make pouring the buttercream easy and clean. Pour buttercream into the piping bag. Set aside.
For the Decorations
To assemble the cake, place one cookie on your serving tray. Pipe a dollop of buttercream in a row along the sides of the cookie until the whole cookie top is covered in buttercream. Place second cookie on top of buttercream, and check that everything is even using a ruler. Repeat by piping a another layer of buttercream on top of the second cookie.

Decorate the top layer of buttercream with blackberries, blueberries, mint leaves, rasperberries, and strawberries. Serve immediately or gently cover with plastic wrap and leave at room temperature for up to 8 hours.
Nutrition
Calories:
1051
kcal
Carbohydrates:
110
g
Protein:
8
g
Fat:
66
g
Saturated Fat:
41
g
Polyunsaturated Fat:
3
g
Monounsaturated Fat:
17
g
Trans Fat:
3
g
Cholesterol:
173
mg
Sodium:
147
mg
Potassium:
126
mg
Fiber:
2
g
Sugar:
67
g
Vitamin A:
2008
IU
Vitamin C:
2
mg
Calcium:
34
mg
Iron:
3
mg
Have you tried this recipe?
Tag @homebody.eats on Instagram so we can see your creations!