The secret to finding the best gin & a classic blood orange and pomegranate gin martini recipe.
This classic and fruity gin martini recipe is sweetened with a hint of blood orange and pomegranate juice. This is an upscale, yet secretly easy martini recipe that would be perfect for the winter or holiday season, but you can definitely drink it all year round! The London dry gin gives keeps this cocktail tasting fresh, and the fruit juices add a sweetness to the gin! You'll also learn the various styles of gin in this post, and how to pick a bottle of gin you'll love!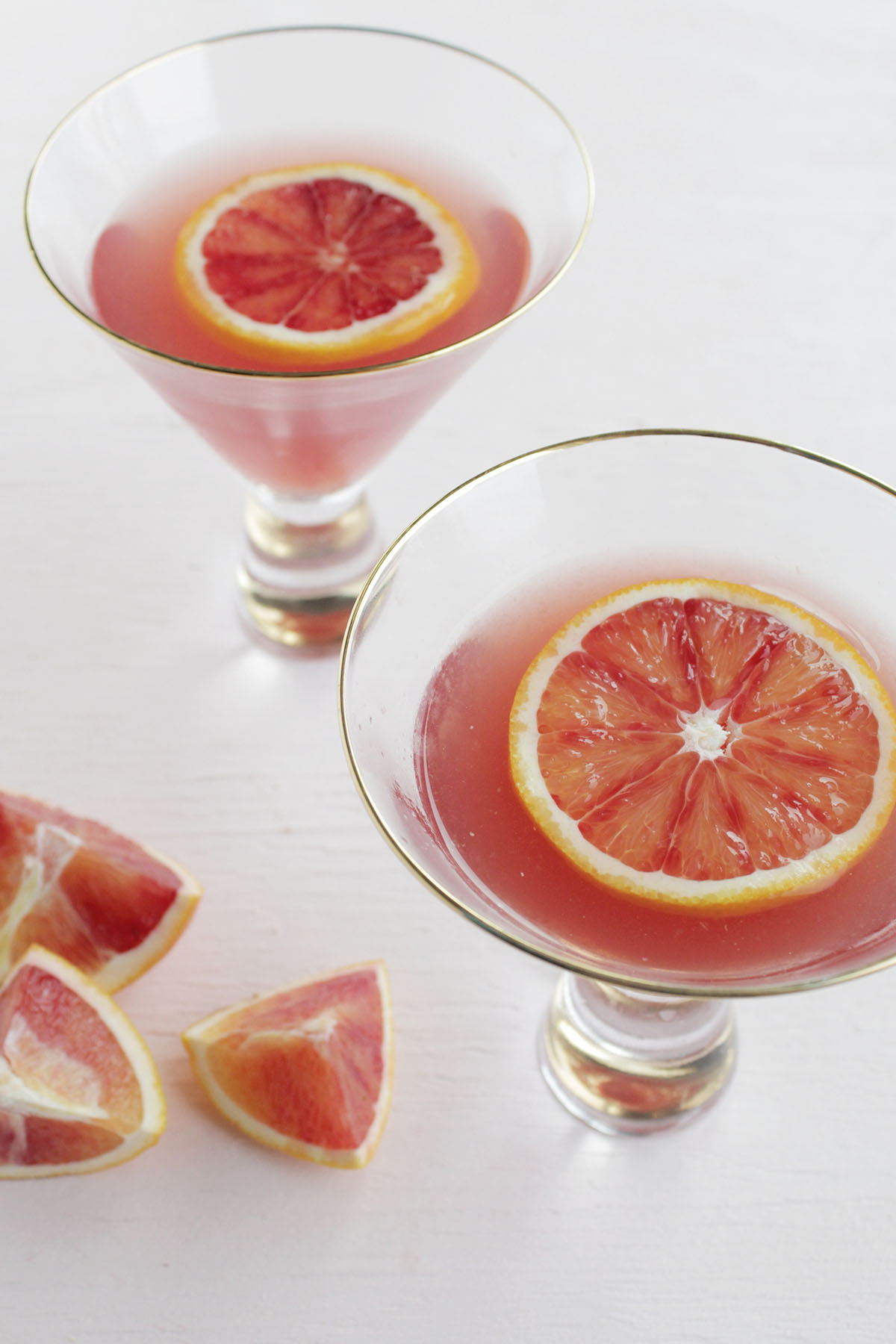 If you're looking for a classic cocktail - one that you can drink all year round and that everyone loves - you need this blood orange pomegranate gin martini in your life!


This post goes along with our cocktail video series where I teach you the basics of liquor. The goal of this series is to get you more familiar with the basic in's and out's of common liquor (how it's made, how to buy a bottle you'll like, and how to make mixed drinks with it). By the end of the series, you'll be a pro at mixing up fun and inspiring drinks in your home bar. Be sure to follow along on YouTube!


What I love about this blood orange martini is the fresh and bright taste it has! Don't get me wrong, this cocktail really highlights the London dry gin- it's a pretty strong cocktail! But, the beauty of making cocktails at home is that you can customize them specifically to YOUR taste!


If you find the London dry gin is too prominent in the drink, try adding some additional pomegranate juice or blood orange juice to the martini. I personally love using Esmé gin in this cocktail. I've also included a mocktail version of the cocktail in the recipe notes in case you have any non-drinking friends or kids that still want a special drink.


In this post, you'll also learn about the basics of gin - what makes it so special, styles of gin, and how to choose a bottle you'll love. Let's get into it!


What Makes Gin Special

At its core, gin is essentially a flavored neutral spirit. What makes gin so special is the blend of juniper berries and other spices and aromatics that are infused with the spirit during or after the distillation process.


What makes the different styles of gin unique are the various aromatics that are infused in the gin, along with the different distillation processes they use to infuse the botanicals into the spirit.


You should also know that gin, unlike other spirits, does not have geographic restrictions for where it can be produced (unlike, for example, tequila that has to be made in Mexico).


And, just to throw a little fun fact in, gin was one of the main spirits drank during the U.S.'s prohibition era, which is why we still have many classic gin cocktails from that era. Some of the popular drinks include the Negroni, French 75, martini, gimlet, and Tom Collins.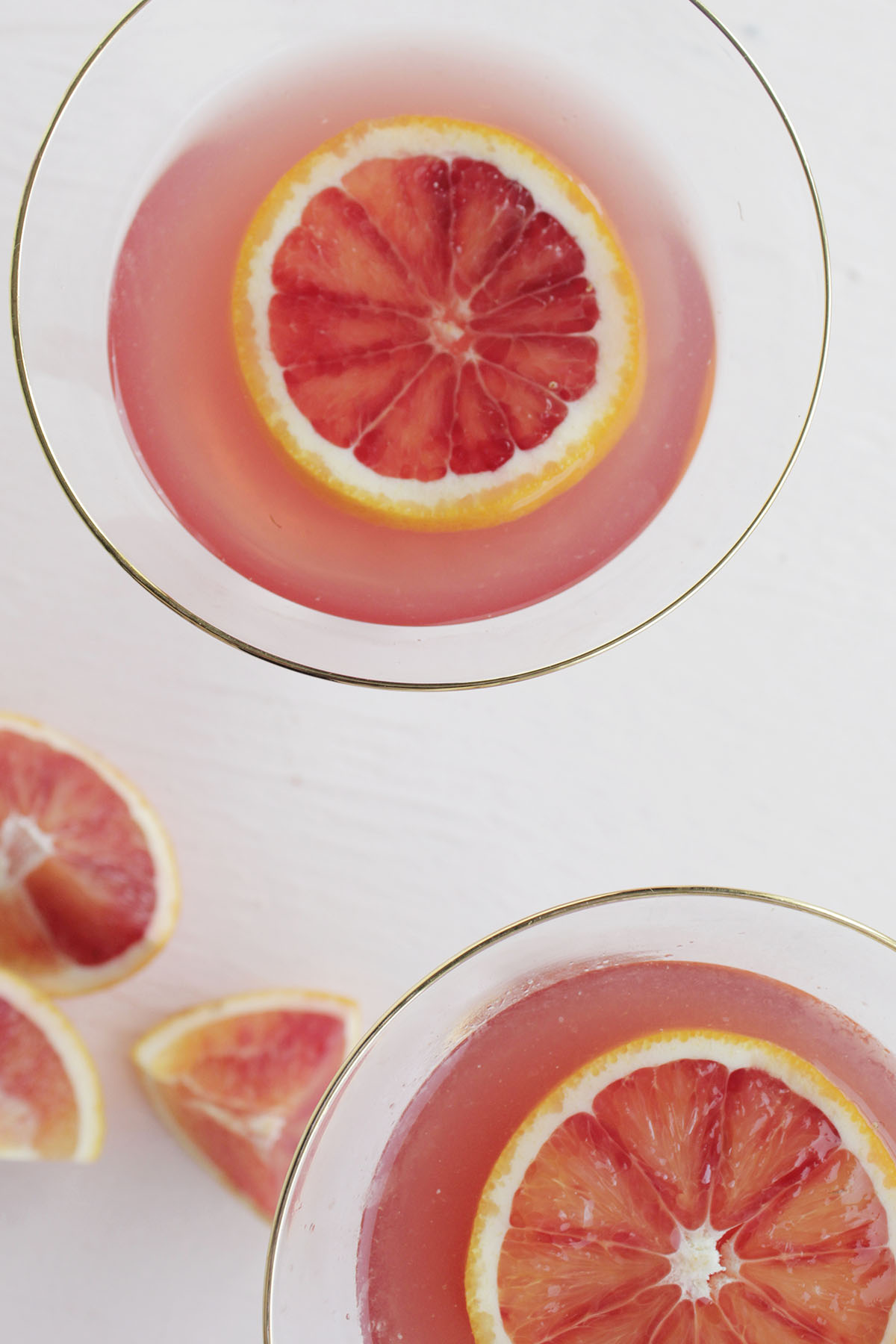 Styles of Gin

Let's get into the meat of this post and talk for a bit about the various styles of gin - what makes that style unique and the taste (what botanical notes are present).


London Dry

Arguably one of the most well-known and iconic gins is the London dry style. From the name, you can probably tell this gin originated in England. However, nowadays London dry gin is produced all over the world.

Since London dry gin cannot contain artificial flavors, colors, or really much sugar (no more than 0.1 grams of sugar per liter), it tends to be on the dry side compared to other gins.


London dry has a strong juniper and citrus taste. Oftentimes this is the type of gin you'll get if you're ordering a martini or gin & tonic drink at the bar.


I also love Esmé gin, which is a modern spin off of the classic London dry. The Esmé gin tastes amazing in this pomegranate and orange cocktail.





Plymouth

While anyone could technically produce Plymouth gin anywhere in the world, currently, the only place it's made is in the Plymouth Gin Distillery in Plymouth, England. This distillery is actually one of the oldest distilleries in the U.K.


Plymouth gin prides itself on a rich smooth taste that is balanced by the seven botanicals used in distillation: juniper, coriander, orange, lemon, angelica root, green cardamom, and orris root.


This type of gin is even drier than London gin, but has a more citrus-focused flavor with a hint of spiciness.



Old Tom

Old Tom was the type of gin originally used in the Tom Collins drink. This gin is also labeled as a historic gin, which is why it was popular in many prohibition-era cocktails.


The thing that stands out about this type of gin, is the licorice flavor or other sweetening agent that's added along with the botanicals. Although Old Tom doesn't taste like licorice, it tends to have a bit more of a sweet taste than other varieties. It tastes less like juniper than say the London or Plymouth.


This type of gin works well for people who like the taste of gin, but think other varieties are too dry.




New American/New Western

New American/New Western is a recent category of gin that has arisen from the various craft distillers that have popped up around the world. While the style began among American distillers, it has now expanded to other countries.


It's hard to put a defining flavor profile on this category of gin since each of the craft distillers likes to put their own twist on the spirit (you can think about it like the Japanese whisky we talked about earlier in the series). However, typically the taste of juniper is less present than other gins. New American/New Western tend to have a more flowery, light-hearted flavor profile.




Genever

Genever gin is special because it is technically classified as gin, but made very differently than all the other gins on the list. Some people classify Genever as a precursor to the gin we know today.


Genever is a Dutch style gin made with malted grains. If you're following along in our Liquor 101 series on YouTube, this may sound similar to how whiskey is produced.


Not surprisingly, genever tends to have a malty, whiskey-like taste. Juniper isn't the predominant flavor. Rather, you can taste the rich, earthy notes of various spices often including ginger, cloves, nutmeg, or caraway.



How to Choose a Gin You'll Love

Some people argue that gin should be in a cocktail, rather than sipped by itself. I would argue from my research, that gin seems to be a spirit that is valued and highlighted in many cocktails. Meaning, the classic gin cocktails seem to enhance the natural botanical flavors found in the gin by pairing it with simple and elegant flavors.


My personal belief, however, is that you should drink gin the way you like and enjoy the most! That being said, here are some of my recommendations for finding a gin you'll love!


If you're new to gin or prefer a sweeter, more mellow taste, start off with an Old Tom or New American gin. Old Tom tends to err on the sweeter sides of things, and New American will have a lighter flavor.


For those who love the classics, London Dry and Plymouth gins are going to be your best bet. This is likely the gin you're used to drinking if you order a cocktail out at a bar. They are dry and pair nicely with the classic cocktails we all know and love!


And finally, if whiskey is your drink of choice, a Genever gin would be a good first step for you in the gin world. With the malty, whiskey-like taste, this is a natural choice for a whiskey lover!


How to Make a Martini

Now any gin lover knows that the martini is a classic gin-based cocktail. It can also be made with vodka, but that's not what we're focusing on today.


For this series on gin, I wanted to do something a little different and go into a bit of the behind the scenes for making martinis. There are a few secret tricks for making an extra delicious martini.


Many expert bartenders suggest that you keep everything really cold! As with any spirit, the taste changes slightly depending on the temperature you drink it at. So, I encourage you to test out an ice-cold martini (keeping the martini glass and mixing glass cold throughout the process) vs. a semi-cold martini (simply stirring the drink with ice beforehand) and see which one you prefer.


Another trick to a good martini is stirring the cocktail with ice for about 30 seconds before straining it into the glass. This is going to result in a smoothie, silkier version of the martini compared to shaking it. Finally, remember to double strain using a hawthorne/julep strainer AND a fine mesh strainer to catch any ice chips.


Making a good martini is all about trying out different techniques to see what you prefer.





More Cocktail Recipes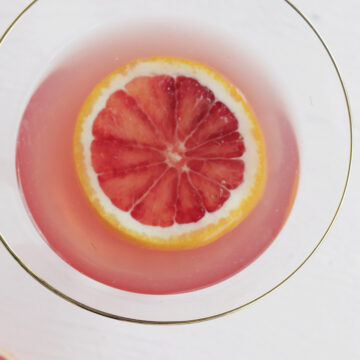 Pomegranate and Blood Orange Gin Martini
This classic and fruity gin martini recipe is sweetened with a hint of blood orange and pomegranate juice. This is an upscale, yet secretly easy martini recipe that would be perfect for the winter or holiday season, but you can definitely drink it all year round!
Ingredients
3

ounces

London dry gin

1.5

ounce

blood orange juice

freshly squeezed

1

ounce

pomegranate juice

blood orange

thinly sliced, for garnish
Instructions
To a chilled cocktail mixing glass, add 1 cup of ice, gin, blood orange juice, and pomegranate juice. Stir together for 30 seconds to chill and combine ingredients.

Strain, using a hawthorne/julep strainer and a fine mesh strainer, into a chilled martini glass. Garnish with a slice of blood orange. Serve immediately.
Notes
To keep your martini nice and cold, put your martini glasses and mixing glasses in the freezer about 1-2 hours before making the cocktail.
If the martini is too strong for your liking, add in additional blood orange and pomegranate juice until the desired taste is reached.
For a mocktail version of this drink, substitute gin for a lemon-lime soda, like Fresca, or sparkling water.
I love using Esmé gin in this cocktail,
Nutrition
Calories:
231
kcal
Carbohydrates:
8
g
Protein:
1
g
Fat:
1
g
Saturated Fat:
1
g
Polyunsaturated Fat:
1
g
Monounsaturated Fat:
1
g
Sodium:
4
mg
Potassium:
147
mg
Fiber:
1
g
Sugar:
7
g
Vitamin A:
85
IU
Vitamin C:
21
mg
Calcium:
8
mg
Iron:
1
mg
Have you tried this recipe?
Tag @homebody.eats on Instagram so we can see your creations!
More Resources on Gin

Want to keep learning more about gin? Here are some of my favorite video and article resources!


This article on the 6 Most Important Rules for Drinking Gin.


An in-depth video guide to How Gin is Made.


I really enjoyed this video guide on How to Choose a Gin. It talks about the different flavor notes and profiles of different types of gin.


Back in the day of prohibition, gin got a bad rap because so many people were making their own. They called it "bathtub gin." For fun, you should check out this video on how to make your own gin at home.


Let's Share Recipes

I love trying new recipes! Let's discover new recipes together on Pinterest!


P.S. If you made this blood orange gin martini, share a picture with me on Instagram using #HomebodyEats. I love seeing your creations!!