Whether you're a bartender or self-proclaimed cocktail guru, these creative cocktail garnish ideas are going to level up your skills. Learn how to make elegant and fancy garnishes with techniques using fruit, edible flowers, and some surprising elements. These are the best cocktail garnishes to elevate your cocktails and begin creating exceptionally unique drinks.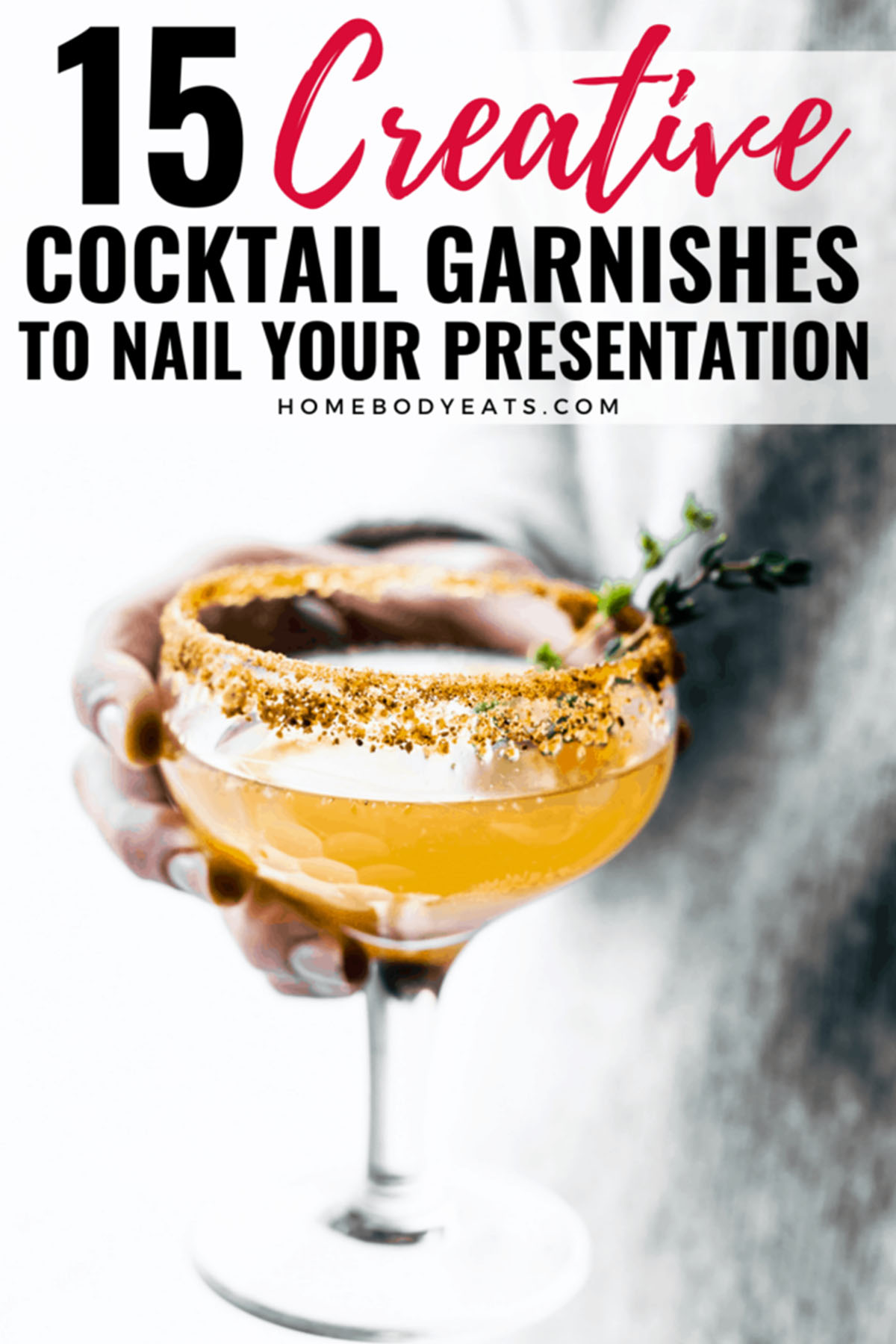 As somebody who creates cocktails, you know that part of the beauty of a cocktail is in the presentation. When people go to bars and spend $15 for a craft cocktail, they are not only paying for the alcohol and overall flavor of the drink, but also for the presentation and 'wow' favor that comes when the drink is served.
Whether you're a professional or home bartender, today we are focusing on unique, creative, and elegant garnishes to enhance the visual presence of your cocktails. This post will help inspire you, teach you, and show you the exact techniques you can bring back to the bar.
We will talk not only about garnishes in the traditional sense of using fruit to decorate and embellish the side of a cocktail glass, but also about ice, heat, and florals as a way to elevate your cocktails.
Jump to:
1. Dry Ice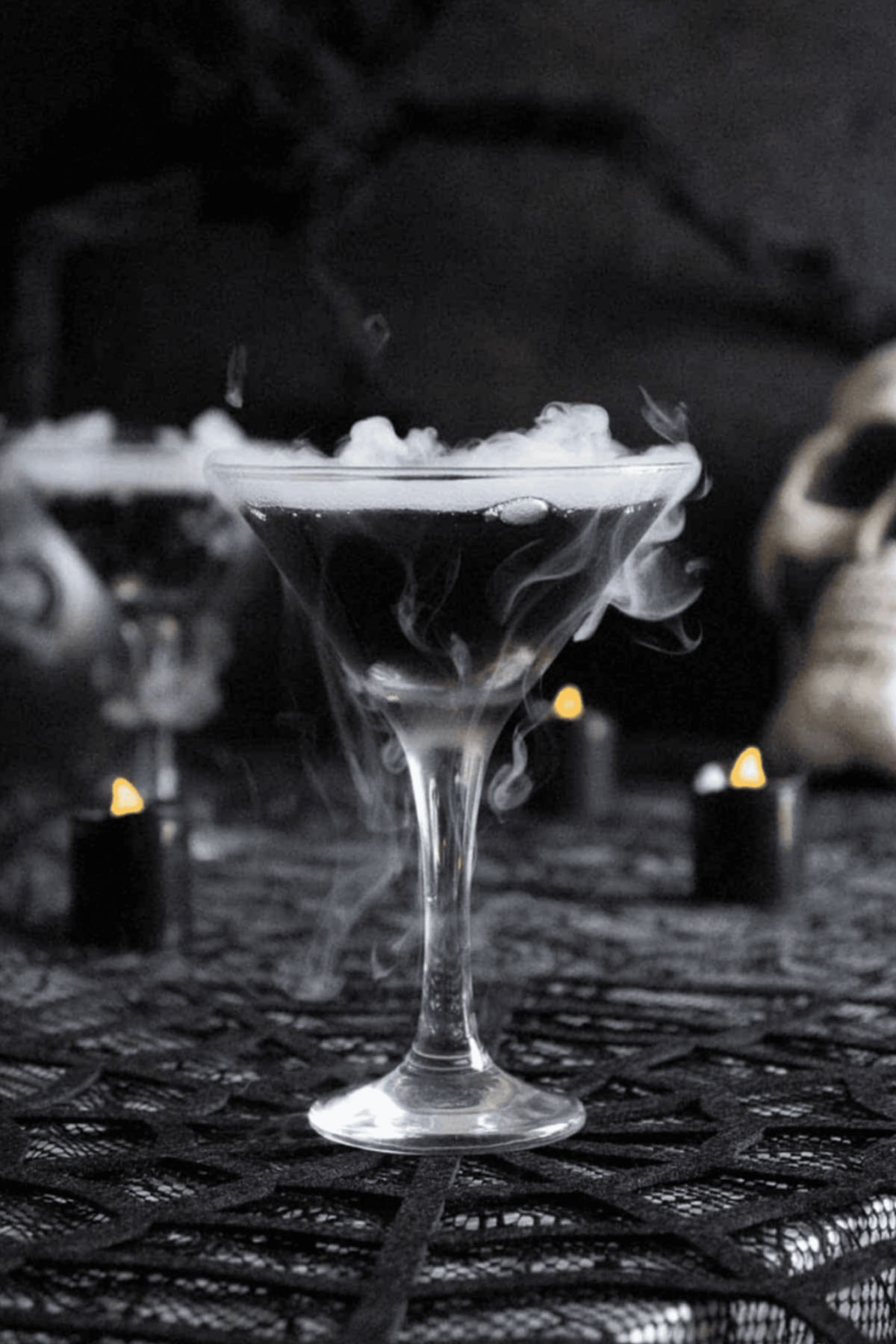 Using dry ice in cocktails is a really unique technique to garnish a drink. It's often used in dark-colored drinks to create an eerie effect. We often wouldn't think of dry ice as a typical garnish, but it adds the perfect embellishment to a cocktail, especially around Halloween.
Supplies Needed: Dry Ice - Dry ice can be sourced from your local grocery store, or by ordering it online. Make sure it is food-grade dry ice.
Instructions: Purchase the dry ice right before you plan to use it as it turns into a gas and disappears rather quickly (usually less than 24 hours when stored in a cooler). After you've made the cocktail and poured it into the serving glass, carefully drop a small chunk of dry ice into the bottom of the cocktail. Before serving, remind your guests not to let the dry ice touch their lips (it should sink to the bottom of the cocktail).
Important Safety Note: When working with dry ice, there are a few safety precautions to be aware of:
Never eat or drink the ice. If you're serving a cocktail with dry ice, the recipient of the drink needs to be well aware of this!
Never touch the dry ice. Always wear insulated gloves or use tongs.
Don't store dry ice in an air-tight container. If the gas can't escape, it could lead to a potential explosion.
Always make sure to use dry ice in a well-ventilated area. The carbon dioxide emitted by the dry ice could cause suffocation in an enclosed space.
If you have leftover dry ice, do not throw it away in a sink or garbage can. Rather, let any remaining dry ice "melt" into gas in a well-ventilated area. Pouring warm water over the ice will speed up the process.
The safety of handling dry ice is very important. You can find more safety information here.
2. Edible Flowers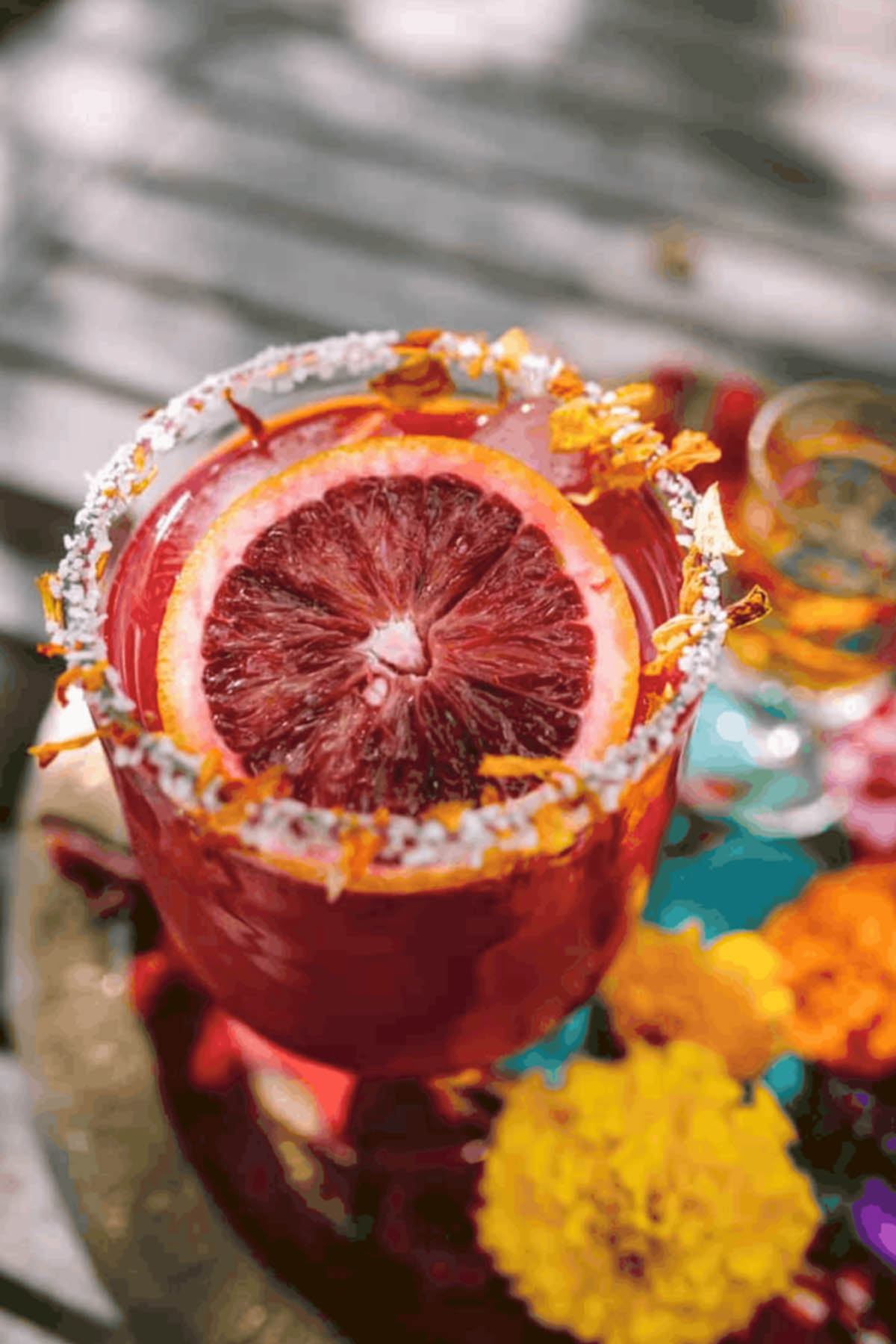 Edible flowers are a great way to add a natural and fun element to your cocktail. They can help garnish your cocktail glass rim, or gently place them on top of the cocktail so they float.
As for colors, I suggest considering complimentary colors. For example, if you have a yellow drink, use purple flowers.
Supplies Needed: Edible food-safe flowers (purchase online at Gourmet Sweet Botanicals)
Instructions: Dip the cocktail glass in simple syrup, then into edible flowers to rim the glass. Alternatively, gently place a whole edible flower in the drink and allow it to float on top.
Note: You could replace edible flowers with herbs if desired.
3. Cocktail Pick
Cocktail picks provide a sturdy surface for building elegant, edible cocktail garnishes with fruit or flowers. When selecting what to garnish your cocktail with, think about choosing elements and colors that complement the drink. This could mean garnishing with a motif that gives a sneak peek into the flavors of the cocktail. Or, use the garnish as a way to add an additional flavor to the cocktail.
Supplies Needed: Various fruit or edible flowers, cocktail picks
Instructions: Select fruit that is ripe, but still has some sturdiness to it. Begin playing with the arrangement of the fruit and/or flowers. Carefully determine which elements should be placed next to each other, and which way the fruit will face.
Once you've created a design you like, grab a cocktail pick, and carefully stick each element through. Make sure to pierce the fruit in the middle and the flowers on their stems to avoid any of the elements falling off.
Place cocktail pick on drink and serve.

4. Flaming Lime Shell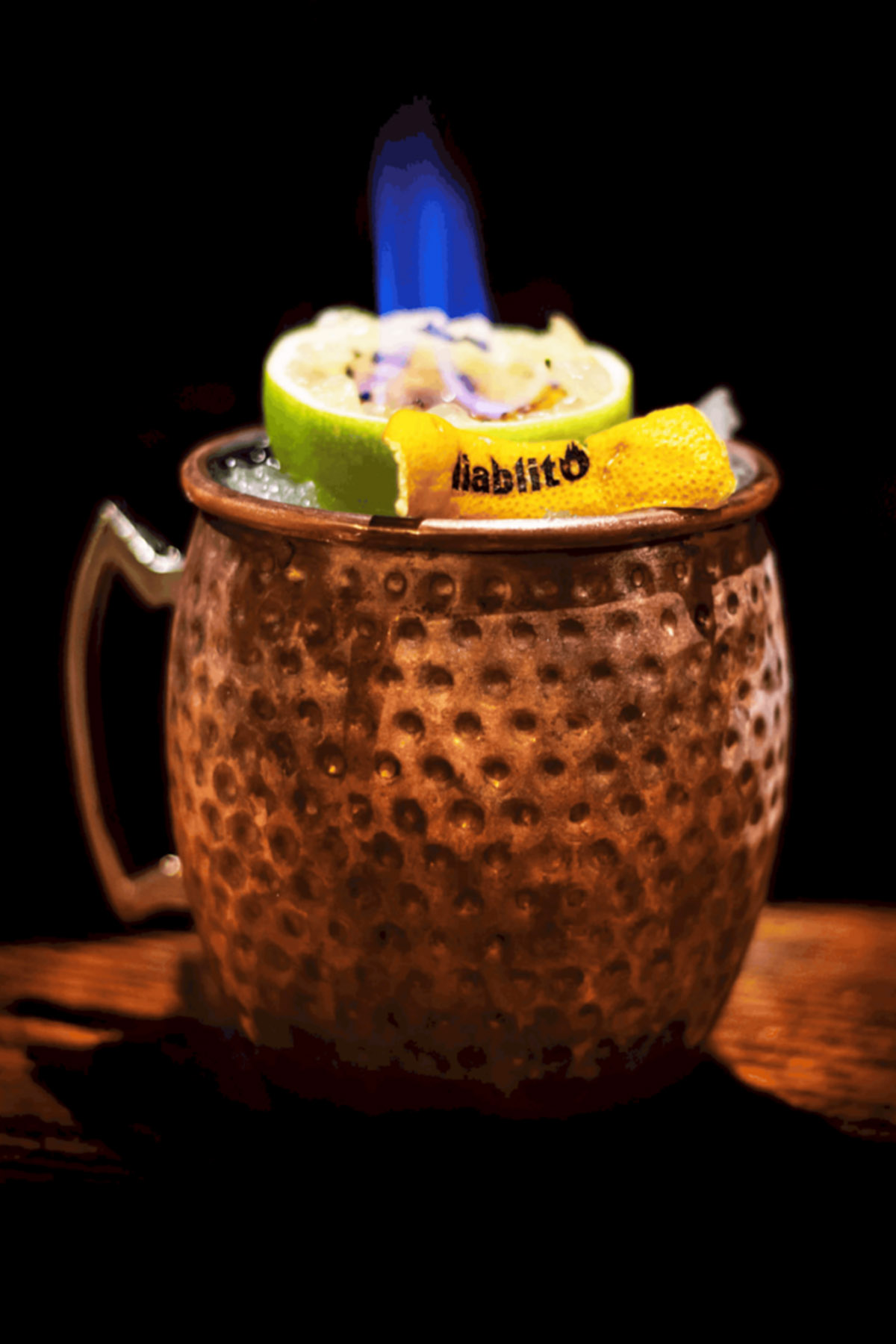 If you're looking for unique cocktail garnish inspiration, look no further than this flaming lime shell. Often used in tiki cocktails, this fire element provides entertainment and a fun dynamic to any cocktail!
Supplies Needed: Lime (juice already squeezed out), crouton or crusty bread, 151-proof rum or lemon extract, and a butane torch or lighter
Instructions: With your spent lime (juice already squeezed out), insert a cocktail pick inside the middle of the lime and balance over your poured cocktail. Make sure all the lime fibers are pushed inside the skin.
Pour high-proof rum or lemon extract over a small crouton or dried-out piece of bread. Place the crouton on top of the lime. Carefully, light the crouton with a butane torch or lighter.
You can hit the lit lime with ground cinnamon for an extra pop of fire.
Important Safety Note: Be sure to have extra care when handling fire, especially if this is your first time experimenting with this type of cocktail garnish technique.
5. Decorative Ice Cubes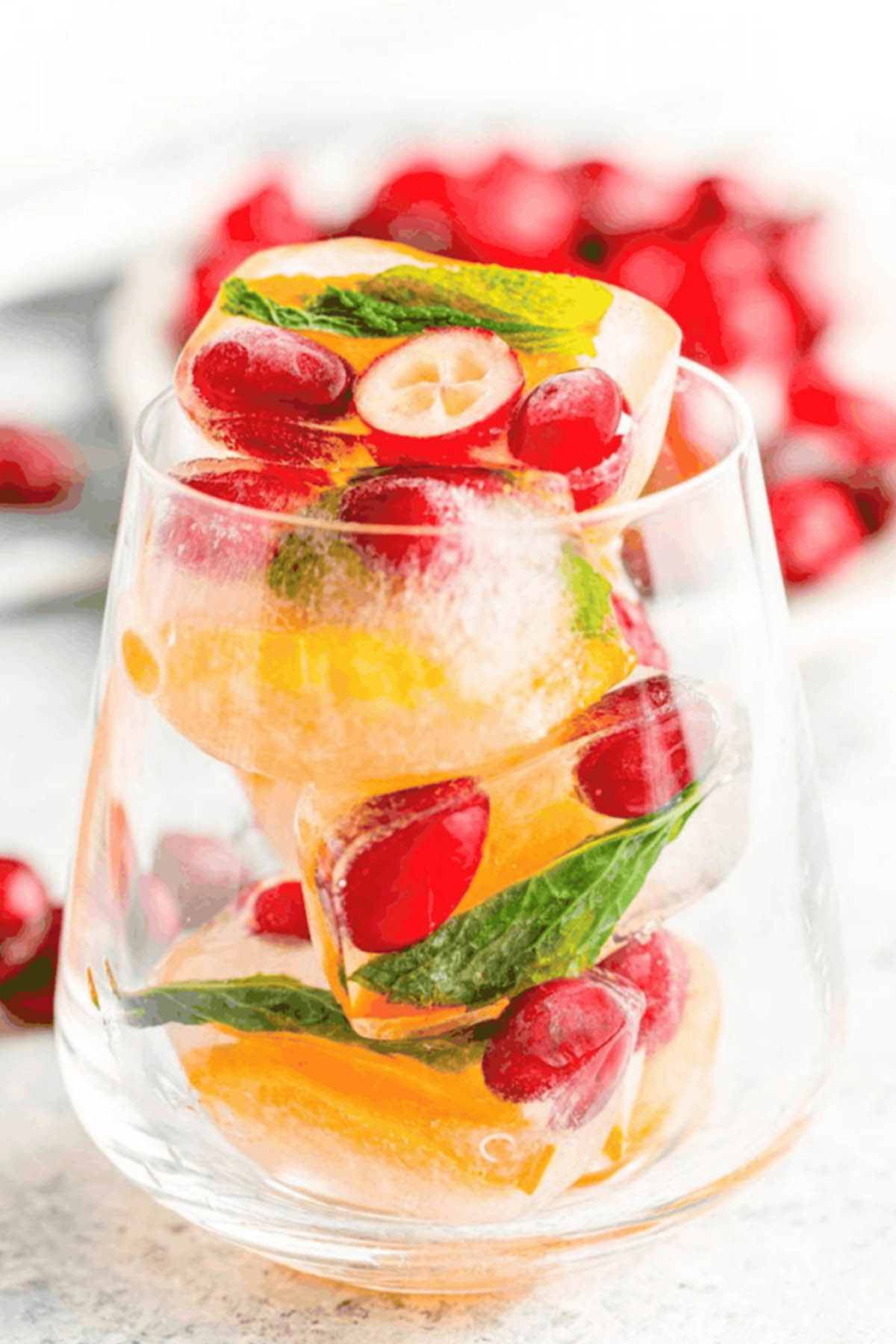 Decorative ice cubes are a simple way to create an elegant cocktail garnish. This garnish works best for drinks that are clear in color so the ice cubes can shine through in the cup. The best part about this garnish is that you can make it ahead of time, up to a week, for a party or happy hour.
Depending on your cocktail, you can create small ice cubes, or one large ice cube with multiple types of decorations such as fruits, herbs, or edible flowers. Be sure that the flavors of the decorations work with the drink flavor they will be cooling.
Supplies Needed: Silicon ice cube tray, fruit, herbs, and/or edible food-safe flowers (purchase online at Gourmet Sweet Botanicals), distilled water (to help the ice cubes turn out clear)
Instructions: Boil and cool the distilled water. Using the ice cube tray, place the first layer of decorations at the bottom of the tray. Be sure to pay attention to the way the decorations are facing depending on the look you're going for. Fill the ice cube tray ⅓ of the way full of water. Freeze for a few hours until the water is solid. Repeat with the remaining two layers.
Fill the cocktail glass with ice (tall glasses work better to display small ice cubes). Pour the cocktail on top and serve immediately.

6. Smoked Cocktail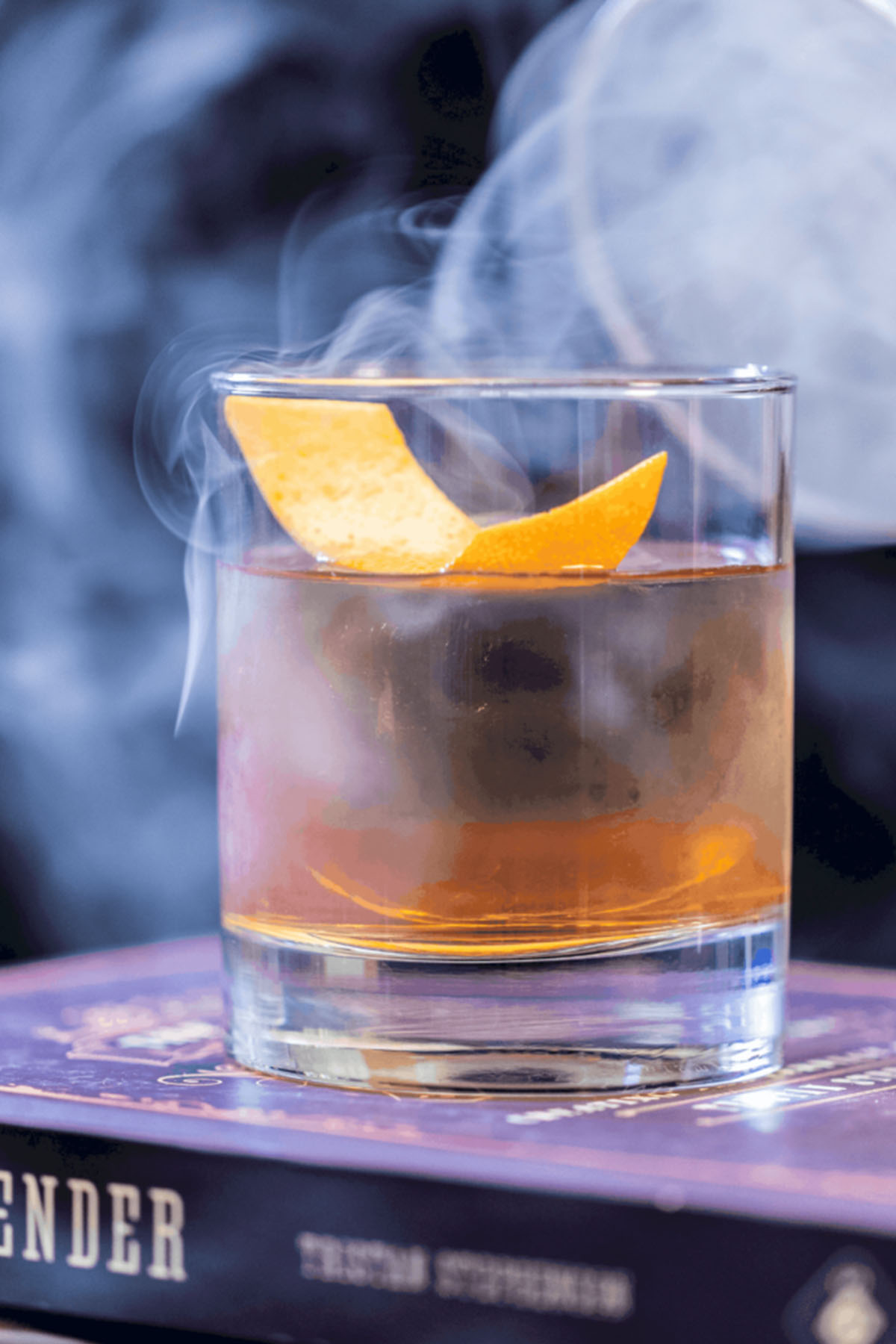 This creative cocktail garnish is actually twofold. Not only does it provide a nice visual touch, but it also adds to the flavor and aroma of the cocktail. We're going to use a smoked cinnamon stick or citrus peel to infuse the cocktail glass, as well as add it as a garnish on top or inside the glass.
Supplies Needed: Whole cinnamon stick or citrus peel, butane torch (be sure to purchase butane gas to go along with the torch), aluminum foil
Instructions: Lay a piece of aluminum foil down on a plate. Using the butane torch, light one end of the cinnamon stick or peel until it begins to smoke. Lay the cinnamon stick/peel on the foil, and cover it with the glass you plan on serving your cocktail in. Allow the cinnamon/peel to smoke up the glass while you are preparing the rest of the cocktail.
Once the cocktail has been made, remove the glass from on top of the cinnamon stick/peel. Pour the drink into the glass, and garnish.
Important Safety Note: As always, be careful when handling a butane torch. Be sure to read through the butane torch instructions before using it for the first time.

7. Fruit & Veggies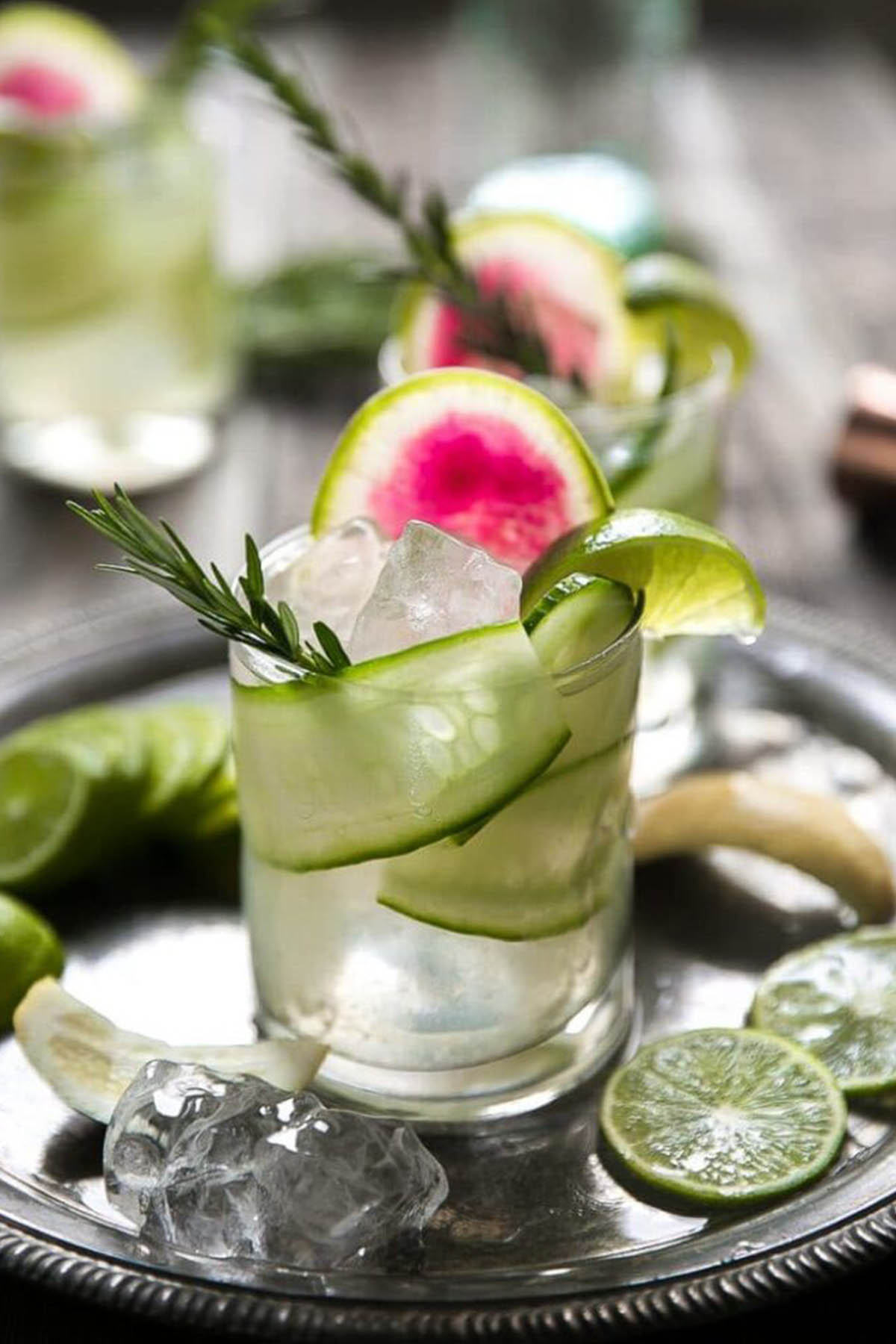 Cutting fruit and veggies into interesting shapes and sizes can make a beautiful garnish for cocktails! It not only adds a pop of color but can also elude to the flavors in the drink. Be sure to pick various colors that pair well with each other!
Supplies Needed: Various fruits and vegetables, a knife
Instructions: Decide on 2-4 fruits and veggies that will compliment the flavor of your cocktail. Creatively cut the produce into various shapes and sizes. Style them inside the cocktail glass and on the rim.
8. Butterfly Pea Flower Ice Cubes
If you love the purple and blue color of butterfly pea flower tea, try using it to make cocktail ice cubes. It's a show-stopper in a cocktail. This method works when your cocktail is clear and compliments well with the flavors of the tea. When the ice cubes melt, they create a beautiful, dramatic color in the drink.
Supplies Needed: Butterfly pea flower tea, silicon ice cube tray
Instructions: Steep tea in boiling water according to package instructions. Strain the tea and let cool. Pour the cooled tea into a silicon ice cube tray, and allow it to freeze until completely solid.
Add into your cocktail of choice.


9. Large Ice Cube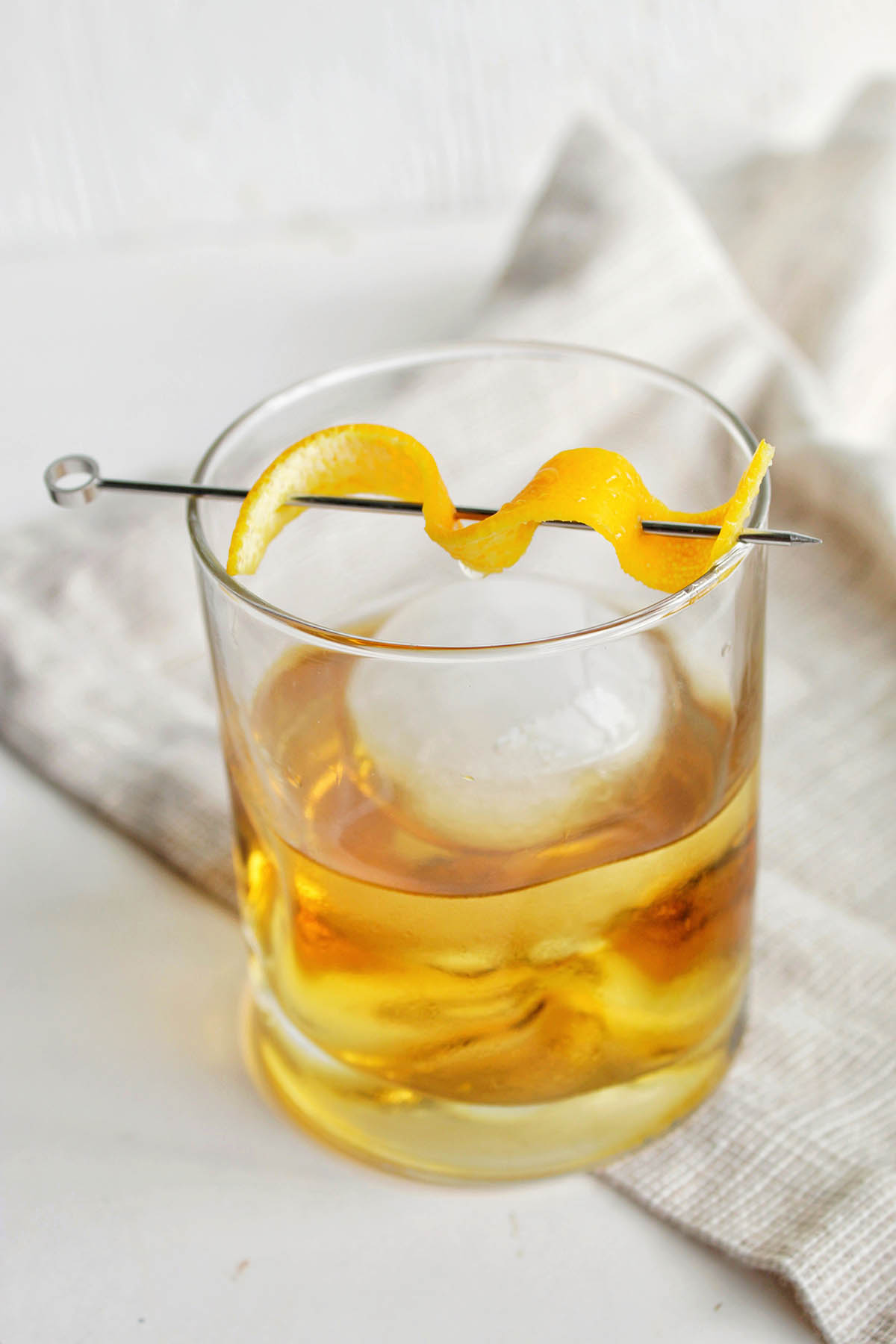 Ice is oftentimes an overlooked piece of cocktails. Given the type of cocktail you're creating, a simple large ice cube can be the perfect piece to not only keep the drink cold but also add a visual adornment to the drink.
Supplies Needed: Large silicone ice cube molds, distilled water (to make clear ice cubes)
Instructions: Boil and cool the distilled water. Fill up the molds as directed by the instructions.
Alternatively, you could make a large block of ice and chip away individual pieces for your cocktail.

10. Carved Citrus Peel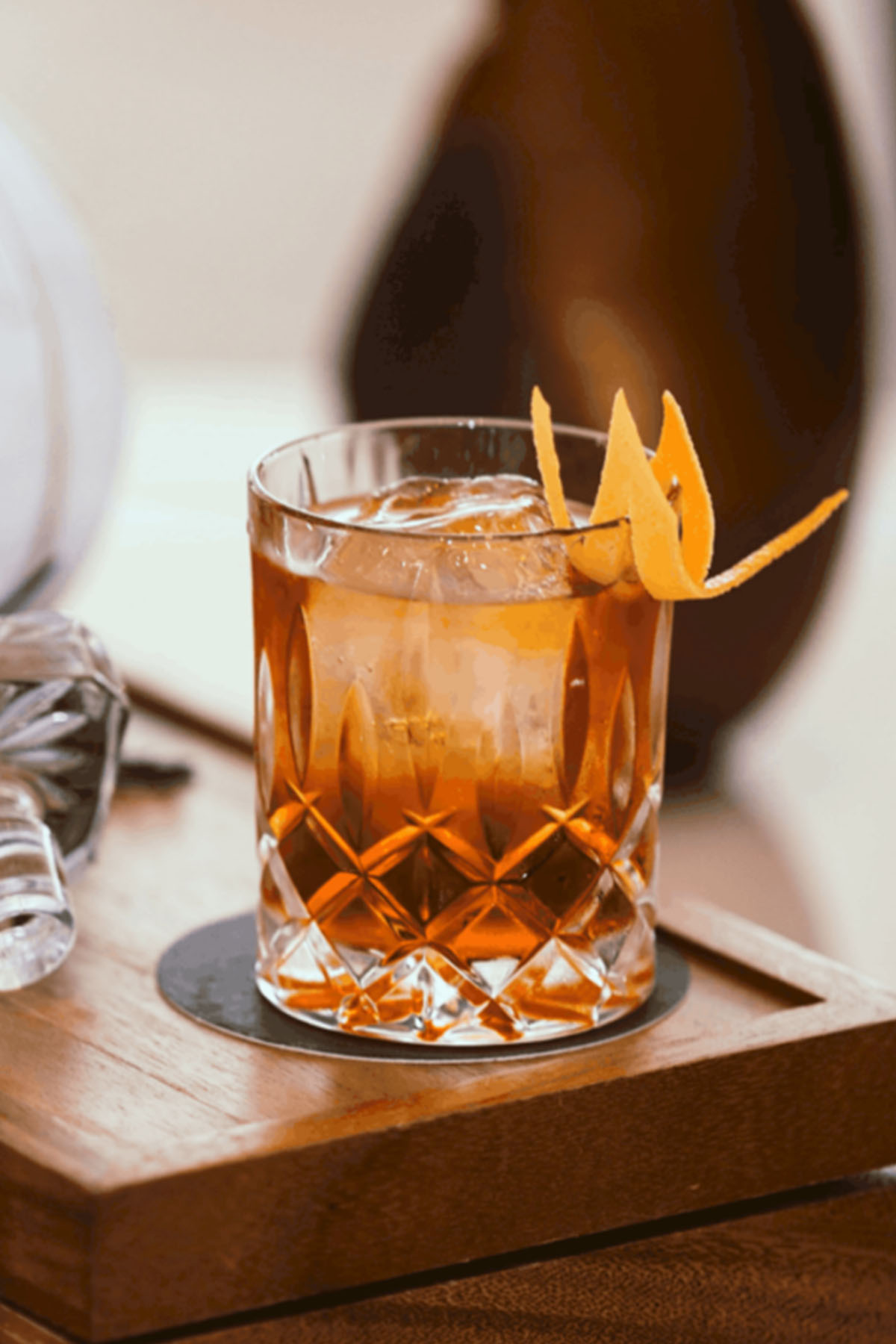 Break out your impressive knife skills with this garnish and create your very own carved citrus peel. There are many fun shapes and designs you can make from just one simple citrus peel!
Supplies Needed: Citrus (orange, lemon, lime), vegetable peeler, paring knife, cutting board.
Instructions: Start by peeling a large piece of skin from your citrus. Be sure to avoid the white pith. Trim down the peel to your desired shape using a knife. Be sure to use slow, careful movements as you cut everything down. Try twisting a thin citrus peel, or carving a unique shape in a larger piece of peel.
I'd suggest using an inspiration picture to help guide your design.

11. Nut or Candy Rim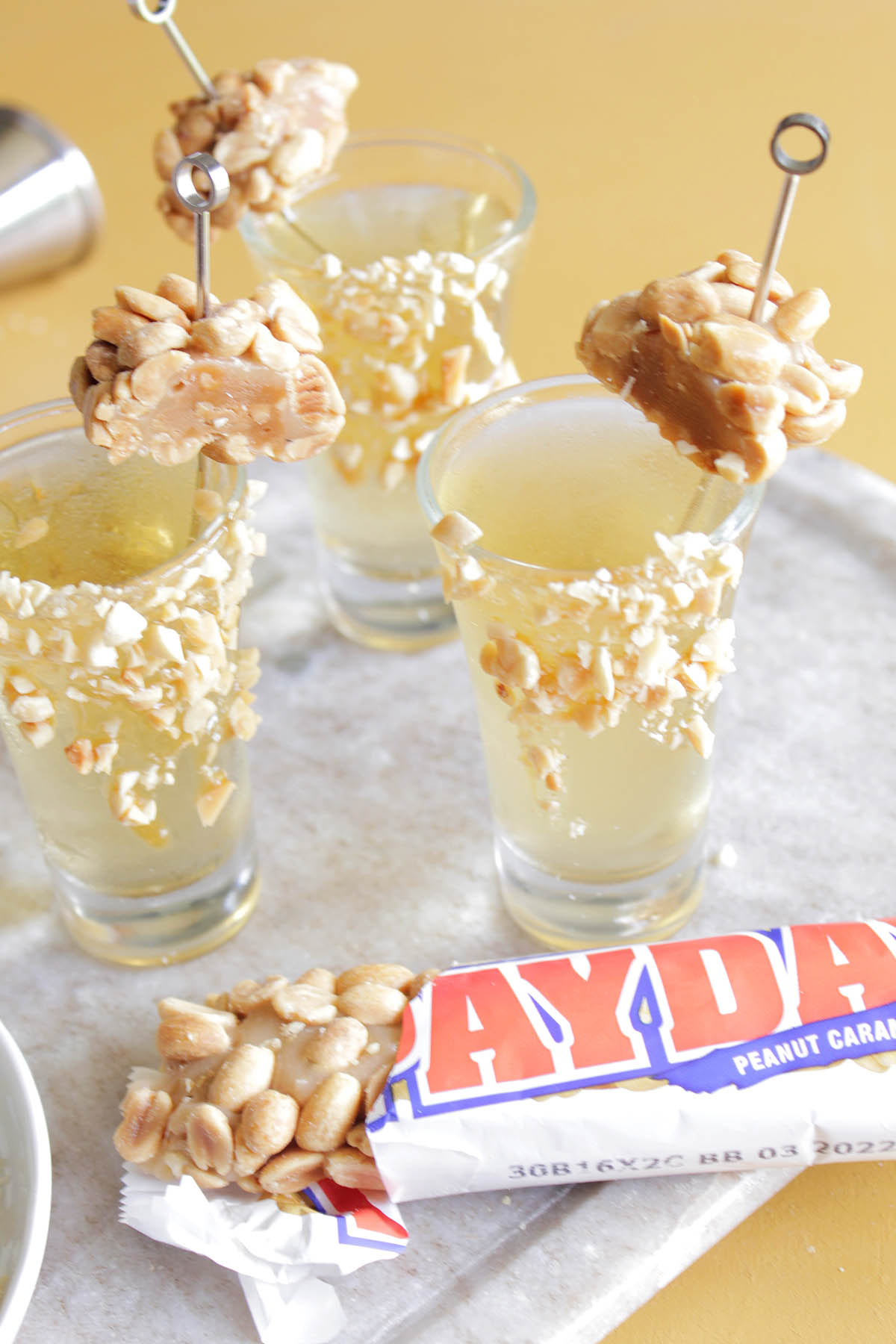 Texture, like nuts or candy, can add a great addition to the outside of a cocktail glass. Rim the glass using a sweet or salty touch - it's up to you!
Supplies Needed: Chilled caramel/chocolate sauce, nuts/candy
Instructions: Garnish the cocktail glasses by dipping one side into chilled caramel/chocolate sauce, then into the crushed nuts or candy.
Note: If you garnish the shot glasses ahead of time, store them in the freezer until you're ready to serve. The caramel/chocolate garnish will begin to melt if left too long at room temperature.
12. Lemon Disk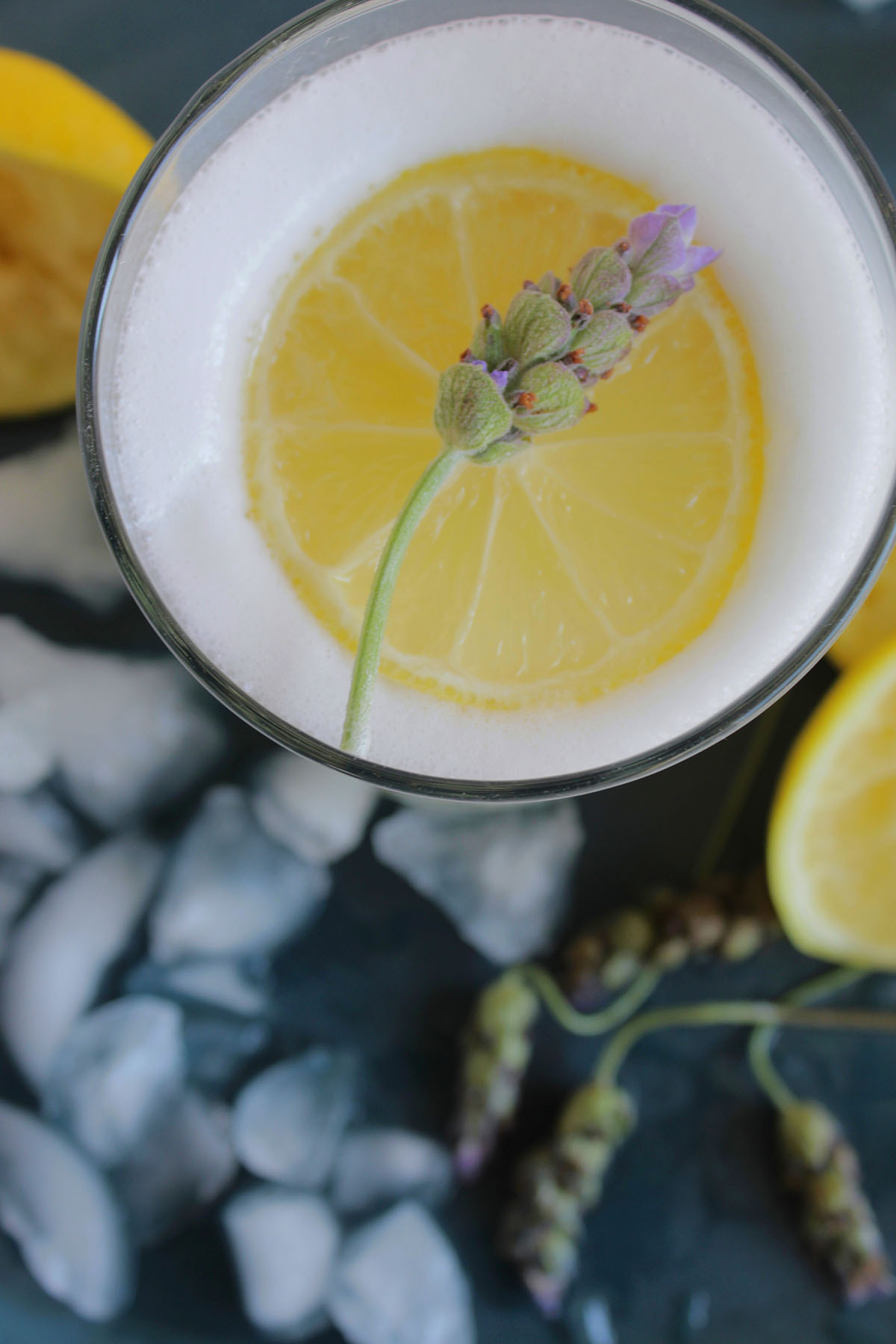 The classic fruit cocktail garnish can be upscaled with a few extra touches. This lemon disk can be infused with whole spices or finished off with a pop of floral elements.
Feel free to switch up the type of citrus depending on your cocktail.
Supplies Needed: Lemon, whole spices, and/or edible food-safe flowers (purchase online at Gourmet Sweet Botanicals)
Instructions: Slice a disk of lemon about ½ inch thick. Place whole spices or edible flowers on top.
13. Twisted Citrus Peel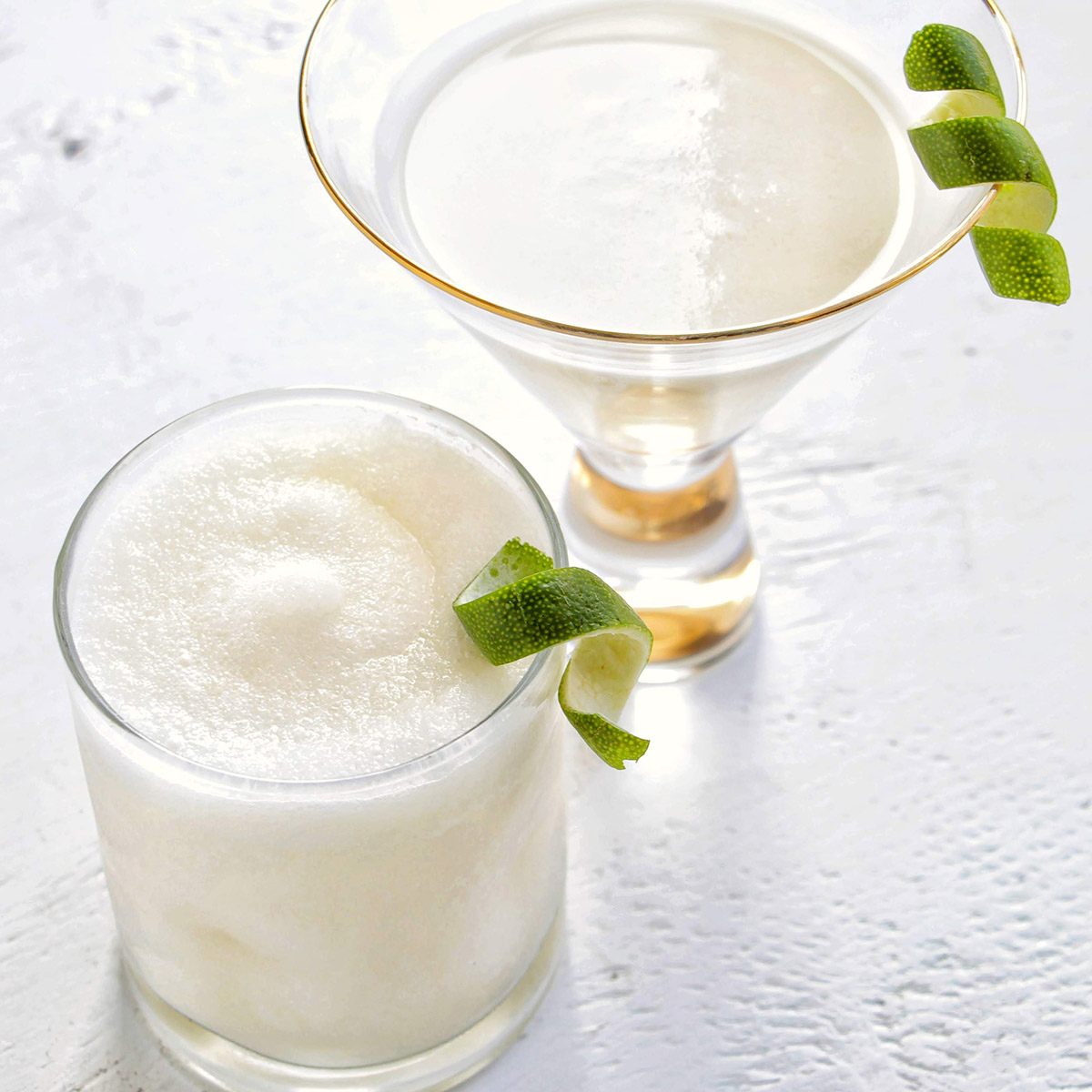 You can use citrus peels in many ways! Twist-up the citrus peel to hang on the side of the cocktail glass. You could place this garnish inside the drink, pin it on the outside of the rim, or even place it gently on top.
Supplies Needed: Citrus (orange, lemon, lime), vegetable peeler, knife, cutting board.
Instructions: Start by peeling a large piece of skin from your citrus. Be sure to avoid the white pith. Trim down the peel to your desired thickness using a knife. Twist the peel around a metal straw or your finger for 30 - 90 seconds until the citrus peel stays twisted.
14. Mini Clothespin
If you're looking for a delicate, creative cocktail garnish, look no further than this mini clothespin. It's a dainty way to garnish a cocktail with a small flower or herb. It also adds an additional pop of color!
Supplies Needed: Mini clothespin, edible food safe flower (purchase online at Gourmet Sweet Botanicals) or herb
Instructions: Select a dainty flower or herb, being sure they have a short stem or tail. Once the cocktail is poured, gently clip the flower/herb on the side with a clothespin. Feel free to play around with placement.

15. Fronds & Leaves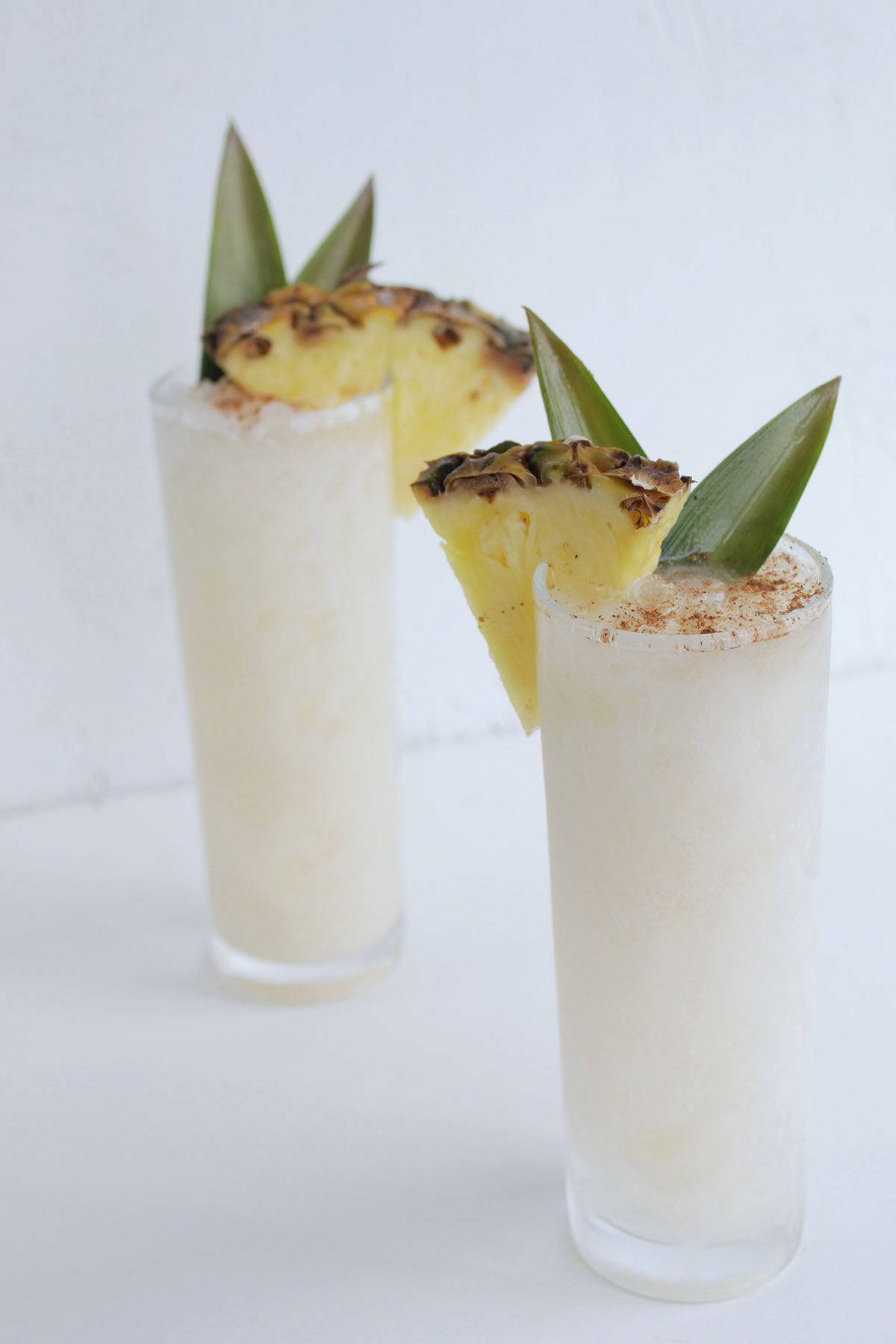 An easy, but beautiful cocktail garnish can be accomplished by using pineapple fronds or edible leaves. This can add a beautiful touch of color and freshness to your cocktail.
Supplies Needed: Fruit fronds or edible leaves.
Instructions: Select fronds/leaves with bright, vibrant colors. Cut the frond down to about 3-4 inches long. Wedge frond in between the ice and glass.
More Cocktail Recipes
Want to learn about more delicious cocktail recipes? Check out my mixed drinks list with over 50+ recipe ideas. Plus, here are a few of my favorite cocktails:
Love this guide? Please leave a comment below. Don't forget to follow along on Instagram, Facebook, YouTube, and Pinterest for more recipes.