Nail your happy hour snacks with these easy & healthy recipes.
Enjoy happy hour at home with these 10 easy and fun appetizers. Happy hour snacks don't have to be difficult. All you need is some delicious food (maybe even some healthy options) that pairs well with your favorite cocktail! These make ahead appetizer ideas would be perfect for entertaining. This post include tips for preparing your appetizer menu, along with cocktails to pair with them!
This post may contain affiliate links, which means I'll receive a commission if you purchase through my link, at no extra cost to you.
Happy hour with friends is one of my favorite things! Grab a delicious cocktail, some easy happy hour snacks, a good playlist, and you've got yourself a fun night! If you need help deciding what to serve at a happy hour or cocktail party, you've come to the right place!
Here are 10 shockingly simple, yet so flavorful and delicious, happy hour appetizers. Some are healthy, others are a little indulgent, but I promise they will all wow your guests!
Grilled Peach & Lemon Ricotta Crostini: Grilled peach & lemon ricotta crostini is an elegant, but simple appetizer! The grill infuses just the right amount of smokiness to this dish. It's an ideal dish for entertaining because it comes together so quickly & effortlessly! If peaches aren't in season, try using another type of fruit. Pears, grapes, berries, supremed orange segments, or even jam would be lovely on top.


ENTERTAINING TIP: This appetizer cooks up in under 5 minutes. But, if you want things to go even quicker, have the baguette pre-sliced, ricotta mixture whipped up, and peaches sliced up. Then, all you have to do is throw the bread and peaches on the grill, and ask a friend to help assemble the crostini.


PAIR WITH: Grilled peach and lemon rum cocktail



2. Spicy Marinated Feta: All you need is four ingredients, along with a few spices to make this mouth watering marinated feta. No cooking required! The best part is you can prep this dish ahead of time (up to 48 hours) and all you need to do is pull it out of the fridge, warm up some pita, and you're ready to go!


ENTERTAINING TIP: Need to turn this small happy hour snack into a more substantial appetizer? No problem! Try pairing with some roasted garlic hummus and veggies. If you need a really impressive spread, try making this Greek appetizer platter.


PAIR WITH: A glass of your favorite rosé or dry white wine.



3. Smoked Salmon Canapés with Cucumber: These smoked salmon canapés with cucumber are the perfect bite sized food. The canapés are made with seafood and a lemon artichoke cream cheese spread. These party snacks can be served cold, making them an easy dish to whip together. Serve the salmon canapé appetizers along with your other favorite hors d'oeuvres.


ENTERTAINING TIP: Be sure to have a platter or tray on hand that you can use for all your entertaining purposes. I like neutral platters so your hors d'oeuvres can shine!


PAIR WITH: Pomegranate and Blood Orange Gin Martini



4. Hummus Platter: This Middle Eastern/Mediterranean style recipe is perfect for serving at parties or to feed a crowd! This homemade hummus is perfectly creamy, silky smooth, and whipped to perfection. One batch of hummus can be topped with three different flavors to provide some variety. Serve alongside warmed pita and your favorite crudités.


ENTERTAINING TIP: Make sure to ask your friends and family before they come over for cocktail hour if they have any allergies. You want to be sure everyone has something they can eat, so it's better to be prepared ahead of time. Hummus is a great option because it's healthy, gluten free, dairy free and vegan.


PAIR WITH: A light and refreshing gin & tonic



5. Bacon and Onion Dip: Try this elevated take on your traditional French onion dip mixed with a base of mayonnaise and Greek yogurt. Plus, it has bacon, and bacon makes everything better! The dip can sit in the refrigerator for up to 72 hours, so this works great as a make ahead snack! Serve with chips, crackers, or raw veggies.


ENTERTAINING TIP: Remember to plan ahead when you're entertaining. I like to go grocery shopping almost a week before, then you can focus on prepping the food 1-2 days in advance. Need help with this part? Grab my free party planning checklist.


PAIR WITH: Your favorite beer



6. Pulled Pork Nachos: These are a crowd pleaser! The tangy, acidic bite from the coleslaw and marinated onions packs a nice punch with the pulled pork. Make things even easier (and quicker) by purchasing pulled pork that can be heated in the microwave.


ENTERTAINING TIP: Sheet pan appetizers, like this, are perfect for happy hour occasions when you're watching a sports game. Prepare everything ahead of time, then pop the nachos in the oven during halftime or a break in the game.


PAIR WITH: Watermelon Margarita on the Rocks



7. Individual Cheese Board: These mini, single-serve charcuterie boards look very elegant, without the fuss of putting together a huge platter. The best part? Nobody has to share their cheese board for one. Feel free to switch out the cheese with your favorite types or whatever is available.


ENTERTAINING TIP: This appetizer is great for those times during the winter when people tend to get sick and you don't want to share germs. Don't forget to grab some cute, little plates to serve up the cheese board.


PAIR WITH: Red Wine Sangria



8. Apricot Honey Baked Brie: Make this easy, melty brie cheese with dried apricots, honey, and almonds. A few minutes in the oven will transform this cheese into something special. Place it alongside some small accouterments to make an elegant and sophisticated treat.


ENTERTAINING TIP: If friends offer to bring over food for happy hour, ask them to bring something that goes along with a dish you're already making. Crackers, dry-cured salami, raspberries, or blackberries would be perfect to pair with this brie.


PAIR WITH: Blackberry Blood Orange Cocktail Refresher



9. No Cook Appetizer Skewers: These appetizer skewers are super simple to make, and they only require a few ingredients. These make ahead toothpick appetizers are served cold, so no need to worry about keeping your appetizers hot during a party or get together. With only 15 ingredients, you can make endless combinations of your favorite finger food appetizers.


ENTERTAINING TIP: To serve these for a party, all you really need to do is grab a cute tray, and pile them up. I'd suggest grouping each of the same appetizer skewers together in case someone has an allergy. Then they'll know to steer clear of certain skewers that they can't eat.


PAIR WITH: Lavender Lemon Pisco Sour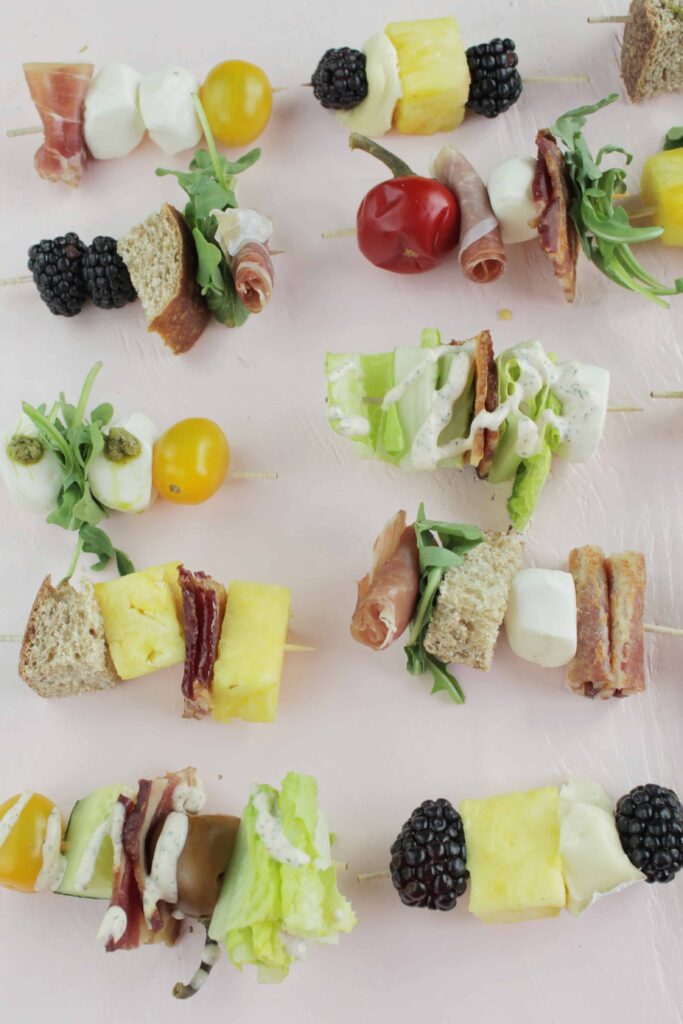 10. Beef Brochettes: These beef brochettes are marinated in a delicious Asian-style sauce made with soy sauce, lemongrass, fish sauce, and more. Then, the beef skewers are grilled (in 5 minutes) and served with a peanut dipping sauce. This is an easy, protein packed appetizer that would be perfect for any casual or fancy get together.


ENTERTAINING TIP: If you're planning a whole happy hour menu, be sure to include something that has lots of protein to keep people full.


PAIR WITH: Coconut Daiquiri with a Twist


LET'S SHARE RECIPES
I love trying new recipes! Let's discover new recipes together on Pinterest!


P.S. If you made any of these happy hour snacks, share a picture with me on Instagram using #HomebodyEats. I love seeing your creations!!