Make a batch of sweet air-fried plantains (maduros) for a quick & easy dish
Air fryer plantains are a sweet & simple side dish that pair perfectly with your morning eggs, South American inspired dinner, or even eaten alone! They crisp up perfectly in an air fryer and come together in under 20 minutes. This dish has a subtle sweetness from the ripe plantains and a crispy exterior.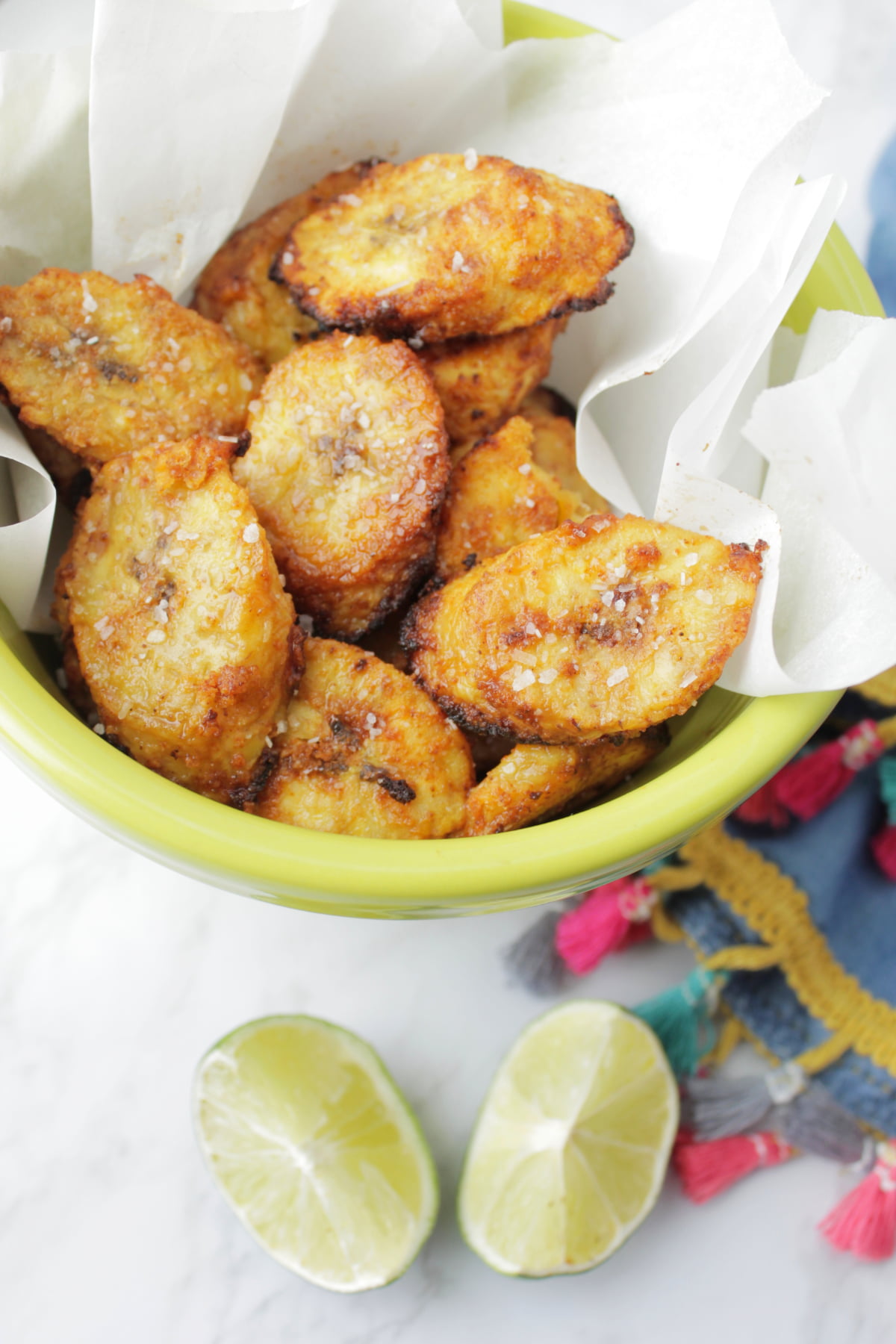 Jump to:
Plantains are a staple in our household. We eat them on a regular basis! They are a healthy treat that pairs with so many other flavors and foods.
Fried sweet plantains (often called maduros) are a great side dish to go along with Cuban-inspired rice, beans, Jamaican jerk chicken, or fried eggs. They are a super versatile food that can also make a great snack!
We're making a version of maduros using the air fryer! These air fryer plantains are coated in a special seasoning that helps balance the sweet plantain with some savory spices.
This recipe is a great way to make maduros without any deep frying. Plus, you'll get the health benefits from using less oil.
This dish is going to be your new go-to family favorite recipe. It's an easy recipe to make and tastes delicious!
What You'll Learn In This Recipe
With every recipe you make on my site, you'll learn a few new tricks in the kitchen. By making these plantains, you'll learn:
What plantains are and how to purchase them at the grocery store
How to tell if a plantain is ripe
Some easy and delicious meals to serve with plantains
If you enjoy learning tricks like these to step up your game in the kitchen, be sure to sign up for my free 5-day email series all about becoming a better home chef.
What Are Plantains?
Plantains are a starchy fruit that is often referred to as a cooking banana. They're different from regular bananas in the sense that they are typically larger and not as sweet.
Plantains are very popular in many countries around the world including in South and Central America, Africa, Southeast Asia, and the Caribbeans.
Plantains are eaten cooked, typically either once they have hit peak ripeness (platanos maduros) or when they are still green (crispy tostones). However, each culture has put its own twist on cooking plantains.
While plantains are not as common in many Americans' diets, they are easily accessible at most local grocery stores. In addition, plantains are sold for a very reasonable price and are available all year round!
This is a great fruit for many dietary needs since it is gluten free and vegan.
How To Buy Plantains
When selecting plantains at your local grocery store, you can choose your desired ripeness depending on the recipe. For our air fryer plantains, we need very ripe plantains (mostly black peel with a little yellow, and still slightly firm to the touch).
If you can only find plantains with green skin, don't worry! Bring them home and allow them to ripen on your counter - just like bananas! It takes about 7-10 days for green plantains to fully ripen, so plan accordingly.
Ingredient Notes
Here are the simple ingredients you'll need for the recipe:
Ripe plantains: For this recipe, you'll need very ripe raw plantains. The plantain should have mostly black skin with just a few yellow spots. This recipe will also work with more yellow plantains. However, they won't be as sweet tasting from the natural sugar that builds up as the plantain ripens.
Coconut oil: A small amount of oil helps the plantains crisp up even more in the air fryer.
Various Spices: We are creating our own spice blend to add flavor to the plantains. We'll blend up garlic powder, paprika, ground cumin, and onion powder.
Non-stick cooking oil spray: I always like to spray the air fryer basket with some cooking oil. It helps to ensure nothing sticks!
Morton kosher salt: Salt helps to enhance the flavor of this dish! Don't skimp out on adding some additional flavor right when the plantains come out of the air fryer.
Tools & Equipment
You'll need an air fryer for this recipe. My personal favorite air fryer is from Cuisinart. It always provides an even cook, it's very easy to clean, and it's a two-in-one tool that can also be used as a toaster.
If you're unfamiliar with air fryers, it doesn't actually fry foods. Rather, it blows hot air around the food that sits in an open hole basket. Similar to convection ovens, the hot air cooks the food and browns the outside.
An air fryer is a little bit of an investment, but you can use it for so many different kitchen projects. Some of my favorite air fryer recipes include cooking meat (like this chicken cordon bleu), heating frozen foods, and reheating leftovers.
You'll also need a few mixing bowls. One small bowl to mix the spices, and a large bowl to toss the plantains with the oil and spices.
Recipe Frequently Asked Questions
How do you cut a plantain?
You'll need to first cut off the ends of the plantains. Then, score the skin of the plantain (trying not to cut the flesh) on either side of the plantain. This makes peeling the plantain more manageable. Some people like using a paring knife on this step.

Grab a sharp knife and cut the plantains into thick slices (about ½ inch) on the bias. Be sure to keep them the same thickness so they all cook evenly.
My plantains aren't cooking evenly. What should I do?
Be sure that your plantains are cut into evenly thick pieces that are all relatively the same size. Additionally, make sure to place only a single layer of plantains on the air fryer basket.
It's my first time using an air fryer. Which one do you recommend?
I have used and loved my Cuisinart air fryer for years now! This air fryer is easy to use, plus it can serve as a toaster oven (I love a two-in-one appliance). It's also very easy to clean, which is a win in my book.
What To Eat With Plantains
The best part of this air fryer plantain recipe is all of the meals that you can eat with them. Here are some of my favorite plantain meal ideas: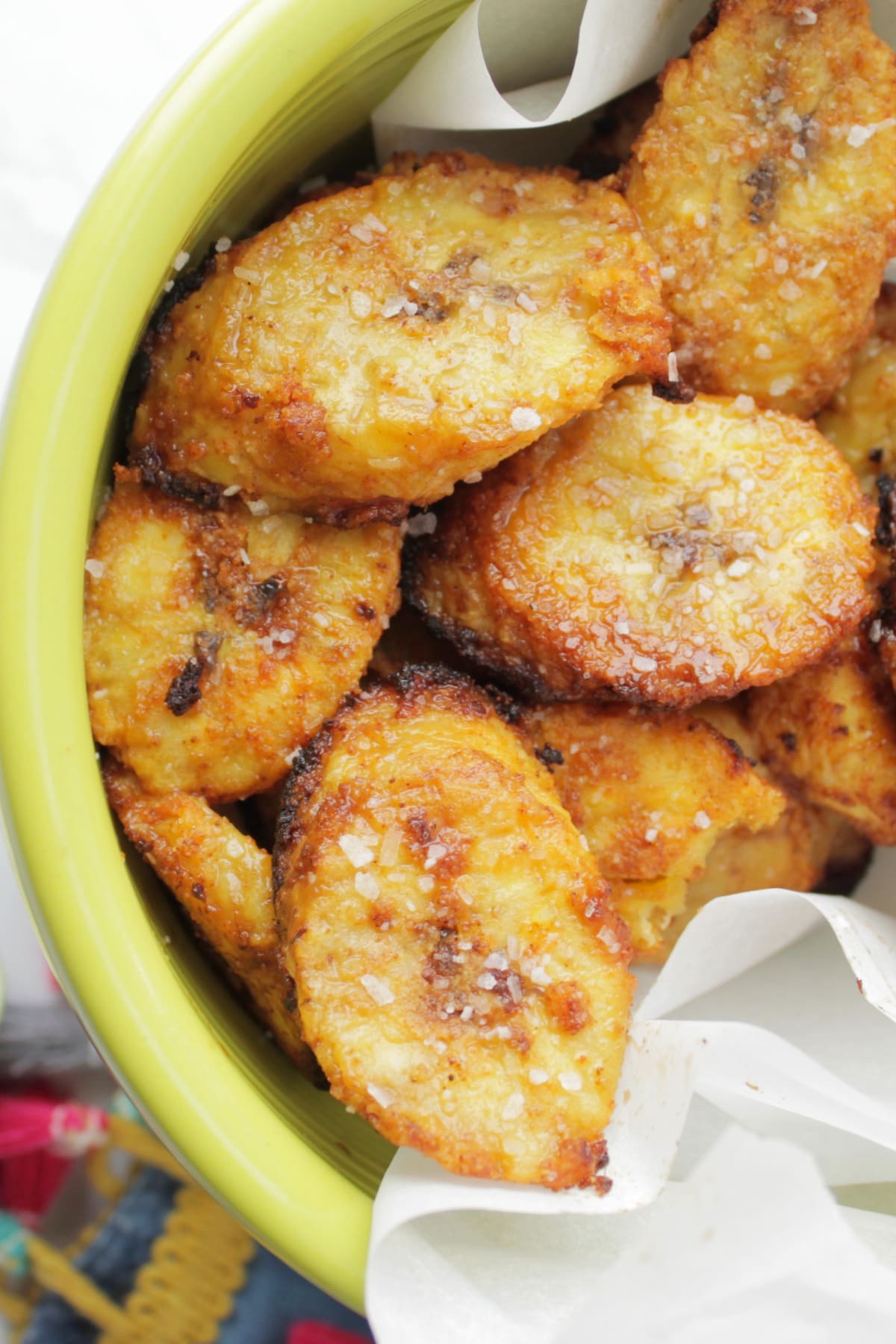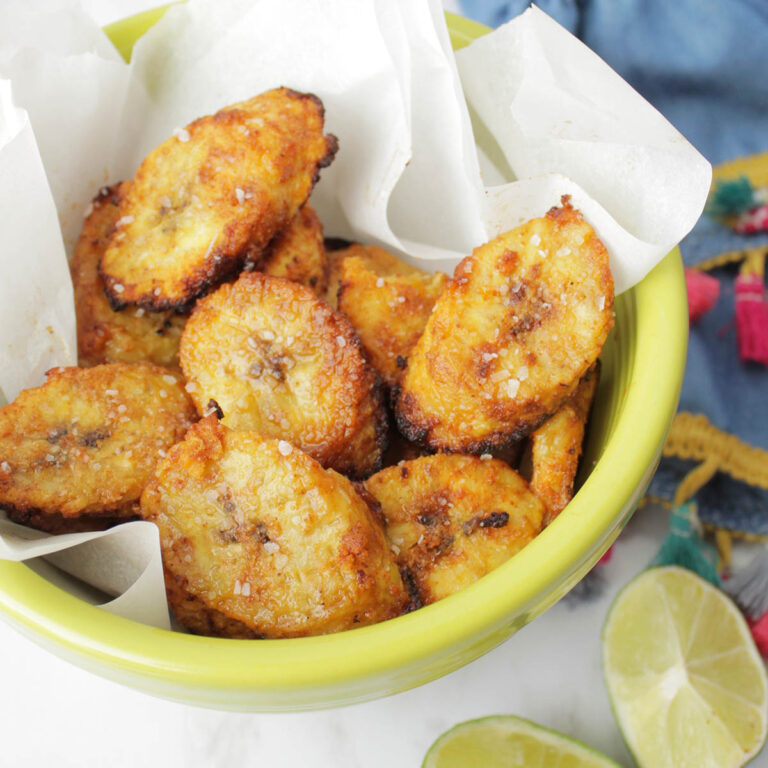 Healthy Air Fryer Plantains
Air fryer plantains are a sweet & simple side dish that pair perfectly with your morning eggs, South American inspired dinner, or even eaten alone! They crisp up perfectly in an air fryer and come together in under 20 minutes. This dish has a subtle sweetness from the ripe plantains and a crispy exterior.
Instructions
Preheat air fryer to 400°F.

Add garlic powder, paprika, ground cumin, and onion powder to a small bowl. Stir to combine and set aside.

Trim ends of plantains. Score the skin of the plantain, then peel to remove. Cut diagonally into ½ inch pieces.

In a medium bowl, toss plantains in melted coconut oil. Sprinkle in spices and toss to combine with plantains until well coated.

Spray air fryer basket with non-stick cooking oil spray. Add plantains in a single layer. Cook for 6-8 minutes, until plantains are golden brown and crispy on the outside. Sprinkle with kosher salt to taste.
Notes
To purchase ripe plantains at the grocery store, look for plantains that have a mostly black peel and are still slightly firm to the touch.
Storage: Store any leftover plantains in an airtight container in the refrigerator for up to 5 days.
Reheat: Reheat in the air fryer at 350

°F until heated through.
Nutrition
Calories:
323
kcal
Carbohydrates:
72
g
Protein:
3
g
Fat:
6
g
Saturated Fat:
5
g
Polyunsaturated Fat:
1
g
Monounsaturated Fat:
1
g
Sodium:
10
mg
Potassium:
1135
mg
Fiber:
5
g
Sugar:
34
g
Vitamin A:
2563
IU
Vitamin C:
43
mg
Calcium:
11
mg
Iron:
2
mg
Have you tried this recipe?
Tag @homebody.eats on Instagram so we can see your creations!