Purchase the only chef's knife you'll ever need in your kitchen for under $100
Wouldn't it be nice to have a sharp chef's knife that would help you chop and prep all the meals you make? This chef's knife will make you feel like a professional in your home kitchen. It's super sharp, gives you control and leverage for precise cuts, and costs under $100. This article will help you find the perfect chef's knife for everyday use.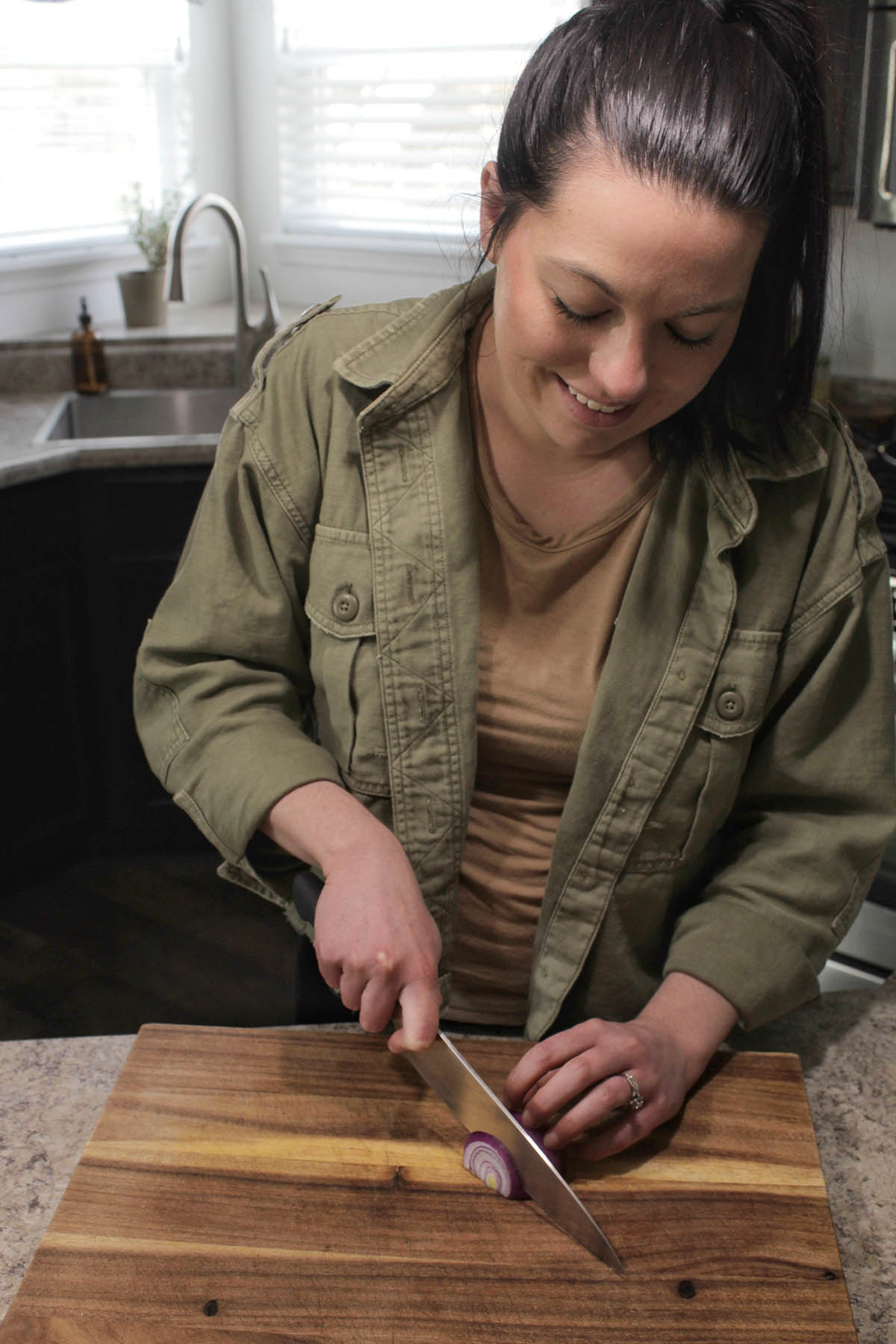 Jump to:
Aren't you tired of dull kitchen knives that can barely cut through your food? Or never being able to make beautiful, even cuts?
It can seem impossible to find a high-quality, super-sharp chef's knife that doesn't cost hundreds of dollars.
Knives are such an important kitchen tool, which is why you need a chef's knife you can rely on. I use my chef's knife every single day, as I'm sure you do too!
I'll show you the only chef's knife you'll ever need to keep in your kitchen. This is the knife that I received when I started culinary school. It has carried me through countless culinary school dishes, recipe testing, and the meals I make every day for myself and my husband.
This Mercer Genesis knife has a very affordable price tag, and it is without a doubt the best chef's knife I've ever used! If you've got a tight budget, don't worry! You can still find a great knife.
I'll teach you what to look for when selecting a chef's knife and why this is my favorite (affordable) option. If you're still new to proper knife care, I'll also teach you some tips to care for your chef's knife so it lasts for years to come!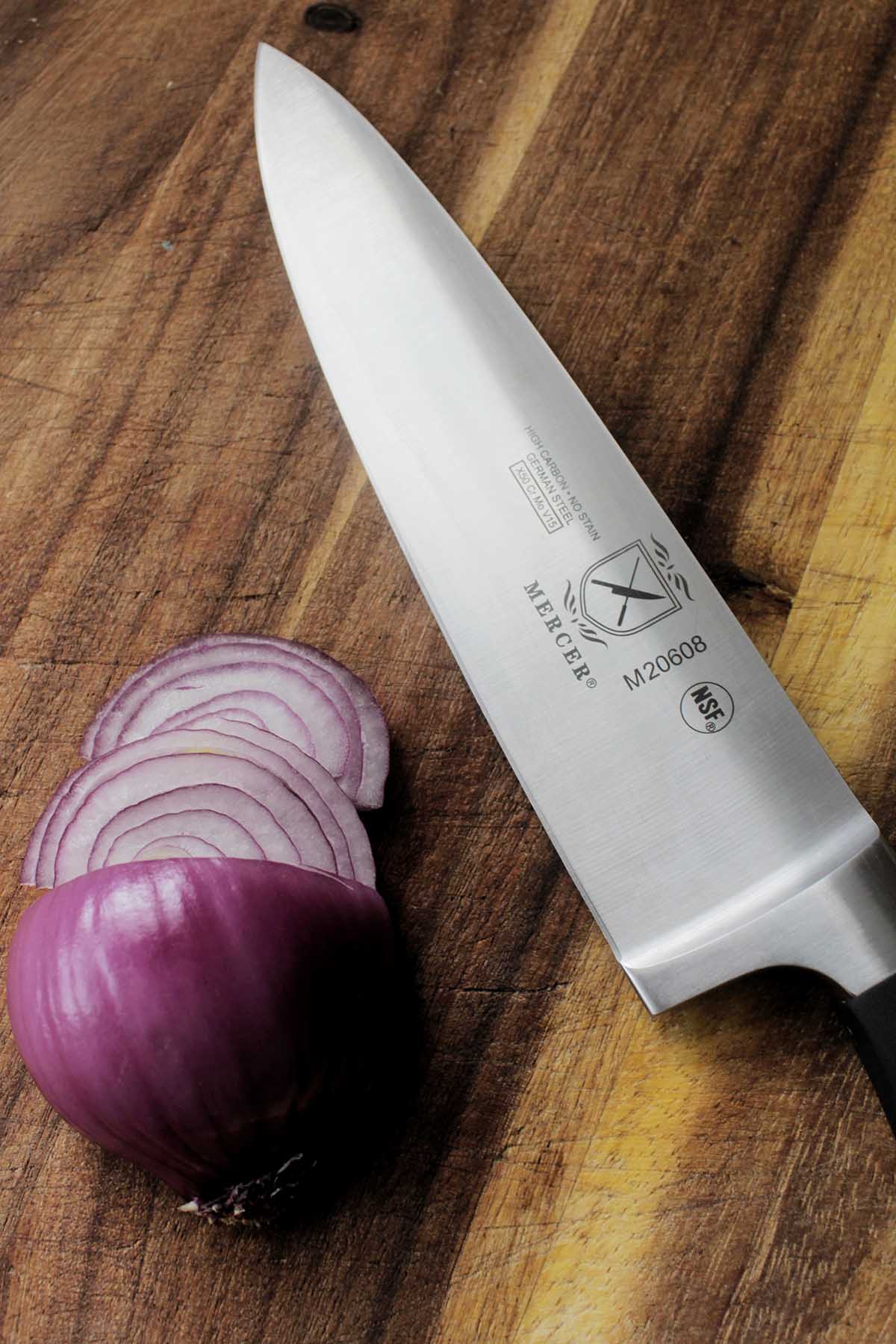 Why You Need A Chef's Knife
Knives are undoubtedly the most important tool for professional chefs and home cooks. With a sharp knife, you can accomplish a number of kitchen tasks with ease and efficiency. You can chop and slice produce, break down a whole chicken or fish fillet, mince garlic and herbs, and so much more!
Many home cooks think that you need to purchase a whole knife set in order to be successful in the kitchen. Sure, sometimes a paring knife can come in handy for peeling potatoes. Or a serrated knife is needed to cut bread or pastries. However, 90% of the work you do in the kitchen can be accomplished with a chef's knife.
A chef's knife (also sometimes referred to as a French knife), is an all purpose knife. It's meant to serve as a utilitarian tool that you can use for the majority of kitchen tasks.
If you're looking to invest and take care of one knife, a chef's knife is the best value for a single knife.
Characteristics Of A High-Quality Knife
No matter what chef's knife you purchase, there are a few things to look for to ensure it is high quality. Mercer Culinary is a good option for knives because they have high standards for the knives they produce, and they use high-quality materials.
Here are the items to pay attention to when purchasing a knife:
A good quality knife is forged and tempered into a blade. This gives the knife durability and strength.
High-carbon stainless steel is generally considered the best and most common metal for knife blades. It doesn't corrode or discolor, and it can easily be sharpened!
The tang, a portion of the blade that fits inside the knife handle, is another important piece to pay attention to. Many experts suggest that the higher quality knives have a full tang. Meaning, the tang runs the whole length of the handle. This helps provide support and balance to the knife.
The knife handle should be molded in a comfortable manner that fits your hand. Be sure it has a smooth surface that won't allow food particles and bacteria to easily grow.
Overall, the knife should have a nice weight and feel balanced when you are cutting.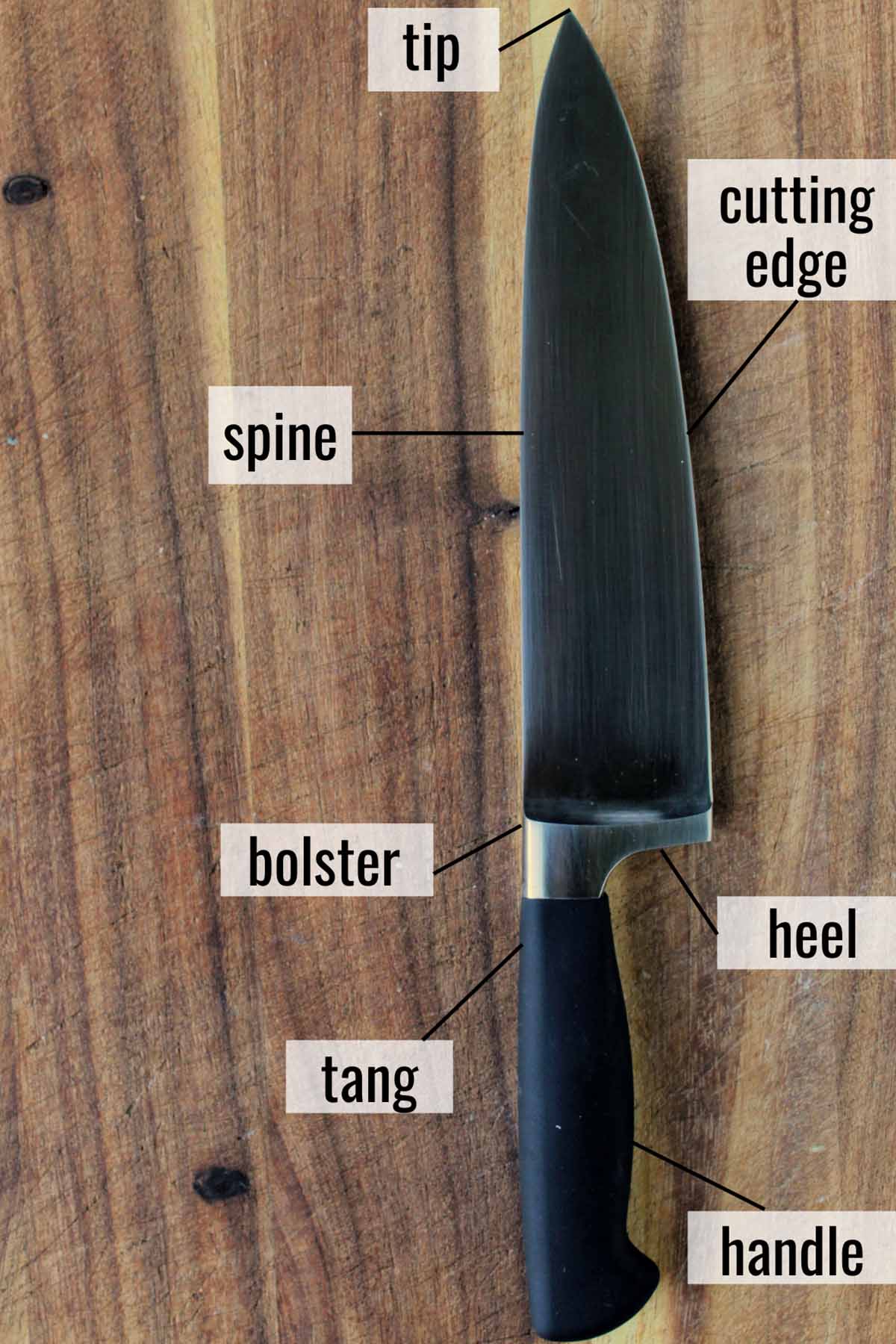 Keep reading to see if the Mercer Culinary chef's knife has all the characteristics of a good quality knife that are listed above!
Best Chef's Knife For Your Kitchen
Now that you know the characteristics of a high-quality knife that professional chefs like to use, let's see if the Mercer chef's knife (which costs around $40) can pass the test.
Mercer does not skimp on the quality of the blade, which is the main reason I believe it's the best option for home cooks! They use a high-carbon German steel that is forged for strength and durability.
The main thing home chefs want is a super sharp blade that will easily cut through food. The blade on this chef's knife has a razor-sharp edge. It will cut through produce, raw meat, and so many more food items.
If you're used to using a dull knife, you will be amazed at how sharp the cutting edge of the blade is!
Although this knife does not have a full tang, it utilizes a shorter option commonly referred to as a rattail tang. This is often something you'll see in less expensive knives as a way to cut costs. The rattail tang in the Mercer knife still provides perfect balance!
The knife handle, in my opinion, has to be one of the most comfortable and practical knife handles I've ever used! It has a non-slip grip, which comes in handy when you're washing/prepping produce and have wet hands.
Customer Testimonial:

"I purchased this knife based on Jessica's recommendation after taking a cooking class. I knew I wanted to start cooking at home more often, and that meant getting a good-quality knife. This knife has surpassed all my expectations! It's super sharp, has a nice weight to it, and most importantly it has a comfortable grip. I loved this knife so much I bought a second one for my boyfriend." - Mindy D.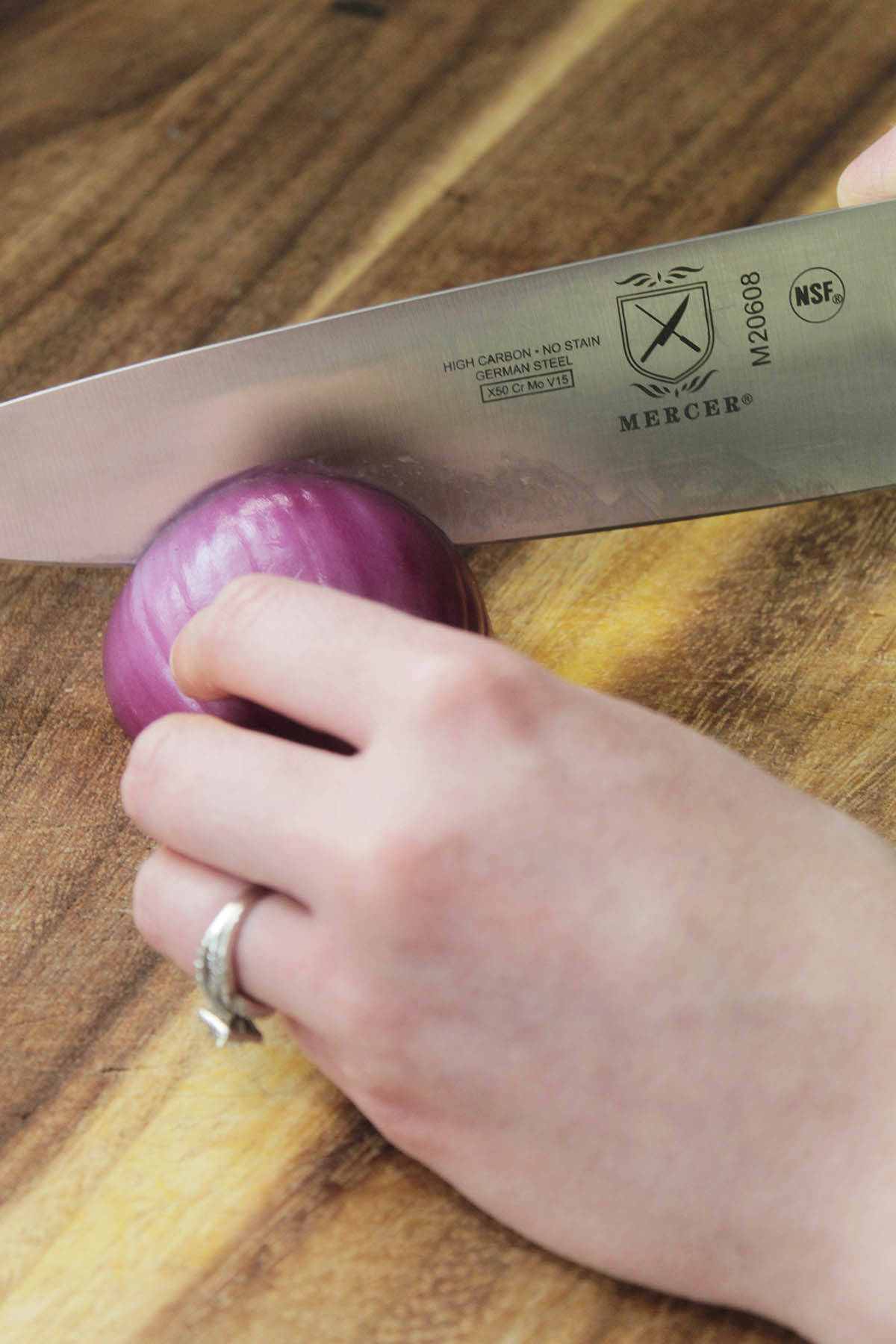 As long as you're properly gripping the knife, the ergonomic handle design will fit nicely into your hand. I've cut for hours with this knife, and my hands hardly ever hurt at the end of the day - it's that comfortable! It's even great for small hands too.
I really appreciate a knife that has a good weight to it! It helps you cut with ease and without putting in too much effort.
Mercer has crafted the perfectly weighted knife. It has enough weight that it feels sturdy and durable. Yet, at the end of the day, it's not too heavy in your hand.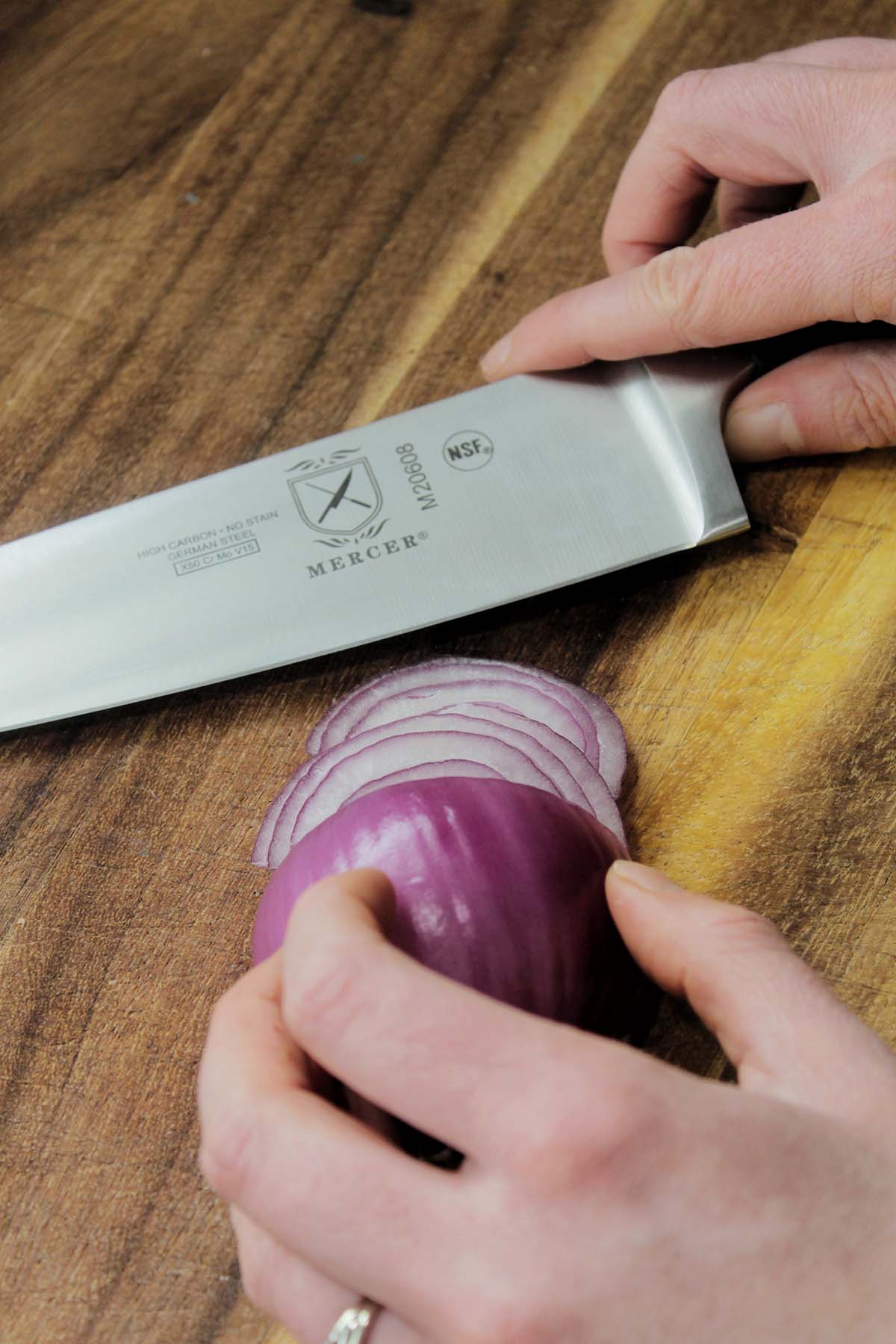 It's not only me who is in love with this knife. I've seen glowing reviews from professional restaurant chefs and home cooks who love the Mercer chef's knife. Everyone I've talked to who has purchased this knife is amazed at the quality for the affordable price point!
If I had purchased this knife sooner in my culinary journey, I would have saved so much money and countless hours of using dull knives that didn't meet my needs.
Customer Testimonial:

"I was skeptical at first of this knife since it was only $40 on Amazon. To my surprise, this has been the best chef's knife I've ever owned (even better than my $200+ knife). The quality of this Mercer knife is incredible. With the proper care, I've been able to maintain a super sharp blade. It's a good knife for my everyday needs and cooking projects." - Tyler J.
Caring For Your Chef's Knife
Once you purchase a high-quality chef's knife, you'll want to learn how to take care of it so it lasts for years. Mercer is so confident in their knives, that they offer a limited lifetime warranty for this knife. As long as you are properly caring for and using the knife, they will replace the product should anything go wrong.
Here is your super simple and straightforward guide to properly caring for your knife: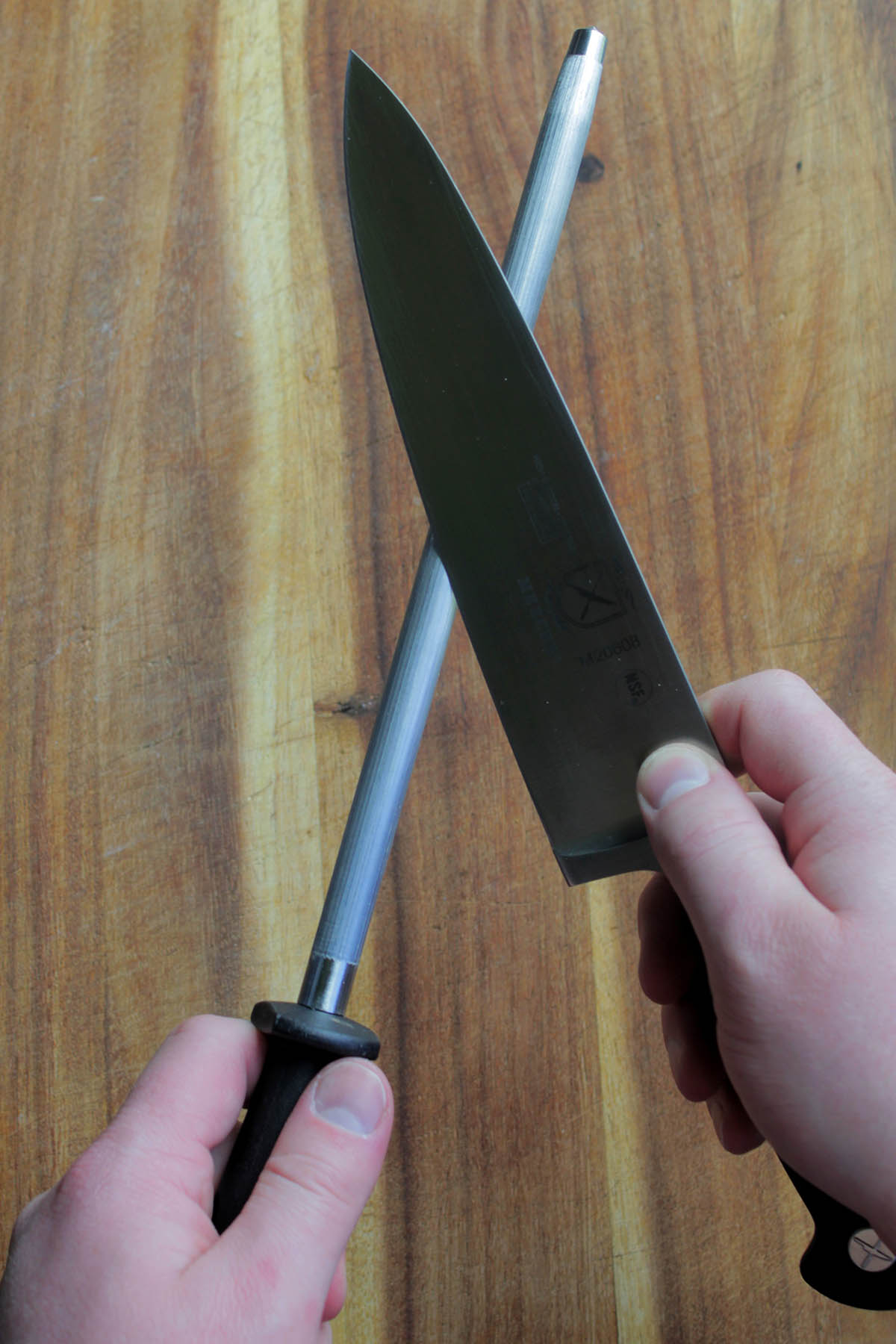 Things To Do
Always hand wash the knife with warm water and mild soap. After hand washing, thoroughly rinse and dry completely with a soft towel.
Store the knife in a knife guard or knife block to protect the blade and prevent injury.
Regularly sharpen the knife. You can do this yourself or take it to a professional. This should be done 1 - 3 times a year depending on how often you cook.
Regularly hone (straighten) the knife in between sharpenings. Here's a quick guide on using a honing steel. If you cook often, you may even want to hone your knife every day. This is a cheap tool that will keep your knife blade straight, sharp, and well kept.
Things Not To Do
Never put the knife in the dishwasher. The heat of the dishwasher can cause the handle to deteriorate, as well as the blade to become dull and discolored.
Do not soak the knife in water for long periods of time. Not only is this a safety issue (someone could reach in the water and cut themselves), it can also cause rust and discoloration.
Do not cut on dense surfaces including glass, marble, or hard counters.
Never use the knife to open cans or jars.
Don't try to cut through frozen foods or bones.
Frequently Asked Questions
Sources