Learn how to infuse vodka with fruit and other delicious flavorings. This guide will teach you how to make flavored vodka from start to finish.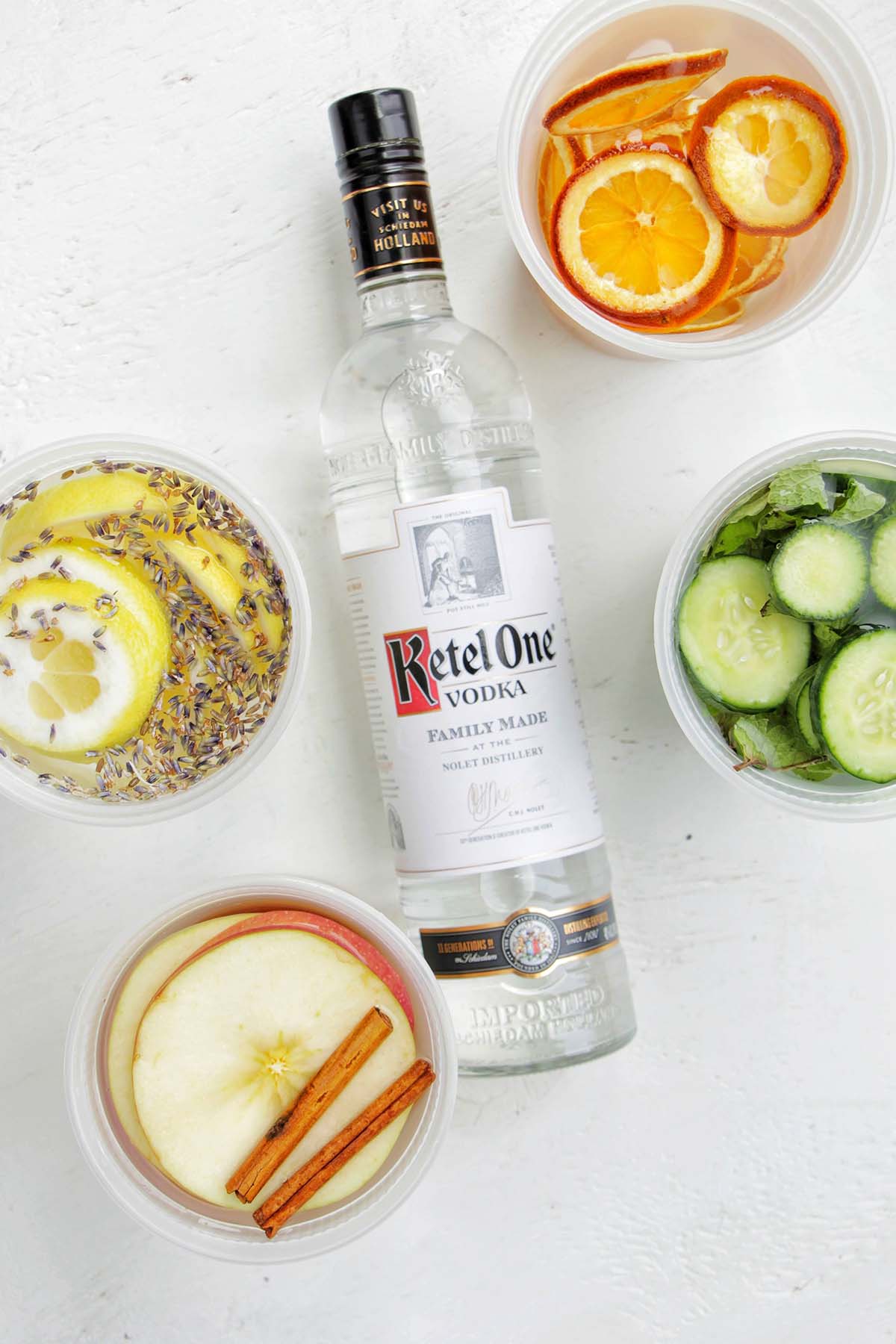 Vodka, known as a neutral spirit, is perfect as the base for infused liquor.
Because vodka by itself doesn't have much flavor, it lends the perfect palate to add creative infusions and fun flavorings.
This guide will walk you through all the step-by-step instructions, along with tips and tricks, on how to infuse vodka at home. Flavoring vodka is a great option to create upscale and unique cocktails.
Jump to:
What You'll Learn In This Recipe
The process of infusing fruit, herbs, and candy with vodka.
My favorite vodka infusion ideas for every season.
Tips and tricks to make your infused vodka super flavorful.
If you're a cocktail lover, be sure to sign up for my free bartender cheat sheet, with over 45 different cocktail recipes all in one place.
Ingredients You Need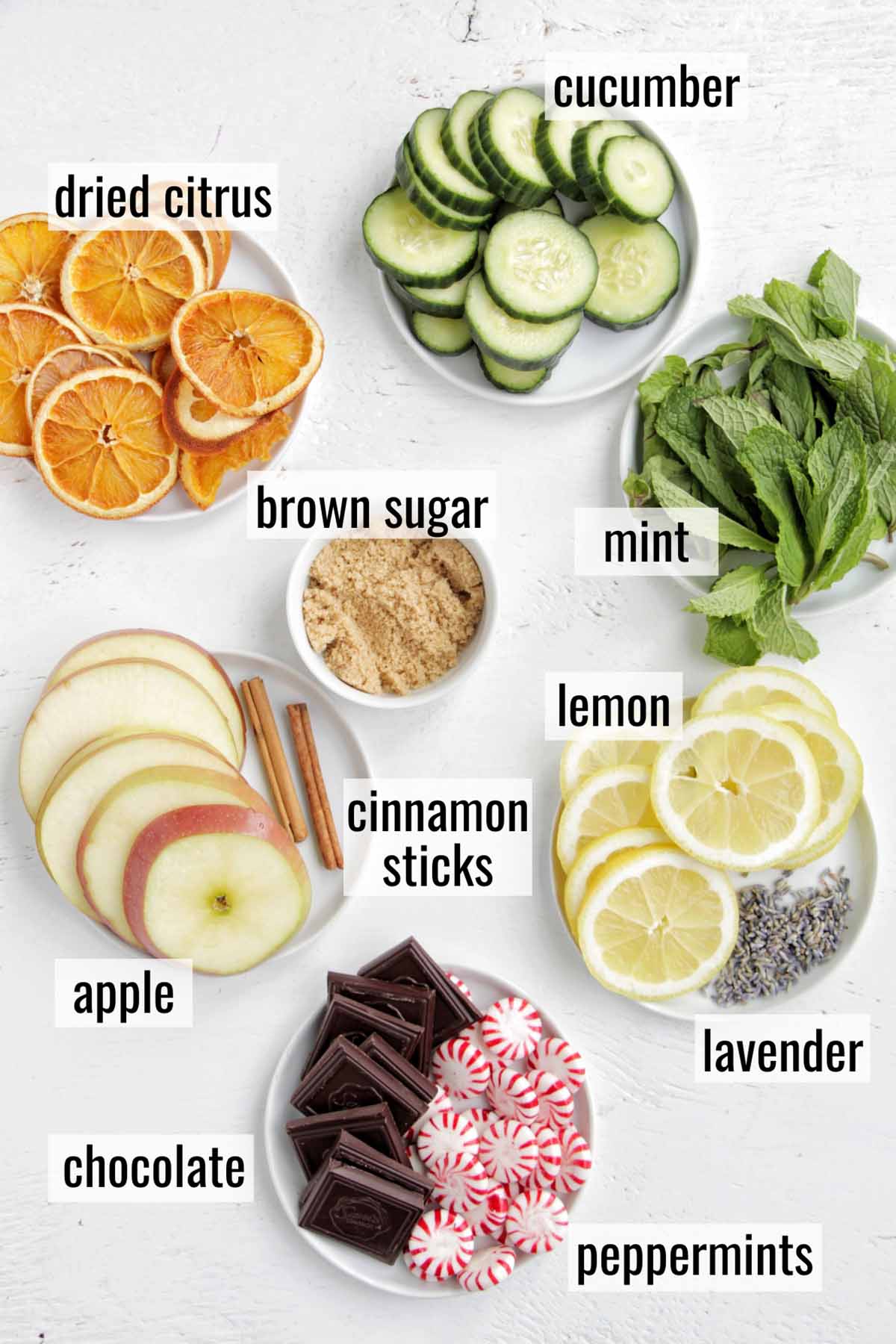 The first step in creating any infused liquor is deciding what flavor you want to infuse in the vodka.
There are many different options for your potential infusions including fruits, vegetables, peppers, herbs, or candy.
I chose to make five different infusions including:
Cucumber + mint
Apple + cinnamon + brown sugar
Lemon + lavender
Peppermint + chocolate
Dried oranges + dried lemons
Typically, I'd recommend choosing no more than 3 flavor combinations to mix together in one infusion.
Here's an easy guide to help you figure out how much of each type of ingredient you'll need to infuse a standard 25.4 ounce (750 ml) bottle of vodka:
Fresh herbs: Use ½ cup (about 13 grams) of whole herbs, including the stems.
Dried herbs: Use 2 - 4 teaspoons (1 - 2 grams) of dried herbs. If you're using a vanilla bean pod, be sure to split it open before adding it to the vodka.
Fresh fruits: Use 1 cup (about 150 - 200 grams) of large diced fruit. If the fruit has a soft outer skin, you can keep it on. Remove any tough outer skin, leaves, pits, or seeds.
Dried fruits: Use ½ cup (about 75 grams) of dried fruits.
Fresh vegetables: Use 1 cup (about 150 - 200 grams) of large diced fruit. You can keep the outer skin on most vegetables.
Fresh peppers: Use ½ cup (about 75 grams) of large diced peppers with the seeds removed.
Candy: Use 1 cup (about 150 - 200 grams) of your favorite candy.
Sugar or simple syrup: Use 2 - 4 tablespoons (about 25 - 50 grams) of sugar if you wish to sweeten your infused vodka.
I'll have specific measurements for the infusions ingredients I used listed below.
However, with this list, you can learn to infuse just about anything into vodka!
Vodka Infusion Ideas
Now that you know the correct amount of infusions to add to vodka, here are some of my favorite flavor ideas for how to infuse vodka.
Summer Infusions:
Lemon and rosemary
Grapefruit and lemon
Sour Patch Kids
Watermelon Jolly Ranchers
Cucumber and mint
Raspberry and mint
Coconut and pineapple
Spring Infusions:
Blueberry and lemon
Lavender and lemon
Jalapeño and lime
Lime and mint
Fall Infusions:
Apple and cinnamon
Orange, vanilla, and cinnamon
Apple and ginger
Pear and cinnamon
Winter Infusions:
Cranberry, orange, and rosemary
Chocolate and peppermint
Vanilla
Cranberry and cinnamon
How To Make Infused Vodka
Once you've selected your infusion ingredients, I'll teach you how to flavor vodka:
1. Add 25.4 ounces (750 ml) of vodka to a mason jar or plastic deli container.
Remember, you'll want to select a vodka that you like drinking. Don't buy a really cheap bottle to infuse if you wouldn't normally drink that type of vodka.
You can learn more about which brand of vodka is best for you.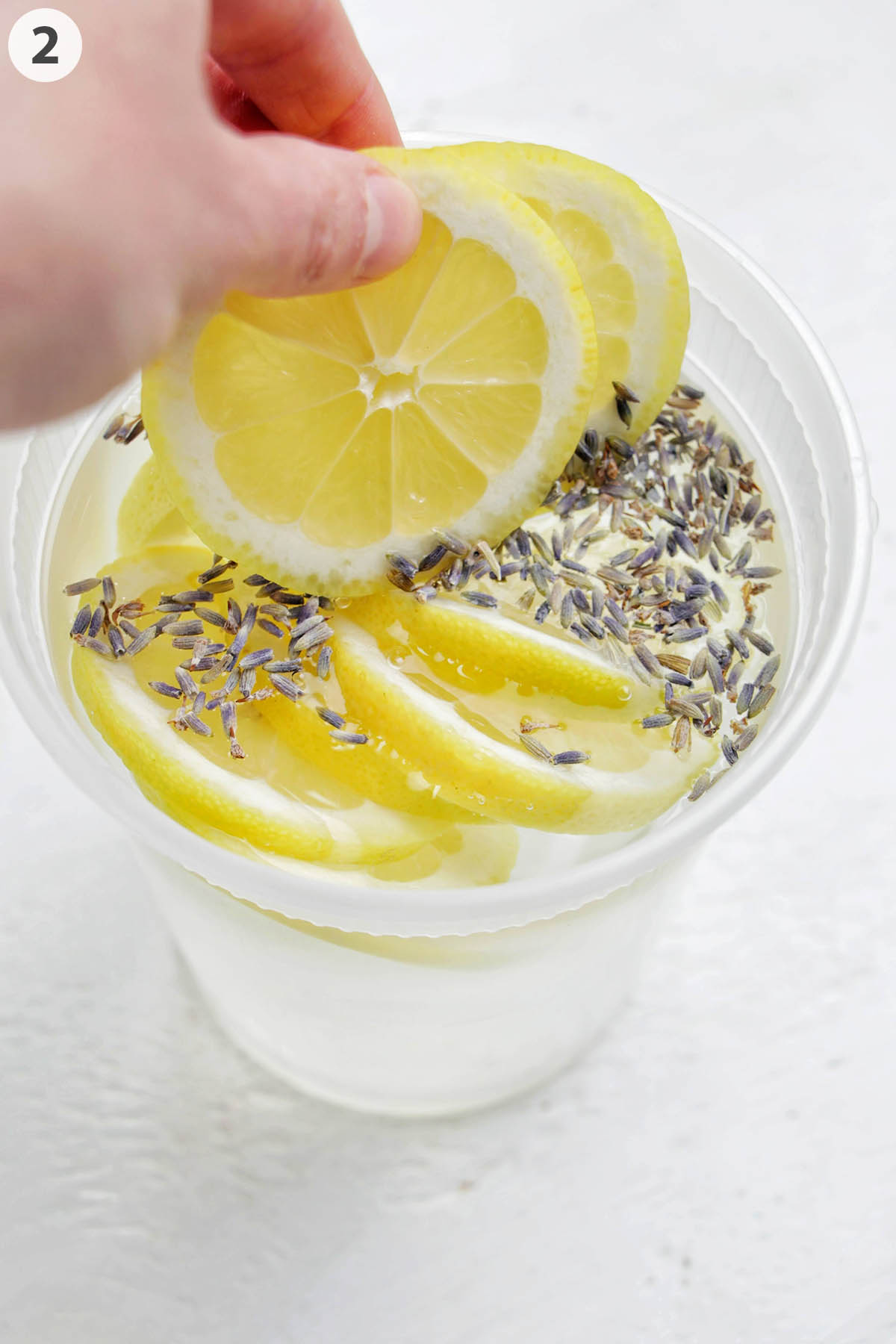 2. Next, add your infusions of choice to the vodka. It's really important that the additional infusion ingredients are completely covered by the vodka.
If you're making the same infusions as I did, here are the measurements you'll need:
1 cup (150 grams) lemon slices + 2 teaspoons (1 gram) culinary-grade lavender
1 cup (155 grams) cucumber slices + ½ cup (13 grams) fresh mint leaves
½ cup (80 grams) dark chocolate + ½ cup (105 grams) peppermints
1 cup (200 grams) apple slices + 2 cinnamon sticks + 2 tablespoons (25 grams) brown sugar
¼ cup (75 grams) dried lemon slices + ¼ cup (75 grams) dried orange slices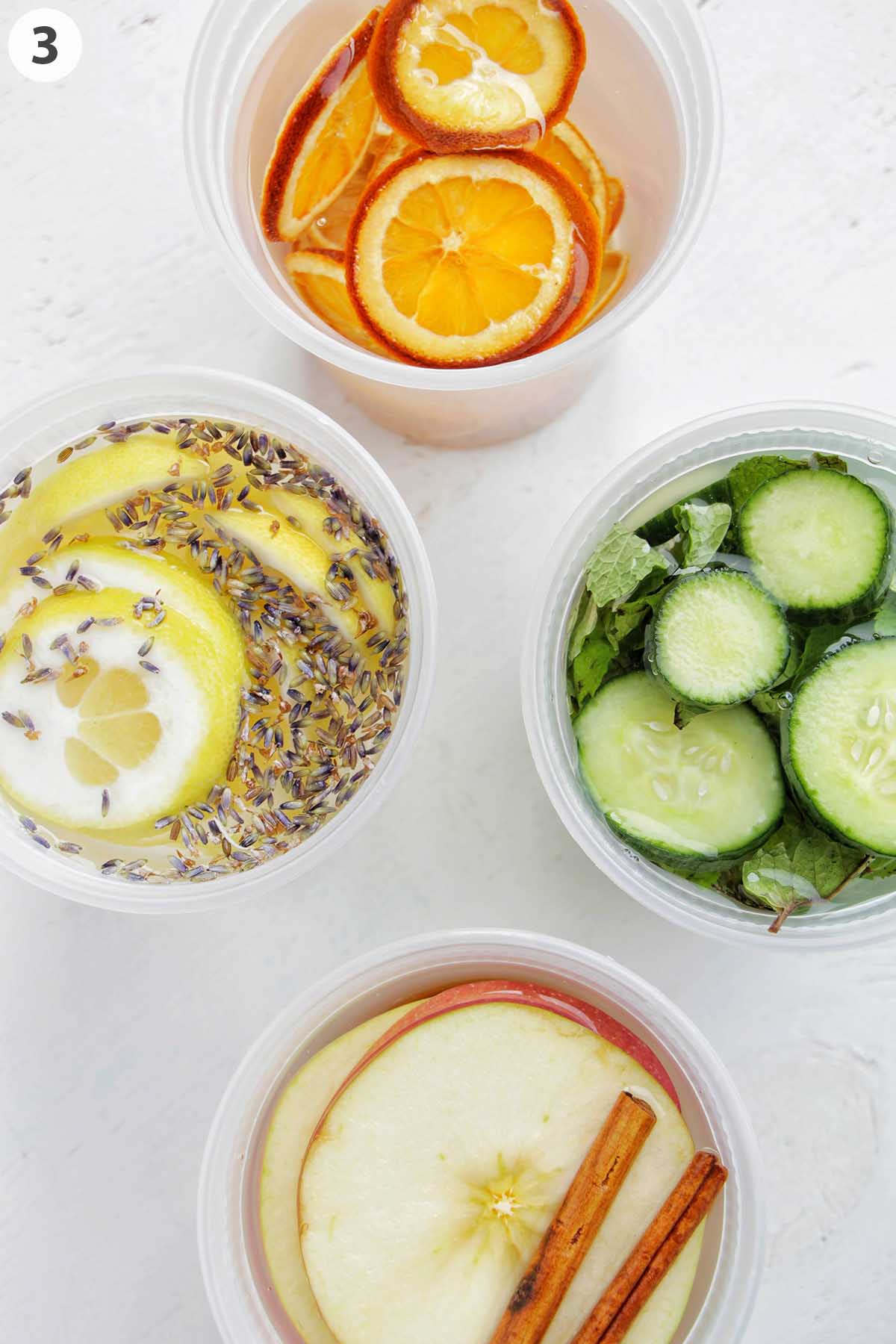 3. Cover the infusions with an airtight lid and place them in a room temperature, dark storage space. As long as the alcohol is covering the infusions, it will prevent mold from forming, even when stored at room temperature.
Each infusion needs to steep for various amounts of time. Some stronger flavors like citrus or peppers infuse quickly (24 hours or under), while others like dried herbs need a longer steeping time (7 - 14 days).
I'd suggest checking your vodka infusion every 12 hours (in the morning and at night) to taste the flavor. Since every ingredient will need a different amount of steeping time, it's best to check each infusion separately until you achieve a flavor you're happy with.
Remember, some strong herbs and spices can become overpowering if steeped for too long.
Be sure to give your infusion a stir or a shake at least once a day.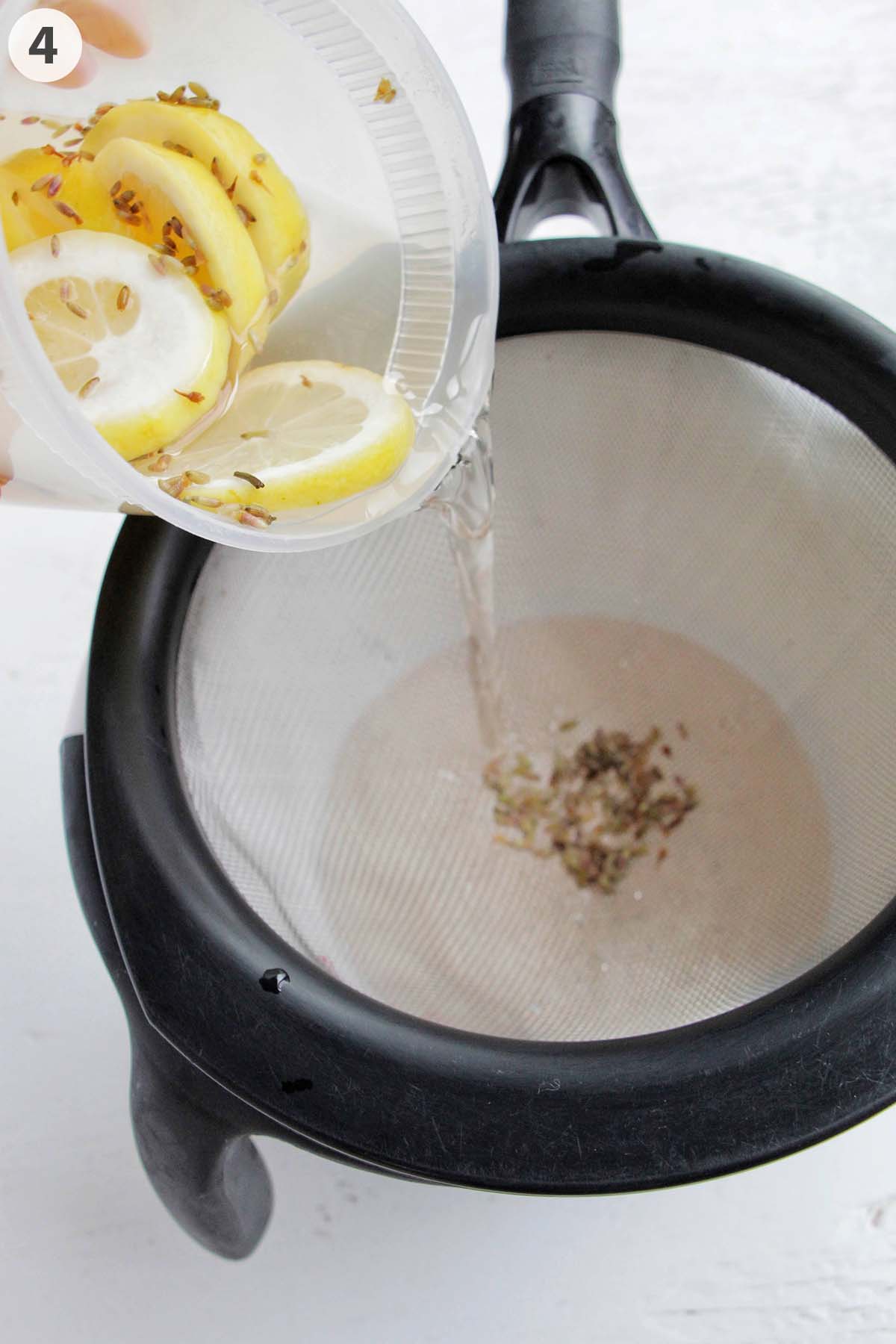 4. Once your infused vodka recipe has reached a flavor you're happy with, grab a mesh strainer to strain out the infusion ingredients.
To ensure you don't get small pieces of the infusion ingredients in the final vodka, I'd suggest using a coffee filter or cheesecloth on top of the mesh strainer. This will prevent any small particles from passing through.
5. Finally, store the vodka in a sealed, airtight container in the freezer.
You can use these infused vodkas to make a delicious twist on your favorite vodka mixed drinks and cocktails.
Expert Tips
Purchase a handle of vodka (60 ounces or 1.75L) to make smaller quantities of various flavors of infused vodka. I like to store my small batch infusions in a mason jar or plastic deli container.
For a sweeter-tasting infused vodka, add simple syrup to taste into the infusion. I typically add 2 - 4 tablespoons per 25.4 ounces (750 ml) of vodka.
Infused vodka is a great option for no waste. Use the tops of strawberries (no leaves), a pineapple core, or other leftover fruit to make a fruit flavored vodka.
If you notice any signs of mold, fermentation (bubbling, cloudiness, or sliminess), foul odor, or discoloration, discard the infused vodka immediately without tasting or using it.
FAQs
How long does vodka need to infuse?
The length of time the vodka needs to infuse depends on what infusion ingredients you are using. I'd suggest taste testing the vodka infusion every 12 hours until it reaches a flavor you are happy with.

Some infusions only take 12 - 24 hours, while others can take up to 7 - 14 days.
What should I infuse with vodka?
You can infuse so many different ingredients with vodka. Some of my favorite infusions include:

- Fresh and dried fruits
- Fresh and dried herbs
- Vegetables
- Spicy peppers
- Candy
How do you make infused vodka?
The process to make infused vodka is fairly simple and straight forward:

1. Select the ingredients you want to infuse with the vodka. This could include fruits, herbs, vegetables, or candy.

2. Next, place your infusion ingredients in a mason jar. Cover completely with your favorite vodka of choice.

3. Allow your vodka to sit in a cool, dark place to infuse. You'll want to taste your vodka every 12 hours until it reaches a flavor you're happy with.

4. Strain out the infusions with a mesh strainer.

5. Store the vodka in a sealed, airtight container. I prefer to store mine in the freezer.
Love this guide? Please leave a comment below. Don't forget to follow along on Instagram, Facebook, YouTube, and Pinterest for more recipes.
More Vodka Recipes