Mix up a fruity drink made with Tito's vodka, homemade blackberry simple syrup, orange juice, and Fresca. This mixed drink is packed with lots of flavor and the perfect touch of sweetness.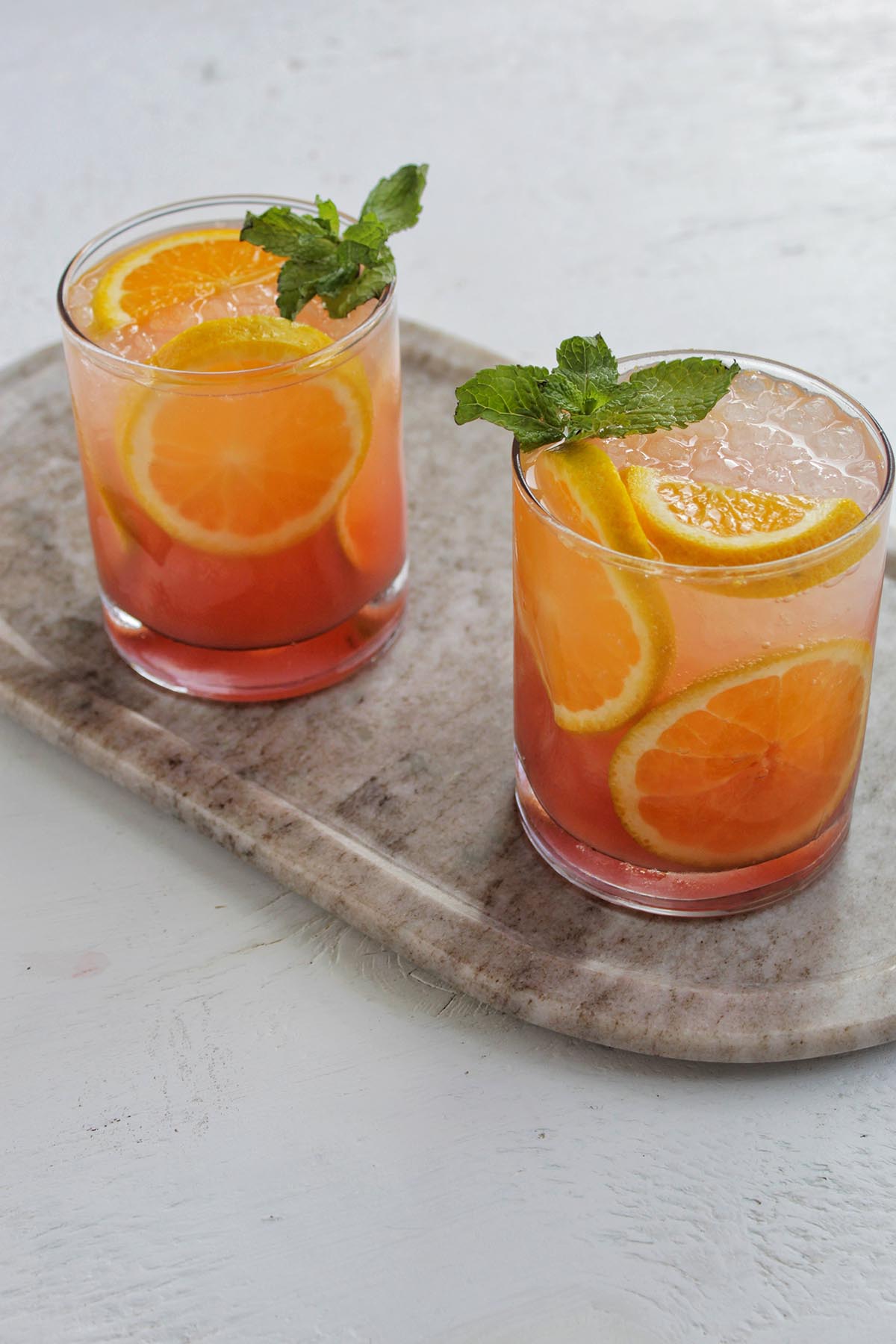 I'm often looking for a delicious fruity cocktail to drink during the hot summer months. I always want something that's fun, easy to make, and not too sweet. Lucky for me, this blackberry orange cocktail hits everything on my checklist.
For this mixed drink, we'll be making a homemade blackberry simple syrup to sweeten the drink. Tito's vodka is then mixed with the simple syrup, mint leaves, and orange juice. Finally, top the refresher off with some Fresca sparkling soda water.
This cocktail has the perfect amount of sweetness, some bubbles, and freshness from the mint. You could easily leave out the vodka to make it a mocktail if you'd prefer.
Jump to:
What You'll Learn In This Recipe
By mixing up this fruity Tito's cocktail you'll learn:
What makes vodka a unique spirit, and how Tito's vodka varies from other brands.
How to make an infused simple syrup. Once you learn this technique, you can replace the blackberries with other fruits or berries.
A beautiful way to garnish your cocktail using orange slices.
If you enjoy learning about cocktails, sign up for my bartender cheat sheet to learn how to master 45 classic cocktail recipes.
Ingredients You Need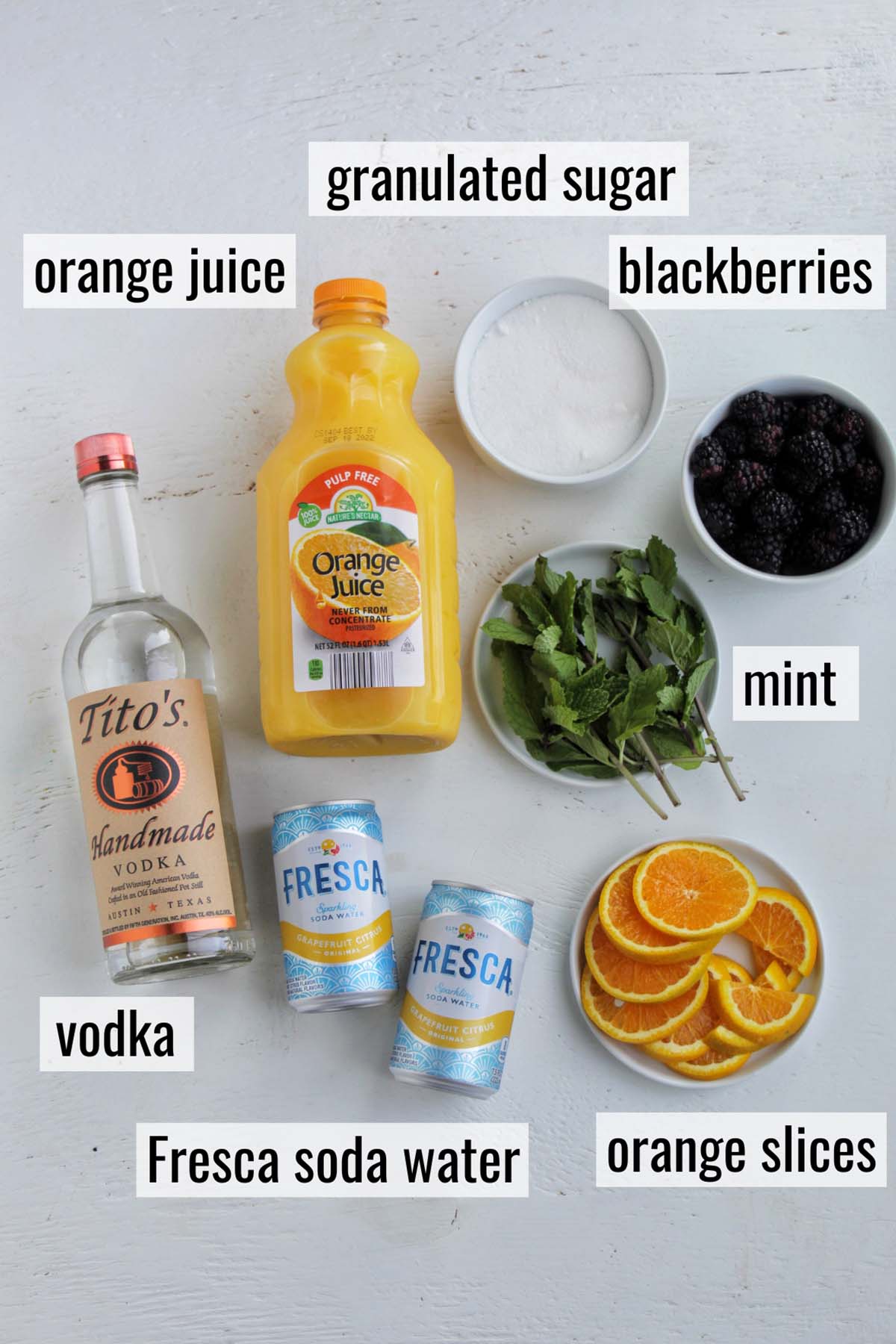 Blackberries: Fresh blackberries add flavor and a pretty purple color to the syrup. This is a great recipe to use up old, smashed blackberries.
Granulated sugar: This is one of the main ingredients in simple syrup.
Mint leaves: Fresh mint adds a layer of bitterness and freshness to the cocktail. Don't forget to save some sprigs to garnish the cocktail.
Pulp free orange juice: Orange juice is a classic mixer for vodka. If you're feeling fancy, you could hand squeeze the orange juice, or use blood oranges.
Tito's vodka: Vodka is a great liquor option for mixed drinks as it's known for the neutral flavor without distinct color, taste, aroma, or character. Vodka is typically made with a base of grain or potatoes. Small amounts of sugar and citric acid are also sometimes added. Tito's vodka is unique because it is made with corn, which gives the vodka a lighter, almost buttery flavor. Don't forget to check out my vodka 101 guide to learn how it's made and how to pick out a bottle of vodka you'll love.
Fresca sparkling flavored soda: Fresca pairs perfectly with vodka and it gives the mixed drink some fizz. You could substitute Fresca for Sprite or another lemon-lime soda.
Orange slices: These will be used to garnish the cocktail. I cut some whole slices of orange and some half slices. You can also use another creative garnish of your choice for this cocktail.
How To Make This Recipe
Let's learn step by step how to make this fruity Tito's cocktail.
Make the Blackberry Simple Syrup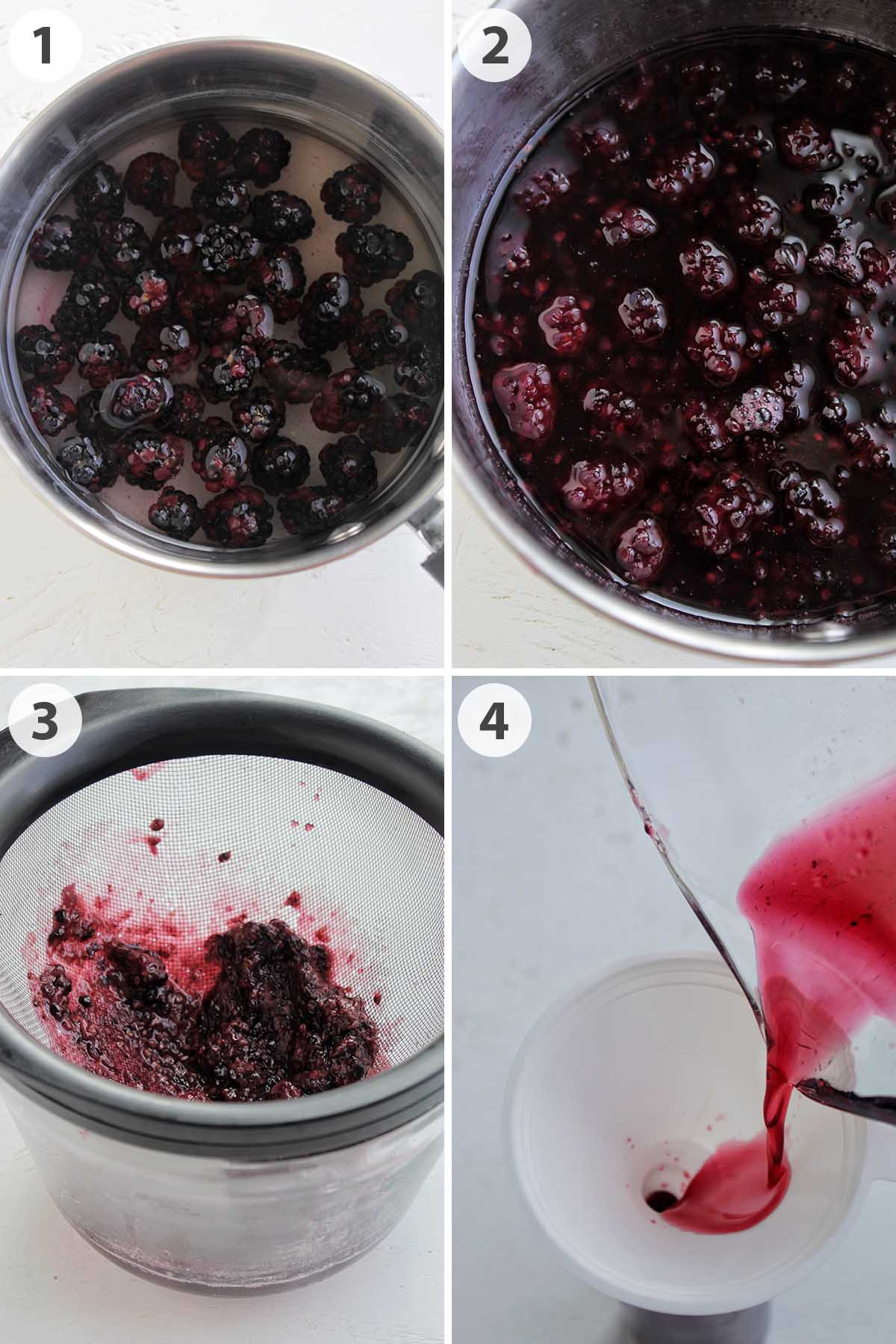 I love making a homemade simple syrup for cocktails. This is a great technique to learn since you can easily replicate it with other fruits or berries.
To a medium saucepan add blackberries, granulated sugar, and one cup of water. Most simple syrups are a one-to-one ratio of sugar to water.
Heat the mixture over medium-high heat until it begins to boil. Once the syrup is boiling, cook for 5 minutes. You'll begin to notice the sugar dissolves, the syrup will turn a dark purple, and the whole mixture will thicken.
Be sure to stir the mixture throughout the cooking process so it doesn't boil over. Once it's finished cooking, allow the syrup to cool for about 30 minutes until it is no longer steaming and easy to work with.
The last step is straining the seeds out from the simple syrup using a fine mesh strainer. This helps the cocktail have a smooth texture when the simple syrup is added. Once the seeds are removed, place the simple syrup in a squeeze bottle to use in the cocktail.
Mix Up the Cocktail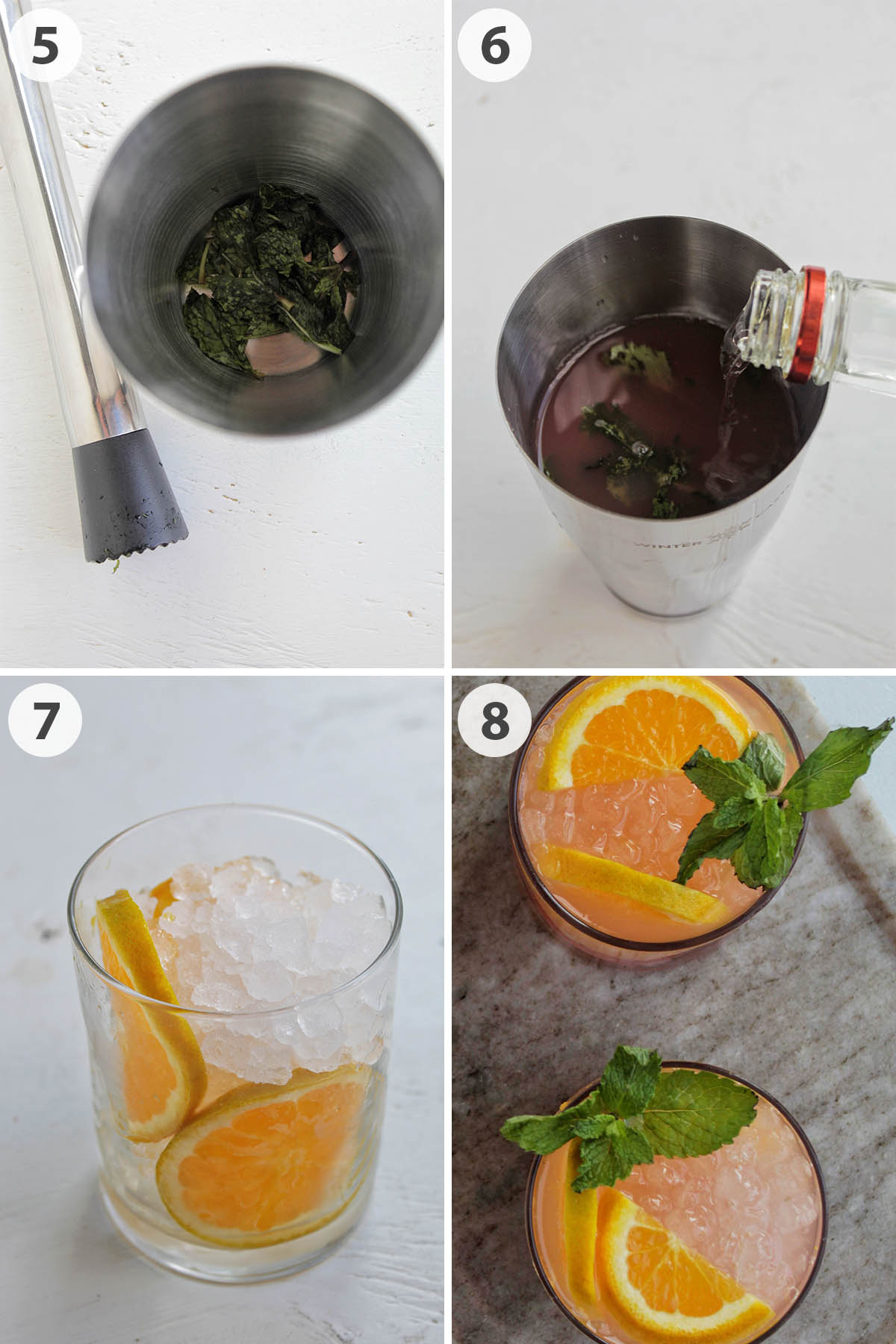 Now that the blackberry syrup is ready, it's time to mix up the cocktail! First, muddle the mint in a cocktail shaker for a few seconds to help release the fragrance and oils.
Next, add the orange juice, vodka, blackberry simple syrup, and a handful of ice to the cocktail shaker. You'll notice the cocktail shaker will be full. Instead of shaking this cocktail, mix and chill the drink by transferring it from one cup of the cocktail shaker to the other.
Before straining the cocktail, prepare the glasses. Grab 4 lowball glasses (they should hold 12 ounces) and place 2-3 orange slices around the outside wall of the glass. Then fill partway with ice.
Once the glasses are prepared, strain in 4 ounces of the cocktail using a Hawthorne strainer. Top each glass with 2 ounces of Fresca sparkling soda water.
Optionally, you can add a half slice of orange and a sprig of mint on top to garnish.
Expert Tips
The blackberry simple syrup should yield about 10.5 ounces, enough to make this recipe 3 times. You can store leftover syrup in a sealed bottle in the refrigerator for up to 2 weeks.
While this drink looks pretty with pebble ice, I do have to warn you that this type of ice melts quickly and dilutes the cocktail. Personally, I'd recommend using larger ice cubes.
Take the time to garnish the cocktail. It visually enhances the cocktail and makes people excited to taste the drink!
Recipe FAQs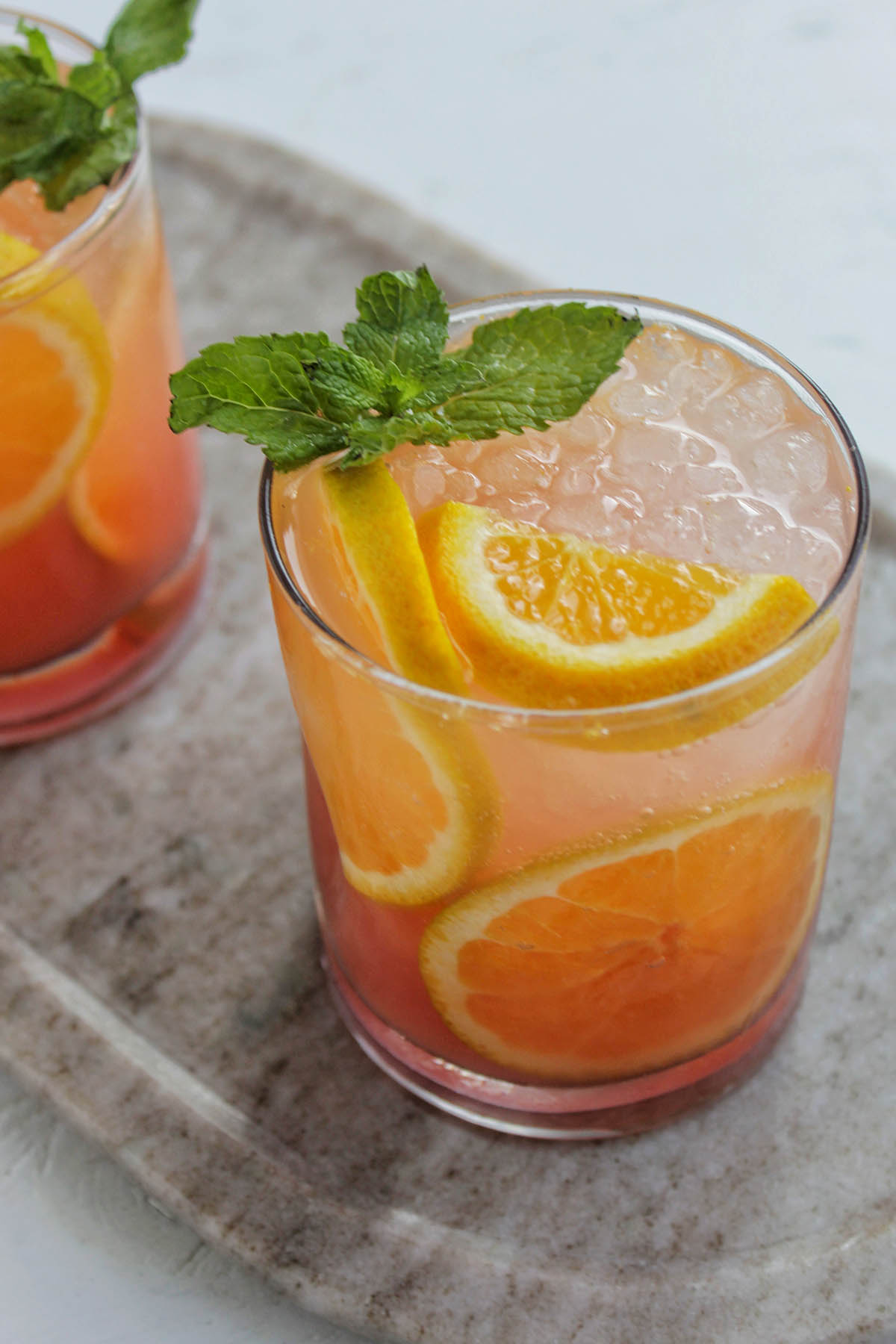 More Cocktail Recipes
If you enjoy learning how to make this Tito's cocktail, don't forget to check out my liquor 101 series on YouTube to learn about how various spirits and liquors are made. Plus, learn how to make your own infused vodka.
Love this recipe? Please leave a 5-star ⭐⭐⭐⭐⭐rating in the recipe card below. Don't forget to follow along on Instagram, Facebook, YouTube, and Pinterest for more recipes.