The perfect gifts for cooking enthusiasts in your life!
Are you looking for a gift for the cooking enthusiast in your life? You've come to the right place! These are the best gifts for cooking lovers because they will inspire creativity and help them learn a new skill in the kitchen. All of these gifts for cooks are under $100, which is great for your wallet! If you need a more expensive gift or want to splurge, you can combine some of the items on the list that pair well together!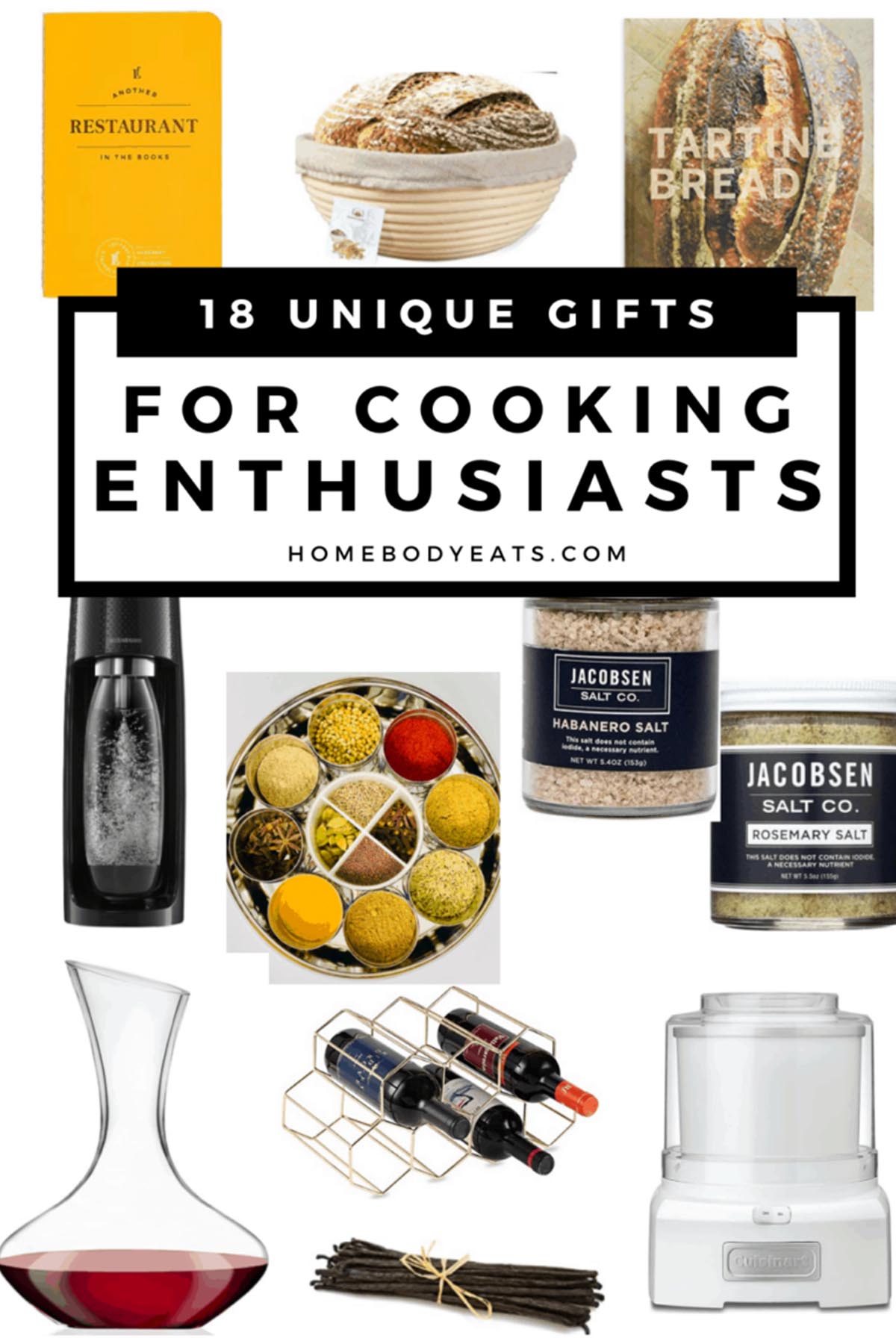 Want To Save This Article?
Enter your email below and we'll send it straight to your inbox. Plus, you'll receive new weekly recipe inspiration.
Jump to:
Whether you have a friend, family member, partner, mom, or dad who loves cooking, these are the best gifts for cooking enthusiasts! These gifts would be perfect for a birthday, holiday, or even just to say thank you.


1. For the Spice Lover


Spices give our food life, flavor, and variety! If you need an amazing gift for someone who loves to explore new flavors and cuisines, this masala box (or masala dabba) is a spice container widely used in Indian cooking. This box holds 12 sets of spices including garam masala, fennel, coriander, and more!


You'll open up a whole new cuisine by gifting this masala box!




2. For the Bread Maker



For the baker in your life who loves trying new bread recipes, Tartine Bread is a very well known and loved bread baking resource & recipe book! It teaches how to properly make a starter, as well as tried and true methods and recipes for baking bread.


A proofing basket, which is used to give a bread load shape while it's rising, is a game-changer for bread bakers just starting on their journey. It will help them achieve beautiful loaves.


3. For the Salt Enthusiast



Salt is the one ingredient that we add to pretty much every recipe, whether savory or sweet. It's fun to mix things up and add some flavored salt to certain dishes. This would be great for the home chef who seems to have everything.


4. For the Organized Chef


We all have that one friend or family member who loves to have everything picture perfect. This gift will help them turn their spice cabinet into an Instagram worthy photo. Make sure not only to grab enough jars but also these cute, modern labels to take the look to the next level!



5. For the Cheese Lover



Any cheese lover would be thrilled to learn how to make their own cheese! What I love about this kit specifically is it teaches you how to make 10 different types of cheeses and all you need to add is milk! Such a fun, hands-on gift!


A perfect pairing option with this gift would be a beautiful cheese board!


RELATED POST: Mushroom, Leek, & Prosciutto Pizza
6. For the Avid Baker



Vanilla extract is the base to so many delicious baking recipes. Real, authentic vanilla is something you cannot replace with cheap, grocery store vanilla.


Purchase the supplies for your friend or family to make their own vanilla. You just need vanilla beans, some small 2 ounce bottles, and alcohol of your choice (usually vodka, whiskey/bourbon, or rum). This is a great resource to share with your gift as a place for them to start.


If you'd prefer a less homemade route, this Rodella vanilla paste is a great option!


7. For the Restaurant Connoisseur


How cool is this restaurant passport journal?! If you know someone who loves to search for fun, new restaurants to try, this is the gift for them! It's a pocket-sized journal that allows you to write down meaningful details from each restaurant you visit - what you ordered, what you want to try next time, who you ate with, and even your overall rating.


Plus, it has some bonus pages that include your restaurant bucket list, goals to visit a restaurant with different cuisines and a fun restaurant rite of passage checklist.


8. For the Kitchen Appliance Lover



Many people love a good kitchen appliance! What I love about these small kitchen appliances is that they can inspire endless creativity.


An ice cream maker is a great way to create your own desserts. They can make homemade ice cream and turn it into milkshakes, ice cream sandwiches, ice cream cakes, or baked Alaska.


The sparkling water maker would be the perfect gift for anyone who loves drinks - making your own flavored sparkling water, adding some flavor and fizz to a cocktail, or even creating a fun mocktail.


9. For the Wino



While the wino in your life probably has plenty of wine sitting around their house, they may not have a wine decanter. Wine decanters are especially helpful for anyone who loves to drink aged red wines. A decanter helps separate the sediments that settle in the bottle of wine bottles and aerates the wine by introducing oxygen into the liquid.


A small wine rack is helpful for storage and would look so cute on a bar cart!


10. For the Home Cook Who Has Everything



We all know a home chef who seems to have every already bought every small appliance and new cookbook plus they don't have much more room in their kitchen to hold anything.


Well, these are the perfect gifts for them! These gifts are going to challenge them in the kitchen, help them learn about new pairing/flavor ideas, and most importantly inspire them to create fun dishes! Another great book that pairs well with these is the Flavor Bible.


Some Gift Pairing Ideas:

Looking to bulk up your gifts just a little bit more? Here are some of my favorite gift pairings for cooking enthusiasts:


Need more gift ideas?

10 Surprisingly Unusual Cooking Gifts for the Home Chef


Check out my favorite kitchen tools