Learn to make Skrewball peanut butter whiskey ice cream at home!
Looking for a delicious and simple Skrewball whiskey recipe? You have to make this homemade peanut butter boozy ice cream! This Skrewball ice cream is made with peanut butter whiskey and creamy peanut butter. It's the perfect decadent, yet light dessert, especially for the summer! In this post, you'll learn how to make ice cream with alcohol at home.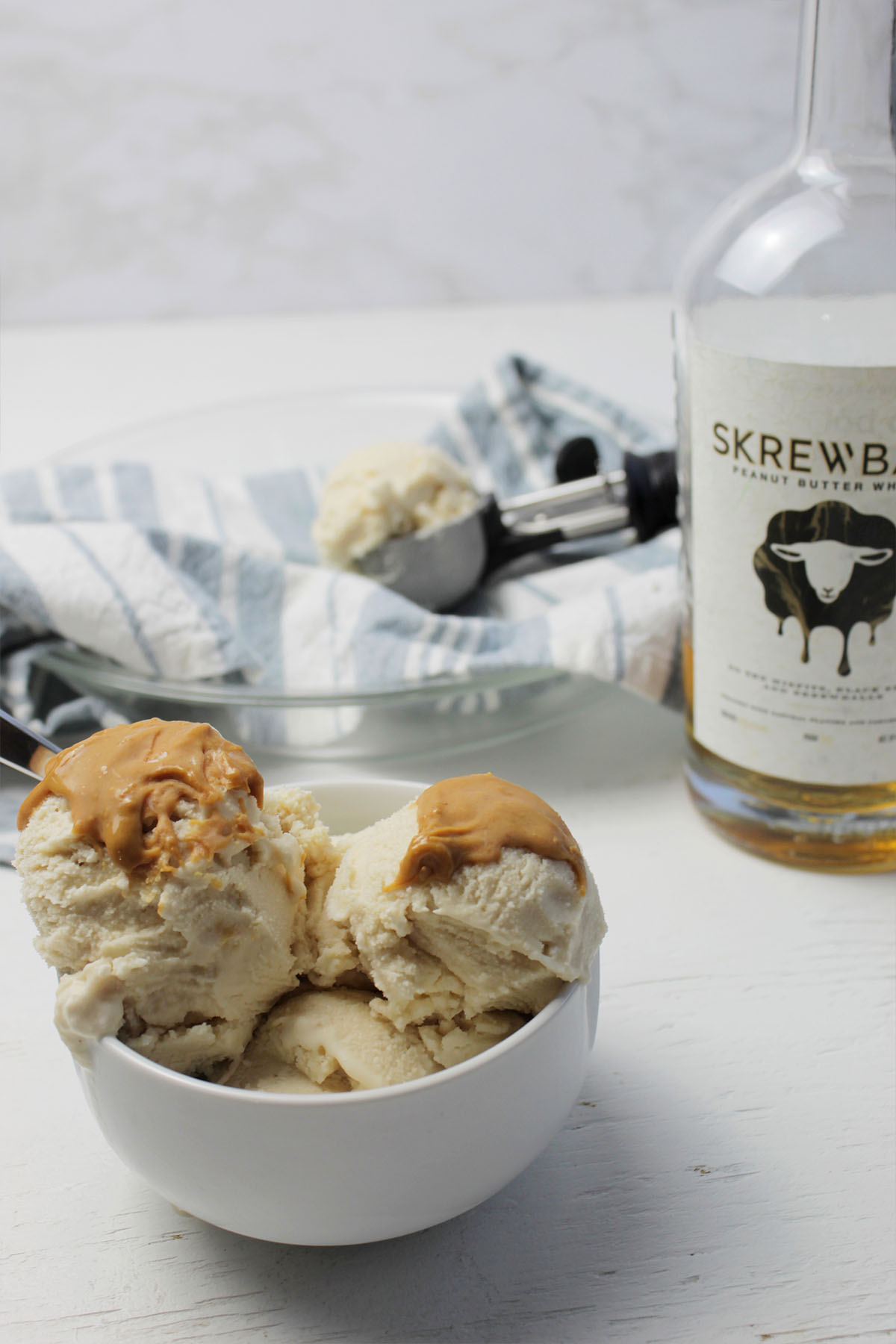 My gift to myself this year was an ice cream maker, and I could not be more excited! Seems a little weird for someone to get this happy about an ice cream maker, but that's my life I guess!


Because I'm so stoked about this new kitchen gadget, I want to do a fun little series throughout the year - Ice Cream of the Month. Basically, each month we will learn to make a different flavor of homemade ice cream. And along with the recipe, each month we will talk through a different topic around the science of making ice cream.


There is SO MUCH to learn about making delicious ice cream at home, and I need to know the 'how & why' behind it all to crack the code to amazing homemade ice cream. Of course, it will take some practice to perfect our ice cream, so that's why we're making & learning about something new each month!


Don't worry, I'll be linking all of the posts together so you can easily follow along! First up, we're making ice cream with one of my all-time favorite ingredients - Skrewball whiskey.


RELATED POST: Skrewball Peanut Butter Whiskey Milkshake
Best Ice Cream Maker for Home Chefs

So, first things first, if you love ice cream and don't have an ice cream maker, you need to buy one to get your homemade ice cream journey started.


After hours of research, it seems like there are clearly top winners in terms of the best at home ice cream maker. However, what you purchase will depend on your priorities, as many of the top ice cream makers have their own pros and cons. Let me run you through my top three favorites and why, according to my own research, they would fit each of these needs:


Most Cost/Space Efficient: In terms of the most cost-effective, yet good quality machine, the Cuisinart 1.5 Quart Frozen Yogurt ICE-21P1 Ice Cream Maker made the top of many of the lists. Coming in at under $100, this machine is not only space-efficient but also useful for someone who just wants to dabble around with making ice cream.


Be warned, this machine requires you to pre-freeze the bowl insert at least 24 hours before making your ice cream. Make sure you have the freezer room and enough forethought when making your ice cream if you go with this one.


Personally, I disliked that many of the reviews said the ice cream from this machine tended to be icier than others.





2. Best Quality: I highly recommend you check out the New York Times article where they tested out the best ice cream maker. I leaned heavily on this article for my research considering they had lots of very reliable sources, as well as solid evidence for their choices. That being said, the Whynter brand (ICM-201SB and ICM-15LS) seemed to rank really high for compressor-cooled models. Meaning, the machine is responsible for the cooling, and no pre-freezing of any bowl insert is required. Whynter was consistently rated for the smoothest ice cream in all their tests.


The downside, however, is the large amount of space this machine takes up in the kitchen. Not to mention, a compressor-cooled machine is always going to be more pricey. In the end, these downsides ended up being worth it to me. The quality and consistency of the ice cream out-rank all the negatives of this machine. And, I can make back to back batches without having to freeze any bowl inserts.


Since the texture and consistency play a big role in the quality of the ice cream, this machine ended up being my personal winner. I bought it, have used it many, many times, and LOVE IT!!





3. Best Attachment: Among many reputable websites (Food and Wine, New York Times, The Spruce Eats, etc.) the KitchenAid KICA0WH Ice Cream Maker Attachment ranked really well. If you've already invested in a KitchenAid mixer and aren't really looking to add another small appliance to your kitchen, this is the one for you!


Many of the reviews noted how fluffy the ice cream texture was from this attachment because of the high speed the mixer is able to get. If you like harder ice cream, this isn't for you. However, if you're looking for an affordable, compact option, this is great.


Make sure to note that the bowl requires pre-freezing, so you can only make one batch at a time.





If you have any questions about what ice cream maker to buy, leave me a comment and I'll help you out! I spent forever trying to find the perfect one for me (just ask my husband), so I promise I can assist in your decision-making process!


RELATED POST: 3 Ingredient Skrewball Peanut Butter Cup Shots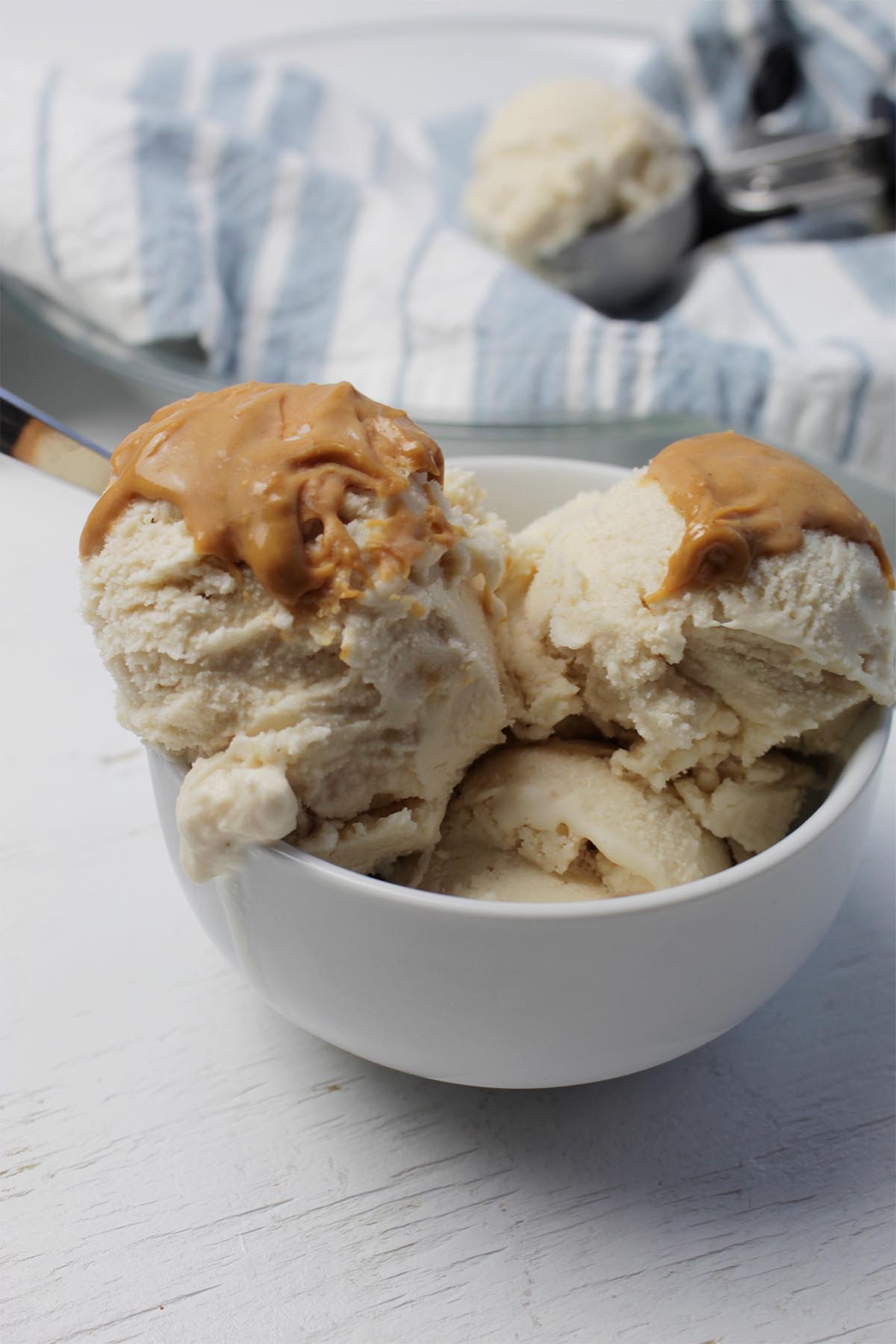 Ice Cream Terms You Need To Know

Now that you've decided on what ice cream maker to buy so you can come along for our ice cream of the month journey, it's time for us to learn some basic ice cream terminology to help us better understand how to make the perfect ice cream.


Air: Did you know that air is the magic "ingredient" that makes ice cream, ice cream? The air helps to give ice cream the creaminess and softness we all love! The amount of air in your ice cream is defined as overrun (see definition below).


If you tend to like thicker, slightly more dense ice cream, consider purchasing a Cuisinart or Whynter ice cream maker, they whip less air into your ice cream. The KitchenAid attachment, however, can whip much more air into your ice cream, for a lighter, fluffier taste.


Aging/Maturing: For ice cream bases made with eggs that have been heated, aging is a very important step to cool off the ice cream before it's churned. However, many experts suggest there are other reasons for aging your ice cream base. Most importantly, the flavors of your base intensify when they age for 4-6 hours, or even overnight.


An exception to this rule is alcohol that's added to an ice cream base (the flavor can actually dissipate). This is why we wait to add the Skrewball peanut butter whiskey to our ice cream base until right before we churn it.


Butterfat: Butterfat is the fat we use in ice cream (cream, half and half, milk). Butterfat plays a huge role in the texture of your ice cream. Too much butterfat and you'll get a greasy aftertaste. Too little butterfat and you've made yourself a sherbet (1-2% butterfat) or even sorbet (usually 0% butterfat).


As we talked about above, air also contributes to the texture of ice cream. As the Ice Cream Geek points out, since at home ice cream makers add a fixed amount of air to our ice cream every time, we need to focus on the butterfat content when controlling homemade ice cream texture.


Cream: Most of the butterfat in our ice cream comes from cream. Cream is a lot higher in fat than milk and, different types of cream will have varying percentages of butterfat in them. For example, heavy whipping cream is higher in fat than half and half.


Ice Crystals: Another very important term in ice cream making. Ice crystals gives our ice cream some hardness and density. Our main goal during the ice cream making process is to keep our ice crystals small so we get smooth ice cream.


When working with a home ice cream maker, it's hard to achieve small ice crystals due to equipment restrictions. Home ice cream makers don't get as cold, grip the sides of the bowl, or have the same power as commercial machines.


Milk: Milk helps to add water to our ice cream, as well as fat. Different types of milk (i.e. whole milk vs. skim milk) have very different percentages of butterfat. Be sure to read the recipe closely to ensure a good product.


Overrun: Simply put, overrun is the amount of air in your ice cream. It's the volume of air relative to the initial volume of ice cream base. Overrun can range anywhere from around 15% to 100%.


The higher the quality of the ice cream, the less overrun. Here's an example. basic economy ice cream (like the ones we ate from the big plastic bucket as kids) has an overrun of just under 100%. On the flip side, premium brands (like Haagen-Dazs) have an overrun closer to 20%.


Sugar: In addition to sugar adding sweetness to the ice cream, it also helps keep it soft. Why? Well, the sugar lowers the freezing point of water, thus keeping the entire ice cream mixture from completely freezing up. Dream Scoops does a great job explaining how different types of sugar can affect the softness of our ice cream.


RELATED POST: What to Mix With Peanut Butter Whiskey (20+ Ideas)
How to Properly Store Homemade Ice Cream

The last important thing we need to learn is how to store our ice cream. After all, we don't want to spend all this time making it, and then have it get freezer burnt in a day (ew!).


The number one thing you need to remember is - keep the temperature of the ice cream regulated. Every time you increase the temperature of your ice cream, the ice crystals that were formed during the freezing process are going to melt. The larger the ice crystals become, the more grainy (and less creamy) your ice cream will become.


Here are some tips for keeping the temperature regulated and keeping your ice cream nice and creamy:


Store ice cream in the very back of the freezer (NOT in the door). This will keep the ice cream at a more stable temperature.


Don't leave your ice cream out of the freezer long than you have to.


Store your ice cream in a long, plastic Tupperware. It will help the ice cream freeze quicker after churning it.


Make sure the ice cream is secured with an airtight lid, and maybe even a piece of plastic wrap underneath the lid, to prevent freezer burn, and keep the ice cream tasting fresh.


While we've all eaten ice cream that's been in the freezer for over a year (thanks to our childhood), ice cream is actually best eaten within two weeks. Remember, this is a general recommendation. Our Skrewball ice cream is actually best eaten within a few days. The longer the alcohol sits, the more likely the flavor is to dissipate.



More Ice Cream Recipes
Love this recipe? Please leave a 5-star ⭐⭐⭐⭐⭐rating in the recipe card below. Don't forget to follow along on Instagram, Facebook, YouTube, and Pinterest for more recipes.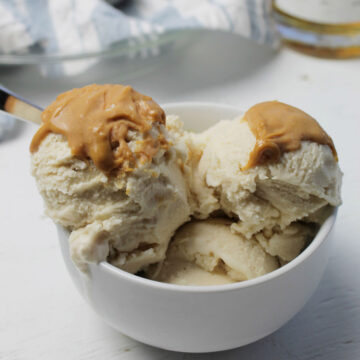 Simple Skrewball Ice Cream with Peanut Butter Whiskey
Looking for a delicious and simple Skrewball whiskey recipe? You have to make this homemade peanut butter boozy ice cream! This Skrewball ice cream is made with peanut butter whiskey and creamy peanut butter. It's the perfect decadent, yet light dessert, especially for the summer!
Instructions
To a large bowl, combine peanut butter, sugar, and vanilla. Using a hand mixer, beat on medium speed until creamed together. Add in heavy cream, and beat on low speed until everything is well incorporated. The mixture should be a light tan color.

Change over to a hand whisk. Begin hand whisking the mixture, and slowly add in the whole milk. Continue mixing until everything is combined. Transfer mixture to a clean bowl and cover tightly with plastic wrap. Allow mixture to sit in the refrigerator for at least 4 hours, or overnight.

Remove ice cream from the refrigerator. If anything settled on the bottom of the bowl, don't worry, just hand whisk it into the mixture to re-incorporate. Whisk in peanut butter whiskey.

Pour the mixture into an ice cream maker and process for 25 to 30 minutes, or according to the manufacturer's directions. The ice cream will be on the soft side but can be eaten right away or put into the freezer to "cure" or harden up for a couple of hours. Store in an airtight container in the freezer for up to two weeks.
Notes
The peanut butter whiskey flavor will dissipate the longer the ice cream sits in the freezer. 
Nutrition
Calories:
2891
kcal
Carbohydrates:
310
g
Protein:
50
g
Fat:
155
g
Saturated Fat:
78
g
Polyunsaturated Fat:
17
g
Monounsaturated Fat:
52
g
Cholesterol:
399
mg
Sodium:
804
mg
Potassium:
1728
mg
Fiber:
5
g
Sugar:
296
g
Vitamin A:
4684
IU
Vitamin C:
1
mg
Calcium:
1023
mg
Iron:
2
mg
Have you tried this recipe?
Tag @homebody.eats on Instagram so we can see your creations!
Yum
More Ice Cream Resources

Here are some of my favorite ice cream sites you have to check out until our next post in the series is released:


LET'S SHARE RECIPES

I love trying new recipes! Let's discover new recipes together on Pinterest!


P.S. If you made this Skrewball ice cream, share a picture with me on Instagram using #HomebodyEats. I love seeing your creations!!