Learn about the best (and cheapest) ice cream makers on Amazon for home use.
Looking for an ice cream maker you can use at home? This article will help you make the best decision about which ice cream maker from Amazon is best for you! Each ice cream maker has unique features, and this guide will help you best determine which one is right for you. No need to spend hours online searching for the right machine, I've already done the research for you!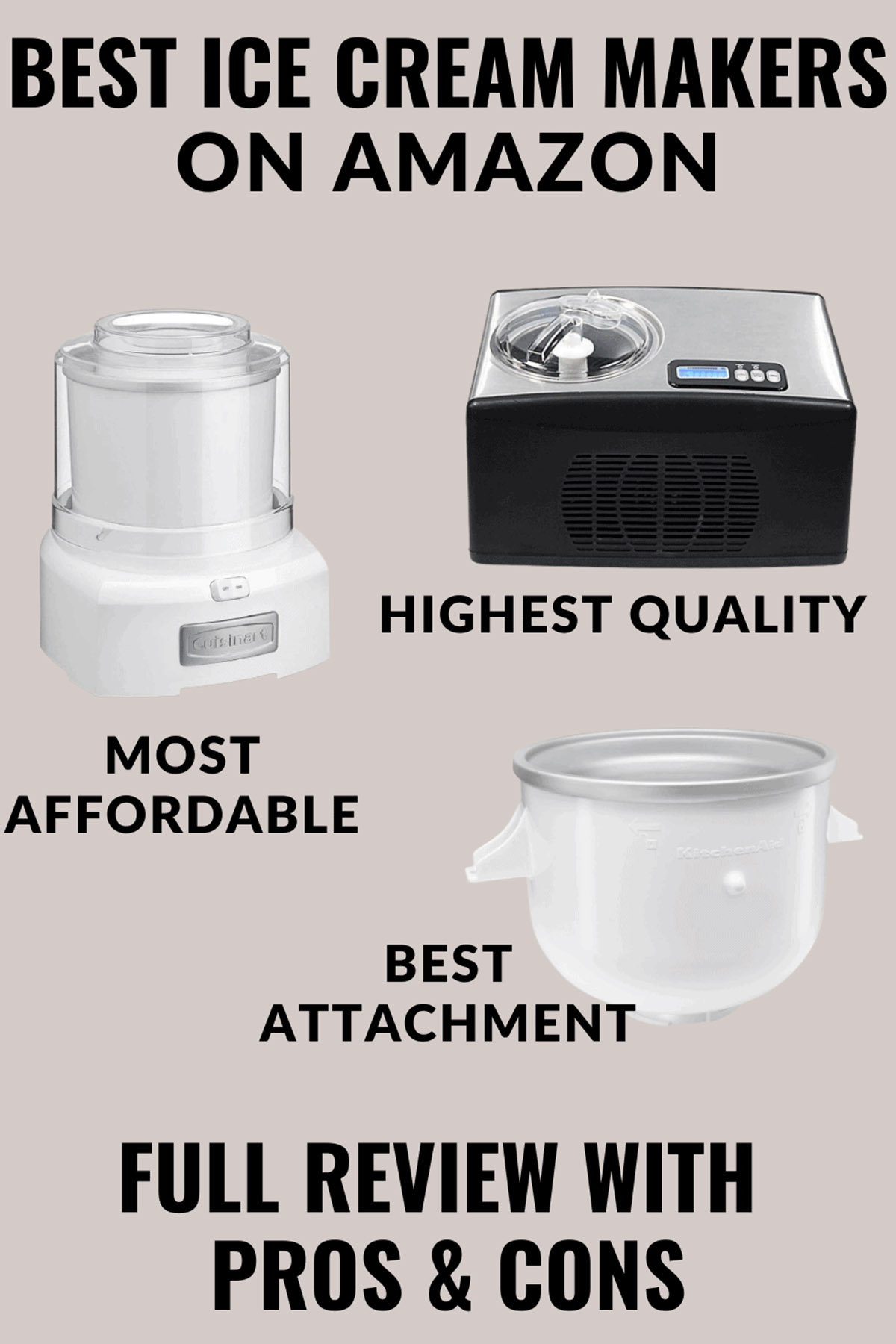 Jump to:
If you're an ice cream lover or want to get serious about making ice cream at home, then you need the right machine for the job! Ice cream makers are great small kitchen appliances to add to your home.
They offer endless fun and creativity in the kitchen. Most importantly, at home, ice cream makers will save you time and effort so you can eat your frozen treats that much faster. This is a must for families with impatient kids, and let's face it, even for impatient adults.
There's no need for you to do hours of research. It can be overwhelming to have so many options to choose from. I've done the research for you by looking through articles from Food and Wine, New York Times, The Spruce Eats, and more! Here are my top three choices for best at-home ice cream makers on Amazon.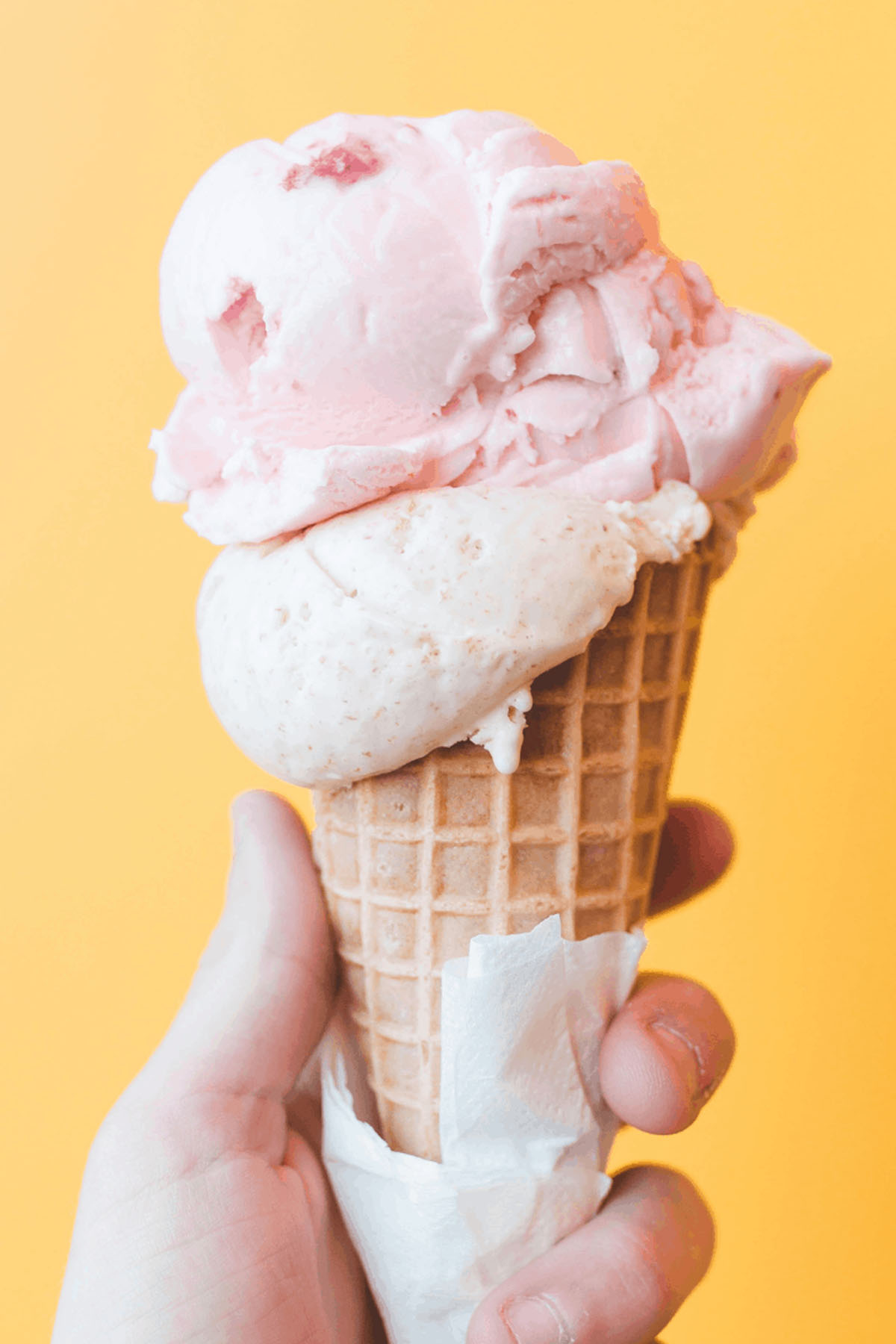 Best Cheap Ice Cream Maker
If affordability or space efficiency is at the top of your priority list, check out the Cuisinart 1.5 Quart Frozen Yogurt ICE-21P1 Ice Cream Maker.
Pros:
Space efficiency: This machine is under a foot in all directions. If storage is limited, this is a great option!
Affordability: You can't beat the price of this machine (under $75), especially considering its ease and capabilities.
Simple to use: All you need to do is freeze the bowl insert, pour in your ice cream base, and flip the switch on. There's nothing complicated or hard to operate about this machine.
Cons:
Only one batch at a time: Pre-freezing the bowl insert for 24 hours is required. That's how the ice cream base is cooled. Because of this, you can only churn one batch at a time before you have to re-freeze the bowl for an additional 24 hours.
Small batches only: The machine holds 1.5 quarts. Large-scale recipes are not a good fit for this machine.
Slightly icy ice cream: The freezing capabilities of this machine isn't high enough quality to produce super smooth ice cream. Many of the batches had a slightly icy, grainy taste. However, for a novice ice cream maker, this wouldn't be a huge deal.

Best Compressor Ice Cream Maker
If you're serious about making ice cream at home and want to make multiple batches in a row, try the Whynter ICM-15LS Automatic Ice Cream Maker.
Pros:
Churn multiple batches back to back: Since this machine has a compressor freezer, there is no need to pre-freeze a bowl before making ice cream. This means you can churn multiple batches in a row.
Consistency and quality of the ice cream: The compressor freezer consistently results in smooth, creamy ice cream no matter the type. This machine gets really cold (up to -31°F), which helps create tiny ice crystals.
Simple to Use: There are only three buttons on this whole machine. It's really simple to get started using this ice cream maker without much direction.
Built-in timer: If you need to churn a batch of ice cream while you're doing another task, no worries! The built-in timer will stop churning when it reaches zero and keep your ice cream cold in the machine.
Cons:
Price point: You're going to pay a little more for the quality of this compressor ice cream maker (over $200+). However, the quality can be worth the money for serious ice cream makers.
Takes up a large amount of space: You will need quite a bit of space to store this machine. The dimensions come in at 18.5" W x 11" L x 10" H.
Small batches only: This machine holds 1.6 quarts. Depending on the size of the recipe, you might have to churn multiple batches.

Best Attachment Ice Cream Maker
If you've already invested in a KitchenAid mixer and aren't really looking to add another small appliance to your kitchen, check out the KitchenAid KICA0WH Ice Cream Maker Attachment.
Pros:
Affordability: The KitchenAid attachment is relatively affordable. It ranges from $75 - $100 depending on where you purchase it.
'Fluffy' ice cream: Due to the high speed of the mixer, the ice cream made by this attachment is very fluffy. If you prefer light ice cream, this can be a plus.
Space efficiency: This whole appliance is under 11 inches all around. It could easily fit into a cabinet.
Large batch capacity: This machine has one of the larger capacities that I've seen. It holds up to 2 quarts of ice cream.
Cons:
Requires a KitchenAid: Be aware that this attachment requires a KitchenAid mixer. If you don't already have this appliance, it's probably not the right ice cream maker for you.
'Fluffy' ice cream: Due to the high speed of the mixer, the ice cream made by this attachment is very fluffy. If you prefer harder ice cream, this isn't for you.
Only one batch at a time: You'll need to pre-freeze this ice cream maker attachment for 24 hours in advance to churning your ice cream base.

How To Decide Which Machine Is Best
It can be tough making the final decision about what the best at home ice maker is for you. Here are the questions you should ask yourself to help decide which small appliance will best serve you:
What's your budget?
How much storage room do you have?
Are you serious about making ice cream, or do you just want a machine to use a few times a year?
Do you want to churn multiple batches of ice cream back to back?
Is the machine large enough for the recipes you want to make?
Most affordable/space efficient

Best quality/creamiest ice cream

Best attachment/largest capacity

Don't Forget
In addition to your ice cream maker, make sure to purchase the correct storage container to freeze the ice cream in after it has churned. It's important that the temperature is regulated to prevent the ice crystals from melting.
Every time you increase the temperature of ice cream, the tiny ice crystals that were formed during the churning process melt together. The larger the ice crystals, the more grainy and icy the ice cream becomes. Obviously, we want to keep our ice cream as creamy as possible, so we need a storage container that helps the ice cream freeze quickly.
After your ice cream is done churning, place it in a long, plastic Tupperware (this encourages quick freezing). Make sure the ice cream is secured with an airtight lid, and maybe even a piece of plastic wrap underneath the lid, to prevent freezer burn, and keep the ice cream tasting fresh.
Finally, place the ice cream in the back of the freezer (not the freezer door) to help the ice cream freeze quickly after churning and prevent large ice crystals from forming.