Have you ever wanted to learn about different types of ice creams and other delicious frozen desserts? In this article, you will not only discover the many types of frozen desserts, but you will learn the reasons that make each one unique.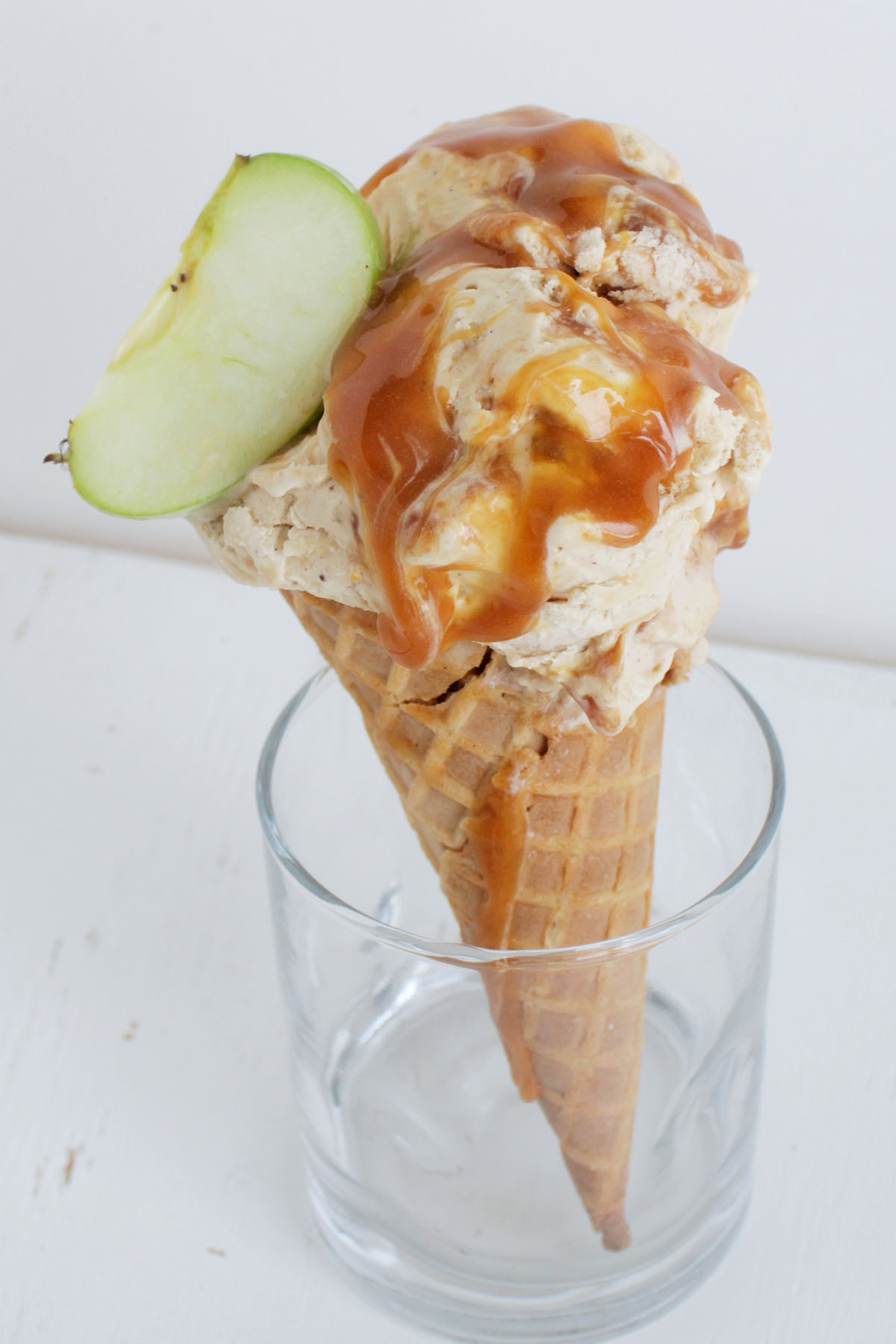 Want To Save This Article?
Enter your email below and we'll send it straight to your inbox. Plus, you'll receive new weekly recipe inspiration.
Are you ready to learn all about your favorite cold treats?
Today, we are going to discuss the technical definitions of various ice creams and frozen desserts so that you can truly understand the difference.
After learning about what defines each type of frozen dessert, you can better understand what you're eating, what you might want to consume, and which of these you may want to make in the future.
Jump to:
What You'll Learn In This Article
What makes ice cream, ice cream?
What are the various ingredients used for different styles of ice cream?
What are the differences between gelato and ice cream?
What are the differences between ice cream and other popular frozen desserts?
If you want to continue to expand your knowledge of food and grow your skills in the kitchen, sign up for my 5-day email series about becoming a better home chef.
1. Ice Cream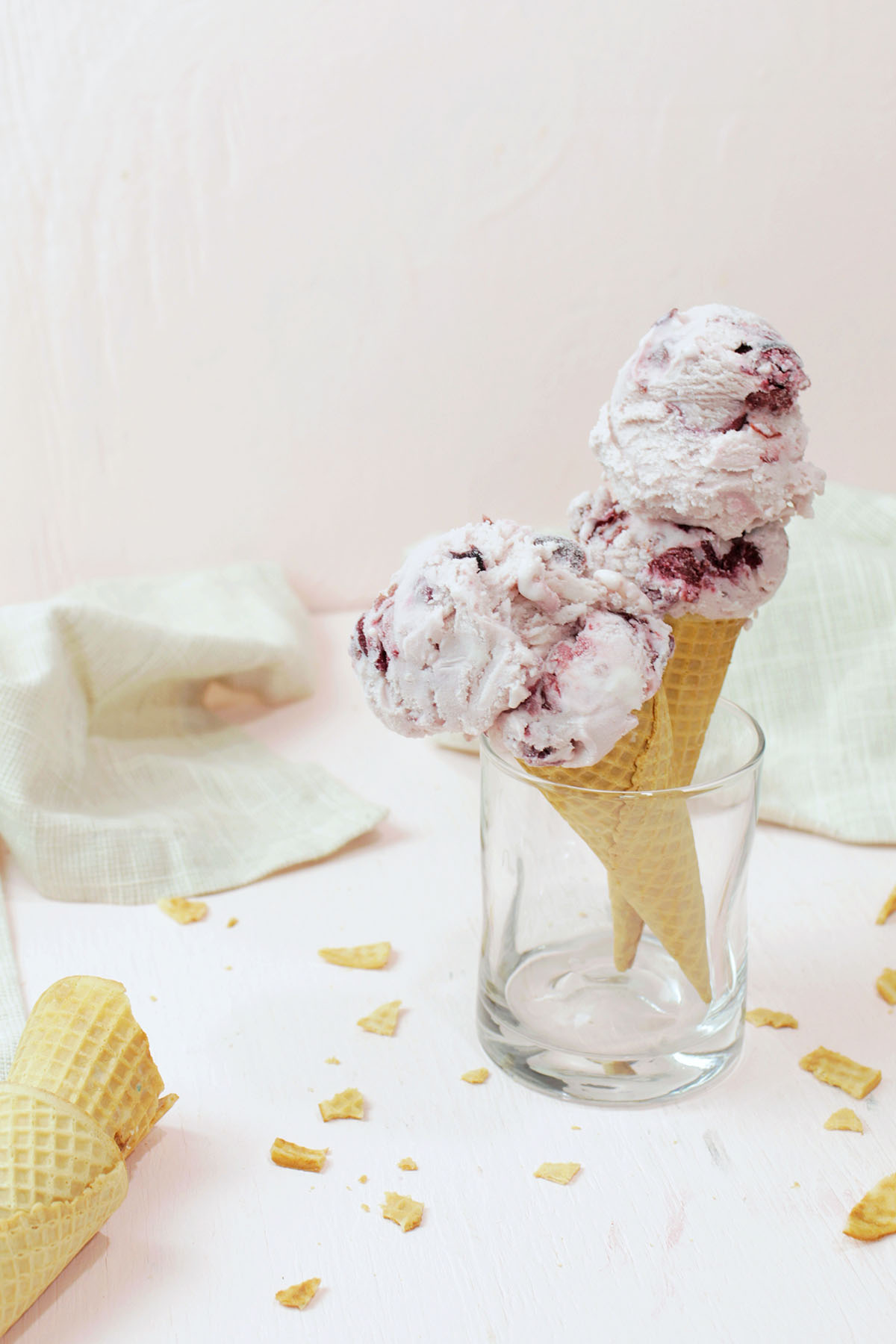 What exactly is ice cream?
Ice cream is, at its base, a frozen mixture of dairy products with a minimum of 10% milk fat.
Technically speaking, the USDA's standards for recognizing a product as ice cream also state that it must:
Have at least 1.6 pounds of total solids (to the gallon).
Have at least 4.5 pounds of weight (to the gallon).
Never have milk solids with less than 6% fat.
Never have the whey (whey is one of two proteins found in milk) content (by weight) be more than 25% of the milk solids.
With endless options for sweeteners and flavors, ice cream is arguably the most iconic frozen treat of them all.
Other specifics, when it comes to making ice cream, include stabilizers and emulsifiers. These are added to achieve a more desirable consistency or texture.
The texture of ice cream is something that varies depending on where you are getting your ice cream as well as the brand producing it.
Generally, ice cream has a creamy and smooth texture. Many commercial brands incorporate air into their ice creams as a consistency choice, but also as a way to sell more product for less money (more air = less cost).
Another factor that changes the consistency of ice cream is how high the percentage of milk fat is. While the 10% mark is mandatory, there are many recipes that use more than that amount since a higher milk fat percentage equals a creamier, denser, and smoother end product.
How is ice cream made? Well, in production, ice cream is made by:
Mixing the ingredients together.
Pasteurizing the mixture (bringing the mixture to 162°F or 72ºC for 15 seconds).
Homogenize the mixture (mix to ensure evenly distributed fat globules).
Cool the mixture.
'Age' the mixture for 4-24 hours.
Churning (this is where the freezing and air incorporation takes place).
Freezing or hardening (this is the condition ice cream is sold at).
When adding in any large pieces of flavorings (like fruits, chocolate, etc.), it is done towards the end of the churning process. The ice cream should be nearly frozen yet soft enough that the ingredients will mix into the ice cream without issue.
For those curious if there are vegan 'ice creams'… there are!
These 'ice creams' use vegetable fats instead of milk fats. Although the label will still typically promote the product as "ice cream", technically speaking, it is no longer classified as ice cream here in the United States.
2. Gelato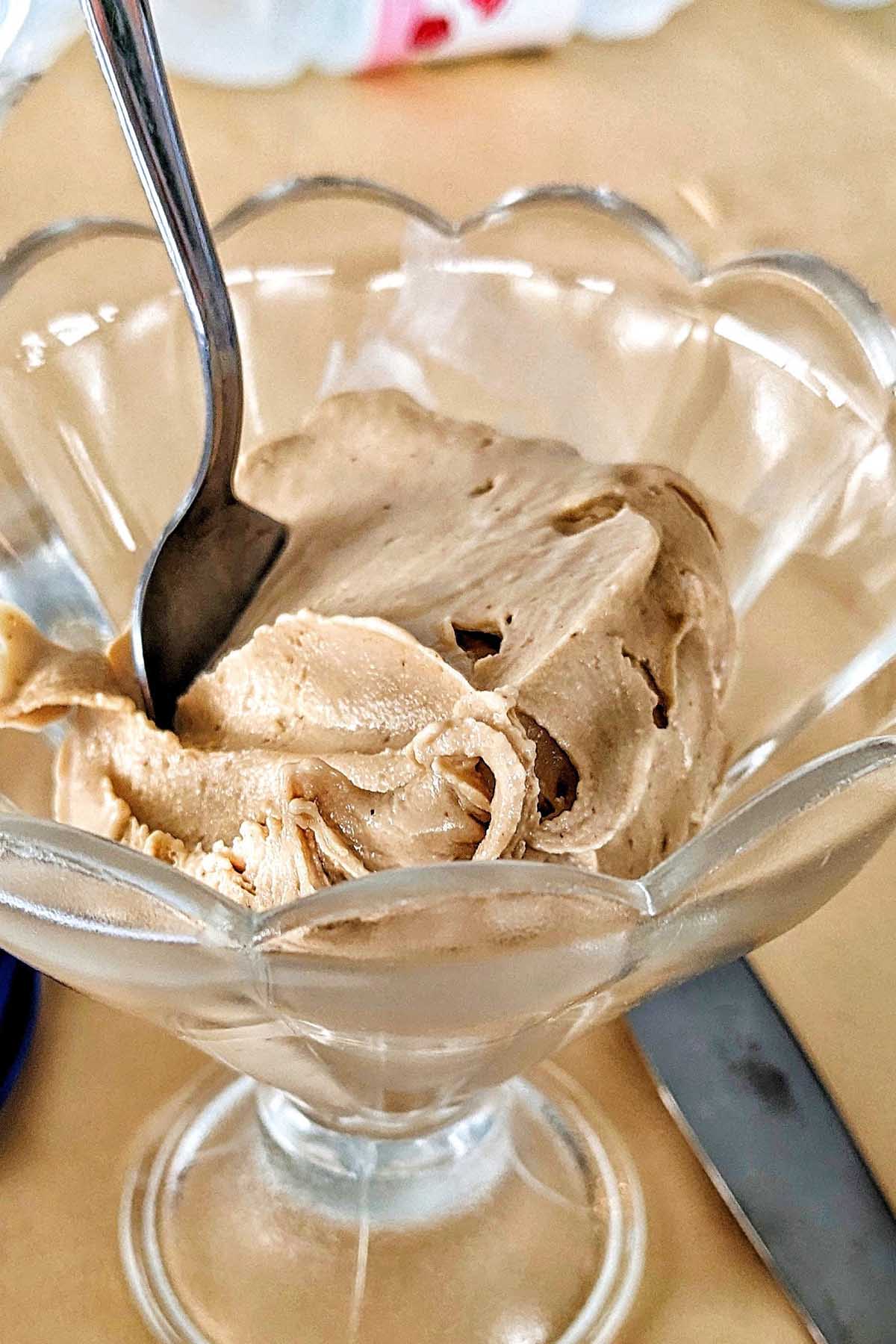 I am very proud to say that gelato is one of the frozen desserts I know most about. After spending three months in culinary school in southern Italy, I was able to learn all about making the perfect gelato.
A fun fact about gelato in Italy: Gelato sales bring in more money than pizza sales in any given year.
So, what is Gelato?
Like ice cream, gelato has endless possibilities with flavorings and ingredients that can be added. With that being said, there are much more specific parameters when it comes to developing a gelato base. There are specific ratios of water, fats, sugars, stabilizers, lean milk solids, and other solids.
In Italy, I was shown how to consider all of these factors in order to formulate a perfect gelato recipe.
There are different methods for making gelato based on the type of gelato being made. For example, a gelato that uses egg yolks will have to be made in a different way than a gelato that uses only milk products.
However, generally, here's how most gelato is made:
Allow the milk to heat to 104°F or 40°C.
Add in sugar, dextrose, stabilizers, and lean milk powder.
Pasteurize the mixture by bringing it to 194°F or 90ºC for 1 second.
Remove from the heat and add in any cream.
Allow the base to cool.
Once cooled, the gelato is gelled in a special gelato machine that adds the perfect amount of air.
Serving gelato is very unique. Unlike ice cream and most other frozen desserts, you do not scoop gelato. You use the swiping method.
The swiping method is done to essentially slap all the air out of the gelato to provide the creamiest, smoothest product possible.
When it comes to storing gelato, a "vetrina" is used.
A vetrina is essentially a gelato showcase, similar to the way ice cream is displayed in most shops. The difference here, the vetrina is regulated at a specific temperature of 9.5°F or -12.5°C for serving gelato.
Making gelato at home is not normally an option. This is because the equipment required for making gelato is extremely expensive, costing around $15,000 for a gelato machine, and a small vetrina is about another $1000.
Knowing this, it's best to stick to eating gelato when you're on vacation in Italy.
When traveling, look for gelato shops with sealed containers. This helps keep the gelato at a regulated temperature.
The tourist-trap gelato shops piled high with colorful gelatos are filled with preservatives and ingredients you likely don't want to eat.
3. Custard Ice Cream
A French-style frozen custard is another type of ice cream that has a higher percentage of egg yolks than your average ice cream. The International Dairy Foods Association states that custard "must also contain a minimum of 10 percent milkfat, as well as at least 1.4 percent egg yolk solids."
With the increased amount of egg yolks required in making this treat, the texture achieved will be creamier and richer than traditional ice cream.
Custard is made with milk and cream, egg yolks, and sugar. Occasionally, there is the addition of thickening agents such as starches or egg proteins.
The well-known process of making custard begins by :
Slowly heating the milk and cream in a pot just under boiling temperature.
Separately, the egg yolks and sugar are whisked together.
Then, combine the two mixtures while you whisk constantly.
The consistency you want to achieve is a fluid yet thick custard that will coat the backside of a spoon without sliding off.
It is important to note that custard-based ice creams have to be heated before they are churned because the addition of egg products means there are now raw ingredients in the mixture.
Freezing the custard is commercially done with a tool that is slightly different from an ice cream machine. Known as a continuous freezer, this machine adds less air to the mixture to keep the custard dense.
When serving frozen custard, it is served at a higher temperature than ice cream because of how dense it is.
If you're looking for an easy, at-home, way of making a vanilla custard, try out this recipe!
4. Philadelphia Style Ice Cream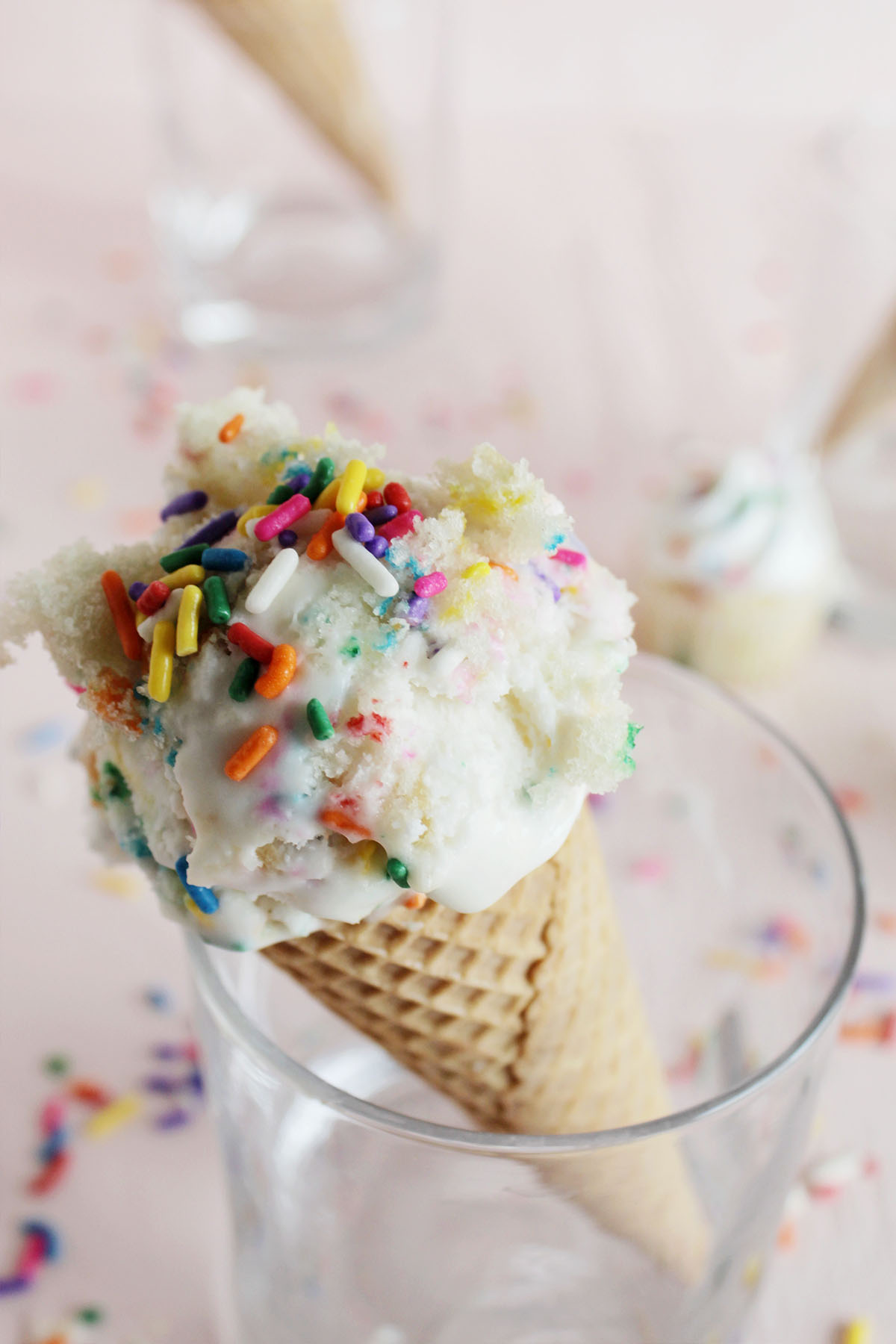 Philadelphia style ice cream is a great ice cream base for beginners.
This is because Philadelphia style ice cream is made without egg, meaning the ice cream doesn't necessarily have to be heated/cooked (because there are no raw ingredients) before churning.
Since eggs add additional fat and color to the ice cream, the Philadelphia style is usually lighter in both appearance and taste compared to custard ice cream.
The absence of eggs also means recipe creators need to think through how to make Philadelphia style ice cream smooth and creamy. This can be achieved through stabilizers (like cornstarch or xanthan gum).
This style works well in a couple of different ways. If you're making fruit-based ice cream, this style can keep things nice and light. Or, if you're adding in rich, dense mix-ins (like brownies or fudge) you could opt to contrast it with this lighter Philadelphia style ice cream base!
Try this birthday cake ice cream if you're looking for a good recipe to try at home.
5. Soft Serve Ice Cream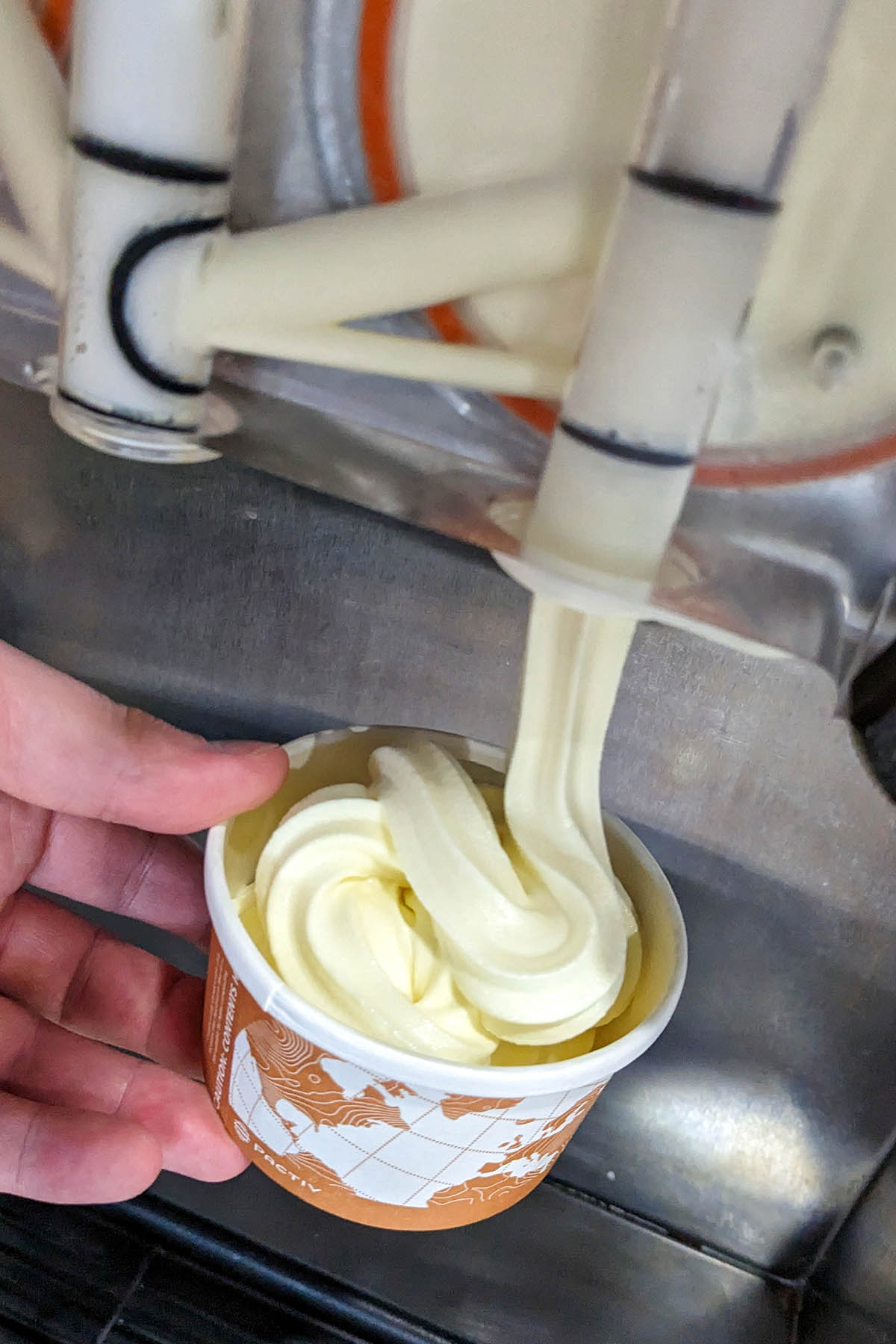 Soft-serve ice cream is almost identical to regular ice cream, except it is served at a different temperature and has a tendency to use a lower percentage of milk fat (around 3-6% depending on the recipe).
Another unique characteristic of soft-serve ice cream is the incorporation of air.
Soft serve is as the name implies, soft. And it is soft when it is served.
To paint a clearer picture of what this means, this style of ice cream is served directly out of a machine and it comes in a more fluid consistency, eliminating the need to scoop and giving the consumer a velvety, airy, and sweet product.
Soft serve ice cream is made the same way ice cream is made, the only difference is the temperature and manner that it is served.
Soft serve is served directly out of the machine at a higher temperature (roughly twice as warm) as 'regular' ice cream is served.
As you can assume, soft serve cannot be bought from the supermarket, therefore making this treat more special when you are presented with the opportunity to eat it.
6. Frozen Yogurt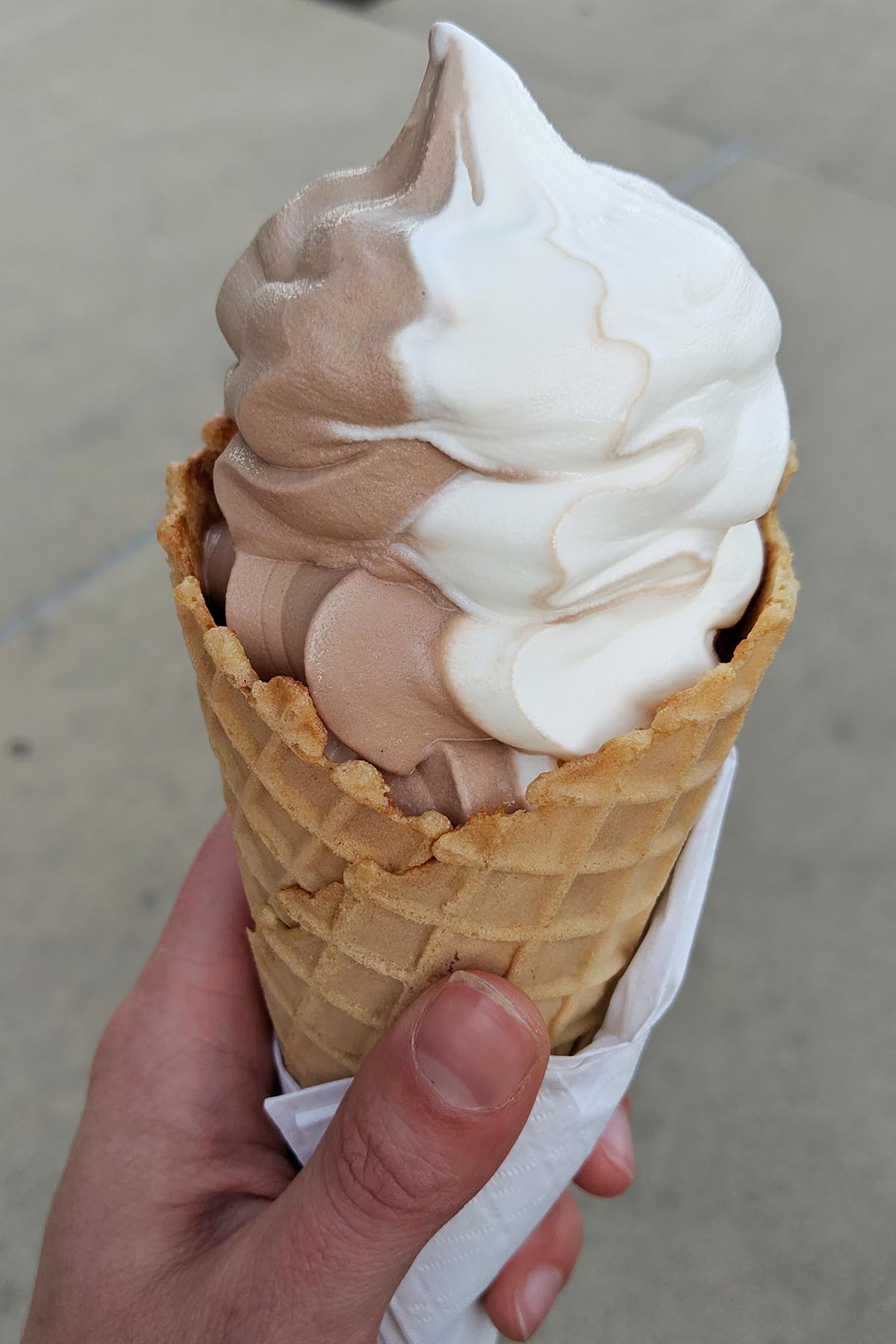 Emerging in the 1970s but taking many years to evolve before we have what we know today, frozen yogurt in its simplest form, is made up of 4 things:
Milk solids
Milk fat
Yogurt cultures
Some form of sweetener (this is where people can be as creative as they please)
The start of the FroYo-making process is in the milk.
First, the milk must be processed (mixed and heated) and pasteurized (milk is heated to 162ºF or 72ºC for 15 seconds) and homogenized (milk is essentially smoothed out by being mixed together to ensure that fats are evenly distributed throughout the milk).
After this is done, you can then add the yogurt cultures at around a 1% proportion to the amount of milk being used. Then, the mixture is stored in aging tanks.
After it has been aged, it's combined with the flavors, sweeteners, stabilizers, and colors, and then brought down to temperature in a machine that both cools and incorporates air into it. This is how you achieve a light and airy texture.
You can enjoy frozen yogurt right after these steps have been completed, or you can quickly freeze the mixture to ship and preserve it.
Then, whoever is consuming or distributing the product will let it get back up to a desirable temperature before it is served.
7. Italian Ice
A very simple yet undoubtedly tasty frozen dessert, Italian ice is a smooth treat made up of three ingredients:
The texture of Italian ice is a creamy, velvety treat. It is scoopable even though there are no cream or fat products from dairy.
Italian ice is made by whipping the proper ratios of water, sugar, and fruit or juice, similar to churning ice cream.
To achieve a better and creamier product, it is critical to use a machine that works quickly to achieve the smallest ice crystals possible.
Having a dairy-free and eggless product gives Italian ice its uniqueness.
With that being said, sorbets (see below) are almost identical in characteristics to Italian ice. The main differences are the locations where and times when these products were developed.
If you're looking for a healthier alternative to ice cream (due to fewer calories per ounce by roughly 80%), without a drastic difference in consistency and flavor, Italian ice may be the one for you.
8. Granita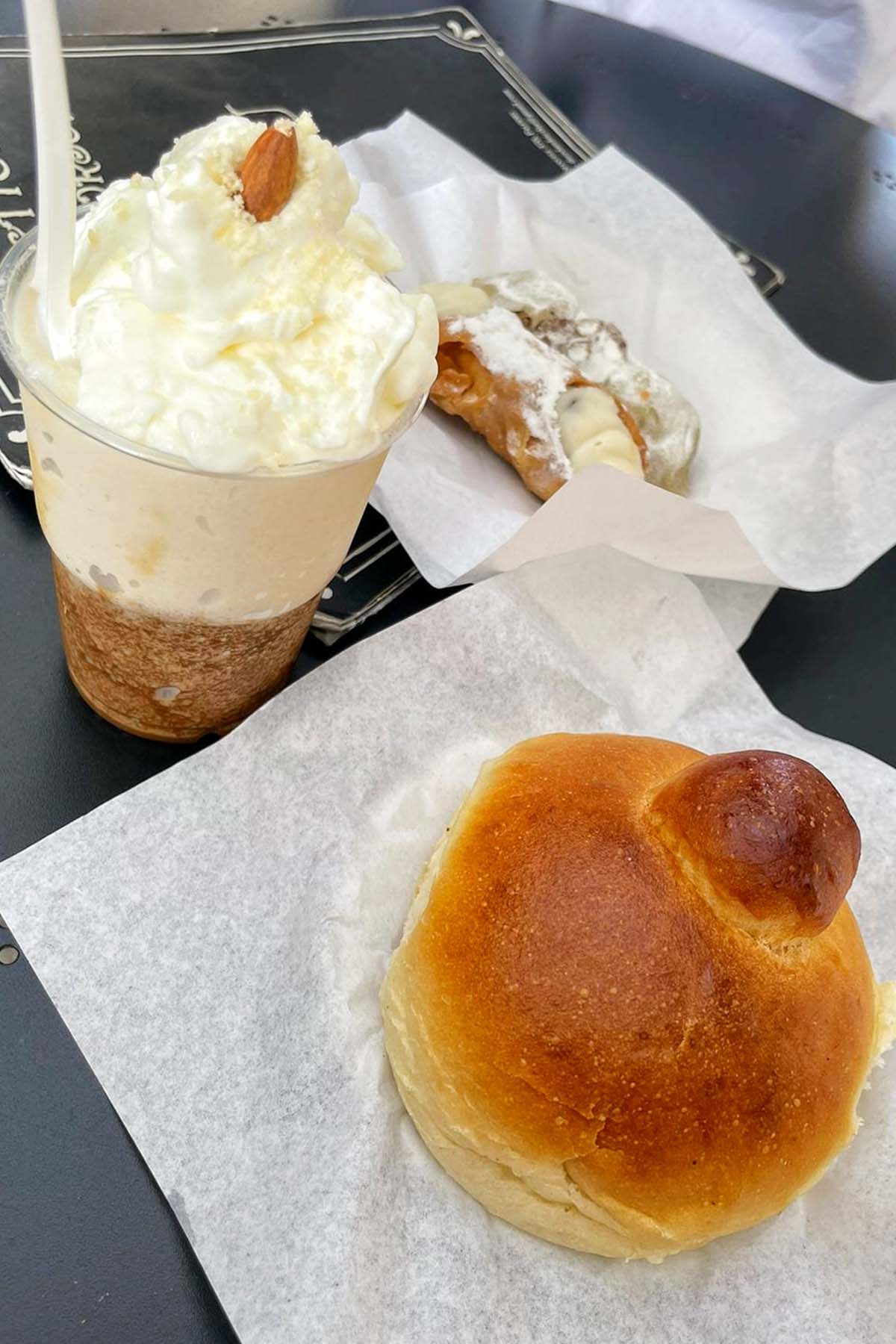 Granita is another frozen Italian dessert. It has the same three ingredients as Italian ice (water, sugar, and fruit/juice), but the process by which it is made and served is what differentiates these two desserts.
Granita has a crushed ice texture, more similar to the consistency of a snow cone, but with less of an icy bite to it. This is where the main difference is between granita and Italian ice.
To make granita, combine water and sugar over heat to create a syrup. Mix in your flavoring of choice such as fruit juice, fruit purée, or coffee.
Then, instead of being churned, this mixture is poured into shallow containers (typically stainless steel) and then frozen.
After it has solidified, it is then scraped with a fork and forms an icy, flaky consistency.
An alternative method to making granita would be stirring the mixture occasionally as you see ice crystals forming. This technique is used more commercially as it can be an attraction to people passing by to see their treat being made for them.
Eventually, you achieve a nice sweet treat with a little bit of icy bite to it, perfect on a warm day or perfect if you want something cold without the heaviness and creaminess of most other frozen desserts.
Also, if you're traveling in the Sicilian region of Italy, you might eat a brioche roll with your granita, as pictured above.
9. Sorbet
As I learned in Italy, to classify something as a sorbet or sorbetto, there cannot be any dairy products used in production.
Sorbet is occasionally referred to as water ice, which is extremely similar to sherbets. The difference is that sherbets have milk added to the mixture prior to the churning process.
The texture of sorbet can vary depending on the quality and how it is served/ eaten. Typically, it is smooth, velvety, and light.
It can be denser if you are purchasing it from the store or eating it at a colder temperature.
Sorbet mixtures are composed of water, sugar, and fruit juices, although you can easily find sorbets that have different flavorings, such as liqueurs, added to them.
Sorbet (and sherbet), if made, stored, and served properly, should have a silky and creamy consistency, almost as if indistinguishable from a product using lots of milk products to achieve the same consistency.
Overall, sorbets are lighter on the stomach than your average ice cream because (same as Italian ice and granita) there is no fat in the product.
A fun fact about sorbet and Italian ice is that they are almost identical products, but just with different origins. Sorbet originates in France while Italian Ice originates, as you might guess, in Italy.
10. Sherbet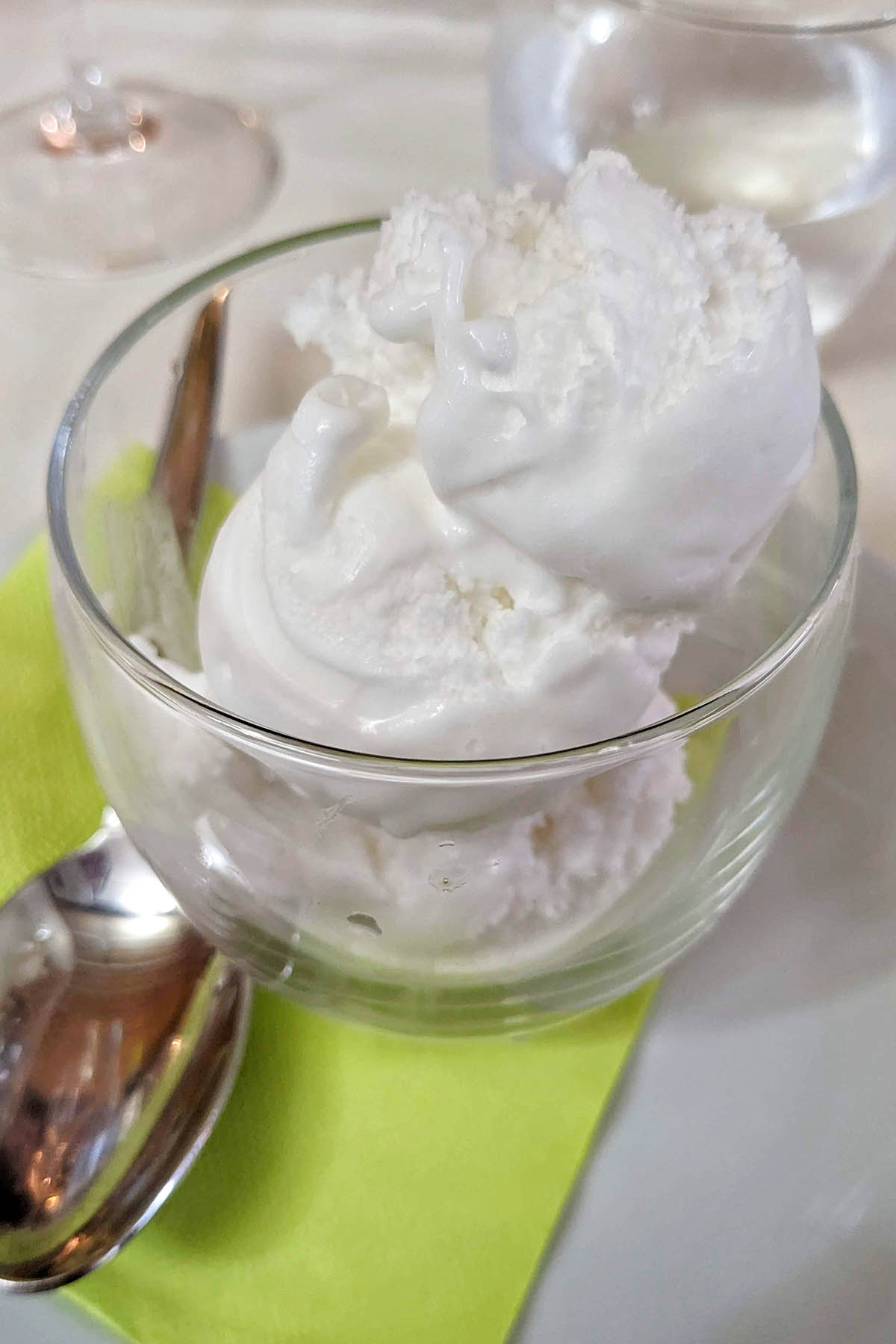 Sherbets have a milk-fat content between 1% and 2% (significantly lower than the 10% minimum in ice cream). Sherbets must also weigh at least 6 pounds to the gallon.
To flavor sherbets, fruits or other ingredients such as chocolates are used.
Sherbets are very close in texture to sorbets, with a very slight creamier mouth feel. This is due to the small amount of fat products added into it. Ultimately, it is a creamy yet very light treat.
Just like sorbet, sherbet production starts by :
Making a base syrup (mixing water, sugars, and stabilizers).
Bring the base to a boil and make sure all solids have dissolved. Then, let cool.
After this is done, combine the flavorings/purées with the syrup you just made. To adjust the density of the product you can add more water to reduce it, or add more syrup to increase it.
Once your mixture is at desired density, churn it based on the instructions provided on your churning equipment.
11. Frozen Treats Around The World
All over the world, different countries, cultures, and cuisines have their specialty versions of frozen desserts similar to ice cream.
While I mentioned several American and Italian-originated treats, many other countries have their unique versions including:
Even simple things like shaved ice and snow cones have their unique characteristics, going to show how diverse the possibilities are when it comes to delicious frozen desserts!
More Ice Cream Recipes
Love this guide? Please leave a comment below. Don't forget to follow along on Instagram, Facebook, YouTube, and Pinterest for more recipes.
Sources
If you want to learn even more about the many different types of ice creams and frozen desserts, check out some of the sources used in this article: