New Year's day is right around the corner and we are kicking it off with the brunch of your dreams! After a long night of celebrating, sleep in and enjoy a late afternoon brunch with the people you love!
Whenever we celebrate New Year's, we always think about ringing in New Year's at midnight. Well, for those of us who fall asleep at 9:00 pm every night, we need a different way to kick off the new year! I've got the perfect New Year's Day brunch menu to feed all your friends and family! I've even got some tips to keep you sane & organized as we wrap up the holiday season.


New Year's Brunch Menu

Here's what we've got on today's menu. We're keeping it nice & simple. If you're feeding a large group of people, I've got some additional add-on dishes and serving size recommendations below.


Be sure to ask about any allergies your guests might have! All of the dishes included can be made gluten free.


Sausage & Kale Frittata

Coffee Cake

Garlic & Dill Breakfast Potatoes

Mimosas

Various Juices

Coffee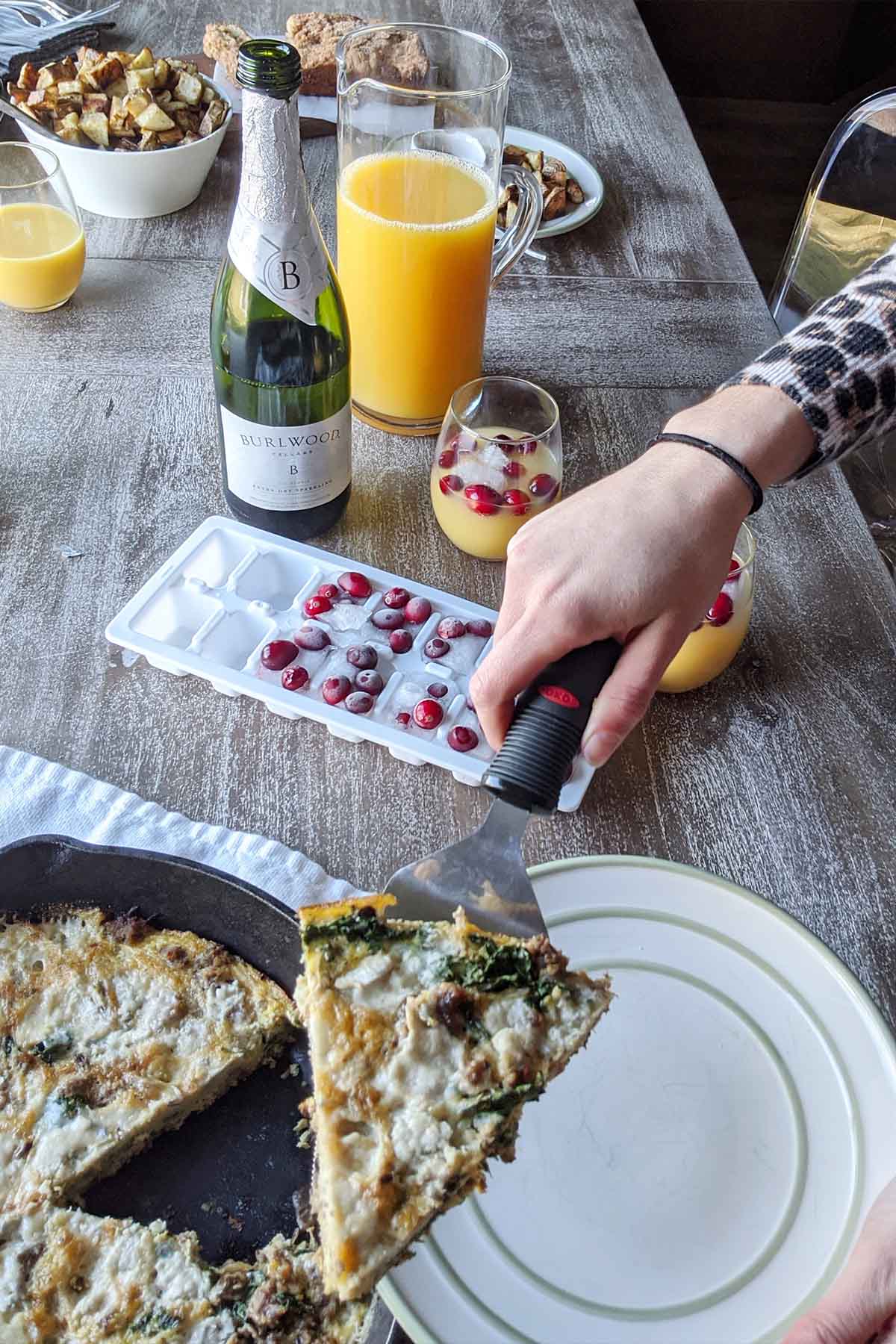 Brunch Add-Ons

Depending on how many people you are hosting for brunch, you might want some additional dishes to bulk up the meal. When you're trying to determine portion sizes, here's what I'd recommend. If you're serving kids, cut each portion in half.


Frittata: 1-2 slices / person

Potatoes: 1 cup / person

Coffee Cake: 1-2 slices / person

Drinks: 3 / person


Some extra dishes that would go along nicely with this brunch:

Oven cooked bacon

Fruit salad

Yogurt parfait bar

Arugula salad - for something savory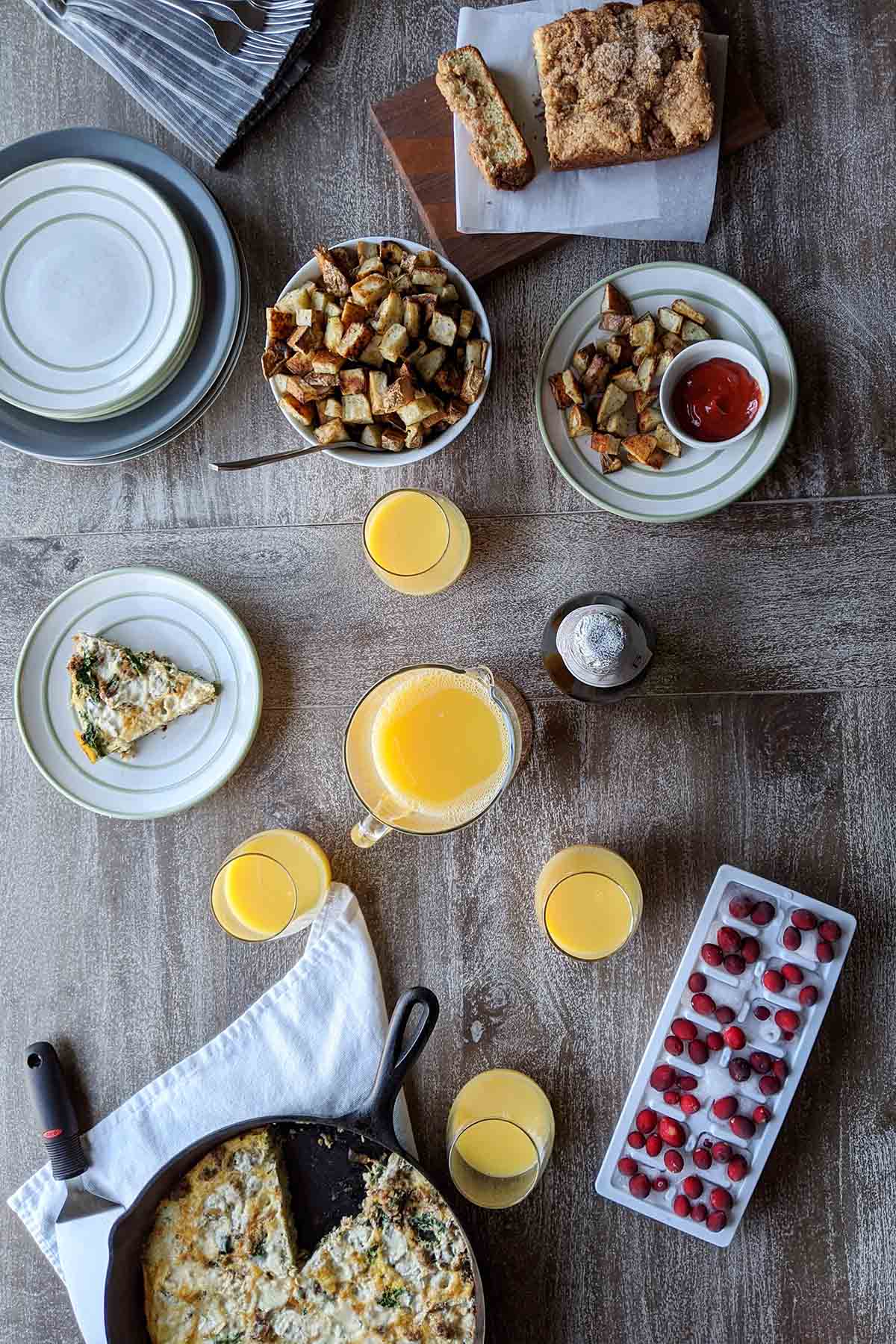 Brunch Drinks

Drinks are part of what makes brunch so special! Brunch gives you a chance to sip on a drink and get to enjoy your food (unlike a normal weekday breakfast). You can get fancy with your brunch drinks with minimal effort!


Mimosas: As for mimosas, make sure you purchase a dry or sweet champagne or Prosecco, depending on what your guests prefer. If you're not sure, I'd suggest grabbing both! New Year's calls for stepping up your mimosa game. An easy way to do this is by using up all the leftover cranberries from the holidays. Grab an ice tray, fill with cranberries, and top with water or sparkling flavored soda (like Fresca). I prefer the flavored soda because it adds a bit of taste to your mimosa as it melts.


Make sure to have some drink options for your non-drinking friends. You can grab a variety of different juices (apple, orange, cranberry). I'd also suggest having coffee and some fun holiday-flavored creamers for your drink station! Go ahead and set up your drinks in an area where guests can re-fill as needed!


Brunch Prep

The most important step in any party is making sure you're prepared so you can relax and enjoy your meal. Prep as much of the food as you can before your guests arrive, preferably the night before! Here's our plan of action:


For your frittata, cook the hot Italian sausage the night before, and store it in the fridge over night. You'll also want to pre-caramelize your onion and keep that in the fridge overnight as well. On the morning of brunch, you'll cut your cooking time in half for this dish!


You can make the coffee cake 1-2 days ahead of time, just be sure you wrap it in a layer of plastic wrap, and then again with foil. This will keep it from drying out. You can have guests heat it in the microwave if they prefer to eat it warmed up a bit!


As for your breakfast potatoes, you can pre-scrub the outside skin the night before to get all the dirt off. Go and and mix up the seasoning so you can sprinkle it on in the morning.


If you are making cranberry ice cubes, make sure those are in the freezer at least the night before. You could do this day or weeks in advance if you'd like. Chill your champagne or Prosecco in the fridge.


Prep your coffee pot & schedule for it to start brewing 30 minutes before guests arrive so coffee is available right away!


Love this guide? Please leave a comment below. Don't forget to follow along on Instagram, Facebook, YouTube, and Pinterest for more recipes.