This warm, gooey sugar and cinnamon coffee cake loaf recipe is the ultimate decadent breakfast or dessert. It bakes up in just 45 minutes from start to finish.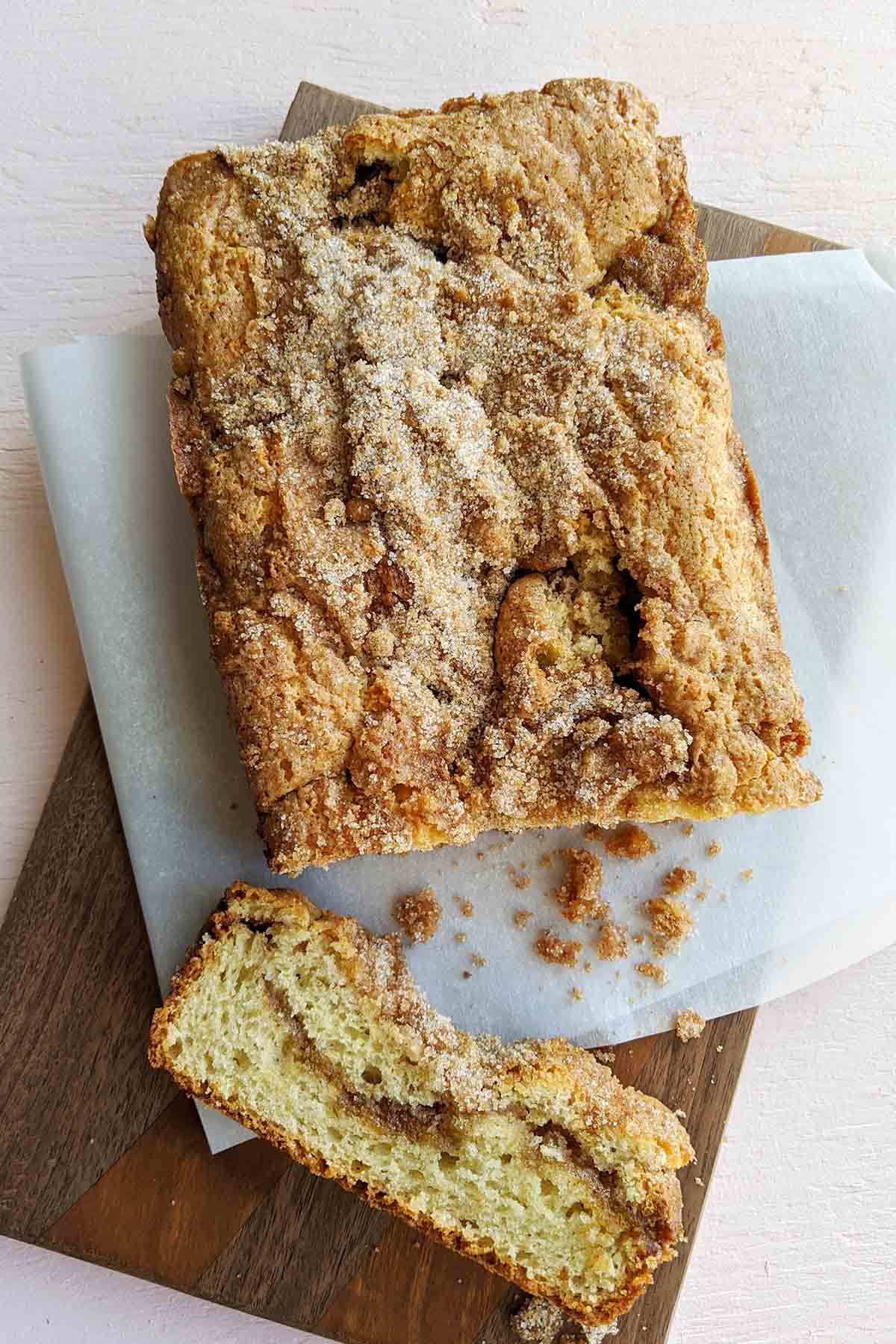 This famous Greek yogurt coffee cake recipe is a staple in our household. It's a family recipe that my mother-in-law has so graciously shared with me!
The best part about the coffee cake loaf recipe is how moist, rich, and fluffy it is. It's the perfect combination of decadent, yet not too heavy.
If you're wondering what you can make with Greek yogurt, you have to try baking up this version of quick bread. In addition to the cinnamon and sugar, the coffee cake has Greek yogurt to keep the cake moist and light.
We love making this Greek yogurt cake as part of our brunch menu. It's a great, sweet addition to the table. Plus, it can be made the night before, which makes brunch in the morning a breeze!
Jump to:
What You'll Learn In This Recipe
Not only will you love eating this Greek yogurt coffee cake, but you'll also learn a few baking tips and tricks along the way including:
Why coffee cake is classified as a quick bread (and what that means in the baking world).
How the creaming mixing method is used to make a fluffy, light cake loaf.
Tips for storing and baking the coffee cake loaf ahead of time. Plus, some ideas for what to serve alongside it for brunch.
For more of my favorite baking tips and tricks, download my free Better Baker Guide. This 13-page guide will be delivered straight to your inbox! I promise you'll learn at least one secret to use next time you're baking at home!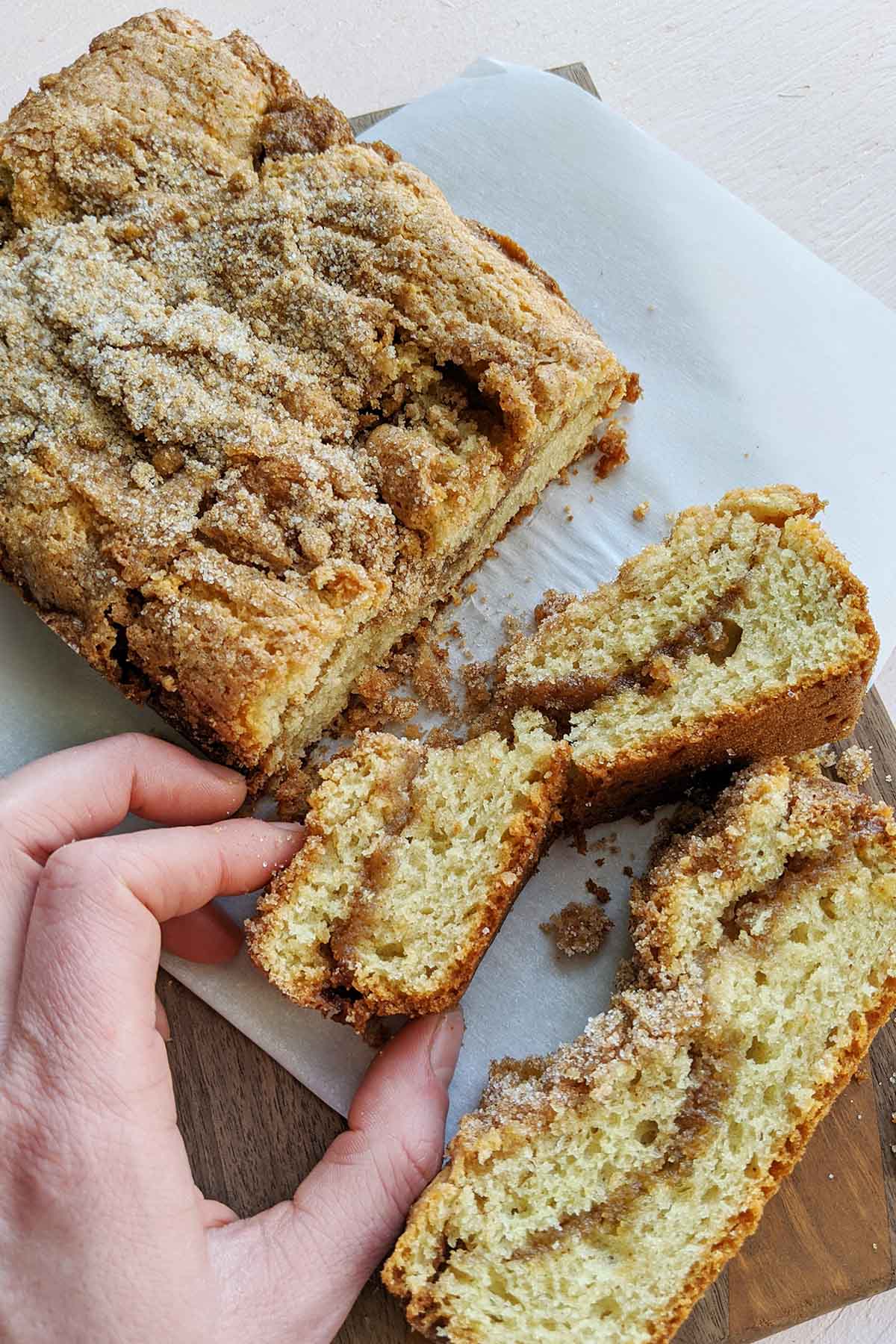 What Is Coffee Cake?
In the baking world, coffee cake is considered a quick bread. Quick bread also includes loaves (like this recipe) or muffins.
Quick bread is leavened using chemical leaveners like baking powder or baking soda rather than yeast. These types of baking recipes are great for when you're in a hurry and don't have time to wait on the yeast to rise.
Ingredients You Need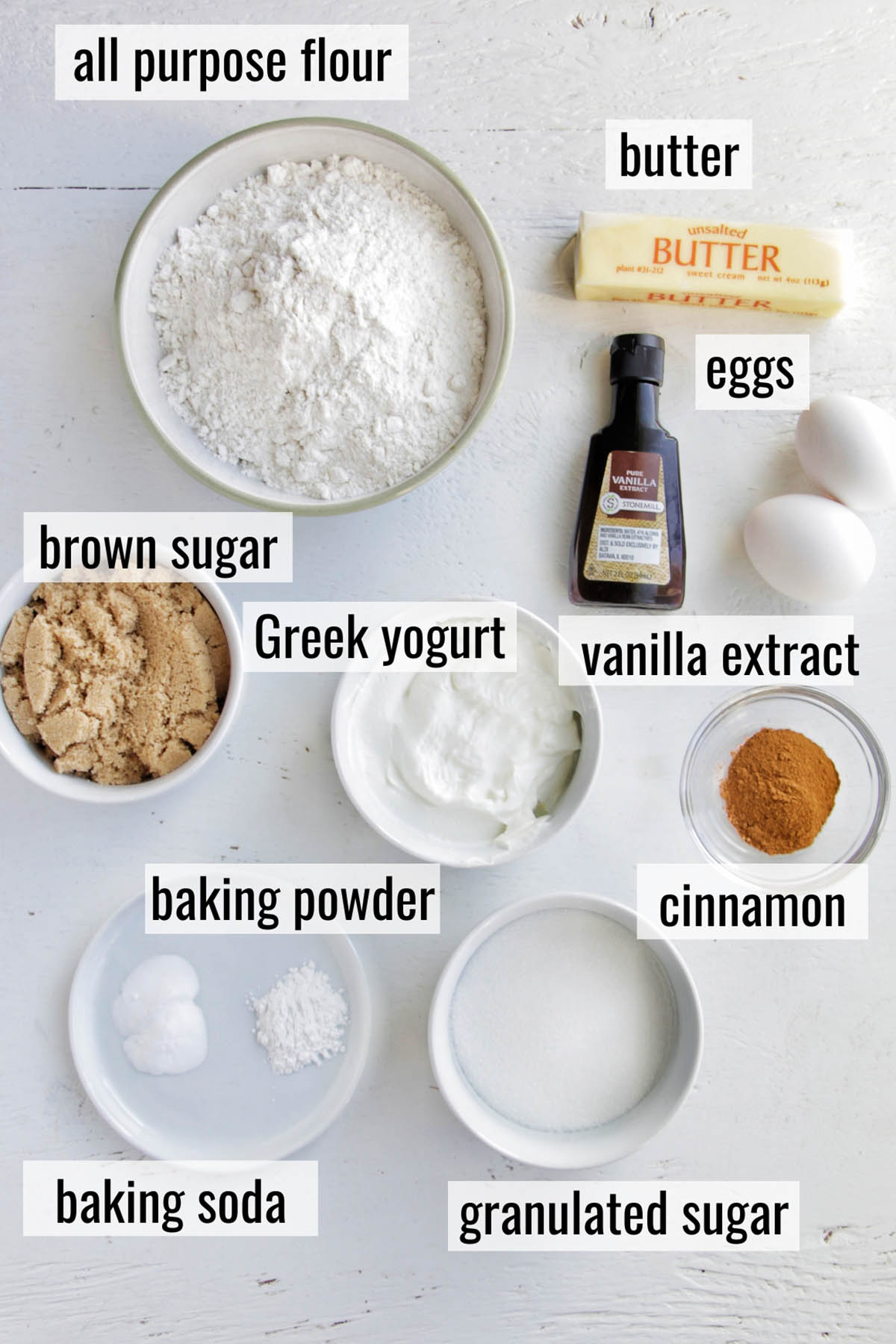 To make a delicious coffee cake using Greek yogurt, you'll need the following ingredients:
Unsalted butter: Be sure the butter is at room temperature in order to correctly cream the butter and sugar together. You can also substitute with salted butter if you prefer.
Granulated sugar: This ingredient is used in both the coffee cake batter and the cinnamon and sugar topping.
Vanilla extract: This is another way to enhance the flavor of the cake. Buy a high-quality extract for an extra delicious flavor.
Large eggs: While many recipes require room temperature eggs, you can skip that step on this Greek yogurt coffee cake. Luckily, many quick bread recipes are able to handle cold ingredients.
All-purpose flour: Be sure to properly measure your flour using the scoop and level method. First, fluff up the flour to ensure it's not too densely packed together. Next, scoop the flour into the measuring cup, then level off the excess flour with a knife.
If you're gluten free, you can substitute the all-purpose flour for Bob's Red Mill Gluten Free 1-to-1 Baking Flour.
Baking powder: Baking powder is a leavener used in quick bread. It helps the coffee cake rise.
Baking soda: This is another leavener often used in quick bread. Baking soda is used when an acid (like yogurt) is present in a recipe.
Whole milk plain Greek yogurt: There are lots of different brands available. Just be sure you select a plain-flavored whole milk variety.
Brown sugar: This recipe uses light brown sugar. Be sure to firmly pack it in the measuring cup so you get the correct measurement.
Ground cinnamon: Cinnamon adds such a warm and comforting flavor to the loaf cake.
How To Make This Recipe
Here's a step-by-step photo guide to help you understand how to make cinnamon coffee cake loaf.
Cream Butter & Sugar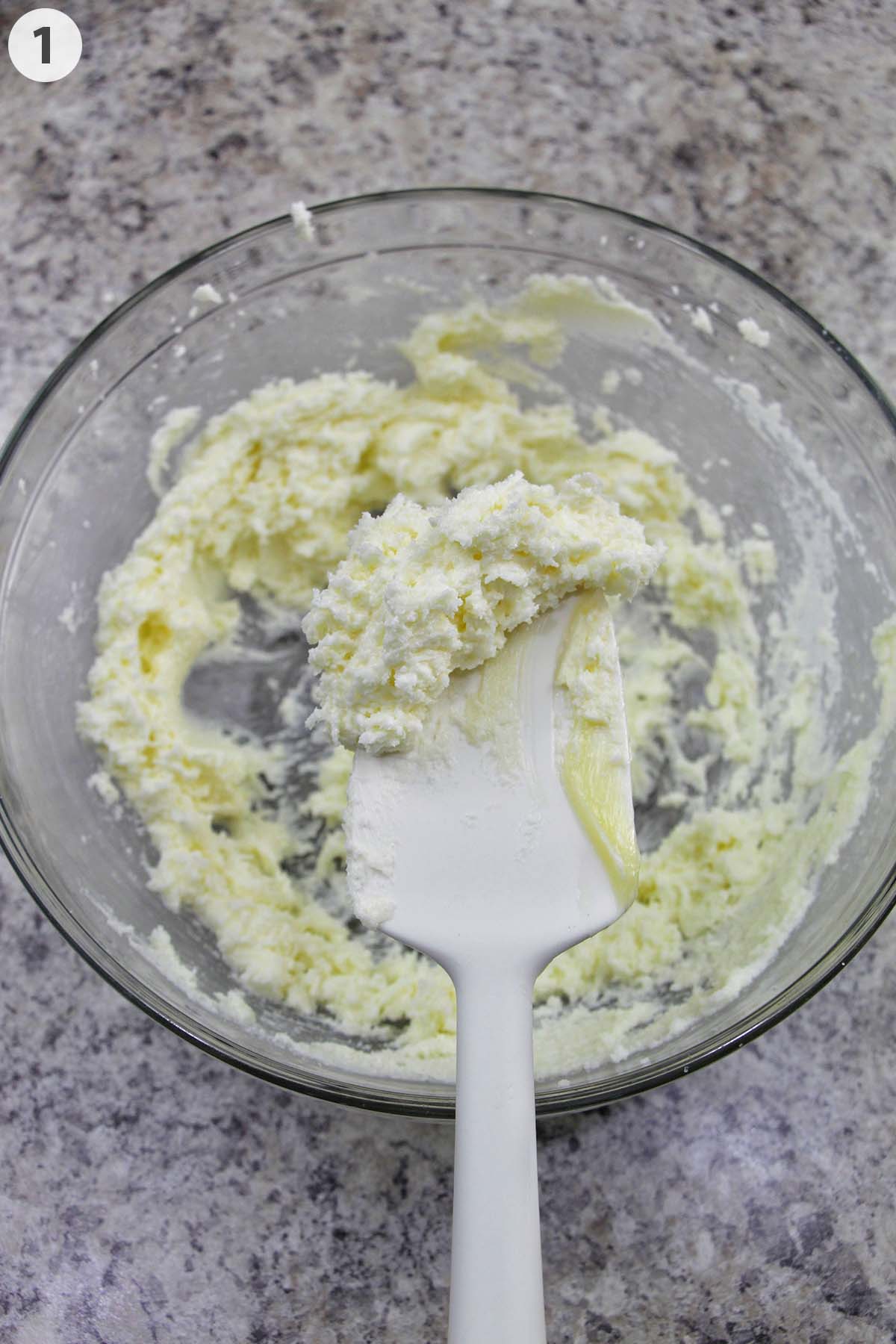 The yogurt coffee cake is mixed using the creaming method. This means we will cream (or beat) the butter and sugar together to incorporate air. This helps leaven the coffee cake so it's nice and fluffy after it comes out of the oven.
It takes a few minutes of beating to fully cream the butter. Be sure to beat the mixture for at least 2 minutes, until it's light and pale in color.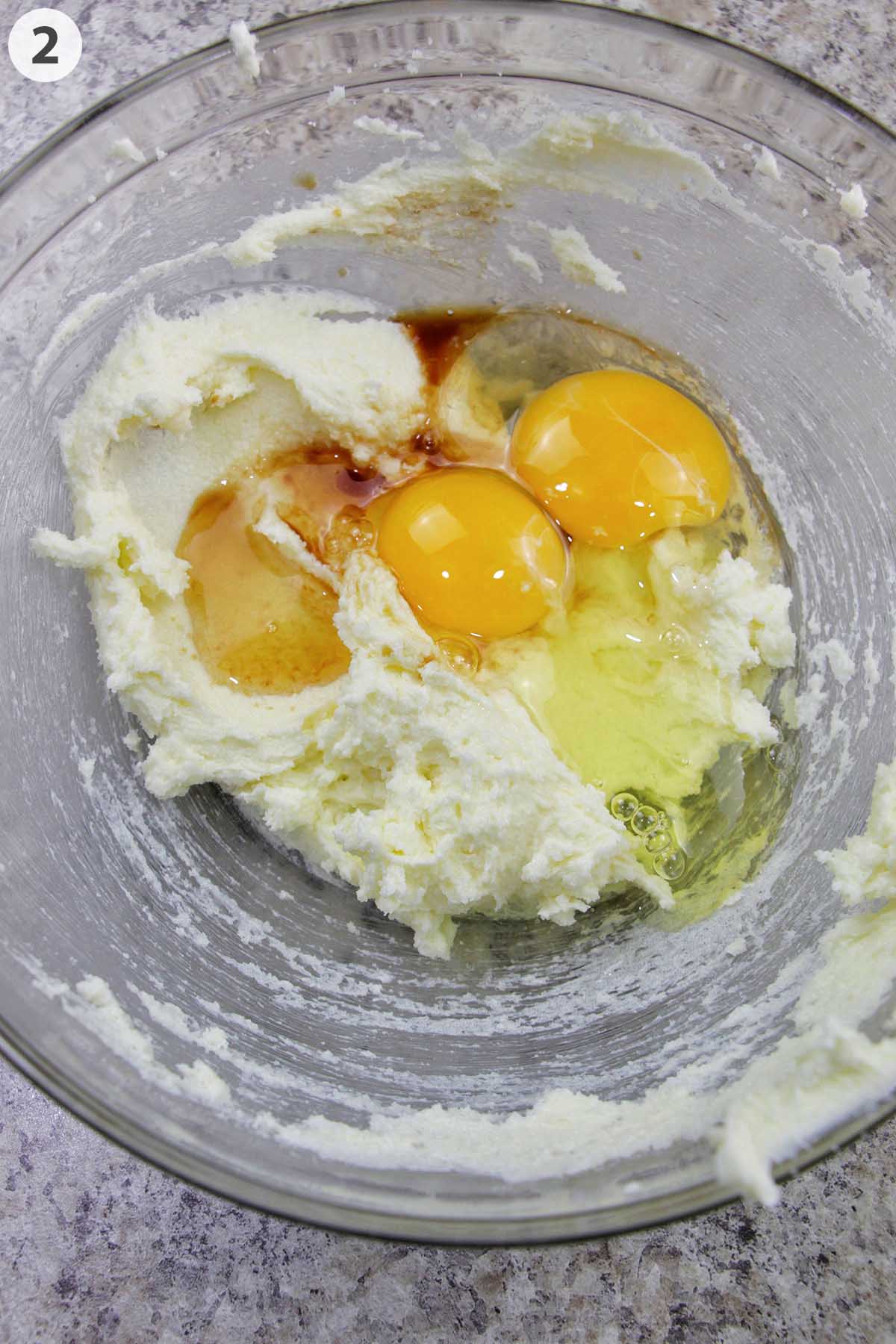 Next, beat in the eggs and vanilla extract just until everything is combined. Luckily with quick bread, there's no need to wait for the eggs to come to room temperature.
Sift The Flour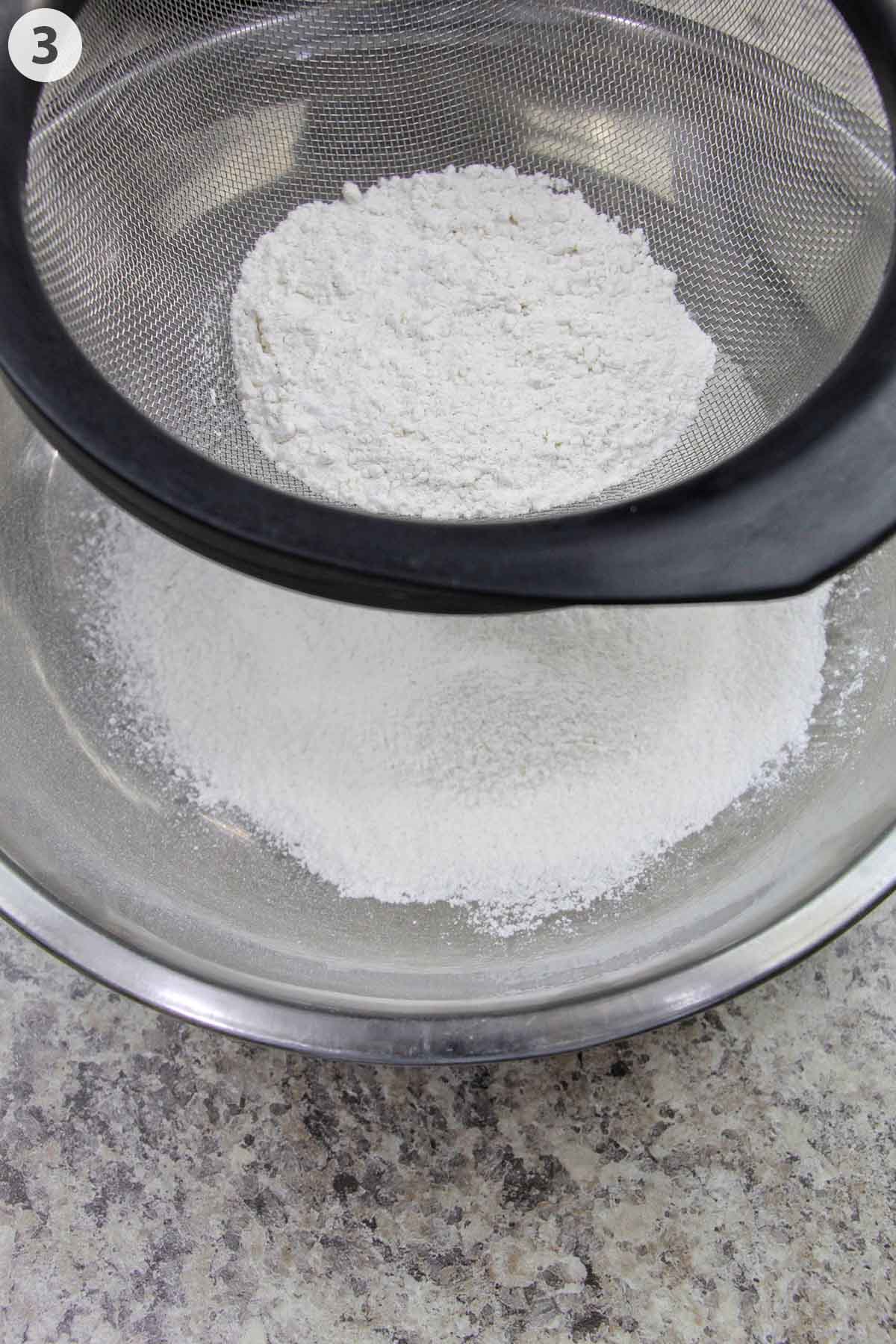 Next, sift all the dry ingredients together including the flour, baking soda, and baking powder. This helps to remove any large clumps of flour in the batter.
If your flour already seems clump-free, you can skip this step.
Mix the Batter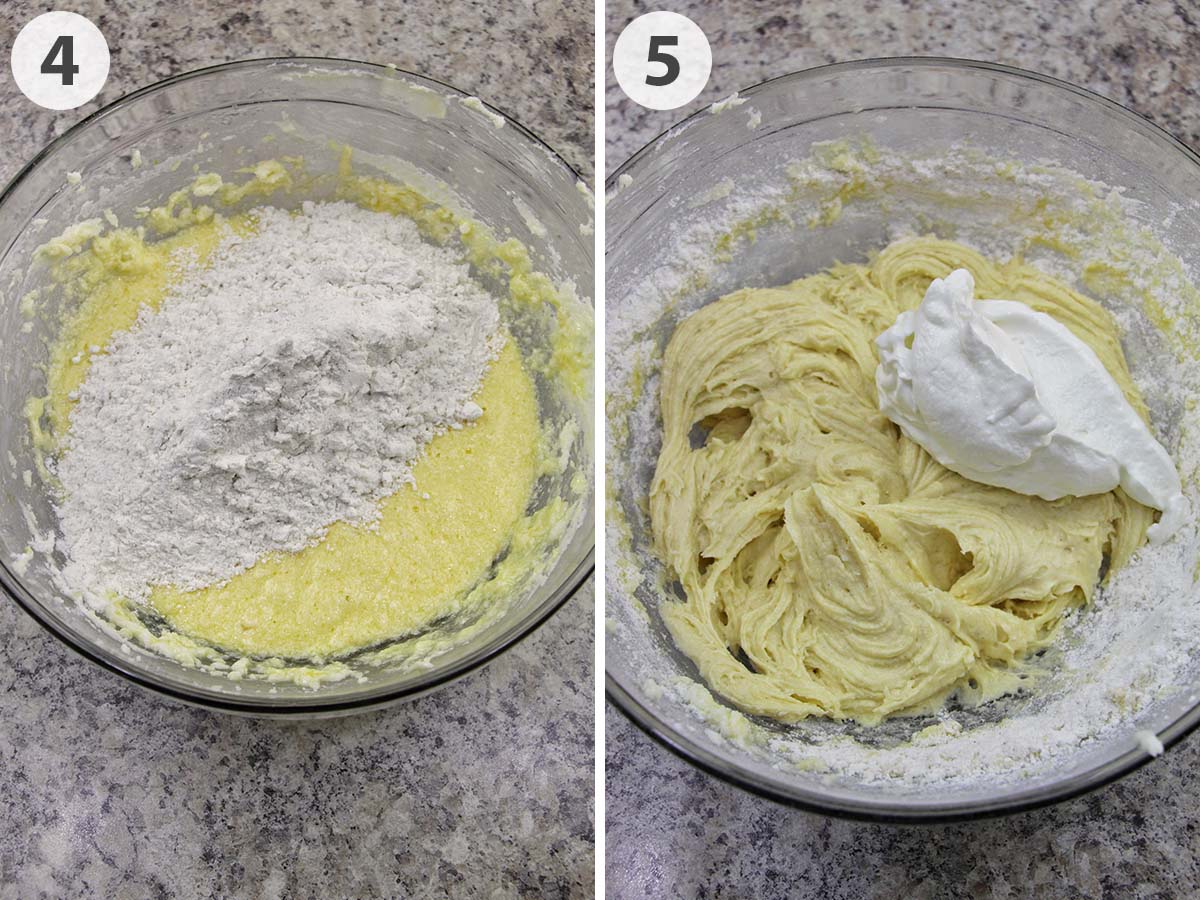 Next, alternate adding in the dry ingredients and the Greek yogurt. In between each addition, mix everything together on low speed with an electric mixer.
I usually repeat this step twice, adding in only half of the dry ingredients and half of the Greek yogurt at a time. This helps the ingredients to evenly distribute in the batter and ensures you won't splatter flour everywhere.
Here's what the coffee loaf cake batter will look like after all of the dry ingredients and Greek yogurt have been added.
Make the Cinnamon Sugar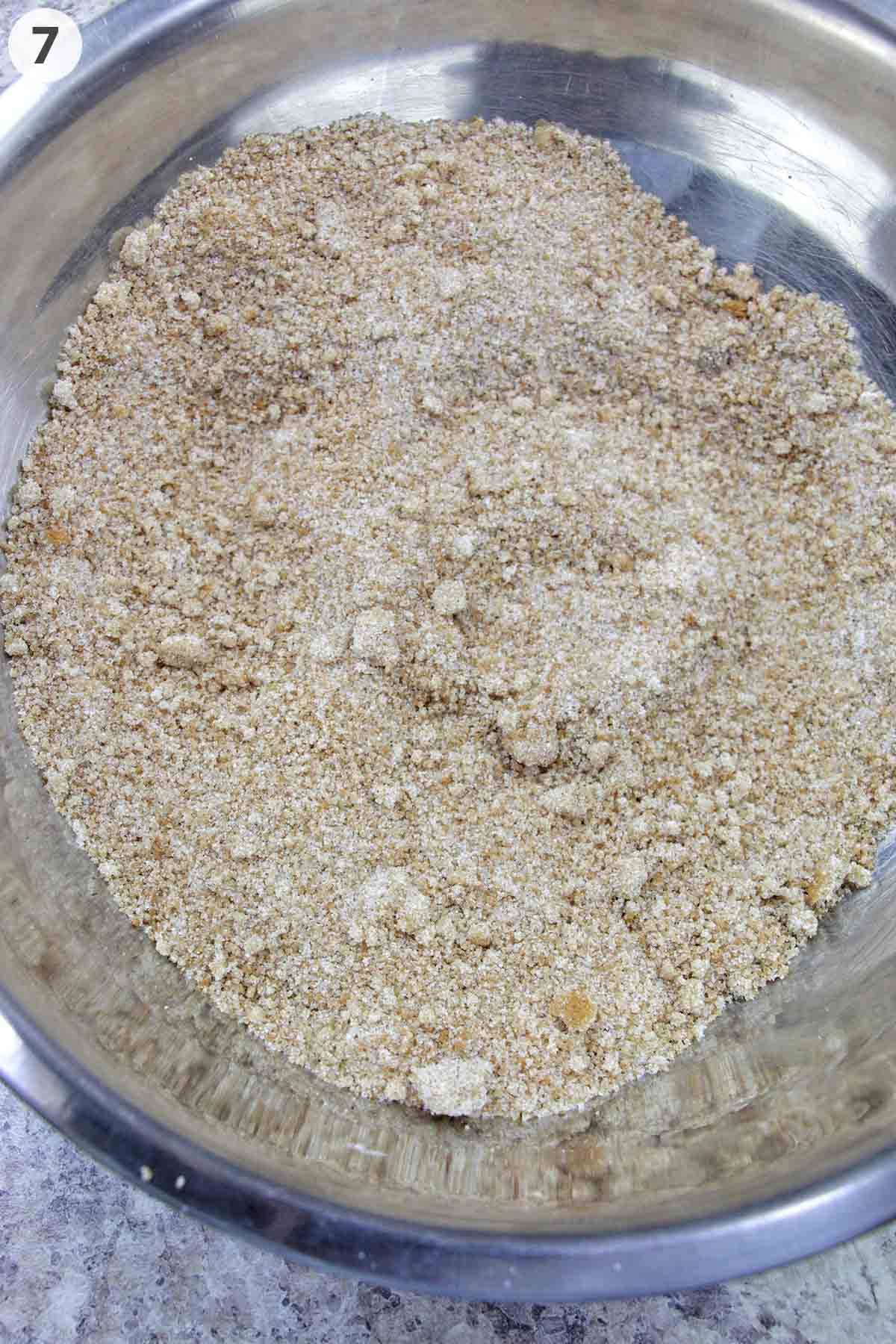 Next, it's time to make the cinnamon and sugar mixture. This mixture will be sprinkled in between the layers of batter and on top of the loaf. It creates both a sweet taste and a bit of crunch on top.
Whisk together the brown sugar along with the remaining granulated sugar and ground cinnamon.
Pour Into Loaf Pans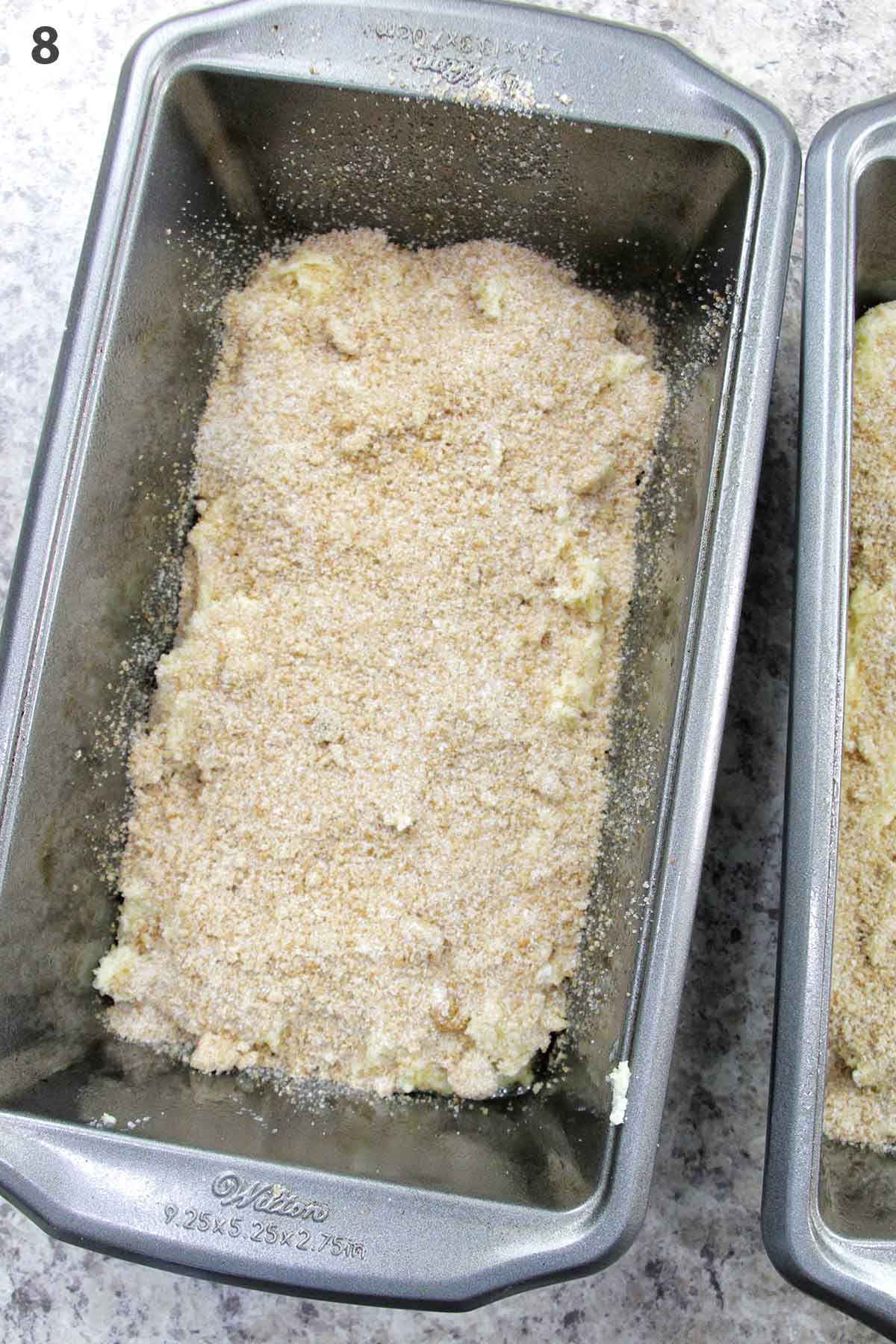 Finally, it's time to prepare the loaf pans. You can also use a 9 x 13 pan if you don't have two loaf pans.
First, spray each of the loaf pans with nonstick vegetable oil spray. Spread a fourth of the batter into each of the pans.
I like using an offset spatula dipped in hot water to spread the batter. Since the batter can be thick, the hot water helps it spread.
Next, sprinkle a fourth of the cinnamon sugar mixture on top of the batter. Add the last half of the batter into each pan.
Smooth the top batter and finish everything off by sprinkling it with the remaining cinnamon sugar.
Finally, bake the coffee cake loaves in a preheated 350°F for 30 - 40 minutes, until a toothpick inserted into the center comes out clean. Allow the coffee cake to fully cool before cutting and eating.
Tips For Baking With Greek Yogurt
There are so many great recipes with plain Greek yogurt. Yogurt is a great addition to dessert and baking recipes because it adds moisture. If you have leftover Greek yogurt to use up, this would be a great recipe!
Here are a few tips for baking with Greek yogurt:
Be sure to pay attention to the fat percentage the recipe calls for (i.e. whole milk, nonfat). For this recipe, we are using whole milk yogurt.
Read through the recipe prior to baking to see if the yogurt needs to be at room temperature. For this loaf pan coffee cake recipe, you can use cold Greek yogurt.
Don't be tempted to substitute plain yogurt for flavored yogurt. This will result in a different final product. Always be sure to follow the ingredients stated in the recipe for the best results.
Recipe FAQs
I don't have loaf pans. What should I bake the yogurt coffee cake in?
This recipe can also be baked in a 9 x 13 pan. This is a great option if you're feeding a large crowd or would prefer to serve this 'cake style'.
Can I make this coffee cake loaf recipe ahead of time?
Yes, you can bake this recipe the night before you wish to serve the coffee cake. This loaf cake will last for 3 - 5 days in an airtight container on the counter. You can reheat it in the microwave so it's warm when you're ready to eat.
I'm gluten free. Can I make a gluten free version of this coffee cake recipe?
Yes, simply replace the all-purpose flour in the recipe below with Bob's Red Mill Gluten Free 1-to-1 Baking Flour.

I've made this recipe gluten free many times! You won't even be able to taste the difference.
I want to make this coffee cake for breakfast. What should I serve with it?
I love the idea of using this recipe for breakfast or brunch. I like to serve the cinnamon coffee cake loaf with a frittata, breakfast potatoes, or fruit platter.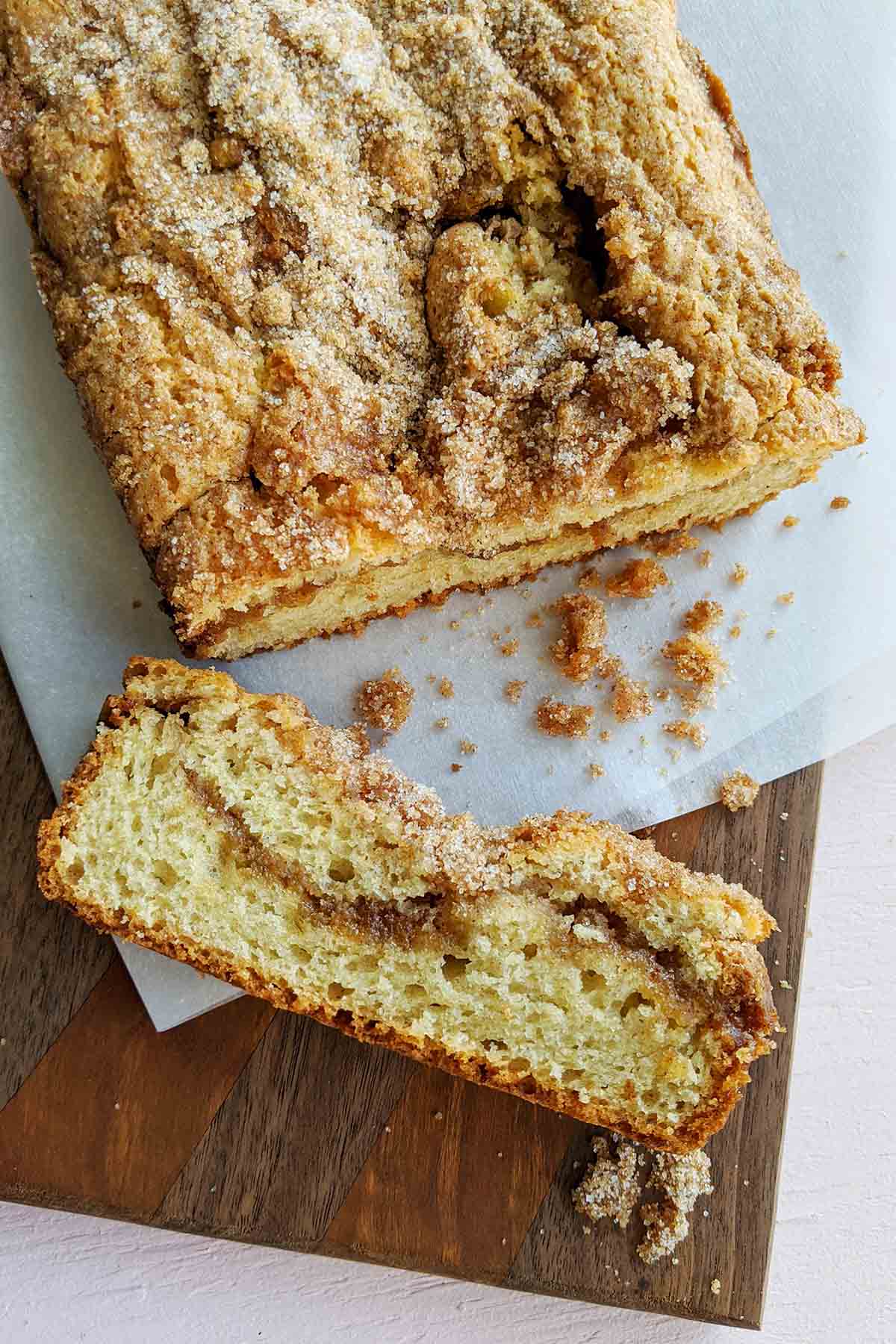 More Bread Recipes
Love this recipe? Please leave a 5-star ⭐⭐⭐⭐⭐rating in the recipe card below. Don't forget to follow along on Instagram, Facebook, YouTube, and Pinterest for more recipes.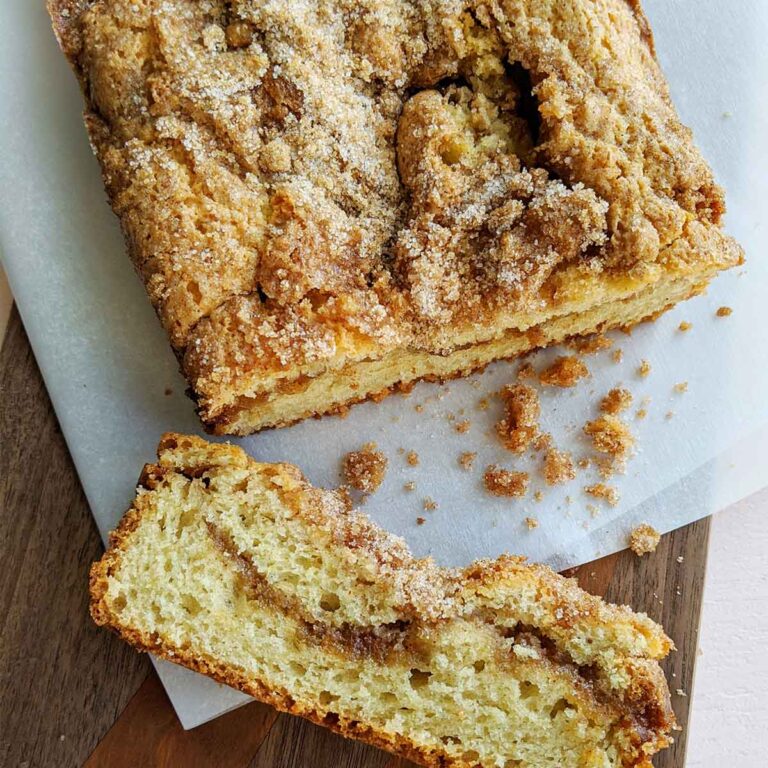 Greek Yogurt Coffee Cake Loaf
This warm, gooey sugar and cinnamon coffee cake loaf recipe is the ultimate decadent breakfast or dessert. It bakes up in just 45 minutes from start to finish.
Instructions
Heat the oven to 350°F (175°C).

Add butter and 1 cup (198 grams) granulated sugar to a medium-sized mixing bowl. Beat butter and sugar using a stand or hand-held mixer, until pale in color, about 2 minutes. Beat in vanilla extract and eggs until well combined.

Sift together flour, baking soda, and baking powder in a separate bowl.

Alternate adding the dry ingredients and Greek yogurt to the butter and sugar mixture with the mixer running on low speed. Mix just until all the ingredients are incorporated.

In a small bowl whisk brown sugar, remaining ¾ cup (149 grams) granulated sugar, and cinnamon. Set aside.

Pour and spread half of the batter into two loaf pans coated in nonstick vegetable oil spray. Top each loaf with a fourth of the cinnamon sugar mixture. Add the last half of the batter into each pan. Smooth batter with an offset spatula or knife. If the batter is difficult to spread, run hot water over the spatula/knife. Sprinkle the remaining cinnamon sugar on top of each loaf.

Bake for 30 - 40 minutes or until a toothpick inserted in the center comes out clean. Set loaf pans on a wire rack to cool for at least 1 hour before removing the coffee cake from the pans.
Notes
Storage: Store the coffee cake loaf in an airtight container at room temperature for 3-5 days.
Freezing Instructions: Store baked coffee cake loaf in an airtight container in the freezer for up to 3 months.
Gluten Free Alternative: Replace the all-purpose flour in the recipe with Bob's Red Mill Gluten Free 1-to-1 Baking Flour.
Nutrition
Calories:
497
kcal
Carbohydrates:
89
g
Protein:
7
g
Fat:
13
g
Saturated Fat:
8
g
Polyunsaturated Fat:
1
g
Monounsaturated Fat:
3
g
Trans Fat:
1
g
Cholesterol:
73
mg
Sodium:
223
mg
Potassium:
119
mg
Fiber:
1
g
Sugar:
65
g
Vitamin A:
416
IU
Vitamin C:
1
mg
Calcium:
94
mg
Iron:
2
mg
Have you tried this recipe?
Tag @homebody.eats on Instagram so we can see your creations!