Make these fun & delicious alcoholic chocolate pudding shots with Skrewball peanut butter whiskey. They only require 5 main ingredients and are the perfect boozy treat for a party, tailgate, or happy hour.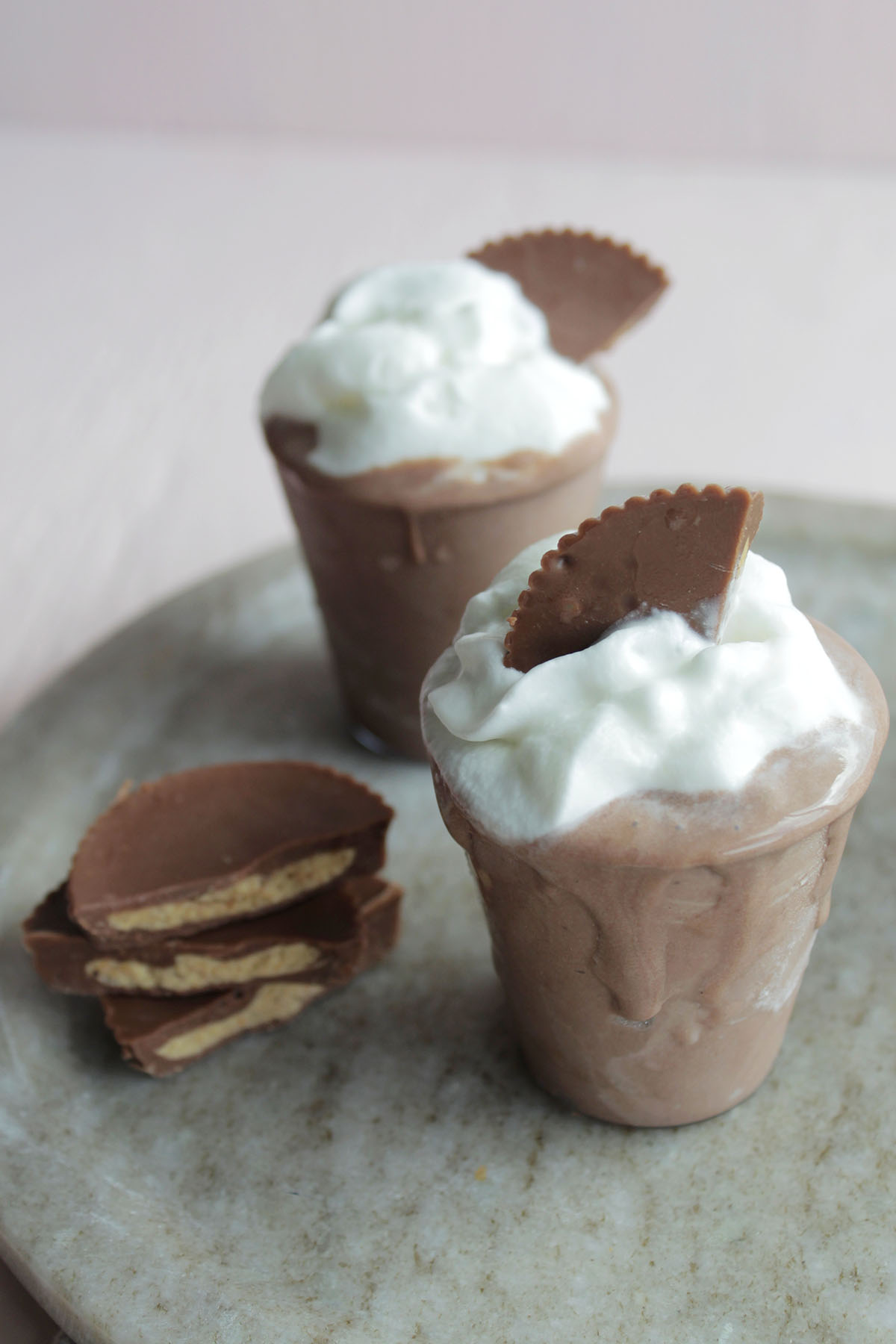 If you love a good shot recipe but need something a little different, then these peanut butter and chocolate pudding shots are for you.
Pudding shots are easy to whip together, and could even take the place of dessert - they're that good! With only 5 ingredients, you'll have a shot recipe that everyone will love.
Don't forget to check out some of my other favorite peanut butter whiskey recipes including a sugar cookie cocktail and topical paradise drink.
Jump to:
What You'll Learn In This Recipe
Ingredients You Need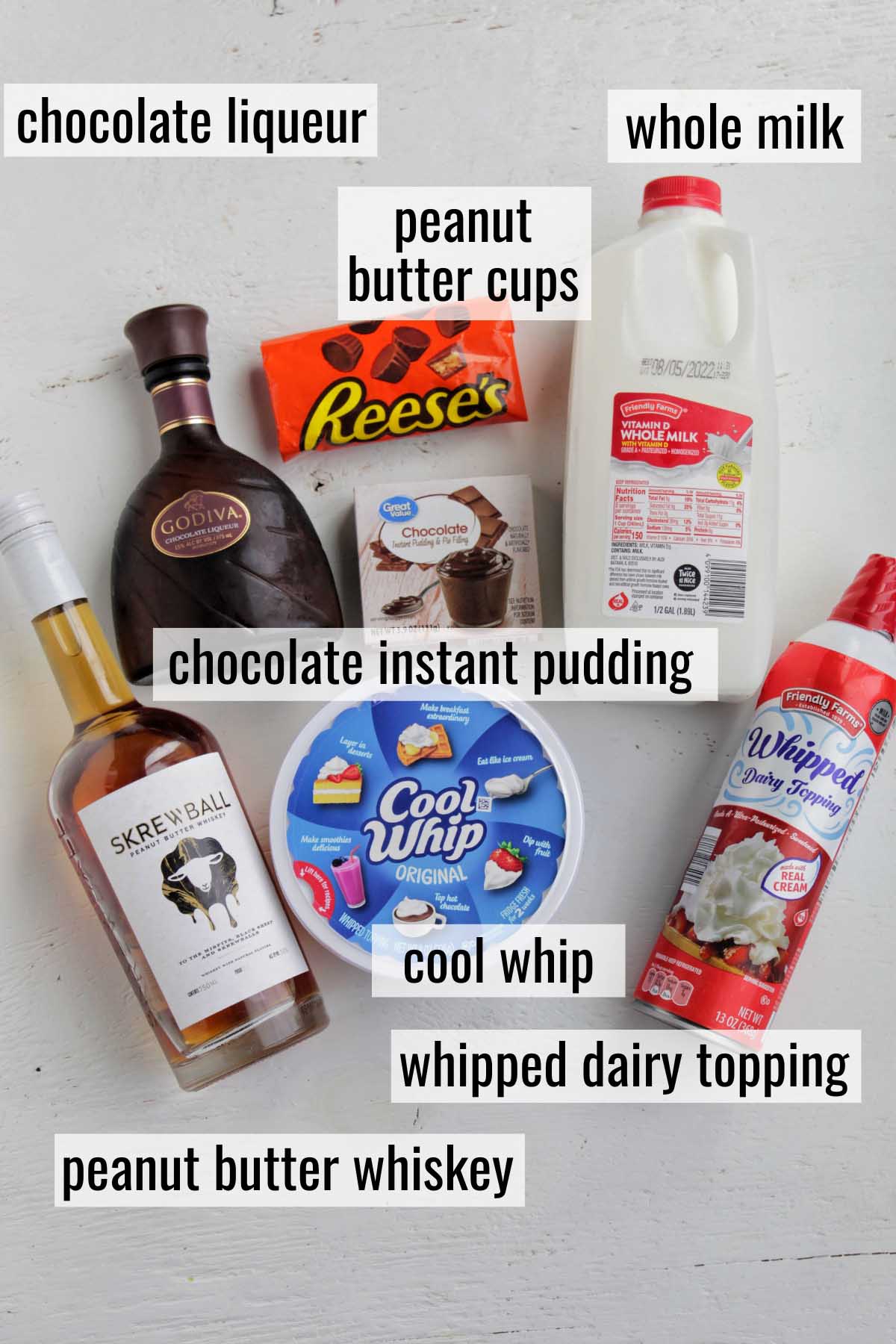 You'll only need a few ingredients to make Skrewball whiskey pudding shooters. Plus, a few extra things to make a beautiful garnish on top.
Chocolate liqueur: The Godiva chocolate liqueur is my favorite because it has so much flavor. It's best to store the bottle in the freezer for at least 1 hour before making the recipe. If the ingredients are super cold, it helps the pudding nicely thicken.
Whole milk: You can also opt for 2% milk. I prefer whole milk because it gives the pudding a rich flavor.
Peanut butter whiskey: My favorite type of peanut butter whiskey is Skrewball because of the rich peanut flavoring. Store the bottle in the freezer for at least 1 hour before making the recipe.
Chocolate instant pudding: There are many different brands of chocolate pudding available. Choose whatever you have access to. You don't necessarily need to buy the Jello pudding name-brand box. The generic instant pudding will work well too.
Cool Whip: You'll usually find Cool Whip in the freezer section at the grocery store. Place the Cool Whip in the refrigerator before making the shots. This ingredient should be cold, but not frozen.
Whipped dairy topping: Make sure to get whipped dairy topping in a spray can that is made with real cream. It tastes delicious as a garnish.
Peanut butter cups: And finally, you'll need some Reese's peanut butter cups to finish off the peanut butter whiskey pudding shots.
How To Make This Recipe
These boozy pudding shots are easy to make. Here are the steps you'll need to follow: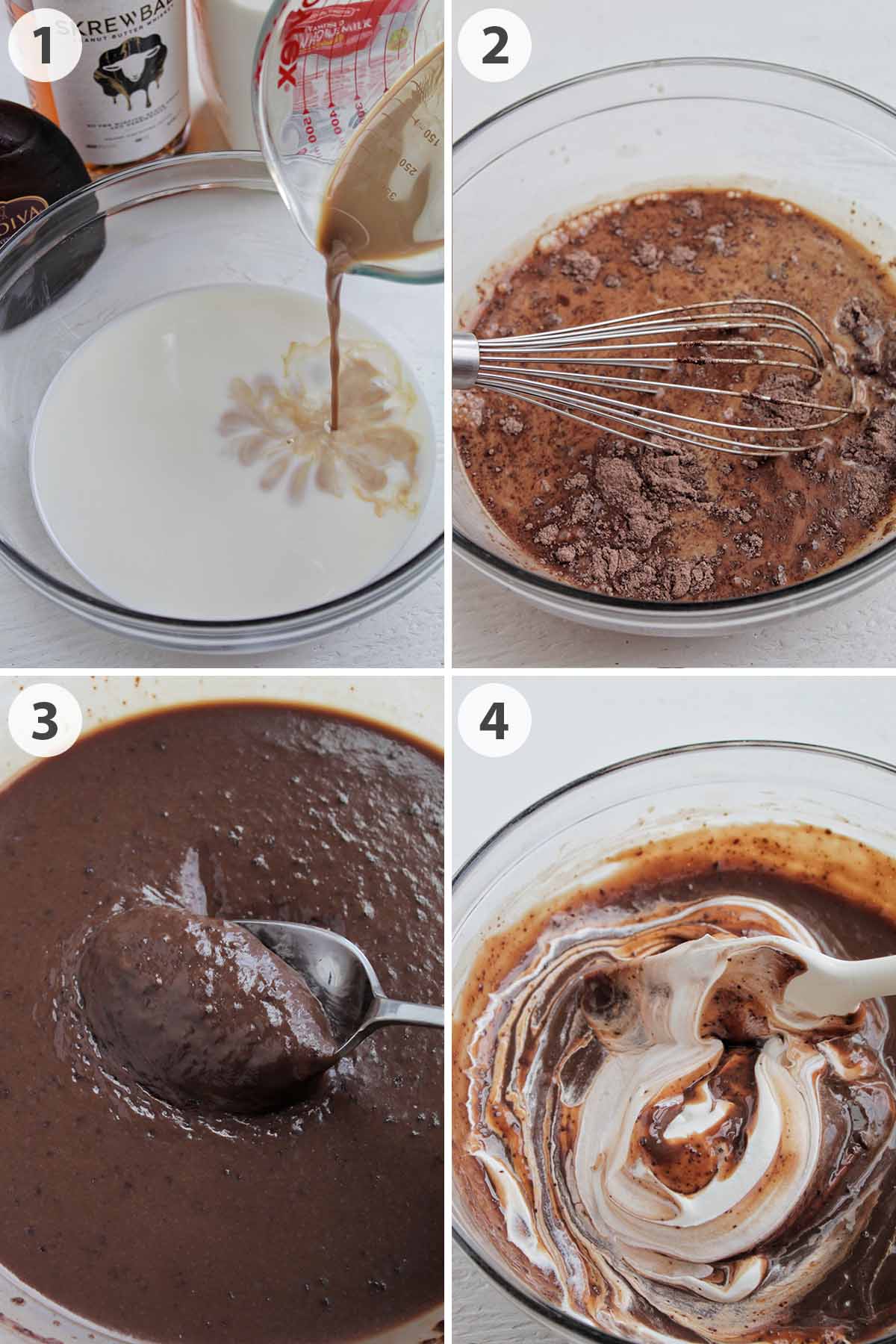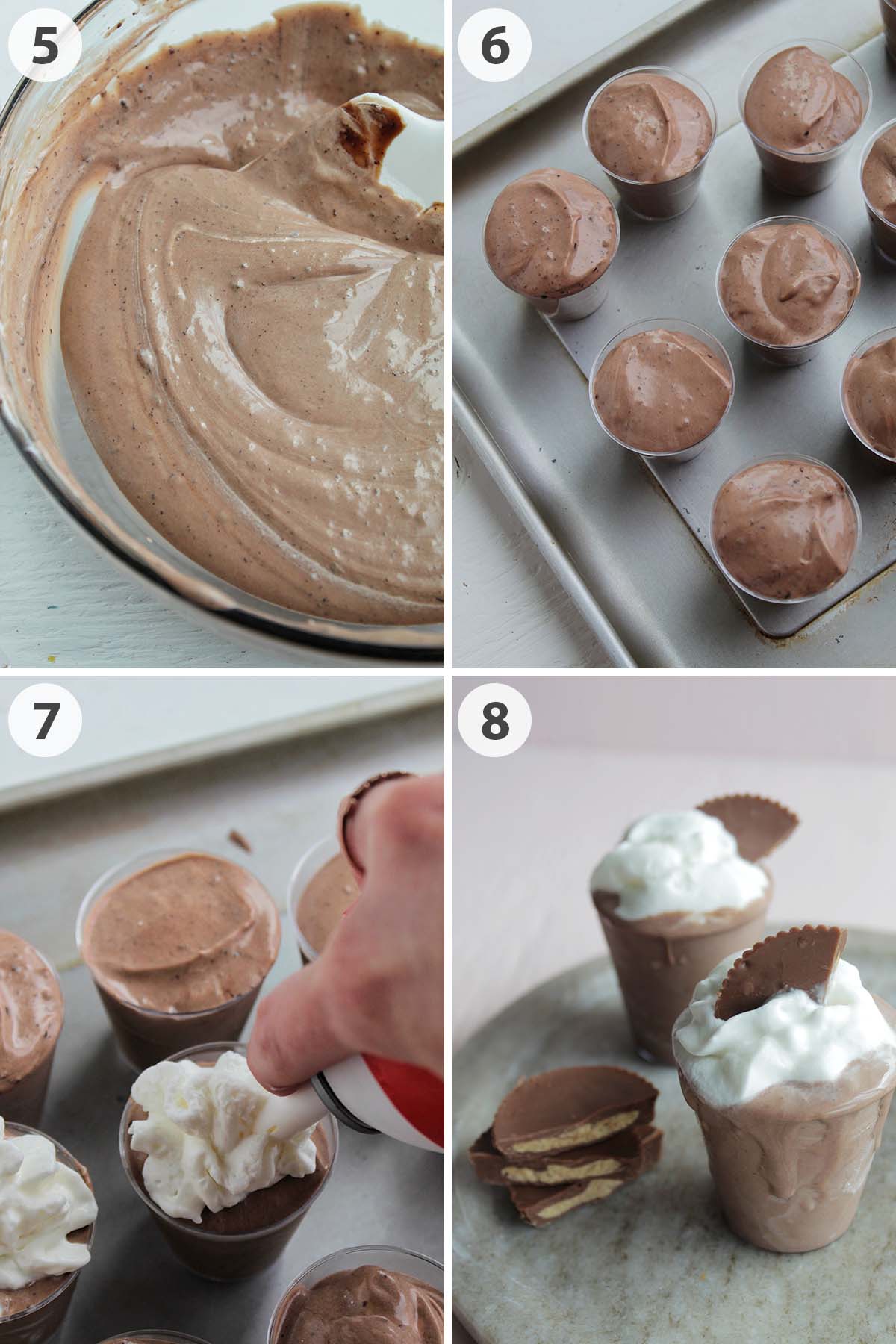 Now, it's time to portion the pudding shots into two-ounce shot glasses. I like using a cookie scoop to help make this process clean and simple.
Once all the pudding has been portioned out into the shot glasses, place the cups in the freezer for 40-50 minutes to further thicken and set up.
Then, optionally garnish each shot with some whipped cream and a Reese's peanut butter cup.
Expert Tips
It's really important that all of the liquids are cold before making the pudding shots. This helps the pudding to thicken up.
If you're hosting a party and need to make a large number of pudding shots, use these plastic portion cups with lids to keep everything neat and organized.
If you prefer a more liquid pudding shot, store them in the fridge. If you prefer a frozen pudding shot, store them in the freezer.
Recipe FAQs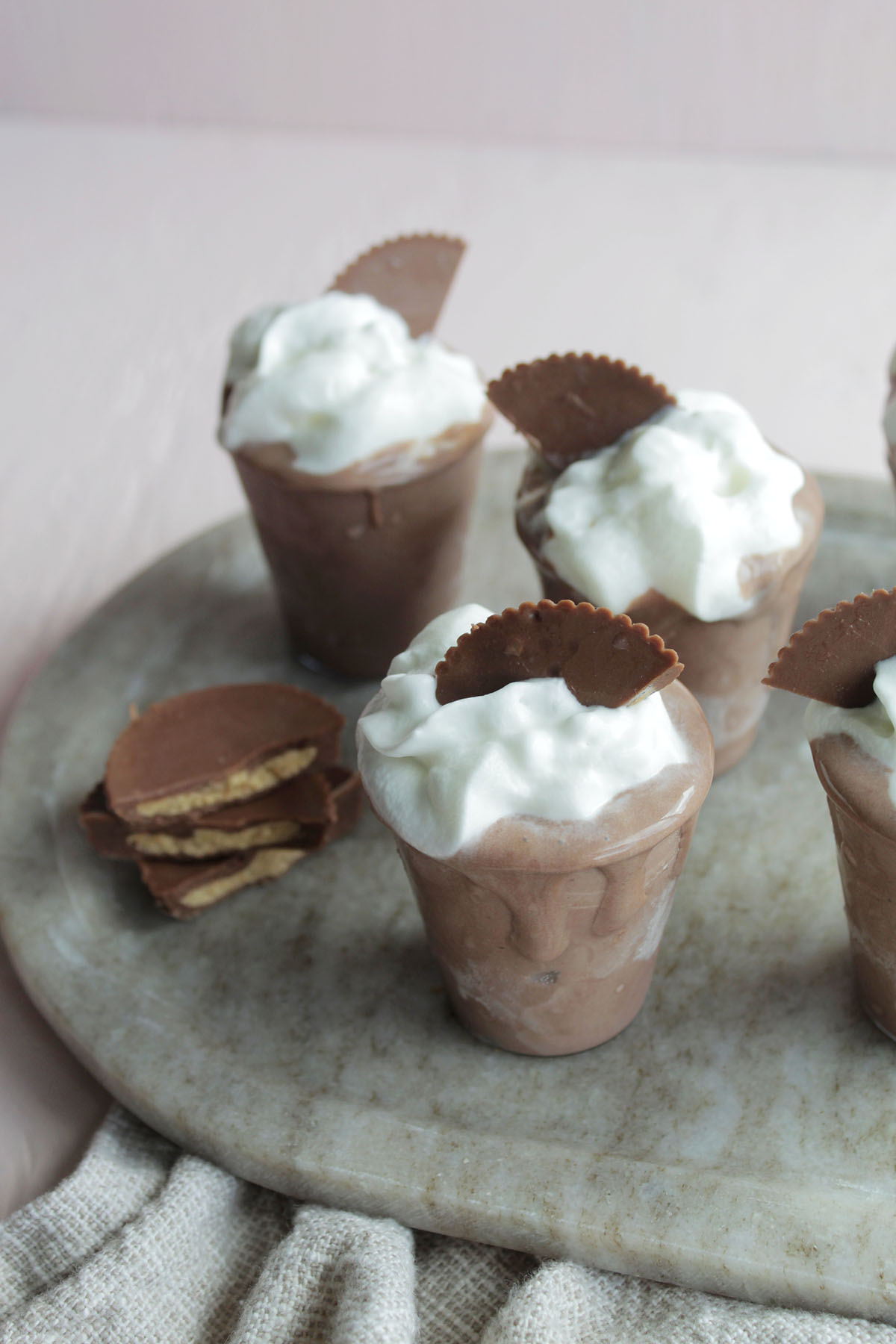 More Shot Recipes
If you love mixing up shots at home with flavored whiskey, try some of my favorite other boozy combinations:
Love this recipe? Please leave a 5-star ⭐⭐⭐⭐⭐rating in the recipe card below. Don't forget to follow along on Instagram, Facebook, YouTube, and Pinterest for more recipes.