Make homemade vanilla birthday cake ice cream with actual cake pieces.
Homemade birthday cake ice cream is the ultimate dessert treat! This cake-flavored ice cream is made with a few secret ingredients that mimic the taste of yellow cake batter. Combine vanilla ice cream with actual cake pieces for a rich, flavorful, dessert packed with rainbow sprinkles. If you're looking for the perfect birthday party ice cream, this is it!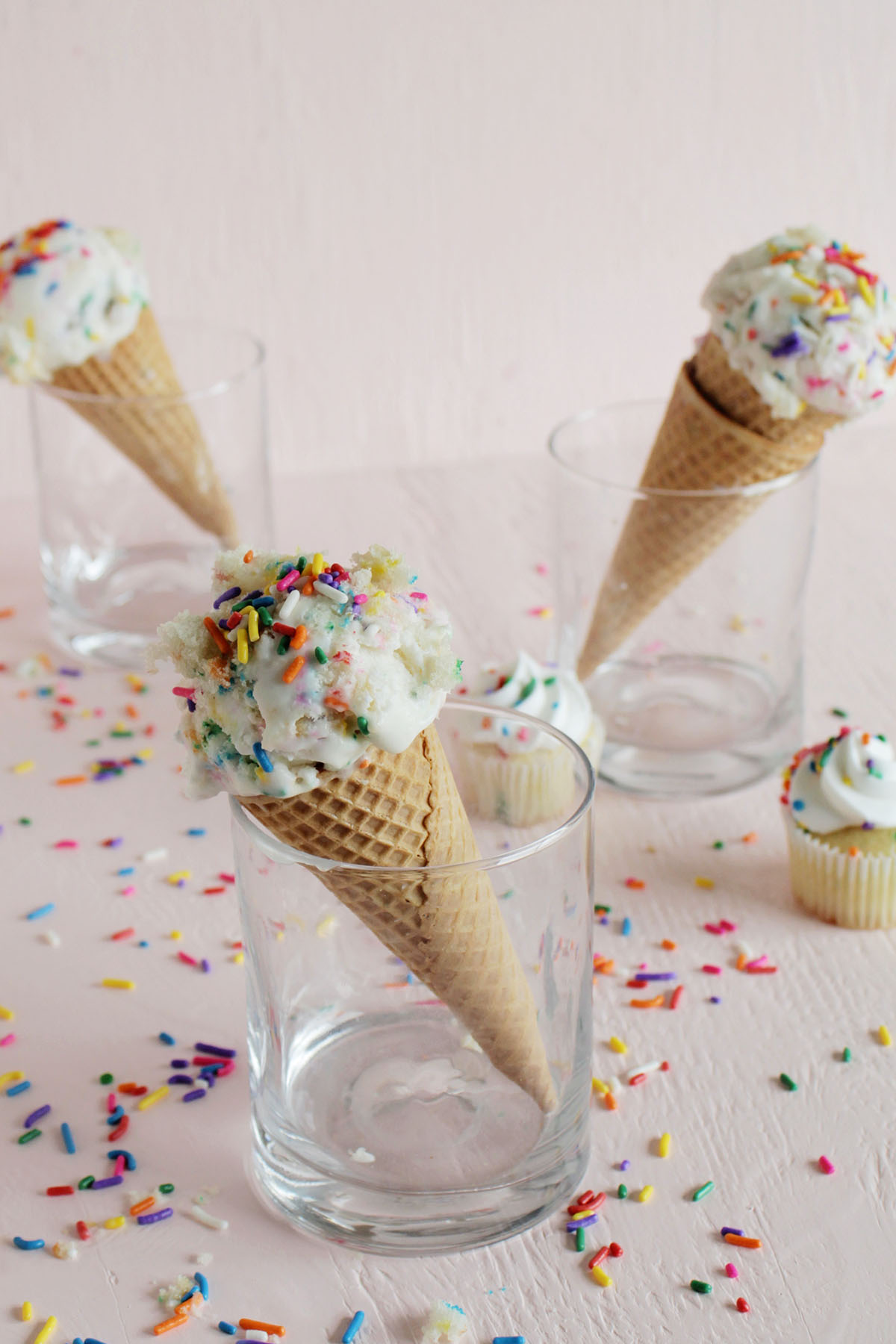 Jump to:
Whether you're celebrating your birthday, or just need some delicious ice cream in your life, you've come to the right place! This homemade birthday cake ice cream is full of flavor, sprinkles, and actual cake pieces. It would be the perfect fun recipe to serve at any party!
If you love ice cream as much as I do, make sure to check out all the homemade ice cream recipes on my site. Not only will you learn how to make delicious flavors of ice cream, you'll also test out various at home ice cream making techniques to unlock the code to amazing ice cream.
For all first time ice cream makers, you'll need to get a quality ice cream machine. You can compare all of the best and affordable ice cream machines on Amazon to find the perfect one for your kitchen.
What You'll Learn In This Recipe
I love teaching about the science behind a recipe, and that's exactly what you'll learn in this birthday cake ice cream recipe. We'll talk through:
How cornstarch acts as a stabilizer to replace egg yolks
The seceret ingredient for getting a delicious cake batter flavor
And, some science to making the perfect creamy ice cream.
For more ice cream content, check out my full ice cream YouTube playlist.
Ingredient Notes
This birthday cake flavor ice cream requires a few simple ingredients. Here's what you'll need on hand for this recipe:
Heavy cream: Heavy cream (also known as heavy whipping cream) is the fat that makes this cake batter ice cream taste so good. This helps to contribute to the delicious, silky smooth mouthfeel that we all love in ice cream.
Whole milk: Milk is another ingredient that incorporates fat. Milk also helps to add water to the ice cream which is necessary for the mixture to properly freeze.
Granulated sugar: Sugar is an important ingredient in ice cream to add sweetness. On a scientific level, sugar also helps lower the freezing point of the water, which keeps the entire ice cream mixture from completely freezing up.
Cornstarch: It may seem weird to add cornstarch to ice cream. However, it acts as a stabilizer to thicken the ice cream since there are no egg yolks in this recipe. Be sure to keep reading to learn more about this!
Morton kosher salt: Salt is always an important ingredient, even in sweet recipes!
Butter flavor extract: This is the secret ingredient that makes the base of the recipe actually taste like cake batter ice cream. You can think of this as a buttery, vanilla flavor. This is very different than vanilla extract, so don't try to substitute. It won't taste the same!
Rainbow sprinkles: It's definitely a requirement for anything birthday-related to have lots of rainbow sprinkles, right? These add a pop of color and fun!
Vanilla bakery cupcakes: This is essential to add actual pieces of cake into the recipe! Feel free to use leftover cake instead of cupcakes.
If you like adding toppings to your ice cream, you could also purchase some whipped cream, hot fudge sauce, or cherries when you're at the grocery store.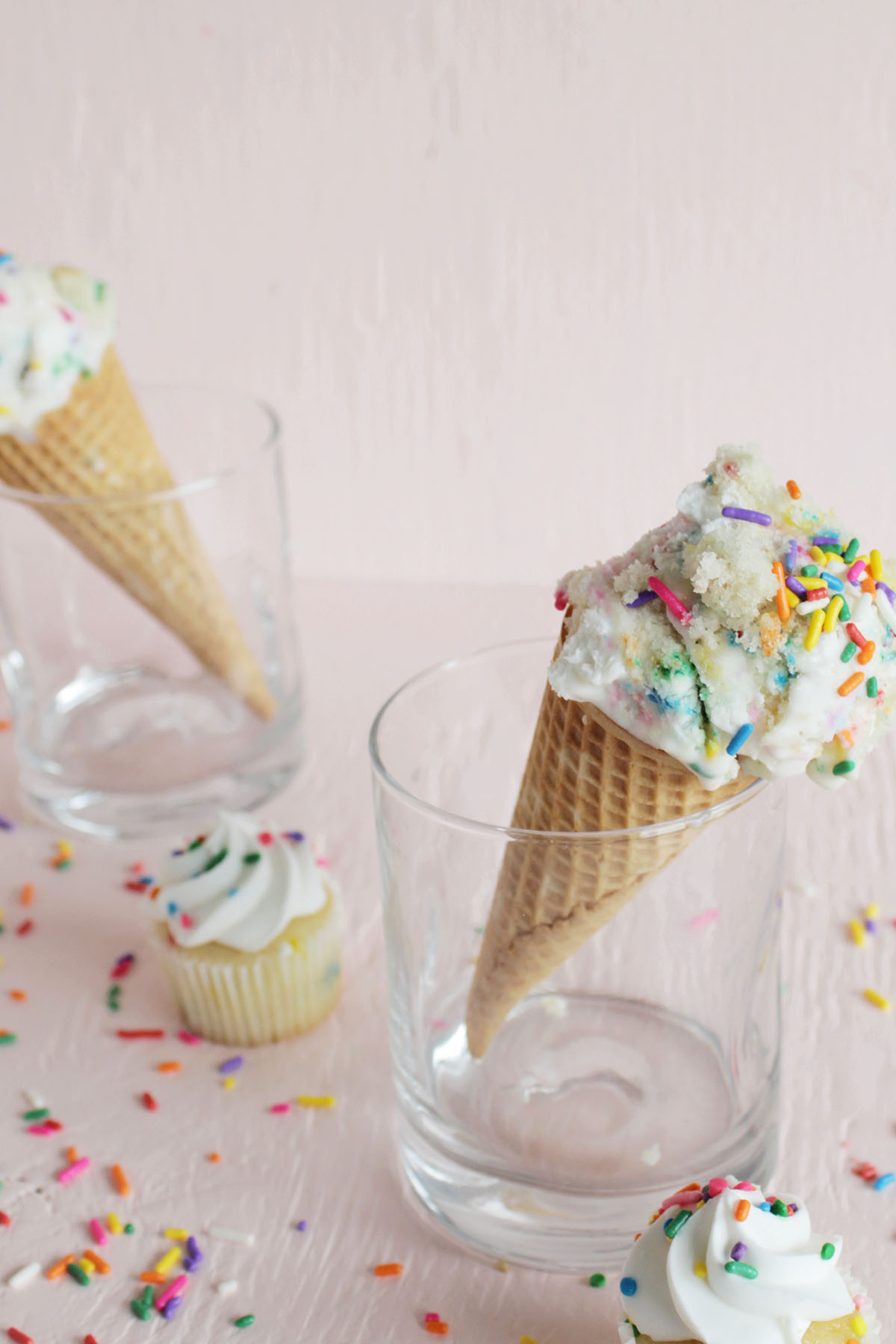 Ice Cream with Cornstarch
Today's birthday cake ice cream recipe is a riff off of Sicilian style ice cream. In Southern Italy, Sicilian gelato is a type of ice cream that doesn't use egg yolks or much fat really (this recipe still contains cream, so it's not true Sicilian gelato). In order to help this type of ice cream stay thick and creamy without much fat, we use cornstarch!
Ice cream with cornstarch is not as weird of an idea as you may think. Cornstarch is considered a stabilizer, which is often found in ice cream (more on that in a minute). The benefit of using cornstarch is the flavor is very subdued, meaning nobody is really going to notice it's there unless you tell them.
To properly make ice cream using corn starch, you need to be sure you use the correct amount. Too much and the ice cream will have a pasty, unpleasant texture. Food 52 has a great jumping-off place for how much cornstarch to use. Some common ratios from the article include:
1 cup liquid to 1 teaspoon starch ratio (Source: Hello, My Name is Ice Cream)
¾ cup + 1 tablespoon liquid to 1 teaspoon starch ratio (Source: Jeni's Splendid Ice Creams)
1 cup liquid to 1 tablespoon starch ratio (Source: The Perfect Scoop)
Our birthday cake ice cream is using the ratio 1 cup liquid to 1 tablespoon starch ratio.
How do Stabilizers Help Ice Cream?
By now you understand that cornstarch is used as a stabilizer. But, what does a stabilizer do for ice cream, and what are some other examples besides cornstarch?
There are many reasons why stabilizers are used in ice cream, but all of them boil down to achieving the best possible texture - thick & smooth ice cream. Let me explain:
Ice crystals play a huge role in the texture of the ice cream.

Ice crystals give our ice cream hardness and density. Our main goal during the ice cream making process is to keep our ice crystals small so we get smooth ice cream.

Stabilizers add thickness (viscosity) to the ice cream base, thus leading to less movement of the water molecules. This helps prevent the small ice crystals (created during the freezing process) from fusing together to form large crystals leading to an unpleasant, hard texture.
Since stabilizers help thicken our ice cream base, that viscosity also helps slow down the melting process. That helps to make a more enjoyable eating process (nobody likes a melted ice cream cone) as well as prevent additional ice crystals from forming in the freezer.
Other examples of stabilizers include eggs (very common in ice cream base recipes), gums (like locust bean or carrageenan), and xanthan gum.
Tools & Equipment You'll Need
In order to make this great recipe, you'll need a few tools: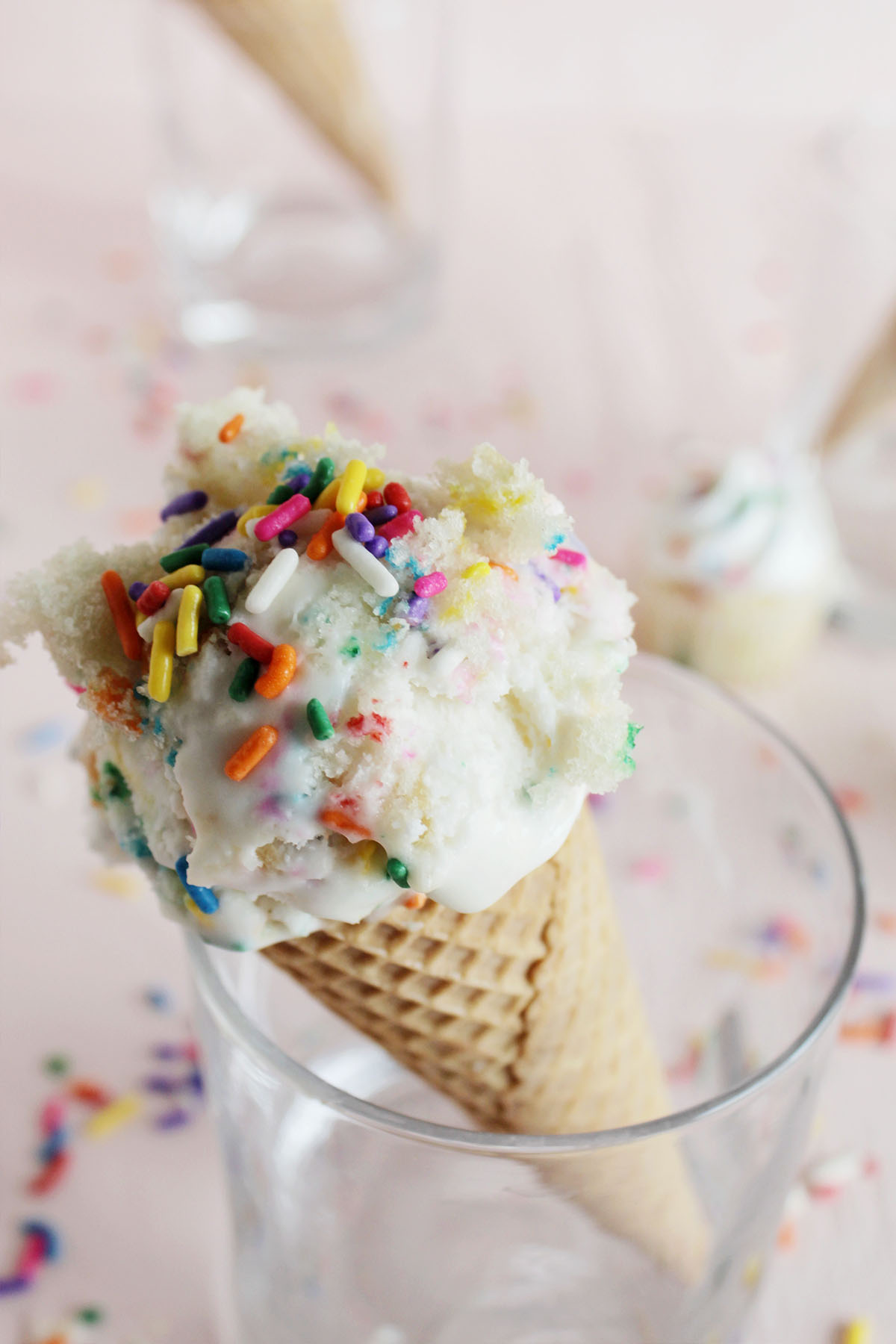 How to Add In Ice Cream Mixers
The type of mixer you're adding to your ice cream will help determine the method you'll use. For this ice cream, we are using two techniques to add sprinkles and cake pieces to the birthday cake ice cream.
Mix in the ice cream maker: If you want the toppings to be fully incorporated and cohesively mixed in the ice cream (like the rainbow sprinkles), add them in during the last few minutes of the freezing process. Slowly add the mix-in a tablespoon at a time to promote even distribution.

Be aware that anything you add in at this stage will be slightly broken down by the ice cream maker. If you want to keep large chunks of something, make sure to add it in after the ice cream is done freezing.
Mix after the ice cream is done freezing: For any mix-ins that you want to keep in large chunks, like the cake pieces, add them in after freezing. As you're scooping the ice cream into the container you're going to freeze it in, slowly start to lay the mix-ins around the ice cream.

I like to do this in different layers of ice cream to allow for even distribution. Plan to layer this ice cream recipe in three different layers. So, add in a layer of ice cream, top with cake pieces, and repeat an additional two times.
Recipe Frequently Asked Questions
Can I use leftover cake instead of cupcakes?
Sure! Leftover birthday cake, funfetti cake, or regular vanilla cake could easily replace the cupcakes in the recipe.
How should I store the ice cream?
It's best to store the ice cream in an airtight container. To prevent any freezer burn, you can optionally add a piece of plastic wrap on top of the ice cream before adding the container lid.
Can I make this recipe without an ice cream maker?
Unfortunately, no. No churn ice cream recipes are made with specialty ingredients. This recipe requires you to freeze in an ice cream maker.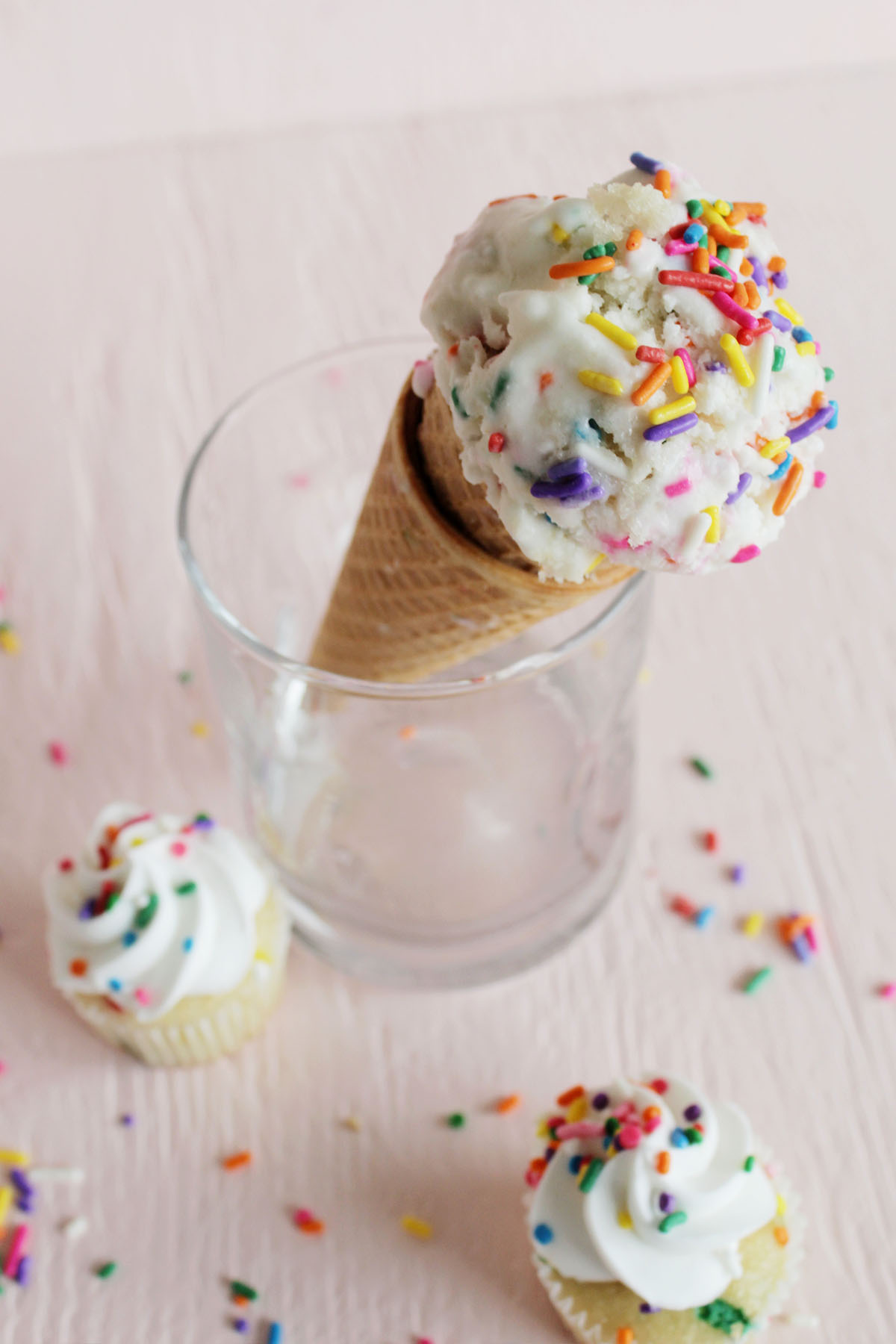 Other Ice Cream Recipes You'll Love
If you love making your own homemade ice cream, be sure to try these other recipes:
Love this recipe? Please leave a 5-star ⭐⭐⭐⭐⭐rating in the recipe card below. Don't forget to follow along on Instagram, Facebook, YouTube, and Pinterest for more recipes.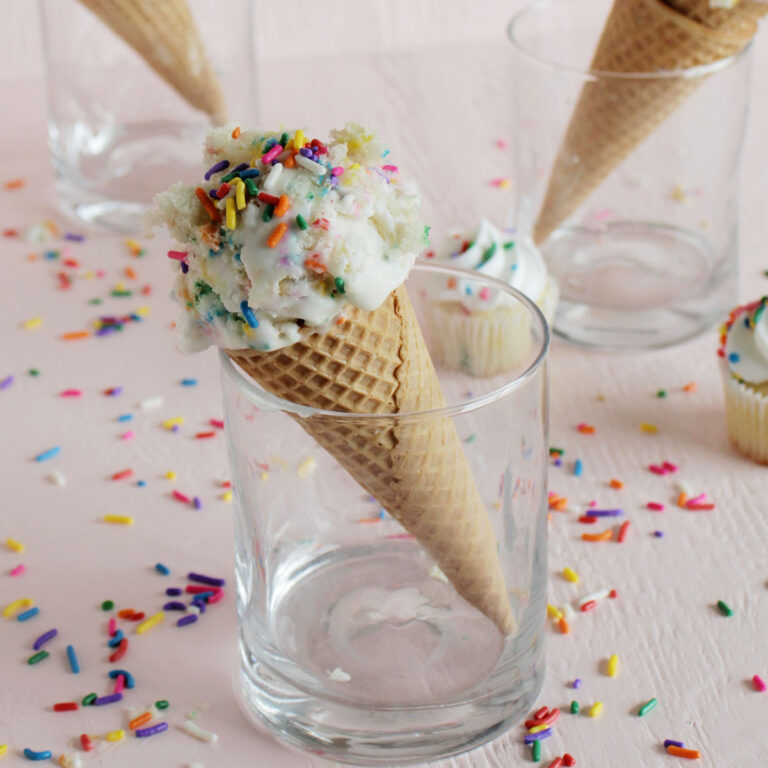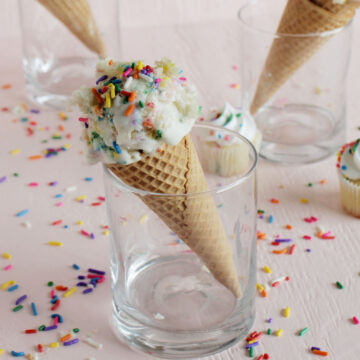 Birthday Cake Ice Cream
Homemade birthday cake ice cream is the ultimate dessert treat! This cake-flavored ice cream is made with a few secret ingredients that mimic the taste of yellow cake batter. Combine vanilla ice cream with actual cake pieces for a rich, flavorful, dessert packed with rainbow sprinkles. If you're looking for the perfect birthday party ice cream, this is it!
Instructions
Scale (measure) all ingredients except for the sprinkles and cupcakes.

Add heavy cream and whole milk to a heavy bottom pot. Cook over medium heat, stirring occasionally until it begins to steam, around 160°F.

Meanwhile mix sugar, cornstarch, and salt with a fork until no lumps remain and everything is well incorporated.

Once the cream and milk begin to steam (160°F), add in butter flavor extract. Slowly add in sugar mixture in small batches, whisking continuously. Continue to cook over medium heat, whisking constantly, for an additional 2-3 minutes until mixture has slightly thickened. You can check this by scooping a bit of the liquid up with a spoon and testing the thickness. Make sure the cream/milk mixture does not boil at any point.

Transfer mixture to a heatproof bowl and cool in an ice bath until mixture has stop steaming. Press a piece of plastic wrap over the mixture to prevent a skin from forming on top. Chill the ice cream base until it reaches 40°F, or up to overnight.

Pour the mixture into an ice cream maker and process for about 20-25 minutes, or according to the manufacturer's directions. About two minutes before the ice cream is done freezing, add in rainbow sprinkles a tablespoon at a time until well incorporated.

Place a third of the ice cream in a plastic storage container, add in a third of the cupcake pieces scattered around. Repeat with remaining two layers. The ice cream will be on the soft side but can be eaten right away or put into the freezer to "cure" or harden up for a couple of hours. Store in an airtight container in the freezer for up to two weeks.
Nutrition
Calories:
2669
kcal
Carbohydrates:
393
g
Protein:
25
g
Fat:
116
g
Saturated Fat:
68
g
Polyunsaturated Fat:
7
g
Monounsaturated Fat:
34
g
Cholesterol:
373
mg
Sodium:
1059
mg
Potassium:
891
mg
Fiber:
1
g
Sugar:
327
g
Vitamin A:
4289
IU
Vitamin C:
2
mg
Calcium:
804
mg
Iron:
2
mg
Have you tried this recipe?
Tag @homebody.eats on Instagram so we can see your creations!
Additional Helpful Resources
If you're into learning about the science of ice cream, here are some additional articles you should check out: