Create a homemade caramel apple pie ice cream completely from scratch
This apple pie inspired ice cream is filled with the flavors of chai spices, granny smith apples, and a rich caramel sauce. Whether you're looking for a summer ice cream recipe or need a frozen fall treat, this apple ice cream is sure to be a crowd pleaser. The apples are cooked and blended up in the vanilla custard base ice cream to give a smooth, creamy textured ice cream.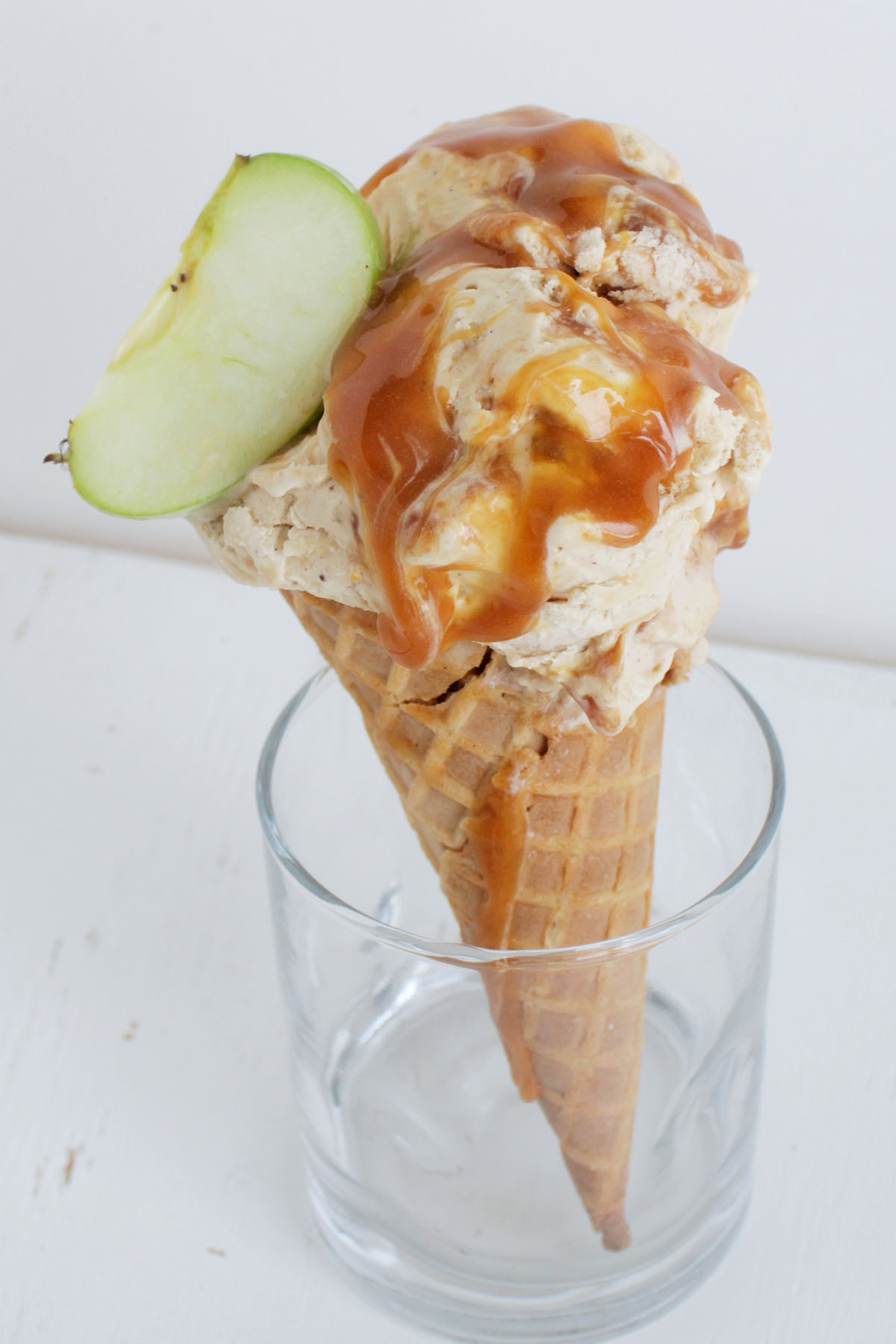 Jump to:
There are few things as comforting as homemade ice cream, especially in the summer. It's even better when the ice cream is smothered in homemade caramel sauce.
I'm a firm believer that ice cream is a dessert that should always be eaten, no matter the time of year. This means it's important to have flavors that reflect the various seasons. Today's apple pie ice cream recipe would be perfect for the fall or even during the winter months!
This homemade ice cream recipe is made with fresh apples, lots of warm spices, and finally caramel topping to finish it off. It has quickly become one of my favorite desserts! I hope your whole family will love it too!
What You'll Learn In This Recipe
Anytime you make an ice cream recipe, there's always a little bit of science that goes into it. In today's recipe, you'll learn some of the magical science behind ice cream including:
The role each ingredient plays in creating a silky, smooth ice cream.
Tips for storing your homemade ice cream so it lasts in the freezer.
Troubleshooting tips for making a homemade ice cream base. This will be especially helpful if it's your first time!
If you enjoy learning about food science and tips for improving your skills in the kitchen, be sure to sign up for my five day email series. You'll learn practical culinary secrets every home chef needs to know!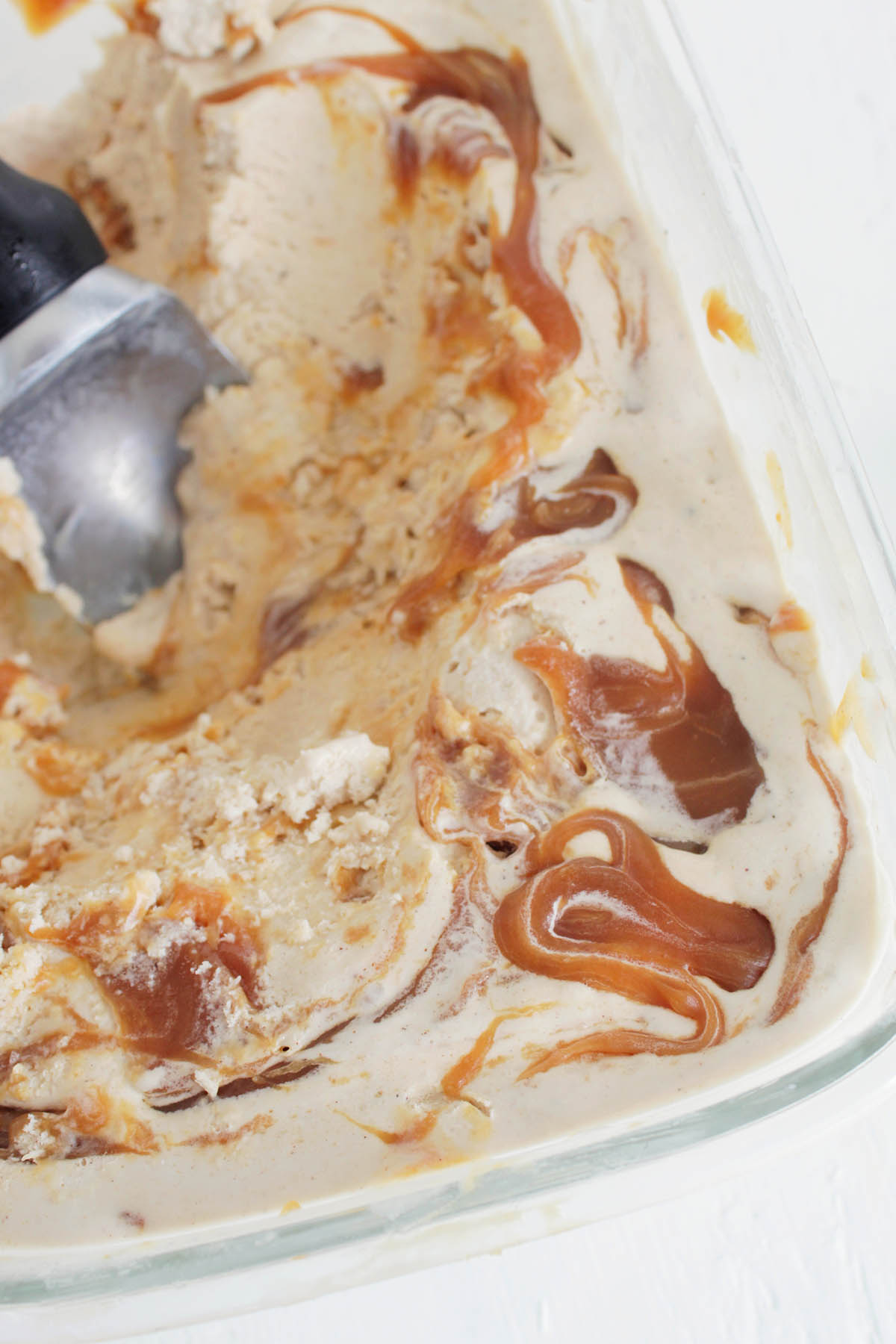 Apple Ice Cream Recipe Ingredients
There are a few simple ingredients you'll need to make this recipe.
For the Caramel:
If you're a fan of the flavor of caramel apples, you're going to love the addition of homemade caramel in this apple ice cream.
Caramel is made by cooking granulated sugar with water. Then, you allow it to darken into a rich amber color. Vanilla extract is also added for additional flavor enhancement. To make the caramel into a drizzle consistency, you'll also add in heavy cream and butter.
The homemade caramel pairs perfectly with the chai spiced ice cream mixture!
Optional Substitutions: If making homemade caramel scares you or you're low on time, you could substitute in store-bought caramel topping.
For the Apples:
You can't have apple ice cream without the star of the show - apples! I've chosen to use a tart apple, Granny Smith, in this recipe. It's the best apple to balance out the sweetness of the caramel and the rich dairy ice cream base.
In this recipe, you will be cooking the apples with brown sugar and some lemon juice (again, this helps to create the perfect blend of sweet and tart).
Then, you'll blend the apple mixture with the ice cream base. This gives the ice cream the best texture and ensures no small pieces of apple remain.
Optional Substitutions: If you can't find Granny Smith apples, Honeycrisp apples will also work. With this substitution, you'll end up with a sweeter final product. However, feel free to experiment with the recipe, especially during apple season, and see which variety of apples you prefer!
For the Ice Cream Base:
The majority of custard ice cream bases are made up of a few ingredients. First, you'll need the butterfat including heavy cream and whole milk. Butterfat is responsible for the creamy, rich mouthfeel of ice cream.
It's important to have a balance of heavy cream and whole milk. Since heavy cream has a higher percentage of fat, it needs to be balanced out with milk. The milk dilutes the fat percentage and adds water to the ice cream base, which is essential for helping the mixture properly freeze.
Next, there are eggs in the ice cream base. Egg yolks are an important ingredient in all French-style custard base ice creams. They add a rich flavor and help contribute to the smooth texture of the ice cream.
Sugar plays an equally important role! In addition to adding sweetness to the ice cream, it also helps lower the freezing point of water. Without sugar, the entire batch of ice cream would freeze up into a solid. This would not be pleasant to eat!
Finally, you will add chai spices to enhance the flavor of this ice cream base and really give this dish the flavors of apple pie! The recipe below shows you how to make a homemade chai spice blend.
Optional Substitutions: You can replace the homemade chai spice blend with a pre-blended chai spice mixture from the grocery store.
Do not be tempted to substitute heavy cream or whole milk for other dairy products. You will not get the best final product without these two ingredients.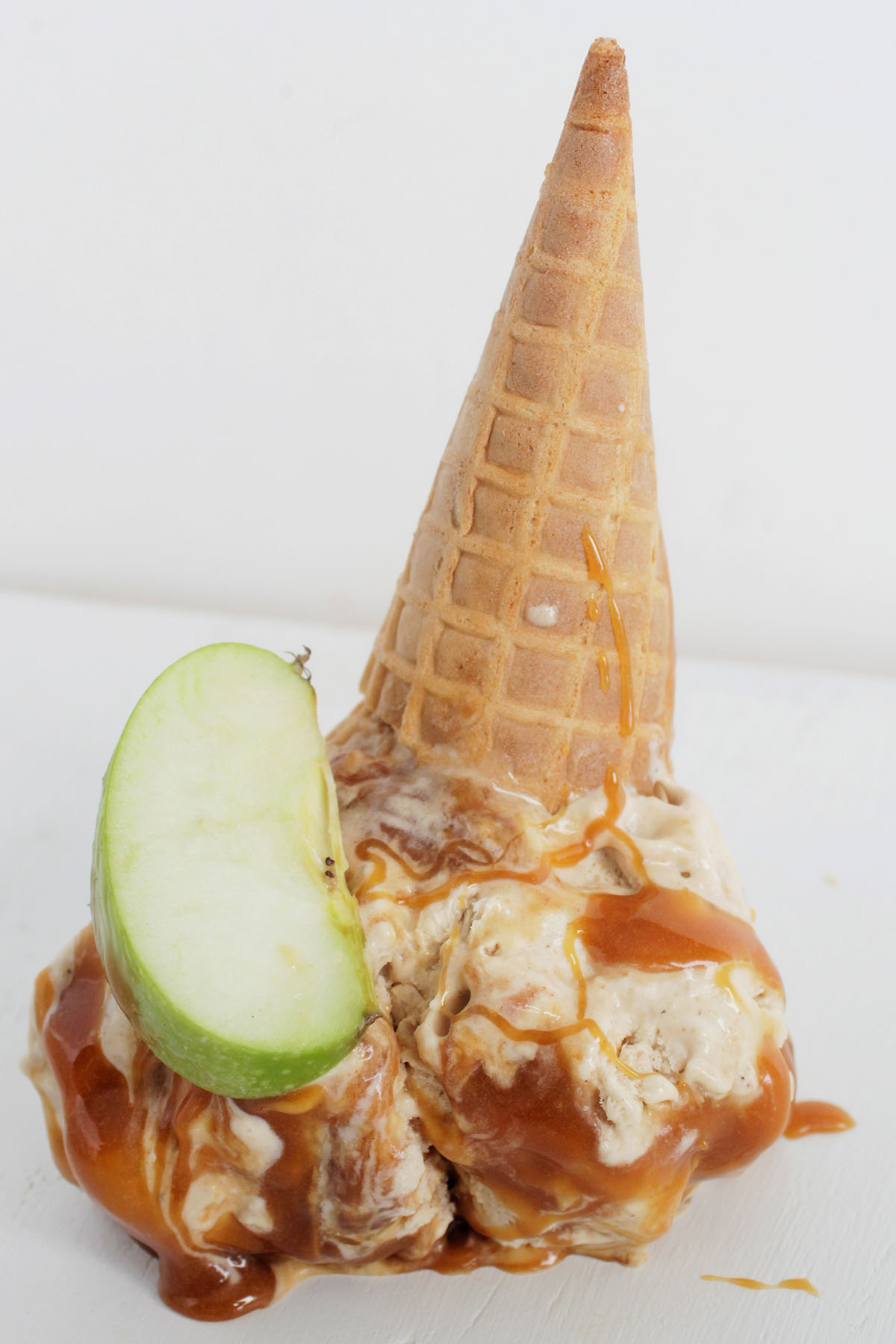 Tools & Equipment
To make this homemade caramel apple ice cream, you'll need a few kitchen tools:
Heavy Bottom Sauce Pan: This can be used to cook both the caramel and the ice cream base.
Skillet: You'll use this tool to cook the apples.
Mixing Bowls: Be sure to have a large bowl on hand that you can use for an ice bath.
Fine Mesh Strainer: This tools comes in handy for catching any impurities after you have cooked the ice cream base.
Ice Cream Machine: This particular recipe does require an ice cream maker. There are many affordable options like the Cuisinart Ice Cream Maker. Be sure to check out my other favorite ice cream machines from Amazon for a full review and comparison.
Storage Container: A long, plastic container is the best option for storing homemade ice cream! Once the ice cream is done churning, it's a soft serve consistency. You'll want to place it in the freezer to further freeze.
Ice Cream Scoop: Don't forget this tool to make serving up the ice cream a breeze!
Recipe FAQs
I didn't properly temper my eggs and now I have bits of scrambled eggs in my ice cream base. Can I still use this?
If there aren't too many bits, yes. You should be able to save this. Just make sure you strain the mixture through a fine mesh strainer and discard all the bits. It takes some time to learn how to properly temper eggs. If you need help, check out this video.
Do I need an ice cream machine for this recipe?
While there are many no-churn ice cream recipes around the internet, you will need an ice cream maker for this recipe. There are many affordable machines on the market, including the Cuisinart Ice Cream Maker. Plus, it's a great investment for people who love ice cream.
How do I prevent my ice cream from getting an icy and grainy texture?
Be sure to properly store your ice cream after it has been churned. Every time you increase the temperature of your ice cream and then re-freeze it, there is more of a chance of the ice cream becoming icy.

To keep the temperature regulated, store your ice cream in an airtight container (long, plastic containers work best). Remember to always store the ice cream in the back of the freezer (not the door) to keep it at a stable temperature.
My caramel is grainy. How do I fix it?
The caramel is grainy because of crystallized sugar. This likely happened because you did not follow the instructions below correctly. If a piece of sugar falls back into the caramel, or you stir the sugar/water mixture while the sugar is dissolving, it can result in grainy caramel.

Another common mistake is not allowing the sugar to fully melt before it begins to further cook and darken.

If any of these happen to you, you'll need to start over and make a new batch from scratch because you cannot fix a grainy (crystallized) caramel. Be sure to follow the instructions closely on your next try!
More Ice Cream Recipes
Love this recipe? Please leave a 5-star ⭐⭐⭐⭐⭐rating in the recipe card below. Don't forget to follow along on Instagram, Facebook, YouTube, and Pinterest for more recipes.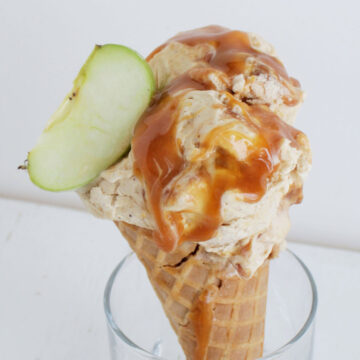 Caramel Apple Pie Ice Cream
This apple pie inspired ice cream is filled with the flavors of chai spices, granny smith apples, and a rich caramel sauce. Whether you're looking for a summer ice cream recipe or need a frozen fall treat, this apple ice cream is sure to be a crowd pleaser. The apples are cooked and blended up in the vanilla custard base ice cream to give a smooth, creamy textured ice cream.
Ingredients
For the Apples
1

tablespoon

unsalted butter

2

medium

Granny Smith apples

peeled, cored, and cut into 1 inch pieces

1

tablespoon

lemon juice
Instructions
For the Caramel
In a medium heavy bottom saucepan, add sugar and ¼ cup of water. Cover with a lid and let boil for 2 - 4 minutes over medium heat until sugar is completely melted.

Remove lid, and continue cooking until sugar begins to darken. Do NOT stir the caramel at this point. If it appears to be burning, you can gently swirl it in the pan. Once the sugar reaches an amber-colored liquid, about 4 - 6 minutes later, remove from heat.

Stir in cream (be careful, the cream will bubble and slightly splatter). Once the cream is incorporated, add butter, vanilla extract, and salt. Stir until caramel is smooth. Move caramel to a storage container and allow to cool to room temperature. Store in an airtight container in the refrigerator for later use.
For the Apples
Melt butter in a small skillet over medium heat. Add apples, brown sugar, and lemon juice. Cook stirring occasionally until the apples have softened all the way through, about 6 - 8 minutes. If the sugar begins to darken too much during the cooking process, turn down the heat as needed to ensure it doesn't burn.

Remove apples from the heat and allow to cool to room temperature. Store in an airtight container in the refrigerator for later use.
For the Ice Cream Base
Fill a large bowl with ice to use later as an ice bath. Place an empty bowl on top of the ice. Set aside.

In a heavy bottom saucepan combine heavy cream, milk, vanilla extract, ground cinnamon, ginger, allspice, cardamom, cloves, and nutmeg. Cook over medium heat stirring occasionally until mixture is steaming and small bubbles start to form around the edge of the pot, about 5 - 7 minutes.

Meanwhile, whisk egg yolks and sugar together in a medium sized mixing bowl. Once the milk and cream mixture is steaming, stream a ladle full of the hot mixture over the eggs while quickly whisking.

Add egg mixture to the saucepan, and whisk to combine. Continue to cook, stirring constantly, until the ice cream base reaches 180°F on an instant read thermometer.

Place a fine mesh strainer over the empty bowl on top of the ice bath. Stain ice cream base. Chill ice cream base until it has stopped steaming. Cover and refrigerate for 4 hours until the temperature reaches 40 - 42°F, or up to overnight.

Once the ice cream base is chilled, place the base along with cooked apples into a food processor or high powered blender. Blend on high for 60 - 90 seconds until the mixture is smooth.

Pour the ice cream base into an ice cream maker and process for about 20 - 25 minutes, or according to the manufacturer's directions.

Remove caramel from the refrigerator and allow to come to room temperature on the counter.

Place a third of the ice cream in a plastic storage container, then swirl in room temperature caramel sauce. Repeat with the remaining two layers. The ice cream will be on the soft side but can be eaten right away or put into the freezer to "cure" or harden up for a couple of hours. Store in an airtight container in the freezer for up to 2 - 3 weeks.
Nutrition
Calories:
6117
kcal
Carbohydrates:
601
g
Protein:
45
g
Fat:
406
g
Saturated Fat:
246
g
Polyunsaturated Fat:
19
g
Monounsaturated Fat:
118
g
Trans Fat:
4
g
Cholesterol:
2392
mg
Sodium:
1682
mg
Potassium:
1705
mg
Fiber:
10
g
Sugar:
563
g
Vitamin A:
15913
IU
Vitamin C:
27
mg
Calcium:
1135
mg
Iron:
5
mg
Have you tried this recipe?
Tag @homebody.eats on Instagram so we can see your creations!