This apple pie inspired ice cream is filled with the flavors of chai spices, granny smith apples, and a rich caramel sauce. Whether you're looking for a summer ice cream recipe or need a frozen fall treat, this apple ice cream is sure to be a crowd pleaser. The apples are cooked and blended up in the vanilla custard base ice cream to give a smooth, creamy textured ice cream.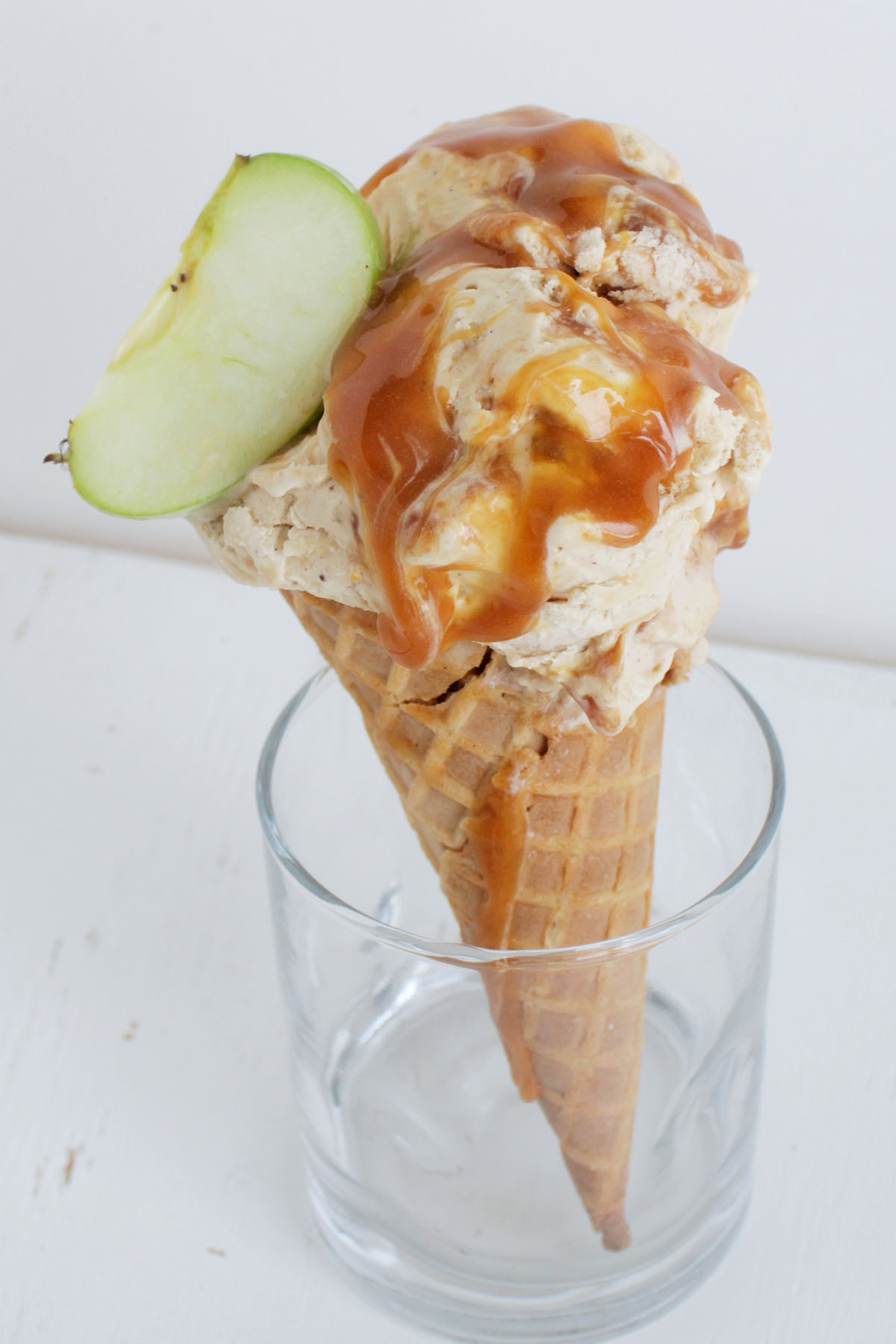 Jump to:
There are few things as comforting as homemade ice cream, especially in the summer. It's even better when the ice cream is smothered in homemade caramel sauce.
I'm a firm believer that ice cream is a dessert that should always be eaten, no matter the time of year. This means it's important to have flavors that reflect the various seasons. Today's apple pie ice cream recipe would be perfect for the fall or even during the winter months!
This homemade ice cream recipe is made with fresh apples, lots of warm spices, and finally caramel topping to finish it off. It has quickly become one of my favorite desserts! I hope your whole family will love it too!
What You'll Learn In This Recipe
Anytime you make an ice cream recipe, there's always a little bit of science that goes into it. In today's recipe, you'll learn some of the magical science behind ice cream including:
The role each ingredient plays in creating a silky, smooth ice cream.
Tips for storing your homemade ice cream so it lasts in the freezer.
Troubleshooting tips for making a homemade ice cream base. This will be especially helpful if it's your first time!
If you enjoy learning about food science and tips for improving your skills in the kitchen, be sure to sign up for my five day email series. You'll learn practical culinary secrets every home chef needs to know!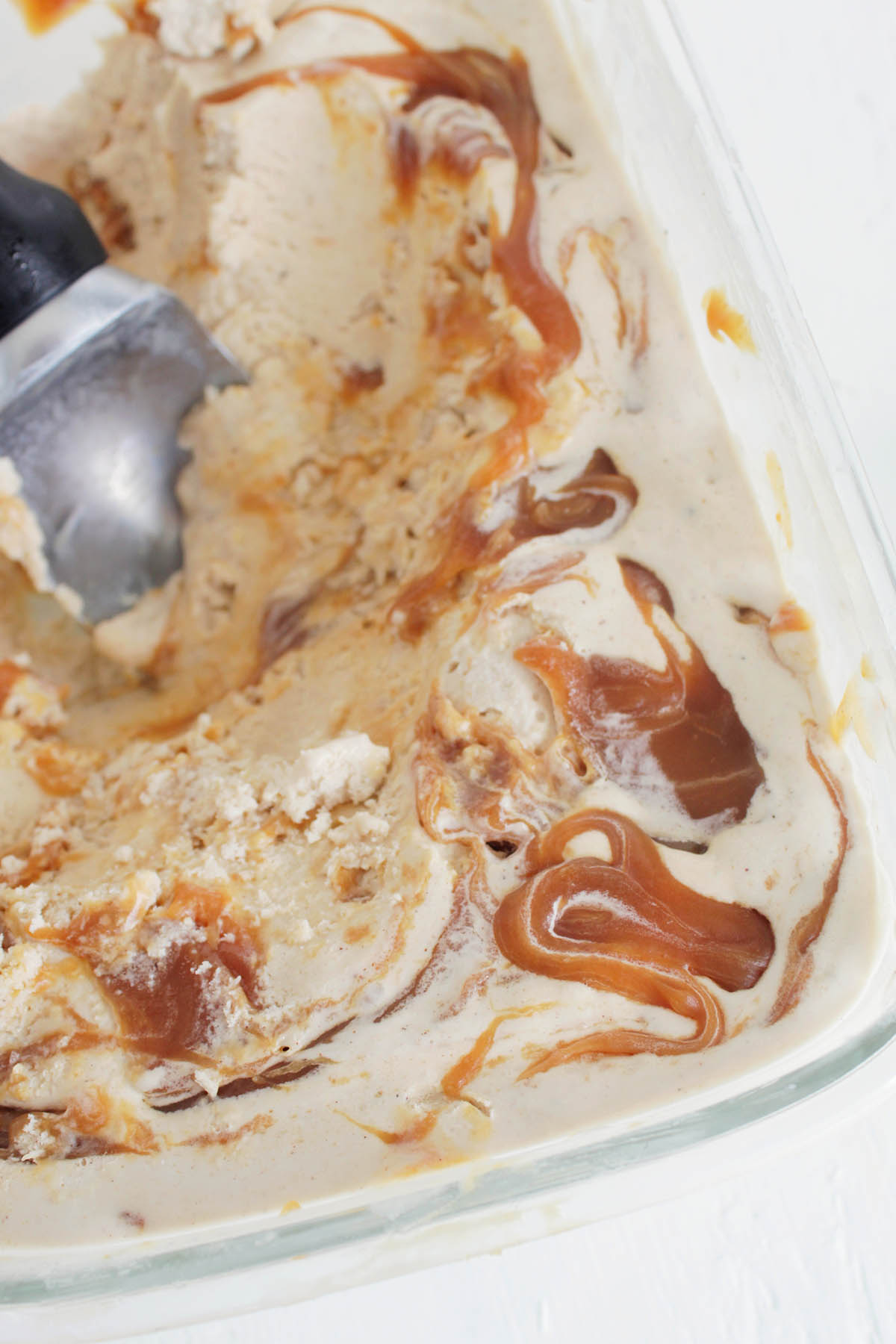 Apple Ice Cream Recipe Ingredients
There are a few simple ingredients you'll need to make this recipe.
For the Caramel:
If you're a fan of the flavor of caramel apples, you're going to love the addition of homemade caramel in this apple ice cream.
Caramel is made by cooking granulated sugar with water. Then, you allow it to darken into a rich amber color. Vanilla extract is also added for additional flavor enhancement. To make the caramel into a drizzle consistency, you'll also add in heavy cream and butter.
The homemade caramel pairs perfectly with the chai spiced ice cream mixture!
Optional Substitutions: If making homemade caramel scares you or you're low on time, you could substitute in store-bought caramel topping.
For the Apples:
You can't have apple ice cream without the star of the show - apples! I've chosen to use a tart apple, Granny Smith, in this recipe. It's the best apple to balance out the sweetness of the caramel and the rich dairy ice cream base.
In this recipe, you will be cooking the apples with brown sugar and some lemon juice (again, this helps to create the perfect blend of sweet and tart).
Then, you'll blend the apple mixture with the ice cream base. This gives the ice cream the best texture and ensures no small pieces of apple remain.
Optional Substitutions: If you can't find Granny Smith apples, Honeycrisp apples will also work. With this substitution, you'll end up with a sweeter final product. However, feel free to experiment with the recipe, especially during apple season, and see which variety of apples you prefer!
For the Ice Cream Base:
The majority of custard ice cream bases are made up of a few ingredients. First, you'll need the butterfat including heavy cream and whole milk. Butterfat is responsible for the creamy, rich mouthfeel of ice cream.
It's important to have a balance of heavy cream and whole milk. Since heavy cream has a higher percentage of fat, it needs to be balanced out with milk. The milk dilutes the fat percentage and adds water to the ice cream base, which is essential for helping the mixture properly freeze.
Next, there are eggs in the ice cream base. Egg yolks are an important ingredient in all French-style custard base ice creams. They add a rich flavor and help contribute to the smooth texture of the ice cream.
Sugar plays an equally important role! In addition to adding sweetness to the ice cream, it also helps lower the freezing point of water. Without sugar, the entire batch of ice cream would freeze up into a solid. This would not be pleasant to eat!
Finally, you will add chai spices to enhance the flavor of this ice cream base and really give this dish the flavors of apple pie! The recipe below shows you how to make a homemade chai spice blend.
Optional Substitutions: You can replace the homemade chai spice blend with a pre-blended chai spice mixture from the grocery store.
Do not be tempted to substitute heavy cream or whole milk for other dairy products. You will not get the best final product without these two ingredients.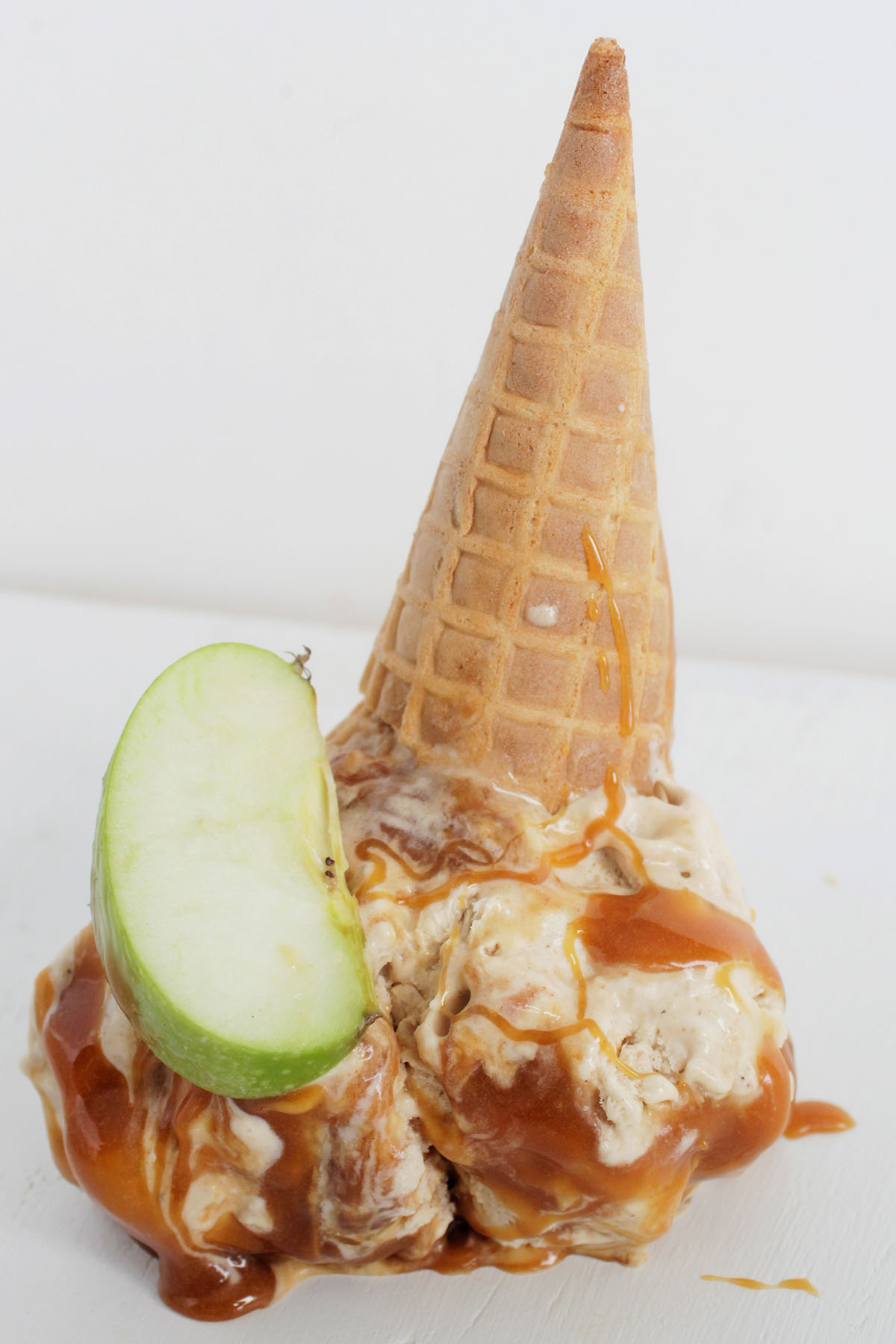 Tools & Equipment
To make this homemade caramel apple ice cream, you'll need a few kitchen tools:
Heavy Bottom Sauce Pan: This can be used to cook both the caramel and the ice cream base.
Skillet: You'll use this tool to cook the apples.
Mixing Bowls: Be sure to have a large bowl on hand that you can use for an ice bath.
Fine Mesh Strainer: This tools comes in handy for catching any impurities after you have cooked the ice cream base.
Ice Cream Machine: This particular recipe does require an ice cream maker. There are many affordable options like the Cuisinart Ice Cream Maker. Be sure to check out my other favorite ice cream machines from Amazon for a full review and comparison.
Storage Container: A long, plastic container is the best option for storing homemade ice cream! Once the ice cream is done churning, it's a soft serve consistency. You'll want to place it in the freezer to further freeze.
Ice Cream Scoop: Don't forget this tool to make serving up the ice cream a breeze!
Recipe FAQs
More Ice Cream Recipes
Love this recipe? Please leave a 5-star ⭐⭐⭐⭐⭐rating in the recipe card below. Don't forget to follow along on Instagram, Facebook, YouTube, and Pinterest for more recipes.