Easy chocolate rugelach cookies stuffed with a Nutella filling.
Want to learn how to make rugelach? This homemade rugelach recipe will teach you how to make cookies filled with chocolate Nutella. This dough recipe can also be used and substituted with your own filling of choice! The possibilities are endless for these easy, not overly sweet, chocolate hazelnut cookies.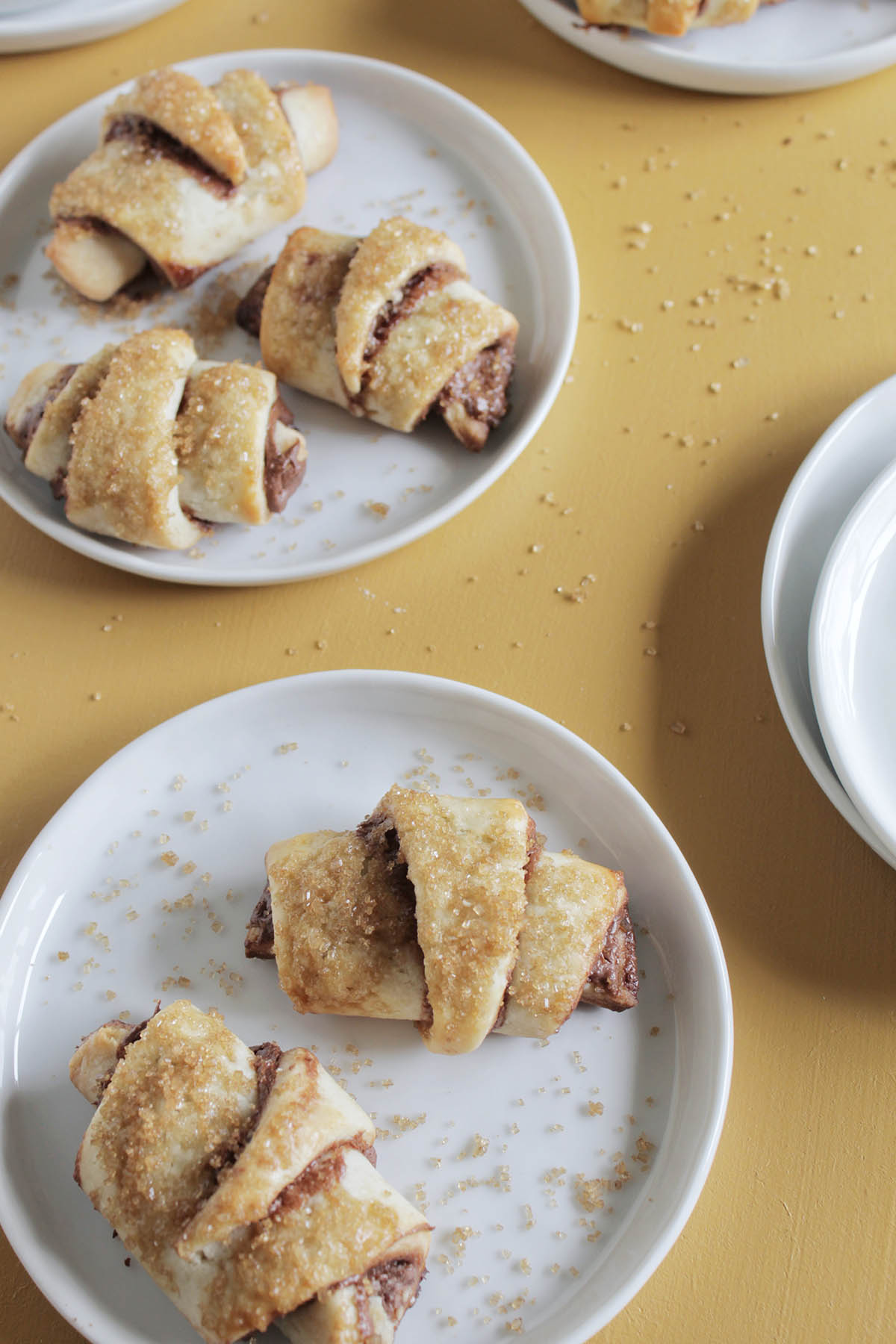 Want To Save This Article?
Enter your email below and we'll send it straight to your inbox. Plus, you'll receive new weekly recipe inspiration.
Jump to:
My taste lately has shifted over from loving sweet desserts to now enjoying things that have just a hint of sweetness. That's exactly why I love these cookies. They definitely have a hint of sweetness from the Nutella hazelnut chocolate spread, but they're not overly drowning in sugar.
Rugelach is a great holiday or Christmas cookie. I think they offer a little something unique for people to enjoy. If you love cookies as much as I do, you definitely have to check out this recipe!
What You'll Learn In This Recipe
I pride myself on teaching a new skill or some quick kitchen knowledge with every recipe. This chocolate rugelach recipe will teach you:
A little history of rugelach, and what makes them a special cookie
How to switch up the rugelach fillings to make your own twist on the cookie
An easy technique to make homemade rugelach look so elegant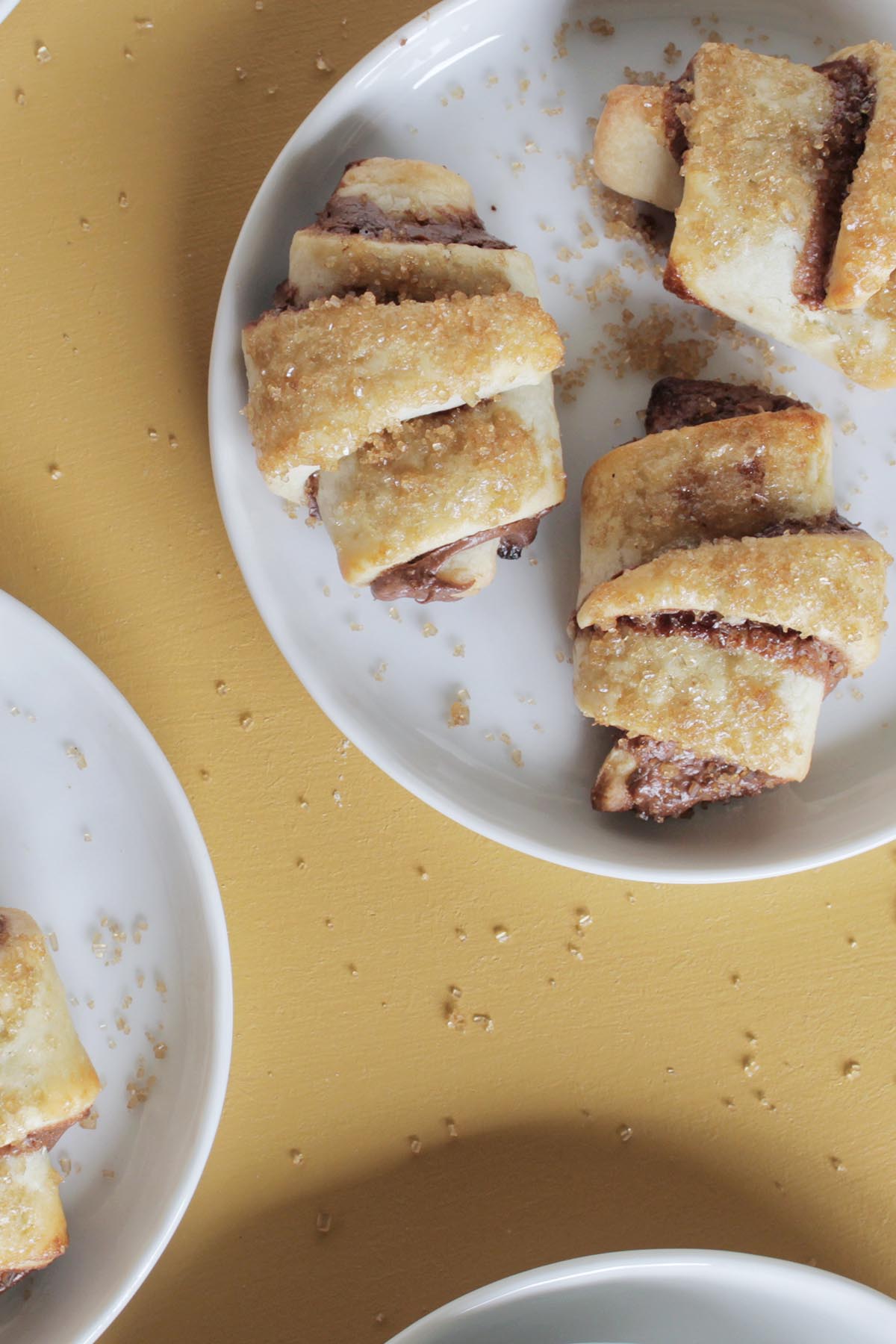 What Is Rugelach?
Rugelach (pronounced ROO-gəl-əkh) is a mix between a pastry and a cookie. Rugelach originated in Jewish communities and is popular in many places around the world including Poland and Israel.
Rugelach are known for their dough that's made with cream cheese or sour cream. However, there are variants of the recipe made without dairy so they can be kosher. They're also known for their delicious fillings which add a unique flavor to the pastry since the dough tends to have a more neutral taste.
Ingredient Notes
All-Purpose Flour: Make sure you are measuring your flour correctly if you're not using a digital food scale. The proper way to measure flour is:
Fluff up the flour using a spoon.
Scoop the flour into the measuring cup.
Level off the top of the measuring cup with a knife to remove excess flour.
Baking Soda: This is our leavener of choice to give a slight rise to the cookies.
Fine Kosher Salt: Yes, even baked goods need a bit of salt to balance out the sweetness.
Cream Cheese: This is a unique ingredient and part of what makes rugelach special. Be sure the cream cheese has come to room temperature.
Granulated Sugar: You'll notice there is not an overwhelming amount of sugar in this rugelach dough. Most of the sweetness comes from the filling!
Unsalted Butter: If you need to substitute for salted butter, cut back the amount of added salt according to personal taste and preference.
Chocolate Hazelnut Spread (aka Nutella): This is the filling of our rugelach. If you want to try substituting for another filling, see the recipes FAQs below.
Egg White: The egg white wash on top of the cookie not only helps the turbinado sugar stick but also gives the top of the cookies a nice shine!
Turbinado Sugar: This, in my opinion, is what makes the homemade rugelach cookies look so beautiful and elegant. You can substitute demerara sugar if turbinado is not available.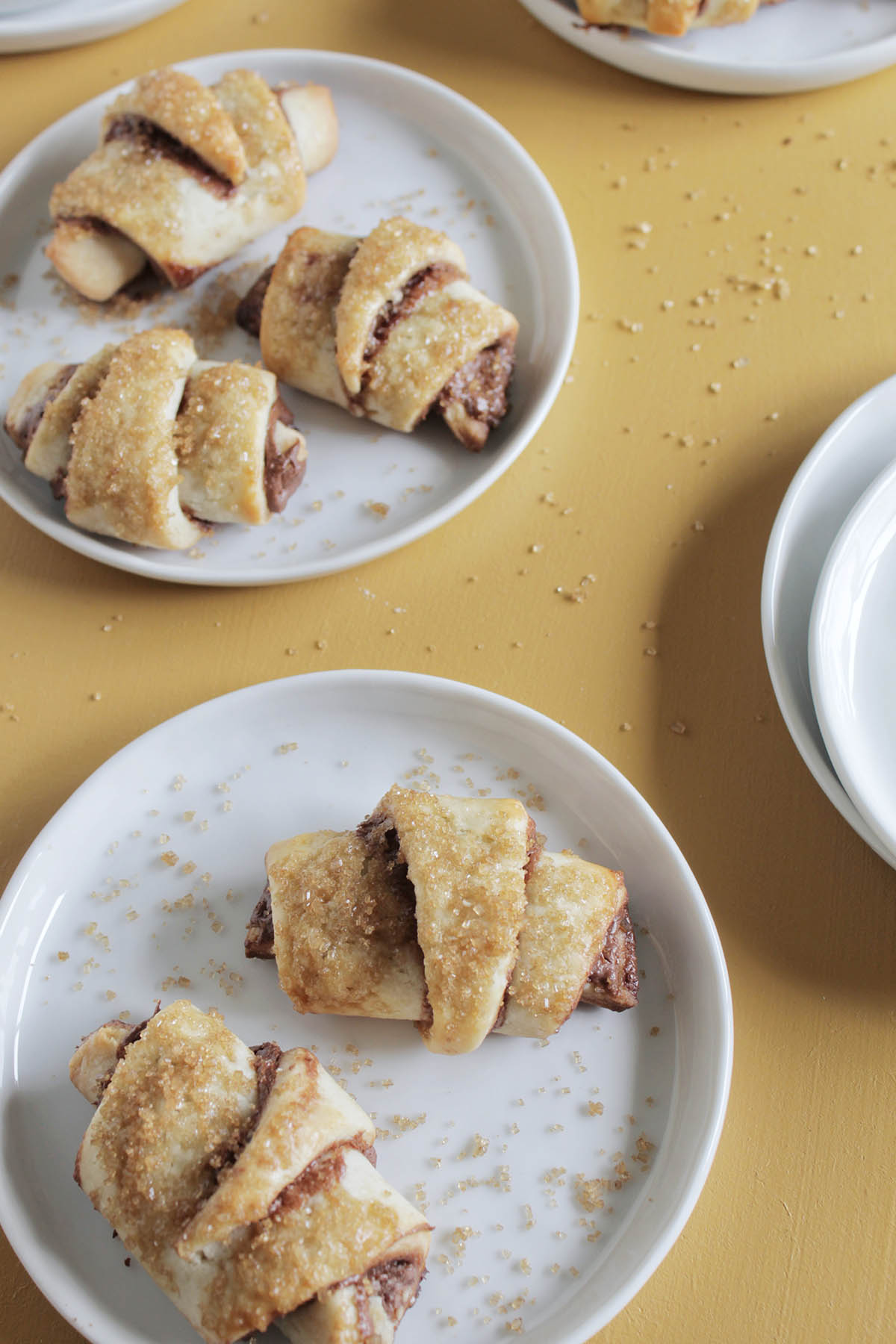 Tools & Equipment
The beauty of rugelach is that they don't require many tools. Here are a few things you'll find useful:
Mixer: It's easiest to make the rugelach dough with a mixer. If you don't have one, a hand mixer is a fairly cheap investment and can be used for so many baking projects. I've also seen people mix this dough in a food processor if you have that available instead of a mixer.
Sheet Pan: Of course you'll need something to bake the rugelach on!
Silicone baking mat: A silicone baking mat will prevent the cookies from sticking to the pan while baking. You can also use parchment paper.
Digital food scale: I prefer to measure my baking ingredients by weight to help get a more accurate measurement.
Bench Scraper: I find it's helpful to have a bench scraper to cut the rugelach. I won't hurt your counters (it's not as sharp as a knife). I especially love this one because it has a ruler on the end!
Recipe Frequently Asked Questions
Can I use other fillings besides chocolate hazelnut spread?
Of course! The beauty of this rugelach dough recipe is that you can change up the filling to give the cookie a whole new taste. Oftentimes people spread a layer of jam or fruit preserves, and top that with a layer of dried fruit and/or nuts. The possibilities are endless! You can also try using cinnamon, poppy seeds, or marzipan.
I'm having a hard time rolling out and cutting the rugelach. Do you have any tips?
I personally found it easier to roll the rugelach into a long rectangle, and then cut the smaller triangles. However, some people prefer to roll the dough in a circle shape, then use a pizza cutter to cut the triangles. Try out both ways and see what you would prefer!

No need to stress about all the triangles being the exact same size.
Can I make the dough ahead of time?
Yes! Make it up to 4 days ahead of time and store it in the refrigerator until you're ready to bake!
Can I freeze rugelach to save them for a later?
Yep! Store the fully baked cookies in an airtight container in the freezer for up to 3 months.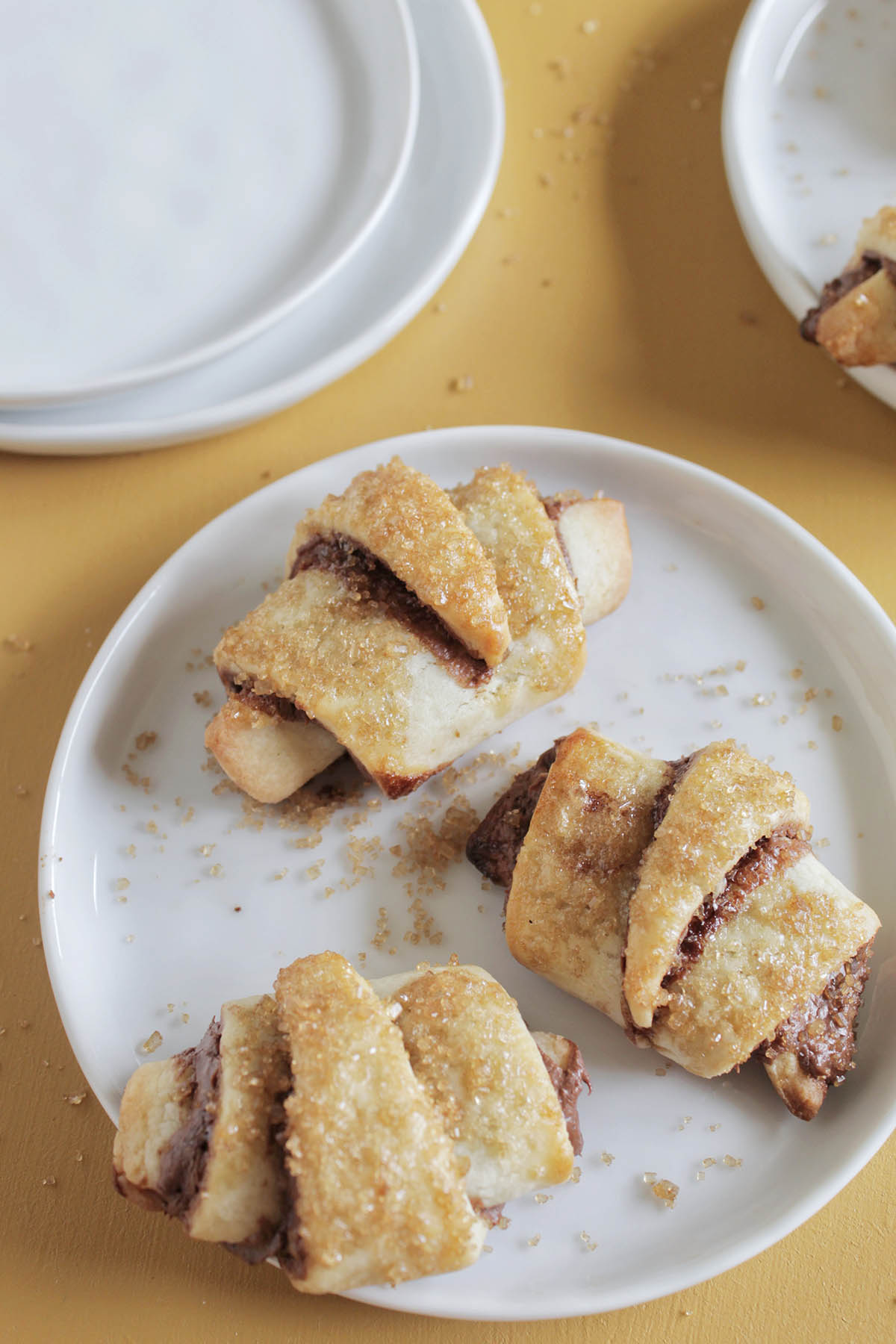 More Cookie Recipes
Love this recipe? Please leave a 5-star ⭐⭐⭐⭐⭐rating in the recipe card below. Don't forget to follow along on Instagram, Facebook, YouTube, and Pinterest for more recipes.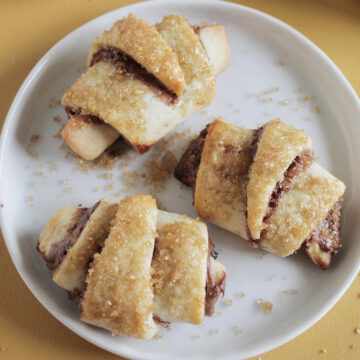 Chocolate Rugelach
Want to learn how to make rugelach? This homemade rugelach recipe will teach you how to make cookies filled with chocolate Nutella. This dough recipe can also be used and substituted with your own filling of choice! The possibilities are endless for these easy, not overly sweet, chocolate hazelnut cookies.
Ingredients
235

grams (1 ¾ cups plus 3 tablespoons)

all purpose flour

½

teaspoon

baking soda

¼

teaspoon

fine kosher salt

140

grams (½ cup plus 2 tablespoons)

cream cheese

room temperature

110

grams (½ cup plus 1 tablespoon)

granulated sugar

125

grams (½ cup plus 1 tablespoon)

unsalted butter

room temperature

150

grams (½ cup)

chocolate hazelnut spread

(like Nutella)

1

large

egg white

35

grams (3 tablespoons)

turbinado sugar
Instructions
Sift together flour, baking soda, and salt. Set aside.

Beat together cream cheese and granulated sugar in a medium bowl using a hand or stand mixer fitted with a paddle attachment on medium speed until well combined. Scrape down the sides of the bowl, and add in butter. Beat for an additional 2 minutes. Add flour in batches and continue to mix on low speed just until the flour is incorporated and a shaggy dough has formed.

Roll dough in a log and wrap in parchment paper or plastic wrap. Chill dough in the refrigerator for 2 hours until it has firmed up.

Heat oven to 375°F (190°C).

Remove the dough from the refrigerator; divide in half. Lightly flour a clean work surface. Roll each piece of dough into a 6 x 12 inch (15 x 30 centimeters) rectangle, about strip 1/32 inch (.79 millimeters) thick. Clean up the edges using a bench scraper or knife. Spread a thin layer of chocolate hazelnut spread on each strip of dough.

Cut the dough into a triangle by measuring 2 ½ inches (6 centimeters) at the base of the triangle. Roll each piece of dough, starting from the base of the triangle. Place on a baking sheet lined with a silicone baking mat or parchment paper spaced out 1 ½ inches (4 centimeters) apart. Brush with egg whites, and sprinkle turbinado sugar on top of each cookie.

Bake in preheated oven for 12-14 minutes, until tops are golden brown. Immediately transfer from baking sheet to a cooling rack. Once completely cooled, cookies can be stored in an air-tight container at room temperature for up to 1 week.
Notes
To freeze fully baked cookies, store in an air-tight container and place in the freezer for up to 3 months.
Nutrition
Calories:
227
kcal
Carbohydrates:
26
g
Protein:
3
g
Fat:
12
g
Saturated Fat:
8
g
Polyunsaturated Fat:
1
g
Monounsaturated Fat:
2
g
Trans Fat:
1
g
Cholesterol:
26
mg
Sodium:
107
mg
Potassium:
72
mg
Fiber:
1
g
Sugar:
14
g
Vitamin A:
313
IU
Calcium:
23
mg
Iron:
1
mg
Have you tried this recipe?
Tag @homebody.eats on Instagram so we can see your creations!