The browned butter & peanut butter combine to make a fun, flavorful twist on the classic chocolate chip cookie.
Have I mentioned that CHOCOLATE CHIP COOKIES ARE LIFE?!? Seriously, the two desserts I can never, ever pass up are chocolate chip cookies and ice cream (we will get to this one later). The thing about chocolate chip cookies is that they are so simple, yet there are approximately ten ga-ba-gillion recipes out there that claim to be the 'best chocolate chip cookie.'


Tips & Tricks
If you are scared of baking homemade cookies, raise your hand. Seriously, don't be! I promise you can make these and they will turn out delicious! If you don't believe me, I want to share a few tips & tricks that will make you less scared.

Scared of browning butter? Check out the video below! My biggest tip for you is to keep the heat on medium-low, and watch the butter the whole entire cooking process. It takes less than 5 minutes for the entire browning process.
Want to learn an insider secret about making your cookies look as pretty as the ones you see on everyone's blog? Right after your cookies have come out of the oven, add a few specially placed chocolate chips on top of your cookies to make them look picture worthy.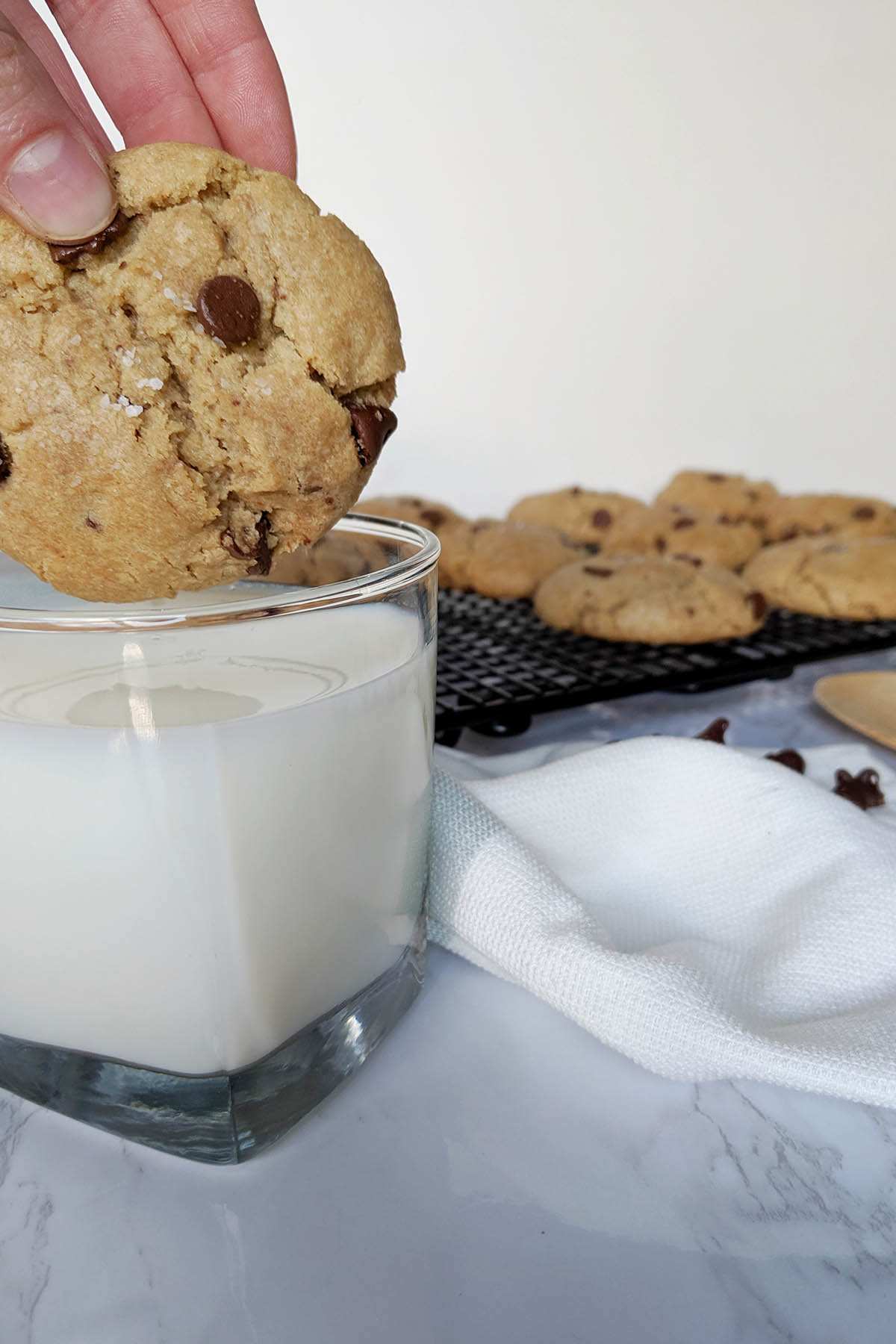 Now I know some of you are not patient (like me), but letting your cookies rest in the refrigerator over night is only going to help them. It helps creates a more flavorful and chewy cookie. It's worth the wait!
Be precise, people! Baking is not always as forgiving as cooking. Be sure to use the exact measurements found in the recipe to get the best results. Baking is a science, and has to be exact - didn't Alton Brown teach you that?!
Using the right type of pan is essential to getting a chewy, soft cookie. Some of my favorites include baking stone or goldtouch pan.


Double Butter Chocolate Chip Cookie
The browned butter & peanut butter combine to make a fun, flavorful twist on the classic chocolate chip cookie.
Instructions
Add 1 cup of butter to a saucepan over medium-low heat. Continue to stir and watch the butter throughout the entire browning process to ensure the butter does not burn. As the butter melts down, foam will begin to form. As soon as you can see golden brown flecks at the bottom of your saucepan and smell a nutty, aromatic aroma, remove the butter from the heat and transfer to a heat-proof bowl. The whole process should take 3-5 minutes. Allow the butter to cool.

Add flour, salt, and baking soda to a medium bowl. Stir to combine and set aside.

In a large mixer add the cooled brown butter, peanut butter, white sugar, and brown sugar. Cream together until combined and fluffy, approximately 3 minutes.

Add eggs, one at a time, to the mixer. Scrape down the side of the mixing bowl as needed. Add the vanilla. Mix until combined.

Add the dried ingredients from above one cup at a time. Mix just until the flour is combined. Repeat until all three cups have been incorporated into the dough.

Add chocolate chips to the dough. Mix until combined.

Cover the dough, and refrigerate for 24 hours to allow the flavors to settle and combine.

Set cookie dough out 30 minutes before desired baking time. Preheat the oven to 350 °F.

Scoop 2 tablespoons of dough onto a parchment lined baking sheet. Sprinkle with coarse sea salt on top. Bake the cookies for 14-17 minutes until cookies are golden brown on top. Remove from oven, and set cookies aside on a cooling rack.
Notes
Depending on the temperature of your oven, the cooking time may vary. 
If you are not a peanut butter lover, or have an allergy, feel free to omit the peanut butter. This recipe will still turn out delicious!
Nutrition
Calories:
231
kcal
Carbohydrates:
31
g
Protein:
3
g
Fat:
11
g
Saturated Fat:
6
g
Polyunsaturated Fat:
1
g
Monounsaturated Fat:
3
g
Trans Fat:
1
g
Cholesterol:
35
mg
Sodium:
130
mg
Potassium:
55
mg
Fiber:
1
g
Sugar:
18
g
Vitamin A:
256
IU
Calcium:
16
mg
Iron:
1
mg
Have you tried this recipe?
Tag @homebody.eats on Instagram so we can see your creations!
Did you make this recipe?!
Let me know how you liked the recipe! Comment below, or share a picture on Instagram with the hashtag #HomebodyEats. Happy baking, Homebody family!