Whip up crispy baked potatoes (twice baked) with mascarpone, roasted garlic, and dill.
Looking for a new go-to side dish for a crowd? These twice baked potatoes are healthy and packed with lots of roasted garlic and dill. They are crisped up to perfection in the oven. The best part about these crispy baked potatoes is that they're made without sour cream and instead elevated with mascarpone cheese. This is a decadent, creamy dish everyone will love!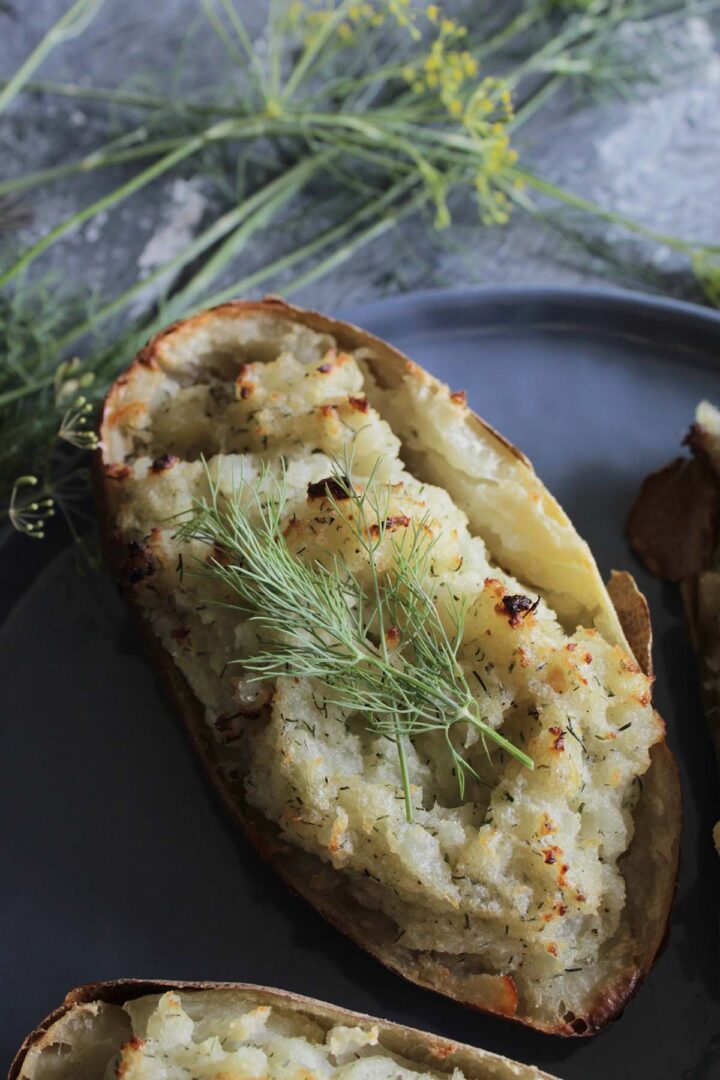 Jump to:
I can't tell you enough how obsessed I am with these delicious, crispy, dill, and mascarpone twice baked potatoes. Quite honestly, these potatoes are the perfect side dish for a weeknight dinner, holiday dinner party (Thanksgiving, Christmas), or weekend family dinner.
Not only can this crispy baked potatoes recipe feed a crowd (it makes 12 servings), but it also can accommodate a variety of dietary needs. Whether you're gluten free, vegetarian, or looking for a semi-healthy option, these potatoes are for you!
Better yet, we're switching things up from the traditional route and making these twice baked potatoes without sour cream. Instead, we're using mascarpone. Mascarpone is a type of fresh, soft cow's cheese. It's extremely creamy and adds the perfect touch to these potatoes.
What You'll Learn In This Recipe
You'll learn how to make the best crispy baked potatoes, along with a few other tips and tricks including:
How to add lots of flavor to potatoes. Hint: You have to season in layers.
The best type of potatoes for baking.
How to ensure your twice baked potato centers don't get gummy.
If you're interested in learning more tips to become a well-skilled home chef, sign up for my 5 day email series. You'll receive 5 days of practical culinary secrets every home chef needs to know!
Ingredient Notes
You'll need a few different ingredients to make these healthy and delicious twice baked potatoes:
Russet potatoes: These are the go-to potatoes to use for baking. Feel free to substitute for Idaho potatoes.
Extra virgin olive oil: This is an essential ingredient to get a crispy outer skin on the potato.
Garlic bulbs: Two whole bulbs of garlic sounds like a lot. However, once it gets roasted and minced down, it's the perfect amont of garlic for this recipe.
Morton kosher salt: It's important to add salt in layers to create a good flavor! We are seasoning the outside of the potato skin as well as the mashed flesh.
Unsalted butter: Be sure to use less salt (to taste) if you are using salted butter.
Marscapone cheese: BelGioioso is my favorite brand of mascarpone. This is a soft cow's milk cheese originally from Italy.
Fresh dill: In a pinch, you can use dried dill. However, the flavor won't be as dramatic as the fresh dill.
Freshly ground black pepper: Freshly ground pepper adds another layer of flavor to these potatoes.
Tools & Equipment
These garlic dill potatoes don't require many kitchen tools. All you'll need is:
Recipe Frequently Asked Questions
Which potatoes are best for baking?
There are many varieties of potatoes that exist, and more types are being developed and tested every day. Despite the vast options we have, certain types of potatoes work better for certain preparation methods. For example, red potatoes are best for boiling or steaming, and fingerlings are best for roasting.

When it comes to the best potatoes for baking, russet potatoes (also known as Idaho potatoes) are considered the standard for baking dishes. The size of the russet potato can vary, so select the size that best suits your needs. We are using large russets for this recipe.
How do you make a crispy baked potato?
As the name implies, twice baked potatoes are cooked two separate times. First, the whole russet potato is placed straight in the oven, skin and all, without any covering. Don't wrap the potato in foil, as this changes the cooking method from baking to steaming, and will prevent the skin from crisping.

Once the potato is properly cooked, meaning they are soft and tender when pierced with a knife tip, remove the potatoes from the oven and allow them to cool just until you can handle them without burning yourself.

Finally, once you've whipped up the delicious mashed potato mixture and scooped it inside the baked potatoes, you're going to throw everything back in the oven for the second time to get the top nice, crispy, and golden brown!
Do you have tips for making the perfect twice baked potato?
Make sure that you add plenty of seasoning! For this dish, you will season the potatoes at multiple stages. First, season on the outside of the potato before baking. Then, season the inside flesh of the potato with salt, pepper, herbs, and mascarpone cheese. Each layer of seasoning is going to provide another depth of flavor to the dish.
Why are my potatoes gummy?
Believe it or not, there is a certain amount of science that goes into making the mashed potato part of the twice baked potatoes. In order to get the fluffy stuffing inside the potatoes, make sure to follow these tips.

First, allow the butter and mascarpone to come to room temperature.

Next, mix the potato flesh, butter, and mascarpone while the potatoes are still slightly warm.
The warmth from the potatoes helps melt and distribute the fat from the butter and mascarpone. You don't want either of these fats to be mixed in straight from the fridge. This will result in potatoes that don't fully absorb the fat.

Finally, make sure you're not overworking the potatoes. Once all the fat and seasoning additions are added, leave it alone. Don't be tempted to over mix!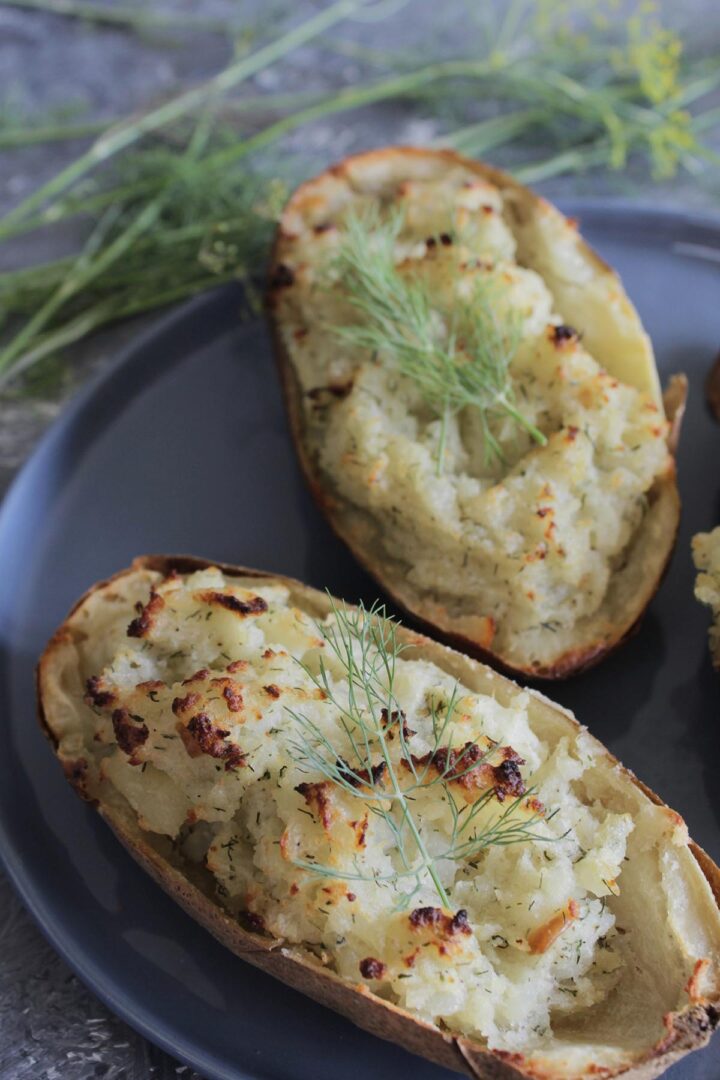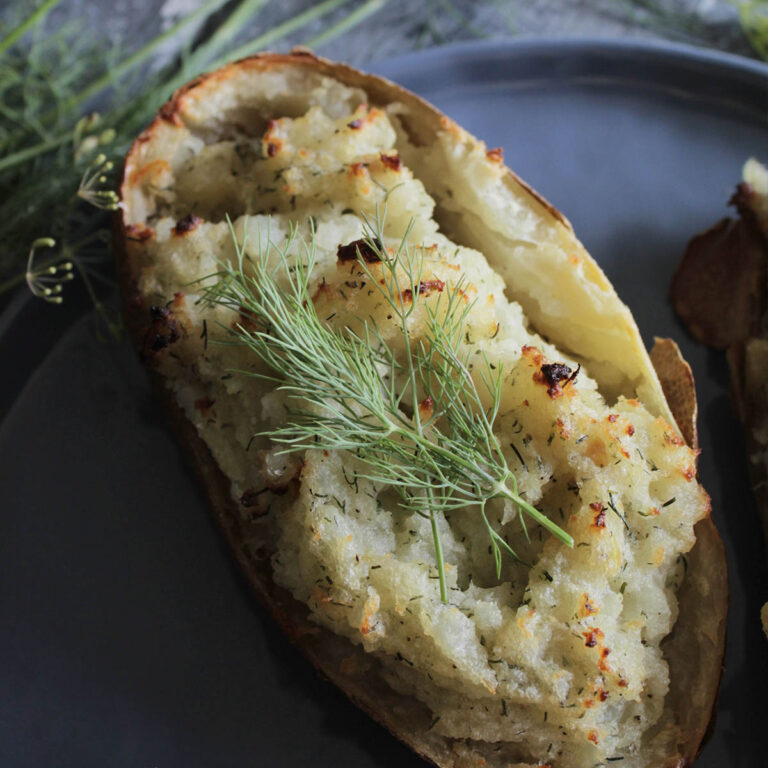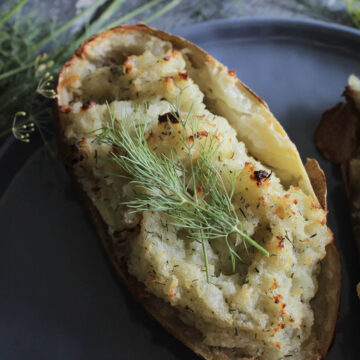 Crispy Baked Potatoes with Roasted Garlic
Looking for a new go-to side dish for a crowd? These twice baked potatoes are healthy and packed with lots of roasted garlic and dill. They are crisped up to perfection in the oven. The best part about these crispy baked potatoes is that they're made without sour cream and instead elevated with mascarpone cheese.
Instructions
Heat oven to 425°F (220°C).

Pierce potatoes in several spots with a fork to allow steam to release as the potatoes cook. Rub outside skin with 2 tablespoons of olive oil until completely coated. Season skin with 1 teaspoon of kosher salt divided among all the potatoes.

Peel off the outer, loose paper of the garlic bulbs and cut off the top (¼ inch) of each bulb. Place on a piece of aluminum foil and drizzle the bulbs with the remaining 1 tablespoon of olive oil. Wrap the aluminum foil around the garlic bulb, making sure the oil will not drip out.

Place potatoes and garlic on an aluminum lined sheet pan. Bake for 50 - 60 minutes until potatoes are soft to the touch and the outside skin is crispy. Allow potatoes and garlic to cool to the touch, about 20 minutes.

Increase oven temperature to 450°F (230°C).

Slice potatoes in half lengthwise and scoop out the flesh into a medium bowl. Finely mince roasted garlic, and add it in the same bowl along with mascarpone, butter, dill, remaining 1 teaspoon salt, and ½ teaspoon pepper. Mash potatoes with a fork until mostly smooth (some lumps can remain) and all ingredients are well incorporated.

Spoon potato mixture evenly into the skin shells. Place potatoes back on the same aluminum lined sheet pan.

Bake potatoes for 20-25 minutes until the tops are browned. Garnish with additional dill and serve immediately.
Nutrition
Calories:
305
kcal
Carbohydrates:
34
g
Protein:
5
g
Fat:
17
g
Saturated Fat:
9
g
Polyunsaturated Fat:
1
g
Monounsaturated Fat:
4
g
Trans Fat:
1
g
Cholesterol:
31
mg
Sodium:
409
mg
Potassium:
791
mg
Fiber:
2
g
Sugar:
1
g
Vitamin A:
603
IU
Vitamin C:
13
mg
Calcium:
58
mg
Iron:
2
mg
Have you tried this recipe?
Tag @homebody.eats on Instagram so we can see your creations!
Other Recipes You May Enjoy
Here are some other potato-based recipes you may enjoy: