Enjoy a decadent sliced sweet potato casserole with warm, fall flavors
These skillet sweet potatoes are loaded with browned butter, cinnamon, and pumpkin pie spice. The whole dish is made in a cast iron skillet and baked in the oven. The sweet potatoes get caramelized as they cook, as well as a bit crunchy on top. Optionally, top the sweet potatoes with a walnut and pecan topping.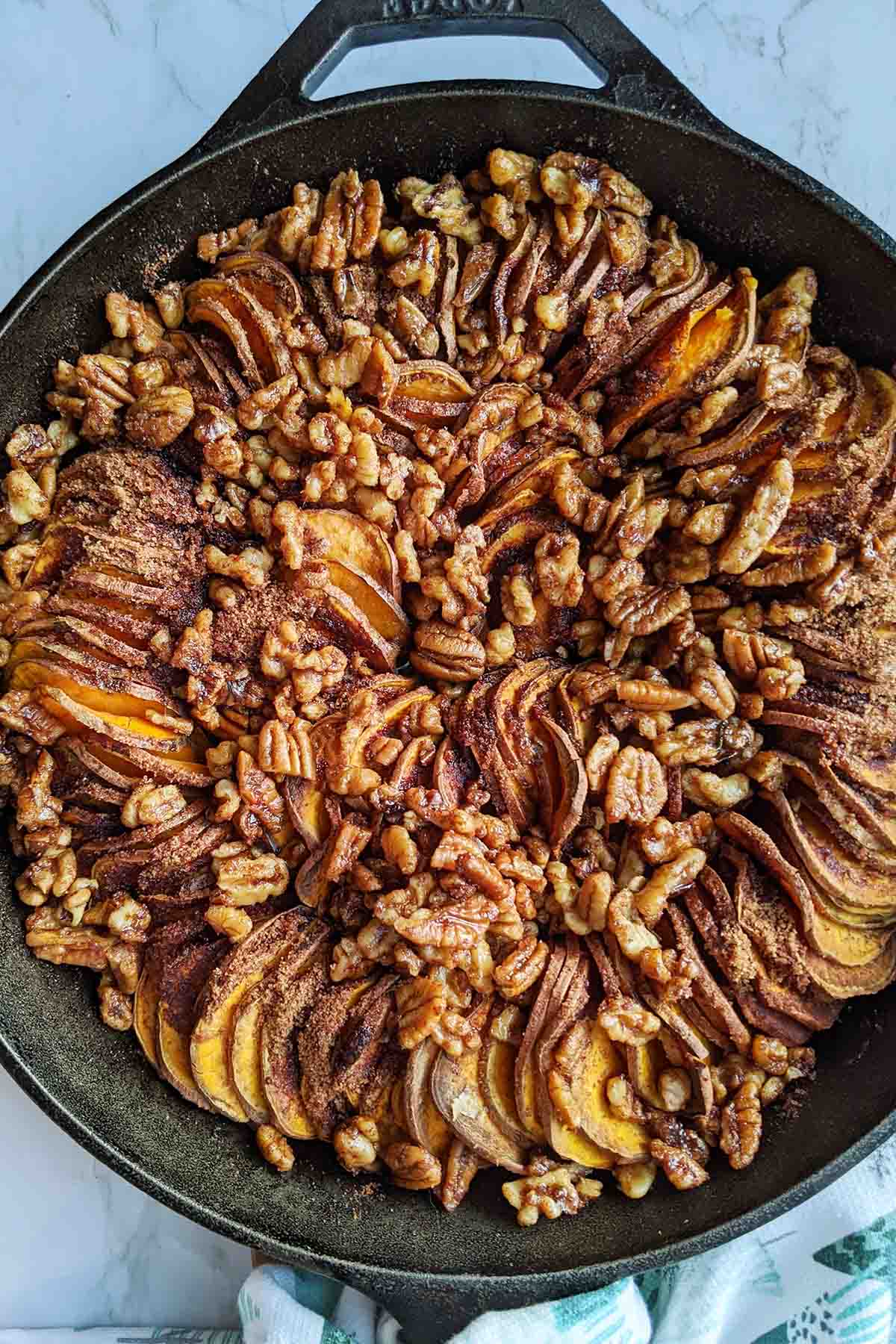 Jump to:
The cold weather and holidays have me craving all the sweet things. Christmas cookies, sugar, and this browned butter skillet sweet potato casserole. This is definitely a decadent side dish, with more butter than I would normally use in a recipe. But hey, it's the holidays! Life's all about balance, so enjoy!
If you've been looking for a bit of a twist on your classic holiday sweet potato dish, this is perfect for you! These skillet sweet potatoes provide good flavor on a dish we all love for the holidays - baked sweet potato with brown sugar.
What You'll Learn In This Recipe
Here are some helpful kitchen skills you'll learn from making this recipe:
How to safely and effectively use a mandoline to get super thinly sliced sweet potaotes.
Ways to customize the dish to make it your own.
A secret tip for keeping the dish hot. This is perfect if you're serving it for Thanksgiving or Christmas and need to bake the dish ahead of time.
If you're interested in learning more tips to become a well-skilled home chef, sign up for my 5 day email series. You'll receive 5 days of practical culinary secrets every home chef needs to know!
Recipe Video Tutorial
Ingredient Notes
Here are the ingredients you'll need to make these skillet sweet potatoes. Many of the ingredients are used both for the casserole and the nut topping!
Light brown sugar: To make these caramelized sweet potatoes, we need some sugar. Brown sugar adds a delicious sweet bite.
Ground cinnamon: You can't go wrong with cinnamon paired with sweet potatoes. That's why it's a main flavor in this dish.
Pumpkin pie spice: This is one of my favorite fall time flavors. It adds such warmth to the dish.
Fine sea salt: Since we're using unsalted butter, we need to kick up the flavor of the cast iron sweet potatoes with some salt!
Sweet potatoes: Medium sized sweet potatoes work best for this recipe. In a pinch, you could substitute for yams.
Unsalted butter: If you only have salted butter on hand, be sure to adjust the amount of added salt in the dish.
Vanilla extract: A always suggest using a high quality vanilla extract to really amp up flavor.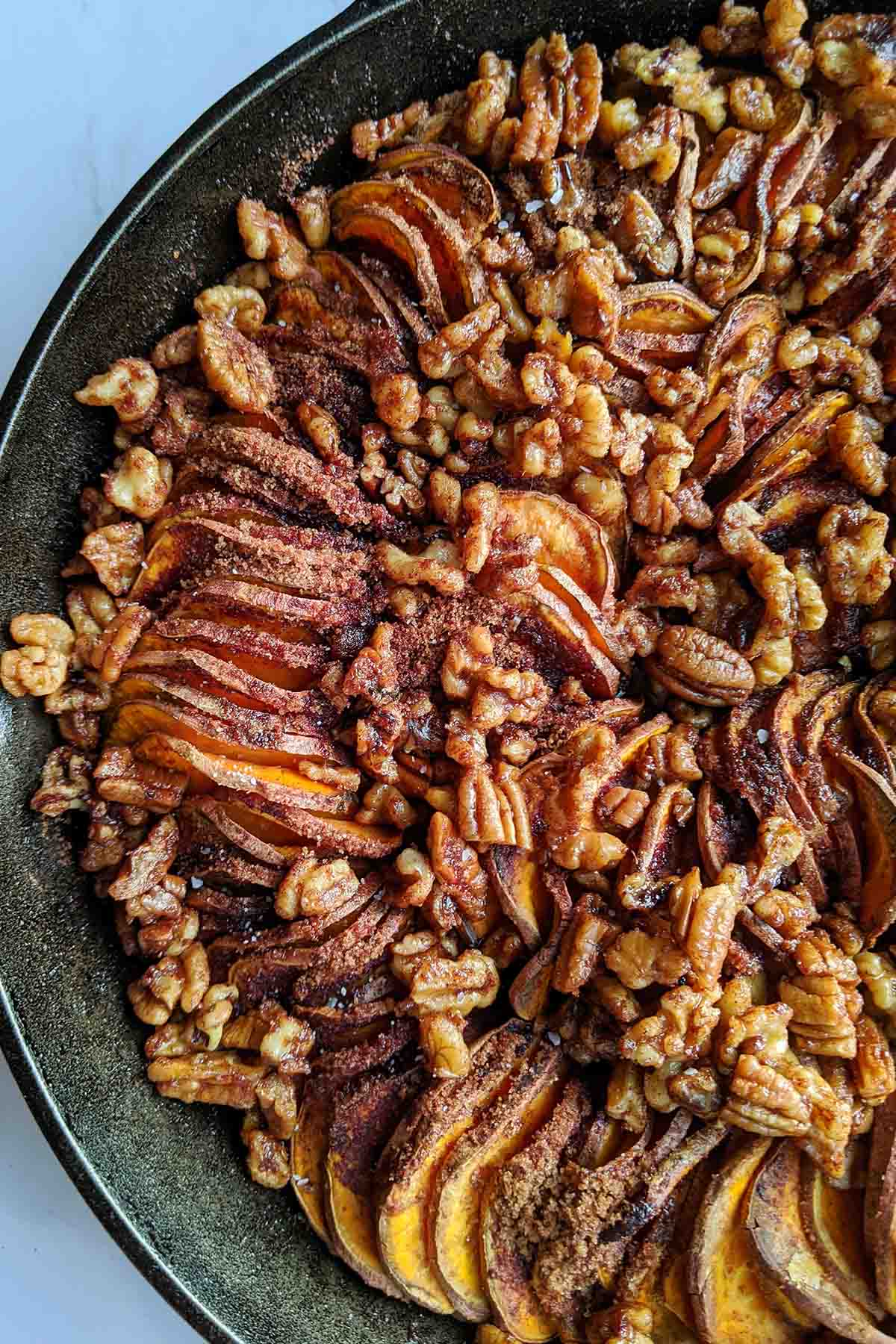 Tools & Equipment
There are a few pieces of equipment you'll need to make the sweet potato casserole in a cast iron skillet: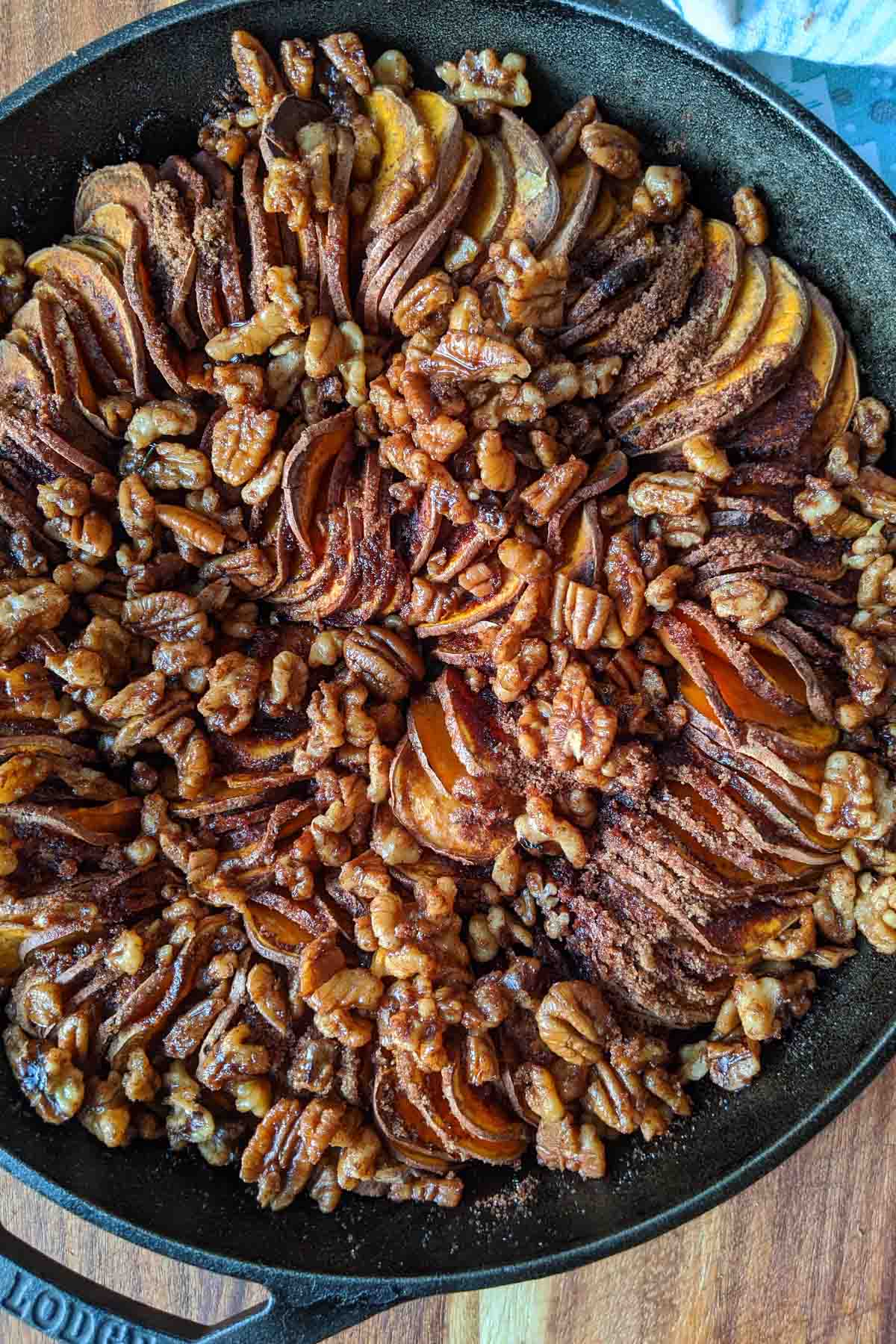 Recipe Frequently Asked Questions
I'm not a fan of nuts. Can I remove the topping?
If you're allergic to nuts, or just don't like nuts on your sweet potatoes, feel free to omit the topping. These caramelized sweet potatoes will taste perfect just on their own!
I'm scared to use a mandoline slicer. Is it safe?
Mandoline slicers can be intimidating to use, especially if it's your first time. However, as long as you're being safe, it's a great tool to use in the kitchen.

Always stay alert when using a mandoline, and make sure it's on a flat surface. I'd recommend using some cut-resistant gloves or the guard that comes with your mandoline to avoid any cuts or injuries. Remember to go slow and take your time while slicing the sweet potatoes.
I've never made brown butter. Is it hard?
Browning butter is one of my favorite ways to kick up the flavor profile of a dish! It adds an extra bite of nuttiness and warmth. If you've never made browned butter before, it takes less than 10 minutes and makes all the difference.

Because the browning process happens so quickly, you'll want to make sure to devote your full attention to the butter while it's browning. No walking away from the stove, or it might burn!

If you need help, check out this video on how to brown butter.

How can I keep this dish warm if I'm not serving it immediately?
While this dish needs quite a bit of time in the oven, it stays warm for an hour to an hour and a half after you remove it from the oven. All you need to do is throw some aluminum foil over the skillet. Bonus - it's easy to transport if you're bringing it in the car.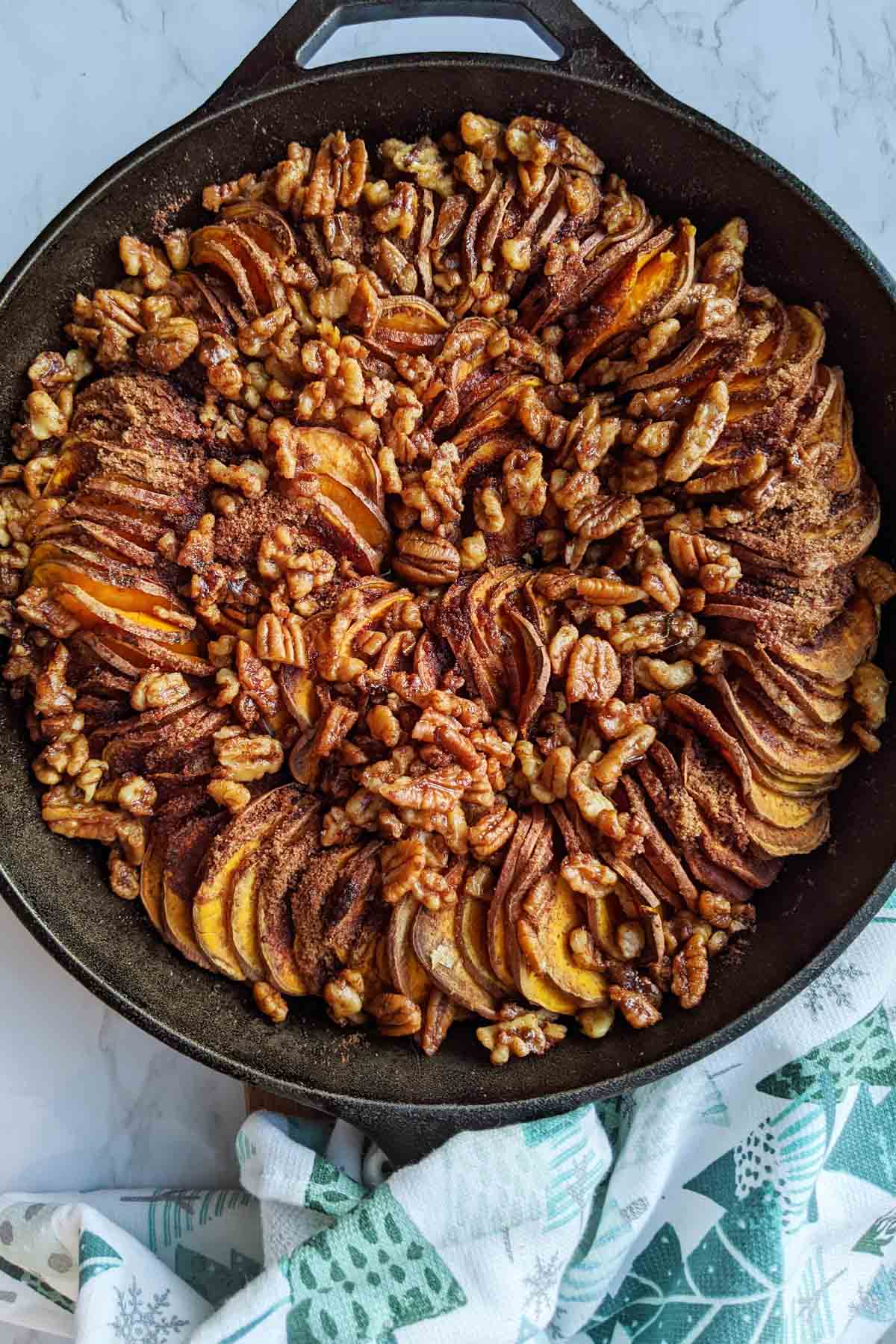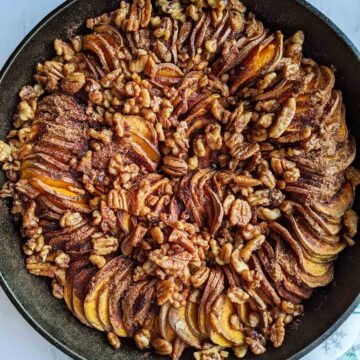 Cast Iron Skillet Sweet Potato Casserole with Walnuts & Pecans
These skillet sweet potatoes are loaded with browned butter, cinnamon, and pumpkin pie spice. The whole dish is made in a cast iron skillet and baked in the oven. The sweet potatoes get caramelized as they cook, as well as a bit crunchy on top. Optionally, top the sweet potatoes with a walnut and pecan topping.
Instructions
Casserole
Heat the oven to 350° F (175°C).

Combine brown sugar, cinnamon, pumpkin pie spice, and salt in a small bowl and mix until incorporated. Set aside.

Cut off the ends of the sweet potatoes. Discard. Slice the sweet potatoes into ⅛" thick pieces using a mandoline slicer. Set aside.

Add 1 cup of butter to a saucepan over medium-low heat and allow to fully melt. Once the butter melts, foam will begin to form. Begin whisking the butter to ensure it does not burn. The butter will begin to turn golden brown (about 4 minutes after it has fully melted). As soon as you can see golden brown flecks at the bottom of your saucepan and smell a nutty, aromatic aroma, remove the butter from the heat. The whole process should take about 7- 9 minutes from start to finish. Reserve ⅛ cup of brown butter for brushing, then transfer the remaining to a large, heat-proof bowl.

Add potatoes to the bowl with brown butter and toss to combine. Pour brown sugar mixture over potatoes and toss to combine. Brush the reserved brown butter over the top of the potatoes with a pastry brush, making sure the tops of all the potatoes are fully covered (otherwise the tops will get crunchy).

Arrange in a 12" cast iron skillet. Bake uncovered for 90 minutes until the potatoes have softened and are golden brown on top.
Topping
While the sweet potatoes are cooking, melt butter in a small skillet over medium heat. Once butter is melted, stir in brown sugar, cinnamon, vanilla extract, and salt until combined. Add in pecans and walnuts and toss until well coated. Cook for 2-4 minutes until the nuts are toasted and you smell a nutty aroma.

Once the potatoes are done, top with pecan and walnut topping. Serve immediately or cover cast iron skillet with aluminum foil to keep warm.
Notes
To keep warm, place aluminum foil over the skillet once removed from the oven. This should keep the dish warm for about an hour.
Nutrition
Calories:
395
kcal
Carbohydrates:
44
g
Protein:
4
g
Fat:
24
g
Saturated Fat:
12
g
Polyunsaturated Fat:
4
g
Monounsaturated Fat:
7
g
Trans Fat:
1
g
Cholesterol:
47
mg
Sodium:
186
mg
Potassium:
574
mg
Fiber:
6
g
Sugar:
18
g
Vitamin A:
22008
IU
Vitamin C:
4
mg
Calcium:
78
mg
Iron:
1
mg
Have you tried this recipe?
Tag @homebody.eats on Instagram so we can see your creations!
Other Recipes You May Enjoy
Here are some other side dishes you may enjoy:
Plus, don't forget to try these Sweet Potato Pocket Pies for a little sweet treat!