Have you been wondering, why did my macarons crack? Check out this troubleshooting guide teaching you how to fix cracked macaron shells.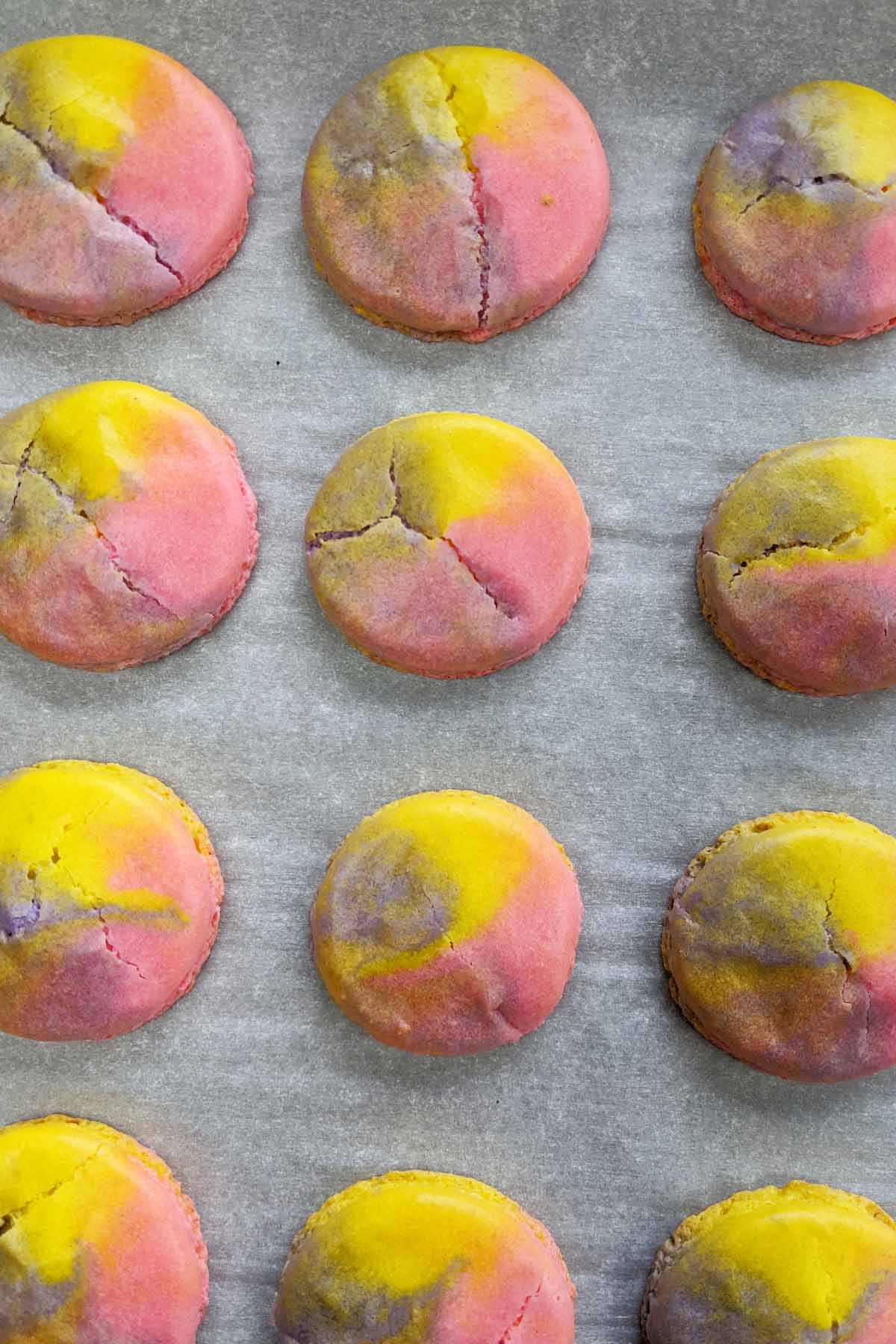 If you made macarons and run into an issue of cracked shells, I'm here to teach you about what causes macarons to crack.
There are many different issues that can occur when baking up a batch of macarons. You're definitely not alone if you discover that your macarons have cracked after baking them in the oven.
In this guide, I'll teach you the common causes of cracked macaron shells. This can include issues related to the equipment you're using, technique, or some of the macaron ingredients.
Don't worry, we'll also talk through different ways to fix these issues.
As always, remember that it takes some trial and error to bake macarons at home. Don't give up on your first or second attempt, keep going!
You can always refer to my macaron troubleshooting video or leave a comment below and I'll do my best to help you out.
Jump to:
What You'll Learn In This Article
How your oven could be causing cracked macaron tops.
A few techniques you must get right for crack-free macaron shells.
Ingredients that could be causing the macarons to crack.
If you are looking for some more specialized help with troubleshooting your macaron problems, sign up for my free macaron troubleshooting guide sent straight to your email.
Equipment Related Issues
Here are a few equipment issues you could be running into if you're experiencing macarons with cracked tops:
1. Oven temperature: If you've been baking macarons for a while, you may already know that oven temperature is a common issue for ruined macaron shells. You can read more about how oven temperature affects macarons if you're interested in this particular topic.
Most likely, cracked macarons are related to oven temperatures that are too hot. To fix this issue, you'll first want to purchase an oven thermometer.
This inexpensive cooking tool will allow you to see if your oven is heating to the temperature you're setting it to. Oftentimes, home ovens are known for heating hotter or colder than you set the temperature to.
The first way to test if your oven is too hot is by placing the oven thermometer in the center rack of your oven. After you've allowed the oven to preheat for 15 - 25 minutes, check the temperature reading.
Next, you'll need to play around with your temperature settings. I usually recommend heating your oven to 310°F (155°C) and adjusting from there. Pipe a set of 4 - 6 macarons on a baking sheet and test just a few macarons at a time (so you don't ruin a whole batch).
If you find that 310°F (155°C) is resulting in cracked macarons, this means your oven temperature is too hot. Bump your temperature down 5°F (3°C), wait for the oven thermometer to read the correct temperature, and then try baking another set of 4 - 6 macarons.
Continue this process, baking a small set of macarons at a temperature 5°F lower until you no longer see cracked macaron tops.
If a hot oven is your problem, you'll likely also notice some browning around the macaron shells.
If adjusting the oven temperature doesn't seem to work, many people prop open their oven door with a wooden spoon to allow some of the oven heat to slowly vent.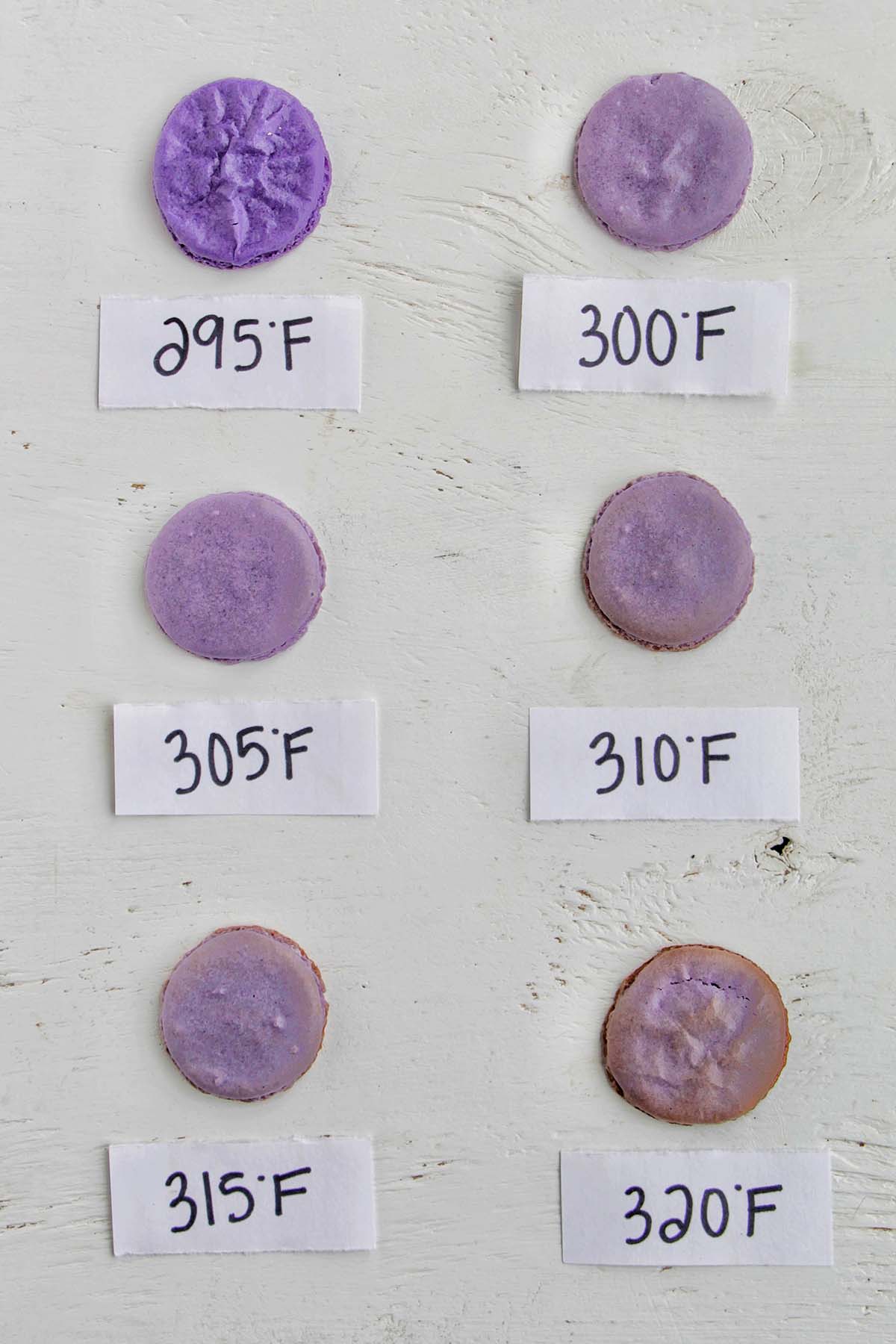 2. Oven hot spots: If you have cracked macarons only around the outside perimeter of your baking sheet, you're likely experiencing oven hot spots.
Oven hot spots happen because many ovens (especially conventional home ovens) don't evenly disperse heat.
In order to avoid hot spots in your oven, you'll want to map out your oven to see which parts are too hot for your macarons. To do this, you'll need to perform a short experiment.
Buy a cheap bag of white bread, and cover a baking sheet with a single layer of the bread. Preheat the oven to the same temperature your bake your macarons at.
Next, use an oven thermometer placed in the center of the oven to ensure the oven is heating to the correct temperature. Bake the bread in different locations in the oven to observe the differences.
If you see certain areas of the oven (left or right wall, front or back wall) cause your bread to become burnt, avoid those areas when baking macarons.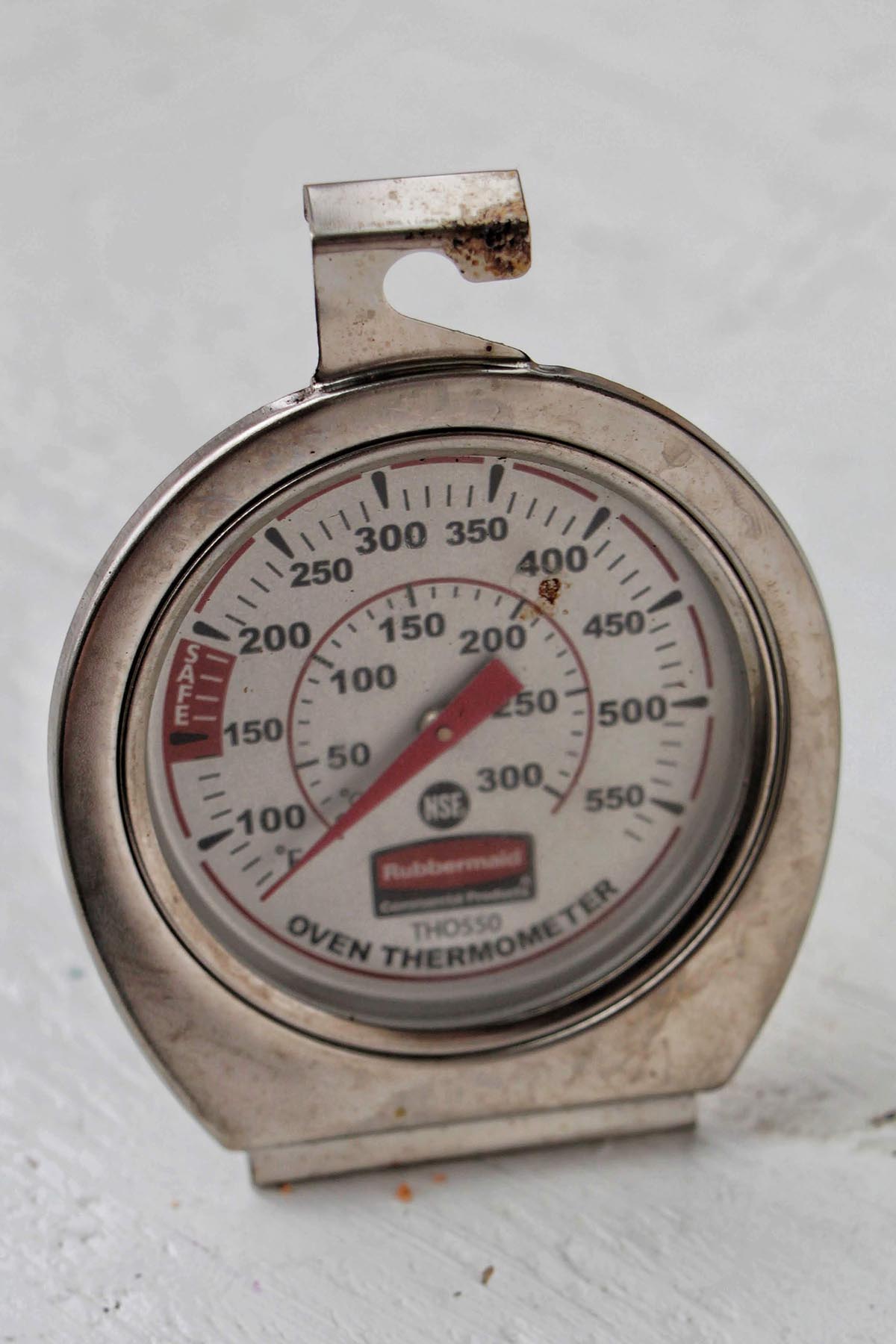 3. Dark sheet pans: The sheet pans you use to bake macarons can cause cracking. If you're a dark-colored sheet pan, it may be radiating more heat compared to a light-colored pan.
Ovens work through radiant heat transfer. This means there is a transfer of heat from a warmer object to the surface of a cooler one.
The heat from the sides of your oven is constantly radiating to the sheet pan. When you use a dark-colored sheet pan, it's going to absorb more of the heat.
This means that a dark-colored pan is going to heat up more quickly, as well as retain more heat compared to a lighter-colored one. If you're experiencing cracking while using a dark-colored pan, try substituting it out for an aluminum baking sheet, like these sheet pans from Nordic Ware.
Even old aluminum pans with spots of blackened, baked-on food can experience this issue.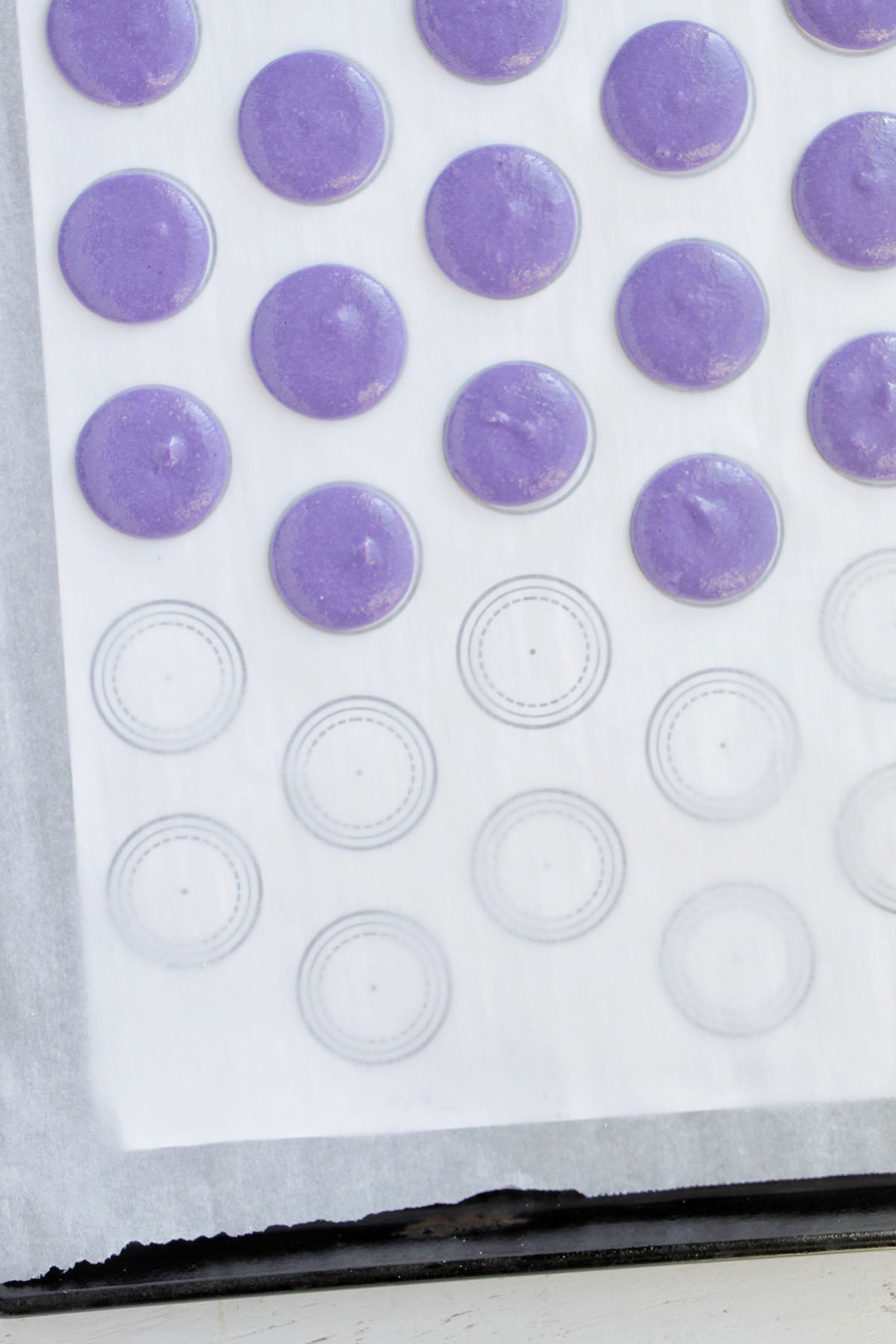 Technique Related Issues
Here are some of the common technique-related issues that could be making your macarons crack:
1. Under-whipped or over-whipped meringue: Whipping the meringue to stiff peaks (not over or under) is one of the most crucial steps when making macarons.
Both under-whipped and over-whipped meringue can result in cracked shells. This is because the meringue needs to have the proper structure in order to rise in the oven.
Weak meringue will not be strong enough to withstand the heat of the oven when baked, causing a cracked top. Alternatively, meringue that has been over-whipped won't have enough air incorporated to properly expand in the oven.
In order to achieve stiff peaks, you need to learn the visual cues you can use to know the meringue has whipped to stiff peaks:
You'll notice the meringue starts to ball up inside the whisk while it's mixing.
Pull the whisk out of the mixer. A stiff peak should stand straight up (no curl at the tip).
You can see pointy off-shoots of egg whites on the whisk when you pull it out of the mixer.
You can fully flip the bowl over and nothing moves or falls out.
The meringue feels sturdy (not flimsy).
The egg whites hold the indentation that the whisk makes as it's whipping.
It typically takes around 8 - 10 minutes to reach stiff peaks, depending on your mixer and the speed. I use a KitchenAid mixer on speed 7.
Additionally, if you're making French method meringue macarons, make sure to slowly add the granulated sugar during the whipping process. This allows the sugar crystals time to dissolve so they don't weigh down the egg whites.
If the sugar is added too quickly, it can affect the final structure, resulting in an under-whipped and weak meringue.
As for over-whipped meringue, this is less common. Over-whipped meringue is overly thick, looks dull, and can become clumpy.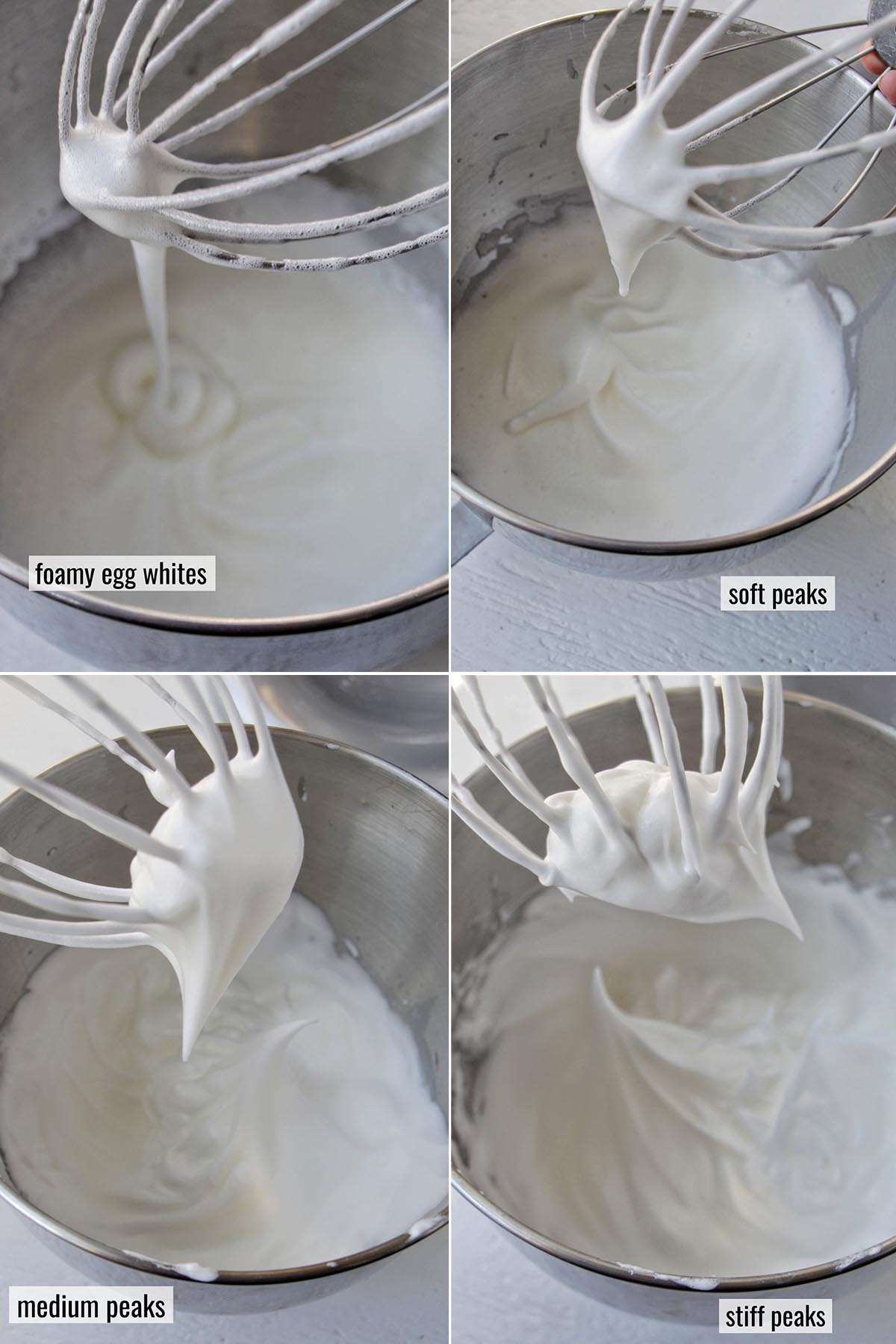 2. Over macaronaged: Another crucial step to get correct is the macaronage process.
Macaronage is a term that refers to folding the dry macaron ingredients (almond flour and confectioners' sugar) into the meringue. This process smooths the mixture and helps the macarons bake with proper structure.
To properly macaronage, you will continue folding the batter until it reaches a lava-like consistency. You can test this by lifting your spatula and seeing if the batter drops almost like lava. Once it drops off the spatula, the batter that was dripped should fade back into the batter within 15-30 seconds (not immediately).
Additionally, the almond flour should look blended into the meringue (not lumpy).
Many home bakers who are new to baking macarons will over macaronage the batter. If you're unsure if your batter has been properly macaronaged, it's better to under macaronage a bit since the batter will still be worked in the piping bag.
3. Air bubbles: Did you put your macarons in the oven without banging them on the counter? This could be the reason your macarons cracked.
Oftentimes, air bubbles are trapped in the macaron batter. Air bubbles occur naturally in the batter during the macaronage and piping process.
In order to avoid cracked macaron shells, you need to release and pop these air bubbles; otherwise, they will burst in the oven and ruin the shells.
Firmly bang the sheet pans on the counter to remove any air bubbles. Don't worry, you won't damage the macarons by doing this!
Slamming the pans on the counter allows the excess air to rise to the top of the macarons. With a toothpick, pop any air bubbles that have risen to the top of the macarons.
This process should be done immediately after piping the macarons, before allowing them to dry.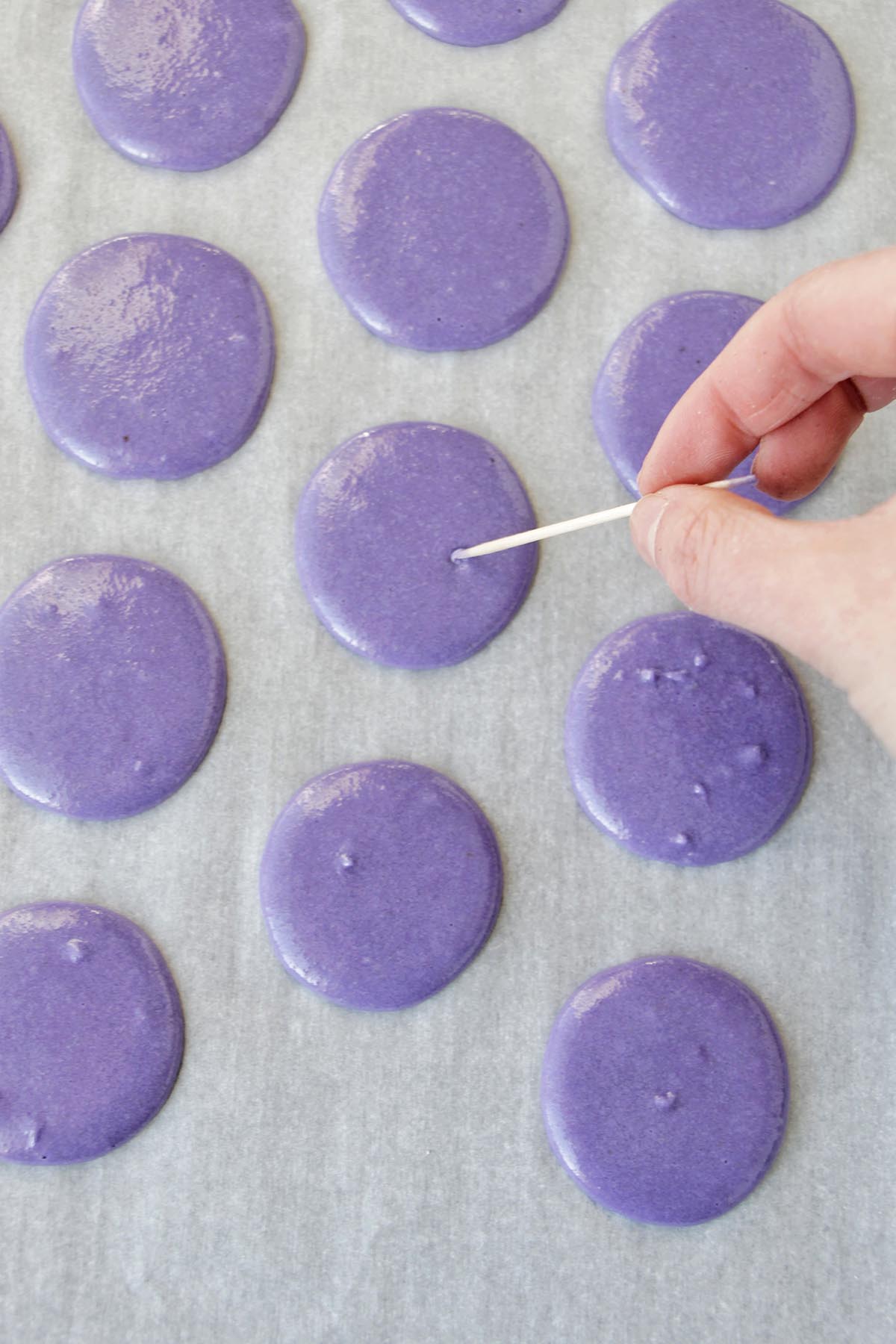 4. Not resting long enough: It's important to allow your macarons (no matter what style of meringue you made) to rest on the counter until they've formed a skin.
Typically, you'll need to allow the shells to rest for about 45 - 60+ minutes on the counter until a skin has formed on top. If you live in a humid climate, this may take up to 90+ minutes.
To test that the macarons are ready to bake, you can feel the shells and visually inspect the macarons. Here's what to look for:
The shells appear matte in color (not shiny like when you first piped them).
They are dry to the touch. You should be able to run your finger along the top of the shell without making an indent.
When you gently and lightly push down on the macaron shell, you can feel some resistance and no mark is left.
If you live in a humid climate, it's very likely you're not resting the macaron shells long enough. Try running the air conditioning or a dehumidifier in your kitchen to take some of the moisture out of the air.
If you're having trouble with this, check out my tips for how to fix macarons that aren't drying.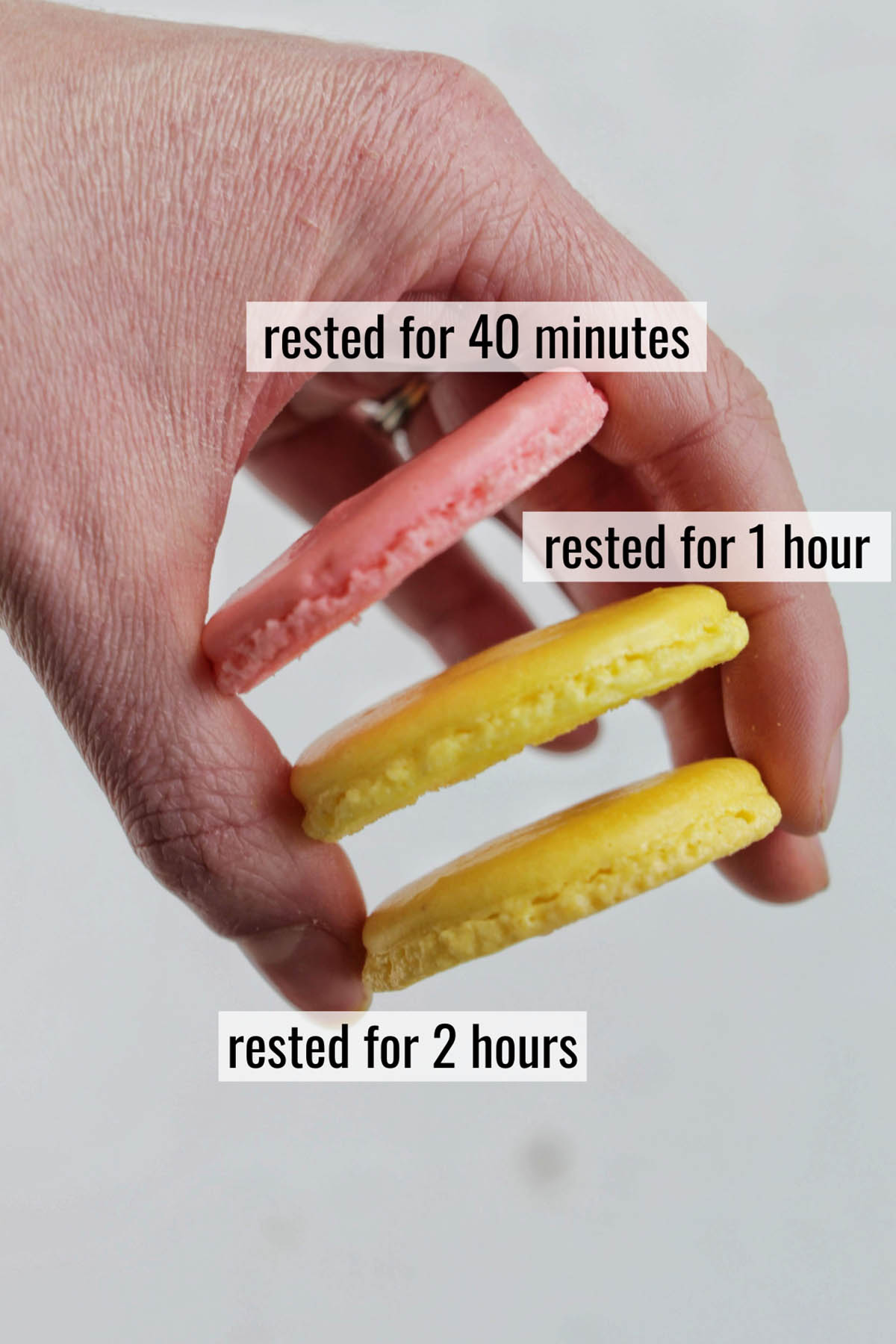 Ingredient Related Issues
Most of the ingredient-related issues you'll run into with cracked shells involve too much liquid in your macaron batter.
1. Too many egg whites: If you're developing a macaron recipe, too many egg whites could be causing cracked shells.
Egg whites are made up mostly of water. In fact, 90% of the egg white is water while only 10% is protein.
If you're developing a recipe and you know you are correctly executing all of the other possible problems listed in this article, you're likely experiencing an issue with too much liquid from your egg whites.
Here are some ways to mitigate this issue:
Reformulate your ratio. This could either include reducing the amount of egg whites or increasing the dry ingredients.
Age your egg whites to reduce the amount of water in them.

To age egg whites, you'll separate the egg whites from the yolks 2 - 5 days before baking the macarons. Place the egg whites in a container covered with plastic wrap.

Poke a couple of holes in the plastic wrap, and place the eggs back in the refrigerator. This allows some of the water to evaporate in the fridge.

Once you're ready to bake, allow the egg whites to come to room temperature before whipping them into meringue.
Alternatively, use egg white powder to help reinforce the protein structure. Usually, you'll want to use about ¼ teaspoon of egg white powder for every 1 egg white.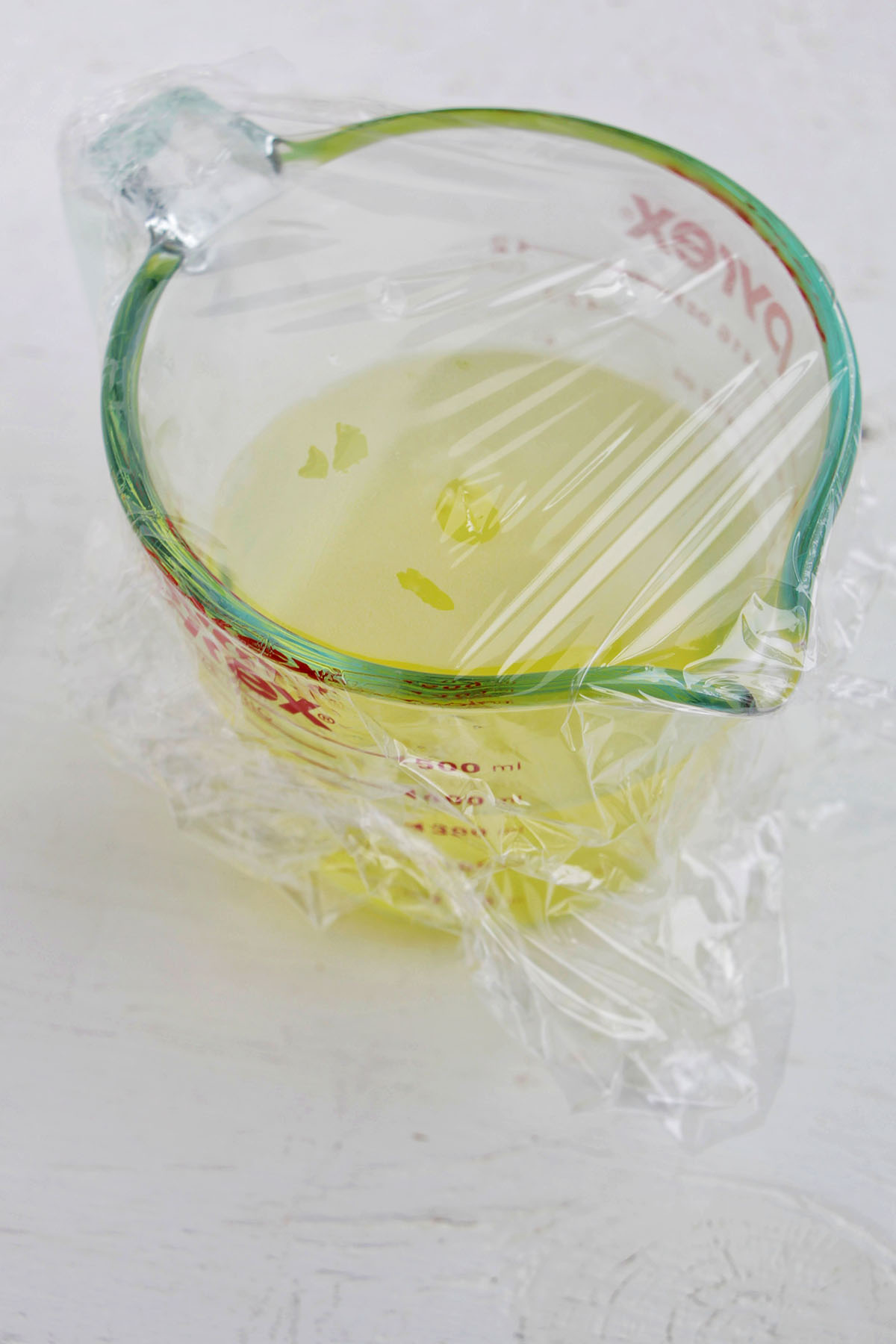 2. Too much food coloring: Food coloring also adds additional moisture to your macarons.
Typically, if you're using gel food coloring or powdered food coloring, this isn't going to be an issue for you. However, liquid food coloring may be causing cracking on your macarons.
Additionally, if you're using a large amount of food coloring, this could also be an issue. When making really dark or vibrantly colored macarons, remember not to use too much food coloring.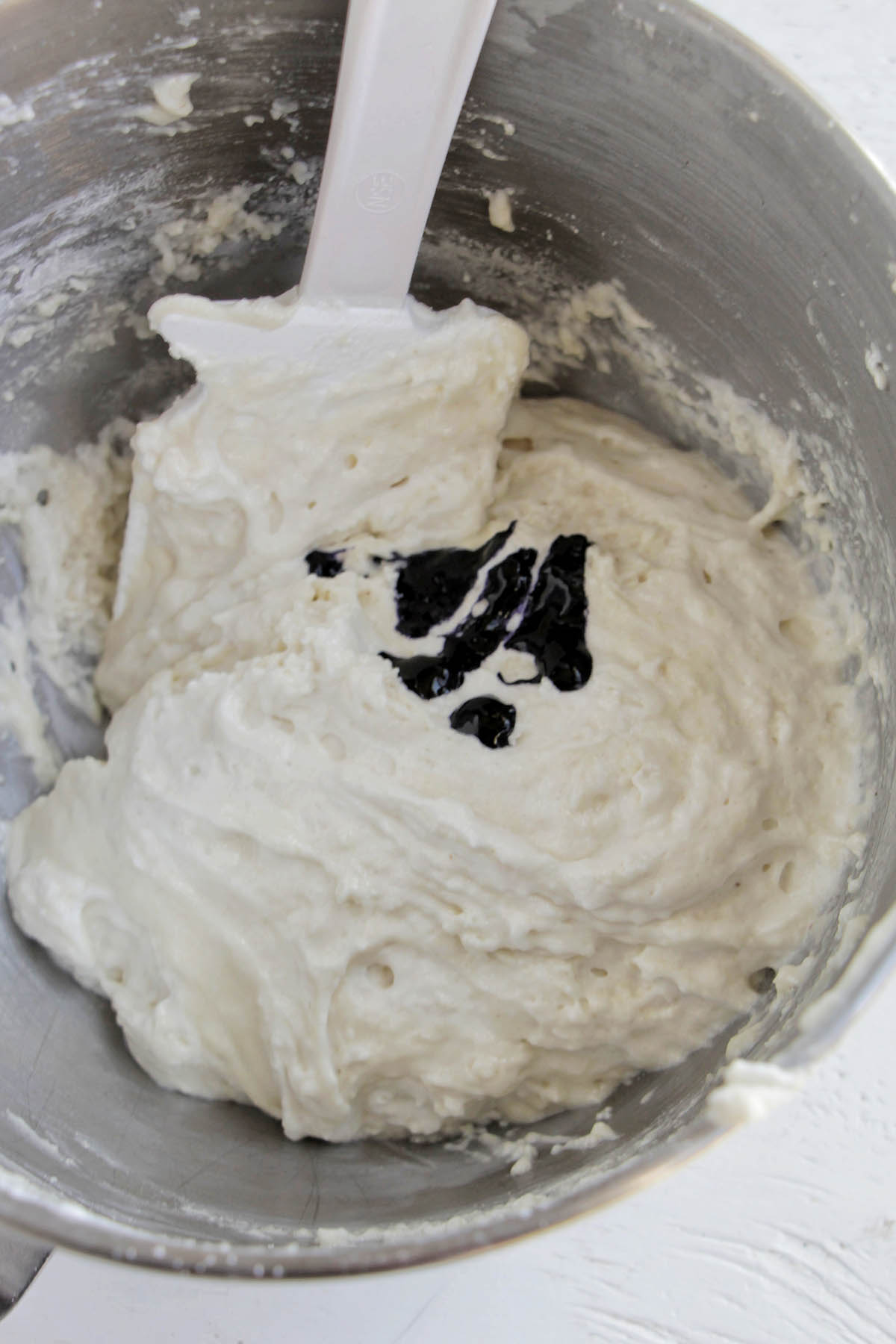 Expert Tips
Oven temperature is one of the most common reasons for failed macarons. I'd suggest investing in an oven thermometer to ensure your oven is properly heating.
Only bake one tray of macarons at a time. This can also help you pinpoint any issues you may be having related to oven temperature.
If you're having trouble with under or over whipped meringue, you should consider using a different type of meringue for your macarons. Both Swiss and Italian meringue macarons are known for being more stable.
Don't feel pressure to throw away your cracked macarons. As long as they're not burned or have a really tough shell, you can still fill them with a simple buttercream filling and eat them. They may not be super pretty, but they are still edible!
FAQs
Why did my macarons crack?
There are many reasons that could cause your macarons to crack. The most common problems include:
- Your oven temperature is too hot.
- You under or over whipped your meringue.
- You over macaronaged the batter.
- You didn't allow the macarons to rest long enough to form a proper skin.
- There were air bubbles trapped in the macaron shells.
My macarons are cracked and browned. How can I fix this?
If your macarons are cracked and also browned, it's probably because your oven temperature is set too high. Purchase an oven thermometer and try setting your oven to a lower temperature.
My macarons look cracked and wrinkled. How can I fix this?
If your macarons look more wrinkly instead of cracked (like the image below), check out my complete guide about fixing wrinkled macarons. Wrinkled macarons have slightly different troubleshooting tips that you should focus on.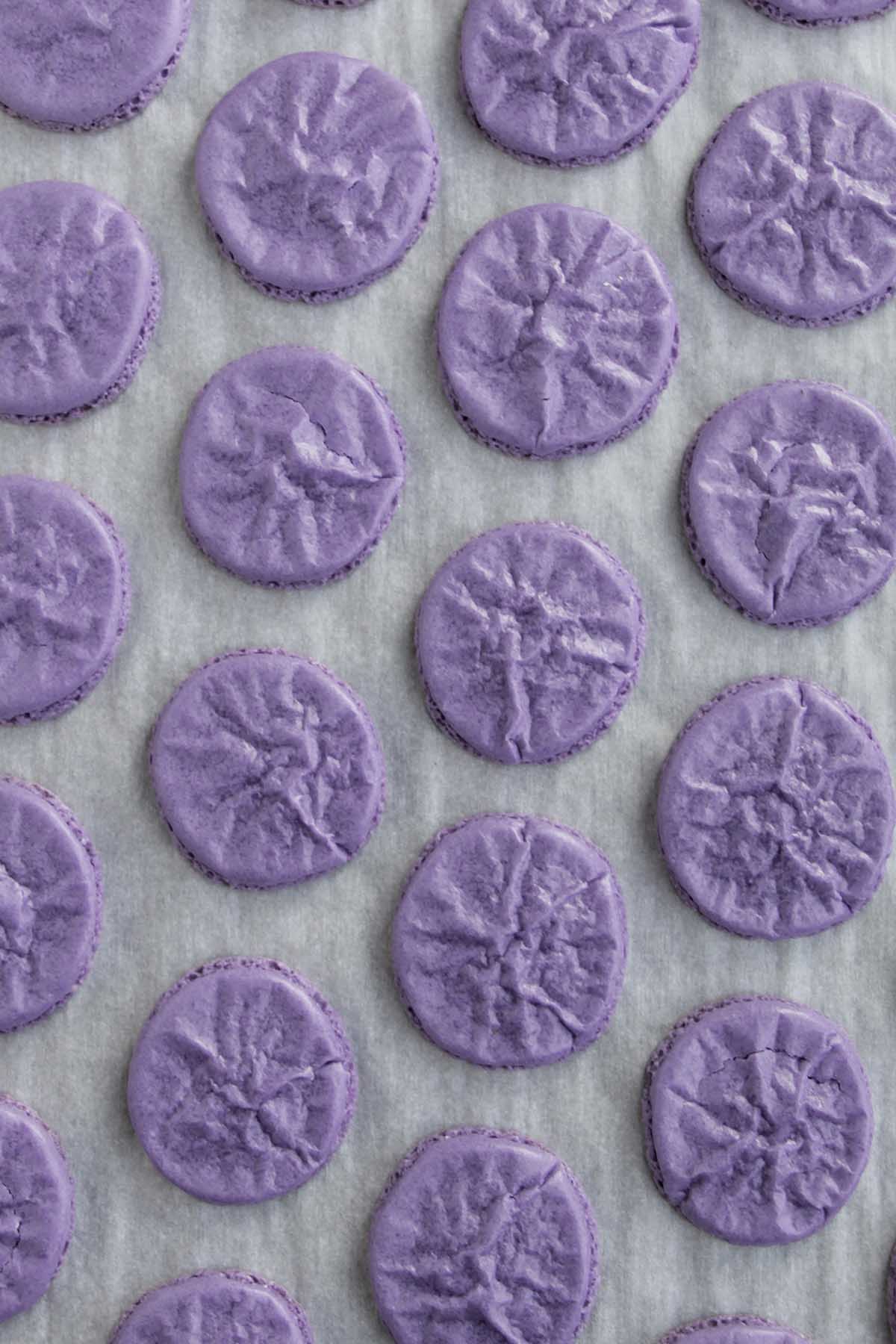 More Macaron Troubleshooting Guides
Love this guide? Please leave a comment below. Don't forget to follow along on Instagram, Facebook, YouTube, and Pinterest for more recipes.