Learn what ingredients you need for macarons, along with the science behind each ingredient. Plus, I'll share some of my favorite tips for professional-looking macarons.
Macarons are a delicate and beloved dessert known for their colorful shells, delicious filling, and slightly crispy exterior.
There are four main ingredients used for macarons. Each of these ingredients plays a very important role in the taste, texture, and flavor of the macaron.
Today, we'll talk through the key ingredients you'll need for macarons, along with a few other helpful tricks that will help you bake perfect macaron shells.
Jump to:
What You'll Learn In This Article
The key ingredients to make macarons.
The science behind how the ingredients lead to a perfectly baked macaron shell.
Some expert tips to help your macarons look professional.
Sign up for my free macaron template for more tips and tricks on perfecting your macarons. You'll receive a piping template, plus an email series with helpful ways to improve your macaron skills.
Ingredients to Make Macarons
There are four main ingredients that you'll use to make macarons. These are the same ingredients no matter what method of meringue (French, Italian, or Swiss) you make.
Almond Flour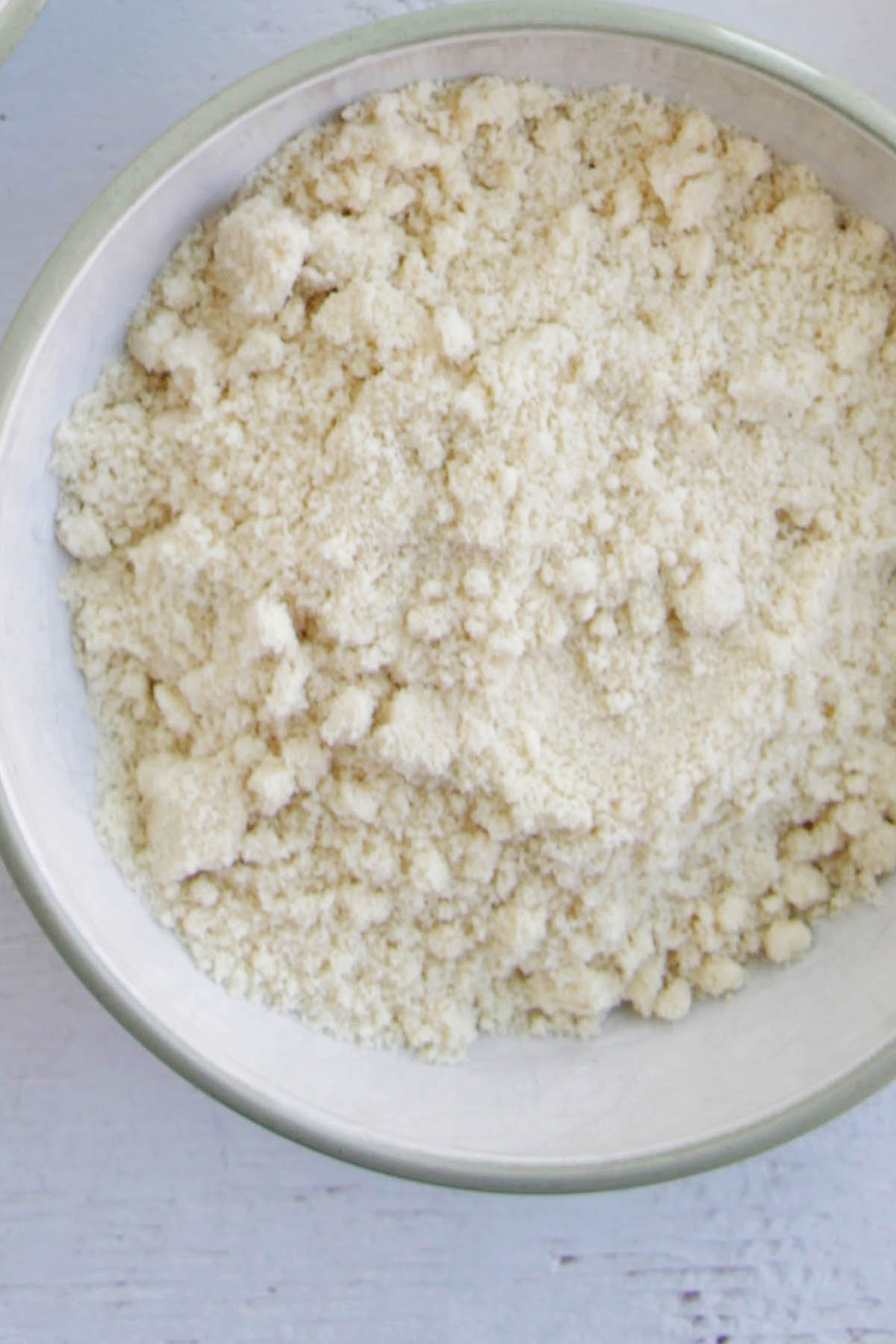 The best flour and most common flour used for macarons is almond flour.
Macarons are known for their almond-flavored shell. In fact, being able to taste the almond flour is a sign that the macaron is fresh.
This ingredient is not only a flavor enhancer, but it also acts as a structure builder for the macarons.
Almond flour is made from grinding almonds into a very fine powder. Finely ground almond flour allows the macaron shells to be smooth. Try to purchase super finely ground almond flour for the best results.
Another way to ensure smooth macaron shells is to double-sift your almond flour and confectioners' sugar together.
As a note of caution, almond flour can go rancid if it's past the expiration date. Be sure to double-check the expiration date before baking.
If you're looking to change up the flavor of your macaron, don't forget you can try swapping almond flour with other types of nut-based flour.
Confectioners' Sugar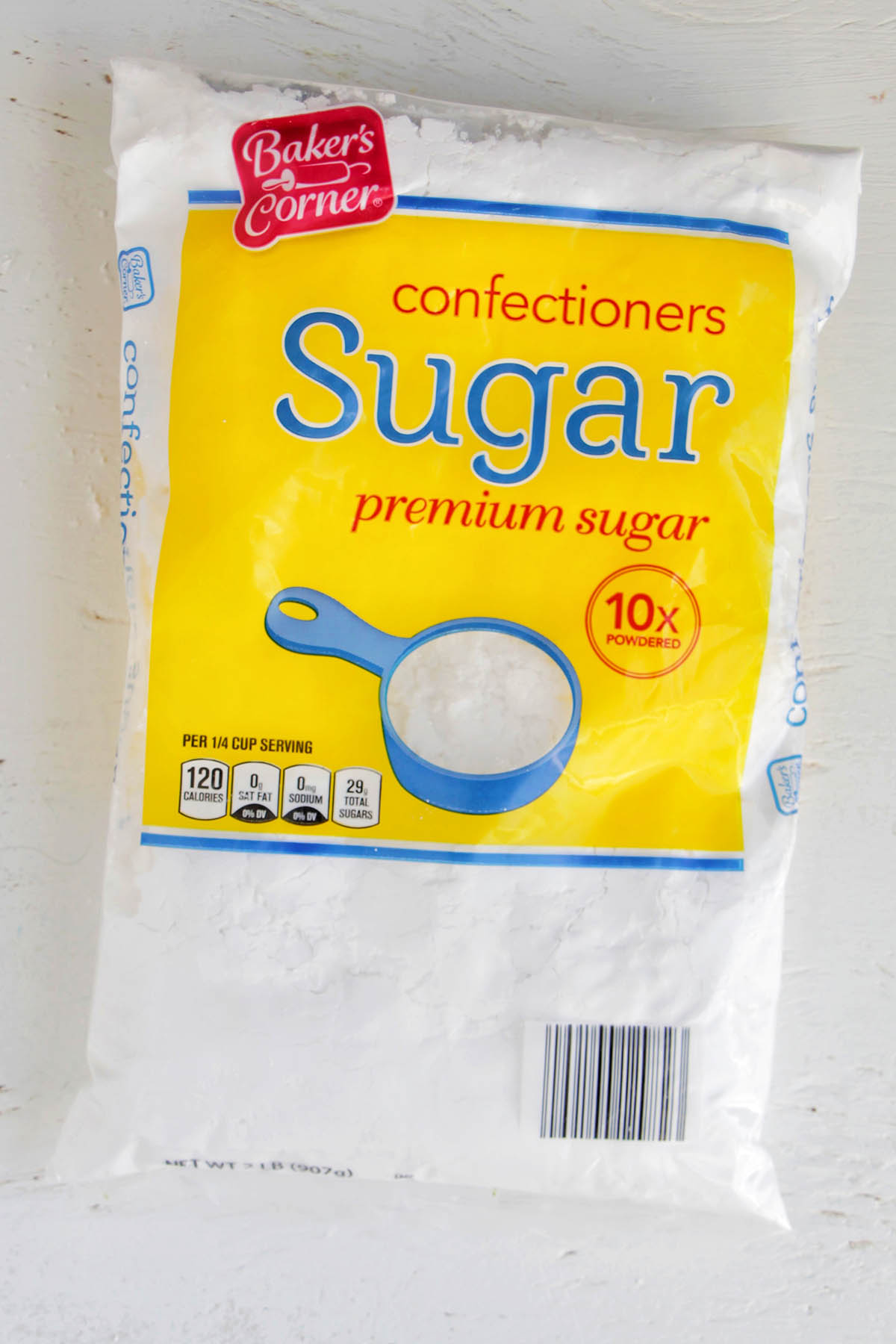 Confectioners' sugar is another dry ingredient that is combined with the almond flour.
Many macaron recipes use a one-to-one ratio of confectioners' sugar to almond flour. However, it's also acceptable to use two parts confectioners' sugar to one part almond flour. This is the ratio I use for my French-method macarons.
In the United States, the confectioners' sugar you purchase likely contains cornstarch to keep the sugar from clumping. Don't worry, this shouldn't mess up your macarons.
Since the almond flour and the confectioners' sugar are combined with the meringue at the same time, I'd suggest sifting the almond flour and the confectioners' sugar together.
Granulated Sugar
Granulated sugar is added to the egg whites while making meringue build a strong structure.
Different methods of making meringue will add granulated sugar to the egg whites using slightly different methods:
French method macarons: The granulated sugar is slowly beaten into the egg whites after they've become foamy.
Italian method macarons: The granulated sugar is mixed with water and then heated into a sugar syrup. The hot sugar syrup is slowly poured into the partially whipped egg whites.
Swiss method macarons: This method combines egg whites and granulated sugar. Then, the mixture is heated over a double boiler until the sugar is dissolved.
If you're using the French method, be sure to add the sugar to the egg whites slowly. This gives time for the sugar crystals to dissolve so they don't weigh down the egg foam. If sugar is added too quickly, the protein molecules may not properly unfold.
Egg Whites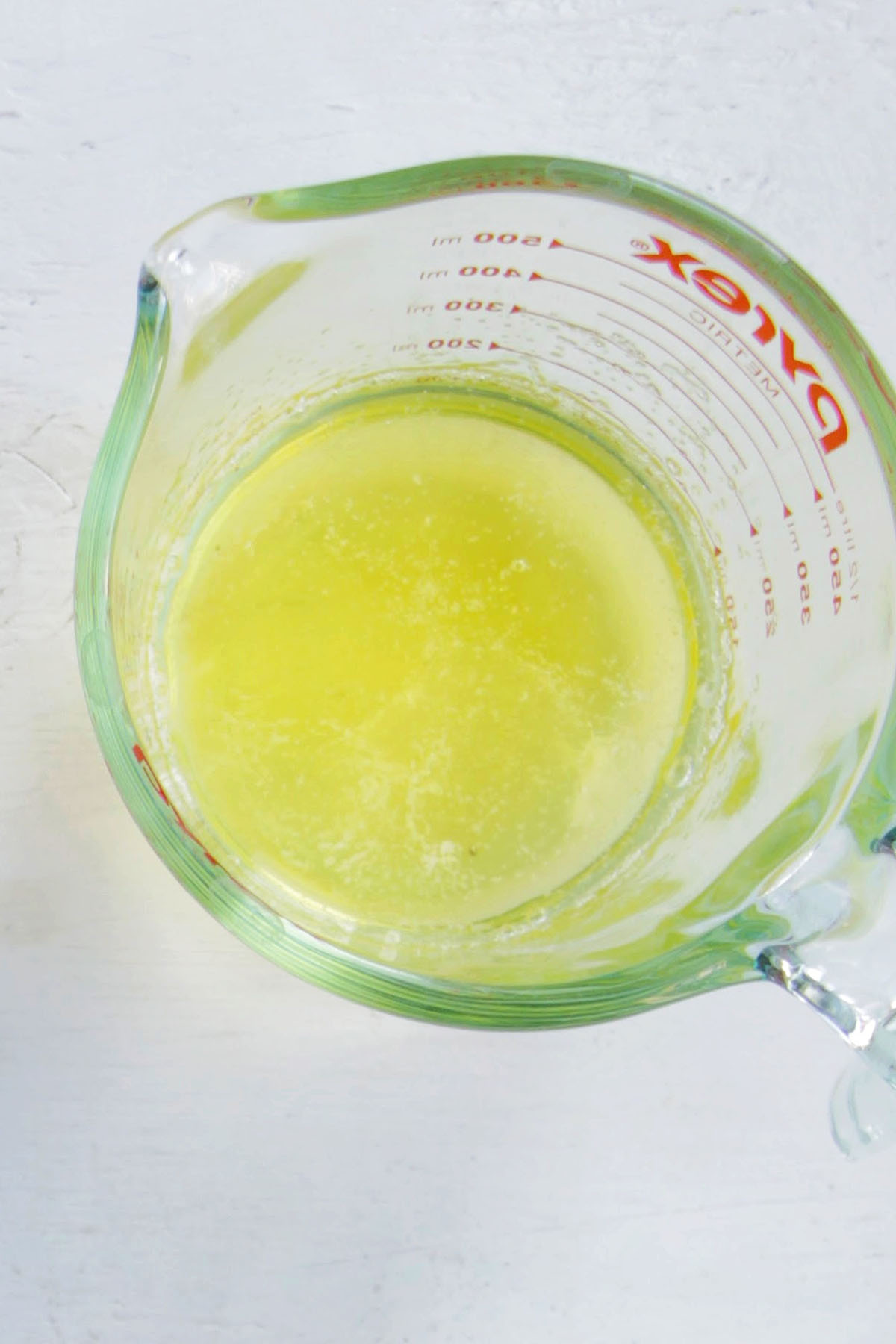 Egg whites are a very important ingredient in macarons that help provide protein and structure in the macaron shells. Egg whites are made up of 90% water and around 10% protein.
Egg whites are mixed with granulated sugar to create a meringue.
As air is beaten into the egg whites, some of the egg proteins unfold. These unfolded proteins turn into a strong network of air bubbles that provide a base for the macarons.
Most macaron bakers prefer to use fresh egg whites over carton egg whites. However, it's up to you to determine if fresh egg whites work best or if a mixture of fresh egg whites and carton egg whites can also work.
Sometimes, fresh egg whites can have too much water (liquid), which can cause problems with macaron shells such as cracking or wrinkled macaron tops.
You can age your egg whites by placing them in a container covered with plastic wrap. Poke a few holes in the plastic wrap so some of the water can evaporate. Then, store in egg whites in the fridge for 2 - 5 days.
Egg whites foam best at room temperature (around 70°F - 80°F). Always remember to take the egg whites out of the refrigerator and allow them to come to room temperature before making meringue.
Other Supporting Ingredients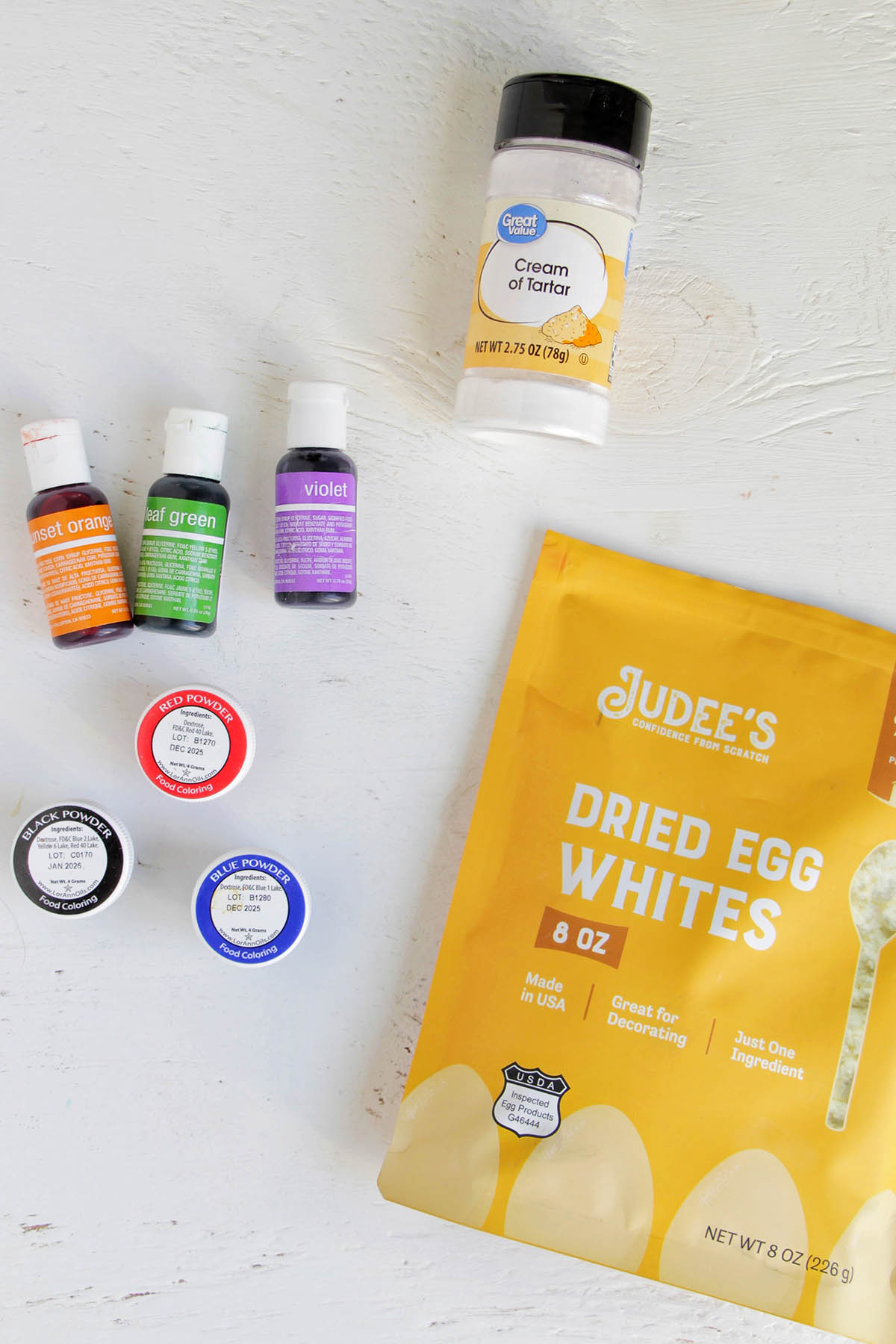 Cream of Tartar: Cream of tartar is an acid that's added to the egg whites at the beginning of the whipping process. This ingredient helps to stabilize the egg white foam as well as prevent an overwhipped meringue.
Don't skip this ingredient, especially if you're using fresh egg whites.
Dried Egg Whites: This ingredient is another option for strengthening your egg whites. By using this ingredient you'll get a much stiffer and sturdier meringue. You can use ¼ teaspoon of dried egg white powder for every 1 fresh egg white.
This is a great option if you're having problems with weak meringue.
Food Coloring: Macarons are known for their brightly-colored shells. Typically, the color of the shell signifies the flavor of the macaron filling. For example, a green macaron shell could have a pistachio filling.
It's best to use gel food coloring or powdered food coloring. Liquid food coloring adds too much moisture to macarons, which can cause trouble for your shells, like cracking.
Salt: Adding salt to macarons helps to enhance the almond flour flavor and balance out the sweetness. If you decide to add salt to your macaron recipe, be sure to use fine sea salt and add it with the other dry ingredients.
Qualities Of A Good Macaron
Now that you know how the ingredients impact the final taste, texture, and flavor of the macaron, here are some qualities that good macarons have. You'll want to try to achieve these within your own macarons:
Crispy (not too soft) top. You don't want the top to crack when you touch it.
Small feet with a slight vertical rise. You don't want lopsided or ruffled feet that are spread out on the sides.
Full, slightly chewy interior. You don't want a large hollow gap between the top and bottom. Although, this is one of the hardest things to get correct and can take some practice!
Equal-sized top & bottom shells. You don't want small and large shells paired together to make one full macaron.
Expert Tips
Always measure macaron ingredients by weight using a food scale. This will allow you to get the perfect amount of ingredients and avoid any ruined macarons related to incorrect measurements.
When sifting the almond flour and confectioners' sugar together, don't force any large pieces of the ingredients through the mesh strainer. The point of sifting the ingredients is to remove any of the large pieces, so you can bake smooth macaron shells.
For perfect macarons, it's important to master three main techniques. You need to perfectly whip the meringue to stiff peaks, properly macaronage the ingredients to a lava-like consistency, and find the perfect oven temperature. Mastering these three items will ensure you successfully bake perfect macarons.
Remember that it takes some trial and error to bake macarons at home. If you're having any troubles, check out my macaron troubleshooting guide or leave a comment below and I'll do my best to help you out.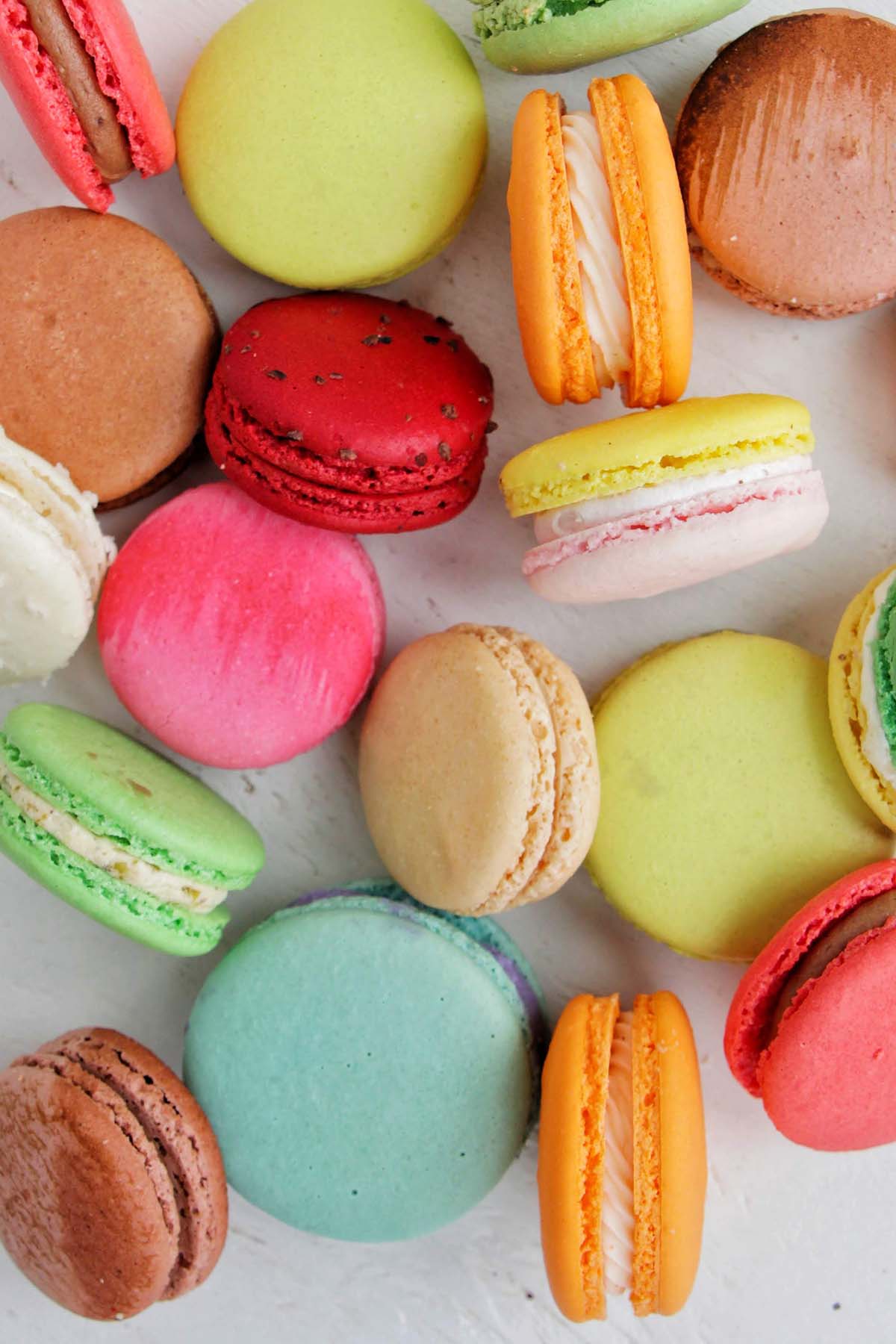 FAQs
More Macaron Guides & Recipes
Don't forget to check out my other favorite macarons, including over 30+ of the best macaron recipes:
Love this guide? Please leave a comment below. Don't forget to follow along on Instagram, Facebook, YouTube, and Pinterest for more recipes.