Mix up a super simple payday shot with peanut butter whiskey
If you love eating a PayDay candy bar, this is the perfect alcoholic shot for you! With the help of peanut butter whiskey, butterscotch liqueur, and caramel vodka, you'll be throwing back this delicious shot recipe. Use some caramel and salted peanuts for the perfect garnish.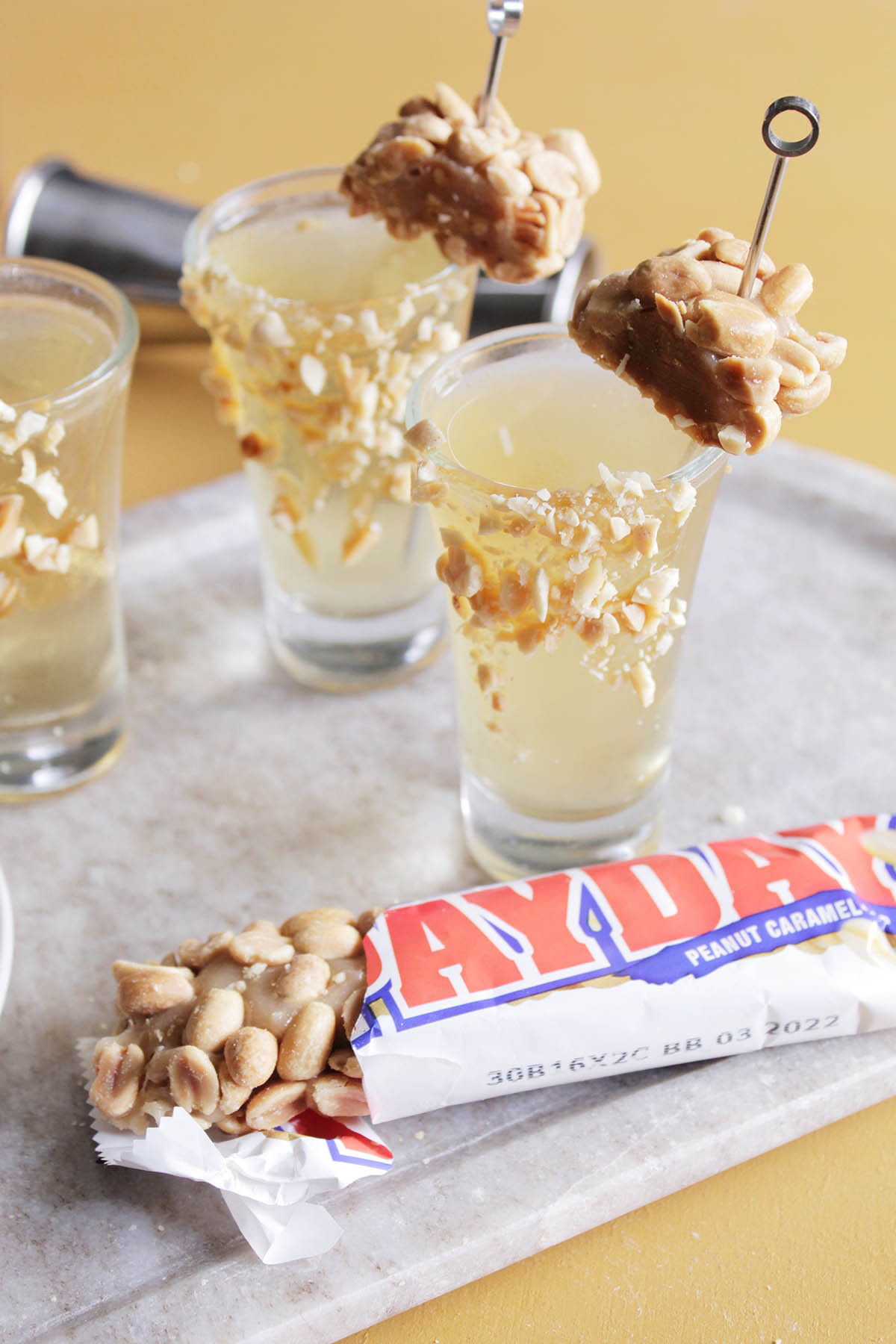 Jump to:
My obsession with Skrewball peanut butter whiskey continues with another shot recipe! This time, it's inspired by the delicious PayDay candy bar. If you're unfamiliar with PayDays, they are made from caramel and peanuts, and they are absolutely delicious!
You'll get a taste of all the PayDay flavors from the garnish, then my twist on an alcoholic version of the candy bar. This would be a perfect shot to make for game days, parties, or even for a New Year's Eve celebration.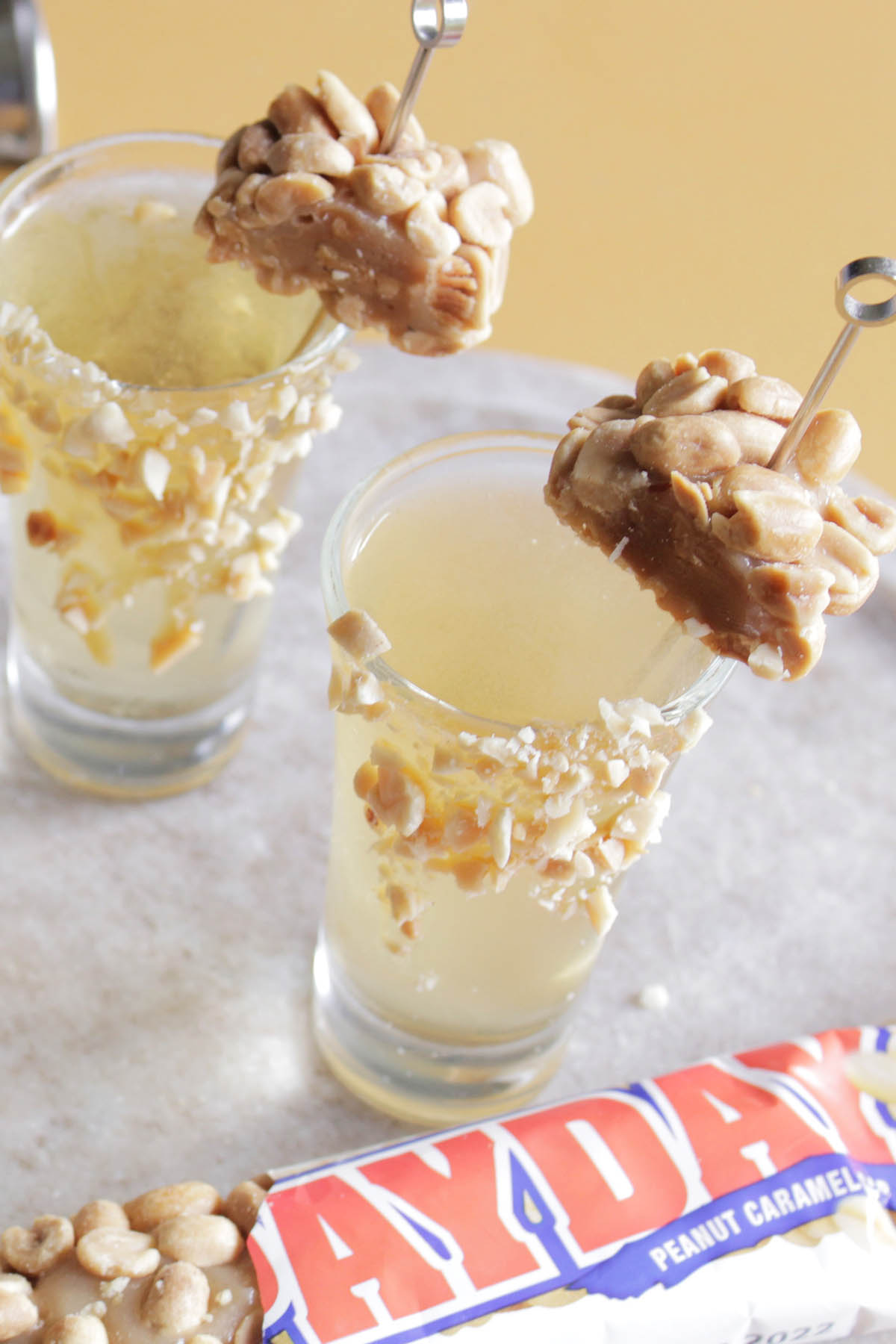 Recipe Video Tutorial
What You'll In This Recipe
With every recipe, you'll learn a new skill to use in the kitchen. In today's recipe you'll learn:
The bartending tools you'll need to mix up a shaken shot
My favorite type of peanut butter whiskey (and other recipes you can use it in)
How to garnish a shot glass to make it fun and delicious
If you love making shots at home, be sure to check out 50 of the most popular shot recipes. Plus, you can get a printable guide with all the recipes sent straight to your inbox.
Ingredient Notes
The most important part is to make this shot taste as much (as possible) like a PayDay candy bar. While it's impossible to get that super sweet taste with alcohol, all the flavor components are there. And, we're incorporating a little something sweet in the garnish.
Here are the ingredients you'll need for this shot recipe:
Butterscotch liqueur: I like balancing out the shot with a dash of butterscotch. It helps sooth the caramel flavor. Butterscotch schnapps will also work!
Caramel flavored vodka: We have to add in a bit of caramel of really get the caramel taste of a PayDay.
Peanut butter whiskey: This whiskey packs the punch of peanut flavor for the PayDay shot. My favorite type of peanut butter whiskey to use is Skrewball. Check out other recipes to try (below) for more delicious ideas on how to use Skrewball.
Caramel topping: In order to help really pack in the caramel flavor we're going to garnish the rim of the shot glass with caramel sauce.
Salted peanuts: Add the finely crushed, salted peanuts on top of the caramel.
Peanut caramel candy bar: I love using a Payday as a final garnish!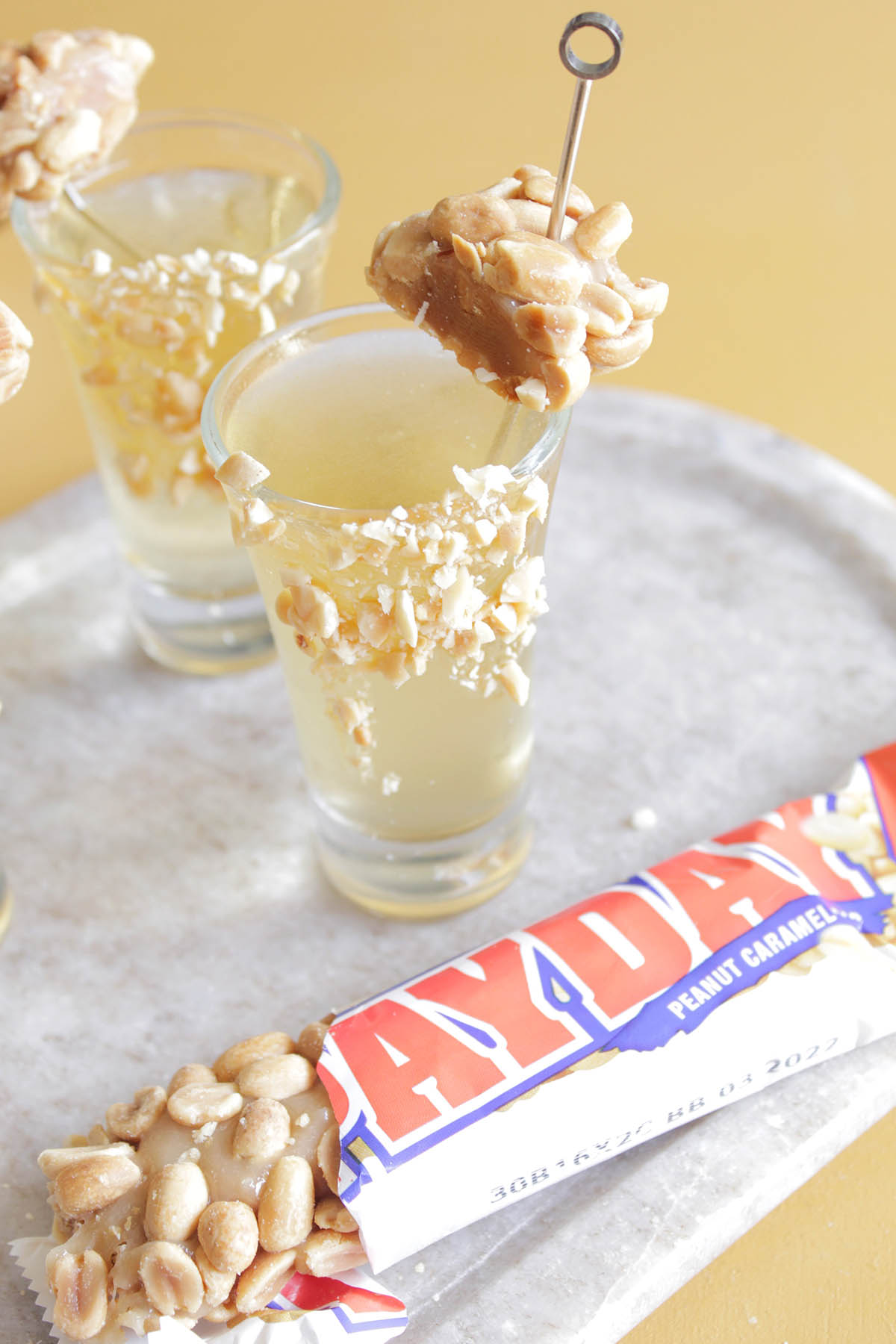 Equipment & Tools
You'll need a couple of tools to make these PayDay shots:
Boston Shaker: This is the tool you'll use to shake up the shot. It's a great thing to have around if you love making cocktails
Hawthorne Strainer: The Hawthorne strainer is used to strain shaken shots from the shaker into the serving glass.
Shot Glasses: These are my favorite glass shot glasses. Feel free to use a plastic alternative if you're making this recipe for a party.
Cocktail Pick: These are totally optional, but work great to hold the garnish on drinks!
Recipe Frequently Asked Questions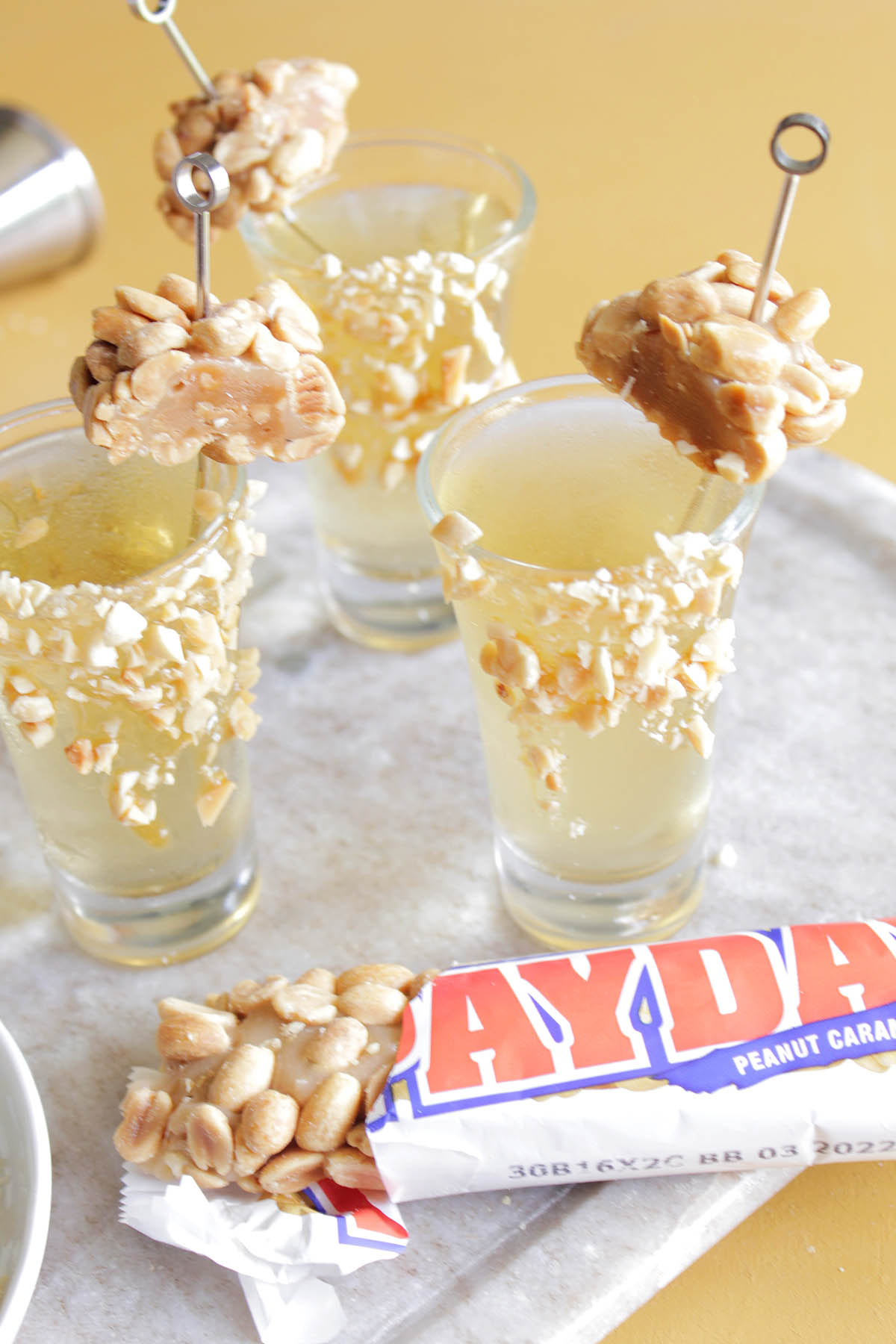 More Shot Recipes
Love this recipe? Please leave a 5-star ⭐⭐⭐⭐⭐rating in the recipe card below. Don't forget to follow along on Instagram, Facebook, YouTube, and Pinterest for more recipes.
Other Recipes To Try