100+ must-have charcuterie board shopping list items you need
This is the complete charcuterie board shopping list with over 100+ food ideas to create your very own board or platter for any occasion! You'll also learn the basics for putting together a beautiful charcuterie board including - how to brainstorm an idea for your board, charcuterie essentials, and of course what to include on your board!
When it comes to making charcuterie boards or platters, there is an ENDLESS world of possibilities. I think that's why charcuterie boards have become so popular! Today, I want to inspire your next board or platter by giving you a charcuterie board shopping list with 100+ ideas.
We'll also talk through ways to get inspired to create your very own unique board or platter for any occasion, as well as the cheese board essentials you'll want to keep on hand! I'll walk you through the exact creative process you need to use to make any charcuterie board or platter you could possibly dream of!
Be sure to grab your ultimate charcuterie board shopping list to get started!
How to Plan a Charcuterie Board
First things first, when I'm creating any charcuterie board, I like to gather some inspiration. Head over to Pinterest and see what you can find.

What color palettes feel inspiring?

Is there any produce or fun products that stick out?
What fun shapes or motifs do you like?
Are you drawn to an elegant or more whimsical style?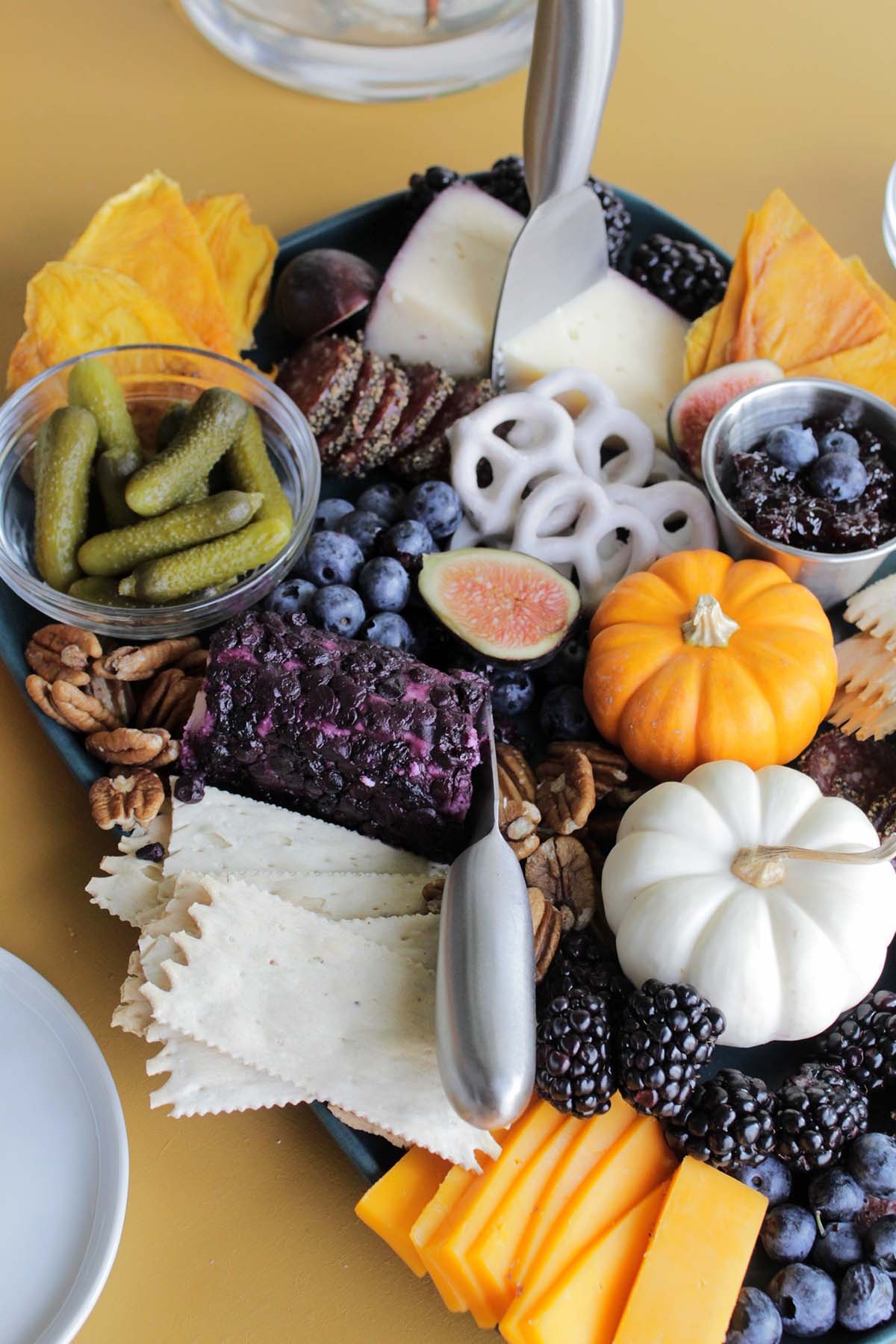 What to Put on a Charcuterie Board
Once you've gathered some inspiration, it's time to decide what to put on your charcuterie board. This is the fun part!!
I always like to use this charcuterie board shopping list to start brainstorming. On the shopping list you'll find many of the following categories:
Meat: The charcuterie part of the board. Estimate serving 4-6 slices of meat per person.
Cheese: With a variety of flavors, textures, and colors. Plan to serve 1-2 ounces of cheese per person.
Produce: A mix of fruits and/or veggies. These can be fresh or dried.
Dippers: Whether it's crackers, bread, or pita.
Savory: This can be nuts, olives, pickles, etc.
Sweet: Think mini candies, jam, or yogurt covered pretzels.
Garnish: Anything from fresh herbs, candied fruits, or honey drizzle.
You could also try a non-traditional charcuterie board like a Greek appetizer platter, pancake board, or even a hot cocoa board.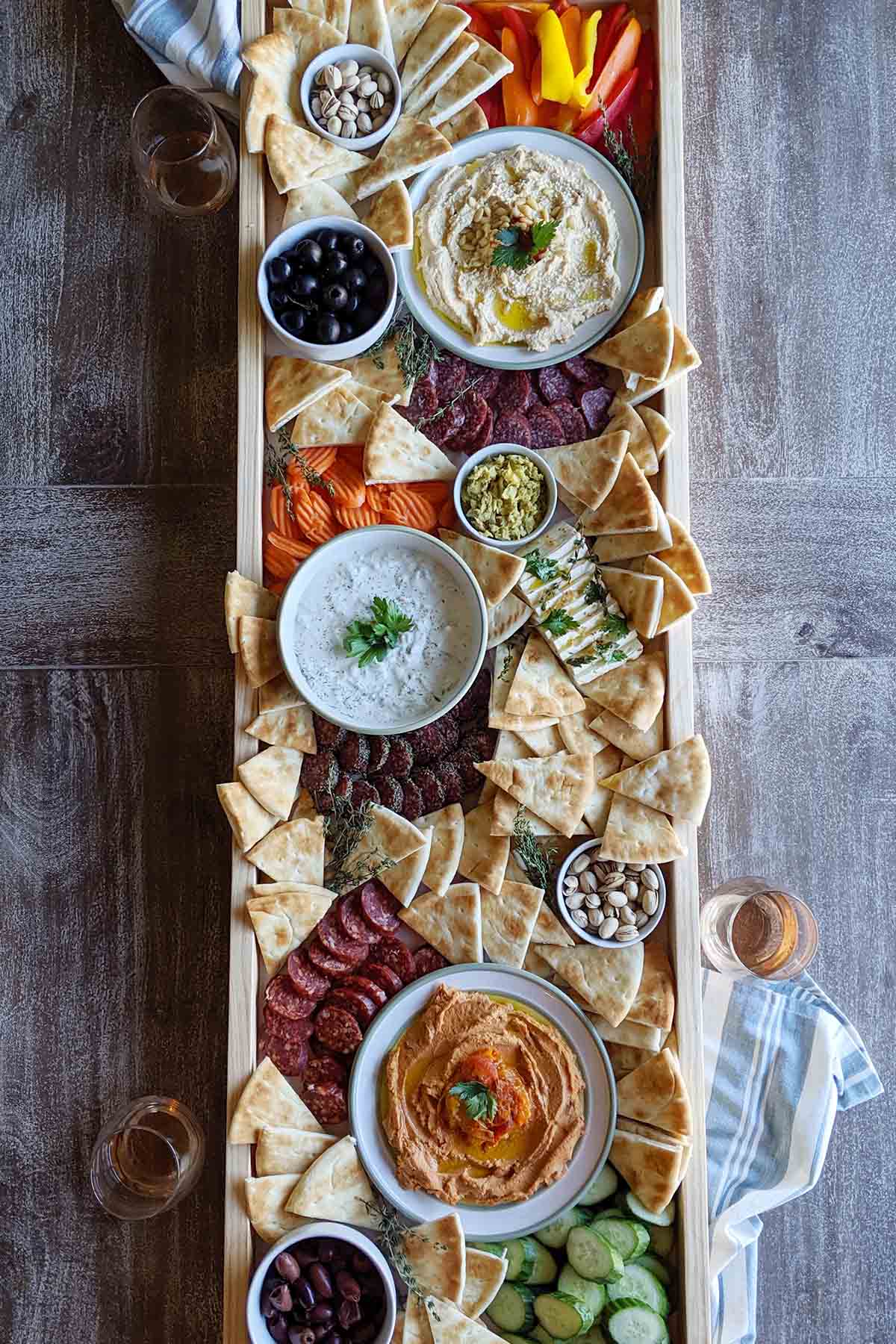 How Much Does a Charcuterie Board Cost?
If you're wondering how much it costs to make a charcuterie board, I'd say plan on spending around $50 on your board. Cheese is typically the most expensive item, ranging from $3 – $8 per block depending on the variety.
Although you'll likely spend around $50, you will have leftover items to use on future boards. This is more of an initial investment in some staple items.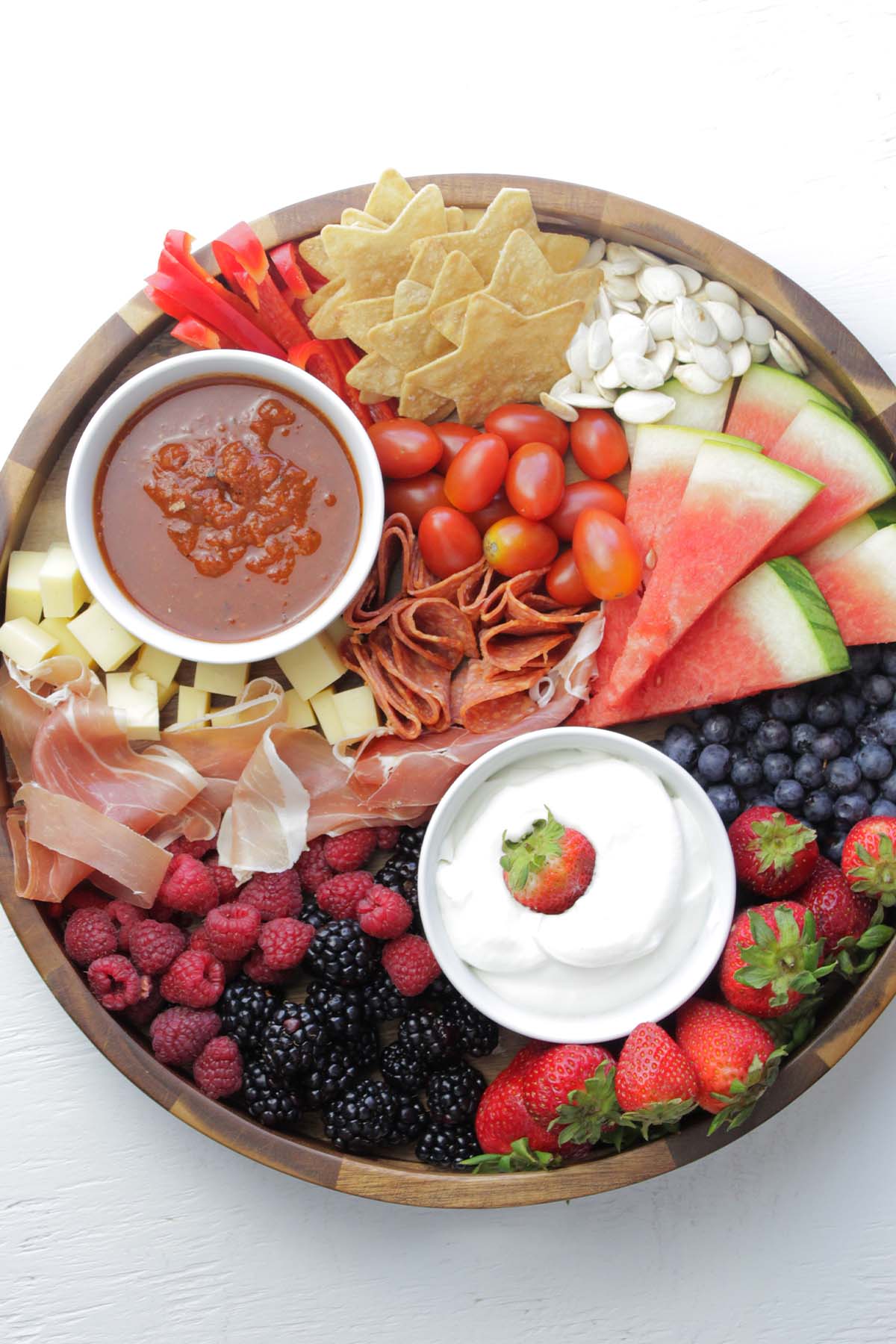 Charcuterie Board Essentials
Along with your food products, there are a couple of essentials you'll need to make a charcuterie board.
First, select a board. The board can have a big effect on the theme/vibe of your board. Feel free to use a colorful plate or platter, if it goes along with your board.
If you're new to making charcuterie platters, it's best to invest in a neutral board that you can re-use no matter the occasion! These are some of my favorites. Not only are they reasonably priced, but they'll hold a decent amount of food for a party.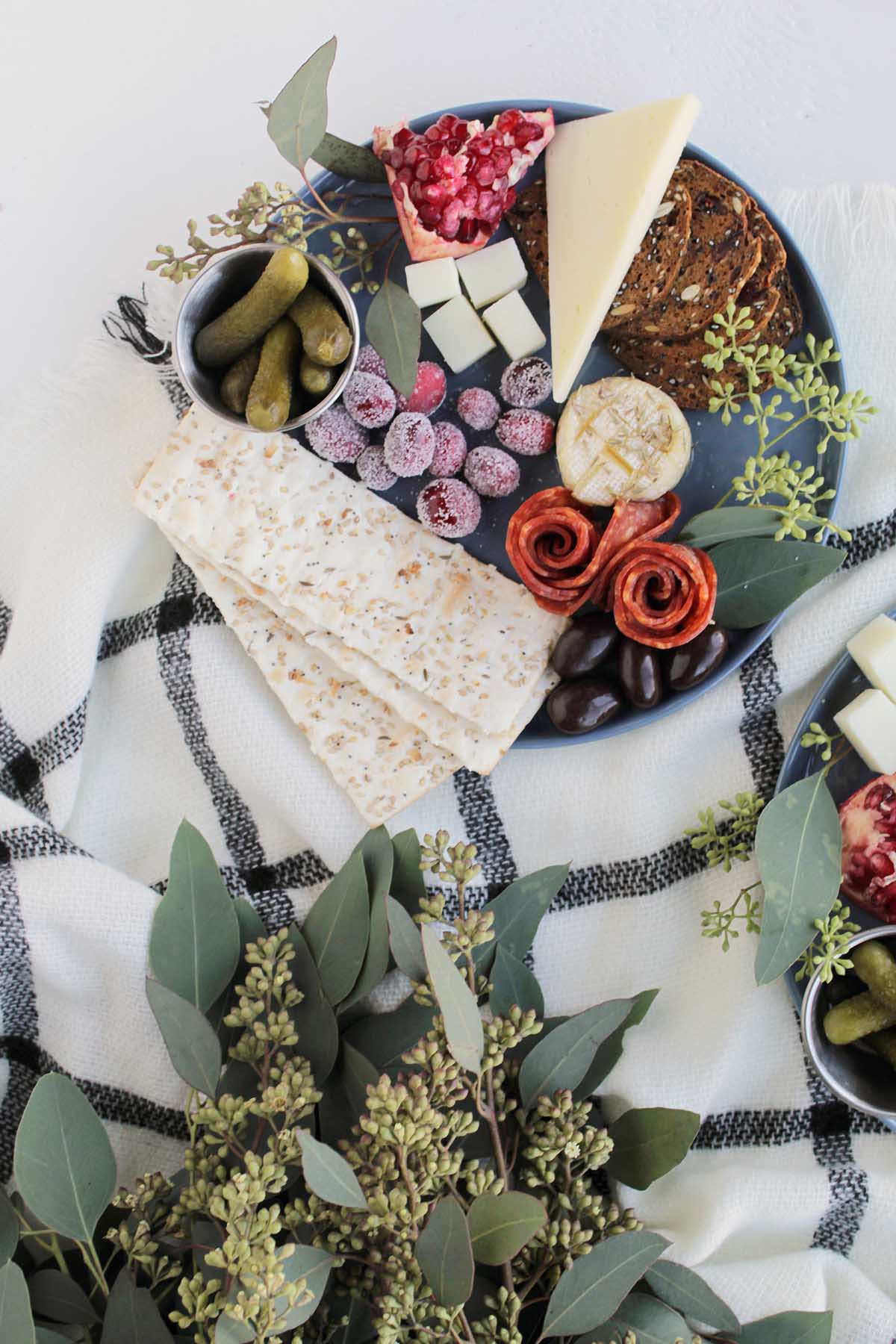 Next, you'll want to have some small bowls or condiment holders. These have two purposes.
Practically, they prevent items from leaking and making elements of the board soggy - like honey, jam, or even pickles.
Visually, they help break up elements of the board. They also add some height and variation, which I love!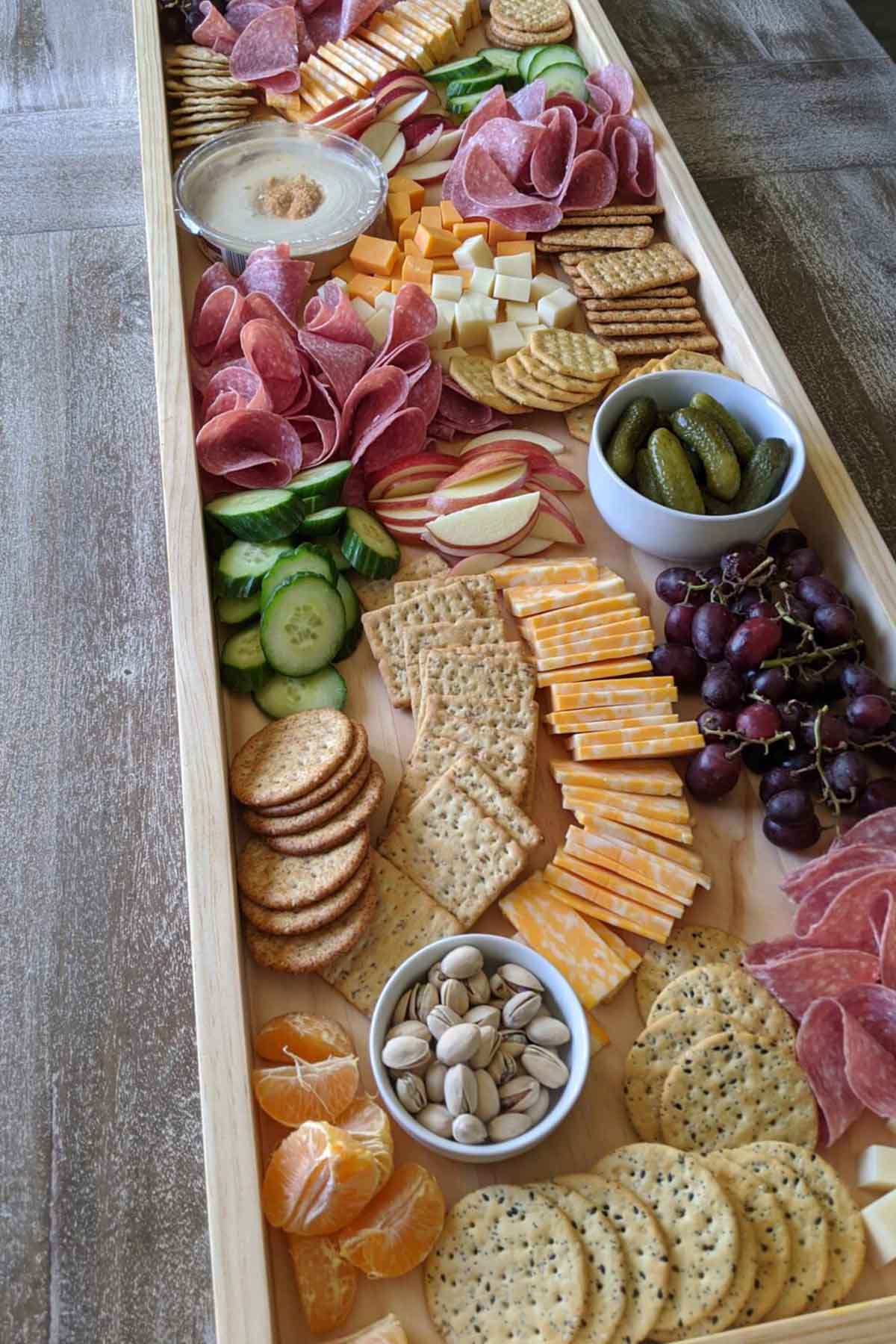 And finally, I love to have a set of cheese knives on hand! Each knife has a different purpose, so it's nice to have a complete set on hand so you'll have the right knife no matter what cheese you buy!
Chisel Knife: Used for semi-soft (fontina, gouda, havarti) to semi-hard (cheddar, manchego) cheeses. It helps divide soft cheese, or shave down hard cheese.
Open Work Blade Knife: Used for soft, sticky cheeses (brie, boursin, taleggio). The holes help prevent the cheese from sticking to the blade.
Narrow Plane Knife: Used for mainly semi-hard cheeses (cheddar, manchego). However, this a fairly versatile knife that can cut on the long or short end.
Small Spade Knife: Used for hard cheeses (asiago, parmigiano-reggiano, pecorino romano). The point on the knife makes it easy to cut the cheese into wedges.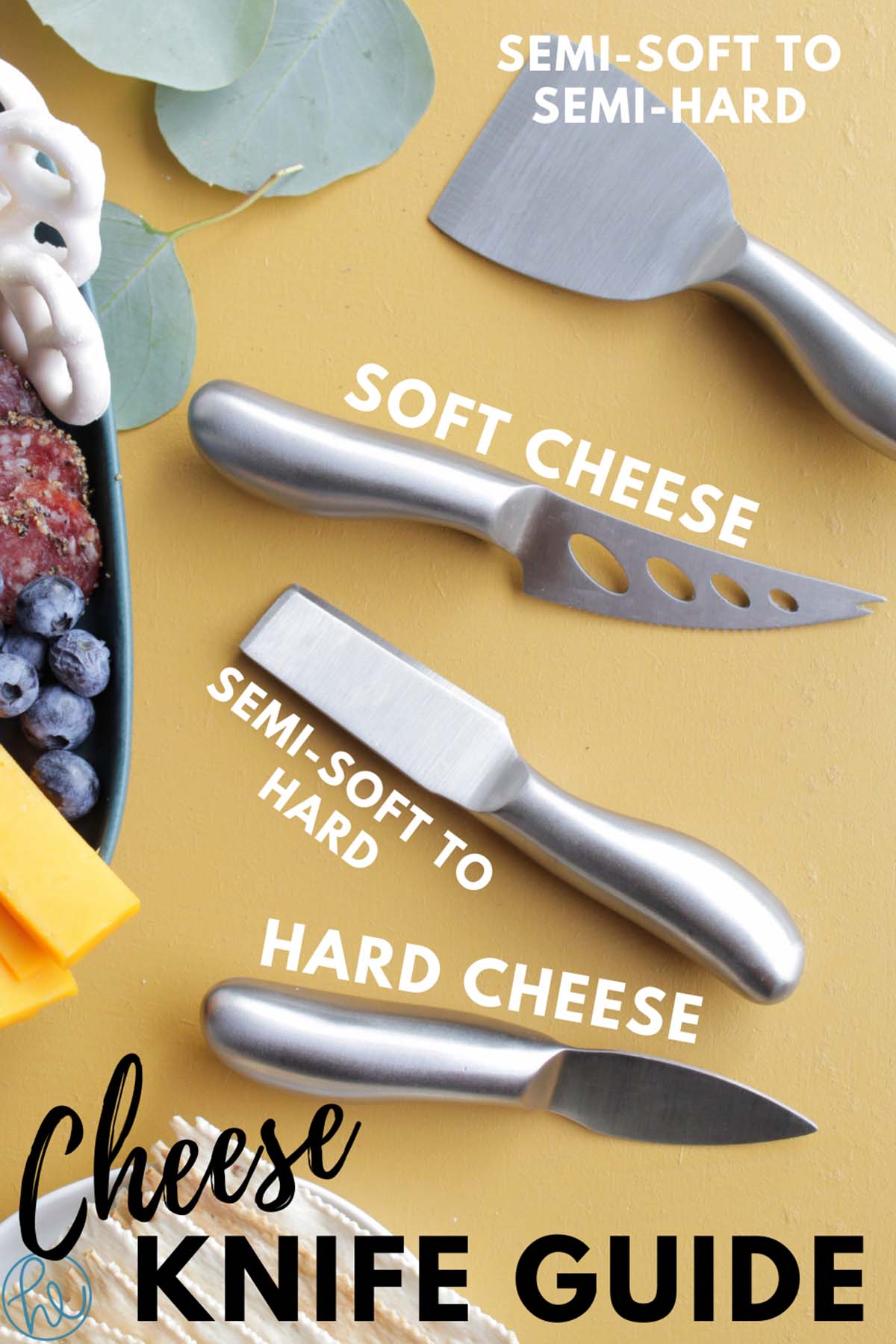 How to Plate Your Charcuterie Board
Now it's time for the most fun part – putting the board together!
There aren't any hard & fast rules for this, so use your creativity. If it's your first time, or you're looking to step up your charcuterie game, here are some of my favorite plating secrets.
Use the "large" items has an anchor point. Place these down first.
Vary the colors of the items next to each other. Contrasting colors next to each other make the board POP!
In a similar sense, vary the textures that are next to each other.
Add some height for some visual change. Bowls or tall items can help add a bit of height.
Once you've laid out all the main items, place some "dainty" garnish items for a finishing touch.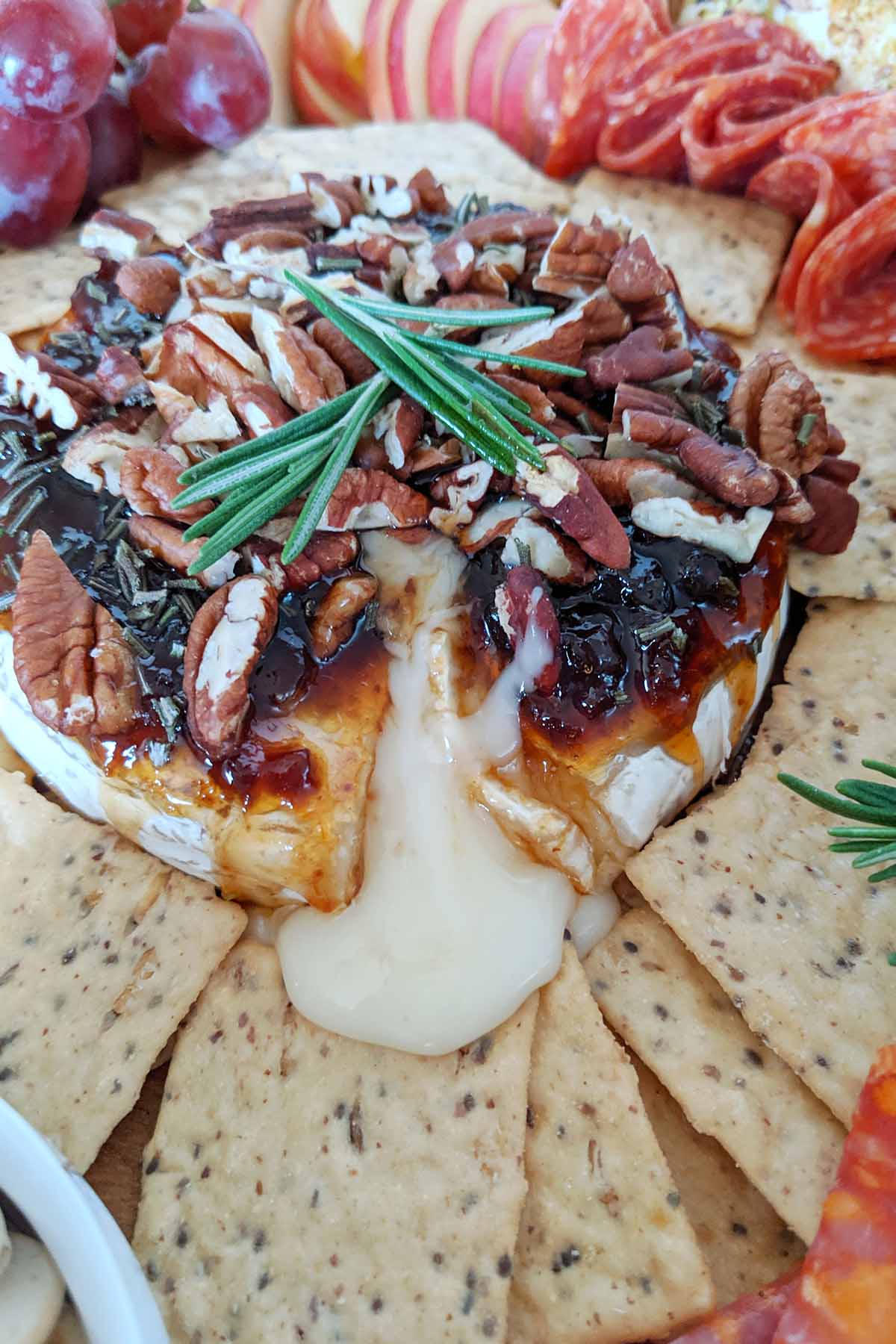 More Charcuterie Board Inspiration
Don't Forget: Download Your Shopping List
Don't forget to download your charcuterie board shopping list with 100+ ideas so you can start creating your very own boards and platters!
Love this recipe? Please leave a 5-star ⭐⭐⭐⭐⭐rating in the recipe card below. Don't forget to follow along on Instagram, Facebook, YouTube, and Pinterest for more recipes.