Need some creative charcuterie board ideas to spice up your appetizer game? Each of these themes plays a unique twist on the classic cheese and charcuterie boards we all love. These boards would be a great addition to any party, happy hour menu, or holiday appetizer. Use this as inspiration to help create your own works of art.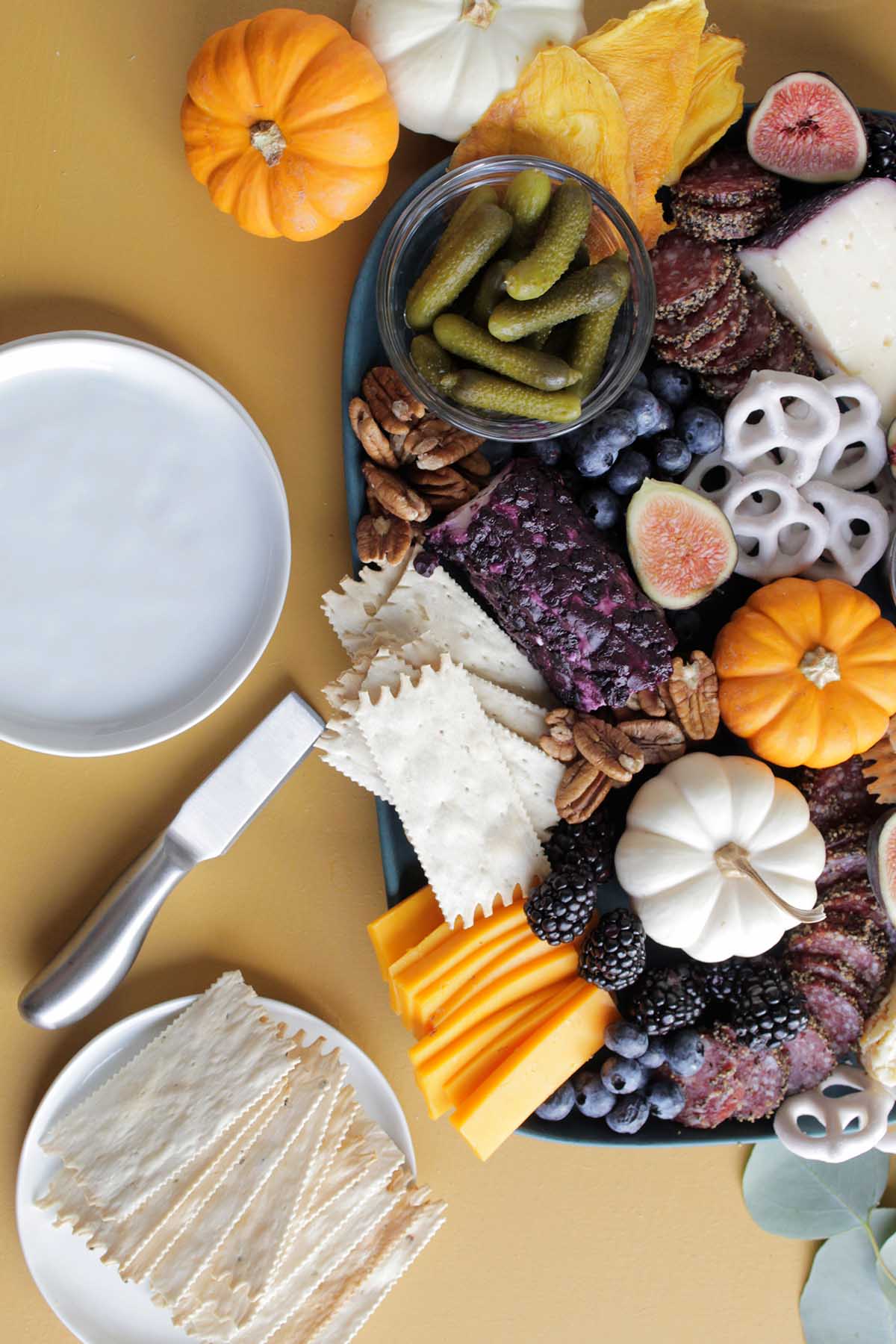 Charcuterie boards are all the rage nowadays! You've probably seen them at parties, on your holiday table, or even just as a fun weekend appetizer.
As somebody who is obsessed with all things food, I love taking inspiration from different places and putting my own spin on an idea. That's exactly what I hope you will do with this post.
You'll find different charcuterie board themes throughout this post, along with beautiful examples from around the internet to help inspire you. If you're looking for food ideas to include on your board, check out my free printable charcuterie board shopping list with over 100+ food items.
Jump to:
Boards For Every Season
One of my favorite types of boards to make are seasonal ones. You can use the season's flavors and produce to make the board bright, fresh, and colorful.
I like looking up what produce is in season or walking around the grocery store looking for specialty seasonal items.
For more inspiration, search Pinterest for fun color palettes related to the season. This can help you select food items with a similar pattern or feel.
Check out these ideas:
Boards For A Holiday
You can make a creative charcuterie board for almost any holiday! First things first, you'll need to decide if it's a board that needs to be paired with a menu (typically for larger holidays), or if it's more of a snack board to munch on while hanging out at a party.
If you're creating an appetizer board to pair with a meal, you'll want to think through the flavor profiles on the board.
Try to repeat a flavor or two that guests will see during the main course. You can also pair complementary flavors that go along with the overall menu.
It's fun to play off of the colors, motifs, and shapes of the holiday. Don't be afraid to have fun with this and really play up a theme. You can go all out with red, white, and blue for a 4th of July board.
Or, you can have lots of red, pink, and hearts for Valentine's Day. There's always a way to keep themes more subtle or elegant if that's your style.
Check out these ideas:
Kid-Friendly Boards
Charcuterie boards for kids are a whole different ball game. You have to make it FUN, and it has to have lots of kid-friendly foods.
It's best to know your audience for this type of board. Ask the parents what types of food the kids will eat (and if they have any food allergies), so you can build a board kids will love.
The more whimsical and funny these boards are, the better! Kids love having fun with their food, so why shouldn't their charcuterie boards reflect this?!
Check out these ideas:
Dessert Boards
While dessert boards are by no means a true charcuterie board since there is no meat, they are still a fun twist!
Be sure to think about color and texture when creating a board like this. Charcuterie boards are more fun because there are lots of colors, textures, and ingredients. So, be sure you're adding a variety of items.
Remember, fruit and candy can be great filler options when it comes to dessert boards. You can also think about using sweet dips like whipped cream, jam, Nutella, or honey.
Check out these ideas:
Boards With Creative Shapes
I love the idea of changing up the traditional shape of charcuterie boards. There are endless amounts of shapes you can design your board in. Whether you're planning a board for a holiday or birthday party, you can brainstorm a shape that makes sense for your theme.
If you don't own a charcuterie board, you can always cut a piece of cardboard into your shape of choice. This is a great (and cheap) way to make your own board. Just make sure to wrap the cardboard in some parchment paper to keep things sanitary.
Check out these ideas:
Boards To Go Along With A Theme
Planning a themed party? Why not create a charcuterie board theme to go along!
I always love to think about food that would pair with the theme of the dinner or party. The sky is the limit in terms of cuisine and foods you can build into a beautiful board.
A fun addition to this themed board would be a specialty cocktail. Select a flavor that complements the elements on the charcuterie board, and make (or buy) a cocktail with those flavors.
Check out these ideas:
Small Boards
So often you see huge charcuterie boards around the internet. That size is great for large parties, but not so great if you just need a small board for one, or a small snack for date night.
Instead, try out these small board options. There are still many cute ways to display a small charcuterie board. You can also opt to display these on a small, decorative plate or in a jar.
The best part about making small charcuterie boards is that you can splurge on some higher-priced items since you don't need much. My splurge is always a good quality cheese or prosciutto.
Check out these ideas:
Drink Boards
This idea is perfect for happy hour! Boards provide a sense of entertainment and wow for guests. Try making a board themed around your drink or cocktail.
Make sure to have a large pitcher of whatever the drink of the night is. This will allow your guests easy access to serve themselves and get refills when necessary. Think of this board as all of the fun toppings to go along with your drink.
Check out these ideas:
Breakfast Boards
If you're looking for fun things to put on a charcuterie board, look no further than these breakfast and brunch inspired platters. This is a cute way to serve everyone's favorite meal of the day.
You can add any variations of breakfast food that you love including pancakes, waffles, crepes, and pastries. Try making a sweet food board or a savory platter.
The key to this style of charcuterie board is adding lots of toppings, dips, and syrup to make the presentation show-stopping.
Check out these ideas:
Health Focused Boards
There are many different styles of charcuterie boards, including ones that have some healthier food options. This is an interesting way to plate up food that makes people excited to eat healthy.
Be sure to purchase food that's fresh, bright, colorful, and of course delicious. This is the perfect snack board for a party, especially if your guests have dietary restrictions. These boards can easily fit gluten-free, vegetarian, or vegan dietary preferences.
Check out these ideas:
Boards with Dipping Sauces
If you're looking for the perfect board or platter to bring to a charcuterie party, this is the perfect unique answer! Everyone loves a food board with dipping sauces.
The dip on each of these platters provides a nice focal point for the board. It nicely anchors all of the other accouterments on the platter. Whether you decide to go with a sweet or savory dip, you won't be disappointed!
Check out these ideas:
I hope these unique charcuterie board ideas inspired you! If you're looking for even more board and platter ideas, check out these charcuterie board recipes.
Love this guide? Please leave a comment below. Don't forget to follow along on Instagram, Facebook, YouTube, and Pinterest for more recipes.