Greek appetizer platter is the perfect make-ahead party food for your next dinner party, game day, or weekend happy hour. Basically, this is an epic Mediterranean-inspired charcuterie board full of pita, hummus, tzatziki. If you're looking for a party platter to impress, you have to try this twist on the authentic fresh and tangy flavors of Greece.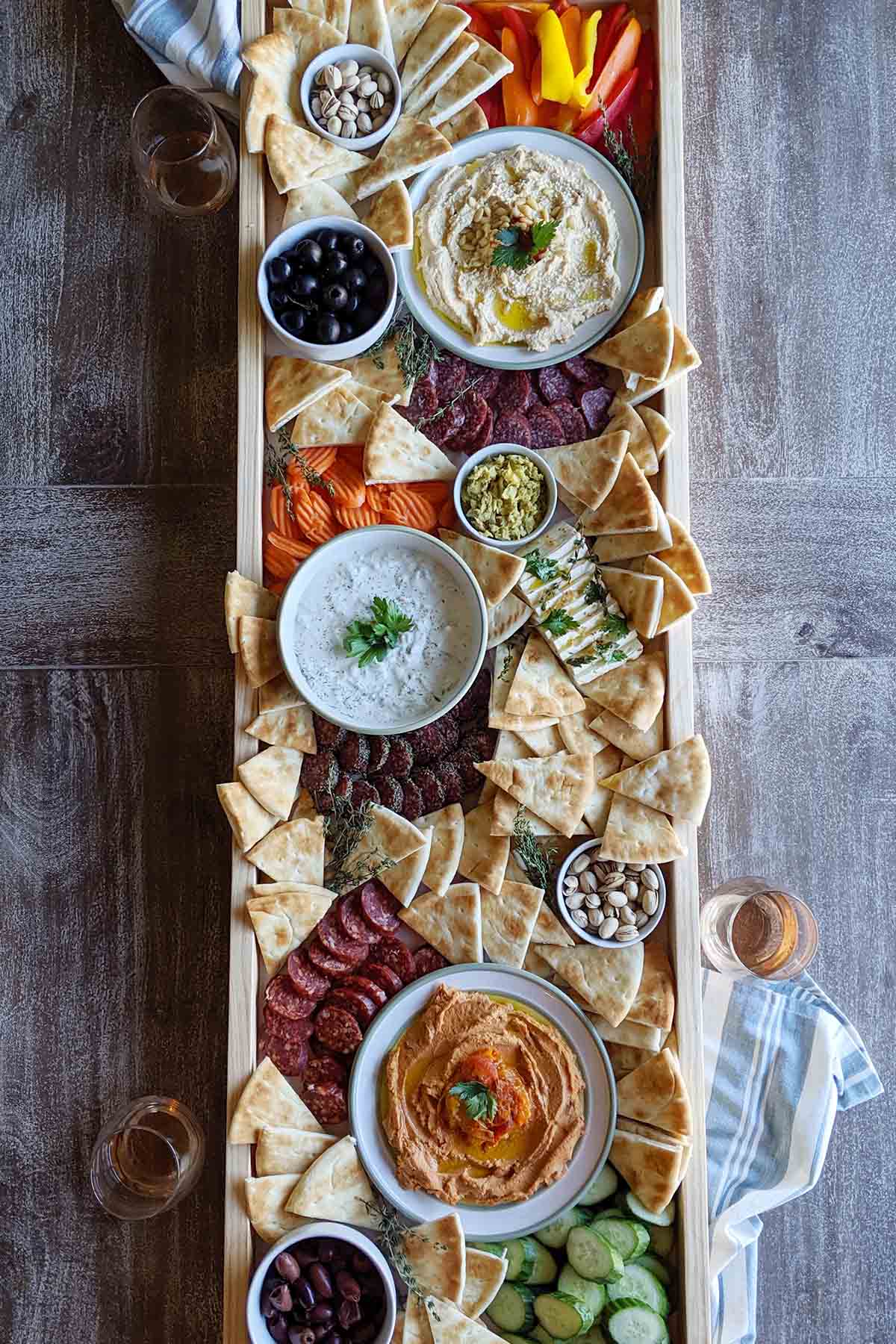 Putting together an at-home appetizer doesn't have to be hard. This Greek appetizer platter is going to 'wow' your guests and come together super quickly (you can even make it ahead of time for your party). If you don't have time to make parts of the homemade elements, I've got some quick tips for you! You're going to love this platter for your next party, happy hour, or game day.


Assembling your Greek appetizer platter

Assembling your Greek appetizer platter is the most fun part! Well, I guess technically eating it is the most fun part, but this is definitely second. For my non-creative friends, have fun with styling your platter and don't stress about it too much. It's all going to come together and look great!


First, anchor your board with your dips. Since these are likely going to be in medium-sized bowls, they will help fill up your board. Next, place your feta cheese and meat around the large bowls. Then, I like to add the olives and pistachios. Sprinkle in your raw vegetables. Make sure you pay attention to spreading out the colorful items so one side of your board doesn't end up colorless and bland. Finally, fill in the rest of your gaps with pita wedges. Garnish with fresh herbs (thyme and rosemary).


If you have a smaller cheese board, don't be afraid to add your meat and cheese elements on the board, and then let the rest of the elements spill off onto your table - just be sure your table is clean & you lay down parchment paper.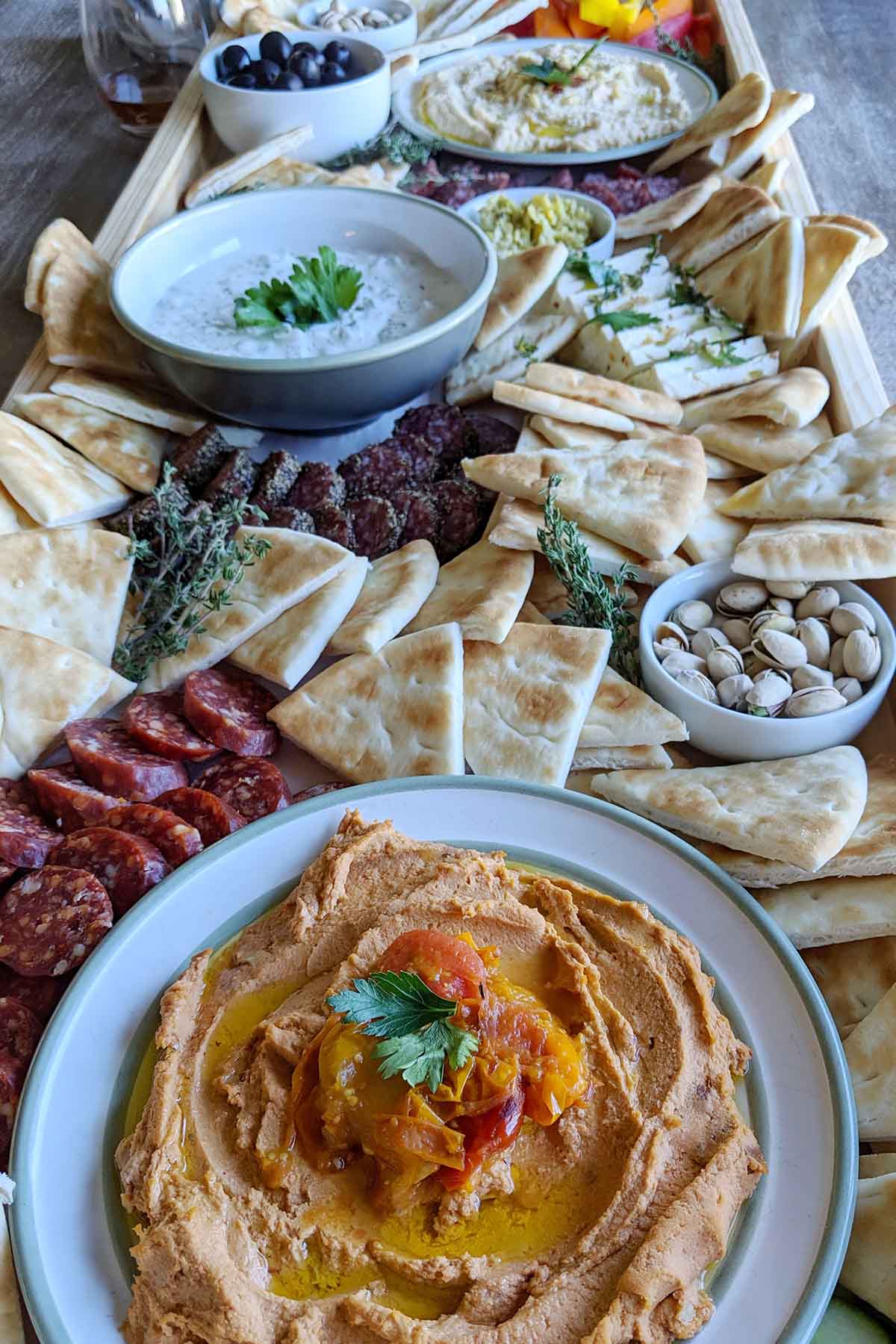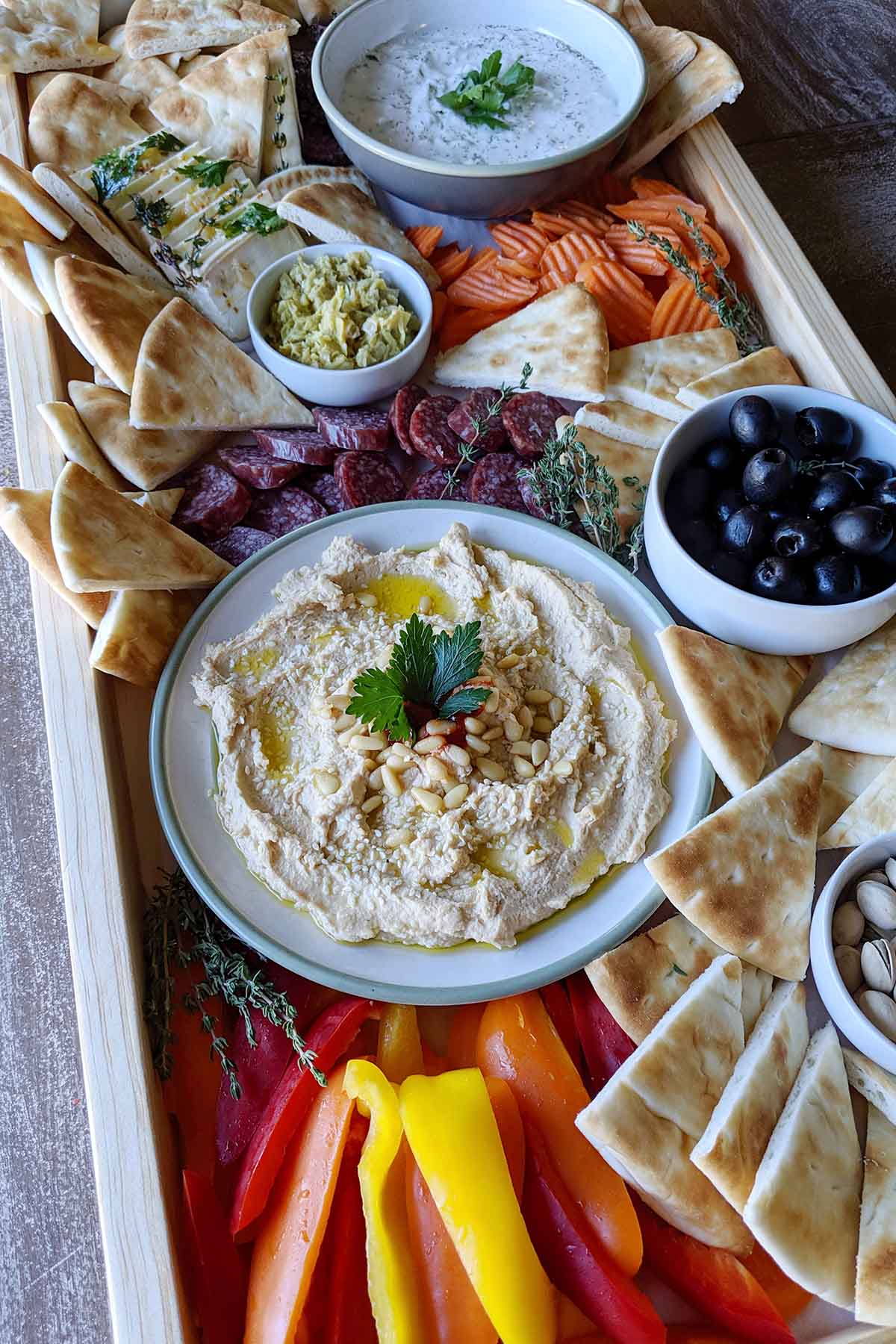 Greek party food preparation tips

If you're making this board for a party, you'll want to be sure to prep your ingredients ahead of time so you can just throw everything on your board 20-30 minutes before your guests arrive.


Up to two days before: Prep your spicy marinated feta, both of the roasted garlic hummus, and tzatziki. Store in the fridge.


Up to one day before: Cut your salami, pita, and veggies. Store salami and veggies in the fridge. Store pita in a resealable bag with all the air pushed out.


Day of: All of the other items are easily able to be poured into a bowl and then they are ready to go. I'd suggest preparing your board about 30 minutes before your guests arrive. This gives you time to play around and make the board pretty and well put together.


Make ahead Greek appetizer

If you're low on time, but still want to make this delicious Greek appetizer platter, here are some of my favorite 'hacks.' You can purchase all these items pre-made at the grocery store. Don't forget to get two types of hummus so you have some variety. You can even purchase pre-cut salami and veggies if you're really low on time. Then, all you need to do is scoop your dip in bowls, and arrange everything on your cheeseboard.


What do I need to build my Greek charcuterie board?

This Greek charcuterie board shines when you have a nice charcuterie board to display everything on. The board in my photos was actually handmade by my husband (so I don't have a link for that), but here are some of the best and affordable over-sized charcuterie boards.


Any charcuterie board is going to be a bit of an investment. But remember, you can use it for any future charcuterie or cheese boards you make, appetizer platters, or even to display your dishes for a dinner party.





If you're hosting a Greek dinner party, don't forget to get to grab a few other essentials to make your party extra special. I love a pop of blue & white in my tablescape to capture the classic 'Greek look.' I love to stack a white dinner plate, with a small blue appetizer plate, and a striped napkin on the side. SO CUTE!!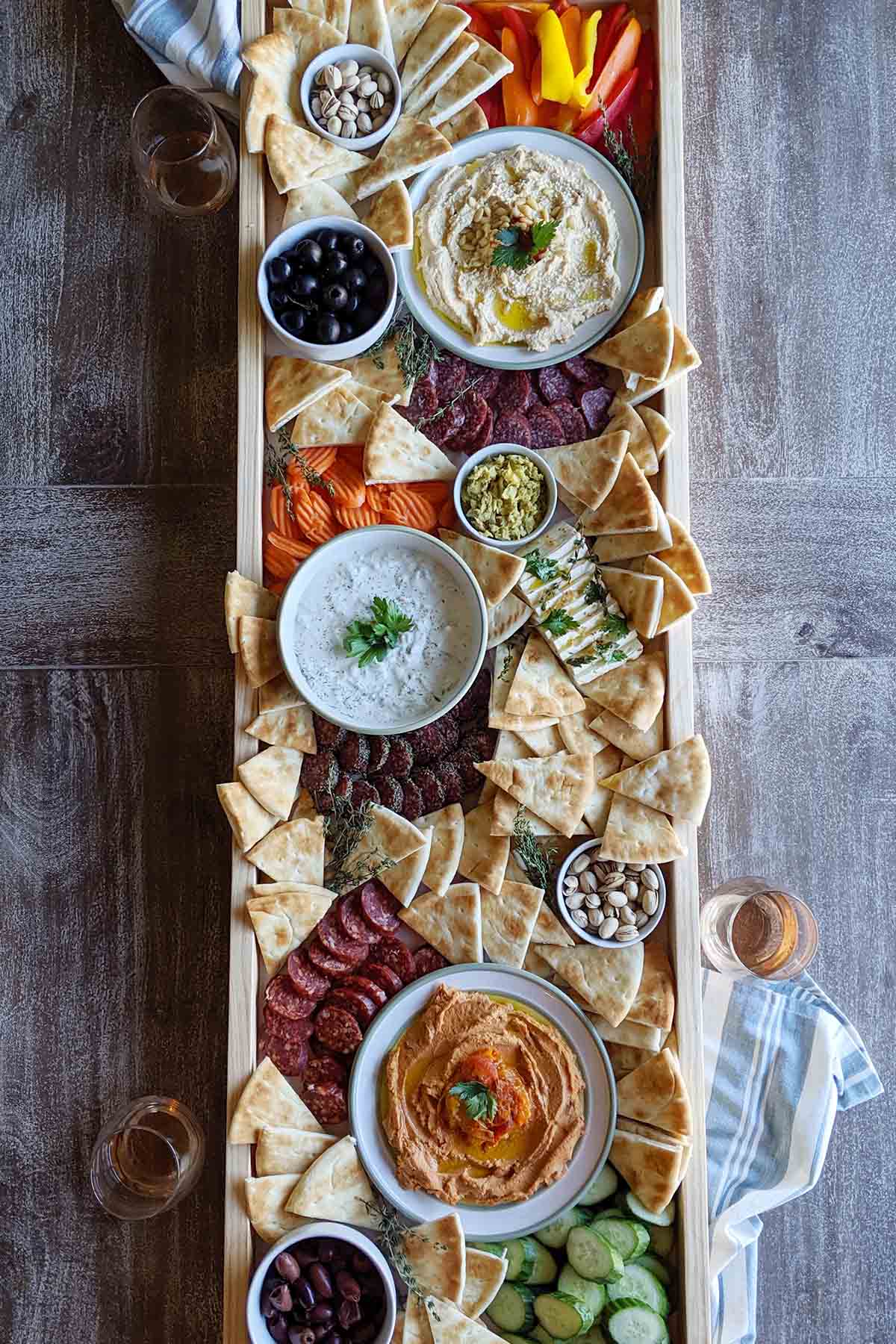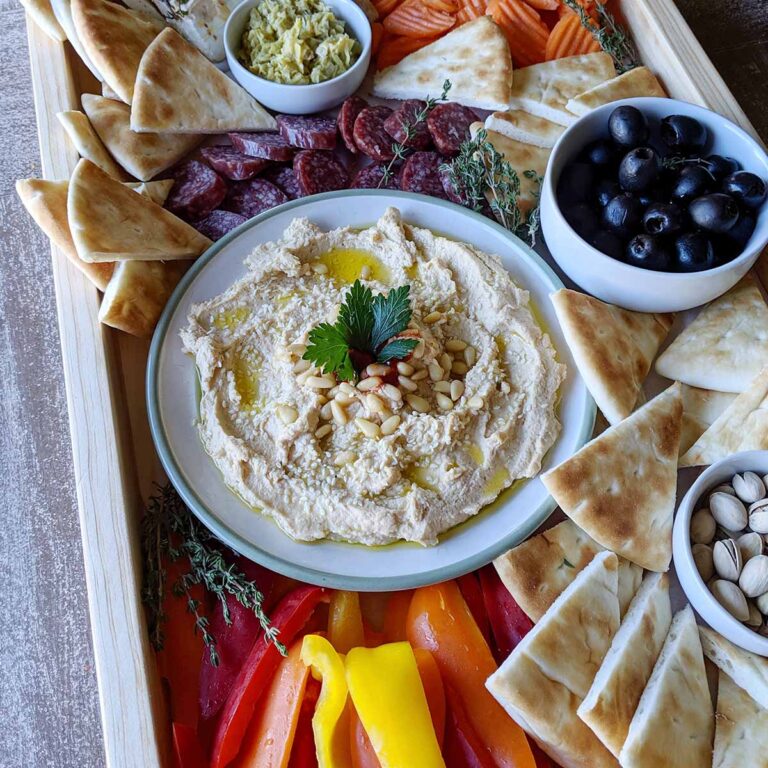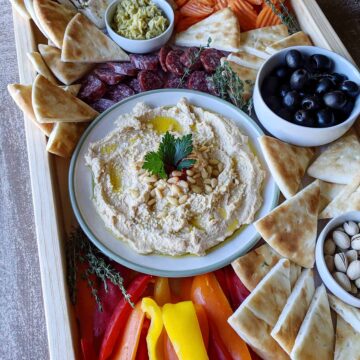 Greek Appetizer Platter
Greek appetizer platter is the perfect addition to any party, game day, or weekend happy hour. It combines the fresh and tangy flavors of Greece.
Ingredients
spicy marinated feta

tzatziki

sriracha garlic hummus

sun-dried tomato hummus

artichoke dip

kalamata olives

black olives

genoa salami

hot sopressata

pepper salami

pistachios

pita

sliced into wedges

bell peppers

red, orange, and yellow

cucumbers

carrots
Instructions
Prep all of the individual ingredients.

Add dips, olives, and nuts to bowls. Arrange all the elements on a large cheese board, creating a pretty pattern.
Have you tried this recipe?
Tag @homebody.eats on Instagram so we can see your creations!
Did you make this recipe?!
Let me know how you liked the recipe! Comment below, or share a picture on Instagram, Facebook, or Pinterest with the hashtag #HomebodyEats. Happy cooking, Homebody family!
Yum Follow my blog with Bloglovin