Learn the best items to pair with your cheese boards and charcuterie platters
If you've ever wanted to build your own cheese board or charcuterie plate, but didn't know what to pair with it, this article will help you! These pairing ideas include the best flavors to include with a wide variety of cheeses. You can think of these as the perfect cheese plate accompaniments or sides! Whether you're feeding a large crowd or making an individual cheese board, you can customize these flavors for every occasion.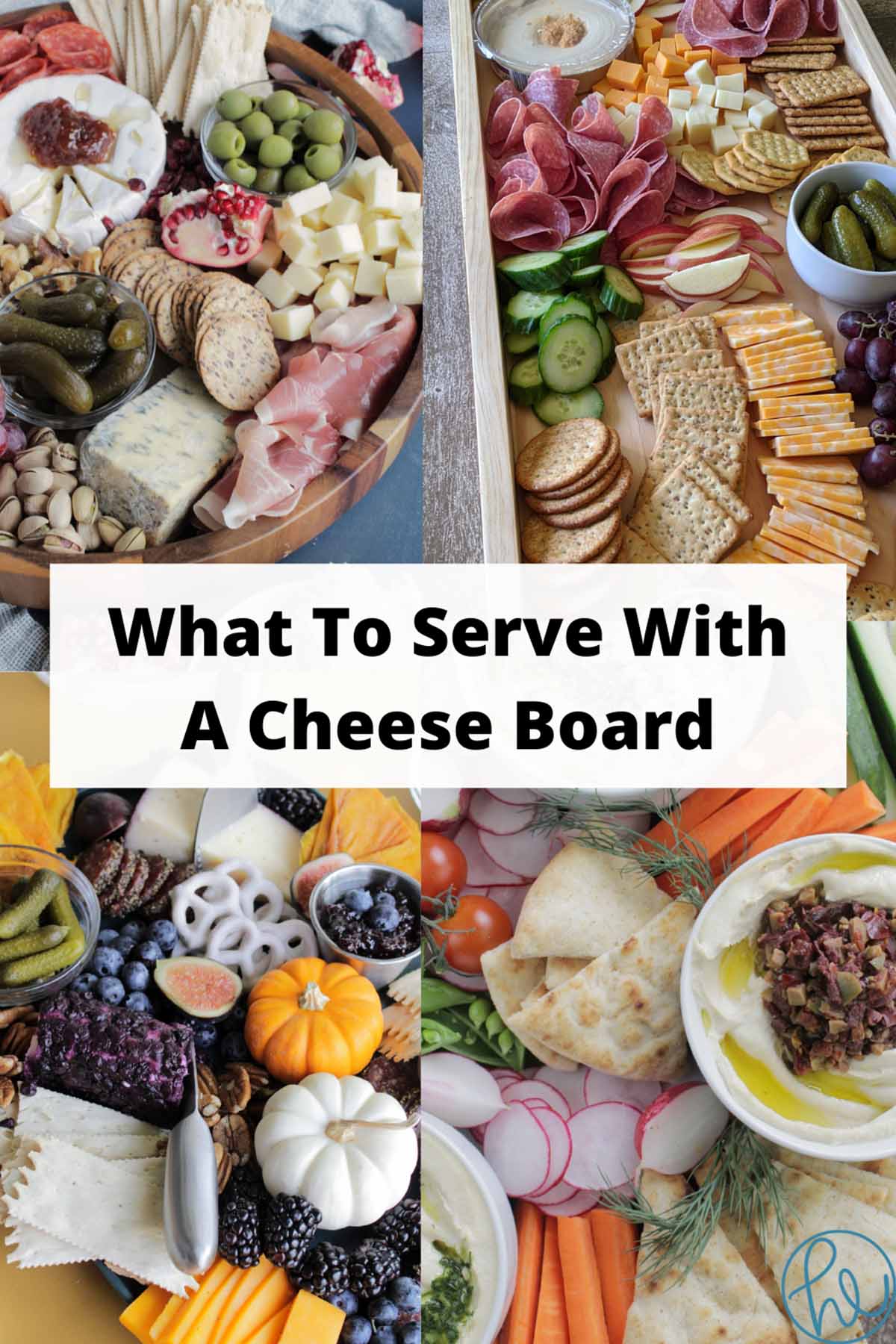 Jump to:
I love making a good cheese platter! It's visually appealing to look at, and most importantly delicious to eat.
Charcuterie is a French term for the production of pâtés, terrines, galantines, and sausages. While we've modernized this term to mean a fancy meat and cheese board like we see on Instagram, the true word charcuterie typically highlights the flavors of the cured meats.
It can be hard to know what to eat with the meat, cheese, and crackers. In this article, we'll talk through some classic combinations to pair with your favorite charcuterie board, along with various cheese ideas!
Cheese Board Pairing Ideas
These are my favorite items to serve alongside the cheese and meat on any charcuterie board:
Crackers & Bread
Adding some crackers, bread, or both to a cheese board is essential. You'll need some sort of vessel for the cheese and meat, and these items work perfectly!
Assorted Crackers: There are lots of good options out there! Choose a flavor and texture you love.
Bagels: This would be a fun option for a breakfast or bunch board.
Baguette: Throw some sliced baguettes (toasted, of course) on any platter!
Breadsticks: There are cracker-like breadsticks, as well as a bread based breadstick.
Focaccia: A great rich bread filled with lots of olive oil. Serve alongside my favorite olive oil dipping sauce.
Lavash: This flatbread is baked to perfection. It would be perfect with soft, spreadable cheeses.
Matzo Crackers: These would be delicious paired with some smoked salmon and cream cheese.
Naan: Try using traditional plain naan or naan packed with spices and garlic.
Pita Bread: Toasted up, this makes a great addition for boards with dips. Just warm it in an oven for a few minutes.
Pretzels: This would be a great option for a sporting event cheese board. Don't forget the cheddar cheese dip.
Scones: Another item that would work well on a breakfast, brunch, or dessert board.
Fruit
Fresh fruits are a delicious addition to your board. Here are some of my favorite varieties:
Apple Slices: If you use fresh apples, be sure to coat them in lemon juice to prevent browning. You could also try freeze dried apples.
Cherries: There's nothing better than fresh, summer cherries! If they're not in season, try dried cherries.
Grapes: A classic to serve alongside cheese. Cut the grapes into smaller clusters to make them easy for serving.
Kiwi: There are many creative ways to cut a kiwi. Plus, the green adds a beautiful color to the board.
Passion Fruit: If you can get your hands on one of these beauties (depending on where you live in the world), they are delicious and fun to eat!
Pineapple: Fresh and dried pineapple are both great options.
Pomegranates: I love placing chunks of pomegranate seeds around a charcuterie board. It makes them easy to pick up and eat.
Raspberries: In the summer, raspberries add the perfect pop of color to a platter.
Blackberries: Try mixing these with other berries, or just by themselves.
Strawberries: Of course, you can use fresh, but also try freeze dried strawberries.
Vegetables
Carrot Chips: While carrot chips are a personal favorite of mine, carrot sticks or baby carrots work as well.
Broccoli: You can blanch the broccoli for just a minute or two to slightly soften before placing it on the platter.
Bell Peppers: Don't limit yourself! You can use red, orange, yellow, or green on a vegetable forward board.
Cucumber: Try slicing the cucumber in wedges, sticks, or slices. You could even make a fun cucumber flower for garnish.
Endive Leaves: These would be a great gluten free option that could also be used as a vessel to hold meat and cheese.
Snap Peas: Keep your eye out for these during late winter through the end of spring!
Cherry Tomatoes: This is another classic on the cheese boards I make. Depending on the time of year, there are many different varieties of cherry tomatoes available.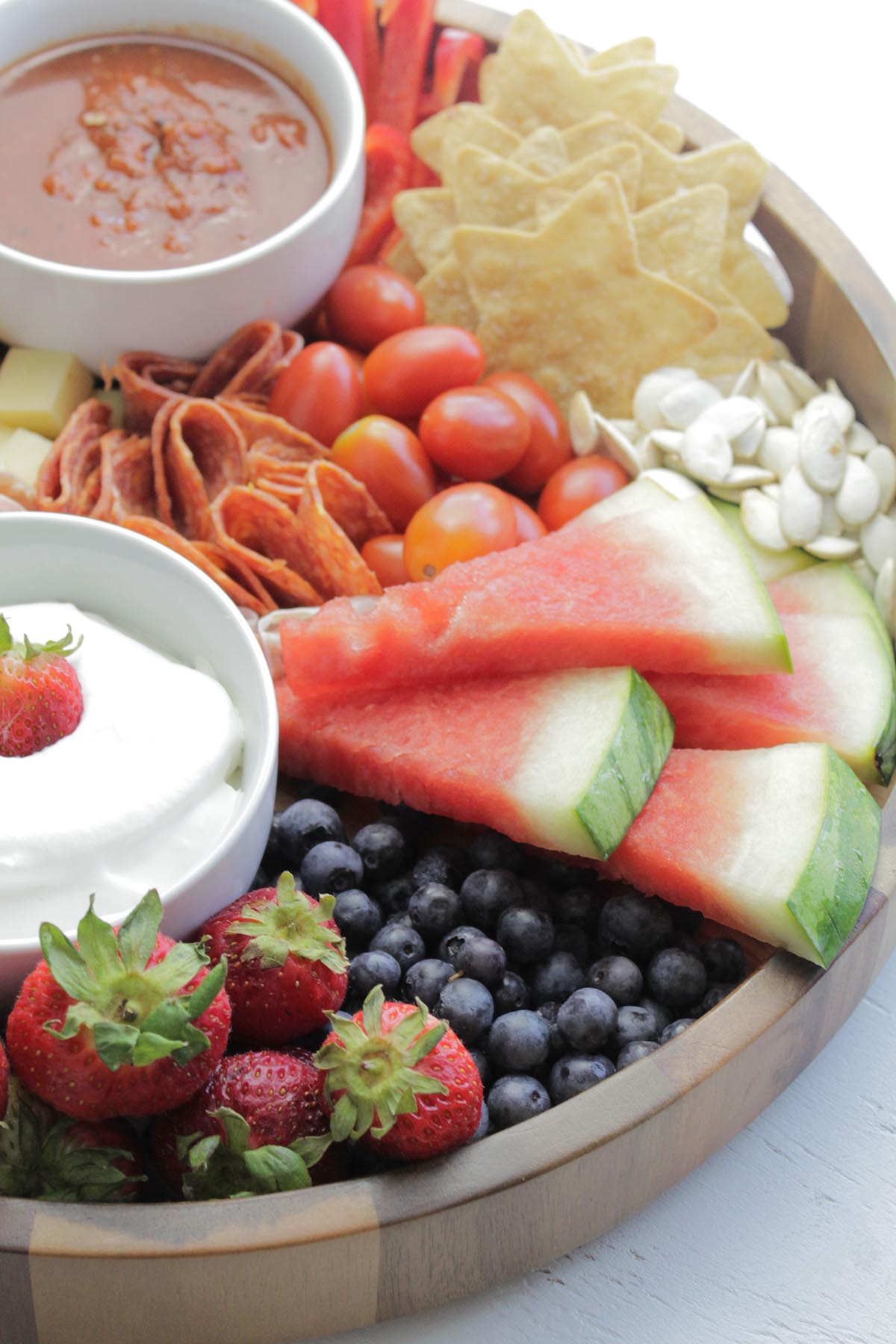 Salty
It's always a good rule of thumb to have a few salty items on any cheese board:
Almonds: Many people really loved Marcona almonds (they're generally more sweet and buttery), but any variety will work.
Artichoke Hearts: These add a great briny bite to the board. Be sure to place them in a small bowl so no juices leak on the platter.
Brazil Nuts: I don't often see people use this variety of nut on their board, but they have amazing flavor.
Cashews: Trader Joe's has flavored cashews - keep an eye out for these gems.
Cornichons: These tart and crunchy bites will fit in on almost cheese board!
Edamame: While this would require a little cooking, it's well worth it for the delicious flavor.
Hazelnuts: This is another unique style of nut that would be fun on a savory or dessert platter.
Kalamata Olives: If you're making a Greek themed board, this would pair well with feta.
Olive Tapenade: This adds a great salty bite that can be spread on crackers or bread.
Pecans: These are great on a fall themed board.
Pistachios: Shelled or unshelled, it doesn't matter! I like pistachios with sea salt.
Popcorn: This is good to serve with a cheese board, especially if kids will be eating too.
Pumpkin Seeds: Also called pepitas, these are a great crunchy addition!
Spanish Olives: These add a great pop of color to the board. Get pitted olives, or be sure to warn guests!
Walnuts: Shelled walnuts with a hint of sea salt work best.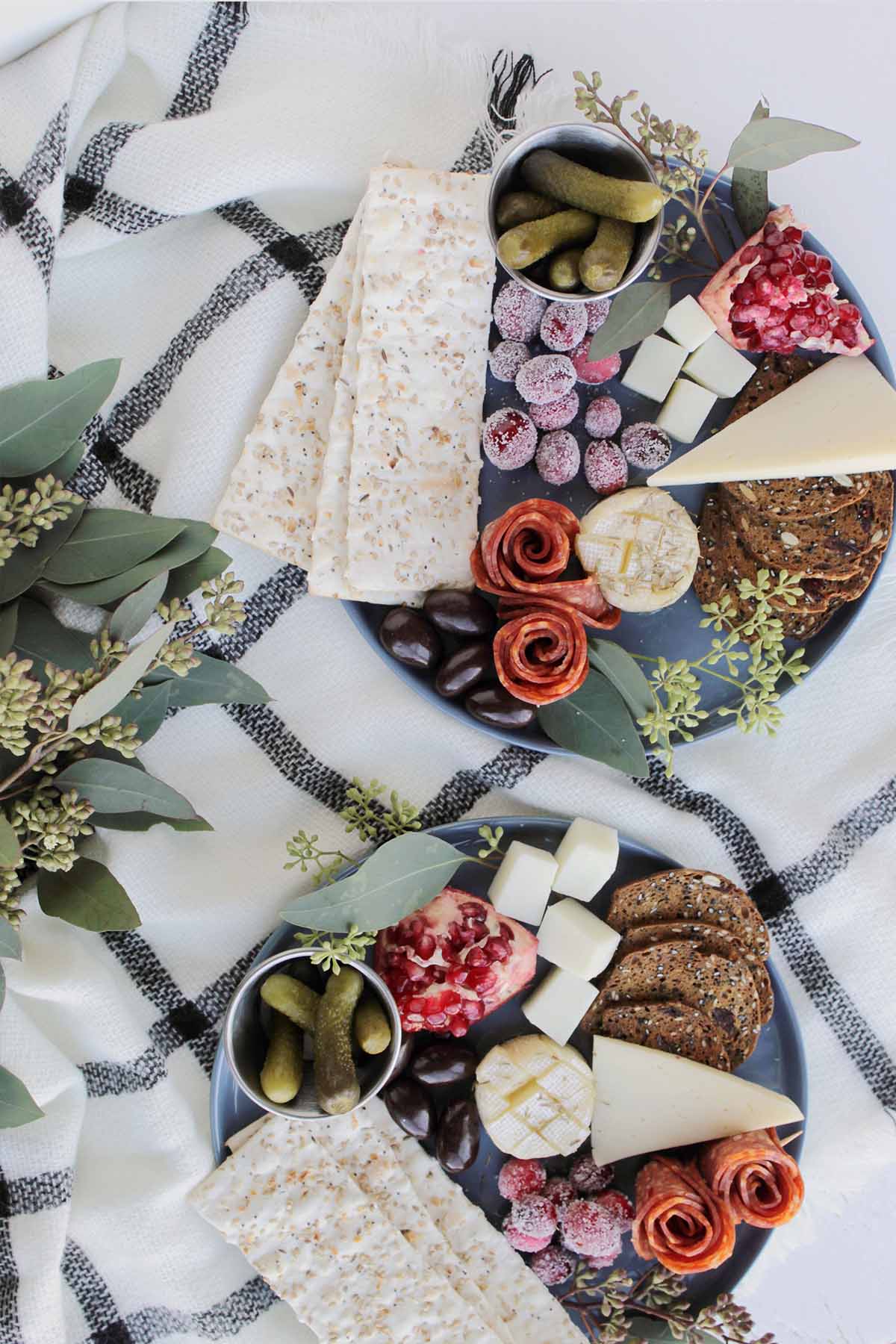 Sweet
Here are a few sweeter options for boards with a dessert focus, or for people who have a sweet tooth:
Candied Nuts: This is a nice sweet and salty bite. And, you have so many different nut varieties to choose from!
Chocolate Covered Strawberries: Try making a homemade version so you can add fun sprinkles or decorations that match the cheese board.
Coconut Flakes: Be sure to purchase coconut flakes instead of shredded coconut. They will be larger flakes that are easier to eat with your hands.
Yogurt Covered Pretzels: These add a sweet, yet healthy addition to almost any board.
Jam: Marmalade and jam pair really nicely with cheese, and there are many flavors to choose from.
Honey: While this is traditionally a very sweet condiment, you could also try a spicy variety.
Dried Fruit: This can range from dates, cherries, cranberries, figs, apricots, and more!
There are an endless amount of charcuterie board pairings! Be sure to grab a copy of my charcuterie board shopping list with 100+ ideas.

Varieties of Cheese
I always love learning about new types of cheese to add to my boards and platters. Hopefully, you'll find some inspiration for a new or different cheese to try.
Fresh Cheese
Fresh cheeses are uncooked and unripened. They usually have a mild and creamy taste with a bit of tang. Here are some good choices for fresh cheeses to use on your board or platter:
Feta: Try using a whole block of feta cheese on a board with hummus, pita, and vegetables.
Mozzarella: Fresh mozzarella drizzled with olive oil and herbs would be perfect for an Italian themed board.
Soft Cheese
Soft cheeses have thin skins and super creamy centers. These are some of my favorite cheeses to include on a board because almost everyone loves them!
Brie: You can buy a whole brie wheel or just a slice. If you're looking for something fancy, try apricot jam baked brie.
Boursin: This type of cheese is flavored with peppers, herbs, or garlic. It has a smooth, creamy texture that's great to spread on bread or crackers.
Camembert: While very similar to brie, camembert tends to be milder. This is a great after dinner cheese that pairs really well with fruit.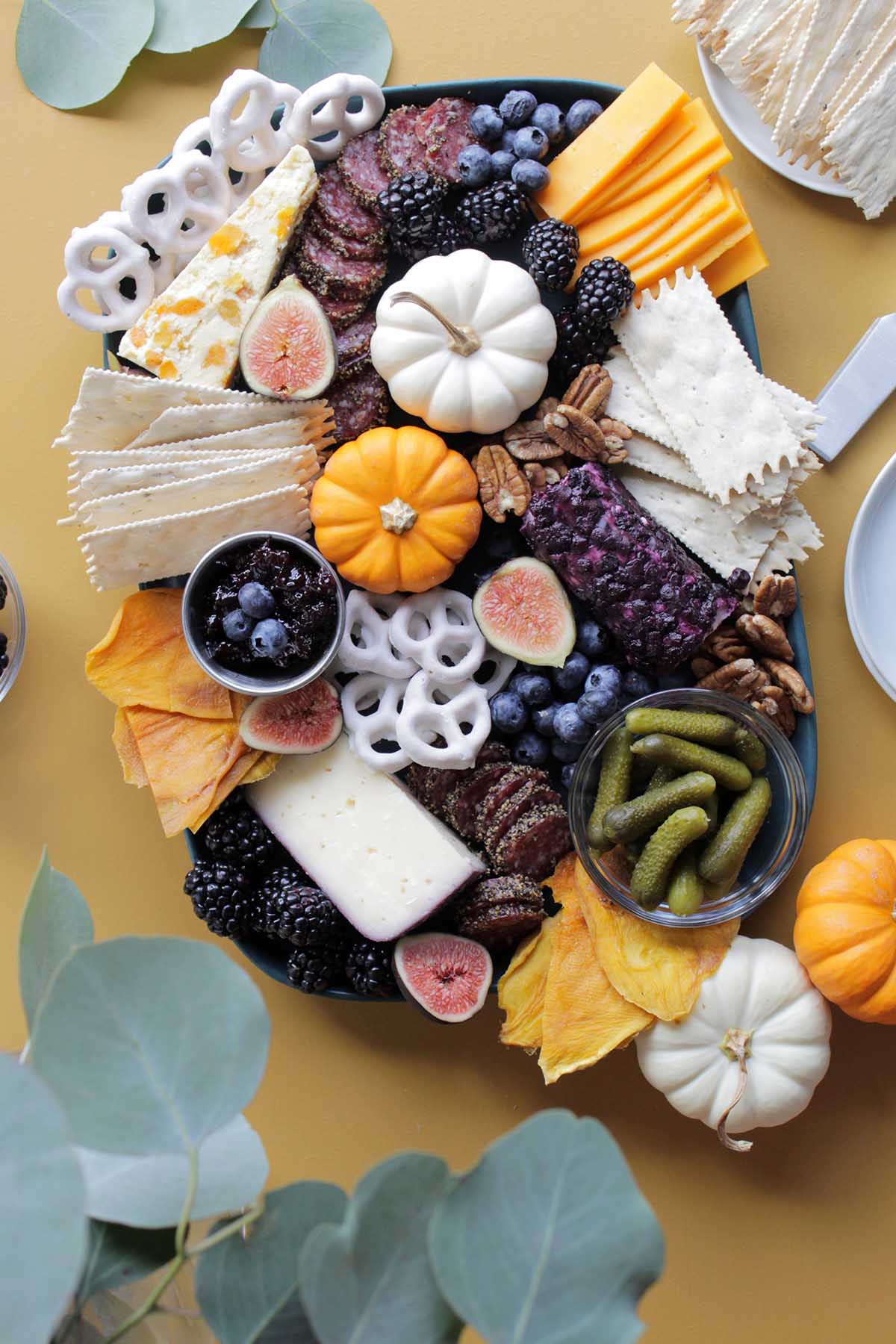 Semisoft Cheese
Semisoft cheeses are known for their mild and buttery taste. They have very sliceable textures, which makes them easy to cut into different shapes. These are crowd-favorite cheeses!
Fontina: A nutty and rich texture lends this cheese to pair well with the charcuterie (meat) part of your board.
Gorgonzola: This is a cow's milk cheese that has blue veins running throughout the cheese. It has a pungent, earthy taste. Typically, you just need a little bit of this cheese on a board.
Gouda: Another buttery, mild flavored cheese with a few small holes throughout. This is usually a crowd pleaser!
Havarti: This cheese is creamy, mild, and sometimes flavored with dill or peppers.
Stilton: This is a very powerful and tangy cheese that provides a unique flavor on its own. It's best served with nuetral pairings like bread or crackers.
Firm Cheese
Firm cheeses can range in flavor and texture. Some of the cheeses are flakey, while others are dense and holey. Try these varieties:
Cheddar: There are many types of cheddar cheese, including white and orange cheddars. They can easily be sliced into fun shapes and sizes with a dense, crumbly texture.
Gruyère: This cheese has a sweet, nutty taste and makes it perfect for many different pairings.
Manchego: Very firm and crumbly, this cheese is most often served with antipasto, bread, and fruit.
Monterey Jack: This is a fairly mild flavored cheese, meaning it's usually a safe option for a party or crowd.
Provolone: A classic cheese many of us eat on sandwiches, but an affordable grocery store purchase for a cheese board as well!
Hard Cheese
Hard cheeses are another essential for making the best cheese boards. They have been dried out and aged. Here are my favorite types:
Asiago: This has a sharp and nutty taste. It can be shaved on top of bread, or eaten with fruit.
Parmigiano-Reggiano: This cheese is made in huge wheels and can be cut down into smaller wedges for a board or platter.
Pecorino Romano: Try pairing with olives, sausages, or red wine (like cabernet sauvignon). It's a sharp tasting cheese that has similarities to Parmesean and Asiago.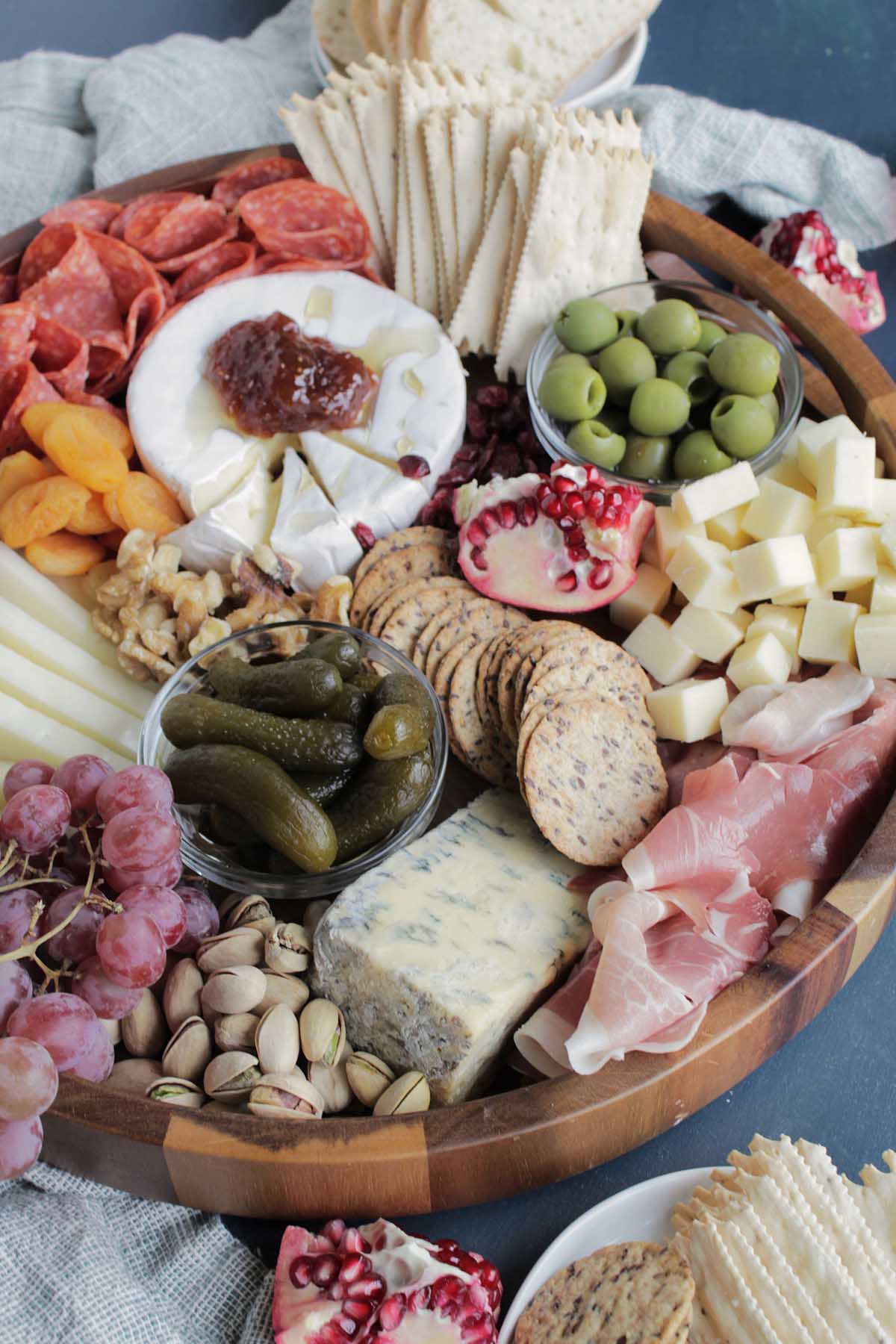 Cheese Board Serving Sizes
When you're planning your cheese board, use these suggested serving sizes:
Cheese: 2-3 ounces per person
Charcuterie (meat): 4-6 slices per person
Fruit: ⅛ - ¼ cup per person
Nuts: 2 - 3 tablespoons per person
Olives/Pickles: 3-4 olives/pickles (about ⅛ cup) per person
Honey/Jam: 1 tablespoon per person
Crackers/bread: 7-10 slices per person
Helpful Charcuterie Board Tools
There are a few kitchen tools you'll need to build the perfect charcuterie board. These are all of my favorite tools:
Large Platter: This is the flat surface you'll build your charcuterie board on. Make sure it's big enough to accommodate the number of guests you need to feed. You can purchase a rectangular board or circular board - whichever you'd prefer! In a pinch, you could also use a cutting board.
Little Bowls: I like using mini bowls or condiment holders for items like jam, olives, and pickles. It ensures no juices leak on the board.
Cheese Knives: Finally, don't forget to have a set of cheese knives on hand! Here's an easy guide to help you know which knife is used for each type of cheese.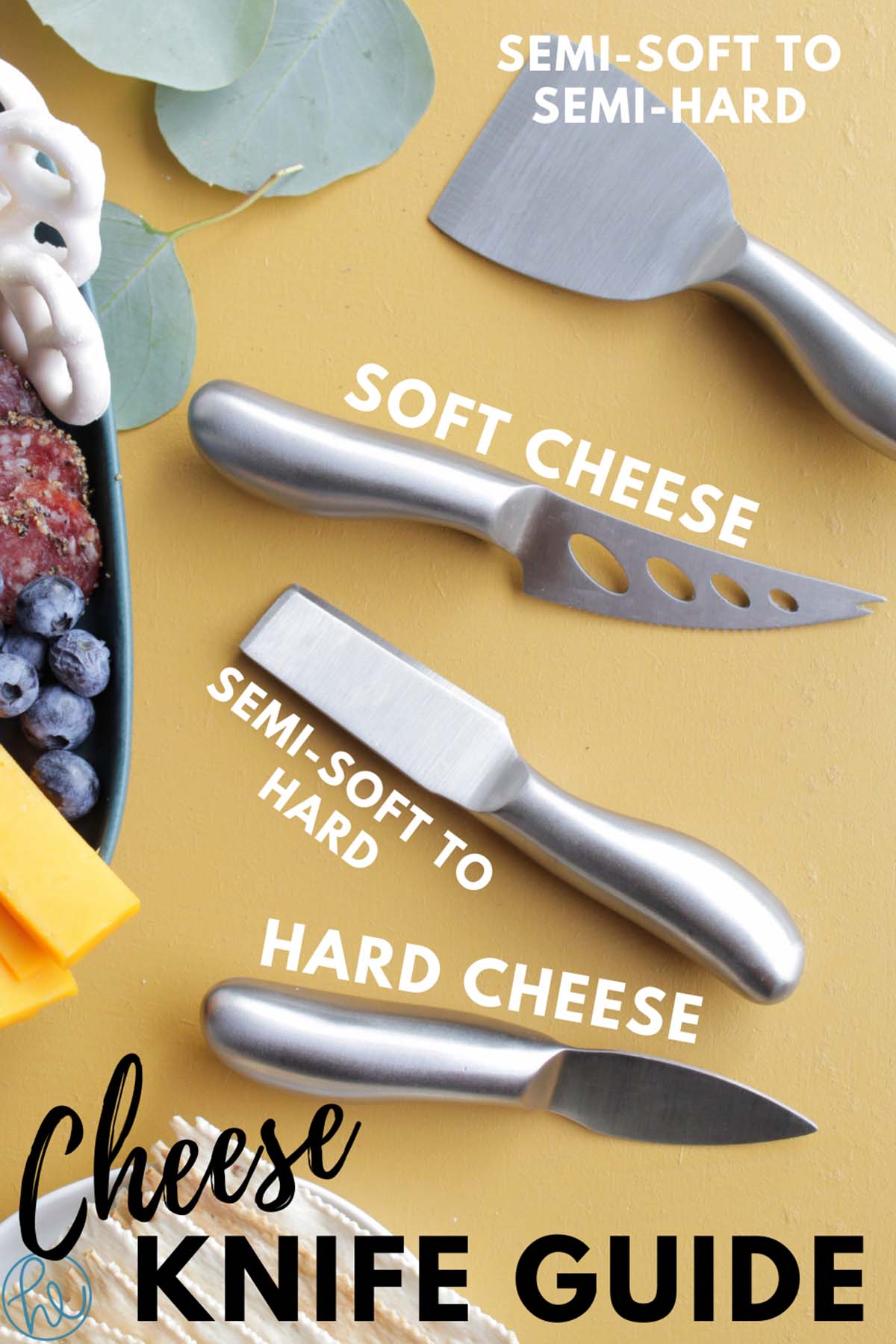 Other Helpful Articles
You may also enjoy reading these articles to help you build the perfect cheese plate: