When you are craving french fries, but also need some veggies in your life, I've got your back with this french fry Greek salad!
I'm stuck in this weird place right now. I know I should be eating veggies, but all I really want is a side of french fries. Thanks to my trip of a lifetime to Greece this summer, this creation was born.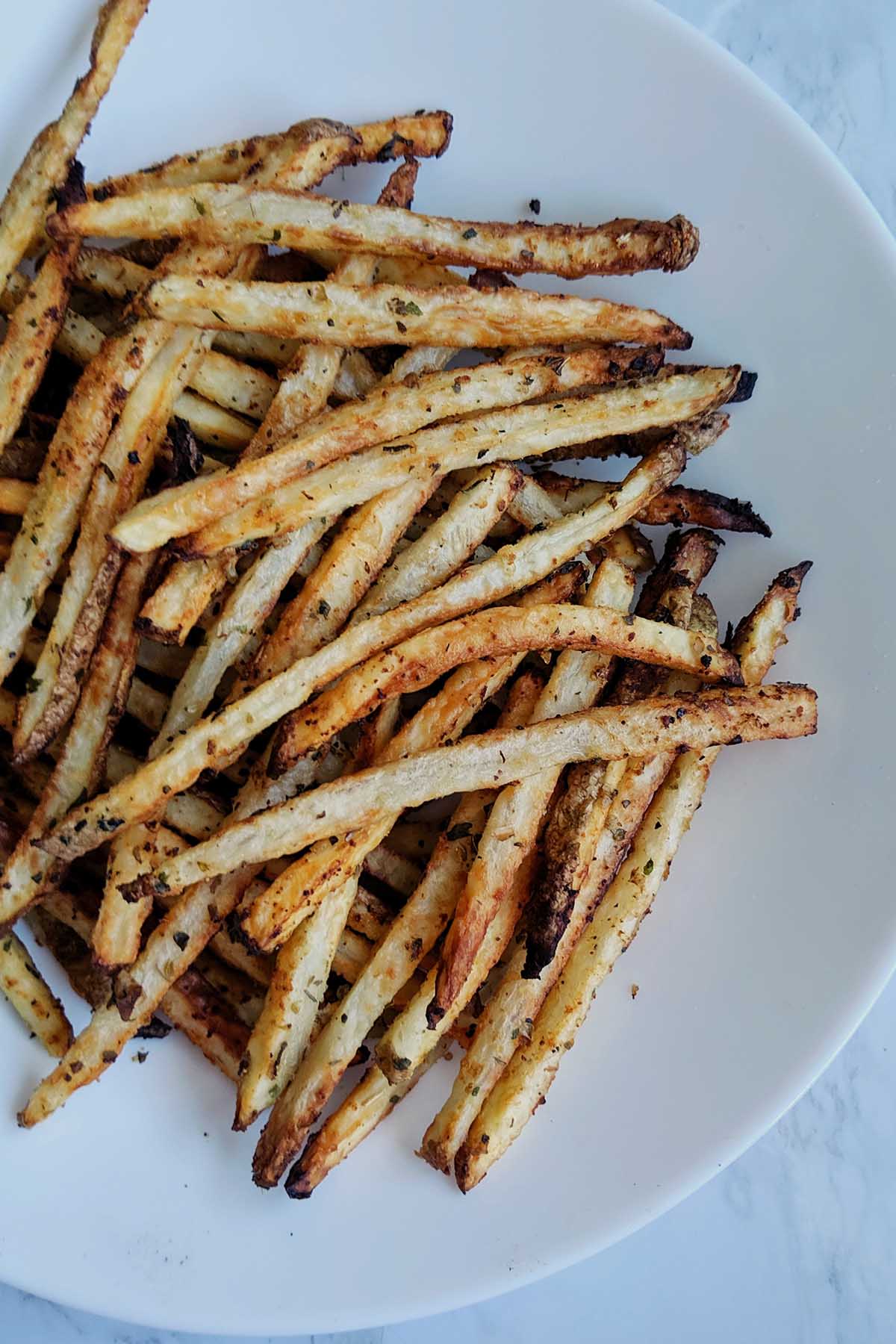 Have fun with your food
To me, the point of food is to have fun! I love creative meals that portray your current mood or food cravings. This dish is meant to be creative and fun to eat. The sauces are not only used as salad dressings, but also a dip for the french fries.


Flavor flav
What makes this salad so delicious is the vibrant flavors. The french fries are seasoned with classic Greek spices - onion, garlic, oregano, and thyme. The tartness of the lemon, tzatziki, and kalamata olives gives the salad a good bite.


P.S. My husband has refused to eat salad for almost six months. Guess who got him to eat this salad AND say he liked it?! Yeah - it's that good! I'm sure the side of french fries helped!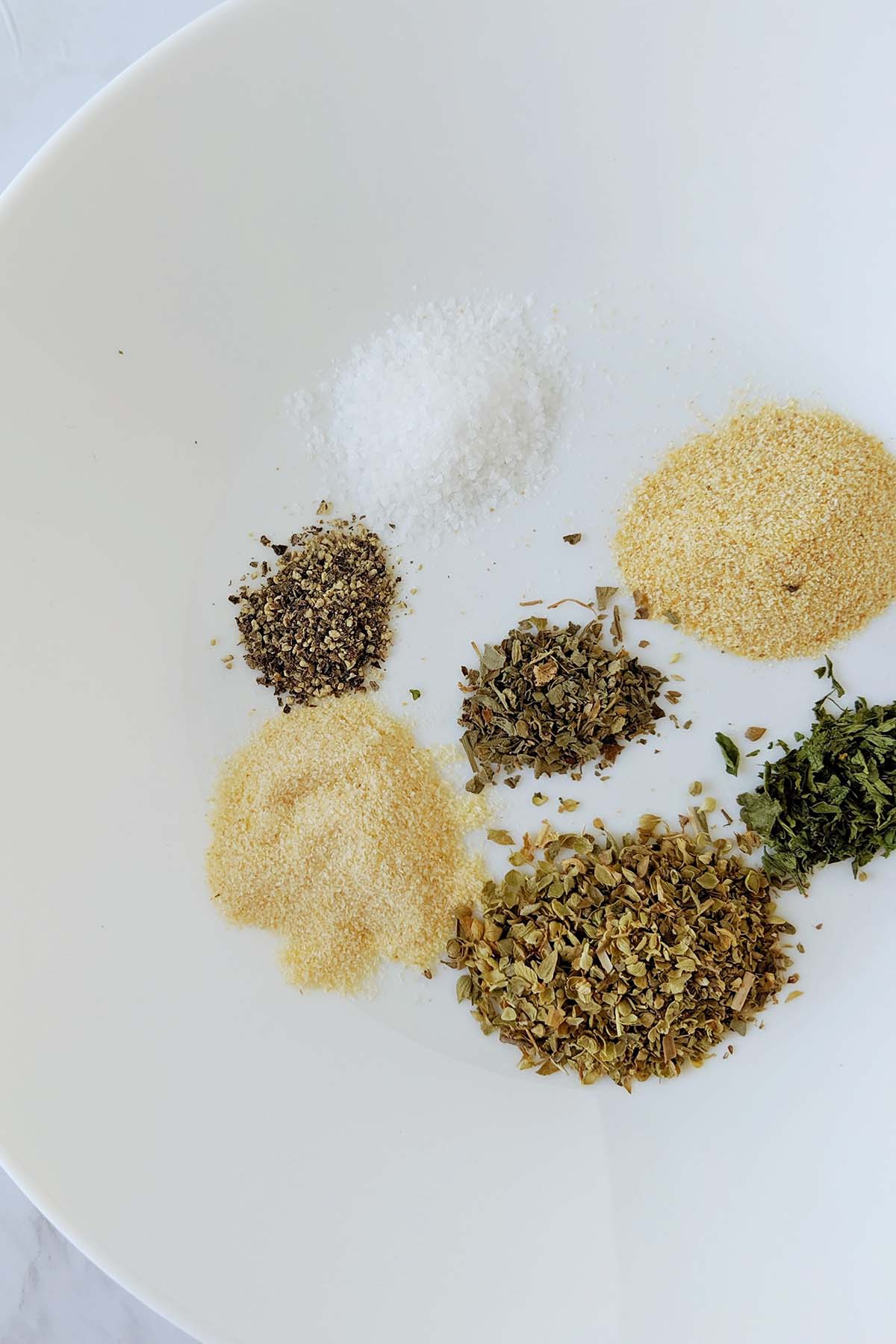 Five tricks to eating healthy (when you don't want to)
Sneak in veggies (that you can't even taste) to your favorite recipes. I love adding frozen cauliflower or avocado to my morning smoothie, spinach to my homemade pesto, or cabbage mix to a noodle based stir fry.
Swap your processed snacks for a healthier version. Some of my go-to healthy snacks for days I'm not craving veggies include: hummus & plantain chips, trail mix with your favorite nuts and dried fruit, ham & cheese roll ups, Larabar, or hard boiled eggs.
Eat junk food in moderation. For the days you aren't up for eating your fruits and veggies, try limiting the amount of junk food you are eating. Only eat a small portion to satisfy your cravings.
Try eating at a new restaurant. Sometimes I find I don't want to eat healthy simply because I'm bored of my usual routine. Go to a new restaurant and try a healthy-ish dish to break out of your rut.
Don't eat raw/plain fruits and veggies. Oftentimes, people think healthy eating is snacking on raw carrots or eating over-cooking vegetables for dinner. Newsflash - delicious tasting fruits and vegetables can be incorporated into everyday food! Some of my favorite "dressed up" ways to eat fruits & veggies include: sushi, tacos/taco salad, or within soup, chili, and stir fry.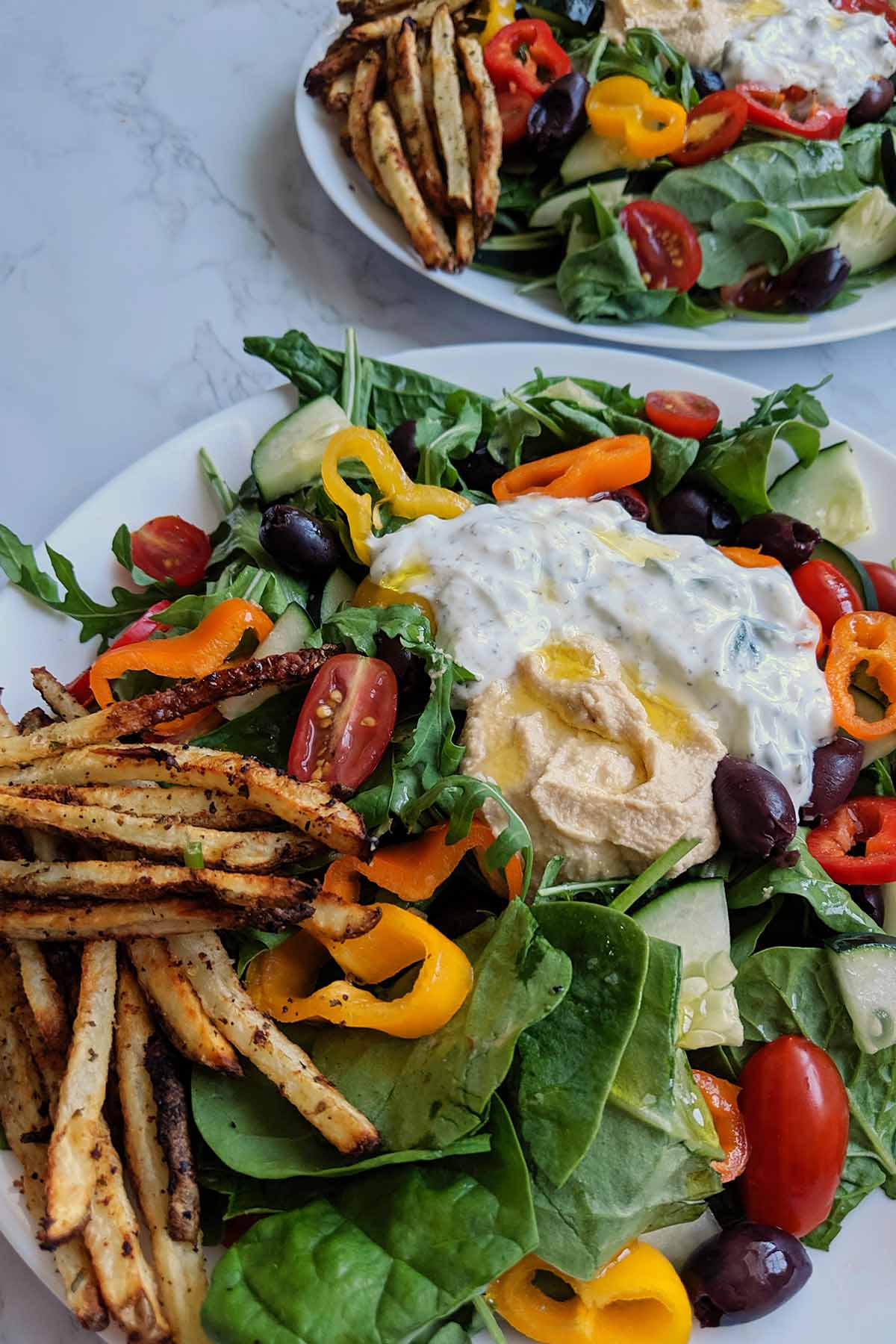 French Fry Greek Salad
When you are craving french fries, but also need some veggies in your life, I've got your back with this french fry Greek salad!
Ingredients
Tzatziki
1

cup

Greek yogurt

½

cup

seedless cucumber

grated

2

cloves

garlic

minced

1

lemon

juiced

½

teaspoon

dill

dried or fresh

½

teaspoon

kosher salt

¼

teaspoon

black pepper
Greek Salad
10

oz

arugula

½

cucumber

sliced

1

cup

cherry tomatoes

sliced in half

1

cup

kalamata olives

½

cup

mini bell peppers

sliced

10

oz

store bought garlic hummus

4

lemon wedges

olive oil for garnish
Instructions
Greek French Fries
Preheat your air fryer to 415 °F.

Slice the potatoes, skin and all, into match-stick sized fries (about ¼ inch thick). I prefer to use a mandoline to cut the potatoes. In order to help the potatoes crisp, pat dry with a paper towel. Add to a medium sized mixing bowl.

Mix spices together in a small bowl.

Add olive oil to potatoes. Mix with hands to ensure all potatoes are coated. Add in the spice mixture and mix together once more.

Place the french fries on the air fryer tray, making sure not to pack the fries too tightly together. Cook for 9-12 minutes until crispy and cooked through. Depending on the size of the air fryer, repeat until all fries are cooked.
Tzatziki
Using a box grater, grate ½ cup of cucumber.

Combine all ingredients in a small mixing bowl. Stir to combine.
Greek Salad
Evenly divide arugula, cucumbers, cherry tomatoes, kalamata olives, and mini bell peppers among four plates. On top of each salad, add a dollop of tzatziki sauce and hummus. Garnish with a lemon wedge and a drizzle of olive oil.
Notes
Tzatziki is best after it is refrigerated for 1-2 hours to allow the flavors to meld together. However, you can eat it immediately.
Have you tried this recipe?
Tag @homebody.eats on Instagram so we can see your creations!
Did you make this recipe?!
Let me know how you liked the recipe! Comment below, or share a picture on Instagram with the hashtag #HomebodyEats. Happy cooking, Homebody family!
Yum