Learn the basics about Italian gelato including what makes it a unique frozen dessert. Plus, I'm sharing all the secrets for how to make and store gelato after going to culinary school in Italy.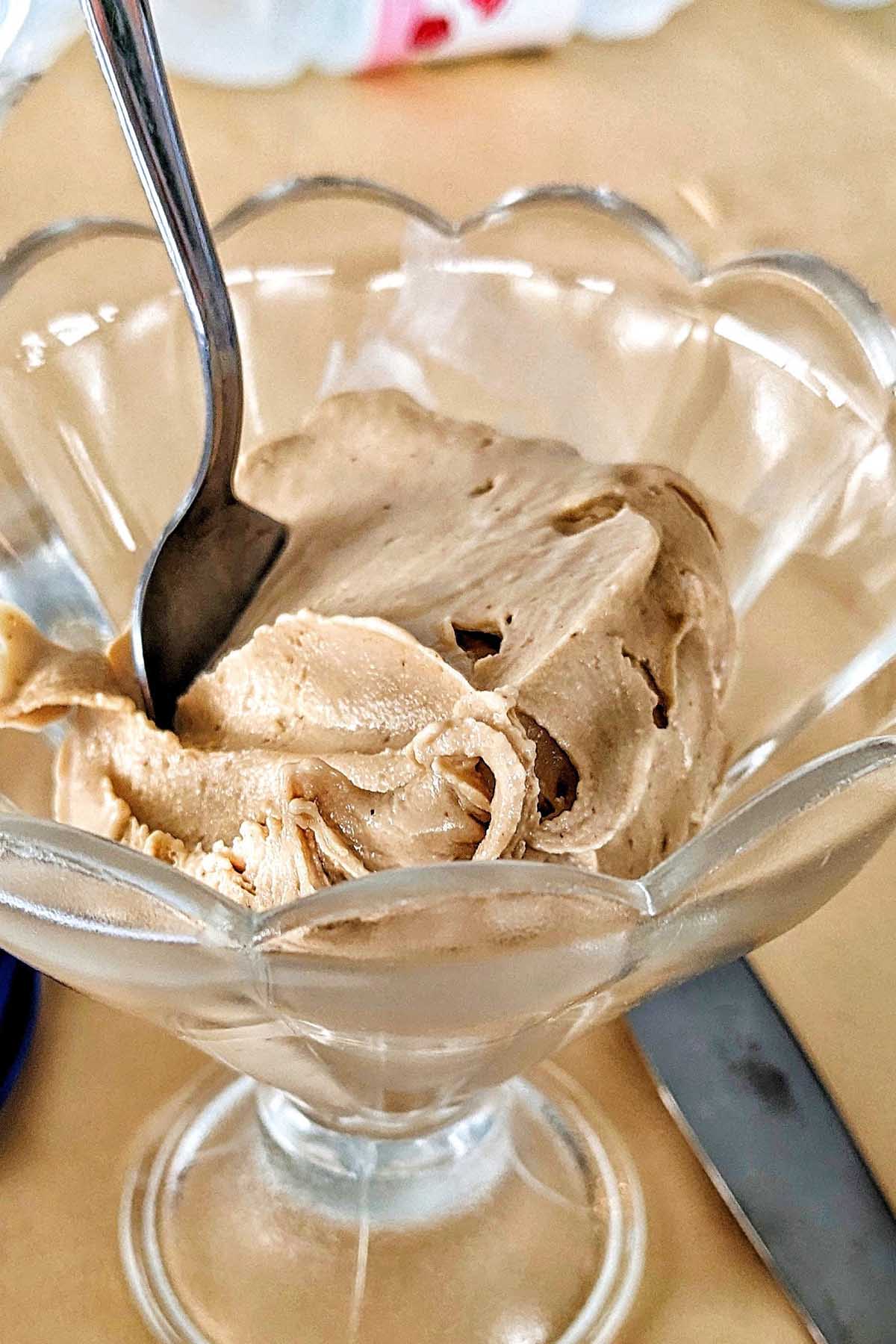 Want To Save This Article?
Enter your email below and we'll send it straight to your inbox. Plus, you'll receive new weekly recipe inspiration.
After attending culinary school in Italy, it's safe to say I've learned the secrets to making authentic Italian gelato.
This beloved treat is not only well loved by Italians but also by the millions of tourists who visit Italy every year. With almost 40,000 gelato shops located around Italy, it's fairly easy to find good gelato when in Italy.
But, if you don't live in Italy, it can be hard to find delicious tasting gelato in other parts of the world. I'm sharing all my knowledge about gelato so you can make delicious Italian gelato, no matter where you live.
Jump to:
What Is Gelato?
Gelato is a frozen dessert that's made with specific ratios of water, fats, sugars, stabilizers, lean milk solids, and other solids.
Gelato is known for its dense texture and creamy taste. There are many unique qualities about gelato that make it different from ice cream and other popular frozen treats:
It has an overrun (the amount of air incorporated into the gelato base) of 25% or under.
It's stored around 5°F (-15°C) to 10.4°F (-12°C).
It uses less fat than classic American ice cream.
To serve, it's swiped with a pallet and then smashed down to remove the air.
Let's keep walking through how to make Italian gelato so you can see even more things that make it special.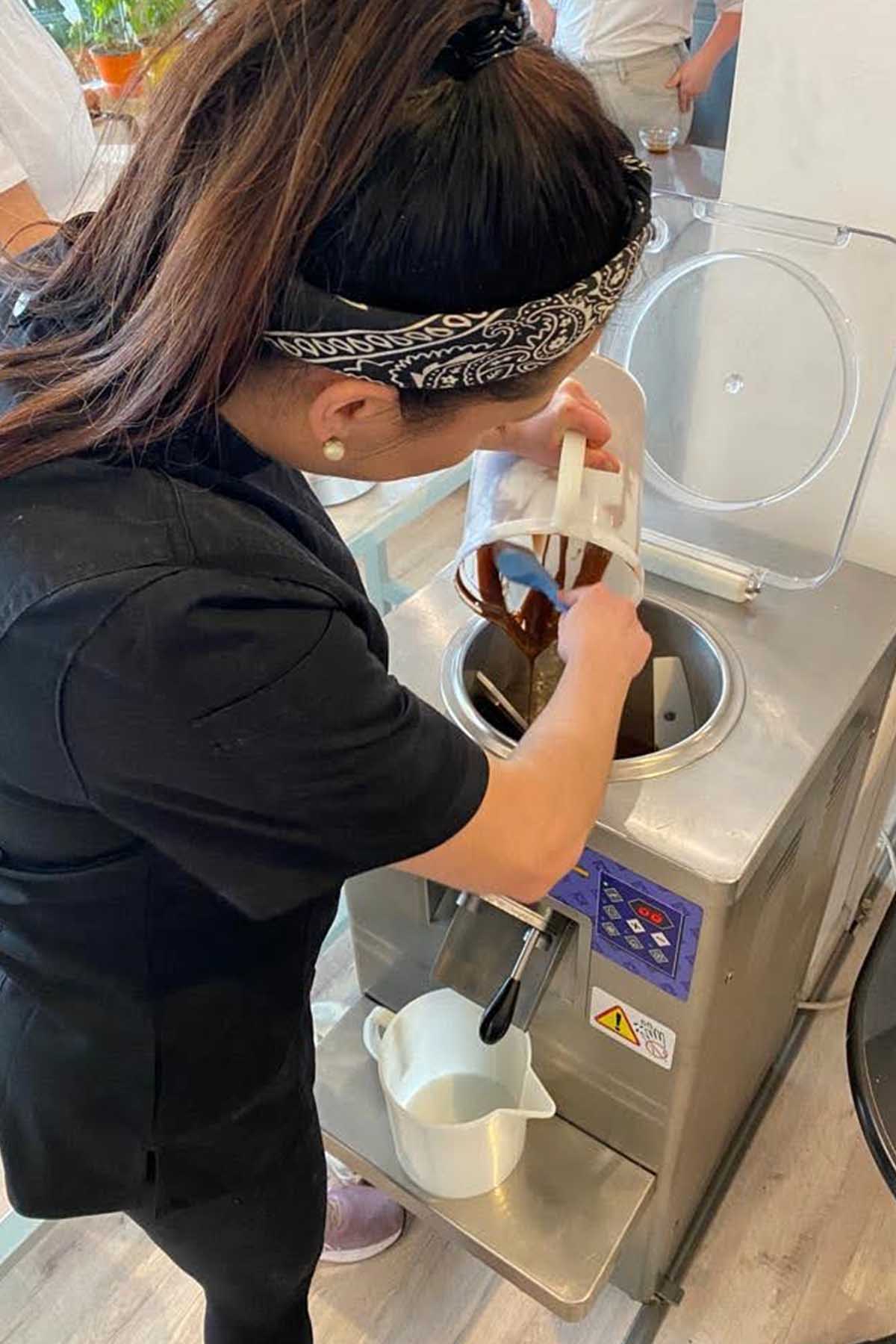 Gelato Ingredients
Depending on the recipe formula, gelato can be made from a mixture of a variety of ingredients. Here's an overview of the components of gelato:
Sugars: The ratio of sugar helps to determine how quickly the gelato will melt, as well as lowers the freezing temperature of the mixture. The most common types of sugars include sucrose (granulated sugar), dextrose, glucose, honey, and fructose.
Milk: The milk products help with the texture and structure of gelato. Milk (whole, partially skimmed, skimmed), powdered milk (skimmed, whole), and condensed milk are commonly used.
Fats: Although gelato has less fat than ice cream, there still is a portion of the recipe that needs to include fat. These ingredients help with the flavor. Oftentimes milk, cream, butter, egg yolks (popular mostly in Northern Italy), extra virgin olive oil, cocoa powder, or nut butter are used.
Stabilizers: Stabilizers help to thicken the gelato. Popular options include guar gum, lotus bean gum (carob), agar-agar, carrageenan, or gelatin.
Water: Water is found in ingredients like milk and cream.
Air: While not technically an "ingredient", air gives gelato a creamy and soft texture as it churns.
Additional Flavorings: Optionally, to add more flavor, you can use ingredients like cocoa, coffee, fresh fruits, or hazelnut paste.
The Cooking Process
An important part of making gelato includes the cooking process.
Depending on the ingredients you choose to use, they'll need to be added in at various times. However, here is a basic outline of the cooking process:
Cook the milk in a heavy bottom saucepan over medium heat until it reaches 105°F (40°C) on an instant read thermometer.
Once it reaches temperature, whisk in granulated sugar and nonfat milk powder.
Next, whisk dextrose, guar gum, and locust bean gum in a small mixing bowl. Once the granulated sugar and nonfat milk powder are dissolved, you can whisk in the dextrose mixture.
Continue cooking the gelato base over medium heat, stirring often to ensure it doesn't burn until it reaches 195°F (90°C) on an instant read thermometer. This is the pasteurization process.
Remove the saucepan from the heat. Then, whisk in the heavy cream.
Strain the gelato base and allow it to rest in the refrigerator for 24 hours.
Gelling Gelato
After the gelato has had time to cool and rest in the refrigerator for at least 24 hours, it's time to gel (churn) the gelato.
Gelato machines are different than ice cream machines in both the design and how much air they incorporate into the gelato. Most gelato machines are a canister with blades inside.
As the machine turns, it starts to gel the gelato that's on the outer edge of the canister. The blades help to keep a consistent flow and gel the entire gelato base throughout this process.
Technically speaking, if you want to make high-quality, Italian gelato, you'll need to purchase a gelato machine that is specifically meant to gel gelato.
However, I know that many home chefs do not have access to this type of industrial equipment. You can still gel gelato in an at-home ice cream machine. It just won't have the exact same consistency as the ones you've tried in Italy that are made with professional machines.
Before gelling the gelato, place a storage container in the freezer to chill. Once the gelato is done churning, place it immediately into the chilled storage container and then into the freezer.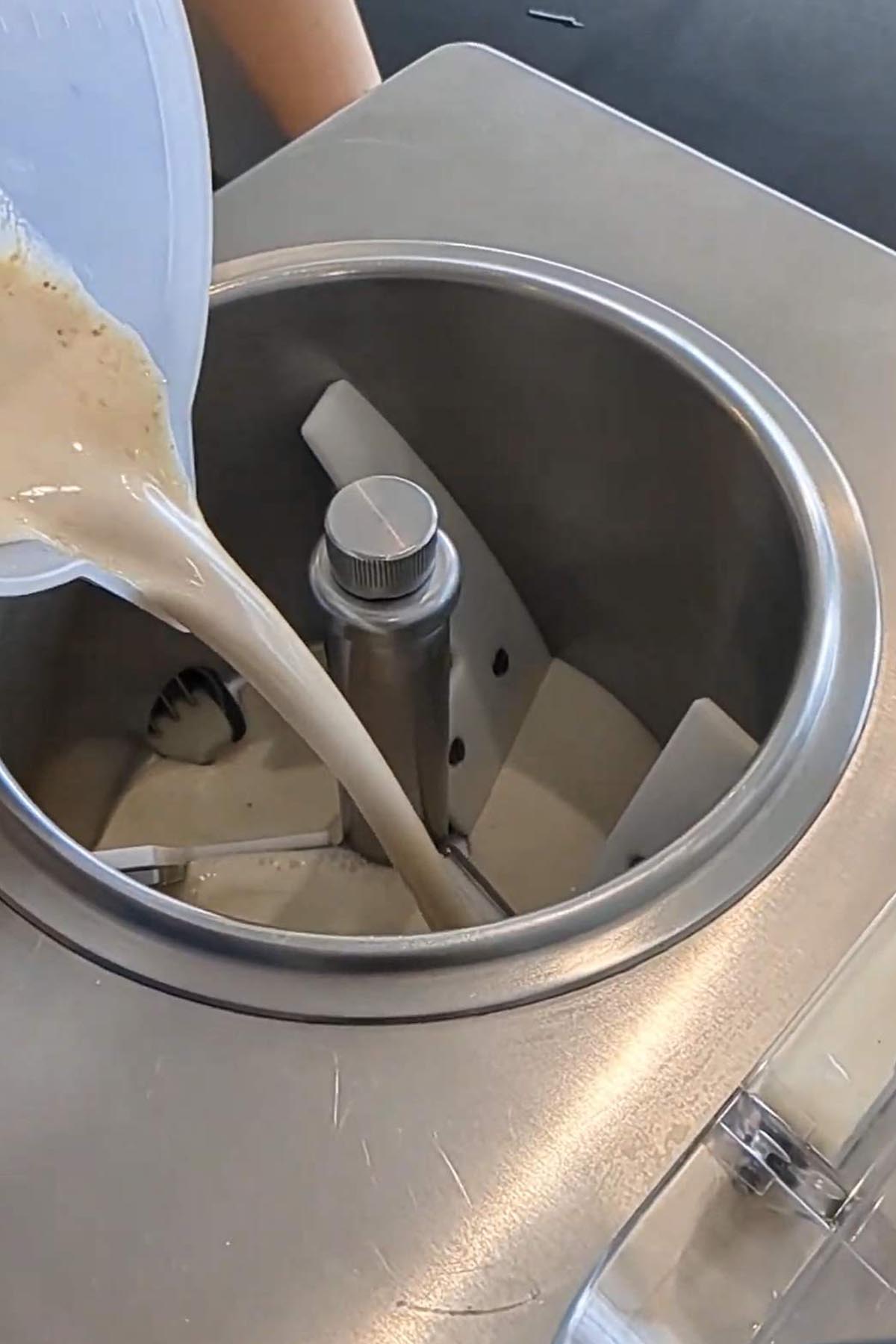 How To Store Gelato
Gelato can be stored for up to 2 months when stored in a deep freezer that's kept at -4°F (-20°C).
However, you'll oftentimes find gelato stored in a "vetrina" or display window when you walk into a gelato store. This is a way to store gelato at the proper serving temperature, 9.5°F (-12.5°C).
If you're ever purchasing gelato from a vetrina, make sure the gelato is stored in metal containers with lids to keep the gelato at the proper serving temperature.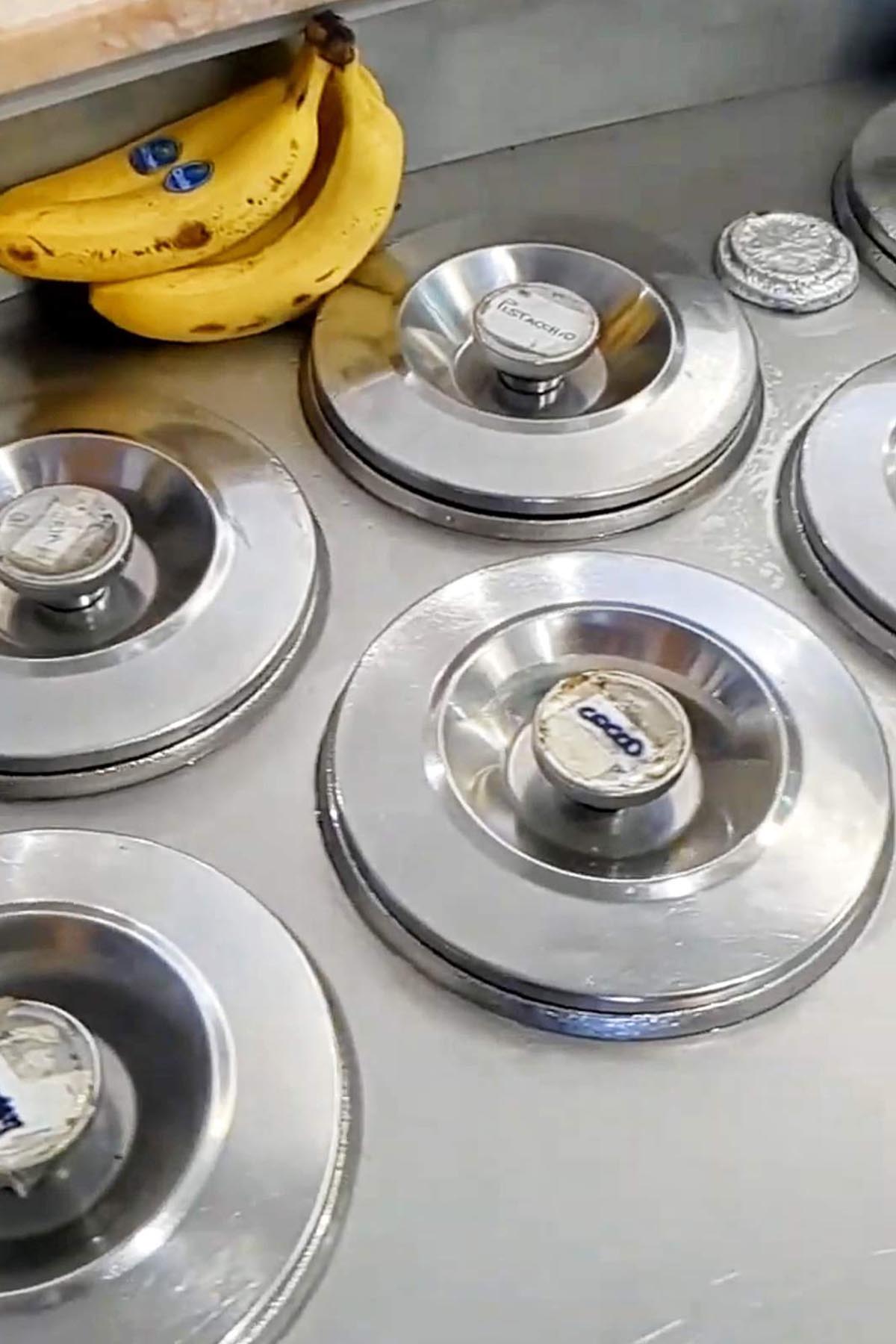 Be sure to watch out for crystallization in your gelato if it's been stored for an extended period of time. Gelato that has been frozen, taken out of the freezer, then refrozen, can start to form ice crystals.
Ice crystals can make the gelato hard and possibly even "crunchy" if there are severe temperature fluctuations.
Love this guide? Please leave a comment below. Don't forget to follow along on Instagram, Facebook, YouTube, and Pinterest for more recipes.