Whether you need to keep homemade, store-bought, or Panera bagels fresh, this guide will help you. Learn how to store bagels at room temperature and in the freezer. We'll talk about how long bagels are good for, and how to best store them for your unique needs.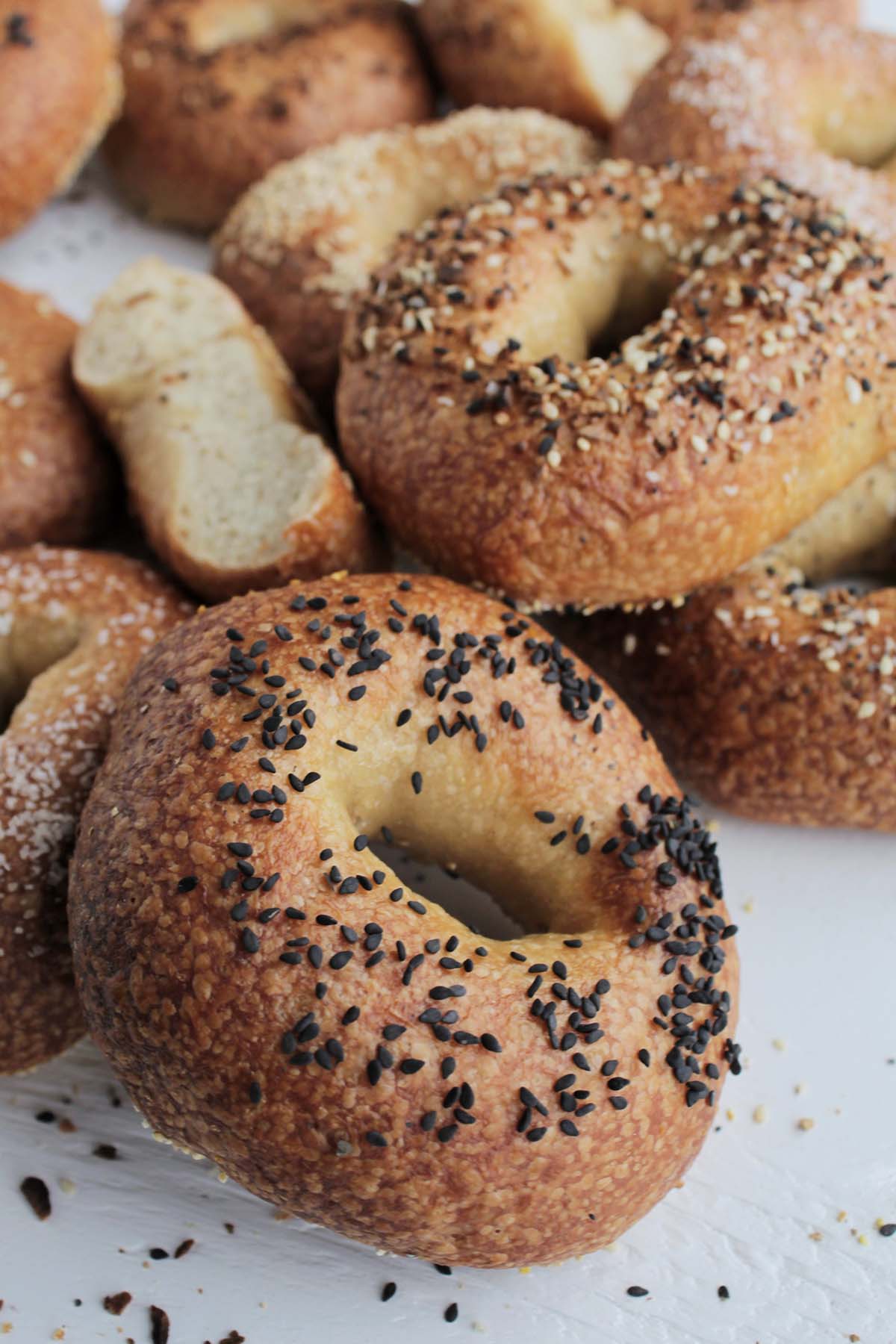 Jump to:
Bagels are one of my favorite breakfast foods! But, the downside to bagels (and most yeasted bread) is that they don't last as long as we'd all like.
If you've been wondering 'how long are bagels good for' this article will answer all your questions!
If you're interested in making bagels at home, check out my recipe for overnight bagels or sourdough bagels.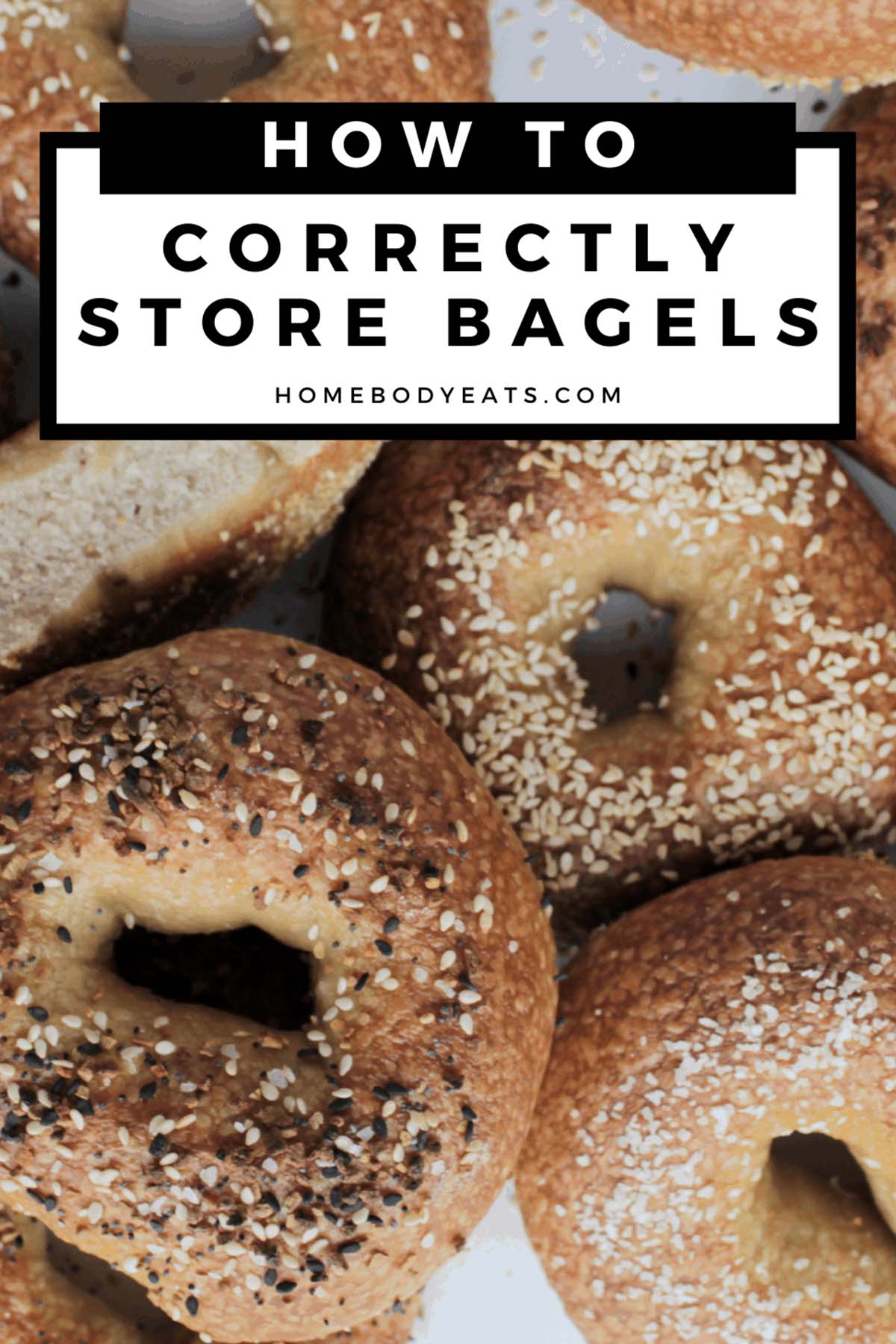 If Eating Bagels Within 2-4 Days
If you just purchased or made some bagels and plan to eat them in the next couple of days, you should store the bagels at room temperature.
All you need is a bread bag or something that can loosely cover and seal the bagels. Squeeze out as much air as possible, then allow the bagels to sit out at room temperature in the bread bag for 2-4 days.
Remember to eat before mold or discoloration forms.
If you made homemade bagels, first allow them to fully cool, then you can store them according to this guide.
If Eating Bagels Within A Week
Chances are if you haven't eaten your bagels within a week, they are somewhat stale.
To refresh your bagel, slightly moisten the outside with a damp paper towel. Then, throw the bagel in the toaster to restore some of the crunch and chewiness the bagel once had.
You can also reheat the bagel in a 350°F oven for 5-10 minutes.
If you've kept your bagels a full week, make sure there are no signs that they have gone bad. If there is any mold (usually white or blue colored), or an unpleasant odor, discard the bagels immediately.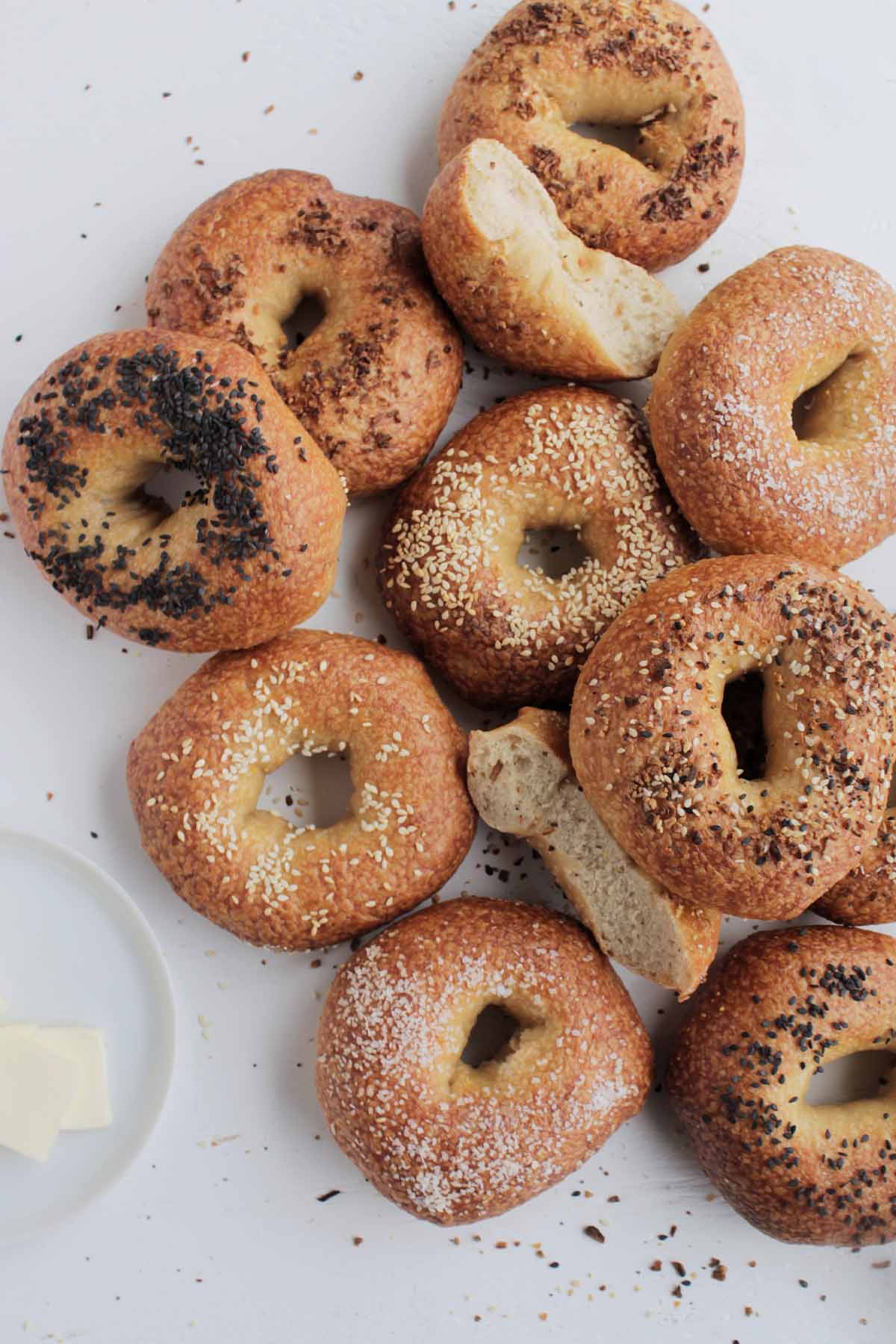 Make Bagels Last 4 - 6 Months
If you need your bagels to last a while (up to 4 - 6 months), you can freeze them! Simply take the bagel, slice it in half, and place it in a resealable, airtight bag.
This is the best option I've found on how to keep bagels from molding.
When you're ready to eat the bagel, remove it from the freezer and pop it directly into a toaster. No thawing required!
If you made homemade bagels, make sure they are completely cooled before freezing.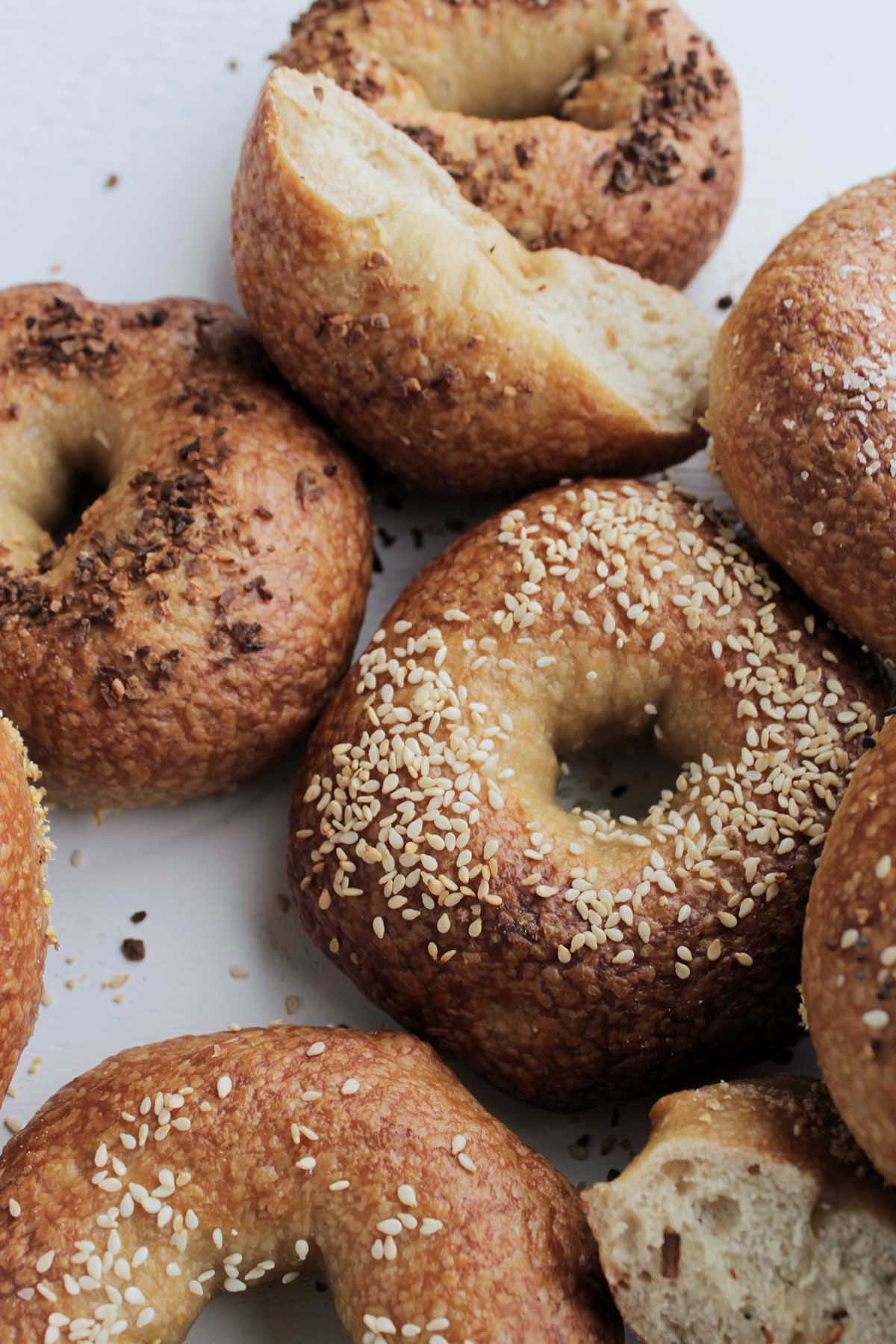 How Not To Store Bagels
Believe it or not, there are a few things you want to avoid when storing bagels. Many people don't know these things, so help spread the word to your friends.
Do not refrigerate bagels. Many people think bagels will last longer in the fridge. But, that's just not true. The fridge actually promotes staling.
Do not tightly wrap bagels. This causes the crust to soften. And, as we know, the crisp, chewy crust is so iconic on bagels. Avoid aluminum foil or plastic wrap for bagel storage.
Do not be tempted to waste bagels. Even if you purchase bagels and then realize you can't eat them, don't let them mold or be thrown away. Simply freeze them (instructions above).
P.S. If you enjoy learning fun baking facts like these, sign up for my 10 secrets to instantly become a better baker. You're going to love this free guide!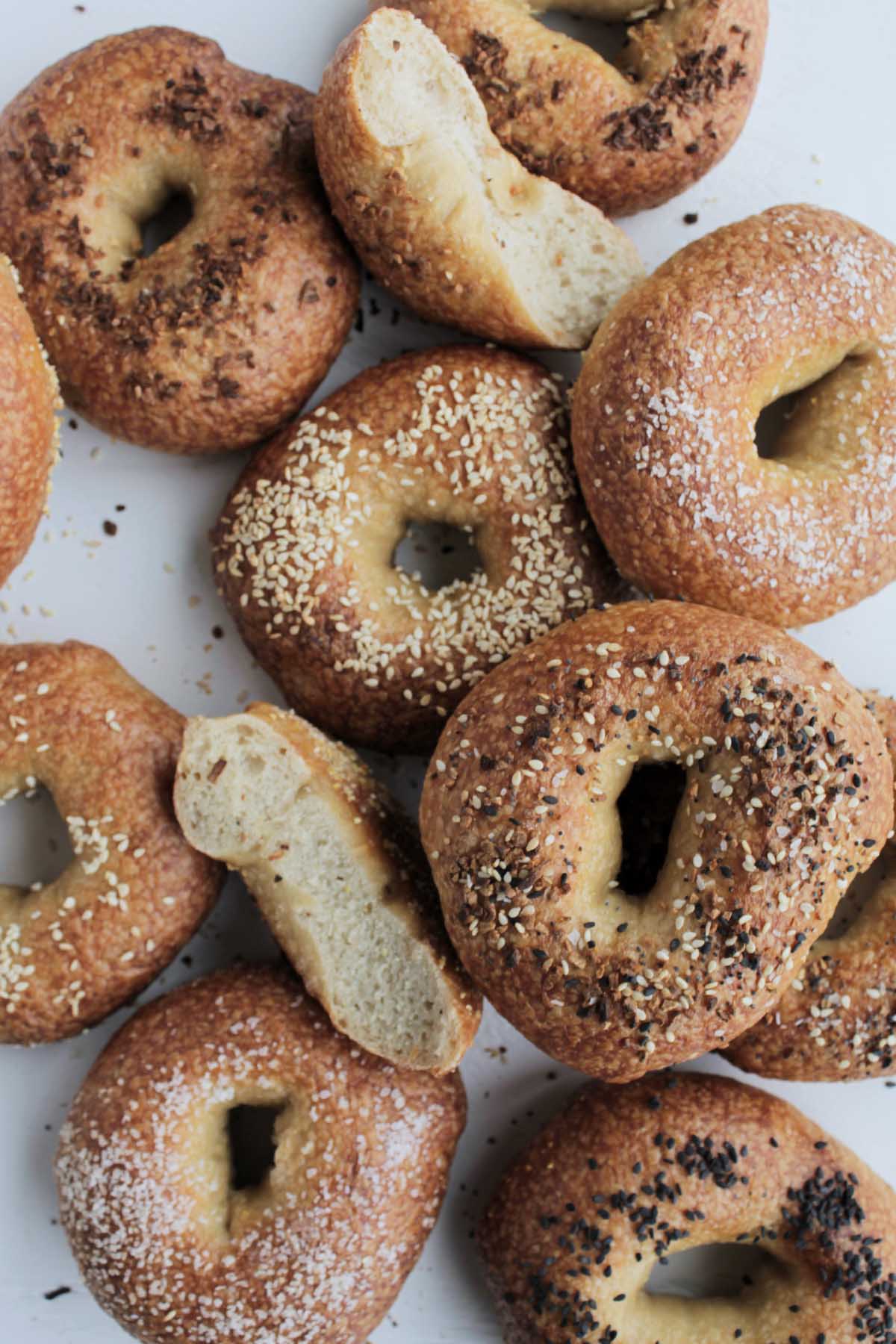 Frequently Asked Questions
How long do bagels last?
It really depends on how you want to store them! Bagels can last 2-7 days at room temperature if stored in a bread bag. Or, they can last 3-4 months if stored in the freezer.
Can you freeze bagels?
Yes, absolutely! All you need to do is pre-slice your bagels, place them in a resealable bag, and store them in the freezer.
How long can bagels sit out on the counter?
Typically, bagels will last 2-4 days if left out on the counter at room temperature. However, if stored properly, many bagels, depending on the brand, will last closer to 7 days.
How long do bagels last in the fridge?
Bagels will easily stale in the refrigerator. So, in order to make them last, it's best to freeze the bagels. You can easily reheat frozen bagels in the toaster so they taste brand new.

Simply said - skip the fridge for storing bagels.
Do bagels go in the fridge?
No! You shouldn't be storing bagels in the fridge. This just encourages them to become stale.
How long do bagels last in the freezer?
Bagels can last up to 4 - 6 months in the freezer. Be sure to first slice the bagel in half, and place it in a resealable, airtight bag before storing it in the freezer.
Love this guide? Please leave a comment below. Don't forget to follow along on Instagram, Facebook, YouTube, and Pinterest for more recipes.