Spicy tuna roll is a classic American twist on Japanese sushi. Create a show-stopping sushi roll with minimal ingredients.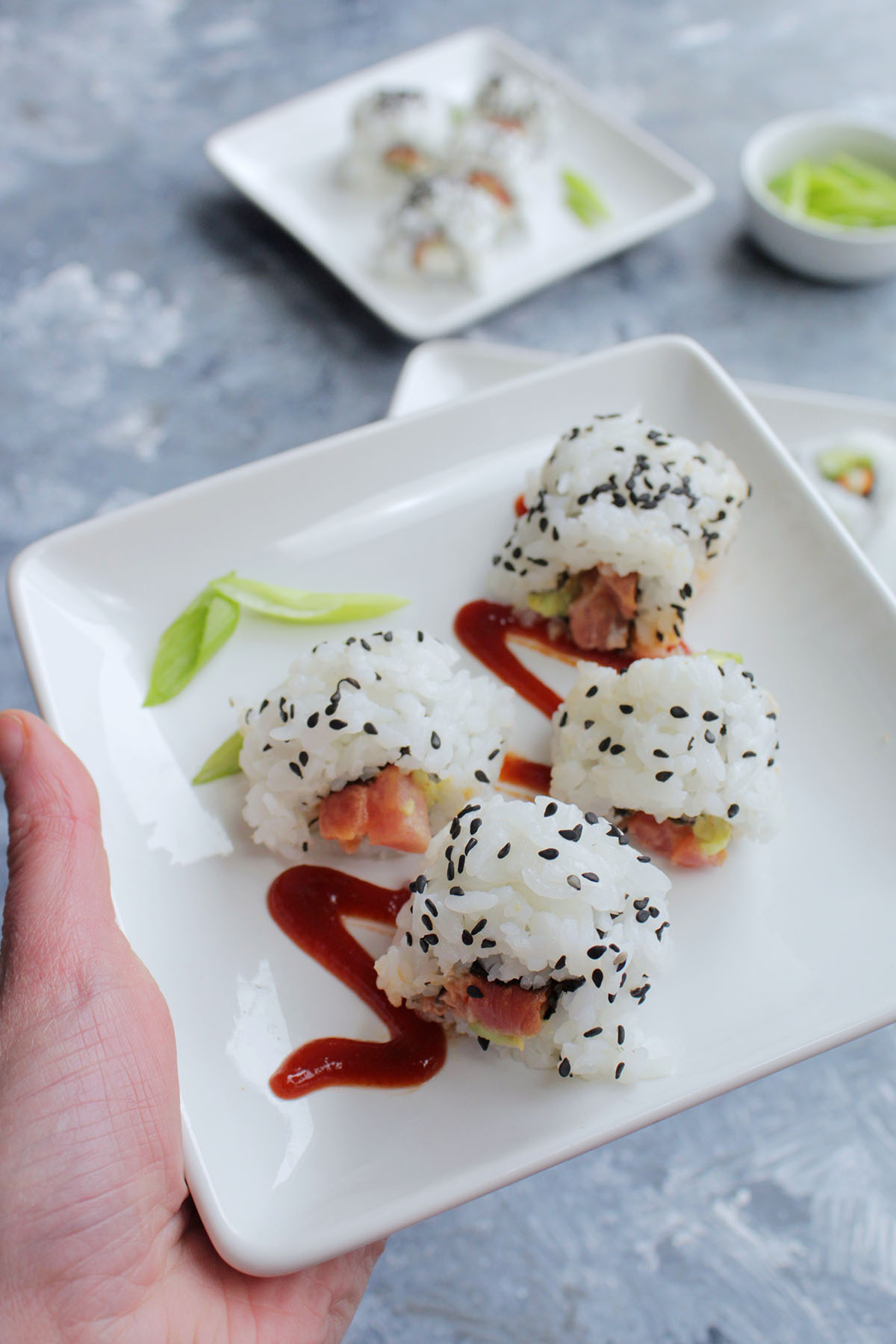 Whether you're stuck at home, or just want to save money, making sushi at home is a great option! With practice, you can master the basics of creating homemade sushi rolls!


So here's the deal - sushi is amazing. Like really. If you've done any research at all about sushi, you'll find it has a rich history from its Japanese origin. There are many individuals who spend their careers perfecting the craft of sushi, and many say their training will never fully be complete.


For true sushi masters, they spend time self-selecting fresh fish every morning, carefully crafting each element that goes alongside the sushi (rice, wasabi), and then hand making each piece in front of you. I love this video from Tasty, showing a day in the life of a sushi master.


Looking at how sushi has evolved, Americans have definitely added their own flair to the typical nigiri found in Japan. Today, we are going to look at how to make some Americanized spicy tuna roll within the comfort of our own home!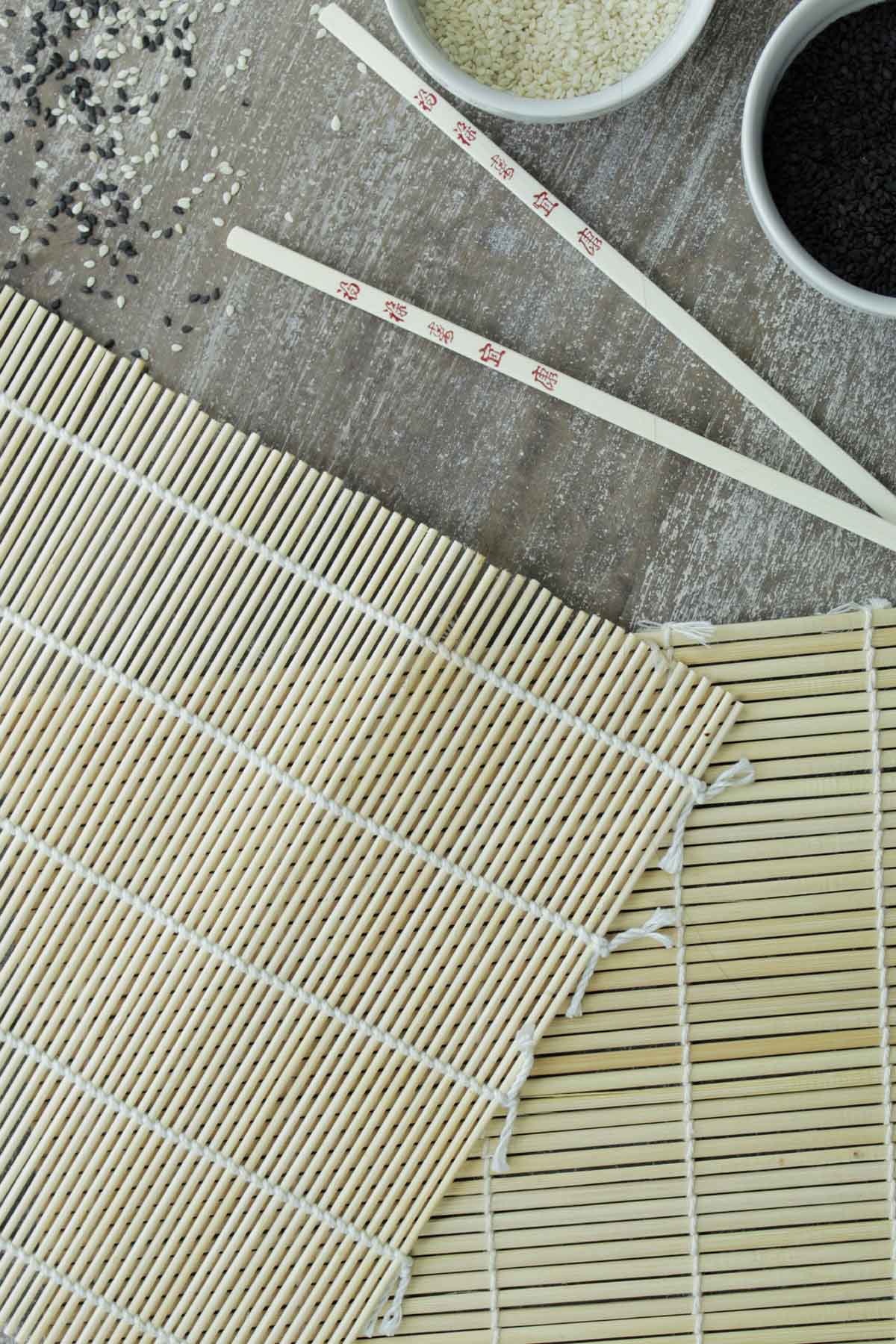 Sushi Kitchen Supplies

Short-Grain Rice: It's super important to purchase short-grain sushi rice to achieve the best produce. Short-grain rice has just the right amount of moisture and starch to allow the sushi roll to stay in place. Grab the recipe for Japanese sushi rice.


Rice Vinegar: An important ingredient in the sushi vinegar (that gets added to the cooked rice).


Seafood: Most restaurants use raw tuna for the spicy tuna roll, which is frozen to specific temperatures to kill of any parasites. However, please select the seafood that makes you feel most comfortable when making it at home. If you do choose to purchase raw fish, please be sure to do so from a reputable store.


Veggies: The type of veggies needed depends on the type of wrap. We will be using avocado for this roll.


Seaweed Wraps: The nori seaweed sheets are an essential part of sushi! You should be able to find nori in the Asian section of your local grocery store (I buy mine at Walmart).


Sesame Seeds: They will add a nice pretty touch to your sushi and make it look like it does at a restaurant. You can always use up leftover sesame seeds in a stir fry dish.


Sharp Knife: Just a basic chef's knife will work, but make sure it's sharp! A knife sharpening steel will help you achieve this.


Bamboo Rolling Mat: This is a one time investment and helps create a tight sushi roll. It's cheap and totally worth it!


You May Also Like

Best Tools for Making Sushi at Home


How to make Homemade Sushi: Step by Step Instructions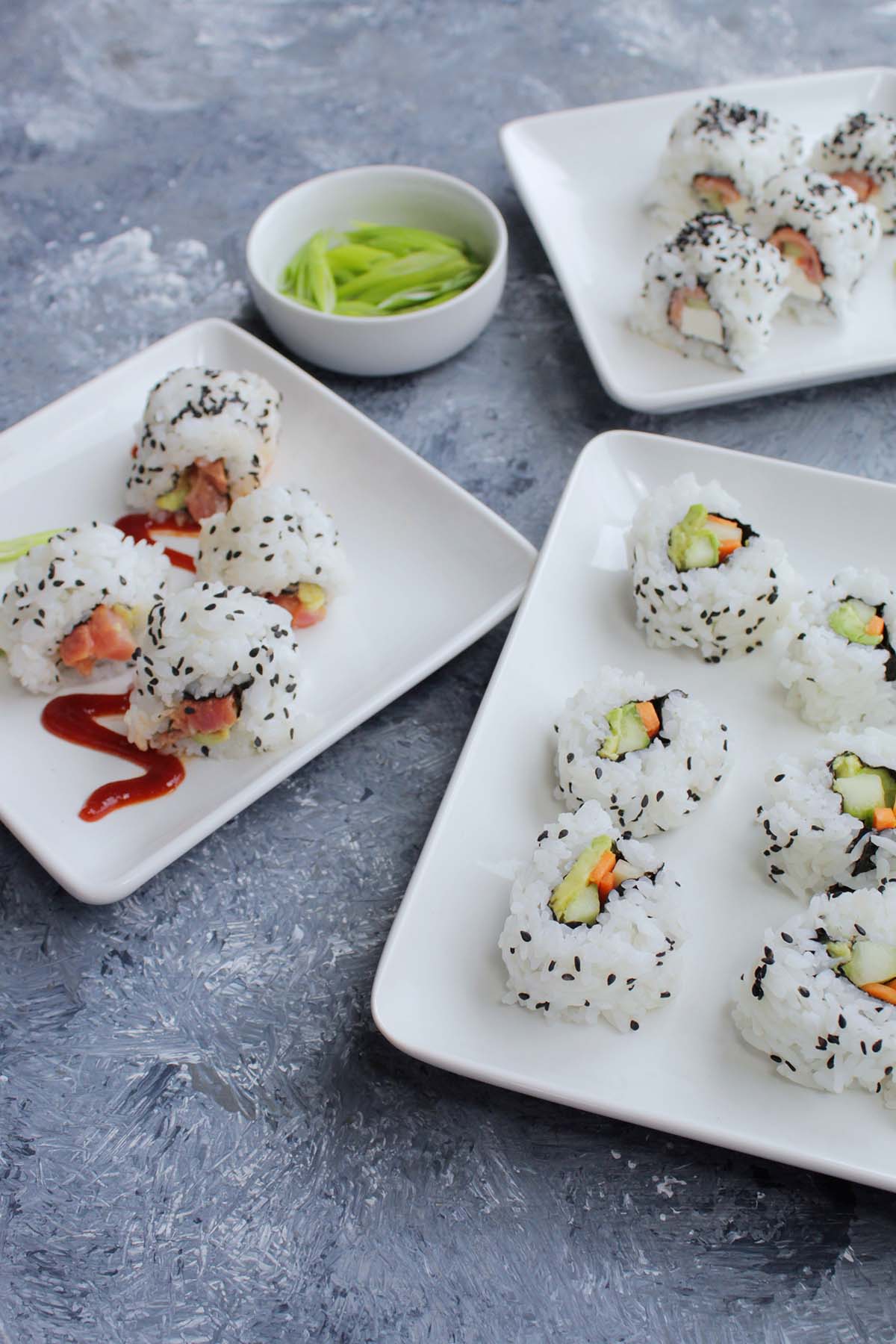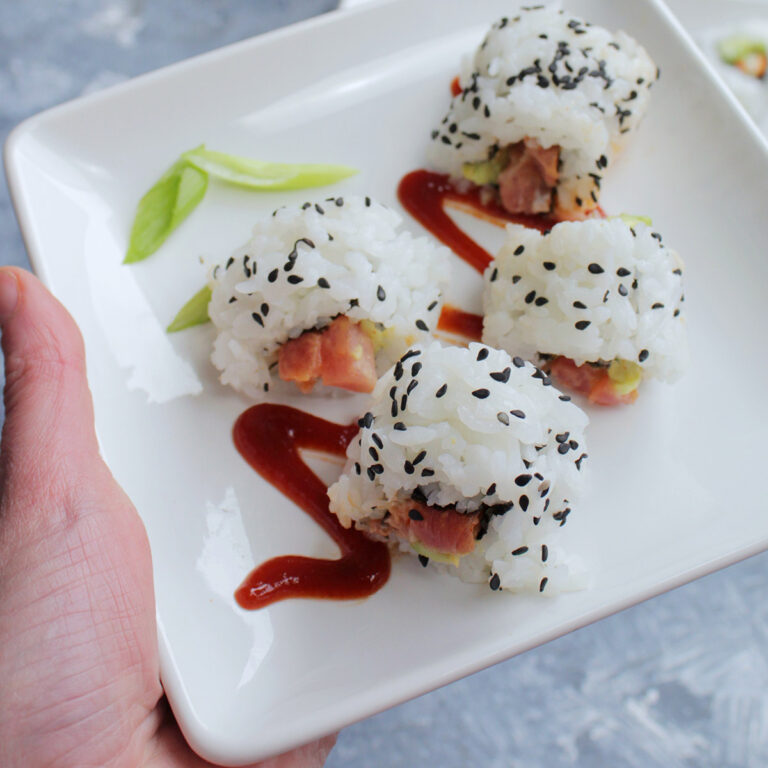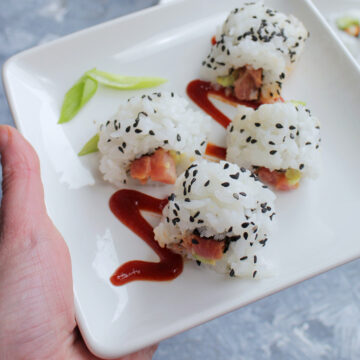 Spicy Tuna Sushi Roll
Spicy tuna roll is a classic American twist on Japanese sushi. Create a show-stopping sushi roll with minimal ingredients.
Ingredients
3

cups

cooked sushi rice

divided (see recipe)

⅛

cup

mayonnaise

1

tablespoon

sriracha

6

ounces

sushi-grade tuna

cut into ¼" squares

2

sheets

nori

2-3

tablespoons

white or black sesame seeds

½

avocado

thinly sliced

wasabi

(for serving)

pickled ginger

(for serving)
Instructions
In a medium bowl, whisk together mayonnaise and sriracha. Once combined, add in cubed tuna. Cover, and allow to marinate in the refrigerator while preparing the other ingredients.

Cut both sheets of nori in half. Lay one piece of nori shiny side down, on a bamboo mat covered in plastic wrap. Spread about ¾ cup of rice evenly on the nori sheet. If needed, wet hands to help spread the rice. If desired, sprinkle with ½ tablespoon of white or black sesame seeds, making sure they adhere to the rice.

Flip the nori over (rice side facing down). Place about 1 - 2 tablespoons of the tuna mixture along the bottom of the nori. Add a few slices of avocado right above the tuna.

Grab the nori and the rolling mat. Fold the nori over until it touches itself. Continue rolling until a complete roll is formed. Squeeze gently, but firmly. Repeat with remaining 3 nori sheets.

Transfer to a cutting board. With a very sharp knife, slice roll into 8 slices. Wipe knife on a damp cloth in between each cut to keep the rice from sticking.

Serve immediately with wasabi and pickled ginger.
Notes
If you don't have access or can't find sushi-grade tuna, feel free to substitute for canned tuna. If you'd prefer to keep your tuna vegetarian, feel free to substitute with smashed chickpeas. Not the exact same taste, but still delicious!
Sushi Rice Recipe
Nutrition
Calories:
299
kcal
Carbohydrates:
31
g
Protein:
14
g
Fat:
13
g
Saturated Fat:
2
g
Polyunsaturated Fat:
5
g
Monounsaturated Fat:
5
g
Trans Fat:
1
g
Cholesterol:
19
mg
Sodium:
156
mg
Potassium:
271
mg
Fiber:
3
g
Sugar:
1
g
Vitamin A:
1043
IU
Vitamin C:
5
mg
Calcium:
50
mg
Iron:
1
mg
Have you tried this recipe?
Tag @homebody.eats on Instagram so we can see your creations!
Have you made this recipe?!

Let me know how you liked the recipe! Comment below, or share a picture on Instagram with the hashtag #HomebodyEats. Happy cooking, Homebody family!
Yum