Make delicious ice cream at home with these easy & flavorful recipes
Put your ice cream maker to good use by whipping up some amazing flavored homemade ice cream! These fun flavors are broken down into categories to fulfill your ice cream cravings no matter your mood! This list of homemade ice cream maker recipes includes classic flavors, nostalgic and whimsical ice creams, as well as recipes for every season. No matter what at home ice cream machine you own (Cuisinart, Breville, or Donvier), you'll easily be able to create these frozen desserts!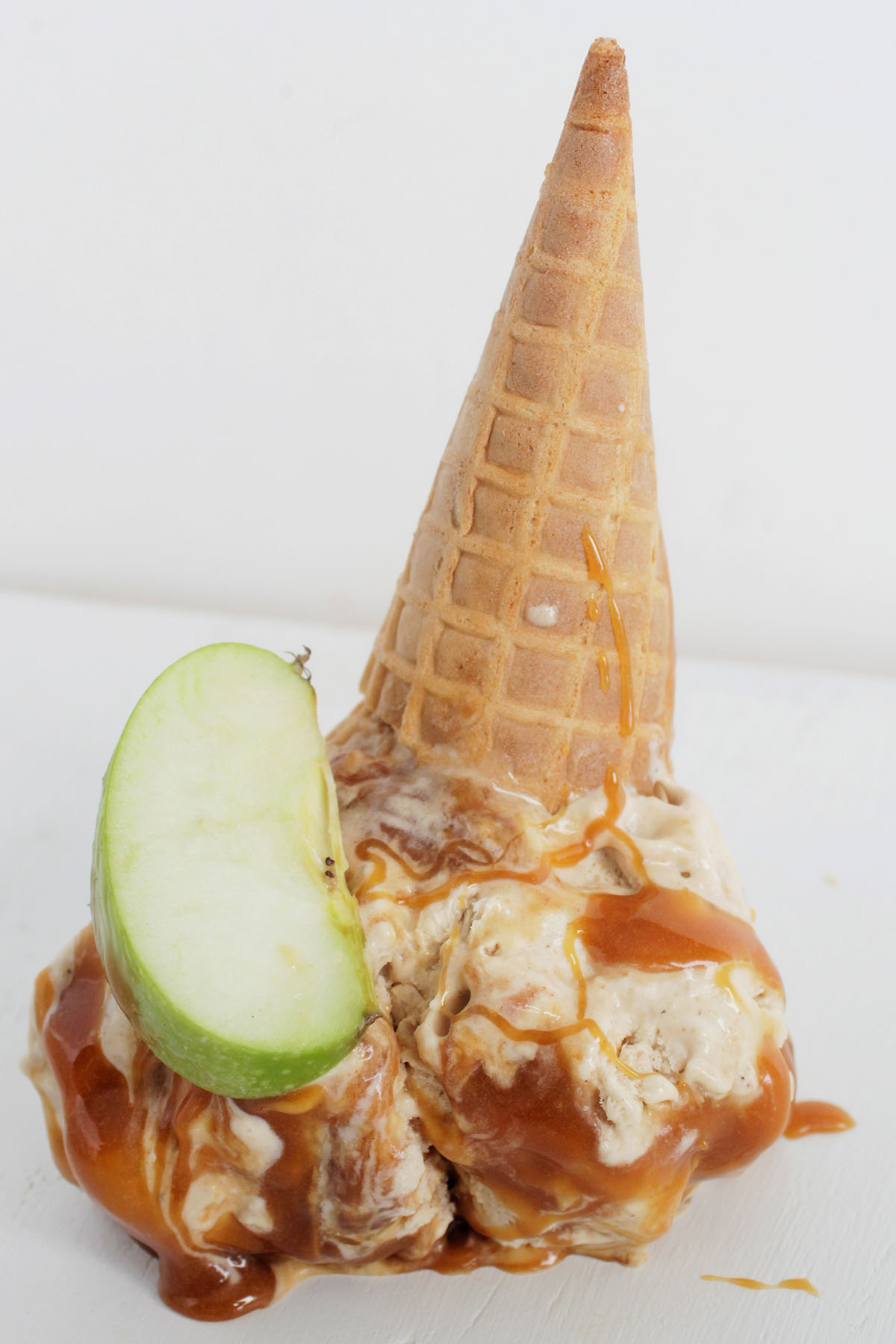 Want To Save This Article?
Enter your email below and we'll send it straight to your inbox. Plus, you'll receive new weekly recipe inspiration.
Making homemade ice cream (no matter the time of year) is one of my favorite kitchen projects! There is something so satisfyingly sweet about this frozen dessert.
If you own an ice cream machine, I'm guessing that you too love to make homemade ice cream as much as I do.
Since we all scream for ice cream, let's get into what homemade ice cream recipes you should make. These recipes will work with any of the major ice cream maker brands including:
Just be sure to only fill the ice cream base up the appropriate line for your specific ice cream maker.
And, if you don't own a compressor ice cream machine that has a built in freezing unit, remember to pre-freeze your ice cream bowl 24 hours before churning any of the recipes below.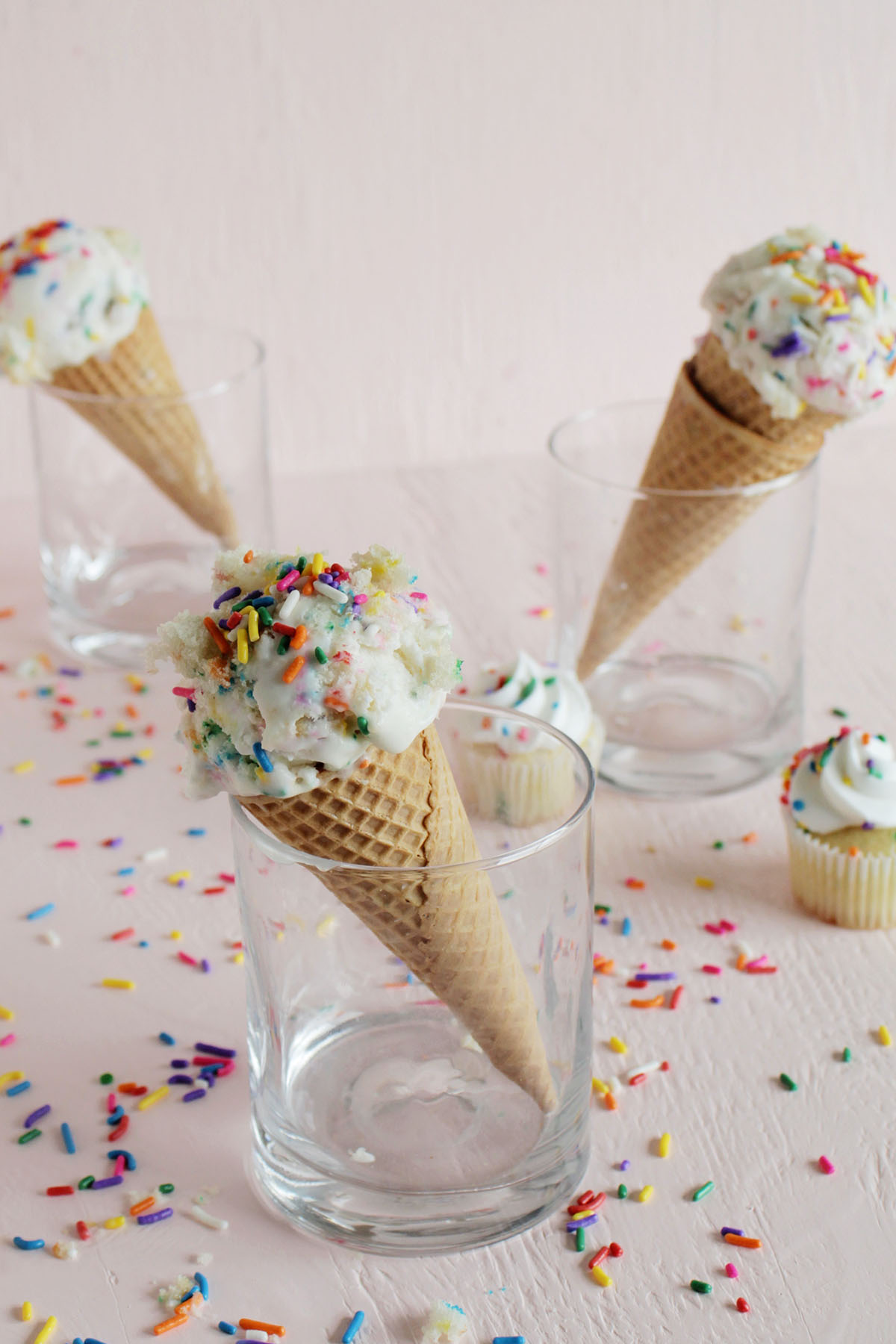 The Classic Recipes
Every home chef needs some go-to, classic ice cream recipes in their back pocket. These are the recipes that you can use over and over again!
The recipes below will be good no matter the time of year. And, you can switch up the mix-ins and toppings for each of these recipes to give the ice cream a new flavor twist.
If you're hosting a party, these are sure to be crowd-pleasing recipes (even for the kiddos).
Check out these ideas:
Nostalgic Flavors
We all have some nostalgic flavors from childhood that we love and remember. These ice cream flavors are sure to bring back lots of memories.
Many of these recipes are great options if you're hosting a birthday party, or need some fun ice cream for kids.
It's all about presentation with these ice cream flavors. Be sure to take the extra time to garnish the ice cream or serve it in a fun cone.
Check out these ideas:
Fresh Fruit Flavored
Fresh produce has always been a major inspiration in my culinary journey! It provides amazing flavor and texture, plus it brings so much color into a dish.
There are many ways to add fruit into ice cream. The flavors can be infused through the juice, from cooking down the fruit, or by using the whole thing!
While I especially love making fruit-flavored ice cream in the summer when we have access to many fruits, there are really endless possibilities.
Try making ice cream recipes inspired by the fruits that are in season where you live.
Check out these ideas:
Best Chocolate Recipes
Chocolate is another classic ice cream flavor that many people love.
It's hard to find another ice cream flavor quite as decadent as chocolate. The rich flavor that comes from infusing the ice cream base with cocoa powder or melted chocolate chips is unmatched!
These recipes would be great all on their own, or drizzled with chocolate fudge.
Check out these ideas:
Fun & Whimsical Flavors
Every once in a while, I love an out-of-the-box ice cream flavor. Something that's unique that I've never tried before!
These whimsical flavors are perfect for the advanced ice cream makers who need a new challenge or want to try making a new flavor.
While these types of ice creams tend to take a bit more time to make, they are definitely worth the extra effort. You won't be disappointed!
Check out these ideas:
Spring Inspired Flavors
It's always fun making ice cream flavors that are inspired by the season. It allows you to change up your flavor based on the ingredients available and the changing weather.
By the time spring rolls around, it's time to add some bright flavors to your diet! Try making some brightly colored ice creams.
These ice cream recipes incorporate delicious, fresh flavors that pair perfectly with spring.
Check out these ideas:
Sweet Summer Recipes
The summer is peak ice cream season. Nothing tastes better during the hot summer months than a frozen ice cream dessert!
During the summer, you have to take advantage of the produce that's only available during this time of year including rhubarb, strawberries, cherries, raspberries, and more.
Summer is also great for fresh and light flavors like lemon, lime, and orange. Sorbet, while not "technically" classified as ice cream, is another option in the summer!
Check out these ideas:
Fun Fall Flavors
As the weather begins to transition over to cooler, crispy air, it's time to bring out some fall ice cream recipes.
Fall, in my mind, is time for some heavier, decadent flavors like caramel, maple, apple, and cinnamon. All the warming and comforting tastes that we love!
You could even try using these recipes to celebrate some of the fall holidays like Halloween or Thanksgiving. I'd love to have ice cream as a Thanksgiving dessert to go along with pie.
Check out these ideas:
Winter & Holiday Flavors
Ice cream really should be eaten all year round, no matter the weather outside! At least that's my thought.
The key to making delicious tasting ice cream in the winter is to use bold flavors that mimic the taste of all the warm recipes we love eating in the winter. Food like cinnamon rolls, hot chocolate, and coffee.
Check out these ideas:
Boozy Ice Cream Recipes
I can't be the only person who loves a little booze in my ice cream!
Infusing alcohol into the ice cream base is a great advanced technique that can pack lots of flavor. It will work with many different types of alcohol.
Be careful though! Adding too much alcohol to an ice cream recipe can prevent the ice cream from properly freezing. A little bit of alcohol goes a long way in these recipes!
Check out these ideas:
Egg-Free Recipes
Ice cream recipes with no eggs are great for many reasons!
First, they are perfect for anyone with egg allergies. They still taste delicious, so you won't be missing anything!
Eggless ice cream bases are often referred to as Philadelphia style ice cream. They are nice for beginners because they don't necessarily have to be heated/cooked (because there are no eggs) before churning.
This style of ice cream tends to taste a little lighter than custard base ice creams that contain eggs.
Check out these ideas:
Homemade Ice Cream Frequently Asked Questions
If you're interested in learning more about making really delicious ice cream, check out these helpful frequently asked questions. The tips and tricks listed below will help you produce an amazing product.
These are especially helpful if you're new to using an at-home ice cream maker!
How long should I churn ice cream?
Each ice cream machine varies slightly, so it's best to stick with the manufacturer's instructions. Typically, you can expect ice cream to take about 20 - 45 minutes to churn depending on the type of machine you own.

I always look for a visual cue to know the ice cream is ready! The ice cream base should no longer look liquidy. Rather, the ice cream has frozen and thickened into a soft-serve like texture.
What ice cream machine do you recommend?
I make lots of ice cream, and multiple batches in a row, so I prefer a compressor ice cream maker. Personally, I have the Whynter ICM-15LS Automatic Ice Cream Maker and would recommend this machine to anyone who is really serious about making ice cream at home.

You can check out my top 3 recommended ice cream machines with a full list of pros and cons. All of these machines can be purchased on Amazon.
What's the best container to store homemade ice cream in?
It's best to store your ice cream in a long, plastic Tupperware. It will help the ice cream freeze quicker after churning it.
Make sure the ice cream is secured with an airtight lid. You can also add a piece of plastic wrap underneath the lid to prevent freezer burn and keep the ice cream tasting fresh.
How long will my ice cream last?
Experts recommend that homemade ice cream lasts around 2-3 weeks. Check out this article to learn helpful tips and tricks for preventing freezer burn, maintaining the creamy texture, and the science behind keeping ice cream products tasting delicious.
Do you have any tips for making super creamy ice cream?
For super creamy ice cream, you need two very important elements.
First, be sure you are using the proper dairy products. Most creamy ice cream recipes call for a combination of milk and cream. These ingredients are referred to as butterfat and they play a huge role in the creamy texture of ice cream.
Second, the ice cream machine you use will affect the texture of the final ice cream. The machine whips air into the ice cream and helps freeze the ice cream base resulting in ice crystals forming.
Our main goal during the ice cream making process is to keep the ice crystals small so we get a smooth final product.
How long should I pre-freeze the ice cream bowl before churning?
Be sure to pre-freeze the bowl for at least 24 hours before churning the ice cream base. You'll want to ensure the bowl is super cold!
Can I easily swap out ingredients in these recipes?
No! Please follow the recipes as written for the best results.

It takes a lot of science to achieve smooth, creamy, and delicious ice cream. Messing with the ratios or ingredients can result in an unpleasant tasting ice cream.
Do I really need to wait for the ice cream base to get cold before churning?
Yes! It's best to chill the ice cream base overnight, or until it reaches 40-42°F.

To understand the science behind this, you first have to learn about ice crystals. Ice crystals give our ice cream some hardness and density. Our main goal during the ice cream making process is to keep these crystals small.

When working with a home ice cream maker, it's hard to achieve small ice crystals due to equipment restrictions. Home ice cream makers don't get as cold, grip the sides of the bowl, or have the same power as commercial machines.

Because of this, we must do everything we can to help keep the ice cream as cold as possible. This means waiting for the base to properly cool.
Learn More About Making Ice Cream At Home
If you've enjoyed this article about ice cream maker recipes, check out these additional resources to learn more:
If you're looking for even more recipes for homemade ice cream, be sure to check out these resources and recipes on my site!