An easy overnight oats recipe filled with the flavors of chocolate-covered strawberries
Strawberry overnight oats are a delicious breakfast recipe that will keep you full all morning long. This overnight oatmeal is easy to make in a big batch so you can meal prep for the entire week. This recipe has a layer of creamy oats sandwiched between strawberry fruit spread and a dark chocolate topping. It's the perfect sweet breakfast for busy mornings.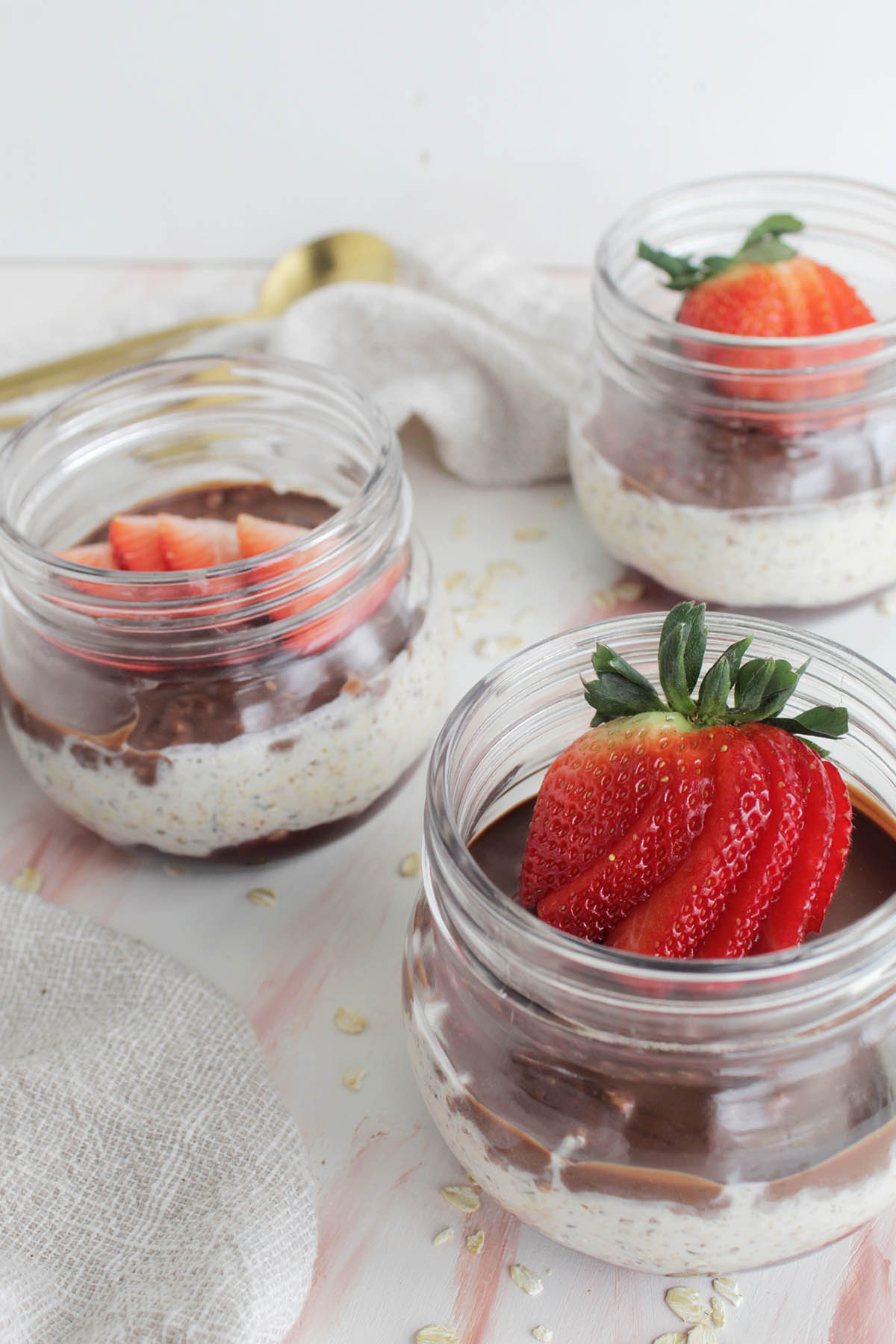 Jump to:
I've always loved eating oatmeal in the morning for my breakfast. It's a simple breakfast that I can whip up during a busy week. And, most importantly, it keeps me full until lunch.
This easy strawberry overnight oats recipe has quickly become a favorite of mine. Not only is it a great make-ahead breakfast option, but it also tastes so good!
You'll love this amazing recipe if you enjoy a little something sweet to start your morning off with. Strawberry and chocolate is a perfect combination that creates amazing flavor in these overnight oats.
What You'll Learn In This Recipe
By making these strawberry overnight oats, you'll learn a few new skills in the kitchen including:
How old-fashioned oats are made.
Easy meal prep hacks to help you make breakfast for an entire week.
How to customize this recipe to fit what you have in your pantry.
If you like learning new skills in the kitchen, sign up for my free five-day email series. It will teach you easy and practical ways to level up your cooking game! Trust me, these are five culinary secrets everyone needs to know!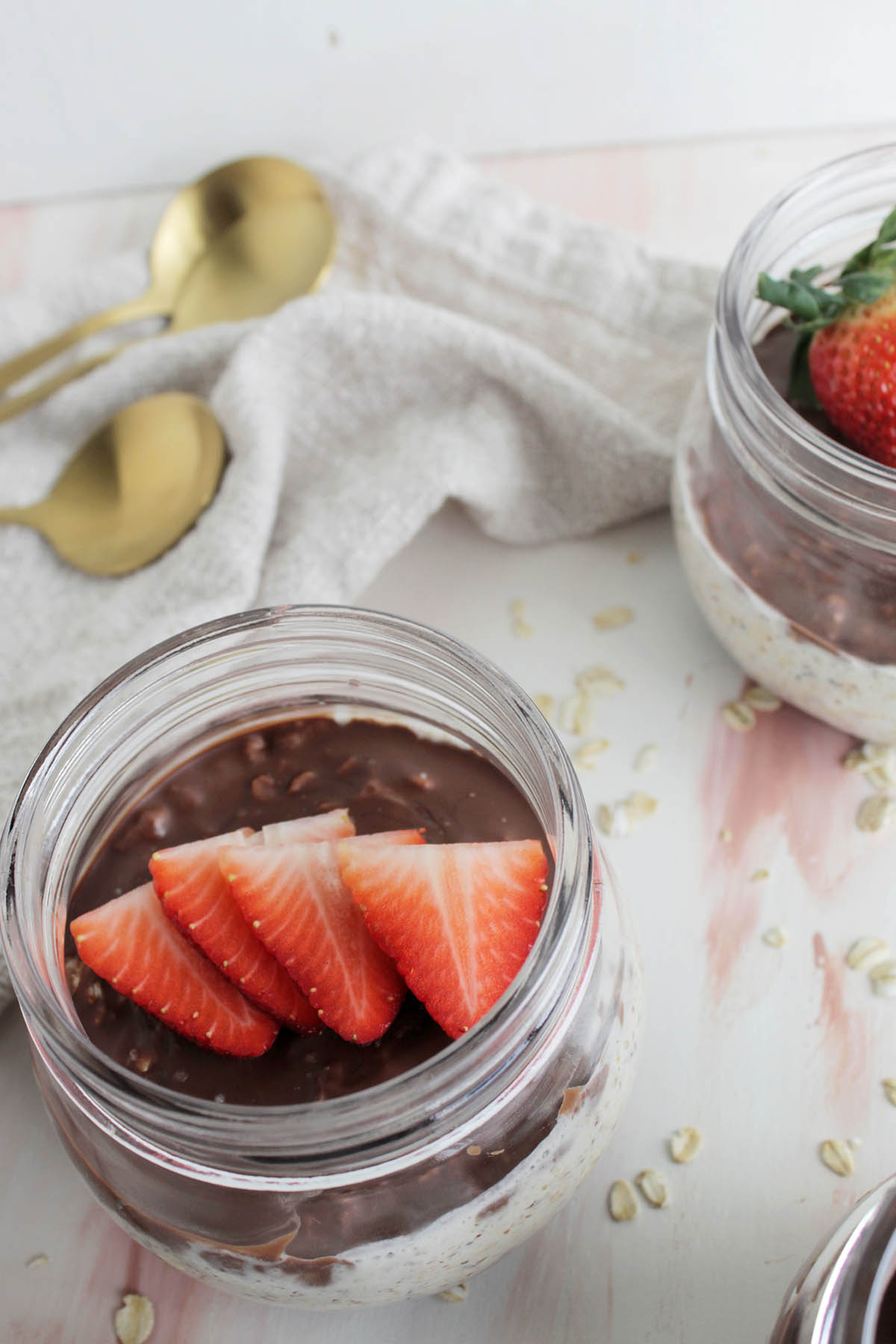 What Are Oats?
Oats are part of the whole grain family. While they are great for breakfasts, they can also be used in bread, muffins, and cookies.
Oats come from oat groat, which is a whole oat kernel with the husk removed. You may have noticed that old-fashioned oats are flat. This is because they are made from oat groats that have been steamed, then rolled into flat flakes.
Since this recipe does not require cooking, we have to have some way to soften the oats. The overnight soak, along with milk and yogurt, helps to soften the oats.
Ingredient Notes
The great thing about this recipe is that most of the simple ingredients you'll need are pantry staples! You should already have most things on hand, including the following ingredients:
Old fashioned oats: I loved using old-fashioned oats (also referred to as rolled oats) for this recipe. However, you could substitute quick-cooking oats or gluten-free oats if needed. Do not use steel cut oats or instant oats.
Unsweetened almond milk: You can really use any type of milk you prefer - whole, skim, oat milk, or really any non-dairy milk you like.
Whole milk Greek yogurt: Greek yogurt helps provide some thickness and creaminess to the overnight oats. I prefer using whole milk Greek yogurt over fat free yogurt.
Ground flaxseed: I really love the addition of the ground flaxseed and the fiber it adds. Bob's Red Mill makes my favorite ground flaxseed. While this is a great option to add to the overnight oats, it's a completely optional ingredient.
Hemp seeds: To incorporate healthy fats into this breakfast, I like to add hemp seeds. You could substitute for chia seeds or omit completely.
Honey: Honey adds a bit of sweetness to the oat mixture. You could also substitute with pure maple syrup.
Vanilla extract: This adds another layer of flavor and complexity to the oats.
Strawberry fruit spread: Strawberry jam would also work, just make sure it's seedless! If you're watching your calories, you could substitute this layer with chopped strawberries.
Dark chocolate morsels: Adding a bit of chocolate makes this recipe taste like a chocolate-covered strawberry. Feel free to use semi-sweet chocolate chips if you don't have any dark chocolate on hand.
Coconut oil: This ingredient helps the chocolate coating on top of the cold oats to act like the magic shell chocolate we used to eat on ice cream as kids.
Additional Toppings: I don't personally find that this recipe needs any additional toppings. However, if you'd like to add extra protein, coconut flakes, or additional fruit like fresh strawberries or ripe banana, you're more than welcome to make this recipe with your own twist!
Tools & Equipment
There are just a few pieces of kitchen equipment that you'll need to make these strawberry overnight oats:
Mixing Bowls: You'll use this to mix up all the ingredients that go into overnight oats. Be sure you have at least one microwave safe mixing bowl to make the chocolate topping that goes on the top of the oats.
Spatula: This will be helpful to mix everything up!
10 ounce Mason Jar: You'll need some sort of airtight container to leave the oats in overnight. I really love mason jars for their grab and go convenience.
How To Meal Prep Breakfast
This recipe requires only 15 minutes of prep time, which makes it an easy option to prepare for an entire week of breakfast.
I always love to meal prep on the weekend, so I can grab my breakfast and leave out the door for work in minutes. This recipe is really easy to double or triple so you have multiple days worth of breakfast or even school lunches. Simply click the scaling button on the recipe card below.
To meal prep these overnight oats, make a large batch of the recipe, then divide it into multiple mason jars. You'll have a healthy make-ahead meal throughout the week, and it won't take you much time to prepare.
If this sounds like a great option for you, here are some of my favorite meal prep tips:
The day before you go grocery shopping, do an inventory of your pantry. Add any missing ingredients for your meal prep recipes on the shopping list.
Be realistic about what you'll eat throughout the week. It's tempting to over prepare for the week and waste food. Really think through what you'll want to wake up and eat the next morning, and only prepare what you realistically think you'll use.
My favorite way to meal prep this recipe is with these 10 ounce mason jars. They're also great for your other favorite meal prep breakfasts.
Recipe Frequently Asked Questions
Can I substitute old-fashioned oats for quick-cooking oats?
Yes, you can replace old-fashioned oats with quick-cooking oats. Just be sure not to use steel-cut oats or instant oats.
I want to change up the combination of flavors. Can I use a different flavored fruit spread?
If you want to change up the flavor combo of this recipe, you can absolutely substitute a different flavor of fruit spread. This is a very simple solution for switching up a meal prepped breakfast so you don't get bored.
I don't have ground flaxseed or hemp seeds. Can I leave them out?
While I love the nutritional value that both ground flaxseed and hemp seeds add to this recipe, they are completely optional. This recipe still tastes great if you omit these ingredients.
What are your favorite meal prep containers for overnight oats?
I prefer to use a glass container for my overnight oats. These 10-ounce mason jars are the perfect size for this recipe. Plus, they're easy to grab out of the refrigerator and take with you on the go!
Other Breakfast Recipes You May Enjoy
Looking for other easy breakfast recipes to try? Here are some of my favorites:
Recipe Video Tutorial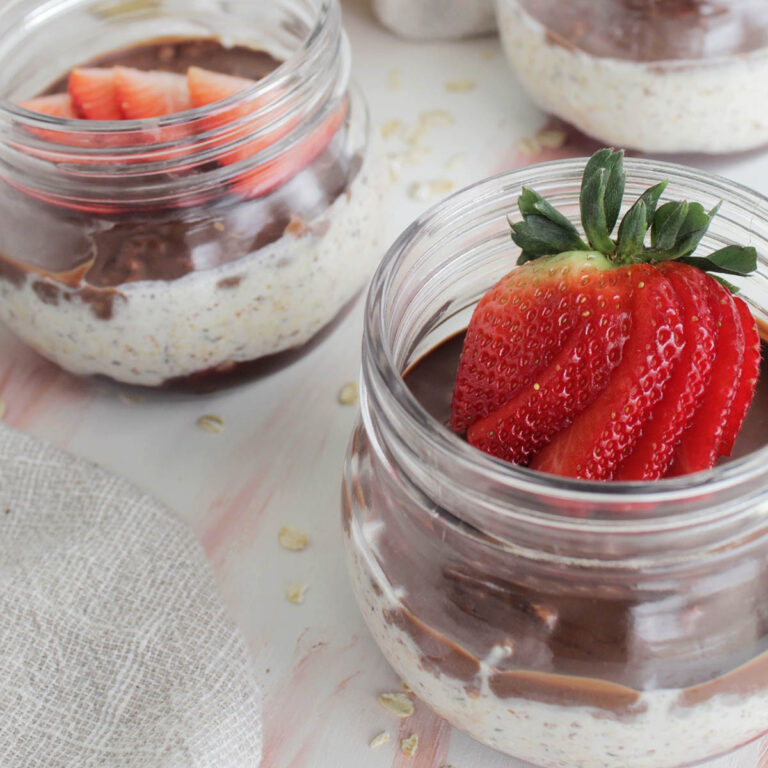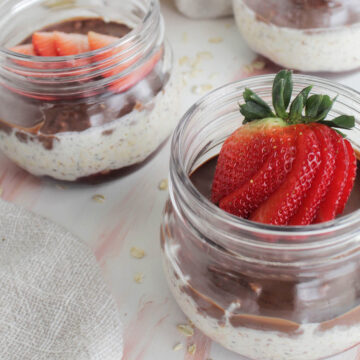 Chocolate Covered Strawberry Overnight Oats
Strawberry overnight oats are a delicious breakfast recipe that will keep you full all morning long. This overnight oatmeal is easy to make in a big batch so you can meal prep for the entire week. This recipe has a layer of creamy oats sandwiched between strawberry fruit spread and a dark chocolate topping. It's the perfect sweet breakfast for busy mornings.
Instructions
Mix oats, almond milk, Greek yogurt, flaxseed, hemp seeds, honey, and vanilla extract in a medium bowl until combined.

Add strawberry fruit spread to the bottom of a 10 ounce glass storage container or jar. Layer oat mixture on top of the strawberry fruit spread.

Add chocolate morsels and coconut oil to a microwave safe bowl. Microwave on high (100 percent power) for 45 - 60 seconds. Remove from the microwave and stir to melt the remaining chocolate and combine the coconut oil. Pour an even layer of chocolate on top of the oats.

Cover the glass container or jar with a lid. Place in the refrigerator for at least 4 hours or overnight.

Remove from the refrigerator and serve.
Notes
Storage: Overnight oats can sit in the refrigerator for up to 6 days.
Nutrition
Calories:
758
kcal
Carbohydrates:
109
g
Protein:
21
g
Fat:
27
g
Saturated Fat:
13
g
Polyunsaturated Fat:
9
g
Monounsaturated Fat:
3
g
Cholesterol:
3
mg
Sodium:
237
mg
Potassium:
524
mg
Fiber:
9
g
Sugar:
59
g
Vitamin A:
83
IU
Vitamin C:
6
mg
Calcium:
369
mg
Iron:
5
mg
Have you tried this recipe?
Tag @homebody.eats on Instagram so we can see your creations!