Learn about 35 new foods that start with A to spice up your palate.
Are you tired of eating the same ole' foods? Try these 30+ unique food ideas that begin with the letter A. You'll be able to learn more about each ingredient and begin to incorporate it into your everyday diet. This list will inspire you to use creativity in the kitchen!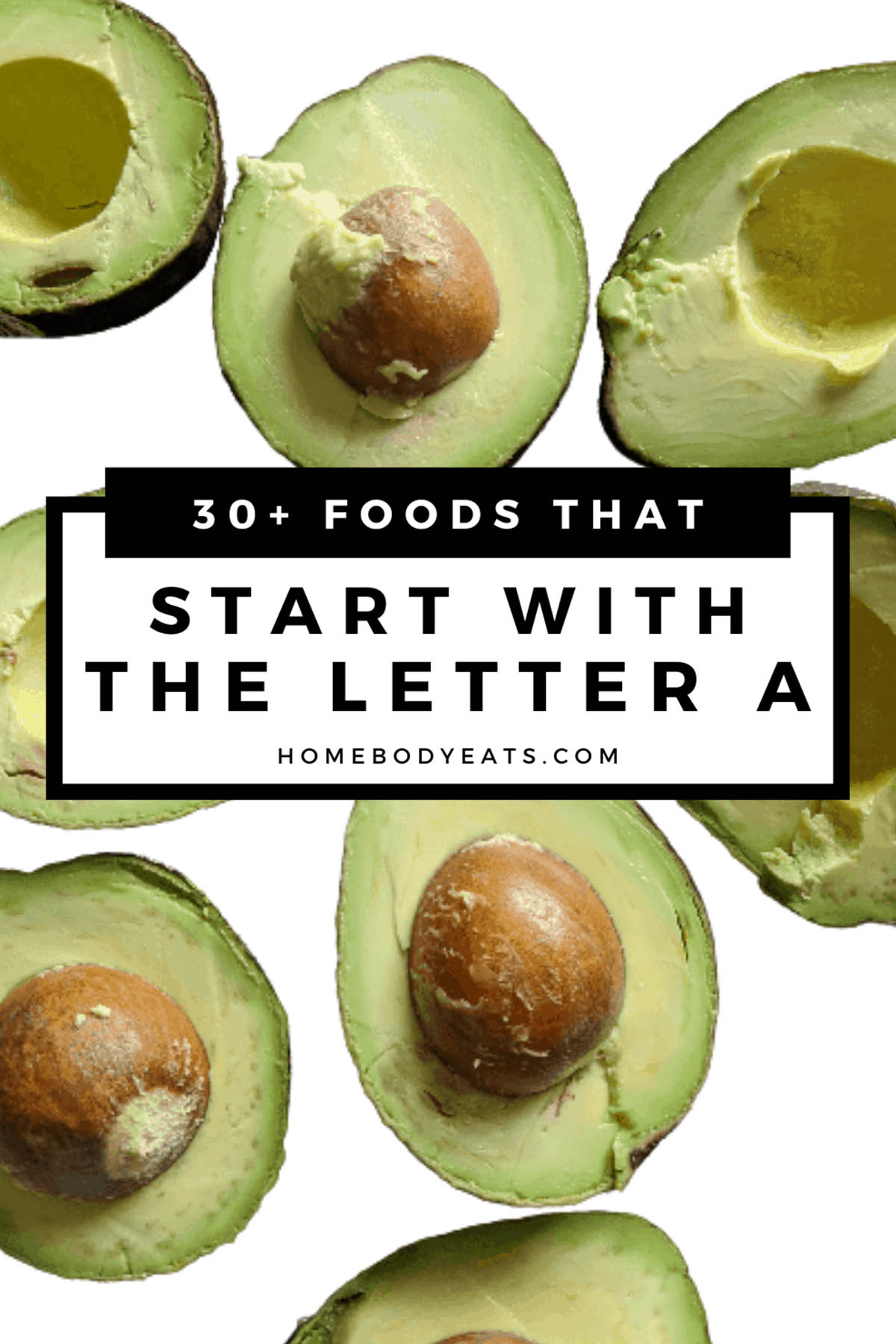 Ever wanted to try new foods and expand your palate, but didn't know where to start? You can learn about so many new foods through my food alphabet series.
This series deep dives into different types of food - what they are, how you can cook them, and what to make with them. Learn about new foods that start with A with this list of fun cooking facts!
1. Acaí berry
I'm sure you've seen the ever-so-popular acaí smoothie bowls plastered across Instagram? Acaí has been eaten for centuries in the Amazon (countries like Brazil, Ecuador, Colombia, and more). However, this food has risen in popularity in the United States once retailers began to sell it as a frozen pulp/juice and in a powdered form.
Try using acaí by making a delicious (Insta-worthy) smoothie bowl. Don't forget to add lots of toppings for extra flavor!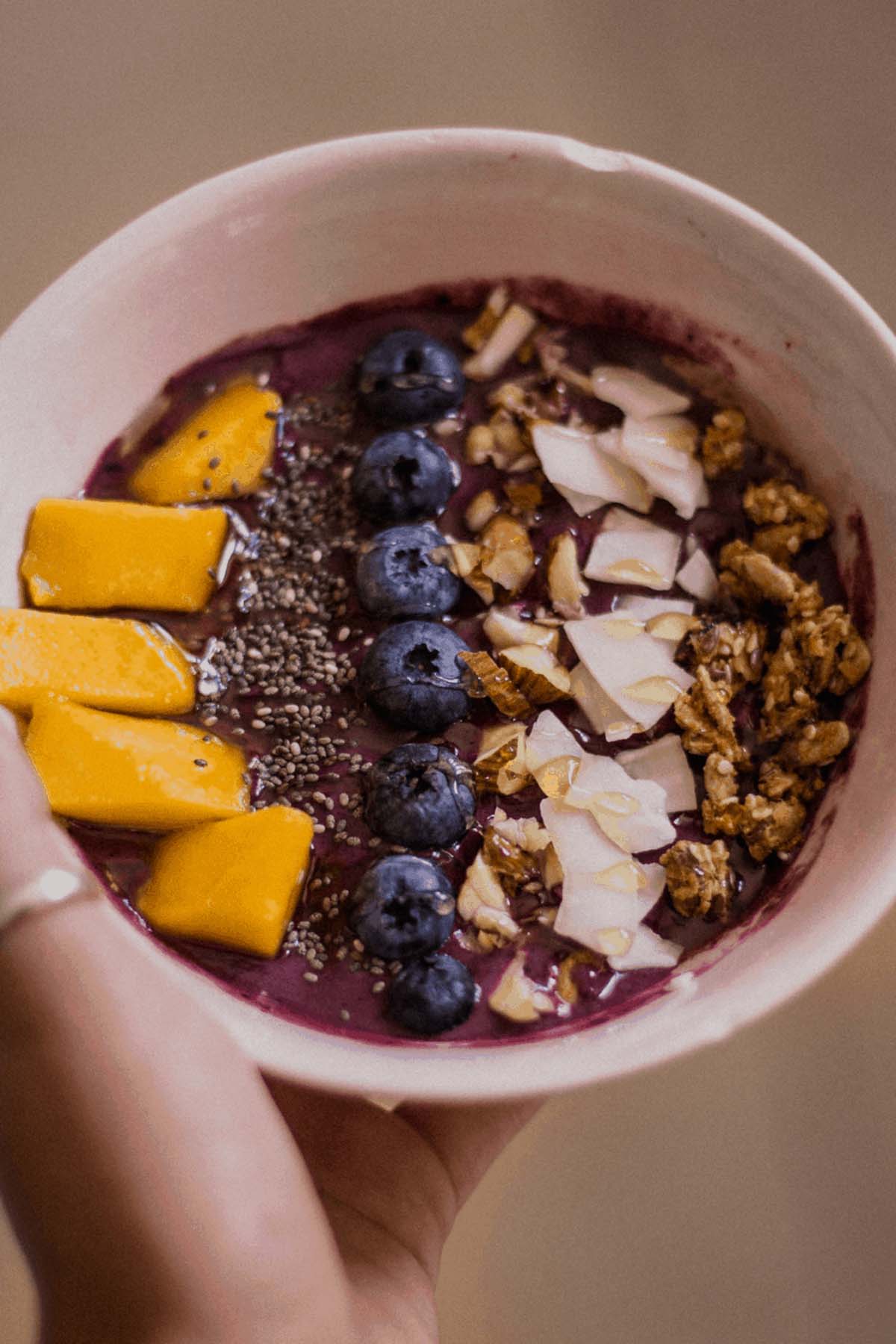 2. Achiote seeds
Our second 'A' lettered food is achiote seeds. Sometimes, you might hear this called an annatto seed. These seeds have a mild, pepper-like flavor (when used in large quantities), and are often used to help dye/color foods (like cheddar cheese)!
Achiote seeds are widely used in Mexican cuisine. Achiote seeds are most commonly ground up and used as a powder. You can mix this with other herbs and spices, then season beef, fish, or pork. Additionally, the achiote can also be used as a food colorant since there is little to no taste in small quantities.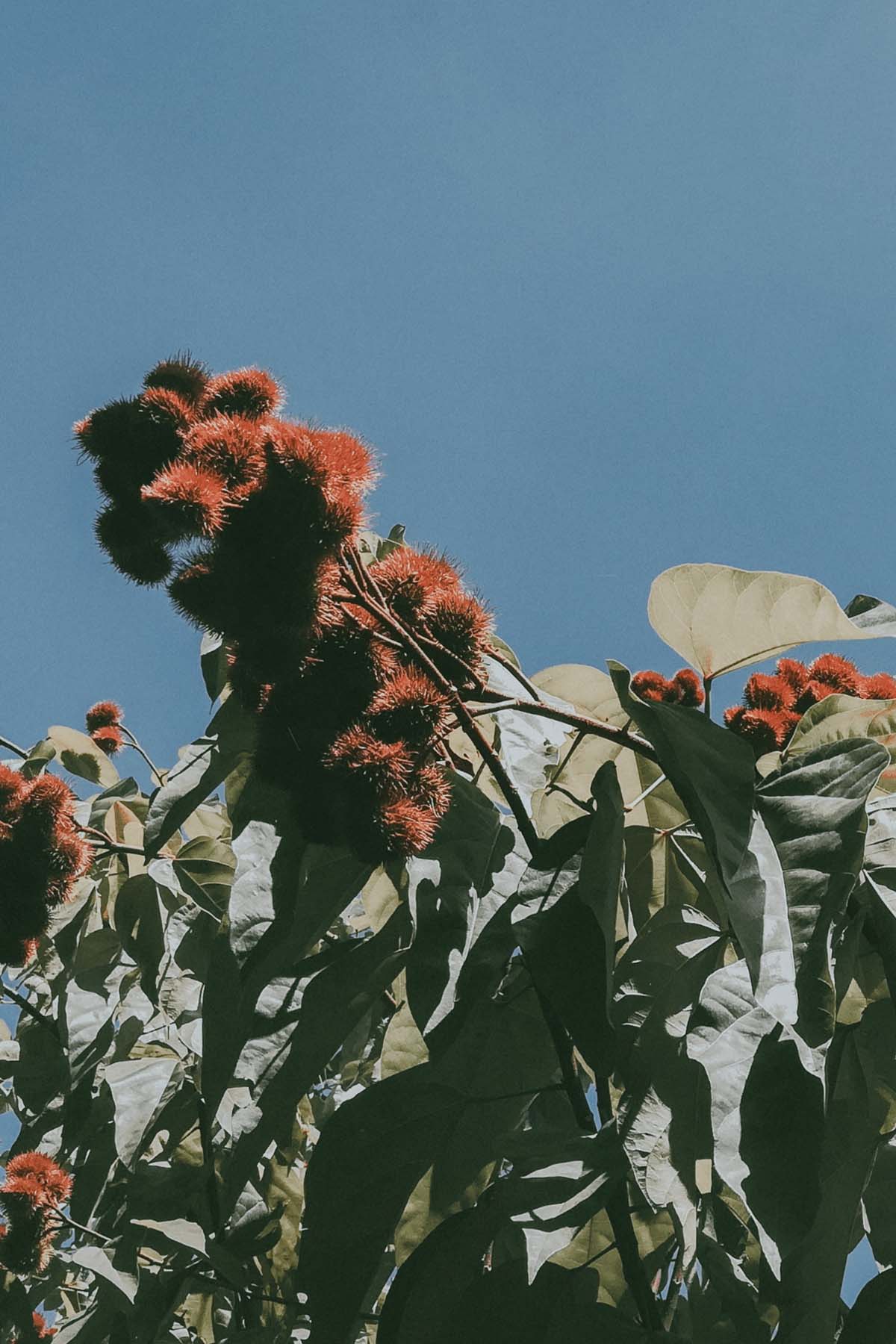 3. Acorn squash
Acorn squash is part of the winter squash and gourd family. These types of squash have hard skins and seeds which should not be eaten. Acron squash is best when cooked. You can bake, steam, or sauté it!
You'll likely only find acorn squash October - March when it's in peak season. Try pairing sausage, walnuts, kale, Brussel sprouts, or even maple syrup and brown sugar with your acorn squash!
4. Agave syrup
Agave syrup, or agave nectar, is produced from a plant widely grown in Mexico called the Blue agave. This syrup is even sweeter than the traditional sugar we're used to. Because agave is produced from a plant, it's a great vegan alternative to honey.
Agave syrup has a light, neutral flavor. You can use it when you're making a margarita (one of my personal favorites), in desserts, to sweeten up sauces, or as a substitute for maple syrup/honey.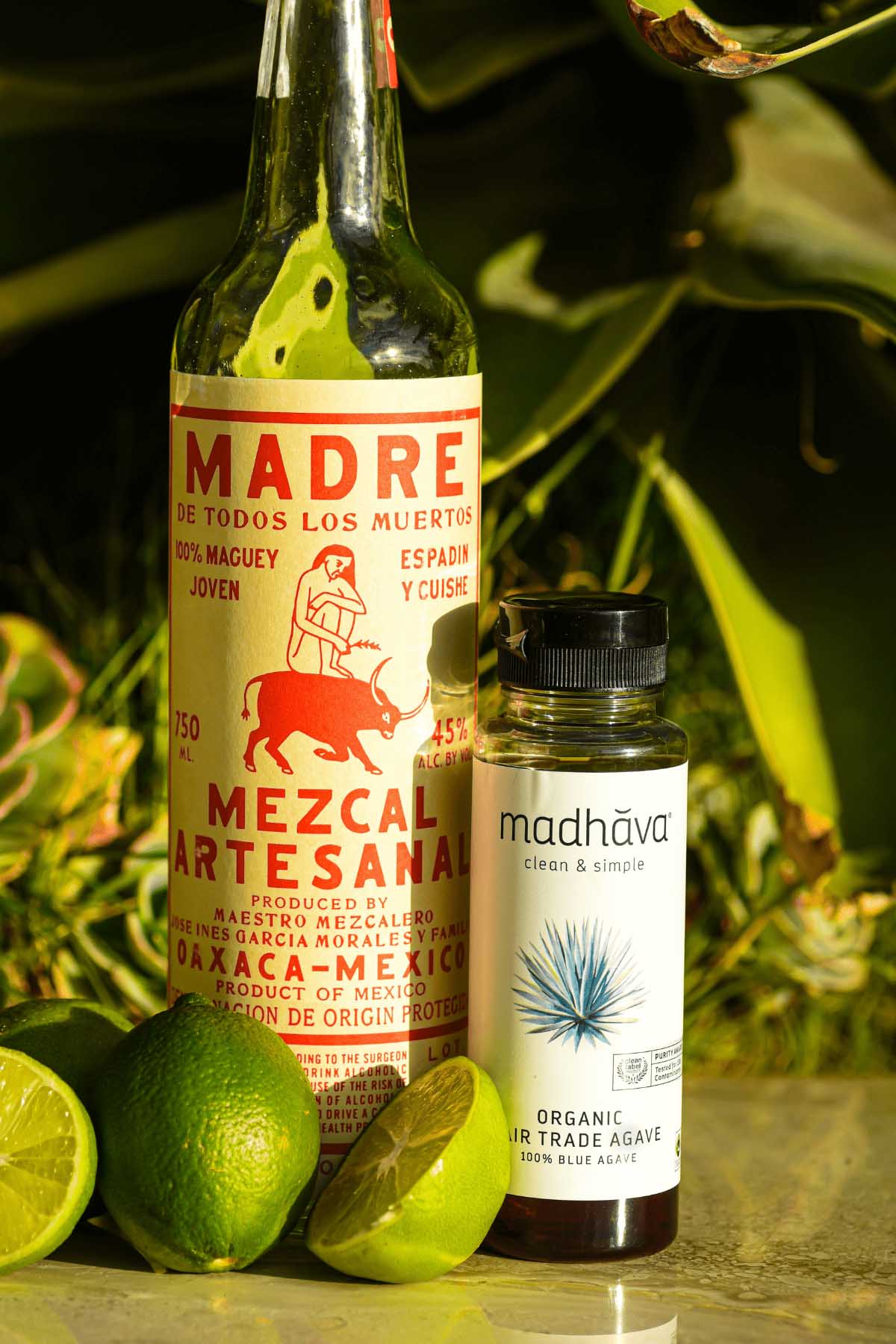 5. Ahi tuna
Yellowfin or bigeye tuna is actually what we know as ahi tuna. Ahi tuna is a great inexpensive fish to buy if you're craving seafood.
This type of fish is commonly pan-seared and served as tuna steaks. However, you can also try it raw (if it's produced for that purpose) or on the grill. Try marinating ahi tuna with seasonings like capers, chili oil, cumin, fish sauce, miso, or soy sauce.
6. Aioli
Aioli - one of my favorite sauces! Aioli is traditionally a Mediterranean sauce made from olive oil, lots of garlic, and salt. Nowadays, however, when we talk about aioli, it's normally a mayonnaise based sauce.
Many modern-day aiolis are seasoned with garlic, but you can also add in sriracha, fish sauce, or spices and still label it as an aioli (at least in my opinion). Think of this sauce as a way to kick up the flavor of mayo. Use this as a dipping sauce or on a sandwich.
7. Albacore tuna
This is the type of tuna that is used for canned white tuna. Yes, we've all probably had a tuna melt and used albacore tuna. It's a great, cheap option to get in some protein for lunch or dinner.
I've also seen albacore tuna used in tuna patties, on top of a salad, or in pasta. It's a very versatile ingredient.
8. Ale
Ale is a type of beer made with yeast using a warm fermentation process. This type of beer is known for its robustness (as compared to lagers that are crisper). Oftentimes, ale will have a fruitier and sometimes even bitter note, depending on the variety.
There are many types of ale, including the most well-know like brown ale, pale ale, and IPAs. Not only can ale be used as a delicious drink, but you can also use it in cooking. Try marinating a pork shoulder in ale or using it in a soup.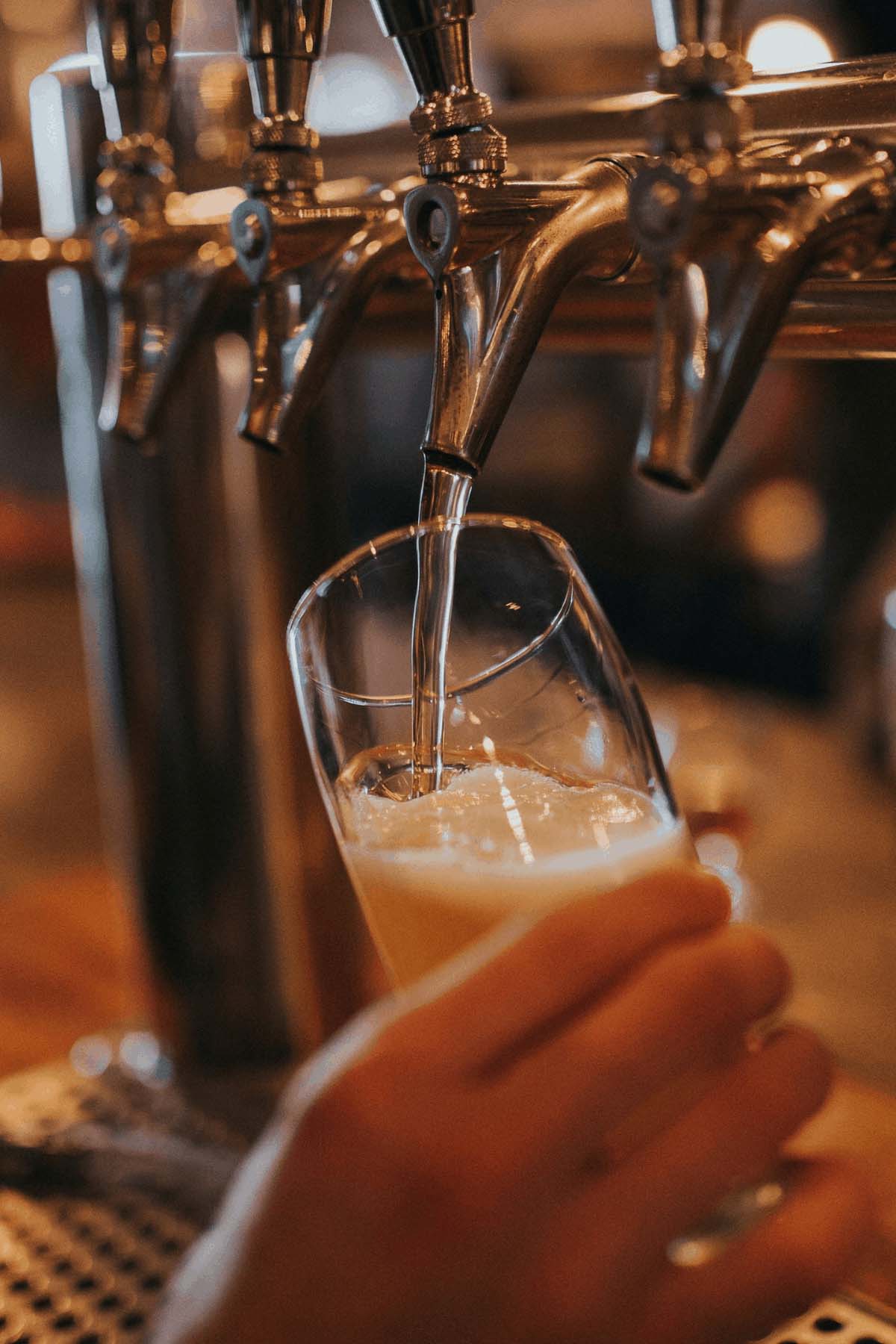 9. Alfalfa sprouts
Alfalfa sprouts are a great alternative to salad greens. They are mild and sweet in flavor, making them the perfect addition to a salad. I also love using alfalfa sprouts in a sandwich or on spring rolls.
10. All-purpose flour
The flour we all use and love! All purpose flour is used for general baking needs since it a protein percentage of 9.5% - 11.5%. The protein in your flour will affect the texture/crumb of the baked good.
All purpose flour is a great option for baked goods that don't need to be super chewy (like a baguette) or super light (like a cake). Try using all purpose flour in quick bread or cookies.
If you like learning about baking, grab my free guide with 10 tips to instantly become a better baker. It has even more (slightly nerdy) baking science facts like this.
11. Allspice
Allspice, also known as the Jamaican pepper, is a spice found in both whole and ground forms. Many people believe allspice is a blend of spices, but it's not! It does, however, taste like a mix of cinnamon, cloves, and nutmeg.
Allspice can be used in both sweet and savory dishes. Some ingredients it pairs well with are apples, carrots, beef, rice, and winter squash.
12. Almonds
Almonds come in many different forms - whole, sliced, slivered, and ground. You can eat almonds both with or without skins (without skins are called blanched almonds).
This ingredient can commonly be used in pastries, candies, salads, and so many more dishes. Almonds are also the main ingredient in almond paste and marzipan.
13. Almond butter
Almond butter is made from ground almonds. Like many nut butters, you can find crunchy almond butter, smooth almond butter, or even flavored ones. Almond butter is a great option for people with food allergies, or if you just want to switch up the traditional PB&J sandwich.
14. Almond milk
Another popular A lettered food that has gained popularity in the last 10 years is almond milk. Although almond milk has been around for many, many centuries, it has been repopularized recently. Almond milk is a great dairy-free milk option for anyone who might have a dairy allergy.
Almond milk can be used in many of the same ways as cow's milk - in cereal or coffee, in a smoothie, or even baked up in desserts. Just be warned that it has a different taste.
15. Amaretto
Amaretto is a slightly sweet and nutty liqueur that comes from Italy. Made from either almonds, apricot pits, or a combination of both, amaretto also is known for the bitter flavor it gives to drinks. This is why you'll see amaretto commonly used in aperitifs and digestifs.
Amaretto is a very versitile liqueur. It can be served simply over ice, in cocktails like the amaretto sour, or mixed with other liquors or liqueurs like vodka, whiskey, and coffee liqueur.
16. American cheese
American cheese - a very controversial ingredient! You either love it or hate it. American cheese gets a bad reputation as being the processed cheese of the world. While that's true, it is a processed cheese, all cheese is processed.
So, what makes American cheese unique? Well, first of all, it's colored using annatto since cheese is not naturally orange. Second, it has sodium citrate in it. Sodium citrate helps American cheese melt perfectly, which is why it's so popular to use on top of the classic cheeseburger.
Check out this article for a full deep dive into the world of American cheese.
17. Ancho Chiles
Ancho chile pepper is the dried version of the poblano pepper. Ancho chiles are very mild, and their seeds don't really add additional heat. This is a very common ingredient in both Mexican and Southwestern cooking.
You can find ancho chiles that are ground or whole, depending on how you plan to use them. These chiles make a great addition to any sauce, soup, or meat/seafood dry rub.
18. Anchovies
Anchovies are very small fish, typically brined, cured, then packaged with oil and salt. Many people dislike the strong taste of anchovies. However, they can provide amazing umami flavor when used in small doses.
Try using anchovies in homemade Cesar salad dressing, to amp up your pasta sauce, or smeared with some butter on a piece of toast. You may be surprised at how good it tastes!
19. Andouille sausage
Andouille sausage is made from smoked pork. Many believe this spicy sausage originated in France or Germany. Traditional French andouille is made from pig's stomach and small intestines. The Americanized version of andouille sausage, however, is made from pork butt (the shoulder of the pig).
Andouille is used in many Cajun and Creole dishes, which is why you may have eaten it during your travels to Louisianna. Try using this ingredient at home to make your own jambalaya or gumbo.
20. Angel food cake
Angel food cake is a unique type of cake made without any leaveners (baking soda/powder). Instead, egg whites are whipped up and used to add volume and lightness to the cake. Angel food cake also use a high volume of sugar.
If you're making an angel food cake at home, be sure to use a tube pan and leave it ungreased. This helps the batter cling to the sides and rise so you get the classic tall angel food cake. Another tip is to invert the tube pan as soon as it is removed from the oven. This allows gravity to keep the cake from collapsing as it cools.
21. Angel hair pasta
Angel hair pasta is a variety of pasta that is super thin and long. This delicate pasta pairs perfectly with light and bright flavors. Try pairing this pasta with a wine sauce, fresh vegetables (like asparagus or zucchini), or just simply olive oil and parmesan.
22. Anise
Anise is a popular spice known for its licorice-like flavor. Anise is grown throughout parts of India, North Africa, and Europe. This spice looks like tiny, gray-green seeds (it's different than star anise).
You can use anise in a variety of dishes since it pairs really well with almost all meats and vegetables. It's also used to flavor alcoholic beverages like ouzo.
If you want to learn more about spices, sign up for my 5 day email series with practical culinary secrets everyone needs to learn.
23. Apple
Apples are part of the pomes family, meaning tree fruits with thin skin and firm flesh. Lucky for us, apples are grown worldwide since they are able to grow in almost any temperature zone. While we only have about 20 varieties of popular apples in the U.S., there are over 100+ varieties worldwide. ⠀
⠀
The difference between each variety of apples? The various combinations of skin color, flavor, texture, peak of season, and their use. ⠀

Apples are used in so many ways - eaten raw, cooked with pork, baked in bread or dessert, or even made into apple cider. Certain apple varieties are better for cooking vs. eating.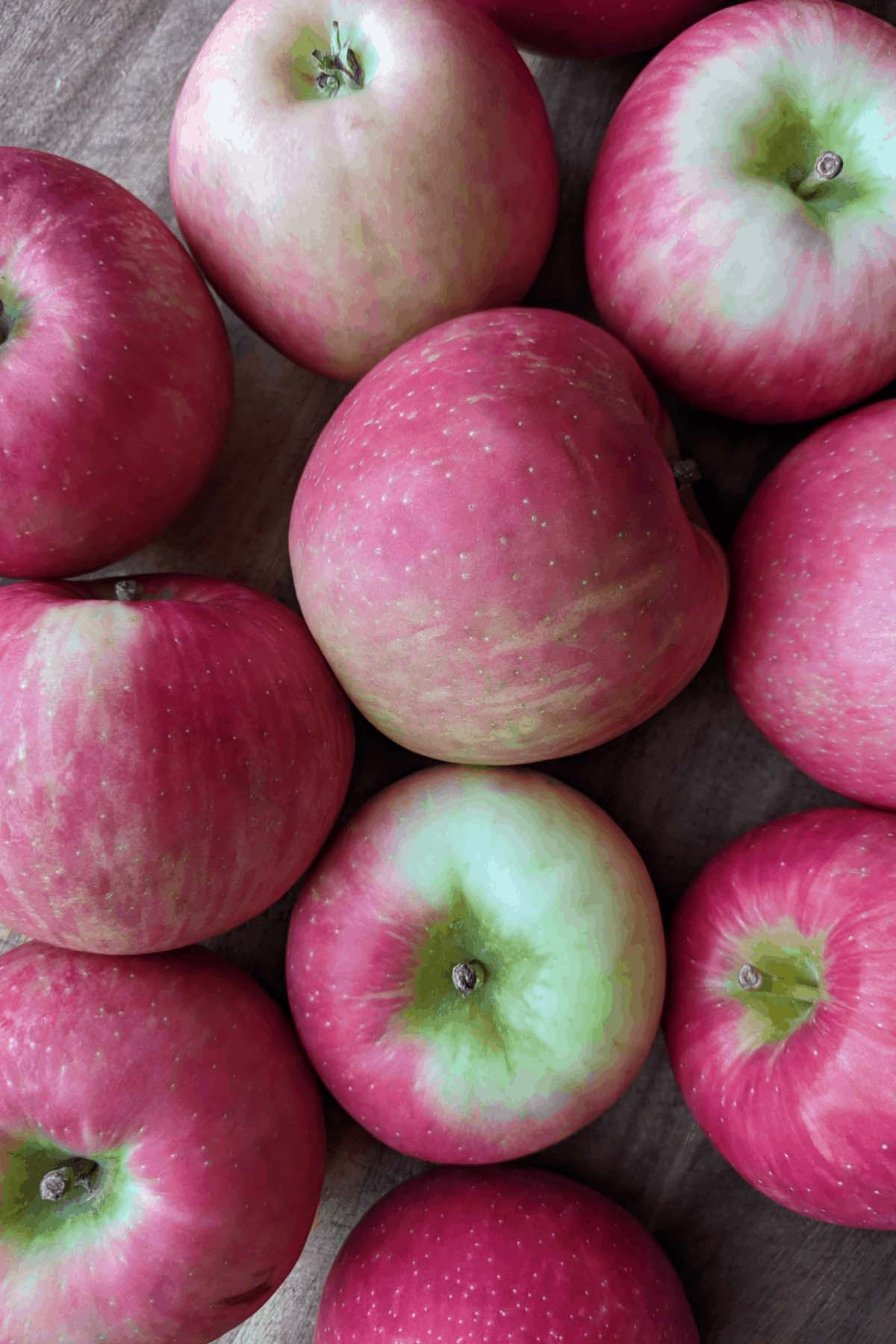 24. Apple cider
Apple cider is a common beverage many people drink in the fall. Apple cider is made from apples that are ground and then pressed to release the juice. You can use apple cider to make a boozy cocktail, incorporate into baked goods, or just sip on by itself.
25. Apple cider vinegar
You may be able to guess from the name that apple cider vinegar is basically fermented apple cider. Similar to other vinegars, apple cider vinegar can be used in salad dressings or to pickle vegetables.
26. Apple sauce
Apple sauce is made from cooked apples that are then mashed. Some apples like McIntosh and Pippin have higher malic acid. The malic acid contributes to the sour taste in fruits, which makes these types of apples better in applesauce.⠀
27. Apricot
Apricots are classified as stone fruits, known for their thin skin, soft flesh, and woody pit. Apricots can range in color from yellow to orange. It can be hard to find apricots since their peak season is so short (June - July).
Apricots can be eaten right out of your hand or used in compotes, savory sauces, baked in desserts, or even candied. They are also commonly found as jams.
If you're selecting an apricot at the store, avoid ones that are green or mushy to the touch. Apricots taste best at room temperature. However, you can store ripe apricots in the fridge to prevent spoilage.
28. Arborio rice
Arborio is round, short-grain rice. This type of rice is very sticky and has a mild flavor on its own. This makes arborio rice a fantastic candidate for dishes that infuse stock or wine into the rice, like risotto.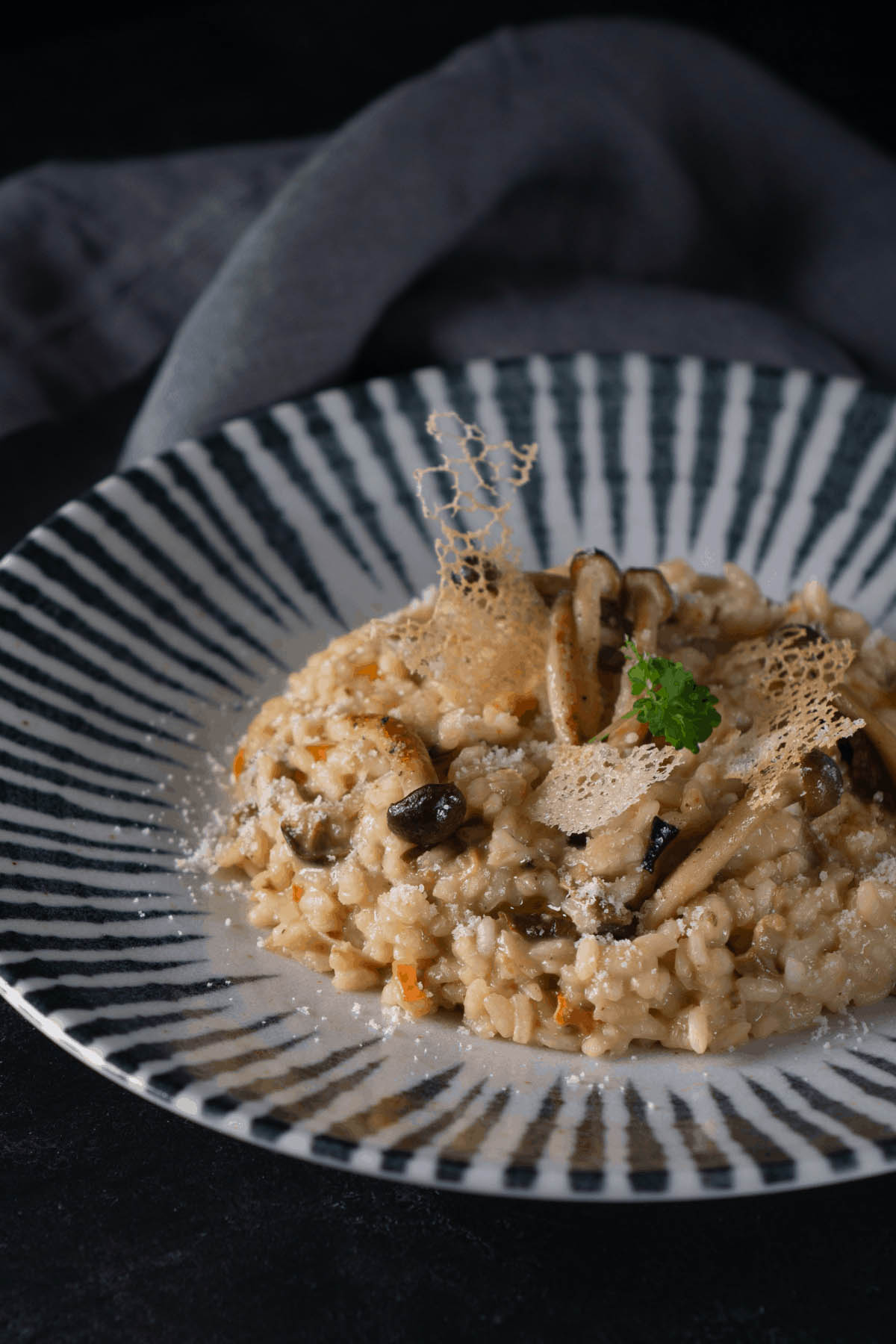 29. Arrowroot
Arrowroot is a similar ingredient to cornstarch in both texture and appearance. Arrowroot is used to help thicken dishes and doesn't break down nearly as quickly as cornstarch. This helps produce a cleaner finished dish.
Be sure to first dissolve the arrowroot in cold water, then add it to your hot liquid to thicken. Arrowroot can break down if overcooked (or sits too long), so it's best to use it in a sauce that will be served immediately.
30. Artichoke
Artichokes are a stalk vegetable, meaning they contain a high percentage of cellulose fiber (something that is indigestible to humans). Artichokes are immature flowers from the thistle plant. They can be cooked in many different ways including simmered, steamed, or even cooked in the microwave.
You can choose to eat the artichoke petals or the heart (middle) of it. Artichoke hearts make a great addition to salads and pasta dishes.
31. Arugula
Arugula has to be one of my all-time favorite ingredients! It has a strong, peppery flavor that pairs really well when layered with other greens. You may also be surprised to learn that arugula is actually part of the cabbage family!
32. Asiago cheese
Asiago is a delicious cheese made from cow's milk. This is a hard cheese that has been allowed to dry out and age for about 1-2 years. Typically, hard cheese is used for grating.
Asiago melts very easily, which makes it a great addition to almost any pizza. You can also try shaving off pieces of asiago and using it as a salad topping.
33. Asparagus
Asparagus is another member of the stalk vegetable family. These are a great ingredient to use in the spring, as their peak season is March - June. This vegetable is known for its bright green color and tiny leaves at the tip.
When choosing asparagus at the store, select firm, plump spears that tightly closed leaves at the top. You'll want to store the asparagus upright in the refrigerator in a container with about ½ inch of water.
Try using asparagus raw on a charcuterie board, steamed and seasoned as a side dish, or stir-fried.
34. Avocado
Avocado, although technically classified as a fruit, is often prepared in a more savory manner. Avocados are known for their high-fat content. No eating the outer skin or pit in the middle. The light green flesh is what you'll want to use.
If you buy a firm avocado, which I prefer to do because they tend to have fewer bruises, allow it to ripen on the counter. You'll know the avocado is ready to eat when it's soft to the touch. Try using your ripened avocados as a spread on a sandwich, garnish on salads, or as a creamy topping for Mexican food.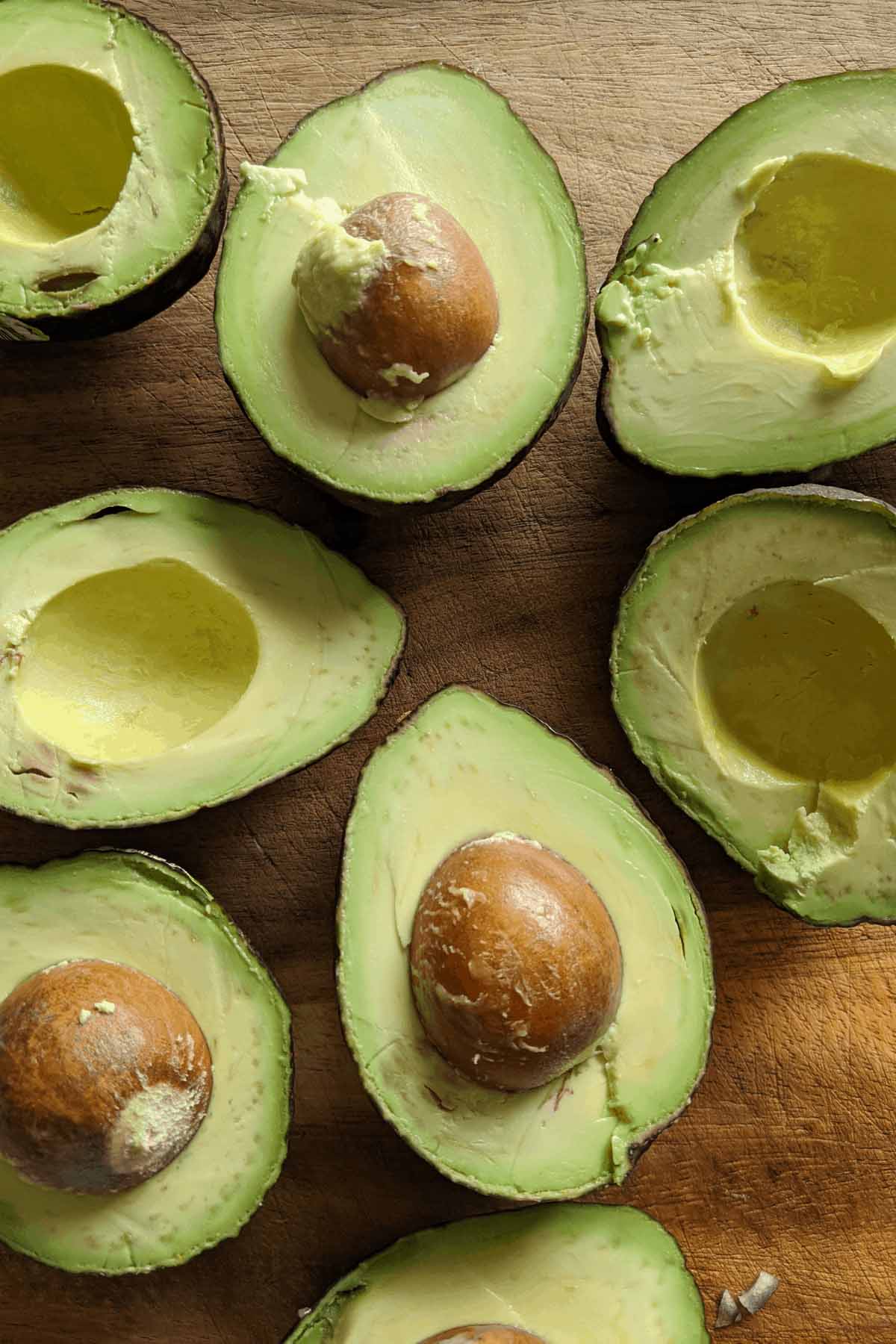 35. Avocado oil
Avocado oil is extracted from the pulp of avocados. The benefit of avocado oil is the high smoke point (the temperature a fat begins to break down and smoke). This means you can cook at higher heat with avocado oil. Similar to extra virgin olive oil, avocado oil is also unrefined and has notes of fresh avocado.
Check out more foods that start with the letter B.