Learn about 100 foods that start with the letter B
Are you tired of eating the same old foods? Try these 100 unique food ideas that start with B. You'll find fruits, vegetables, meats, and more that start with the letter B. This list will inspire you to use creativity in the kitchen!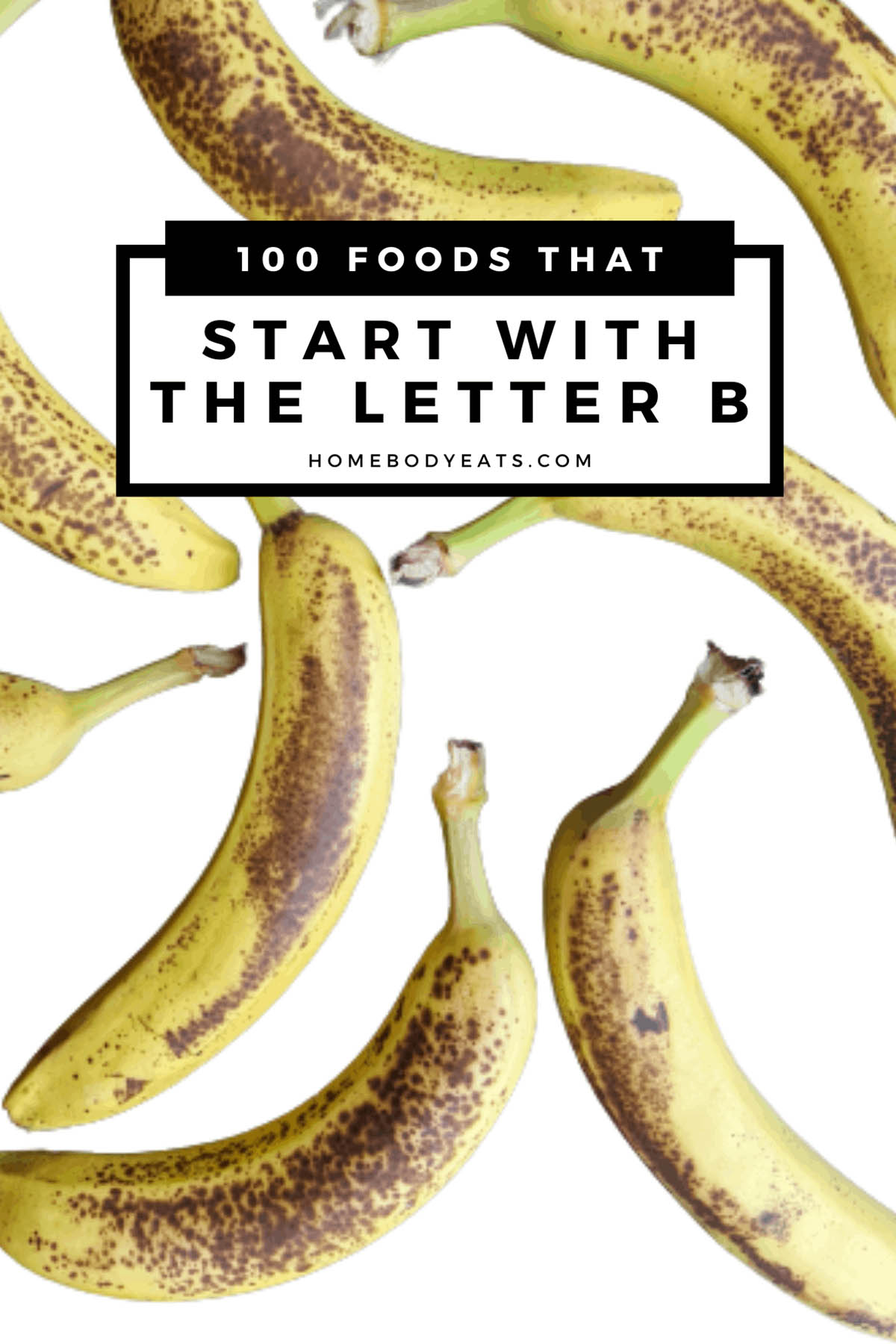 Want To Save This Article?
Enter your email below and we'll send it straight to your inbox. Plus, you'll receive new weekly recipe inspiration.
Ever wanted to try new foods and expand your palate, but didn't know where to start? You can learn about so many new foods through my food alphabet series.
Today, we're talking about some of the best foods that start with B. This post will teach you a little fun fact about each food item.
Foods That Start With the Letter B
1. Baba Ghanoush
A Lebanese dish made from pureed eggplants, olive oil, lemon juice, and tahini. This dish is often served with pita or crudités.
2. Bacon
Most bacon is made from the fatty belly of a pig. It is then brined and cold smoked. You can purchase different thicknesses of bacon depending on your personal preference.
Want to make a dish with bacon? Try this recipe!
3. Bagel
Bagels are a delicious breakfast food, that can also be used for a sandwich! This type of bread is defined by the shiny outside crust and chewy texture. Here are some fun bagel facts:
They're first cooked in boiling water, then baked
High protein flour helps contribute to the chewy texture
Bagels can be made with all sorts of toppings
Want to make bagels at home? Try this recipe!
4. Baguette
Baguettes are a type of bread that originated in France. Baguettes are considered lean dough, meaning they are made with little to no fat. This type of bread is known for its long shape and crusty exterior.
5. Baked Alaska
Baked Alaska is a unique dessert. It's a layer of sponge cake, topped with a layer of ice cream, and finished with meringue. Then, the whole dessert is baked until the meringue is warm and golden brown on top!
6. Baking Powder
Baking powder is a mixture of sodium bicarbonate and one or more acids. This is an ingredient used in baked goods that help leaven. Baking powder releases carbon dioxide when moisture is present. If you buy double-acting baking powder, more gas is released when heat is applied.
HOT TIP: Learn more tips like this in my free baker's guide!
7. Baking Soda
Also known as sodium bicarbonate, baking soda is used to leaven baked goods. It releases carbon dioxide when combined with an acid and moisture. If you're baking with things like chocolate, lemons, or buttermilk, you'll likely want to use baking soda.
If you haven't used your baking soda in a while, make sure it's still fresh so you get the proper rise on your baked goods. You can test the baking soda by mixing ½ cup of hot water and ¼ teaspoon of white vinegar. If you pour ¼ teaspoon of baking soda into the water mixture and you get a fizzing reaction, the baking soda is fresh. If there's no activity, it's time to buy some new baking soda!
8. Baklava
A well-known and loved dessert in many Middle Eastern countries. Baklava is a layered pastry made from layers and layers of filo, along with syrup/honey and chopped nuts.
9. Balsamic Vinegar
Balsamic vinegar is made from red or white wine that is reduced, then aged for a very long time in wooden barrels. Production of balsamic vinegar nowadays has moved to a quick caramelization and flavoring process to shorten the time it takes to produce the product. Balsamic has a taste of both sweet and tart.
10. Bamboo Shoots
Bamboo shoots are an edible part of the bamboo plant. They are often seen in Asian cuisine. They can add a delicious crunch to many different dishes, including a vegetable stir fry!
11. Bananas
Bananas are the berries of a large tropical herb. Common yellow bananas can be eaten as is, in fruit salads, or made into banana bread. This fruit is picked while still green, then left to ripen at room temperature. You'll know a banana is ripe when it has turned fully yellow with brown spots.
12. Banana Bread
A type of quick bread made with mashed ripe bananas. Banana bread can be flavored in many different ways including by adding spices, nuts, or chocolate chips.
13. Bananas Foster
Did you know bananas foster was created in 1951 by Brennan's restaurant chef Paul Blangé? He created the dish to feature the many bananas that were being imported to New Orleans. Bananas foster is a dish that gets flambéed (doused in liquor then lit on fire), then served with a scoop of ice cream.
14. Barbecue
Barbecue is a word that's used to mean quite a few different things:
Cooking foods over dry heat created by burning charcoals
A tomato or vinegar based sauce used on grilled foods like ribs or chicken
A combination of the above two
15. Barley
Believe it or not, barely is one of the oldest culinary grains! The type of barely you'll likely use in everyday cooking is called pearled barley. However, it's also used to make beer, in stuffing, and as part of stews.
16. Barley Malt
When barley germinates by soaking in water, then drys, and gets smoked, it turns into barley malt. Malted grains are used in breweries for beer, distilleries for whiskey, and so much more!
Fun Fact: Barley malt syrup is used when making bagels!
17. Basil (sweet)
Basil is an herb that has many culinary uses! The sweet basil variety has light green, tender leaves. It tastes slightly peppery with a hint of warm cloves. This is commonly used in Mediterranean cooking.
18. Basil (lemon)
Lemon basil is another variety of basil. There are many different "flavors" of basil available. As you may have guessed, this variety has a taste of lemon. This is commonly used in Southeast Asian cooking.
19. Basmati Rice
Basmati is a popular rice of choice known for its sweet and delicate flavoring. Typically, basmati is aged to help improve the aromatic qualities of the rice. If you can't find basmati rice, try substituting it for Jasmine rice!
20. Bass
The most common types of bass you'll likely find at the supermarket are black seas bass and striped bass.
21. Bavarian Cream
Another delicious dessert made from custard thickened with gelatin. This mixture is then folded into whipped cream and poured into a mold to chill until nice & firm!
22. Bay Leaves
Bay leaves have a mix of sweet and peppery flavors. They are a small, shiny leaf that comes from Asia. The reason we use dried bay leaves is that they have a less bitter flavor compared to fresh leaves.
23. Beans (black)
Black beans are small shiny beans popular in Latin American, Southwestern, and Cajun cuisines. Many vegetarians use black beans as a substitution for meat, like in these veggie burgers.
24. Beans (cannellini)
Cannellini beans are white beans shaped liked a kidney. They have a mild flavor and are a great addition to many dishes. You can try using them in a bean salad, soups, or on a piece of toast.
25. Beans (fava)
Fava beans are green with bumpy pods that are harvested in the spring. The outside pod is tough, so it's usually removed before being eaten.
26. Beans (flageolet)
The flageolet bean is popular in French cuisine. It's a small, pale green bean that has a mild flavor. They don't need to pre-soak before cooking, which is a plus!
27. Beans (garbanzo)
Garbanzo beans, also known as chickpeas, are the bean commonly used in hummus. Chickpeas are pale-colored, round beans with a white film around the outside.
28. Beans (green)
Green beans are long, green pods that are completely edible. You can blanch, sauté, or steam green beans. Try adding a delicious sauce to your green beans next time you make them!
29. Beans (kidney)
Another bean that resembles the shape of a kidney. This variety of bean is a deep red color! Try adding kidney beans in chili or salsa.
30. Beans (lima)
Lima beans can also be referred to as butter beans or wax beans. They are green or white in color and are grown in a pod (the pod isn't normally eaten).
31. Beans (navy)
Navy beans are white in color, but are typically smaller than other types of white beans and slightly flattened in shape.
32. Beans (pinto)
Pinto beans are brown with speckles. They are often found in Mexican and Southwestern cooking. They can be refried or used in dishes like tacos or burritos.
33. Beans (red)
Not all beans with the color red are considered red beans. Red beans are smaller, have an oblong shape, and are a light-red/pink-ish color. You can use red beans in soups or mixed with rice.
34. Beans (white)
White beans are any beans that have white skin out the outside. Common types include navy beans, lima beans, or cannellini beans.
35. Beef (brisket)
Brisket is a tough cut of meat and is located on the front half of the carcass (near the shank). Brisket can be cooked using moist heat (like simmering or braising) or it can be smoked.
36. Beef (cheeks)
You guessed it, beef cheeks are the actual cheeks of the cow. It can be tough since the animal uses this muscle quite often! Be sure to slow cook beef cheeks for hours (sometimes even up to 12 hours).
37. Beef (chuck)
Beef chuck is the shoulder. Because of how much the shoulder is used, beef chuck tends to be tough and has lots of connective tissue. When cooked correctly, chuck is very flavorful!
38. Beef (flank)
Flank steak is located beneath the loin. It doesn't contain any bone, but it does have a fair amount of connective tissue and fat. Flank steak makes a delicious protein in a stir fry!
39. Beef (kobe)
You may have heard this referred to as Wagyu beef (although not all Wagyu beef is Kobe). This type of beef is raised in a very specific way: of Tajima gyu genetics, born in the Hyogo prefecture, fed for a minimum of 26 months, and meets strict grading requirements according to the Waguy Shop.
40. Beef (tenderloin)
This is the most tender cut of beef! It's located along the top of the bones that form the backbone.
41. Beef (round)
Round meat comes from the hind leg. There are a few types of round cuts including top round, outside round, eye round, knuckle, and shank. Try using the top round and knuckle as a roast!
42. Beef (short ribs)
Short ribs are the ends that are trimmed off the rib bones. They are very meaty and are often braised for hours before they're eaten.
43. Beef (skirt)
Skirt steak is part of the short plate, located below the primal rib. Skirt steak can be tough, so make sure you cook it properly. Try out this grilled Asian marinated skirt steak recipe.
44. Beer
A beloved alcoholic beverage made from water, hops, malted barley, and fermented yeast. There are many different varieties of beer such as lagers, ales, stouts, and more!
45. Beets
You can't miss the bright red beets that may come on top of your salad, in your soup, or even pickled as a side dish. When selecting beets in the grocery store, choose medium-sized ones that have firm, smooth outer skin.
46. Beignet
A popular sweet treat in New Orleans, beignets are squares of eclair paste deep-fried and dusted with a heaping serving of powdered sugar.
47. Bell Peppers
Bell peppers are also known as sweet peppers. They come in a variety of colors including green, yellow, orange, and red. Be sure to remove the seeds found on the inside! You can use bell peppers in salads, sandwiches, casseroles, and more!
48. Biscotti
Biscotti is an Italian cookie known for having a crispy texture. First, the dough is shaped into a log and baked. Then, the log is cut into individual cookies and baked a second time. There are many flavor variations of biscotti, and they go great with a cup of coffee or wine.
49. Biscuit
Biscuits are a type of quick bread, meaning no rising is needed because they're made with baking soda or baking powder instead of yeast. The light and tender dough is then rolled out and cut into circles.
50. Bisque
Bisques are a type of soup made from shellfish. They can also be thickened with rice.
51. Black Cherry
Black cherries are known for their dark, rich flesh color and very sweet taste! There are many different varieties of black cherries, Bing cherries being a well-known one. Cherries have a super short peak season (June - July), so be sure to grab them when you see them!
Need some recipe inspiration? Try making black cherry ice cream.
52. Black Grapes
Black grapes, while technically just a deep purple color, are available year-round. Most black grapes have seeds, however, seedless varieties can occasionally be found!
53. Black Pepper
Black pepper, used in almost every culinary dish, is known for its warm and pungent flavor. To make black pepper, peppercorns are picked while they are still green, and then dried in the sun.
Fun Fact: Black peppercorns and white peppercorns come from the same plant! It's just how they're processed that makes the flavor taste different!
54. Black Rice
Black rice is typically a type of wild rice, known for its nutty flavor and chewy texture. This type of rice works well with game or when used as a stuffing.
55. Black-Eyed Peas
Black-eyed peas are legumes with pale skin and a black dot that looks kind of like an eye. Try using black-eyed peas in soups, side dishes, or casseroles.
56. Blackberries
Blackberries are known for their deep purple coloring. They grow on vines and are characterized by their tiny seeds. You'll only find blackberries for a few months (June - August). Try baking them up a pie or smashing them up for a cocktail.
57. Bloody Mary
Bloody Mary is a classic cocktail made with vodka, tomato juice, and other spices (like hot sauce and Worcestershire). Oftentimes you'll see bloody Marys decorated with celery, olives, pickles, or herbs.
Grab the classic Bloody Mary recipe, along with 40+ other delicious cocktails.
58. Blood Lime
Blood limes do not actually look like limes since their skin is dark red. Cut into a blood lime and the inside is red/orange as well! These are most commonly found in Australia.
59. Blood Orange
Blood oranges are a citrus fruit available mainly during the winter months (in the Northern Hemisphere). They are distinct from other oranges by their reddish skin and flesh that is dark red/orange colored. Try eating these oranges, using the juice in salad dressing, or making a cocktail.
60. Blue Curaçao
Blue curaçao is a bright blue liqueur made from the dried peel of the Laraha citrus fruit and lots of food coloring. It tastes sweet, with a little bitterness as an end note.
Try using this ingredient in some delicious shot recipes!
61. Blue Cheese
Blue cheese is typically made from cow or goat milk. The iconic blue-green veins running throughout the cheese is created from the mold that is injected into the cheese.
62. Blue Crab
Blue crabs are part of the crustacean family. This variety of crab meat is rich and sweet, and you have the option to purchase either hard or soft shell crabs.
63. Blueberries
Another fruit that's part of the berry family! Blueberries have beautiful dark-blue coloring and are native to North America. Be sure to pick some up mid-June through August while they're at the peak of season!
64. Bok Choy
Bok choy is a white stemmed variety of cabbage. The leaves are long and dark green with white ribs running up the leaves and attaching the head together. You could equate the taste similar to romaine lettuce. They are great cooked down in soups or stir fry!
65. Bolognese
Bolognese is a sauce that features meat. The lack of tomato, found in many other Italian sauces, is made up in flavor from the pork, beef, or pancetta that is part of the bolognese. The meat is usually cooked up along with carrots, celery, and onions.
66. Bonito Flakes
Known as katsuobushi in Japanese, bonito flakes are dried and grated flakes of fish. It has a savory and smokey flavor, and it's often used in Japanese dishes.
67. Bouillon
A clear type of broth that's made from meat or vegetables that have been simmered for hours. Bouillon is heavily seasoned so it has a strong flavor!
68. Bouquet Garni
This is a bundle of fresh herbs tied together. It's most commonly used to add flavor to soups/stews, sauces, or stocks.
69. Bourbon
Bourbon is made from a mash bill of at least 51% corn and has to be made in the United States. There are no requirements on how long it has to be aged, just that it must be aged in a new, never before used, charred oak barrel.
Learn more about bourbon and other types of whisk(e)y.
70. Boysenberry
Boysenberries are a fruit that is a cross between the blackberry, loganberry, and raspberry. You can use these berries to make jam, pies, or cobblers.
71. Brandy
Brandy is an alcoholic beverage made by distilling a fermented mash of grapes and other fruits. Try using brandy next time you make sangria.
72. Bratwurst
Bratwursts are a type of sausage made with pork or veal. They are popular in German cooking. Many bratwursts are seasoned using spices like ginger, nutmeg, or caraway.
73. Brazil Nut
This type of nut has a buttery taste and smooth texture. Bolivia is one of the largest exporters of Brazil nuts.
HOT TIP: Store Brazil nuts in the freezer to keep for up to a year!
74. Bread Crumbs
Bread crumbs are a crumbled, dried bread. You can add seasonings, salt, and pepper to enhance the flavor. Next time you have stale bread, try making homemade bread crumbs.
75. Bread Pudding
This is a popular dessert made with chunks of bread, egg custard, dried fruit, and other flavorings. Try serving it with ice cream or whipped cream!
76. Bresaola
From the Lombardy region of Italy, bresaola is a type of beef that's spiced and dry-aged. It's made from beef eye round and tastes similar to juniper berries.
77. Brie
This is a soft French cheese made with cow's milk. You'll typically see brie in a small, round wheel. The middle of the brie cheese is super soft and oozes at peak ripeness.
Try making apricot jam baked brie for an appetizer or add it to your next cheese board!
78. Brine
Brine is a water solution with a high concentration of salt. Brine is usually used to keep the meat nice and juicy, like when you brine your Thanksgiving turkey!
79. Brioche
Brioche is a type of enriched dough. It's a yeasted bread containing large amounts of eggs and butter.
80. Broccoli
Broccoli is part of the cabbage family. It has a thick central stalk and heads of green florets. There are many ways to eat broccoli including streamed, microwaved, sauteed, or raw.
81. Broccoli Rabe
Broccoli rabe looks like broccoli but with spiky leaves. The stems tend to be a bit bitter, but are still edible! Make sure to select broccoli rabe with bright green leaves!
82. Broccolini
This is another type of broccoli that has smaller florets and longer stalks. Broccolini has a more mild and sweet taste compared to broccoli.
83. Broth
Broth is a flavorful liquid that's made by simmering meats and/or vegetables for a few hours. It can be used as a base for soups and stews, or added into dishes like risotto!
84. Brown Butter
Brown butter is made from regular butter! However, it has a deep, nutty flavor since it is cooked just long enough to 'brown' or toast the milk solids found in butter. Brown butter adds a rich, hazelnut-like flavor to desserts.
HOT TIP: Learn how to brown butter with the help of this video!
85. Brownies
Brownies are a chocolate dessert that's chewy, fudgy, and sometimes even cake-like depending on how you make them. You can flavor brownies in many different ways, like these red wine brownies!
86. Brussel Sprouts
Brussel sprouts have a strong, nutty flavor and are part of the cabbage family. They're at the peak of season September - February, but they can typically be found in stores year-round. Try pairing brussels with rich meat dishes!
Try this balsamic glaze brussel sprout recipe (only 4 ingredients needed)!
87. Buckwheat Flour
This is a type of flour made from the buckwheat plant. It has a nutty flavor and is usually used to make bread, cereal, or baked goods.
88. Bulghur Wheat
This is an ancient grain that comes from cracked whole-grain wheat kernels. This wheat is parboiled, allowing it to cook quickly when you make it at home!
89. Bun
Buns can be made in many different ways, with various types of flour. At its core, a bun is a type of small, round yeasted roll. Try making these both sweet and savory!
90. Burrito
We all know and love burritos! They are flour tortillas rolled or folded with your choice of stuffing. Popular stuffing options include meat, beans, cheese, and rice.
91. Butter
Butter is a common ingredient made when cream is churned. It can be used in both solid and liquid forms. Butter must contain at least 80% milkfat and not more than 16% water. Try adding butter to sauces, on bread, and in baking recipes.
92. Butter Lettuce
Butter lettuce is a type of lettuce that is soft and pilable. As you may have guessed, the leaves seem to have both a buttery flavor and texture. Two common types of butter lettuce include Boston and Bibb.
93. Buttercream (American)
Buttercream is a type of frosting made with sugar and fat. Buttercream should be smooth and fluffy. You can even add additional flavorings (vanilla, chocolate, etc.) to change the taste. American buttercream is made by creaming butter and confectioners sugar together, along with a bit of heavy cream to smooth things out.
94. Buttercream (Italian)
Italian meringue buttercream is made the same way you'd start out making meringue. Bring water and sugar to a boil. While that mixture is heating up, start whipping up egg whites in a mixer. Once the sugar reaches 220°F (104°C), slowly start streaming it into the egg whites. The final step is adding cubes of butter to make everything creamy!
95. Buttercream (Swiss)
Swiss meringue buttercream is made by dissolving eggs and sugar over a bain-marie (double boiler). Then, the mixture is beaten to stiff peaks. The final step is adding cubes of butter to make everything creamy!
Try using Swiss meringue buttercream with this shortbread cookie cake recipe.
96. Butternut Squash
Butternut squash is another member of the winter squash family. It's known for the bright orange flesh that tastes slightly sweet. The outside skin and seeds are not usually eaten.
Whip up a quick dinner using butternut squash, with this 4 ingredient recipe!
97. Butterscotch
Think of butterscotch as a sibling to caramel. Butterscotch is made from heating brown sugar and butter. Then, heavy cream and salt are added.
98. Béarnaise sauce
A yellow sauce made from butter and egg yolks. The sauce is then flavored using vinegar, and spices/herbs like shallots, tarragon, and peppercorns.
99. Béchamel
Béchamel is touted as one of the easiest mother sauces to prepare! This sauce is typically made by thickening scalded milk with a white roux. Then, you can season it up how you'd like!
100. Bûche de Noël
This is a traditional French dessert served at Christmas. The cake is elegantly decorated and made from a rolled sponge cake, covered in chocolate or coffee buttercream.
For more information on B foods, check out these sources:
Check out more foods that start with the letter A.
Love this guide? Please leave a comment below. Don't forget to follow along on Instagram, Facebook, YouTube, and Pinterest for more recipes.