Learn to make a simple, alcoholic whiskey slushie with apple cider.
These apple cider whiskey slushies are the perfect fall cocktail! This frozen alcoholic slush recipe is filled with apple cider, bourbon, and ginger beer. While this isn't a classic moscow mule, I like to serve up these frozen alcoholic slushies in beautiful copper mugs.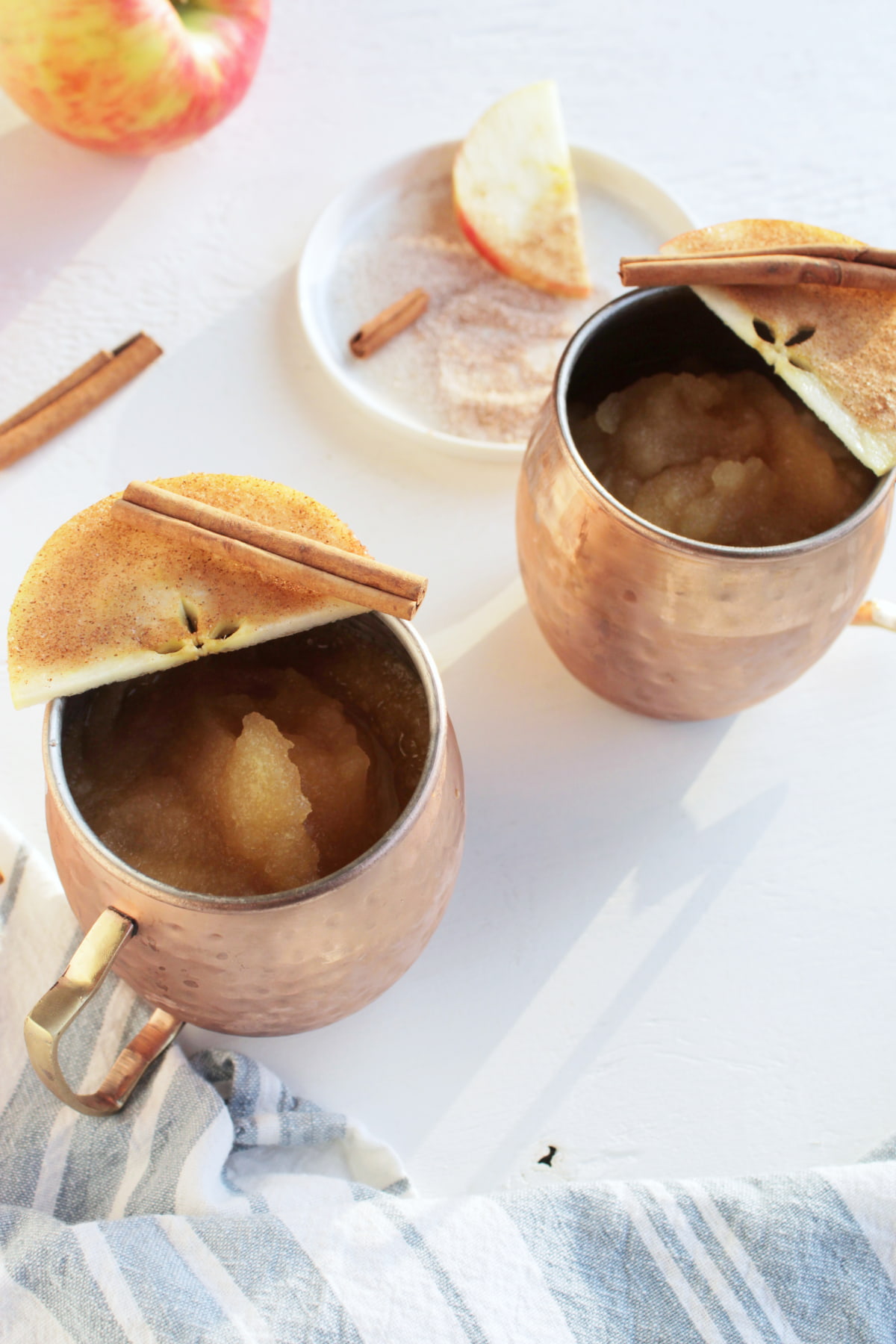 Maybe you're like me and tend to have a go-to alcohol. And when you're at a bar you always order the same drink and don't like to change things up. Just me???


It's time to switch things up with our delicious frozen apple cider & ginger beer whiskey slushie recipe! This post goes along with our cocktail video series where I teach you the basics of liquor. The goal of this series is to get you more familiar with the basic in's and out's of common liquor (how it's made, how to buy a bottle you'll like, and how to make mixed drinks with it). By the end of the series, you'll be a pro at mixing up fun and inspiring drinks in your home bar. Be sure to follow along on YouTube!


Whiskey Basics


One of the most important things you need to know, is the differences between all whiskeys rely upon these three factors:


Where it's made.


What it's made from.


What it tastes like.

For this recipe we're using a bourbon. Bourbon is made in the United States. Many people think bourbon has to be from Kentucky, but that's not true. While Kentucky is a large producer of bourbon (I'm guessing you've heard of Kentucky bourbon) it's not the only place bourbon can be produced.
Burbon has a mash bill of at least 51% corn. There are no requirements on how long it has to be aged, just that it must be aged in a new, never before used, charred oak barrel. As you get into more specific types of bourbons, there are additional restrictions that come into play.
The taste of bourbon tends to be a mix of sweetness (from the corn) and smokiness (from the charred oak barrels). It usually has notes of vanilla, honey, or maple. We'll be using bourbon today in our whiskey slushie recipe!
RELATED POST: Red Wine Winter Sangria
RELATED POST: Lavender Lemon Pisco Sour Cocktail
How to Pick A Bottle Of Whiskey

When it comes to selecting a bottle of whiskey you'll like, it's really all about personal preference & taste. Don't be shy, if you're new to whiskey, to start out with safe choices. You don't need to feel pressure to spend hundreds of dollars on a "fancy" bottle of scotch when you're first beginning your journey into whiskey.


If you're making mixed drinks, keep your bottle of whiskey on the less expensive side. Because it's going to be combined with mixers, there's no reason to spend ungodly amounts of money on a bottle. Blended whiskey tends to be your best bet for mixed drinks, so you can look for that information on the label.


To learn even more about whiskey, check out this post.
RELATED POST: Sparkling Cranberry Champagne & Tequila Cocktail
Supplies Needed to Make Alcoholic Slushies with a Blender

There are just a few supplies you'll need to make an apple cider whiskey slushie. Be sure that you have some moscow mule mugs! The copper mugs help keep the drinks extra cold!! The ones pictured were gifted to me from Moscow Muled and they are of such high quality. They'd also make a great gift!


Don't forget to grab an ice cube tray and a blender to have on hand for these whiskey slushie drinks.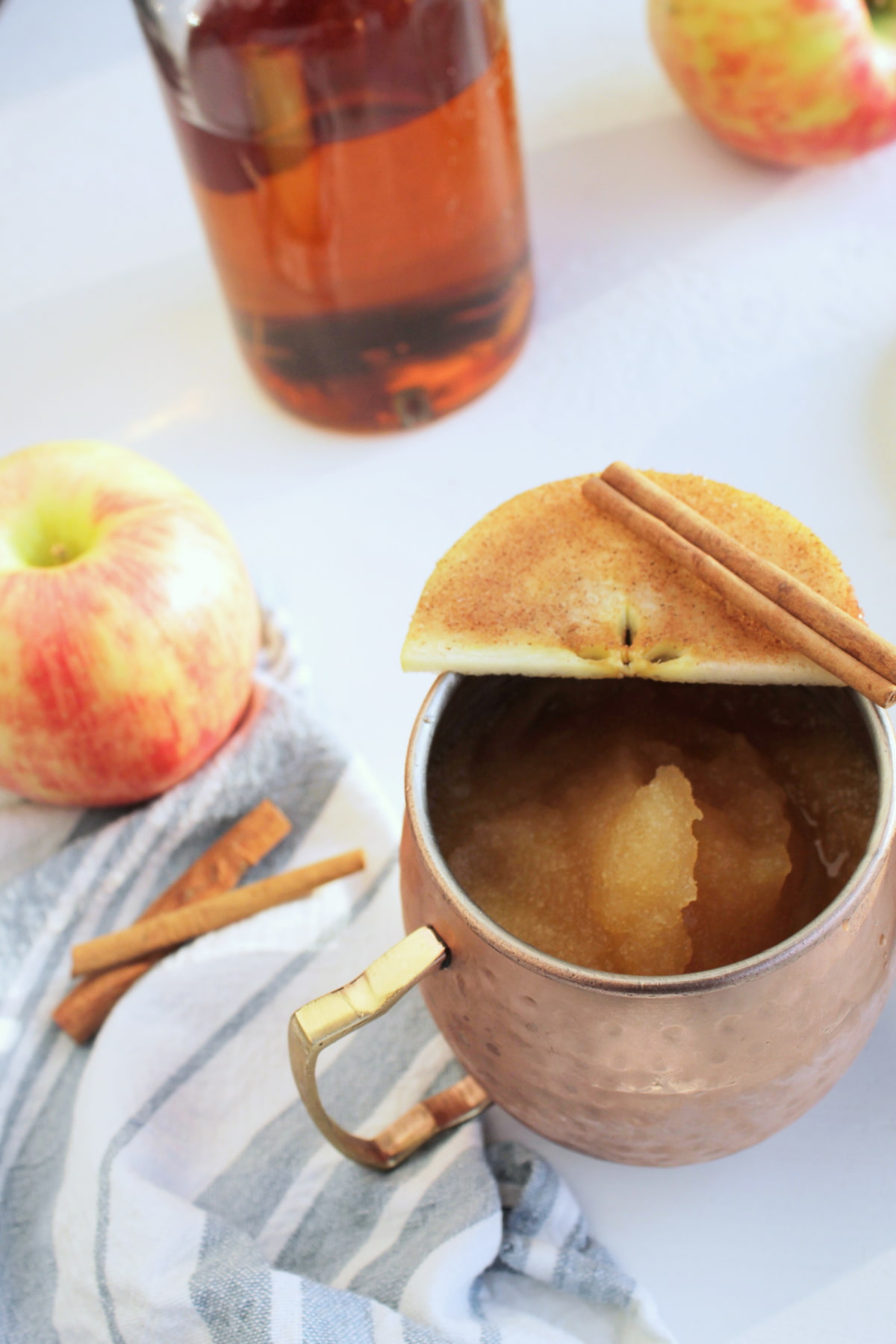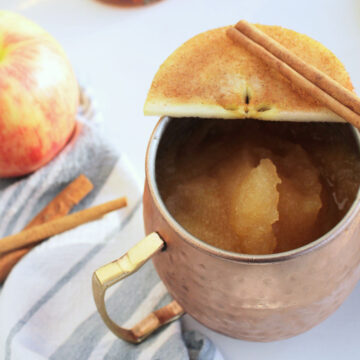 Frozen Alcoholic Apple Cider Whiskey Slushie
These apple cider whiskey slushies are the perfect fall cocktail! This frozen alcoholic slush recipe is filled with apple cider, bourbon, and ginger beer.
Ingredients
2

cups

apple cider

4

ounces

bourbon

2

ounces

orange juice

freshly squeezed

ginger beer

for topping

apple slices dipped in cinnamon sugar

for garnish
Instructions
Using an ice cube tray, freeze 2 cups of apple cider until hardened, around 4 hours.

To a blender, add in apple cider ice cubes, bourbon, and orange juice. Blend until thoroughly combined and a smooth slush has formed. Add in desired amount of ginger beer, and pulse for a few additional seconds to incorporate.

Divide mixture into two copper moscow mule mugs. Garnish with apple slices dipped in cinnamon sugar.
Notes
If making ahead of time, place the copper mugs filled with the slushie into the freezer to keep frozen. Once you're ready to serve, remove the mugs for a few minutes, and add garnish.
For a mocktail version, omit the bourbon.
Nutrition
Calories:
285
kcal
Carbohydrates:
37
g
Protein:
1
g
Fat:
1
g
Saturated Fat:
1
g
Polyunsaturated Fat:
1
g
Monounsaturated Fat:
1
g
Sodium:
15
mg
Potassium:
379
mg
Fiber:
1
g
Sugar:
32
g
Vitamin A:
59
IU
Vitamin C:
16
mg
Calcium:
28
mg
Iron:
1
mg
Have you tried this recipe?
Tag @homebody.eats on Instagram so we can see your creations!
Yum
Let's Share Recipes

I love trying new recipes! Let's discover new recipes together on Pinterest!

P.S. If you made this apple cider alcoholic whiskey slushie recipe, share a picture with me on Instagram using #HomebodyEats. I love seeing your creations!!