Learn how to taste extra virgin olive oil so you can find the best tasting bottles. I'm sharing all my tips and tricks after attending culinary school in Italy.
Want To Save This Article?
Enter your email below and we'll send it straight to your inbox. Plus, you'll receive new weekly recipe inspiration.
After ​attending culinary school​ in Southern Italy, I've learned a thing or two about extra virgin olive oil.
It's safe to say that extra virgin olive oil is at ​the heart of Italian cooking​. Italians take their olive oil very seriously and for a good reason.
Not only do Italians use extra virgin olive oil in almost every dish they make, but they have access to high-quality, delicious tasting oil that gives their food an extra flavor bump. While you might not live in Italy, you can still learn the skills to source good extra virgin olive oil. It just takes a little practice.
I'm here to teach you everything I've learned studying culinary in Italy to help you better understand the world of extra virgin olive oil.
Jump to:
Olive Oil Taste Test
Today's lesson is something that is going to set you apart from many other home cooks. In fact, this is a skill that many professional chefs don't even know about.
In order to ensure you've purchased a high-quality extra virgin olive oil, you have to taste it. There's really no other way to know that the flavors are on point.
This is a skill that seems intuitive since we taste most of the raw ingredients we cook with. However, in all my years of cooking, I had never tasted extra virgin olive oil by itself until I ​went to culinary school​.
To explain to you how to taste extra virgin olive oil, it's best to watch this short video:
You can see that tasting olive oil isn't that difficult. It just requires a bit of practice to discern the taste of each bottle.
I promise this is something you can absolutely do as a home chef! The more extra virgin olive oil you taste, the more refined your palate will become.
From my at-home taste test, I was able to find a few of my favorite extra virgin olive oils like ​Pompeian​ or ​Bertolli​. As you can see from the photo, some of the bottles I selected were delicious, while others I would pass on in the future.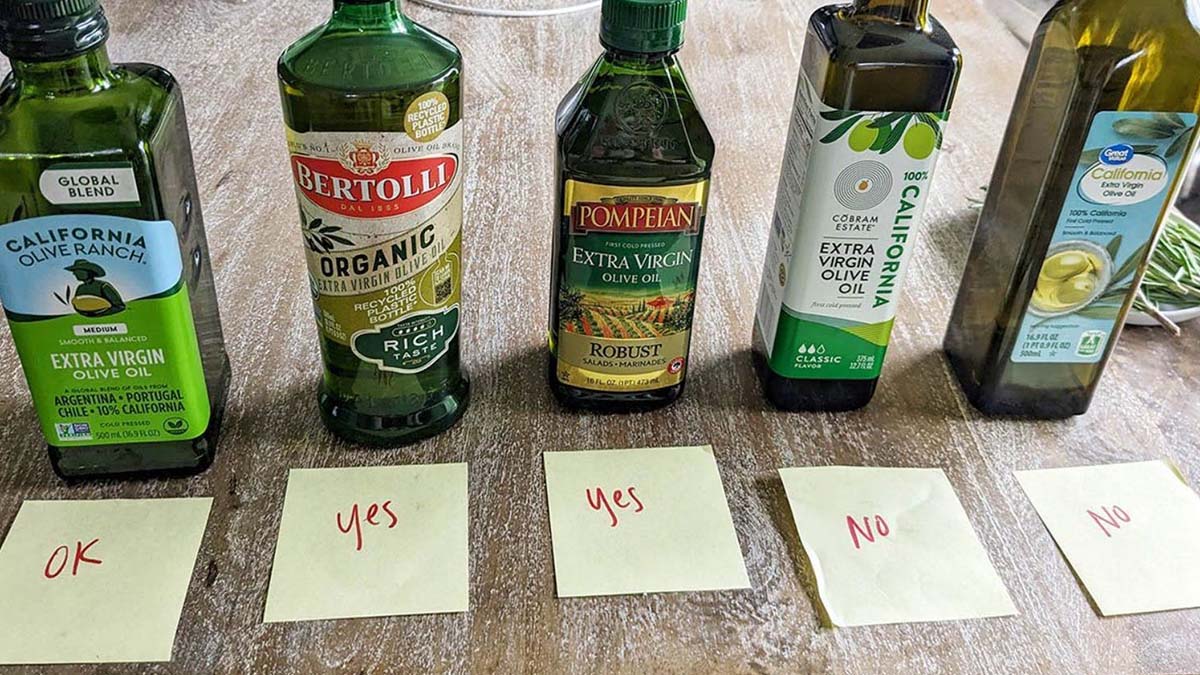 Extra Virgin Olive Oil Vs. Virgin Olive Oil
First things first, if you're going to be an expert, you need to know the differences between extra virgin olive oil and other varieties of olive oil.
Extra virgin olive oil is any of the oil that comes from the first press. This oil is cold pressed and has a low amount of acidity (less than 1%). The best extra virgin olive oils are made from olives that are crushed within 24 hours of being picked.
Virgin olive oil, on the other hand, is everything that's left in the vat after the extra virgin olive oil has been made. Typically, virgin olive oil is heated as it's produced and it's a lesser quality version of olive oil.
Aside from the obvious differences in the production of these olive oils, the taste varies dramatically.
In a side-by-side taste test, you'll notice that extra virgin olive oil has a fruity, grassy, rich taste while regular virgin olive oils seem almost flavorless.
How To Shop For A Bottle Of Olive Oil
When standing in the grocery store aisle with hundreds of different bottles of olive oil, how do you know which one you should choose?
First, pick up a bottle and look around the label. There are a few things you can look for that often indicate a high quality bottle:
Make sure it has extra virgin on the label.
The bottle may indicate 'first cold pressed' to show it is in fact extra virgin olive oil.
Look for a harvest date. This will show you when the olives were harvested from the fields. Ideally, it should be less than one year from the date you're purchasing the oil.
Check if the oil notes how much acidity the oil contains. It should be under 1% acidity.
If you're looking for an Italian olive oil specifically, it should say "Produced by" whatever the Italian company's name is. Just because it's labeled as "Bottled by" doesn't always mean the olives are from Italy.
Be sure the bottle is dark in color. Light is an enemy of olive oil, so it's important that the packaging helps prevent access to light.
Don't pay attention to the color of the oil. This is not necessarily an indicator of high-quality oil.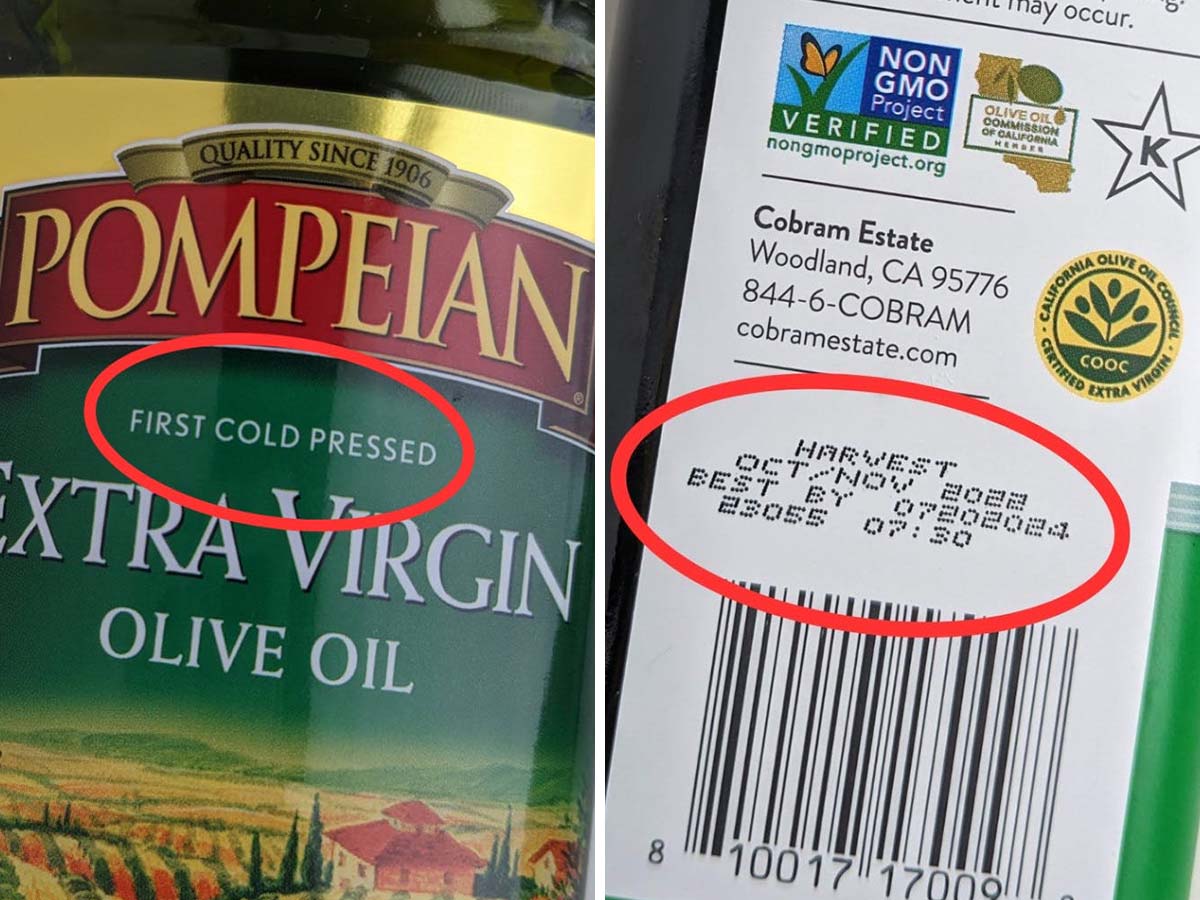 No matter how long you inspect the bottle, there's one important piece of the puzzle that's still missing in order to tell you have selected a high-quality, tasty extra virgin olive oil: A taste test.
FAQs
When should I cook with extra virgin olive oil?
Italians use almost exclusively extra virgin olive oil in their cooking. They use it to make pasta sauce, salad dressing, drizzle on top of pizza, as part of a cake recipe, and so much more.

While you may have heard that extra virgin olive oil doesn't have a high smoke point so it can't be used for pan frying or high-heat cooking, that's not exactly true. Extra virgin olive oil can be used for most cooking projects including sautéing, baking, and shallow pan frying. The only exception is deep frying. I'd opt for peanut, sunflower, canola, or vegetable oil for deep-fried foods.
Should I add extra virgin olive oil to my pasta water?
No, you would just be wasting your expensive extra virgin olive oil since the oil will stay on top of the pot and will never actually touch the pasta during the cooking process.
Is there a difference between extra virgin olive oil that you cook with vs. dip/drizzle on top of food?
No, you should be cooking, dipping, and drizzling extra virgin olive oil on your food that tastes good. While your extra virgin olive oil can have different flavor profiles (i.e. citrusy, grassy, floral) that you prefer to use in certain dishes, there isn't a difference in the quality between these the oil you cook with vs. drizzle on top.

Always ​taste test the extra virgin olive oil​ to ensure it's delicious, then you should be good!
How can I tell when my extra virgin olive oil has gone bad?
If you notice a rancid smell or stale taste in the olive oil, you should discard it immediately and purchase a new bottle. Generally, when the intensity of the extra virgin olive oil begins to go down, your olive oil is on its way to expiring.

Extra virgin olive oil is best about one year after it's produced. However, most manufacturers give the oil a two-year expiration mark.
What makes extra virgin olive oil go bad?
Light, time, and temperature fluctuations are the enemy of olive oil. It's best to store your oil in a cool space away from light.
Is Italian extra virgin olive oil the best?
That depends on your personal taste and preference. Italy, especially the Puglia and Tuscany regions, is known for delicious tasting olive oil for a good reason. However, there are many other countries and regions that produce high-quality extra virgin olive oil.

Your best bet is to taste a variety of extra virgin olive oils and see which one works best for your personal taste and cooking preferences.
Does the color of the extra virgin olive oil matter?
No, the color of the extra virgin olive oil does not indicate whether you've selected a high-quality oil. What matters is the smell and taste.
Infused Olive Oil
Along your cooking journey, you're going to mess up from time to time. This includes finding the perfect bottle of extra virgin olive oil.
While it may take you tasting 3 or 4 bottles before finding one that has a great flavor, don't worry! Even the rejected bottles have a use.
Part of Italian cooking is being a good steward of your food and making sure there's little to no waste in the kitchen.
If you stumble upon a bottle of extra virgin olive oil that doesn't taste good, I'm going to show you how to make your own infused olive oils to ensure nothing goes to waste.
To make infused olive oils there are two common methods:
Hot extraction: Hot infusion requires heating and cooling the oil to extract flavors out of your herbs and spices.
Cold extraction: Contrarily, a cold infusion (no heat) is a slower process of releasing the flavors from an ingredient, but it still allows for a strong flavor without any risk of burning the oil. This is done at room temperature usually.
If you're looking for an easy and delicious infused oil recipe, I've got a recipe for ​garlic oil​ (using a cold extraction) and ​rosemary oil​ (using a hot extraction). Both of these recipes are easy to follow and will give you amazing tasting infused olive oils (even from your rejected bottles).
Olive Oil Recipes
Love this recipe? Please leave a 5-star ⭐⭐⭐⭐⭐rating in the recipe card below. Don't forget to follow along on Instagram, Facebook, YouTube, and Pinterest for more recipes.