Make the best creamy & smooth hummus 3 ways for a crowd pleasing appetizer platter.
If you're looking for an easy yet delicious appetizer, try this hummus platter! This Middle Eastern/Mediterranean style recipe is perfect for serving at parties or to feed a crowd! This homemade hummus is perfectly creamy, silky smooth, and whipped to perfection. Make sure to try out this mezze platter for your next dinner party or get-together.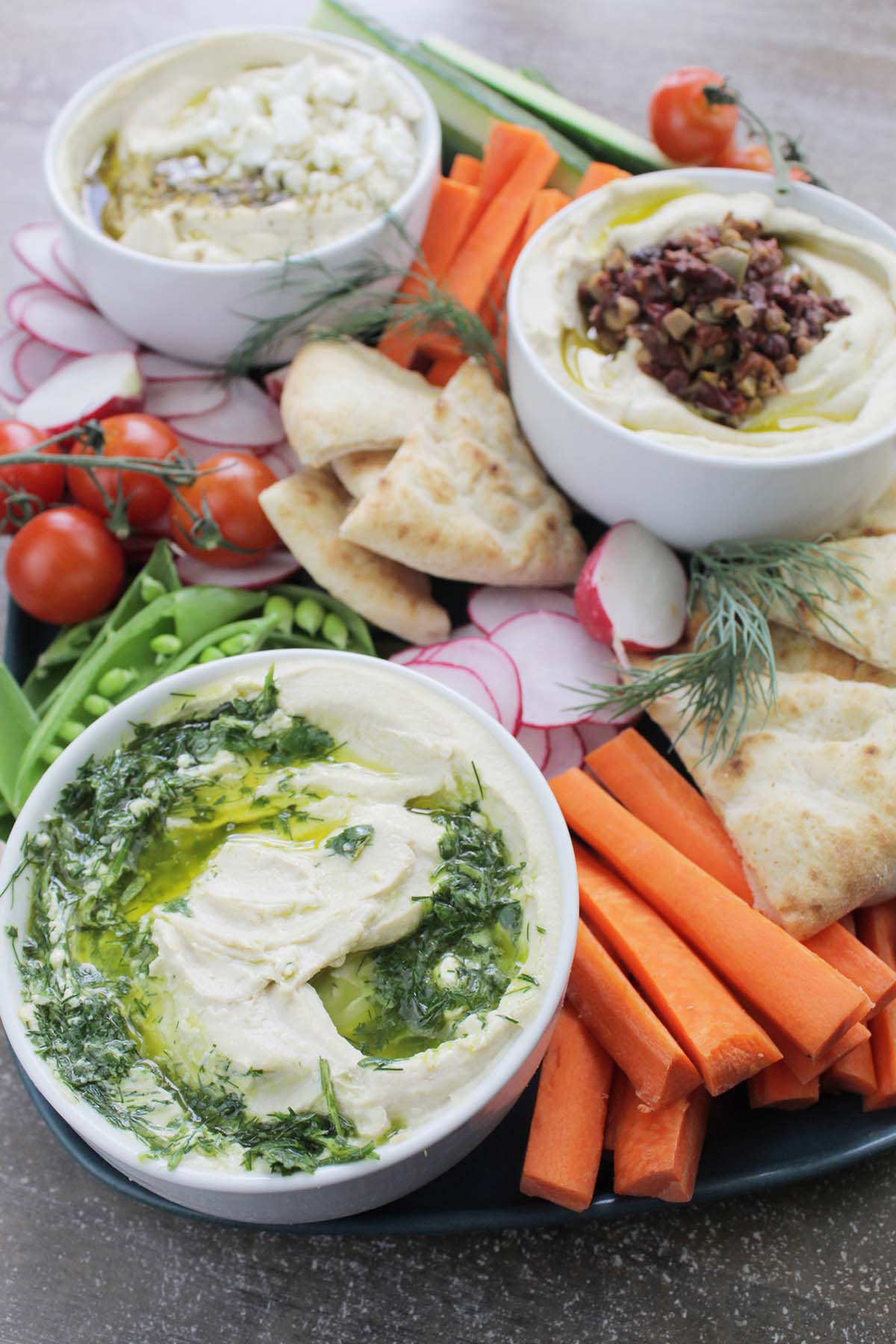 Want To Save This Article?
Enter your email below and we'll send it straight to your inbox. Plus, you'll receive new weekly recipe inspiration.
Hummus - one of the world's most beloved dishes. We all know it, love it, and eat it. But, have you ever tried making your own at home?


While I haven't ever traveled to the middle east to first-hand experience the culture and history of hummus, it's on my travel bucket list! In the meantime, I've done lots of research to try to make my own version of the hummus I love eating at local, authentic Mediterranean/Middle Eastern restaurants. Whether you're hosting a dinner party, need a Mediterranean charcuterie board, or are looking for a mezze inspired board, you have to try this hummus platter!


This post goes along with our hors d'oeuvres series where I teach you the basics about these bite-sized appetizers. The goal of this series is to get you familiar with creating hors d'oeuvres in your everyday life, as well as inspire you to create fun food spreads for parties. Be sure to check out this post to find everything in the series. Hummus is a great example of a cold hors d'oeuvre!


RELATED POST: Greek Appetizer Platter
The (Short) History of Hummus

It's important to know a little bit about the history of hummus as it has undoubtedly played a role in the hummus we know and love today. Believe it or not, hummus is actually kind of controversial. Although chickpeas are produced in multiple countries (India, Australia, Pakistan, Myanmar, Pakistan, and more), there is a bit of a debate as to who created the modern day hummus.


The first known hummus dates all the way back to Mesopotamia in the 17th century BC. However, the more modern hummus of today is thought to be created in the Ottoman empire around the 15th century. This history is important because many countries (mainly Lebanon, Israel, and the state of Palestine) seek to lay claim to the creation of this beloved dish.


According to BBC, there is a lot of patriotism and identity that tie in with hummus. Back in 2008, the 'hummus wars' began when Lebanon accused Israel of stealing and profiting from their national dish. Ever since, there's been conflict as to who can tout hummus as their national dish. Greece, Jordan, Turkey, Syria, and Egypt have also tried to stake their claim.


In an effort to prove their allegiance, both Lebanon and Israel have tried to break the Guinness Book of Records for the largest plate of hummus. You have to check out the photos of these large hummus plates! One was 2 tons and the other was 4 tons. I wish I would have been there to eat it all up haha.


While we may not know exactly where hummus came from, we can agree that it is a delicious dish that has been infused with the flavor and culture of countries and cities from around the world. Be sure to check out the resources below to learn even more about the rich history of hummus.


RELATED POST: Roasted Garlic Hummus (Two Ways)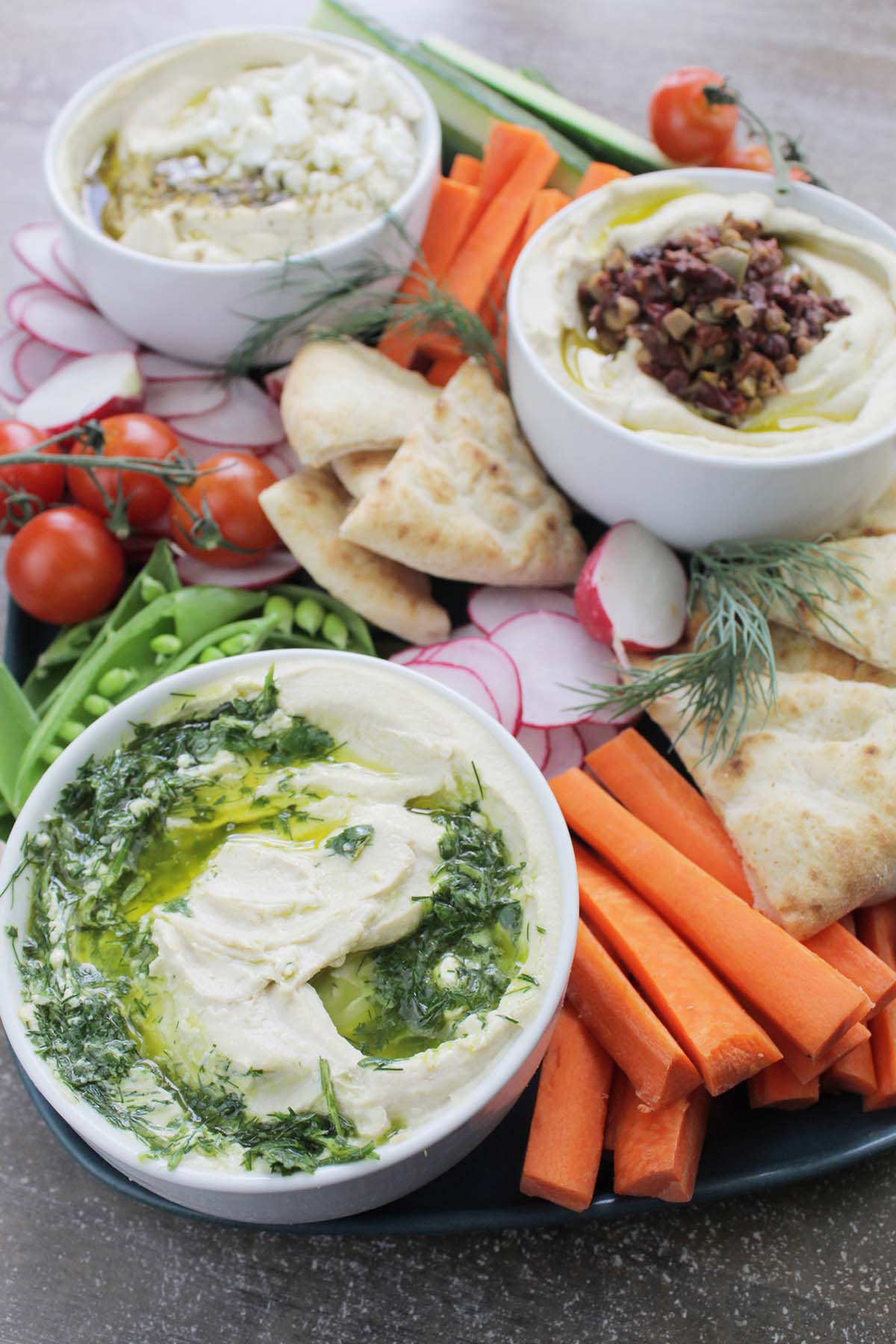 What Is Traditional Hummus Made Of?

The brilliant thing about hummus is the simplicity of the dish! Since there are only a few ingredients required, hummus is a very attainable dish to make at home, and it really allows certain flavors to shine. Here is a little bit about the main ingredients used in hummus:


Chickpeas (Garbanzo beans): Chickpeas are a staple of hummus. There's some debate as to whether to use dried chickpeas vs. canned chickpeas and whether or not it's necessary to peel the skins. The thought is that these methods help you achieve a smooth, creamy hummus. However, if you've never tried boiling dried chickpeas or individually picking off the skins, it's very time-consuming.


The goal of this post is to encourage people to make hummus at home instead of buying it from the store. If I'm too lazy to go through that whole process (and I love to cook), then I know the average person won't spend the time. Luckily, there's a little trick that can help soften the chickpea's skin so you can still have a silky smooth hummus without all the work - baking soda.


In this recipe we're using a short cut of canned chickpeas. However, we're also boiling them for a short time in baking soda to help soften and disintegrate the skins so we don't have to worry about peeling them away.


RELATED POST: Mediterranean Crispy Roasted Eggplant
Tahini: Tahini is another key ingredient in hummus, and it's made by grinding up sesame seeds into a smooth paste. The key to a good hummus is a high quality tahini - they are not all made equally. If possible, I'd encourage you to go to an international grocery store and buy an authentic tahini. If that's not possible, you can purchase it on Amazon.


Personally, I found that the amount of tahini varies drastically depending on the hummus recipe. My favorite types of hummus that I've eaten over the years have a lot of tahini in them. That's why you'll see more tahini than chickpeas in my recipe. I will note that if you're used to eating the Americanized hummus found in grocery stores, this is a lot more tahini than you're accustomed to.


Acid: Including some kind of acid in hummus is very important to balance out the richness of the tahini. Most recipes use lemon. However, after reading about a secret trick in Adeena Sussman's Sababa cookbook, I've opted for citric acid in my recipe instead of lemon juice. This is a game-changer, in my opinion, to the hummus recipe. Citric acid is a cheap ingredient, and you can grab it off of Amazon.


Olive Oil: And last, but not least, olive oil. Just another element to help add a rich flavor to the hummus. Some recipes have the olive oil blended in with the rest of the ingredients. Others use olive oil as a garnish for the dish. I'm definitely a fan of this as it adds a little bit of luxury.


How Should I Plate A Hummus Platter?

Part of the fun of this dish is plating everything up so it looks appetizing, fun, and people get excited to eat it (this is an important part of hors d'oeuvres). We're making things easy by creating one batch of hummus, and then spicing it up three ways to create a full hummus platter. Here's a rundown of what's included on the platter: hummus with za'atar seasoning & crumbled feta, another with olive tapenade, and the final with a green herbed dressing.


Here are some other ideas and flavors that would make great hummus toppings:


Cumin

Garlic

Ground beef (this is on my list to try next)

Paprika

Pine Nuts

Sesame seeds

Sumac


For the hummus platter, you'll first need a large board to lay everything out on, plus a few bowls to put the hummus in. Also, make sure to pick up your favorite dippers like pita and raw veggies (I especially love carrots, cucumber, and radishes).


Once you're ready to plate, add the hummus to the bowls and garnish each with their individual toppings. Don't forget to add a dash of olive oil on top of the hummus - it makes the hummus platter look even more inviting! Then, spread out your pita and veggies around the tray in an artful manner.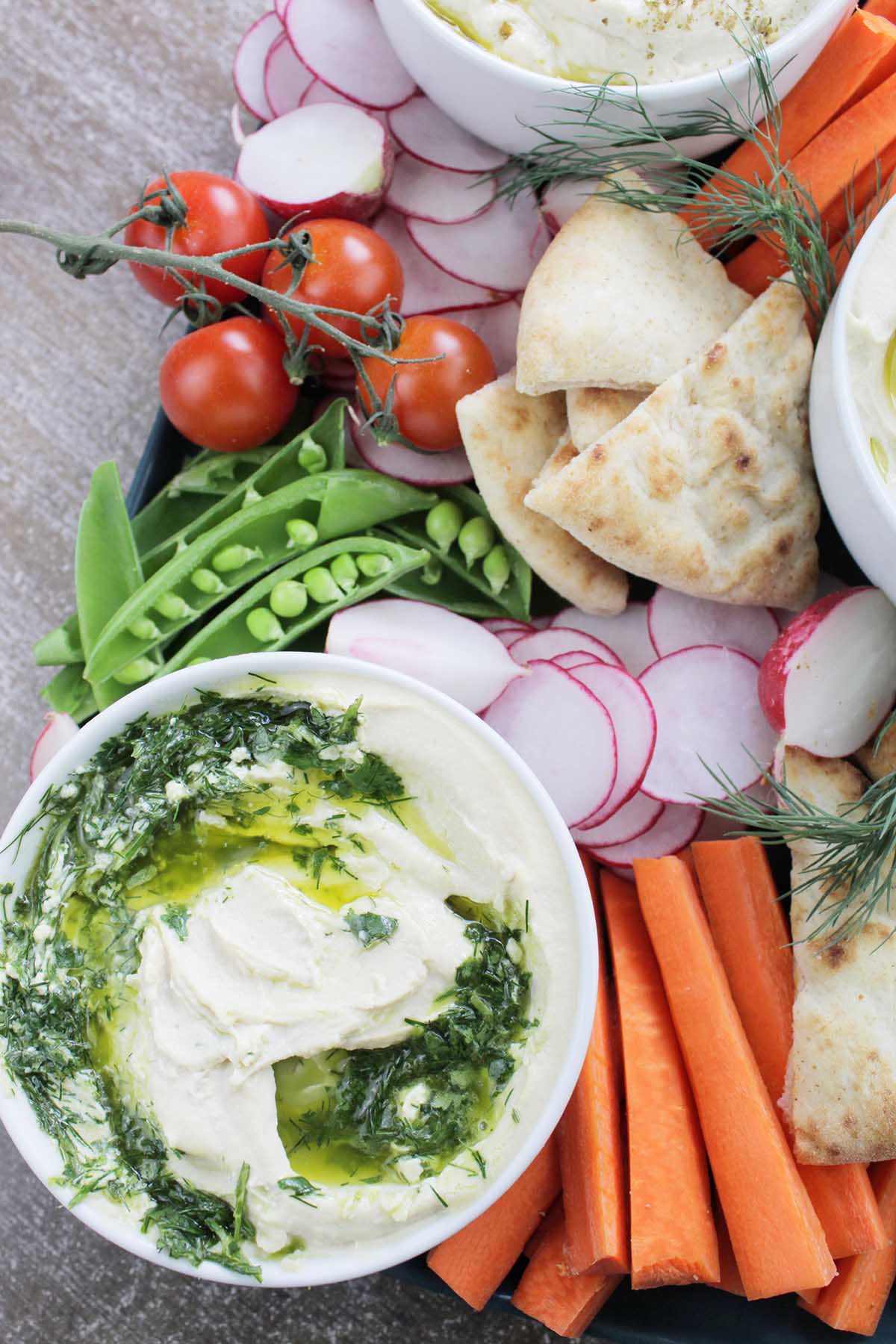 More Hummus Recipes
Love this recipe? Please leave a 5-star ⭐⭐⭐⭐⭐rating in the recipe card below. Don't forget to follow along on Instagram, Facebook, YouTube, and Pinterest for more recipes.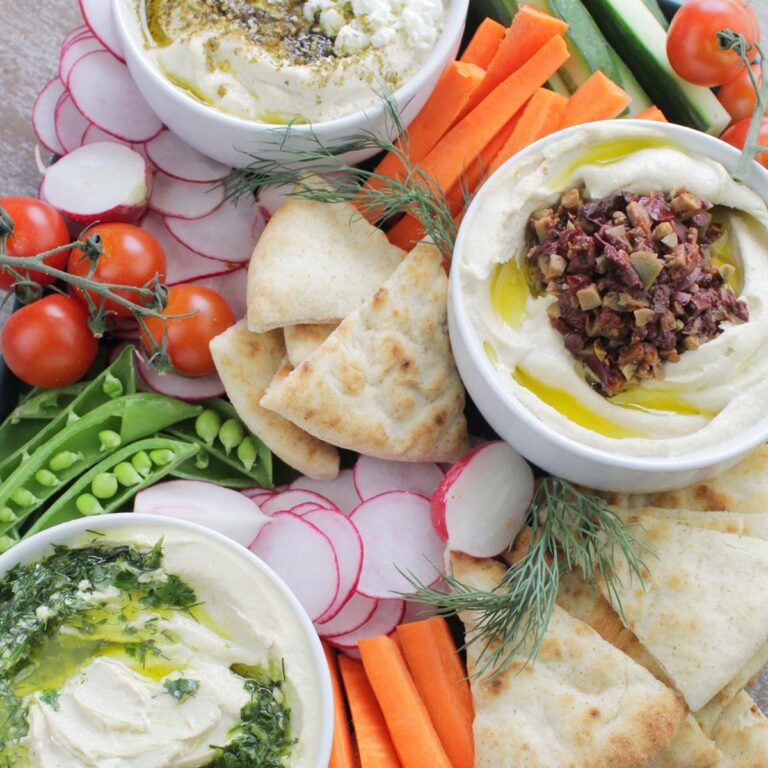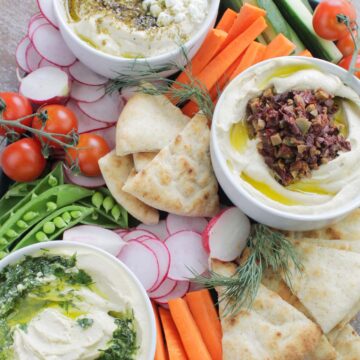 Hummus Platter (3 Flavors)
If you're looking for an easy yet delicious appetizer, try this hummus platter! This Middle Eastern/Mediterranean style recipe is perfect for serving at parties or to feed a crowd! This homemade hummus is perfectly creamy, silky smooth, and whipped to perfection. Make sure to try out this mezze platter for your next dinner party or get-together.
Ingredients
For the Hummus
15

ounces

canned chickpeas (garbanzo beans)

drained, liquid reserved

½

teaspoon

baking soda

1 ¾

teaspoons

citric acid

1

teaspoon

kosher salt

2

cups

tahini

3

tablespoons

olive oil

for garnish

pita and raw vegetables

for serving
For the Za'atar Topping
1

tablespoon

za'atar

2

tablespoons

feta cheese

crumbled
For the Olive Tapenade Topping
⅛

cup

kalamata olives

minced

⅛

cup

green Spanish olives

minced

1

clove

garlic

minced

½

chipotle pepper in adobo

minced

½

teaspoon

adobo sauce
For the Green Herb Topping
¼

cup

fresh dill

¼

cup

fresh parsley

2

tablespoons

lemon juice

¼

cup

olive oil
Instructions
For the Hummus
To a large pot, add drained chickpeas and baking soda. Cover with 2 inches of water, and place over high heat until the water comes to a boil. Cook for 10 minutes until chickpeas have softened, increased slightly in size, and the skins are falling off.

Add chickpeas, along with ½ cup of the reserved liquid from the chickpea can, to a food processor, along with citric acid and kosher salt. If the canned liquid is less than needed, just add additional water until you reach ½ cup. Blend until smooth and creamy.

With the food processor running on high, alternate adding in tahini and 1 ¼ cup of ice cold water. Continue to blend until the mixture is thick and creamy. It should resemble the texture of buttercream.

Divide hummus into three separate bowls, and top with 1 tablespoon of olive oil on each bowl. Garnish each hummus with the toppings listed below. Place hummus, pita, and raw vegetables on a serving platter.
For the Za'atar Topping
Sprinkle za'atar and crumbled feta over the hummus.
For the Olive Tapenade Topping
In a small bowl, mix together olives, garlic, chipotle pepper, and adobo. Top hummus with a mound of olive tapenade in the middle.
For the Green Herb Topping
Place dill, parsley, lemon juice, and olive oil in a food processor. Blend until smooth. Drizzle around the top of the hummus.
Notes
Store in an airtight container in the refrigerator for up to 7 days.
Nutrition
Calories:
534
kcal
Carbohydrates:
22
g
Protein:
14
g
Fat:
47
g
Saturated Fat:
7
g
Polyunsaturated Fat:
16
g
Monounsaturated Fat:
22
g
Cholesterol:
4
mg
Sodium:
709
mg
Potassium:
388
mg
Fiber:
6
g
Sugar:
1
g
Vitamin A:
421
IU
Vitamin C:
8
mg
Calcium:
143
mg
Iron:
4
mg
Have you tried this recipe?
Tag @homebody.eats on Instagram so we can see your creations!
More Resources About Hummus

If you're interested in learning even more about hummus and its rich history, be sure to check out these resources: