These tart yet sweet lemonade ice pops are the perfect light and refreshing summer dessert. The popsicles only require four ingredients and 10 minutes of prep time.
I'm always looking for a quick and easy dessert during the hot summer months. Something you can eat poolside or as an after dinner sweet treat. As it turns out, popsicles (sometimes called ice lollies) are the perfect answer!
This recipe is perfect because it takes only a few minutes to prepare before placing in the freezer. It's a great recipe to make in the evening so the lemon popsicles will be ready to eat in the morning.
If you have kids, they can easily help you make these ice pops. It's a family-friendly recipe everyone will love!
Jump to:
What You'll Learn In This Recipe
How to make super creamy lemon popsicles (and what to avoid for icy popsicles)
The best way to store popsicles in the freezer
My favorite lemonade frozen concentrate that makes the lemon ice pops super delicious
For more culinary lessons to help you feel confident in the kitchen, sign up for my free 5 day email series. You'll learn lessons to instantly improve your skills!
Ingredients You Need
I have to say, the best part about these lemon popsicles is the super simple ingredients you need. There are only four ingredients, and each one serves an important role:
Frozen lemonade concentrate: This is the main ingredient that flavors the ice pops. I prefer to use Minute Maid - it has the perfect amount of sweetness and tartness. However, other brands or flavors (like raspberry lemonade or limeade) would also work. If you choose a brand that has less added sugar, your popsicles will taste less sweet.
Whole milk: The whole milk adds creaminess and also helps add enough water to the popsicles so they can properly free. Don't be tempted to use lower fat milk or plant-based milk. It will turn the lemon popsicles icy.
Heavy cream: Just like ice cream uses heavy cream to help with the texture, this lemonade popsicle recipe is super creamy thanks to the heavy cream. Make sure not to use more heavy cream than the recipe calls for or you'll end up with a greasy aftertaste.
Lemon zest: The peel of the lemon adds an extra fresh and bright taste! Use a microplane to remove the lemon peel. Only take off the yellow part of the peel. The white part of the peel (it's called the lemon pith) is bitter, so avoid that!
How To Make This Recipe
Similar to the ingredient list, this recipe isn't hard to make! It only requires 10 minutes of time to prepare the mixture before placing the popsicle molds in the freezer.
Make Lemonade Mixture
First, add the lemonade concentrate, whole milk, heavy cream, and freshly zested lemon peel into the container of a high-powered blender. I love using my Vitamix blender, but any blender or even a food processor will work!
Pour Into Popsicle Molds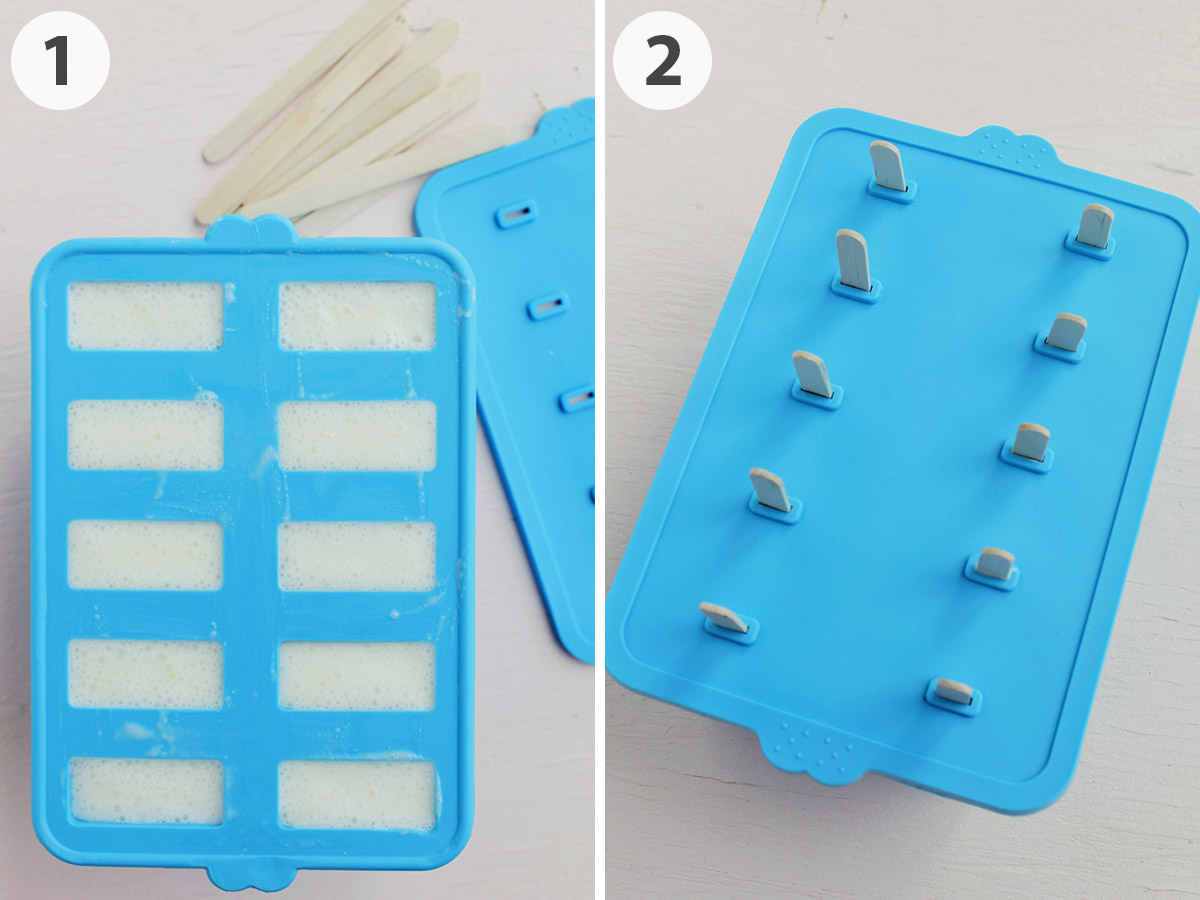 This recipe makes ten perfectly sized popsicles using this silicone mold. However, any popsicle mold should work! You may just yield a different final amount of popsicles.
Evenly pour the lemonade mixture into the popsicle molds. Attach the lid and insert a popsicle stick into each mold.
Finally, place the popsicles in the freezer to set and harden. This usually takes about 8 hours. I like to make the popsicles in the evening, then allow them to set overnight.
Expert Tips
Low on time? Prepare the lemonade mixture ahead of time and pour it into the popsicle mold whenever you have time. Simply store the lemonade mixture in the refrigerator until you're ready to transfer it to the popsicle mold. This can be made 24 - 48 hours ahead of time. Stir the lemonade mixture with a spoon before pouring it into the popsicle mold.
Use a funnel to help pour the lemonade liquid into the popsicle molds. This is a helpful trick if your blender doesn't have a pour spout.
Switch up the flavor of these popsicles. Try using other concentrates such as pink lemonade, raspberry lemonade, or even limeade in place of the lemonade concentrate.
Every freezer varies in temperature. It's best to leave the popsicles to set and harden for about 8 hours to ensure they don't break when removed from the molds.
Recipe FAQs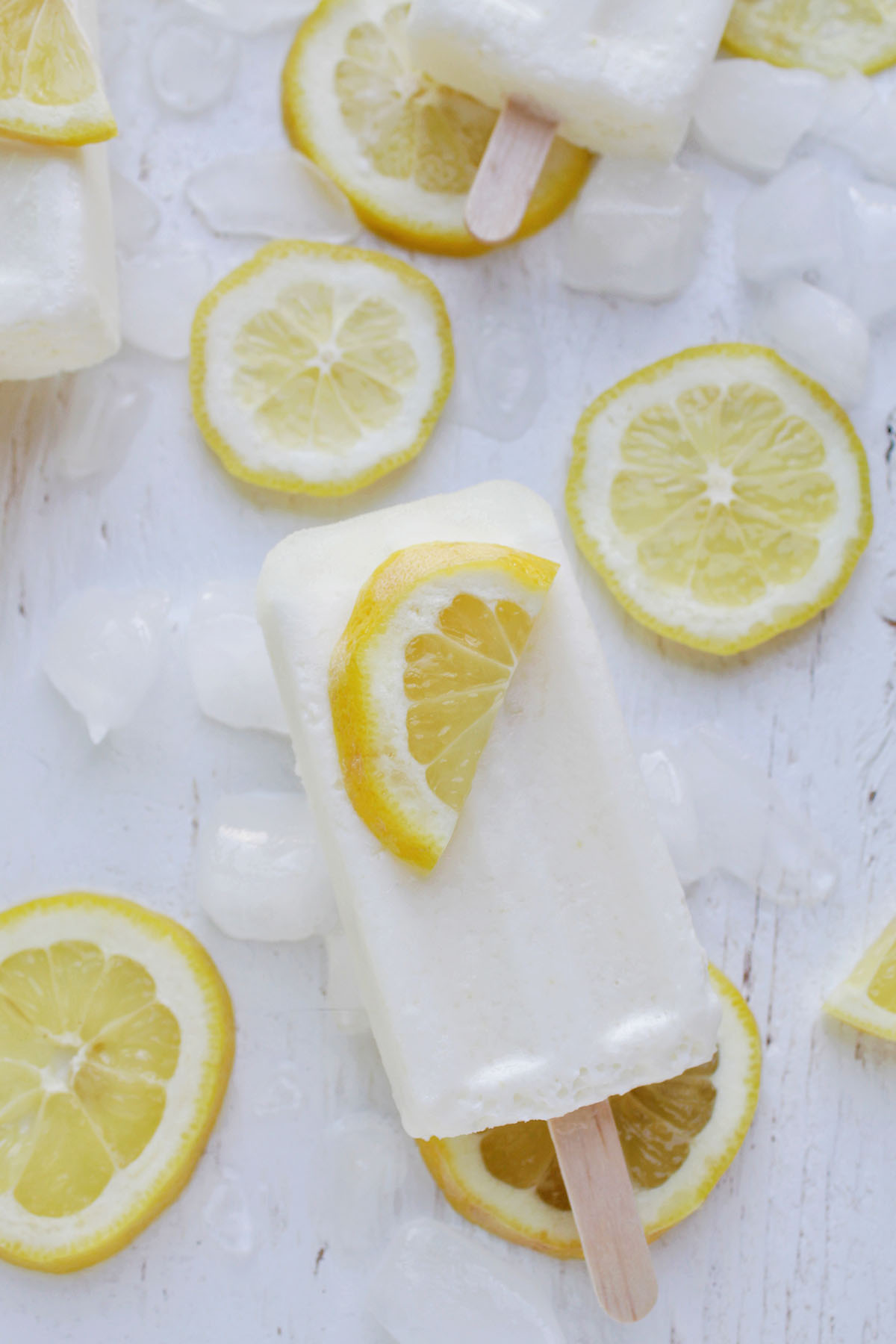 More Summer Desserts
Do you love these frozen lemonade popsicles? Try more of my favorite summer desserts:
Love this recipe? Please leave a 5-star ⭐⭐⭐⭐⭐rating in the recipe card below. Don't forget to follow along on Instagram, Facebook, YouTube, and Pinterest for more recipes.