If you've been looking for fun and unique macaron filling flavors, then you need to try these recipes! All 100+ macaron filling recipes in this digital cookbook are delicious and offer a unique taste.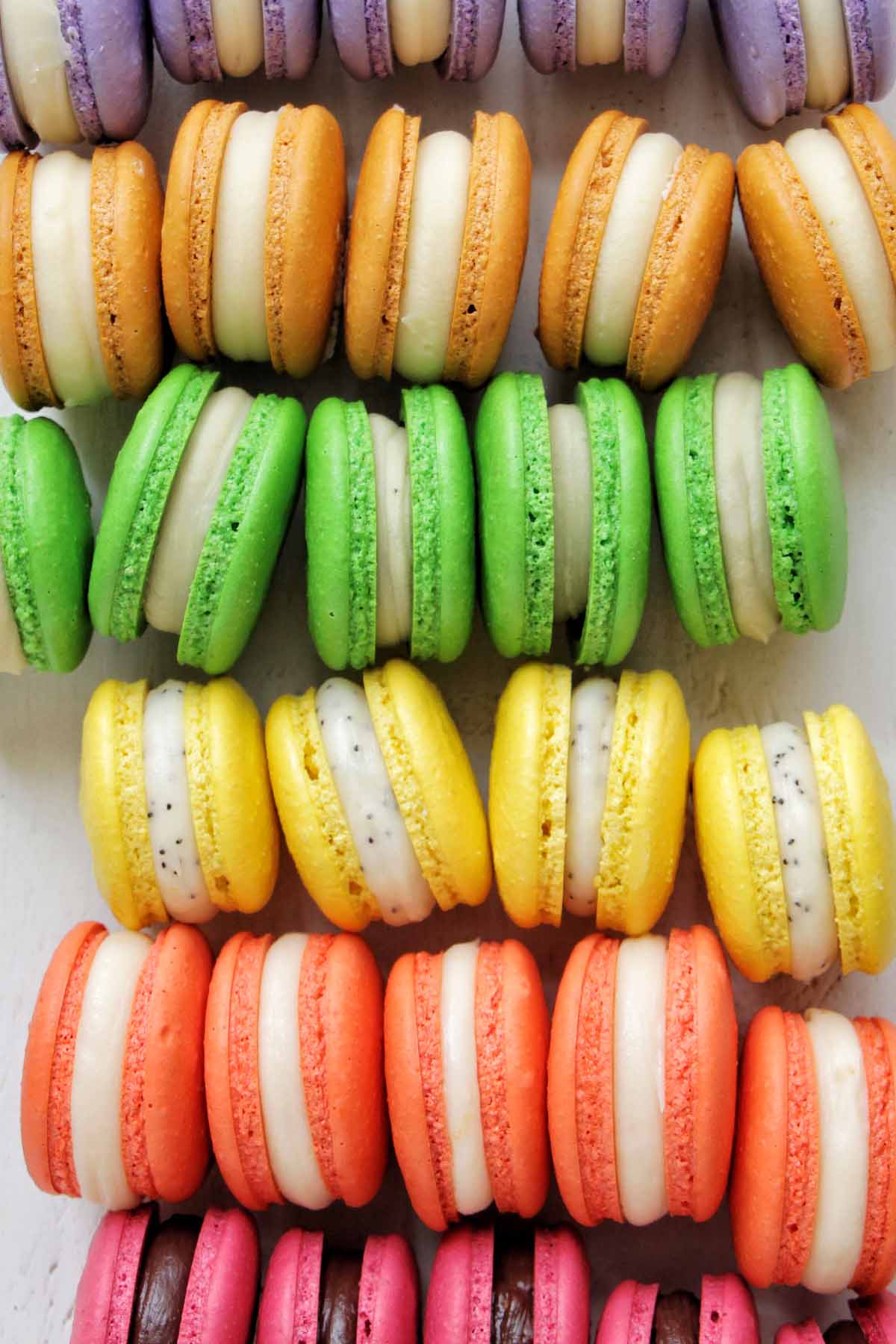 Want To Save This Article?
Enter your email below and we'll send it straight to your inbox. Plus, you'll receive new weekly recipe inspiration.
As an avid macaron baker, I'm always searching for new flavor combinations and filling ideas. Of course, we all love the classics like vanilla buttercream or chocolate ganache, but sometimes I want a more unique flavor.
In an effort to satisfy my cravings outside of the traditional macaron fillings, I created a digital cookbook with over 100+ of the best macaron filling flavors and recipes.
Let me show you a few of the techniques I've learned while creating this macaron filling eBook, so you can learn the best way to easily find new filling flavor ideas.
Types of Macaron Fillings
Creating new macaron filling flavors doesn't have to be hard! If you want to easily switch up the flavor of your macarons, try using a different type of filling.
So often, as macaron bakers, we stick mainly with buttercream or ganache filings. However, there is a whole world of other types of fillings that allow you to switch up the flavor, color, and texture of the macaron.
Here are a few of my favorite types of macaron fillings:
1. Buttercream: You can choose to make an American style buttercream which is made by creaming butter and then combining it with confectioners' sugar and heavy cream.
You can also opt for Swiss or Italian meringue, which starts out by making an egg white meringue. These types of buttercream are generally less sweet than an American style buttercream and have a silky smooth consistency.
On the other hand, if you want to use up some of your excess egg yolks from making macaron shells, you could opt for a French meringue buttercream, which is naturally yellow in color and has a very rich taste, similar to custard
2. Ganache: Ganache is a silky smooth filling made with a mixture of chocolate and heavy cream.
This is another very stable macaron filling and can be made with a variety of different types of chocolate such as dark, semi-sweet, or white chocolate.
3. Jam/Marmalade: Both of these fillings are made from whole or cut fruits, typically cooked with sugar until they form a thick paste-like consistency. Marmalade is similar to jam but is typically made with citrus such as oranges.
4. Curd: Curd is another type of filling that's made with various types of fresh citrus juice, such as lime, lemon, orange, or grapefruit. It's cooked, along with sugar, then mixed with egg and butter to give it a rich and thickened texture.
5. Compote: Compote is a fruit mixture that's cooked with sugar and other flavorings. Traditionally, compotes are left chunky. The large pieces of fruit offer a fun textural experience when paired inside a macaron.
If you're looking for specific recipes for each of these types of fillings, be sure to purchase a copy of Flavorful Fillings: 100 Macaron Fillings To Satisfy Your Cravings. This digital cookbook has recipes for each of these main types of fillings.
Popular Filling Flavor Ideas
Next, I want to share some delicious and popular flavors for each filling we just talked about. Then, I'll give you simple tips on how to easily change your favorite recipes to achieve new flavors.
Buttercream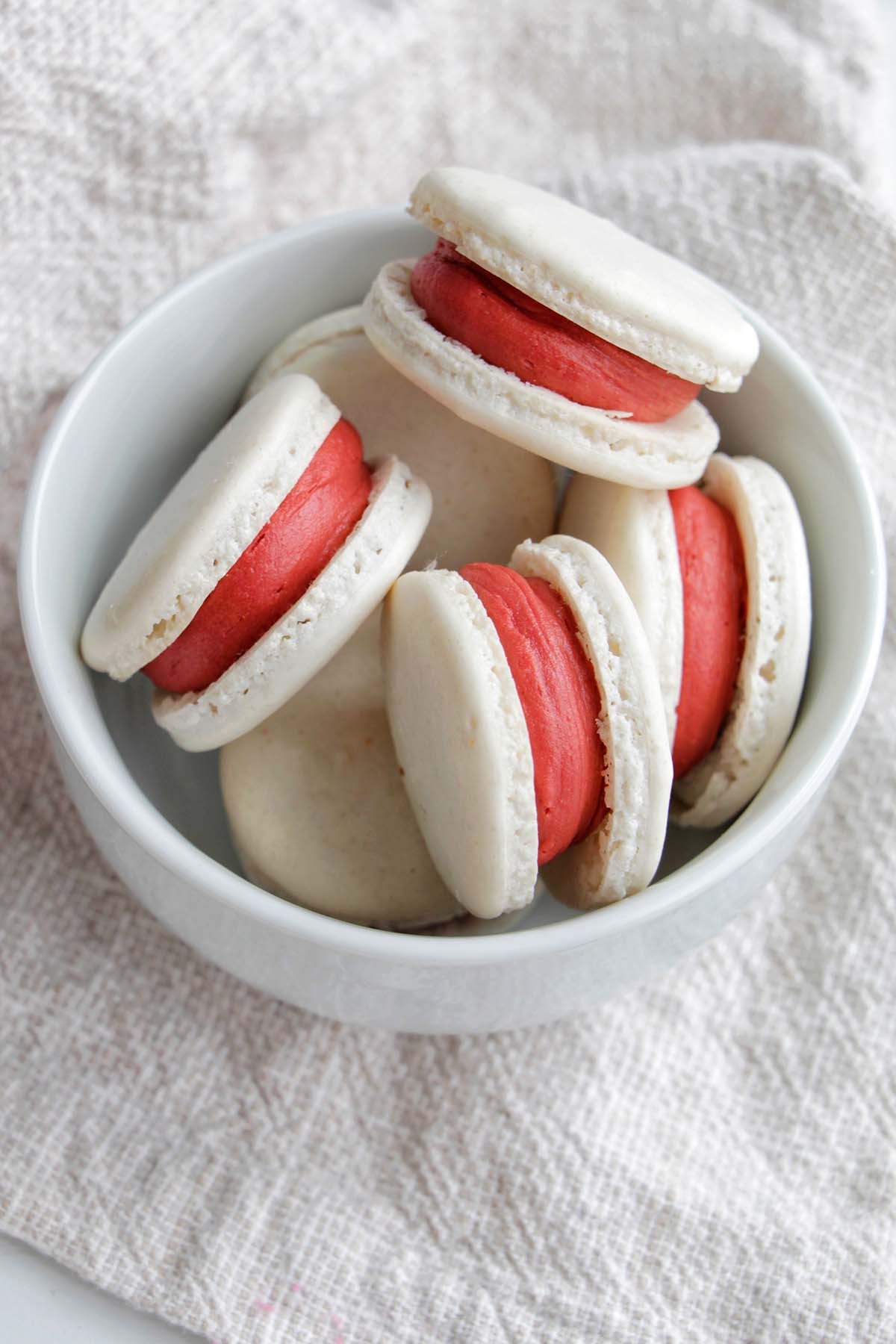 Apple Butter: Use apple butter to add a fall flavored spin on macarons.
Biscoff Cookie Butter: Any cookie lover will enjoy this flavor with the warm spices of Biscoff cookies.
Blueberry: Blueberries add a fruit forward taste and turn buttercream a pretty purple color.
Cake Batter: This flavor is perfect to celebrate a birthday or special occasion. Plus, you can decorate the macaron shells with fun, colorful sprinkles before baking.
Cinnamon Sugar: Think about eating a Snickerdoodle in macaron form.
Fig: A honey-like taste all thanks to fig marmalade.
Honey: The harmonious blend of butter and honey creates a sweet yet elegant macaron combination.
Lemonade: Super tart yet sweet, and the bright yellow color is sure to cheer you up.
Quick Tip: To easily switch up the flavor of your vanilla buttercream filling, try substituting the heavy cream for another type of liquid. Some of my favorites include Baileys Irish cream, Champagne, or eggnog.
Ganache
Caramelized White Chocolate: Caramelized chocolate is made by cooking chocolate in the oven until it reaches a golden brown color. Baking the chocolate imparts a rich, nutty flavor similar to brown butter or caramel.
Chai Tea: A classic chai tea infuses the flavors of cardamom, cinnamon, ginger, and cloves throughout the ganache.
Chocolate Turtle: Chocolate turtle candies are known for their flavors of pecan, caramel, and rich chocolate. This ganache filling is indulgent with a bit of crunch thanks to the pecans scattered throughout.
Cinnamon Latte: A hint of espresso adds a kick of caffeine to the ganache, combined with delicious flavor from the cinnamon.
Grapefruit: Add a hint of grapefruit to white chocolate to create a delightfully fresh citrus flavor.
Lavender: The floral notes of lavender infuse perfectly into white chocolate ganache. This is a great filling if you're looking for something light and delicate.
Lemon Poppy Seed: A classic and beloved flavor, lemon poppy seed, combines the subtle tangy taste of lemon with some crunch from poppy seeds.
Sugar Cookie: With hints of vanilla and buttery sugar cookies, this creamy ganache pairs perfectly with a bright colored shell.
Quick Tip: You can also try making ganache with butterscotch or espresso baking chips instead of the traditional chocolate morsels.
Caramel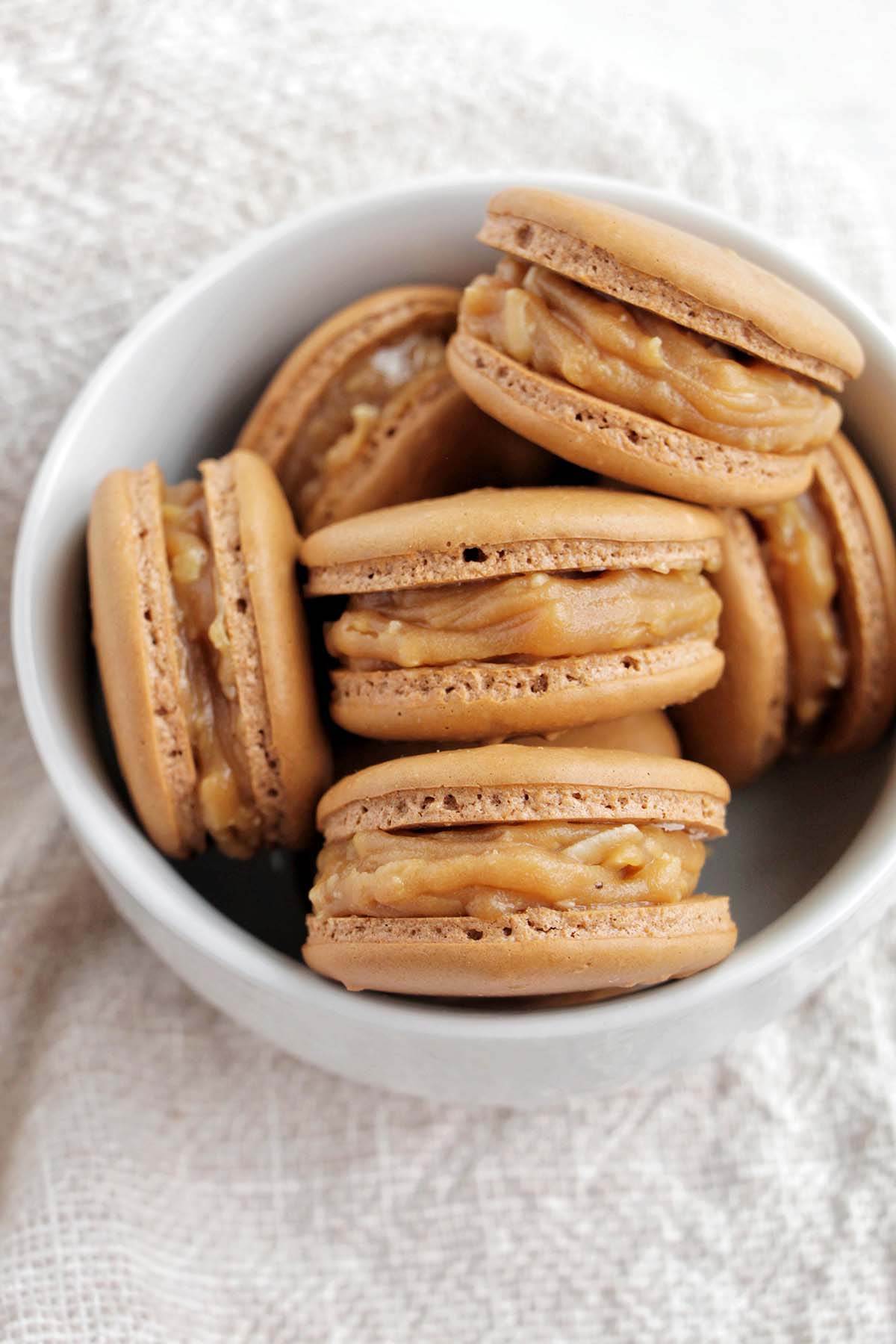 Whipped Caramel: For whipped caramel that pipes like the consistency of buttercream, place the caramel in a stand mixer with the whisk attachment. Whip on medium-high speed for 3 - 5 minutes.
Pecan Caramel: Nothing screams fall more than the combination of caramel and pecans. With an added crunch in every bite, the pecans add an extra depth of flavor and texture.
Coconut Caramel: Coconut flakes add an extra layer of flavor and texture to macarons.
Chocolate Caramel: If you want an out of the ordinary caramel that has just a touch of decadence, this chocolate caramel is for you.
Quick Tip: Stir in nuts, candies, or other add-ins like coconut to your finished caramel for added flavor and a bit of crunch.
Jam/Marmalade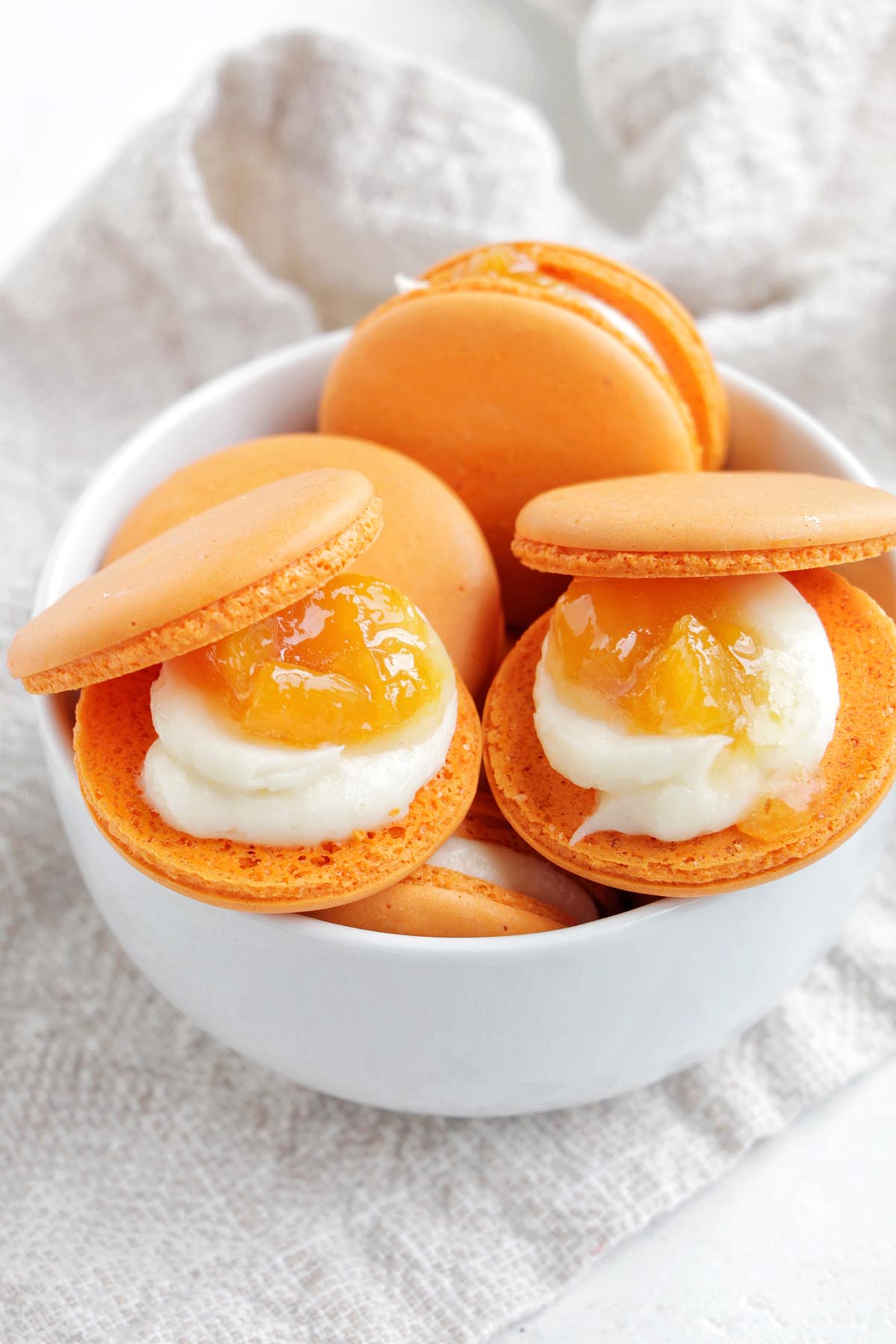 Aperol Spritz Marmalade: If you enjoy sipping on the classic Italian Aperol spritz cocktail, then you're going to love this boozy inspired orange marmalade filling.
Apple Jam: Apple jam is the perfect seasonal addition to macarons, especially during the fall.
Cherry Jam: Ripe and juicy blackberries make the perfect jam that adds a burst of summer flavor to macarons.
Cranberry Jam: Sweet, summertime cherries turn into a rich and vibrant jam.
Peach Jam: Elevate your macarons with this ripe and juicy peach jam for a burst of fruity goodness.
Quick Tip: Easily switch up the flavor of jam by using a different type of fruit. Frequently, people only think you can use in-season fruit. However, you can also make jam with frozen fruit, which will give you access to even more variety of flavors.
Curd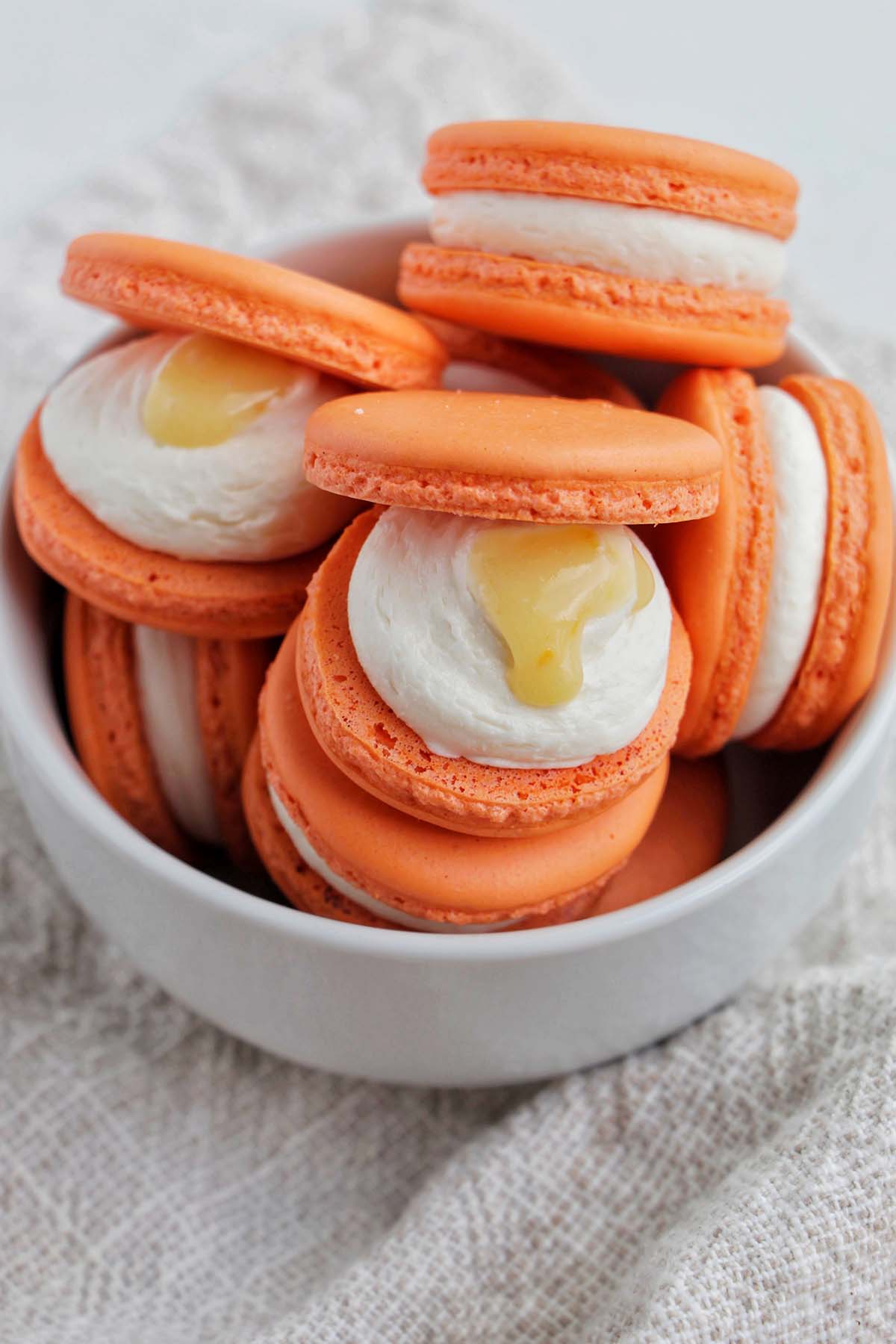 Lemon: The zest filled curd is refreshing and tangy, all at the same time.
Lime: Experience the bright flavors of lime with this creamy and rich curd that will transport you to a tropical paradise.
Grapefruit: Enjoy a tart curd that pairs perfectly with a sweet buttercream.
Orange: This sweet citrus filling is perfect during almost any season.
Quick Tip: Curd can be layered inside almost any buttercream or ganache filling. This means you can easily make unique flavor combinations like blueberry lemon or lemon cheesecake by piping curd inside your favorite fillings.
Compote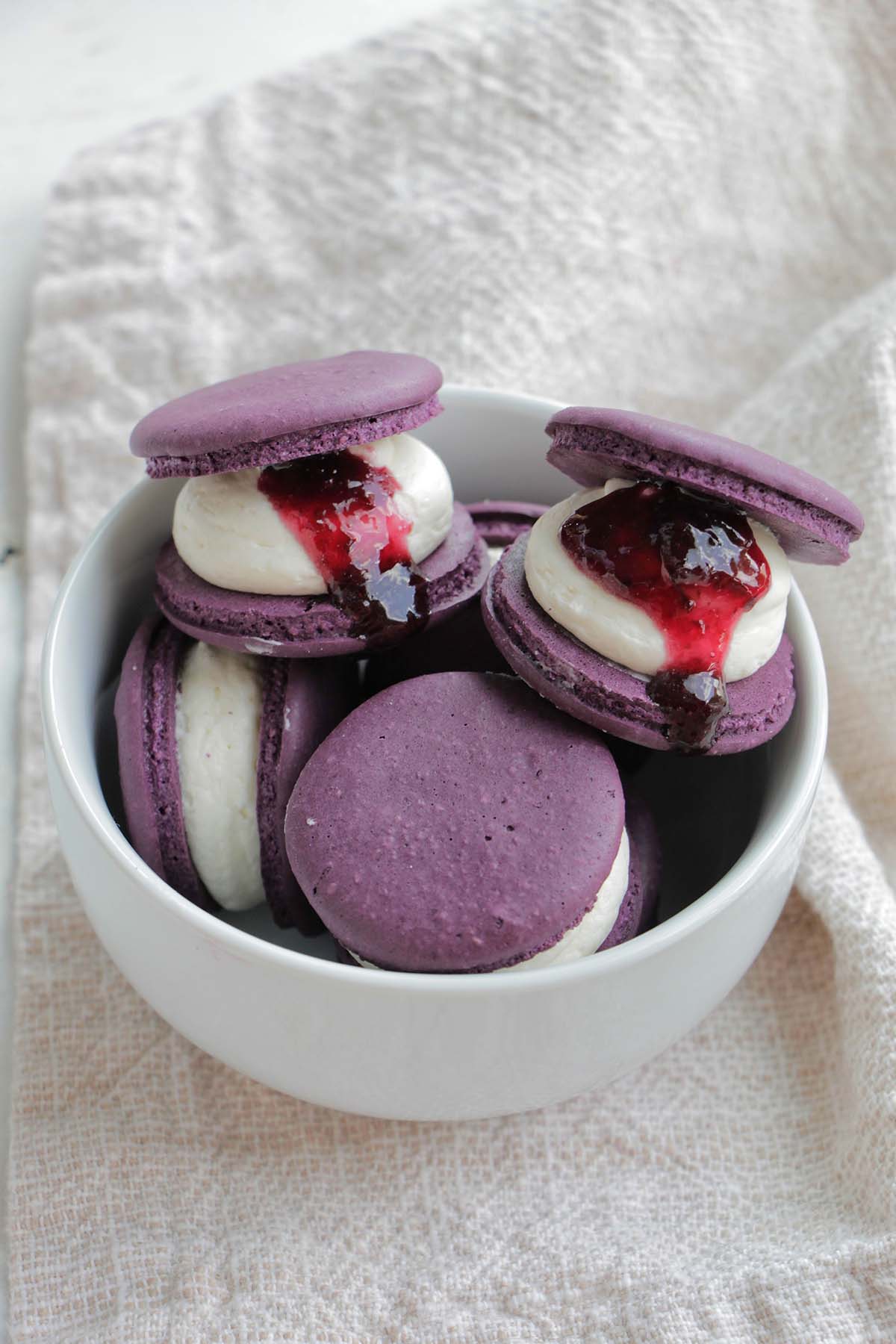 Brandy Cherry: This brandy infused cherry compote is a rich and indulgent boozy filling that's especially perfect during the holiday season.
Mango: Pick up a couple of ripe and juicy mangos during the summer months, so you can make this tropical inspired compote.
Mixed Berry: If you're looking for a classic yet delicious recipe, this assorted berry compote will elevate your macaron with a fresh burst of flavor.
Pineapple: Add a tropical bite to your macarons with this pineapple filling.
Red Wine Pear: Pear and red wine is an elegant fusion of flavors that is sure to add a bit of sophistication to any macaron.
Quick Tip: Not only do compotes offer a unique taste to macarons when you layer them with buttercream or ganache, but they also add a fun texture.
Although compote is meant to have pieces of chunky fruit, if you'd prefer to pipe the compote, you can briefly puree the compote with an immersion or electric blender for about 10 seconds, until the large pieces of fruit are broken up.
How To Create New Filling Flavors
One of my favorite techniques for creating new macaron flavors is layering two different fillings.
In order to pair fillings together, pipe a ring of one filling along the exterior of the macaron shell, then fill just the center with a different flavored filling.
I'd suggest piping a thicker filling, like buttercream, ganache, or caramel along the exterior of the macaron shell.
Then, use a filling, like jam, marmalade, curd, or compote, in the center.
With this technique, you can make flavors like:
Lemon Cheesecake: Cheesecake buttercream + lemon curd
Chocolate Dipped Bananas: Dark chocolate ganache + banana buttercream
Strawberry Matcha: Matcha ganache + strawberry jam
Aperol Spritz: Champagne buttercream + Aperol spritz marmalade
Hot Chocolate: Hot chocolate buttercream + marshmallow buttercream
Chocolate Covered Cherries: Chocolate ganache + cherry jam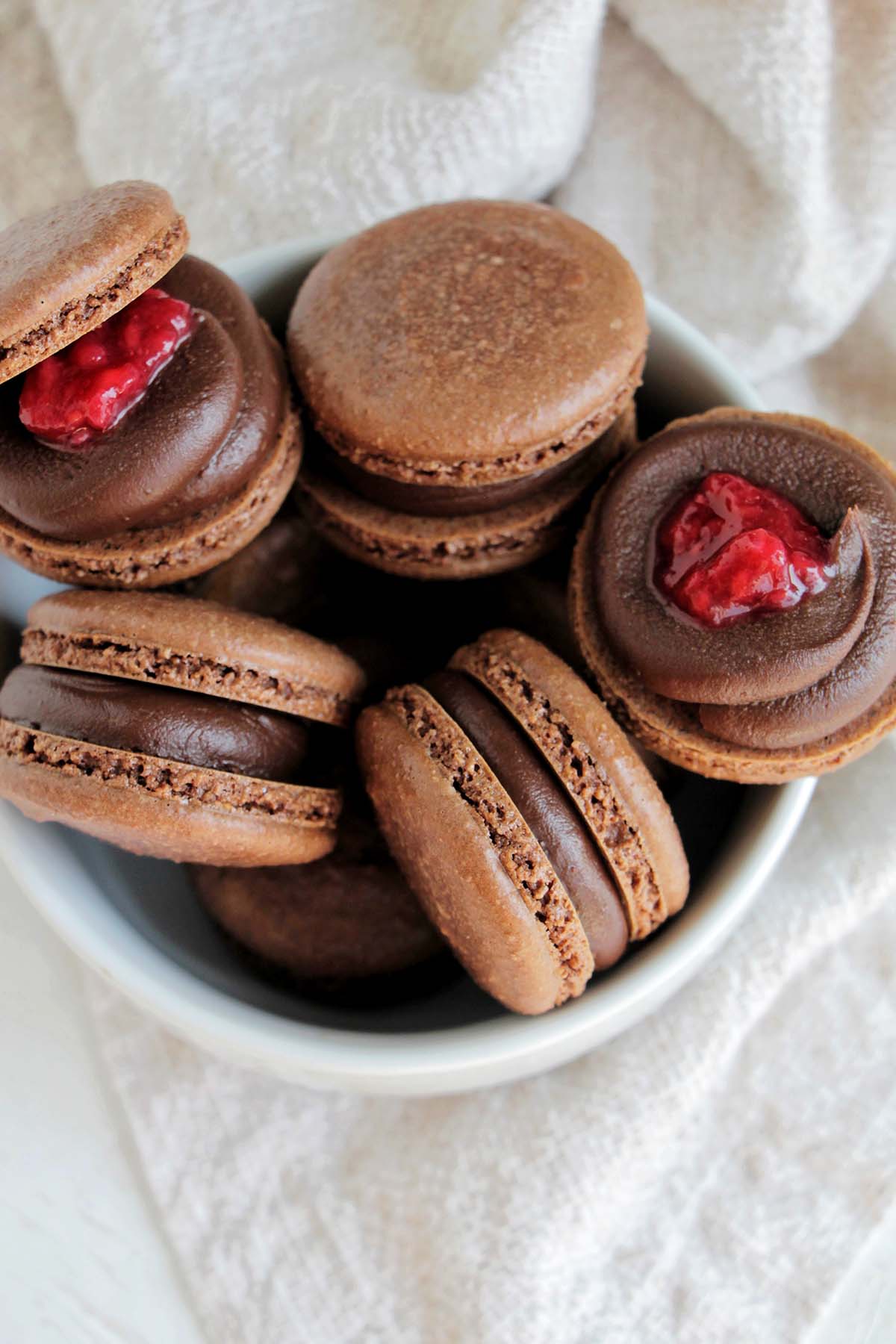 Creating New Flavors
Want help creating new macaron filling flavors? I created this digital cookbook with 101 macaron filling recipes, plus over 30 of my favorite layered macaron filling pairing ideas.
These recipes are easy to follow and will get you delicious tasting macarons with minimal effort.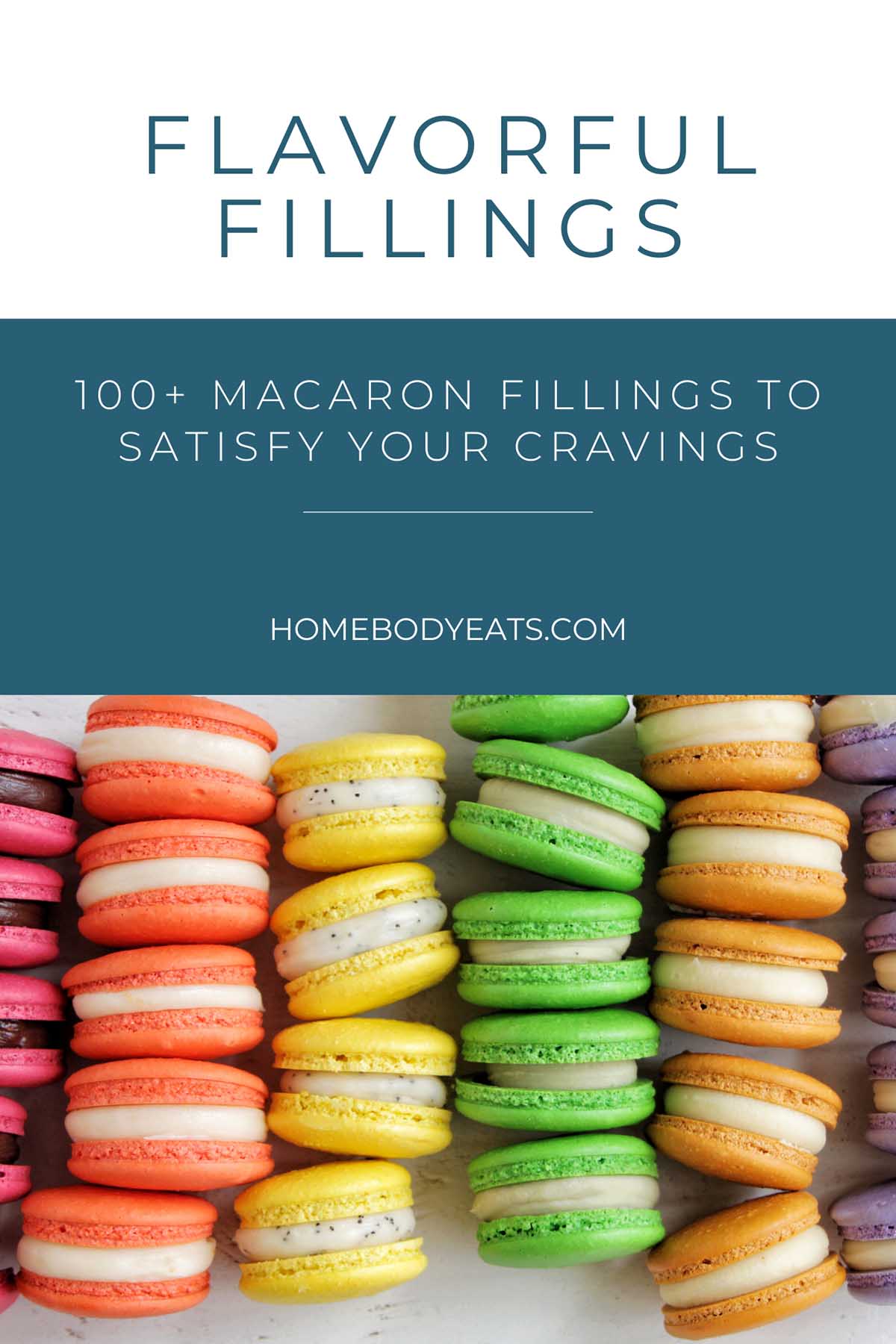 More Macaron Filling Recipes
Love this guide? Please leave a comment below. Don't forget to follow along on Instagram, Facebook, YouTube, and Pinterest for more recipes.