Grazing tables are the new way of entertaining! They are a show-stopper and provide some fun when it comes to eating. Trust me on this one, you're going to want to learn how to prepare a grazing table for your next party!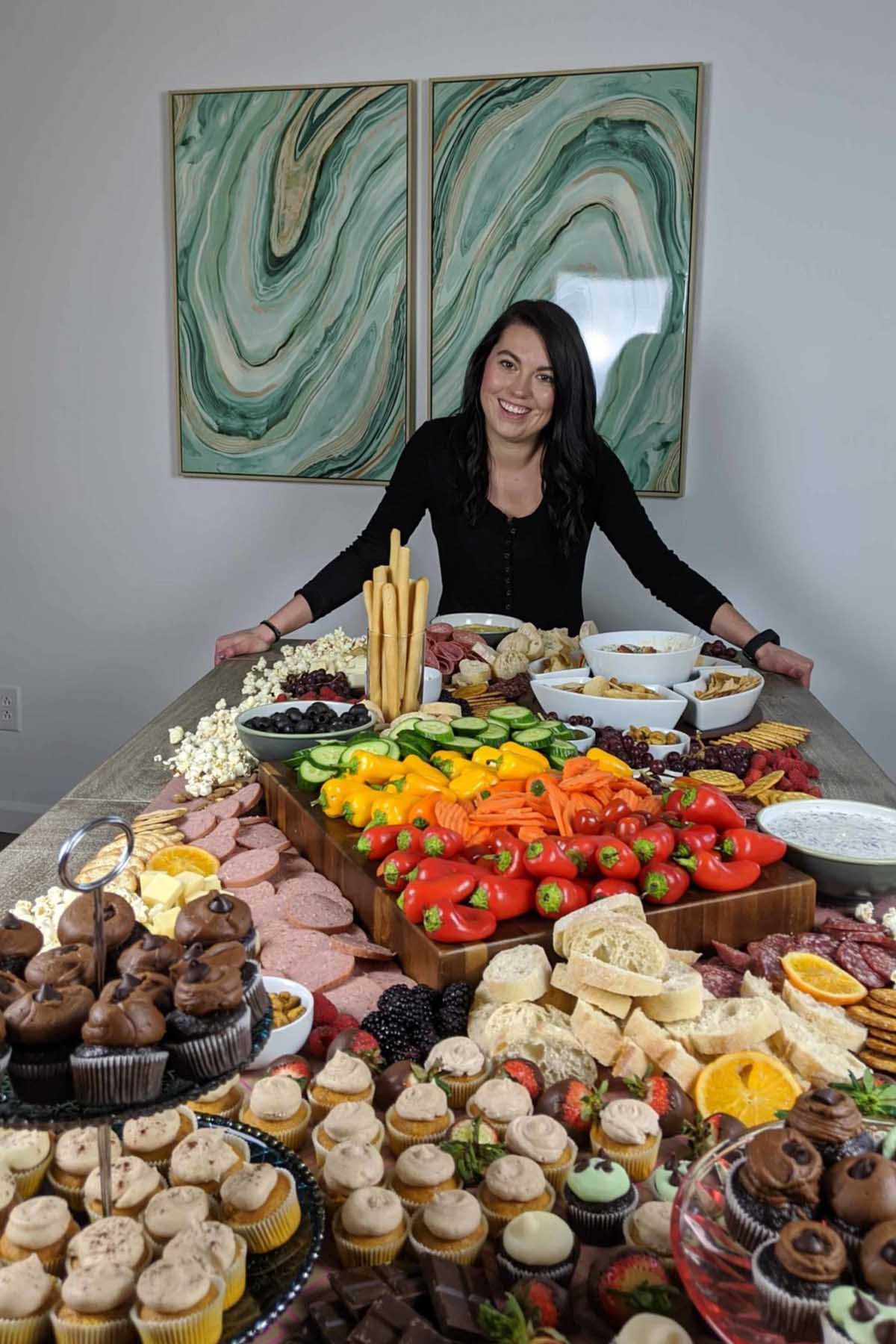 What is a Grazing Table?


Grazing tables have become especially popular and trendy in today's world of Instagram. They can be very elaborate and over the top, but at its core, grazing tables are quite simple. It's a table filled with small bites of food for people to 'graze' on.


Grazing tables have become very popular at parties because people can eat as they please and choose the food items that most appeal to them. Grazing tables can be made up of both savory and sweet food items. The key is making the food into bite-sized, small pieces.


Get ready to learn exactly how to prepare a grazing table!


Grazing Table Cost Breakdown


The cost of a grazing table can range depending on how elaborate the table looks, the quality of ingredients, and how large the table is. On average, I'd expect to pay $100 - $150 for a full-looking 5-foot kitchen table.


The key to keeping the cost of a grazing table low is buying items in bulk. There is going to be quite a bit of room to fill up, so purchasing extra crackers, olives, and veggies can help visually fill up the space without breaking the bank. Then, you can splurge on some higher quality meats, cheeses, or dips.


Another way to save money is filling the table up with various serving platters and wooden boards. Not only will this make the table look pretty, but it will take up space so you don't have to spend as much money on filler items.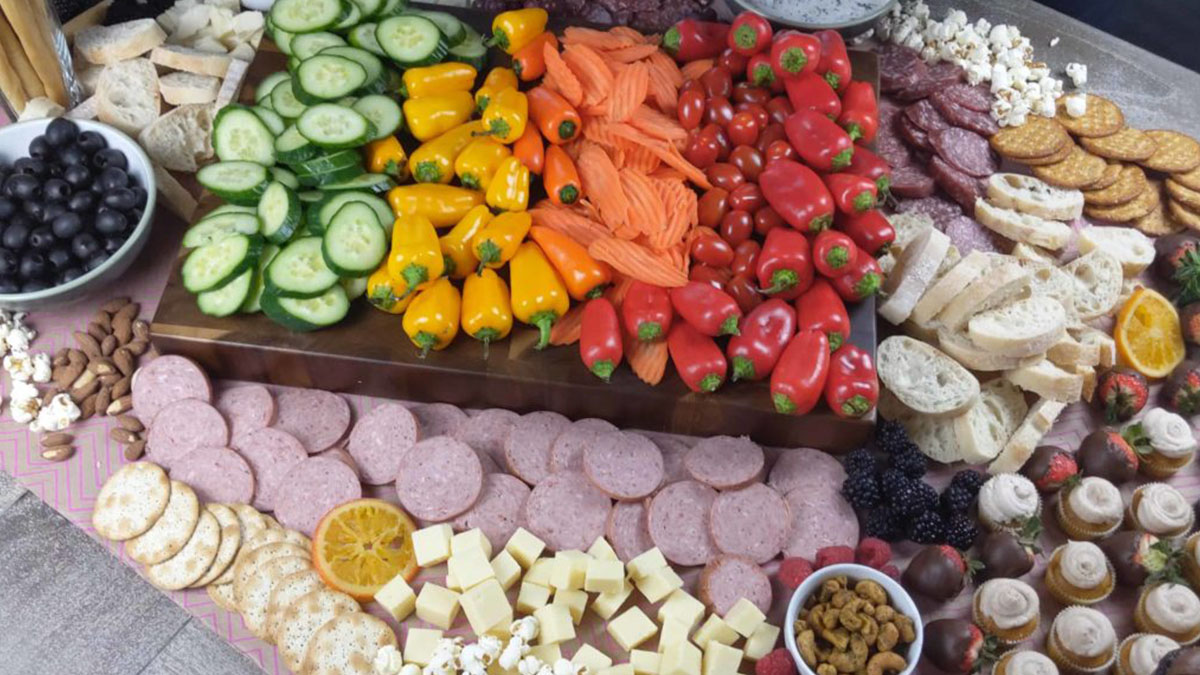 Ingredients for the Perfect Grazing Table


Choosing the perfect ingredients for a grazing table is totally customizable. You can create a table that tailors to your guests dietary needs and likes. That's part of the fun in creating a grazing table - there are no hard and fast rules. Go for whatever your heart desires.


To make this easier on yourself, grab a printable copy of all the ingredients I used for my grazing table! Here are some of my favorite things to include on a grazing table are:


Dippers: French bread, pita, assorted crackers


Veggies: Mini bell peppers, cherry tomatoes, snap peas, carrot chips, cucumber, broccoli spears, cauliflower


Cheese: Brie, Gouda, sharp cheddar, goat, Comanche, blue Stilton


Meat: Salami, prosciutto, sopressata, Genoa, summer sausage


Nuts: Spiced nuts, almonds, pistachios, cashews


Briny: Marinated olives, kalamata olives, sweet pickles, relish


Dips: Hummus, tzatziki, jam


Fruit: Raspberries, blackberries, strawberries, cherries, blueberries, citrus, dried fruit, candied oranges


Dessert: Mini cupcakes, chocolate covered strawberries, dark chocolate squares, assorted candies, cookies


In addition to the food, there are some other essentials to grab before the party. Pickup some brown butcher paper at your local dollar store to lay on the table or counter before spreading out the food. Be sure to also grab small plates for guests to use, toothpicks, serving tongs, and maybe some wine for good measure.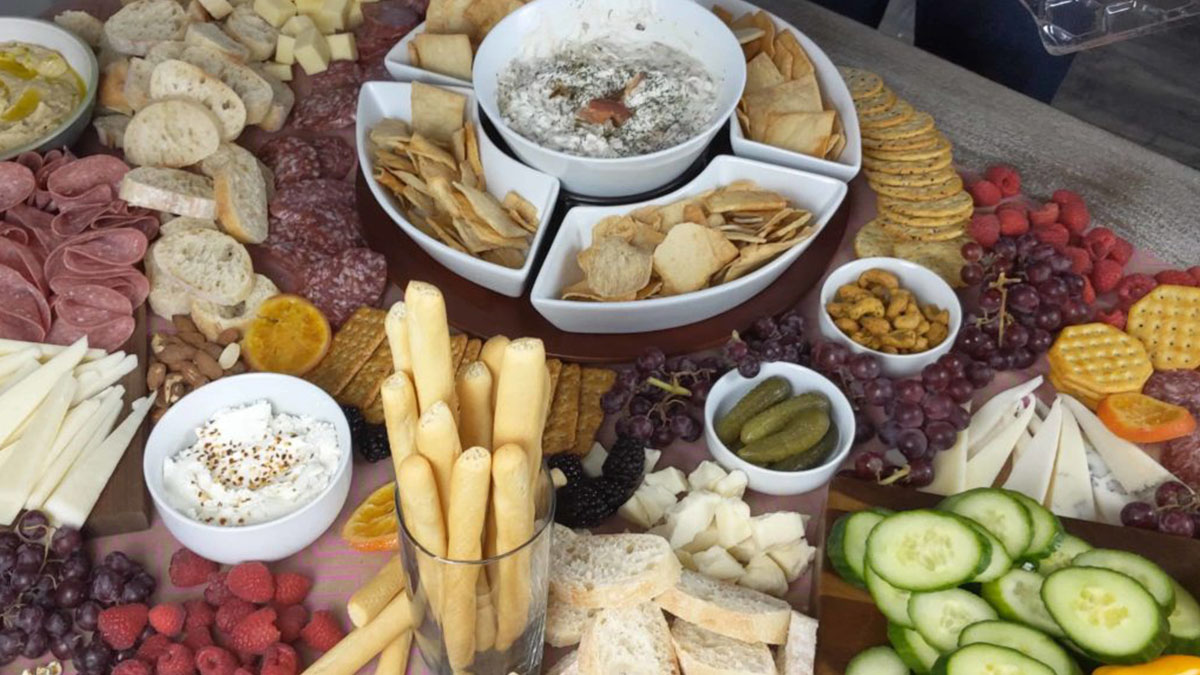 Styling the Grazing Table


When it comes to styling a grazing table, some people get really stressed about this part. I say, don't stress and just have fun. It's going to look good no matter what!


When selecting food to go on the table, keep in mind texture and color. Also, pick foods that look visually different. This will help make the grazing table colorful and fun!


When you begin to lay everything out, start with the food that's the focal point of the table. Maybe that's a cake, or a platter that is tall and stands out. Whatever you choose, start with that!


From there, continue placing items by other items that they might pair well with. For example, laying the cheese and meat next to each other. Or the fruit and dessert next to each other. This will help the guests mix and match their food choices together.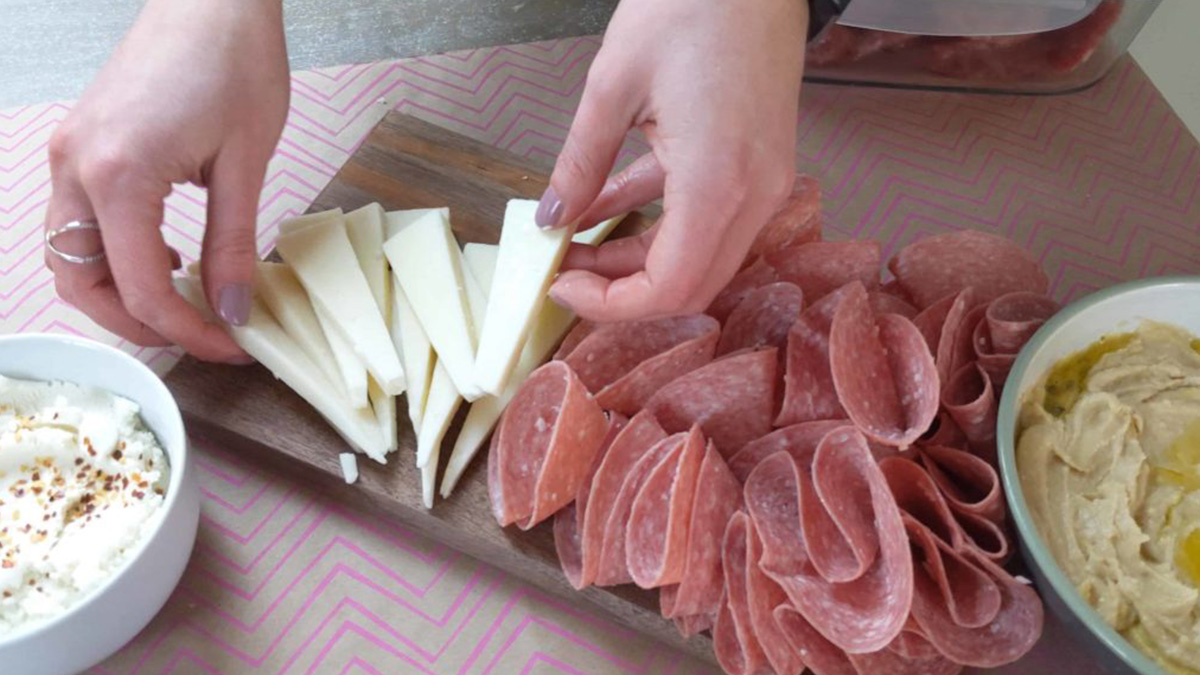 Serving Quantities


When preparing the grocery list, make sure there's enough food to feed all the guests. This can be determined based off of how many people will be attending, as well as how large of a table needs to be filled. Remember, bulk filler items can always be purchased to fill additional space.


Typically, plan on each person eating about 10 - 15 appetizer bites if no dinner will be served. If it's before dinner, plan on about 6 appetizers per person.


For dips and spreads, plan about 3 ounces (⅓ cup) for each person.


As for desserts, the guests will likely eat 2-3 mini desserts each.


If you're including alcohol, have ½ bottle of wine per person, 1-2 beers per hour per person, or about 3 cocktails per person.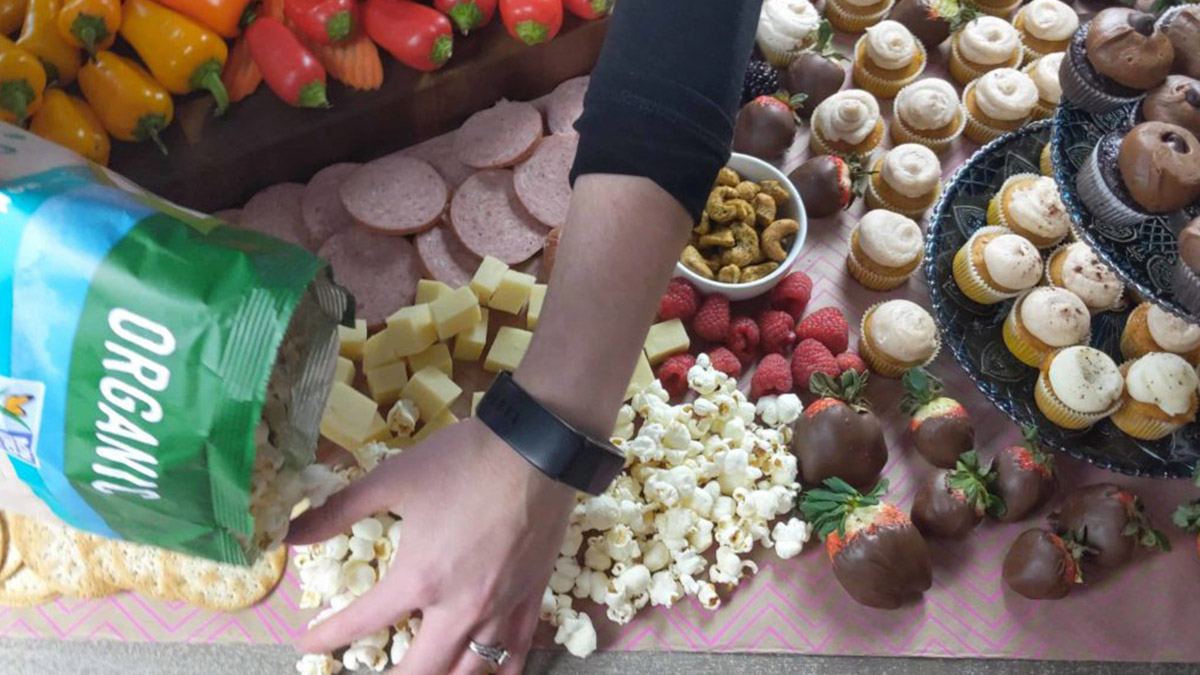 Keeping the Table Fresh


The night before, place the serving platters, boards, and dishes out on the table. Place a sticky note on each dish according to what item should be placed there. This is going to make day of set up a breeze!


On the day of the party, begin laying food out about 30 minutes before guests arrive. Place the dippers, veggies, fruits, nuts, and desserts out first since they can sit out the longest without being refrigerated. Right before eating, set the meats and cheeses out. They should really only sit out a maximum of 2 hours.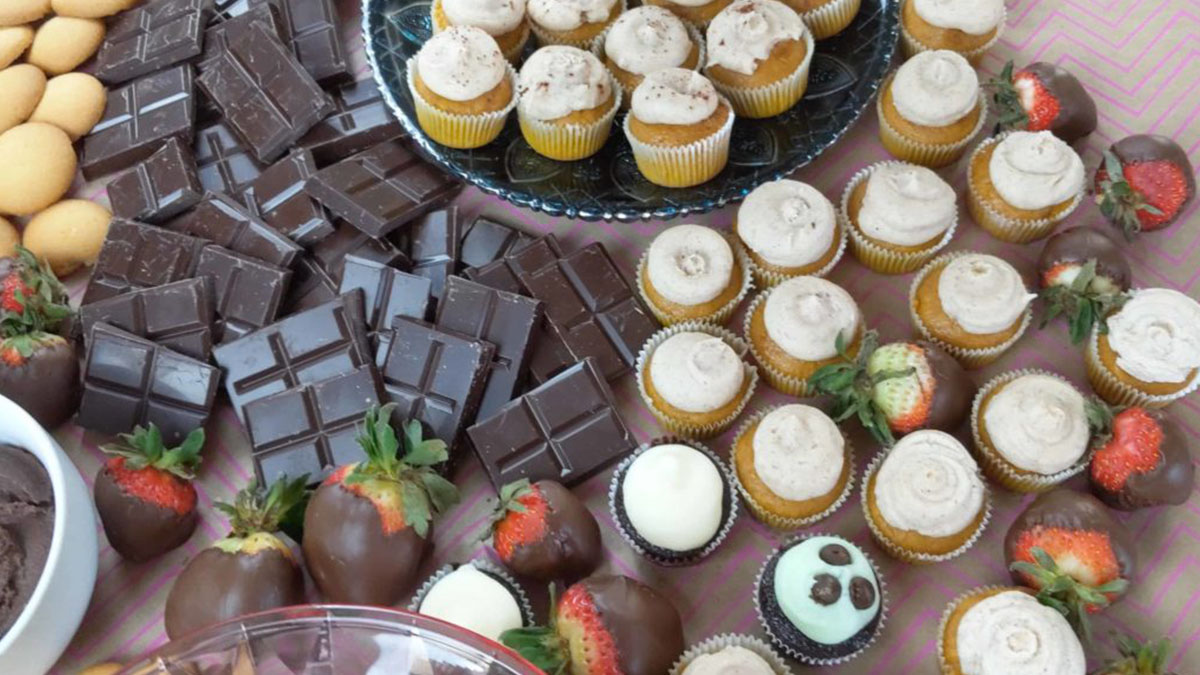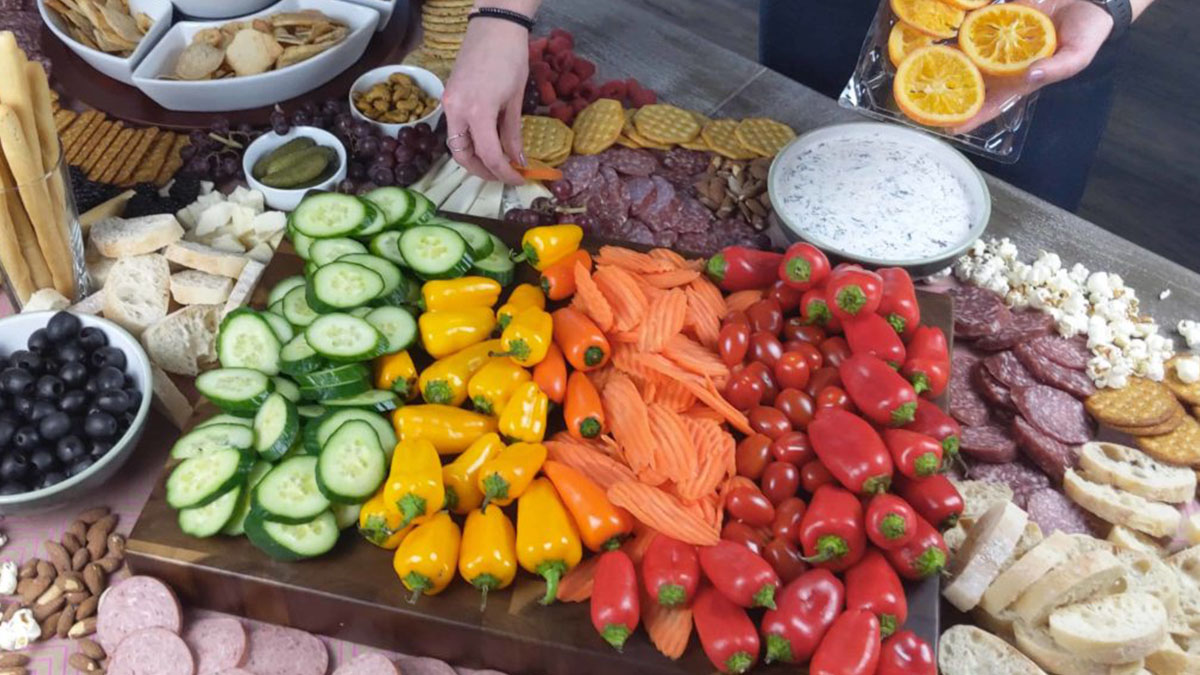 More Helpful Resources
Need more help creating the perfect grazing table experience? Check out these articles!