Looking for unique food ideas to have at your wedding? Explore 11 different wedding food table ideas from grazing tables to giant charcuterie boards and tables. You'll wow your guests with these beautiful spreads! Plus, some insider secrets you'll need to consider if you want to have a grazing table on your big day.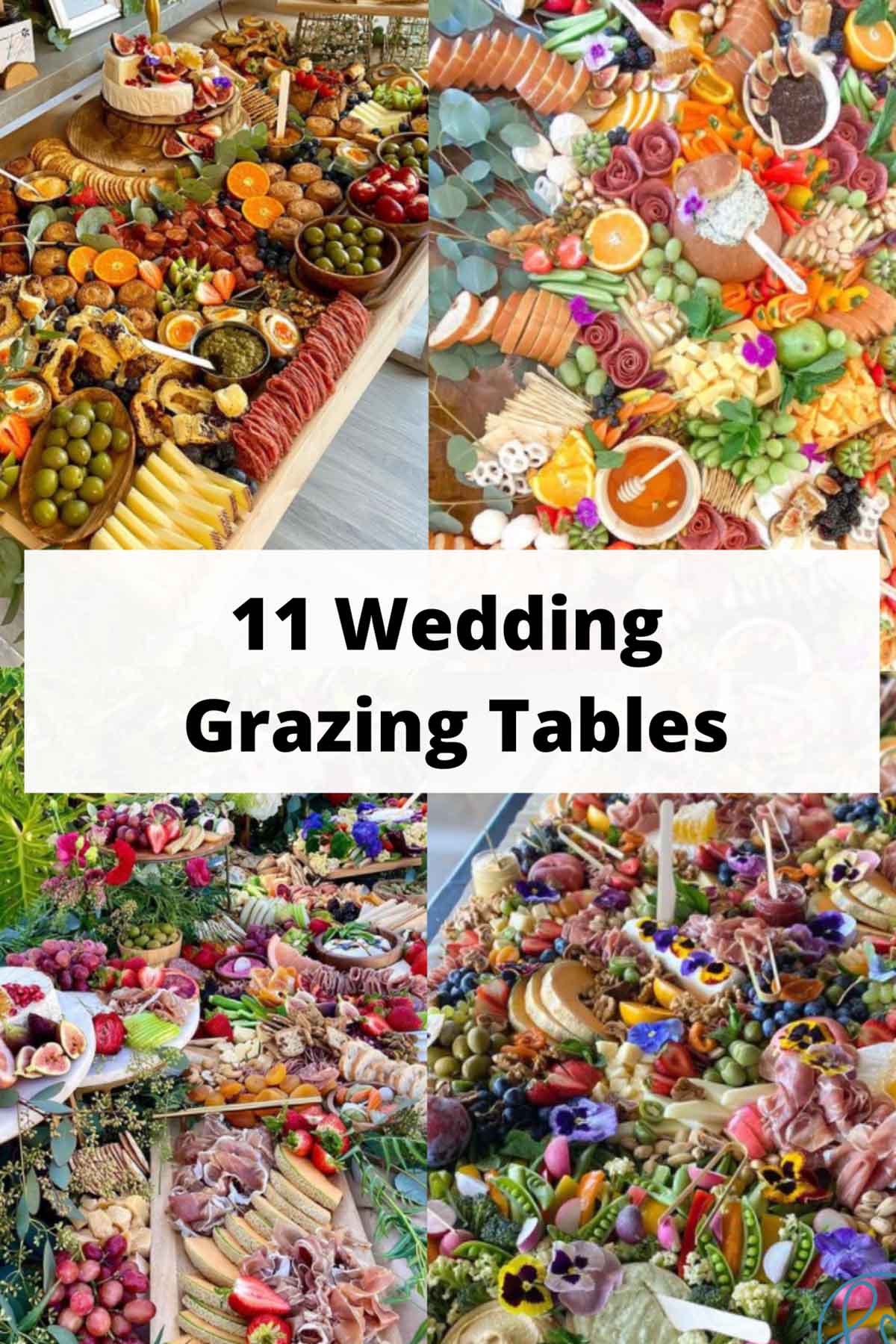 Jump to:
So, you're hoping to have a wedding grazing table on your big day? Well, you've come to the right place! Below are 11 creative and beautiful grazing and charcuterie tables, each with different points of inspiration.
With the help of this post, you'll be able to design your own beautiful grazing table all with various elements that you love! You can share these ideas with your caterer, or use them to create a DIY grazing table.
Feature Fresh Produce
This beautiful table by LC Designs NYC features so many fun and colorful fresh fruits and veggies. This is an easy way to highlight the produce that's in season during your wedding. Add in some additional pop of color with edible flowers that complement that food's flavors and colors.
This is a great table to consider if your guests have dietary restrictions (i.e. vegan/vegetarian). Dietary-friendly dips such as hummus are also an added bonus!
Bring In Natural Elements
This layered wedding food table from Silverlake Socialite is perfect for any outdoor or nature-focused wedding! The beautiful greenery, flowers, and fronds bring a perfect touch of nature to this table. Feel free to incorporate your wedding colors through the flowers.
If you're having an indoor wedding but want some natural elements, use this as inspiration.
Add Some Greenery
Honey & Hive Boards adds a perfect touch of greenery with some eucalyptus. If you're looking for a simple, yet elegant way to add some nature to your wedding charcuterie board or table, this is the perfect solution!
Framing the table with greenery helps make the grazing board look big and enticing to eat! Feel free to add in different types of greenery for a slightly different look.
Feature Bowls, Baskets, & Trays
Utilizing bowls, baskets, and trays is a great technique showcased by Flourish Grazing Events. If you're looking for a wedding charcuterie table that is the center of attention, adding these elements can help kick your table up a notch!
These additional elements also help expand the type of food you can have on your grazing table. Dips can be added to bowls, various types of bread in the baskets, and foods that need to be separated so their flavors don't mix can be placed on the trays.
Add In Some Height
Don't be scared to add some height to your food table like Savor Charcuterie has done! Adding in tall food trays and serving platters will help draw guests' attention to the table.
If your wedding or reception space needs a little pizzazz, this is the perfect solution. The height helps bring color, brightness, and freshness to your venue. Don't forget to choose a food color scheme that goes along with the wedding theme.
Make Charcuterie The Star
If you have meat-loving guests, use this table from Gather and Graze by Catie as your inspiration! This table makes the charcuterie (meat) the star of the show!
Not only are there multiple types of charcuterie cuts, but they are so elegantly featured on the table. The meat 'river' flowing through the middle of the table, as well as the charcuterie roses, help elevate this wedding food table!
Late Night Snack Table
This grazing table by Luxe Charcuterie proves that a food table doesn't just have to be used for appetizers or hors d'oeuvres. If you're planning on partying through the night for your wedding, consider having a late-night snack food table.
There are so many types of food you could feature in this type of grazing table, including soft pretzels. The possibilities are endless!
The Devil Is In The Details
If you're a detailed oriented person, you're going to want to look twice at this table from Graze Craze Sisters. Sometimes the devil is in the details when it comes to creating a stunning wedding food display!
Consider including sausage flowers, creatively cut fruits (like the kiwi in the photo), or various dips and jams. Don't forget to add utensils that easily allow guests to pick up food in a sanitary way.
Combine Savory + Sweet
Who says grazing tables can't have both sweet and savory elements? This table from The Graze Girls perfectly incorporates cheese that pairs well with sweet elements like fruit, macarons, and chocolate.
Take on some French culture and serve your cheese and desserts after dinner. Bonus points if you can pair wine that complements the elements on your grazing table.
Bring In Fresh Florals
Do you love your wedding flowers? Try including a beautiful floral centerpiece in your food table like Charcuterie & Things has done! Not only does this bring in a fresh, natural element - it also helps to add height to your table!
This is another great way to bring in your colors and theme to the wedding food experience.
Make It Dessert Themed
Maybe you're not planning on having a happy hour at your reception but still want a grazing table. Try filling the table with your favorite desserts like Caking Sisters have done with this beautiful spread!
This is also a great option if you'd prefer to skip a large wedding cake, and instead feature desserts like cookies, donuts, or cupcakes.
Tips For Planning A Wedding Grazing Table
In addition to using the photos and tips listed above to help you decide what kind of grazing table or board you want on your wedding day, here are a few other things to consider. Whether you're making your own DIY grazing table or hiring a caterer, each of these points will make a difference in your final grazing table:
Cost per person: What's your budget? If you're working with a caterer, you can tell them up front your budgeted cost per person. If you're making your own table, this will help guide your shopping list.
Food allergies: Do any of your guests have food allergies? It's important to consider dietary restrictions before confirming the food that will be included on your grazing table.
What food will be included: Decide on the type of food that will be on the charcuterie or grazing table. Will it feature mostly meat and cheese? Do you want sweet and/or savory options? Should it only be a dessert table? Are there any must have flavors or elements?
How will you incorporate your wedding theme: Are there certain elements of your wedding theme that you want incorporated into the grazing table? Some ideas could include your wedding colors, florals, or decor.
When will the table be served: Is this a food table for happy hour, dessert, or something in between? Know what time your food should be served.
Will serving utensils/plates be provided: Be sure to check with your caterer that serving utensils and plates will be provided. If you're creating your own grazing table, don't forget to purchase these items!
More Helpful Resources
Need more help creating the perfect wedding grazing table experience for your guests? Check out these articles!