Looking for unique food ideas to have at your wedding? Explore 11 different wedding food table ideas from grazing tables to giant charcuterie boards and tables. You'll wow your guests with these beautiful spreads! Plus, some insider secrets you'll need to consider if you want to have a grazing table on your big day.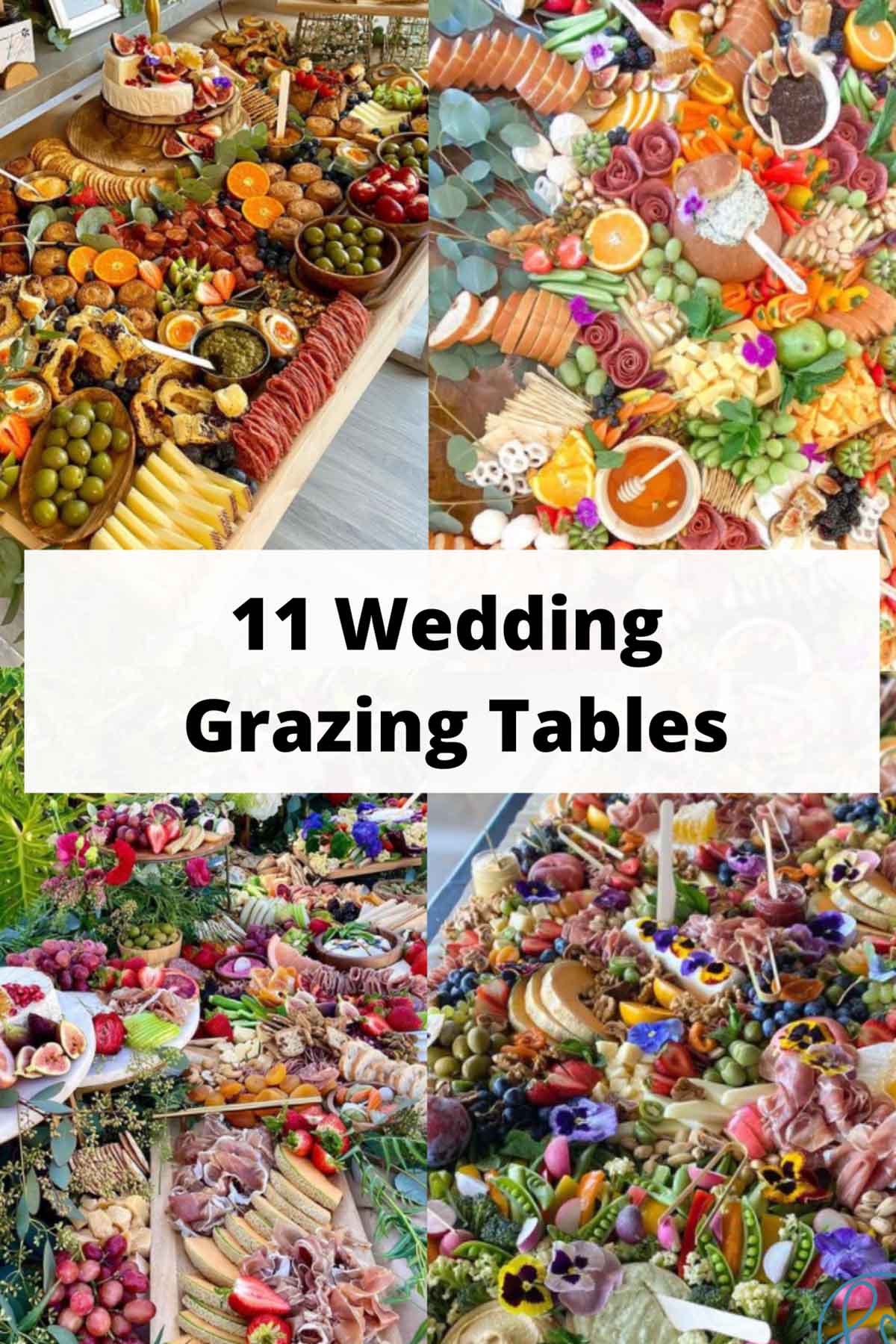 So, you're hoping to have a wedding grazing table on your big day? Well, you've come to the right place! Below are 11 creative and beautiful grazing and charcuterie tables, each with different points of inspiration.
With the help of this post, you'll be able to design your own beautiful grazing table all with various elements that you love! You can share these ideas with your caterer, or use them to create a DIY grazing table.
Feature Fresh Produce
This beautiful table by LC Designs NYC features so many fun and colorful fresh fruits and veggies. This is an easy way to highlight the produce that's in season during your wedding. Add in some additional pop of color with edible flowers that complement that food's flavors and colors.
This is a great table to consider if your guests have dietary restrictions (i.e. vegan/vegetarian). Dietary-friendly dips such as hummus are also an added bonus!
Tips For Planning A Wedding Grazing Table
In addition to using the photos and tips listed above to help you decide what kind of grazing table or board you want on your wedding day, here are a few other things to consider. Whether you're making your own DIY grazing table or hiring a caterer, each of these points will make a difference in your final grazing table:
Cost per person: What's your budget? If you're working with a caterer, you can tell them up front your budgeted cost per person. If you're making your own table, this will help guide your shopping list.
Food allergies: Do any of your guests have food allergies? It's important to consider dietary restrictions before confirming the food that will be included on your grazing table.
What food will be included: Decide on the type of food that will be on the charcuterie or grazing table. Will it feature mostly meat and cheese? Do you want sweet and/or savory options? Should it only be a dessert table? Are there any must have flavors or elements?
How will you incorporate your wedding theme: Are there certain elements of your wedding theme that you want incorporated into the grazing table? Some ideas could include your wedding colors, florals, or decor.
When will the table be served: Is this a food table for happy hour, dessert, or something in between? Know what time your food should be served.
Will serving utensils/plates be provided: Be sure to check with your caterer that serving utensils and plates will be provided. If you're creating your own grazing table, don't forget to purchase these items!
More Helpful Resources
Need more help creating the perfect wedding grazing table experience for your guests? Check out these articles!
Love this guide? Please leave a comment below. Don't forget to follow along on Instagram, Facebook, YouTube, and Pinterest for more recipes.